I first met Love and Hip Hop Miami's breakout star, Amara La Negra at the NAACP Image awards. Instantly, I thought she defined the phrase "Black Girl Magic." Draped in a stunning Arabic-inspired silver couture gown by Usuma Ishtay, Amara caught the press by surprise when she stepped onto the red carpet with her signature crown of natural hair. She was unapologetic, articulate, and proud. I saw so much of myself in her.
Both of us melanin-rich girls were rocking bold afros and we somehow stood out amongst the majority of people who opted for a more traditional Hollywood glamour look. After discussing English as our second language (I'm Zambian, she's Dominican) and the difference between ethnicity and race, we forged an instant connection.
It was a connection we would vibe off again some time later, this time over the phone as I conducted our interview for xoNecole. There, we talked her keys to success, the importance of self-love, and how she plans to use her platform to be a voice and a beacon to the reality of colorism.
"I am a proud Latina with African roots. I'm Black. I'm an Afro-Latina, I have dark skin, I have curves. I like the pattern of my natural hair and how it coils up. I love my complexion. It is beautiful! I am beautiful. I know there are people who may look at me and feel different but that's them."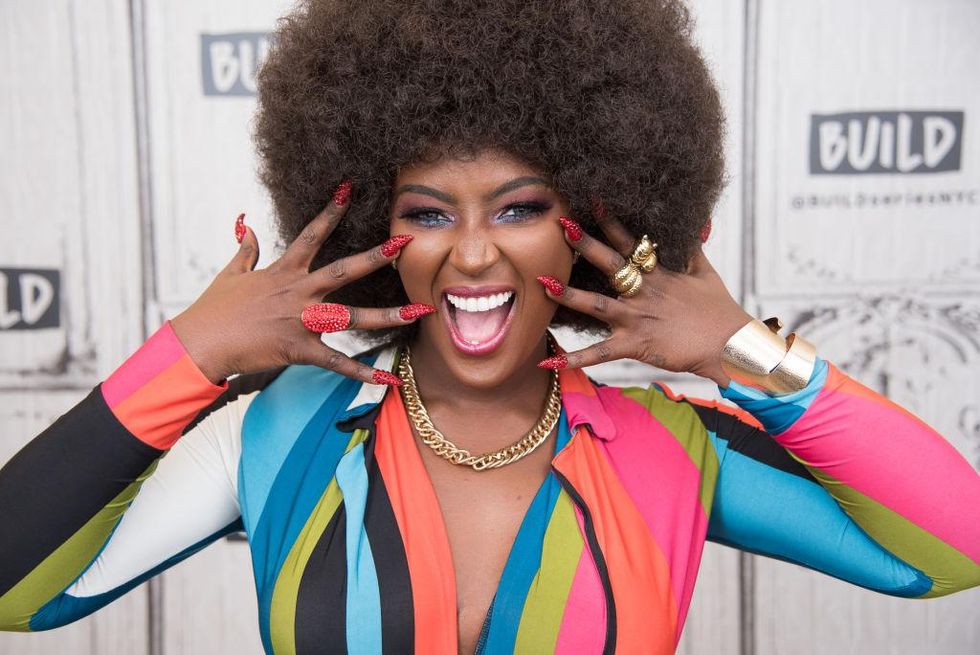 Mike Pont/Getty Images
"I don't know their experiences and I can't buy into another person's perception of beauty that isn't true to how I feel or see beauty. When I look at myself and see little girls and women who look just like me, I see nothing but beauty!" Amara exclaimed proudly during our chat.

Amara La Negra is as eccentric as Celia Cruz, as vibrant as Selena, and perhaps even as ambitious as Evita Peron. Although she is just now getting mainstream recognition through the latest installment of the Love and Hip Hop franchise, in the Latin entertainment sector, Amara is a household name with an enormous following. She has been in the business since she was three, and has worked as a television host, dancer, actress, as well as in radio.
In her crossover success, she is taking the world by storm on a global level, having recently signed a multi-album record deal, as well as some acting gigs and a contract with top global booking agency UTA.
The glow up is real.
The Afro-Latina beauty also credits her mother for her motivation, citing her mother, Ana Maria Oleaga, as her biggest inspiration. Her motto, "Success belongs to those who never give up," has fueled Amara to continue her path of greatness no matter how hard the grind gets.
"We have to have a solid reason for what we do, a purpose. Everything I do, I do for my mother. My mother works in a kitchen and when I see her come home with burns on her arms and chest, I am motivated to keep going. She always acts like it doesn't hurt to stay strong for me so I don't feel bad. But I know how much she has sacrificed for me, so no matter what, I have to keep reaching for the stars and not get discouraged."
To Amara, "success is no accident" and that drive is arguably one of the reasons for the wins her career has been attributed with recently. "It is hard work and perseverance," she explained. "It's learning, studying, and most of all, being in love with what you are doing. You can't get around those things!"
Her hard work in investing in herself has paid off and paved the way for the bronze goddess who is absolutely in demand. From red carpets to shoots to bookings, Amara is truly shining in the light of her moment.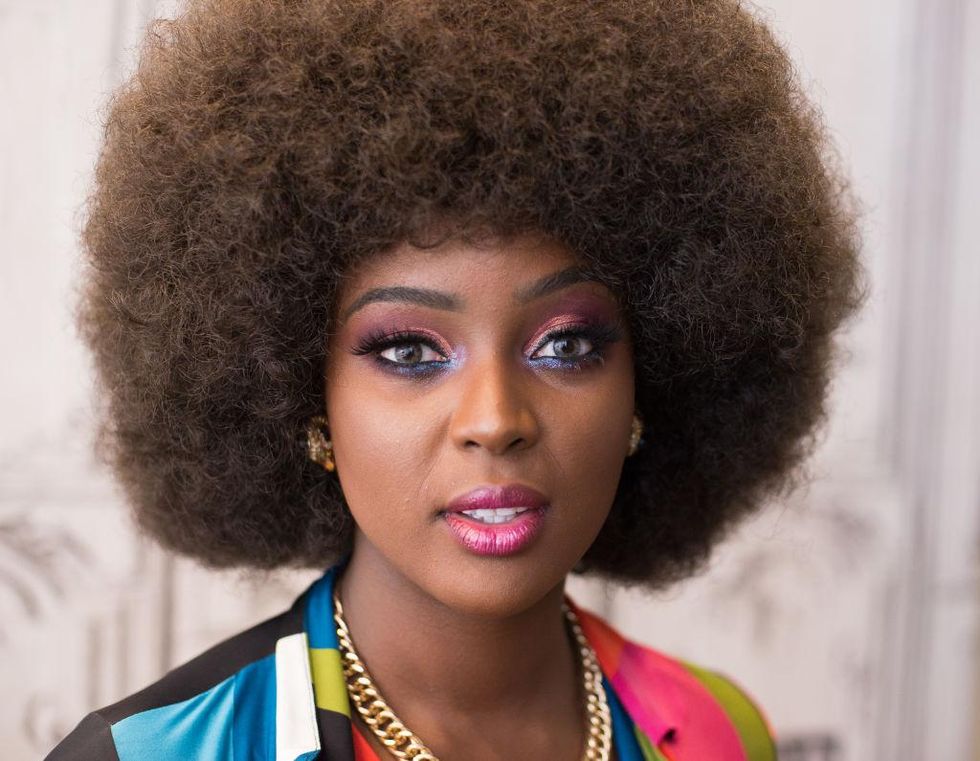 Mike Pont/Getty Images
It's a moment that she takes seriously with a platform that she does not take for granted.

Still, like anyone else, she has had her moments in which she could have very well been discouraged. The premiere episode of Love and Hip Hop Miami captured one of these moments. When Amara La Negra graced the screen on the highly buzzed-about Mona Scott-Young franchise, it was evident that a social seismic shift was occurring.

With her immaculate chocolate-dipped skin tone, obvious curves, and Pam Grier-esque Afro, the accomplished Caribbean and Spanish songstress was nothing close to the women we have become accustomed to seeing on reality television and, for her cast-mate and producer, Young Hollywood, her affinity and love of her culture, natural beauty, and hair was not acceptable. "You could be more Beyonce and less Macy Gray," he was quoted saying in the much talked-about episode.
Perhaps he thought Amara was supposed to feel shame about the characteristics that lent themselves to her physicality. Perhaps he thought she would shrink beneath the weight of his obvious disrespect, but instead Amara responded to Young Hollywood with a tsunami of reads with an intensity, and pride, and a knowingness of who she is. "I was very frustrated at that point and it wasn't the first time that I had encountered this issue with racism and colorism," Amara recalled of the moment in our interview.
In that scene, Amara was a sea of emotions, some suppressed since she was a young deep-hued Dominican child growing up in Miami. Instead of playing off Hollywood's obvious ignorance, Amara let it be known that his colorism would not be tolerated. Although anti-blackness towards people of darker skin is nothing new, it had rarely been challenged on such a platform. Amara seeks to be the change she wishes to see in the world.
"Colorism and xenophobia are very real. It's more addressed in America and it exists a lot in Latin culture but it's not talked about as much. It's in the shadows," Amara said. "I definitely feel like in America you have a lot of people who speak out against racism. There are entertainers, activists, and even people on social media that will stand up against discrimination. There are strong movements in America that aren't as visible in the Latin community. So I think sometimes a lot goes unchallenged and people don't speak up in the same manner as they do in the U.S."
"I think in Latin culture, they've become numb to it. That's the thing about why I am vocal about these things. There are so many young people and adults experiencing the same thing. Women and young girls come up to me at the airports and on the streets and they hug me and tell me I speak for them. It's bigger than me... it's really about shifting a cultural norm and mindset that really hurts and impacts a lot of people around the world."
Amara hopes that being a voice will one day decrease the disparities in representation among Latin women. "I feel honestly like God has given me the blessing to really bring to light a really important issue that has been in the shadows for a very long time not just for Afro-Latinas, but for African-Americans who have been dealing with it forever and Black people throughout the Diaspora. For me, it's about fairness, representation and creating a balance in entertainment that is reflected of our diverse population and various looks."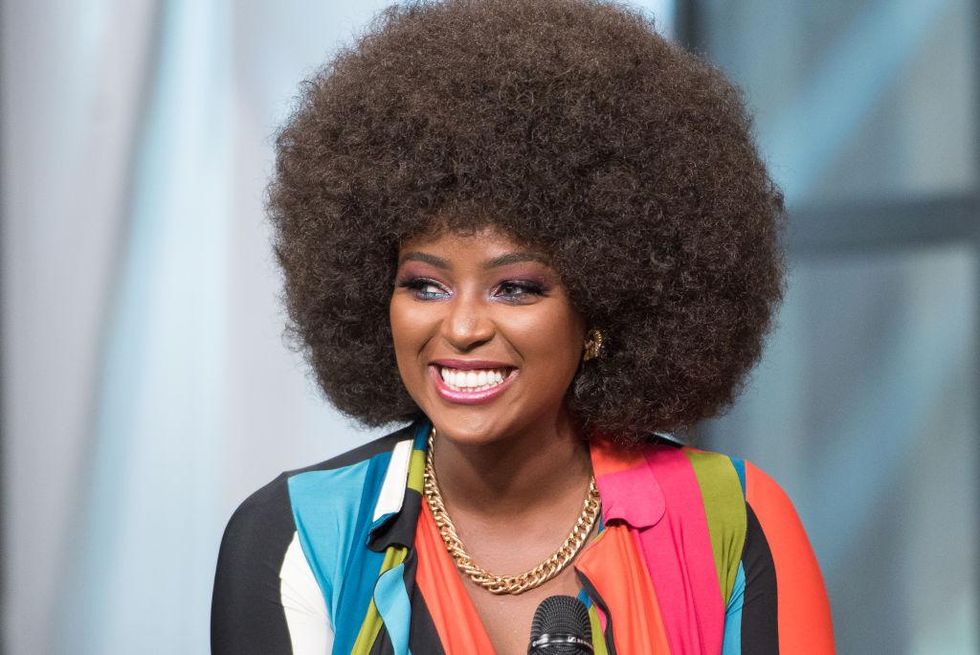 Mike Pont/Getty Images
"I know, especially in the Latina community, people have been taught to think a certain way about beauty and when you look on television, magazines, and the media and you don't see yourself being represented, you can question if you are beautiful or where you fit in and I'm here to show everybody that, yes, we are what beauty is too. People aren't always going to accept you. That can be in your work, in society, or in a relationship, but that means they don't deserve you. You have to move on and away from other people's thoughts and love yourself."

As we approach Valentine's Day with so many women getting caught up in feelings, Amara says this transcendant message of self-acceptance has to be applied in love too. "People always search for someone to love them but you have to be in love with yourself first and love yourself just as much as you would want someone else to love you. Self love is vital. It's embracing who you are and loving the person you see in the mirror with all your flaws. Self love is not letting anybody or anything make you change who you are. It's understanding that there is only one of you and you are special," she said.
"You alone are beautiful. You alone are art and that alone makes you beautiful. No one has to tell you that for it to be true. That's what self love is. For a very long time, I thought I needed other people's approval and another person's validation, but when I learned to love all of me, I let that go. If ever you want to change, do it because you want to not because someone made you feel like you had to."
Amara, in all her undeniable beauty, her sparkling talent, and her unapologetic nature is a queen in her own right, but with all her knowledge of self love and the relationship with self, we had to ask her what her relationship status was like. Briefly, she broached the topic of loving people who don't love you back, a common occurance among women. The message is still clear, love people who deserve you.
"Aye girl, l I've been there before, shoot. And it's painful. I've fallen in love hard with people who haven't loved me in the same way that I loved them and wouldn't give me the same energy I was giving to them but again when I began to understand self-love, I realized that not everyone deserves you. Not everyone deserves your energy and not everyone deserves the love you give."
She continued, "There may be instances where you may feel potential and you may think that you have the power to maybe bring that love out of someone but if someone doesn't love you...come on, you don't deserve to put yourself through that. More importantly, If someone puts you down ladies, please don't stick around and try to fix them. That's God's job, not yours. Don't waste your time. There's like 7.1 billion people in the world. If one person doesn't love you, keep it moving."
Outside of her activism and television, Amara is adding to her coins by working on her clothing line, touring, and her album of course. As she lays vocals to another track, she stops and shares a final message saying that it's important that every woman does what they love.
"From the time I was a young girl, I've known that everything that is happening is exactly what I wanted to do. I feel blessed. Music is everything to me. It's freedom. I think every woman knows what she wants to do in her life and I say to each of you, you must trust your instinct. You must pay attention to your energy and make choices based on energy. The process is not easy but if you stay true to yourself and put in the work, you will succeed."
Featured image by Mike Pont/Getty Images