Abesi Manyando
Abesi Manyando is a Journalist, Public Relations Specialist and Creative Writer obsessed with culture, art, and music. She intermixed her degree in business management and marketing with her love for writing to form the popular PR & Branding Development firm, Abesi PR eight years ago. She is now making art and writing her priority and is working on an upcoming children's book and creative projects that move her soul. You can follow Abesi on Instagram@abesipr and her blog, 7thandlotus.
New York Fashion Week has finally returned to its in-person fashion shows. The magic, glamour and thriving energy is back after quarantine changed everything last year. While most people were sequestered at home fighting boredom, music superstar, Saweetie used the lockdown to cement her dreams. Through content creation, catchy new music and building her brand, Saweetie explored various business endeavors and began to execute her philanthropic goals.
Leaning on the expertise of her grandmother, Roxane Harper, who is an entrepreneur, author and investor, Saweetie and her "Glam-ma" created a foundation that equips Black and Brown communities to learn about financial literacy. They are set to launch the Icy Baby Foundation this fall.
Managing her time wisely during quarantine gave bloom to the elevation of her brand and star power.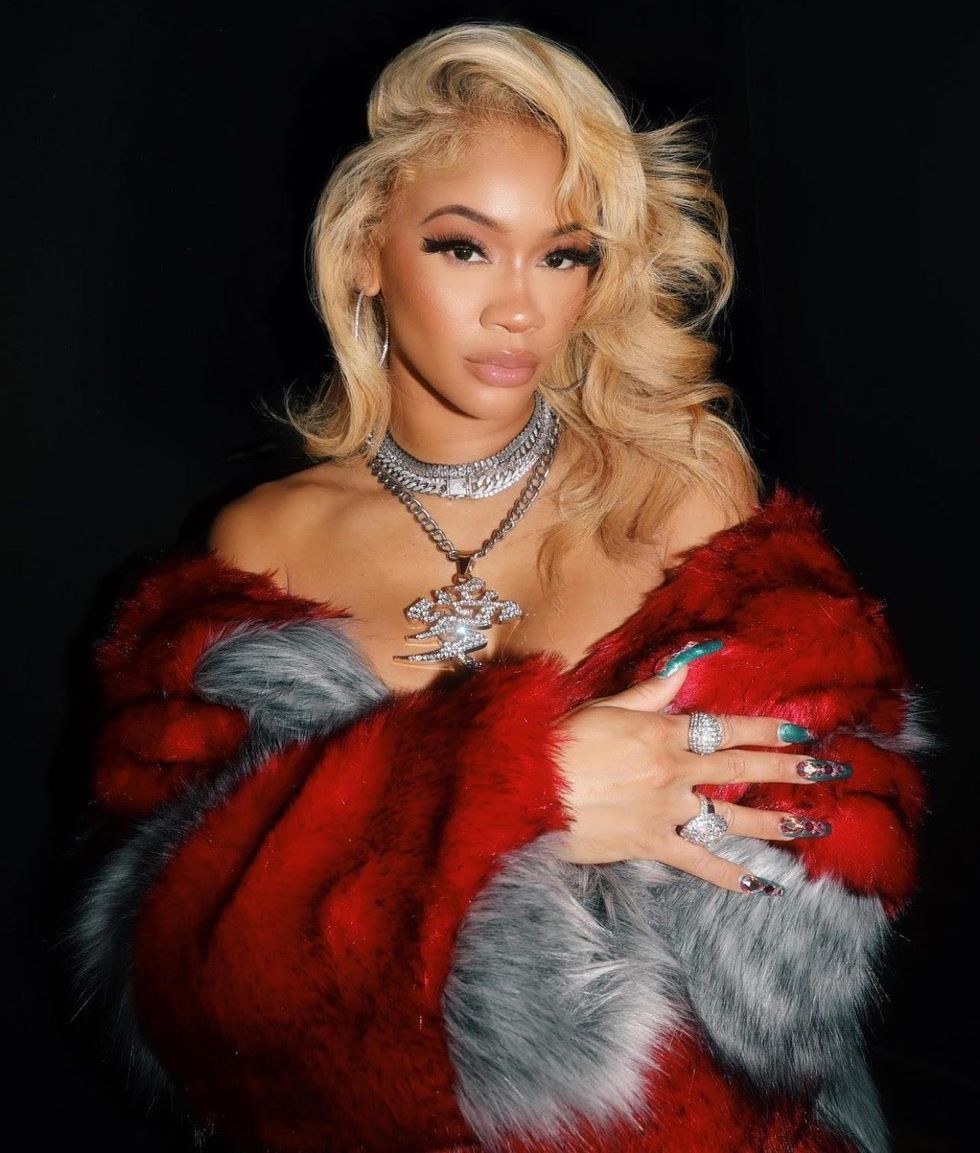 Courtesy of the artist
In one year, Saweetie has become more than just an entertainer, she is now a desirable powerful influencer for top brands. She has been invited to attend several shows during NYFW, including Tom Ford, Kim Shui, Christian Cowan and more. To adding icing on the cake, the "It" girl and queen of content is starting her first day at Fashion Week with a major announcement.
Today, MAC Cosmetics introduced Saweetie as its newest Global Brand Ambassador. MAC snatched up the popular rapper and appointed her as their latest M∙A∙C Girl. Saweetie will join the brand in a long-term global capacity.
"I am so excited about my new partnership with MAC. When I was young, I remember admiring the way my mom would organize her MAC products in the silver MAC travel bag. I would always sneak and play with her lipsticks and products. I loved the creativity of makeup even back then. Now I can't believe I have my own collection. This is definitely a full circle moment," said Saweetie.
"Saweetie is one of those people that truly does it all – musician, CEO, actress, TV show host, gamer, viral sensation, the list goes on – she is an extreme talent and is relatable…she is all of our 'best friends,'" said Drew Elliott, SVP, Global Creative Director, MAC Cosmetics.
"Saweetie's message of self-confidence and female empowerment is the perfect match for a brand like M∙A∙C that has always embraced unapologetic self-expression with open arms! Saweetie IS a MAC girl, because she is a boss, a winner, an artist, and she knows exactly what she wants…and goes for it. I'm obsessed."
As MAC's Global Brand Spokesperson, Saweetie will contribute her wit and beauty as the face of MAC's upcoming renowned collections and key campaigns. In addition, Saweetie will work with MAC Makeup Artists to showcase her signature looks, share beauty secrets and her lifestyle with MAC fans.
"All of the things that happening are like a dream come true. I'm excited about all the shows during NYFW and thankful to be invited. I also hope that designers, stylists and creatives of color can also be given more opportunities to showcase their talents on these type of large platforms."
Fans can see Saweetie's first piece of content for the brand on her Instagram @saweetie and follow @maccosmetics on IG for more updates.
Featured image courtesy of the artist
There is a brutal massacre happening in Sudan right now.
At this very minute and this very hour, over one hundred people perhaps more have been killed. On record, there are seventy rape cases against women, children and a few boys and men. UNICEF is reporting nineteen children are among those pronounced dead. Despite this, for the most part, the world has been silent. Why?
"Maybe because they are Black. Maybe because they are African. Maybe because they are Muslim," posted one Twitter user. It could also be because the military behind these atrocities have powerful friends in the Middle East and Europe bankrolling and supporting them for their own personal gain.
mad respect to rihanna for showing awareness of what's happening in Sudan on her IG story https://t.co/MhqoV1nFEC

— hinata (@hinata) 1560269374.0
It is a bit chilling that something so horrific wouldn't warrant much attention. Especially considering how much attention and sympathy is given to other countries who have had less casualties. Even historic but empty buildings generate more support than Black human lives.
It is difficult to grasp the fact that the world just doesn't care about the violence and deaths of people of color no matter what part of the world they live in. Maybe it wouldn't hurt so much if the reasoning behind the Sudan crisis wasn't about freedom and democracy. But it is.

This massacre and protest crackdown was ignited purely because the people of Sudan want to be free like America and other countries. Right now, the mostly women-led protestors are simply asking the military power to step down as promised for a democratic transition of power elected by the people. Ironically, western nations like the U.S., England and France have always quickly intervened and aided countries who were fighting for democracy (as Sudan's alliance of opposition is currently doing), but this time the passion to defend a country's fight for democracy seems to almost be irrelevant and unimportant.
There was no Facebook profile to change our profile to a Sudanese landmark of flag. There is no massive Instagram outpour and hashtag to "Pray for Sudan." Naomi Campbell, Rihanna and George Clooney have been very vocal about what's happening in Sudan but most celebs who gave all their energy to Paris have been silent about Sudan. Why?
For those of you who don't understand what's happening in Sudan, here is a brief history.

Sudan's rich resources has always been of interest to its exploitative neighbors in both the Middle East and Europe who have been able to rape the country for it minerals and natural resources by supporting the dictatorship rule that has come at the expense of its citizens (Remember Blood Diamond?). Decades of internal conflict, a lack of economic progression and negligent governance with a military supported by Saudia Arabia and the UAE made life in Sudan difficult for the average person trying to make ends meet. The genocide and civil war between militia and rebel groups in the city of Darfur, Sudan was responsible for millions of deaths and the displacement of 2.5 million people.
In 2009, the international courts held Sudan's President Omar al-Bashir responsible for war crimes and crimes against humanity during this present-day genoicide. The International Courts issued an arrest warrant for the president in 2009 and again in July 2010 to no avail. Unfortunately, the Sudanese government, the African Union and the League of Arab States did not recognize this decision. From that time, Bashir faced several protests leading all the way up to April 11, 2019 when Bashir was removed from his position by the Sudanese armed forces. This removal created a potential problem for Sudan's powerful exploitative neighbors who were benefiting under Bashir's undemocratic rule.
Many Sudanese assumed that Bashir's departure would lead to the democracy they had been protesting for. They wanted power to be turned over to a civilian (democratic) government whose interest was in its citizens and not power and wealth. Instead the vice president, Lt. Gen Ahmed Awad Ibn Auf, declared himself the Head of State. He dissolved the cabinet and national legislature and announced that he and the military would rule for two years until there was a peaceful transition of power. This ignited more protests from the majority women-led demonstrators who continued to push for true democracy and the resignation of military rule.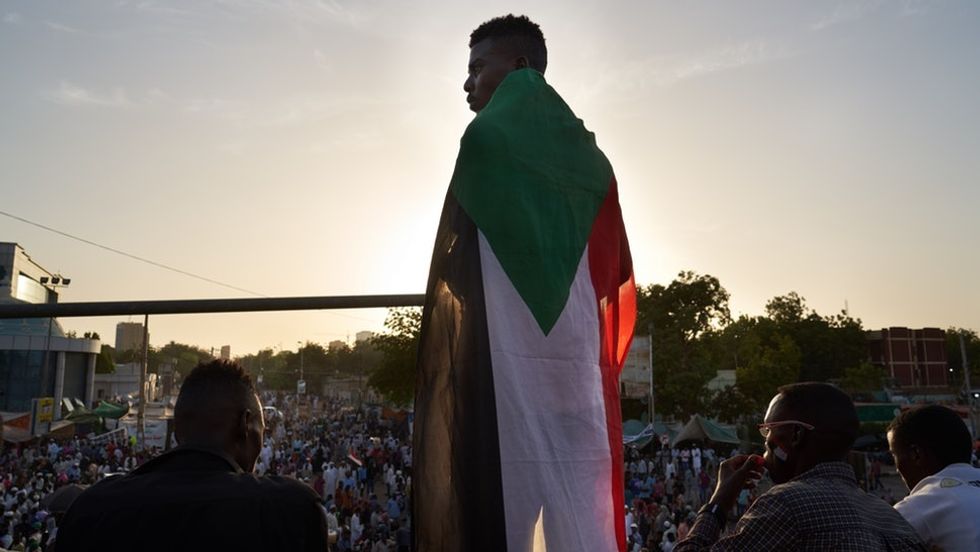 Getty Images
On April 12, the military agreed to shorten their rule to one month and Auf stepped down as head of the Military Council and made General Abdel Fattah Abdelrahman Burhan his successor. In the past few months, despite negotiations between protest leaders and the military, there has been no clear resolution of how the military rule will transfer power to civilian (democratic) rule. Thousands of protestors camped outside the TMC and held sit-ins to demand that TMC step down. With the strong financial and military backing of Saudi Arabia and the UAE (home to everybody's favorite vacation spot Dubai), the military ordered a crackdown on the protestors, which included random killings, beatings, rapes and the imprisonment and deportation of some high ranking protest leaders. The military is working alongside the Janjaweed forces who administered the killings that made Darfur a trending topic during its genocide.

The forces showed no mercy as they targeted hospitals, homes and raped children as young as six years old. The internet blackout was also successfully administered to limit the people's communication with the world and silence them. Somehow Russia also had their hands in the crackdown months before as The Telegraph reported and published a letter by the Dossier Center in which Vladimir Putin- linked businessman Yevgeny Prigozhin (a military contractor) criticized Bashir's regime "for not cracking down" on the peaceful protests. The Telegraph writes that the Russian businessman was angry that Bashir was too soft on the protestors "and ignored Russian advice to paint the protestors as "pro Israel", pro LGBT and anti Islam as a way to discredit them" in the Islamic dominated country. As you can see, there are many factors fueling the crisis in Sudan with so many hands meddling in the country's fight for democracy and stabilization.
Now that we understand Sudan's crisis, it is up to us to break the silence.
In an op-ed in Politico, George Clooney ,who has been active in speaking out against the exploitation and violence in Sudan and other war-torn countries for more than ten years, outlined suggestions to help Sudan and stop the military regime. Clooney wrote the following:
"Traveling throughout the Sudanese region of Darfur and neighboring refugee camps during the mid-2000s, we saw firsthand evidence of the monster the Sudanese regime had built to carry out a genocide. The government organized, armed and deployed militias, known then as the 'Janjaweed,' alongside the regular army as the primary instruments of its killing machine. Ethnic cleansing and mass rape were the Janjaweed's weapons of choice….If this sounds like another hopeless African crisis, it isn't. Sudan is a country that has unified Republicans and Democrats in Congress and successive administrations in Washington in defense of human rights and peace. Much more can be done now by the current Congress and the Trump administration — as well as allies in Europe and Africa — to create consequences for the leaders of (Sudan's) regime."
I believe much more can be done by each of us to help save Sudan's children, women and citizens.
Please help us raise awareness and medical supplies for the peaceful protesters in Sudan. If you can afford to, the… https://t.co/9XlIitvoVV

— Bas (@Bas) 1559877616.0
Featured image by Getty Images

Sherrexcia "Rexy" Rolle is the 29-year-old woman taking Western Air to new heights, and it's all thanks to her badass business savvy.
For those of you who might not know, Western Air Limited is the largest black privately-owned airline in the Bahamas and Rexy runs it. Rexy, who is also a business attorney, currently serves as the Vice President of Operations and General Counsel for the thriving airline. Having accomplished VP status, as well as oversee the growth and expansion of the $90 million company all before 30, there's no wonder Rexy is going viral for her accomplishments!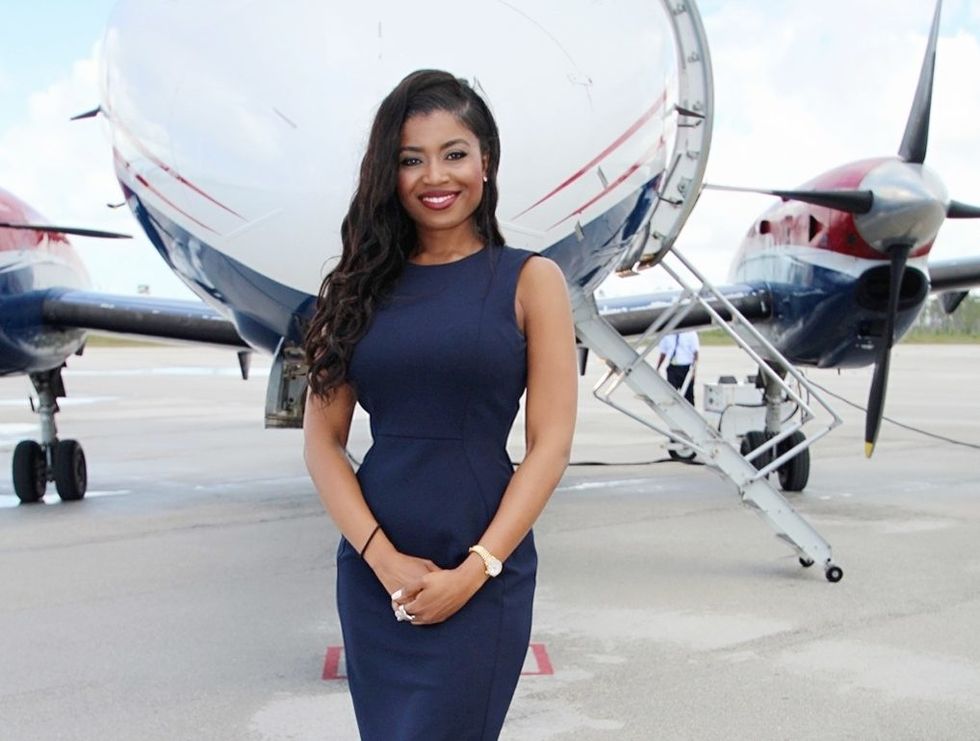 In an industry dominated by men, Rexy is both entrepreneur goals and the definition of black excellence. The aviation czar is redefining what an executive looks like while encouraging other women to be themselves while breaking the mold in their respective field.

I was so motivated when I saw Rexy Rolle's story that I knew that I had to connect with her and learn more about how she has achieved a dream that some would think is impossible. I had the opportunity to speak to Rexy and she shared her story and phenomenal tips for women trying to making it in this entrepreneur game. Check out our Q and A with the top exec below.
Is it challenging being an executive in an industry where women are not as represented as men?
The lack of diversity in aviation is what makes me work harder and it gave me the adrenaline rush to compete on a higher level. Executive positions in the airline industry (e.g. pilots, mechanics, dispatchers) are overwhelmingly dominated by males, so for women searching for those high positions, they are often automatically looked down on as not being technologically informed.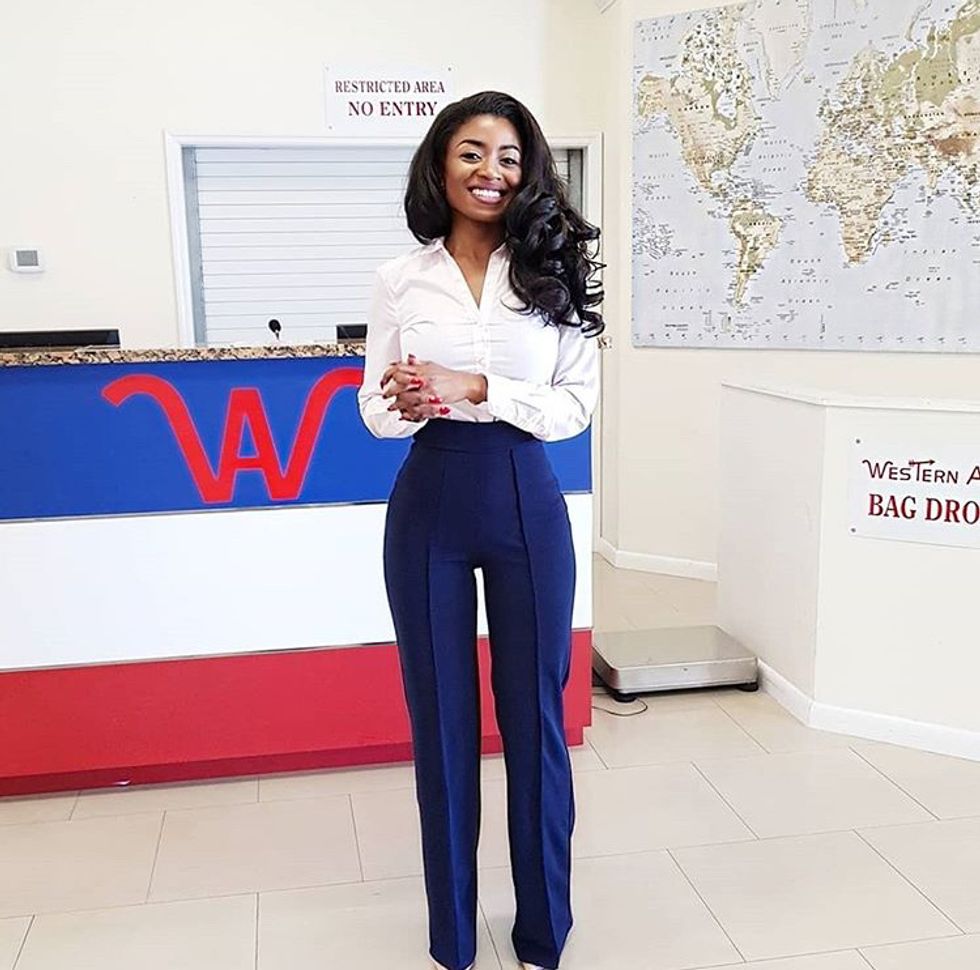 You do have to be ten times more informed. You do have to be prepared for people to purposefully challenge you because they feel that you may not be aware of what you're doing. I always take my time to prepare in advance to know what we're going to be discussing because there is always someone around to try and challenge your qualifications. I'm okay with having to be three times as good as the next person because I'm not going to let anyone keep me from living my dream. I've wanted this since I was a little girl.

"I'm okay with having to be three times as good as the next person because I'm not going to let anyone keep me from living my dream."
When did you fall in love with entrepreneurship?
I was an inquisitive first grader and I remember going to school and the kids would always talk about what their mother did for a living. After hearing classmates boast about their parent's jobs at school, I went home and asked my mother what she did for a living. At the time, my mother, who gave birth to me at only 16 years old, said, "Well, I take care of you." In response, and this was me being a naive first grader, I said, "That's nothing!"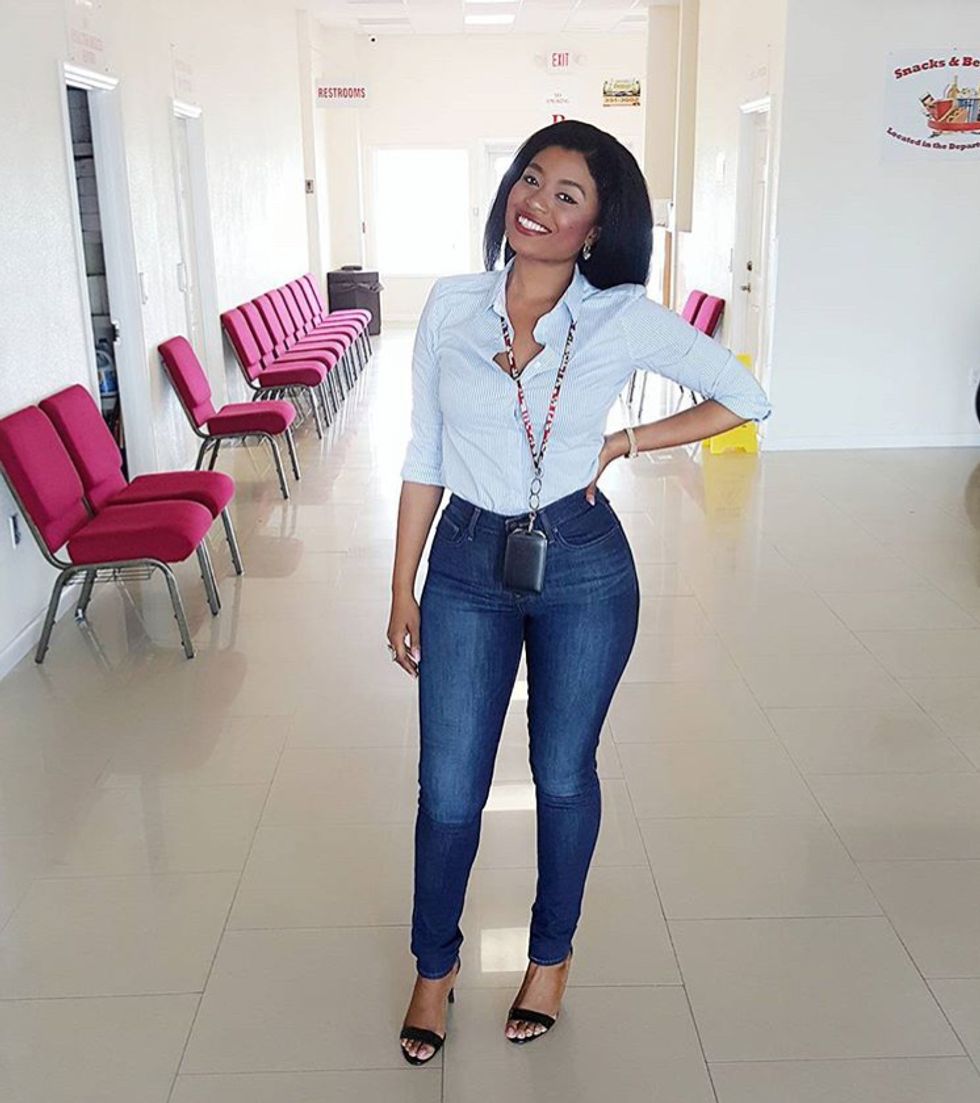 It was at that moment that I vowed to be a successful independent business woman. In hindsight, I owed my mother an apology for not understanding how difficult and honorable it is to be a full-time mom and wife. It was also a deeply personal wake up moment for my mother who took in my words and decided to push herself beyond her own limitations. Not too long after that conversation, my mother motivated herself to go back to school and receive a life-changing college education. She also encouraged me to dream beyond my wildest imagination, traditions, and gender.

There is an assumption that because your company is a family-based airline, that you may have just been given your position. What do you say to that?
That's not true. I started from the bottom and worked my way up. When I was a young girl, I worked as a baggage handler after school. Back then, the airline had its ups and downs. There were constant delays and management issues, but we learned from all of this and remained resilient. I went to school. I studied my field. I put in a lot of work. Believe me, there's nothing easy about my journey.

We all know entrepreneurship can be a little difficult. What is a tip you can offer budding female entrepreneurs?
My number one tip is you definitely have to have passion for what you do. You must love your work. You're going to hit so many roadblocks and encounter people who are 100% not going to believe in the vision you have. Or, just in the day to day business dealings, whether it's government agencies or other private businesses, you're constantly going to be challenged. So, if you do not have that passion for the specific niche that you're in, you will fade.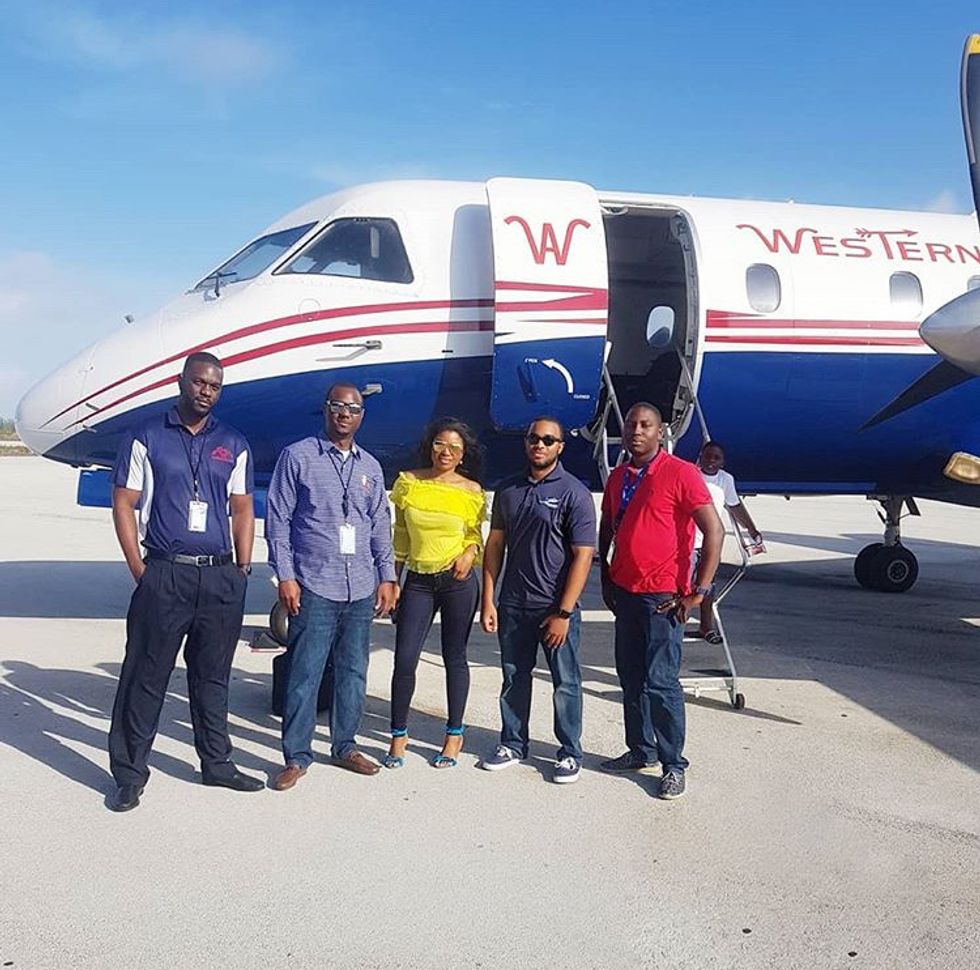 Number two, find allies. That doesn't necessarily mean somebody who is going to finance your dream, but finding someone who believes in it just as much as you do. Find a group of women who can support you and push you to be great. The circle you keep is a profound reflection of how successful you will be.

"If you do not have that passion for the specific niche that you're in, you will fade."
Do you think the diversity challenges in aviation are based on race, gender, or both?
Although it is definitely rare to see black women in the aviation industry, me living on the Islands, I believe the disconnect is more so based on gender. The aviation community is booming with so many underrated careers. I've noticed an increase of female dispatchers and ground support agents, but I have been pushing for administrative and executive positions as well. I also encourage people to forget any qualms about being underqualified for a technologically-driven field and pursue aviation just like any other industry that may interest you. There is always training, there is always educational support. If you want to get in aviation, please just do it!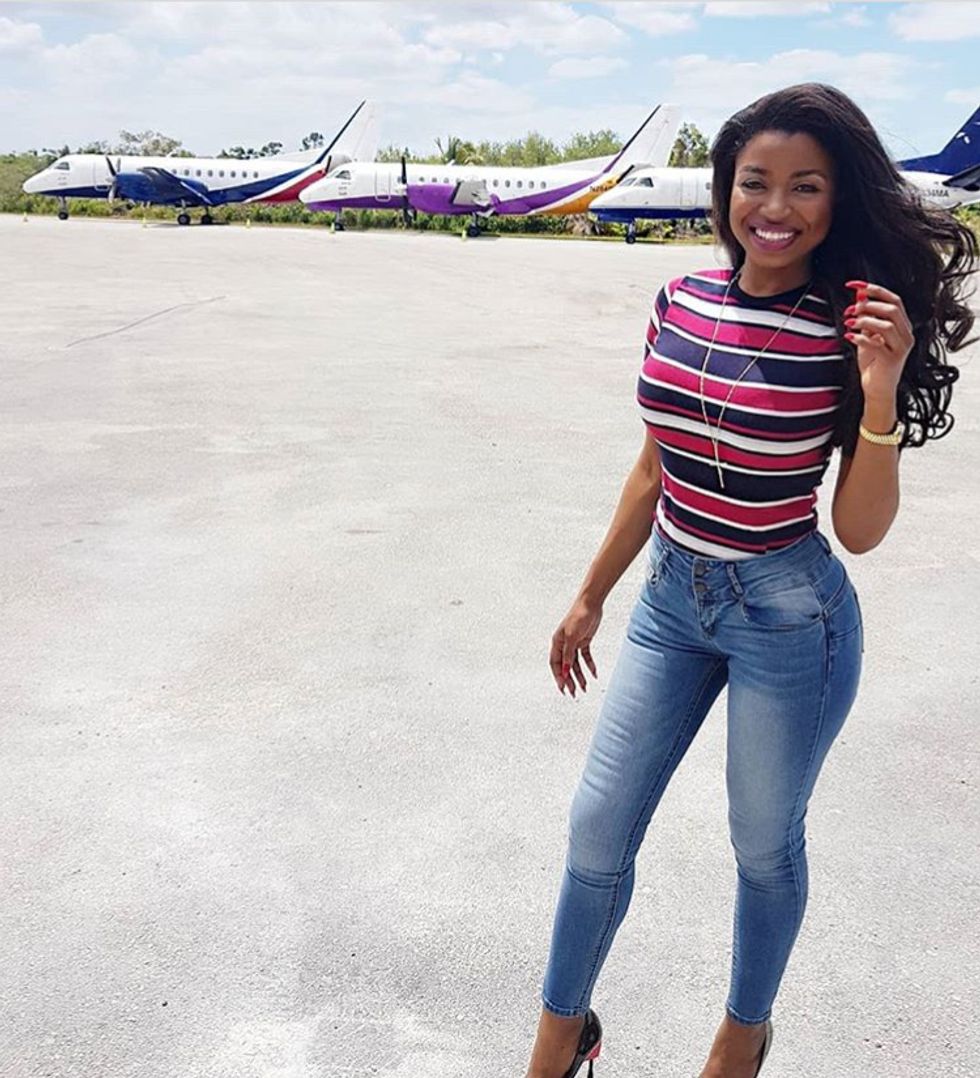 What are some accomplishments that you are proud of?

I helped open the Bahamas' first private passenger terminal. I suggested adding even more routes and planes, and I'm now working towards obtaining my own pilot's license. Most importantly, for someone like me who started off as a baggage handler, it was crucial for me to take advantage of all opportunities that were presented to me.
I could have gone in two directions with watching this airline grow up as I grew up: either assuming it's there at my fingertips, or really taking a stance of wanting to improve upon what's already there. I wish for everyone to do the same in their lives. Take time to grow and learn every day. That's how you become great!
For more Rexy Rolle, keep up with her social media by following her on Instagram.

I first met Love and Hip Hop Miami's breakout star, Amara La Negra at the NAACP Image awards. Instantly, I thought she defined the phrase "Black Girl Magic." Draped in a stunning Arabic-inspired silver couture gown by Usuma Ishtay, Amara caught the press by surprise when she stepped onto the red carpet with her signature crown of natural hair. She was unapologetic, articulate, and proud. I saw so much of myself in her.
Both of us melanin-rich girls were rocking bold afros and we somehow stood out amongst the majority of people who opted for a more traditional Hollywood glamour look. After discussing English as our second language (I'm Zambian, she's Dominican) and the difference between ethnicity and race, we forged an instant connection.
It was a connection we would vibe off again some time later, this time over the phone as I conducted our interview for xoNecole. There, we talked her keys to success, the importance of self-love, and how she plans to use her platform to be a voice and a beacon to the reality of colorism.
"I am a proud Latina with African roots. I'm Black. I'm an Afro-Latina, I have dark skin, I have curves. I like the pattern of my natural hair and how it coils up. I love my complexion. It is beautiful! I am beautiful. I know there are people who may look at me and feel different but that's them."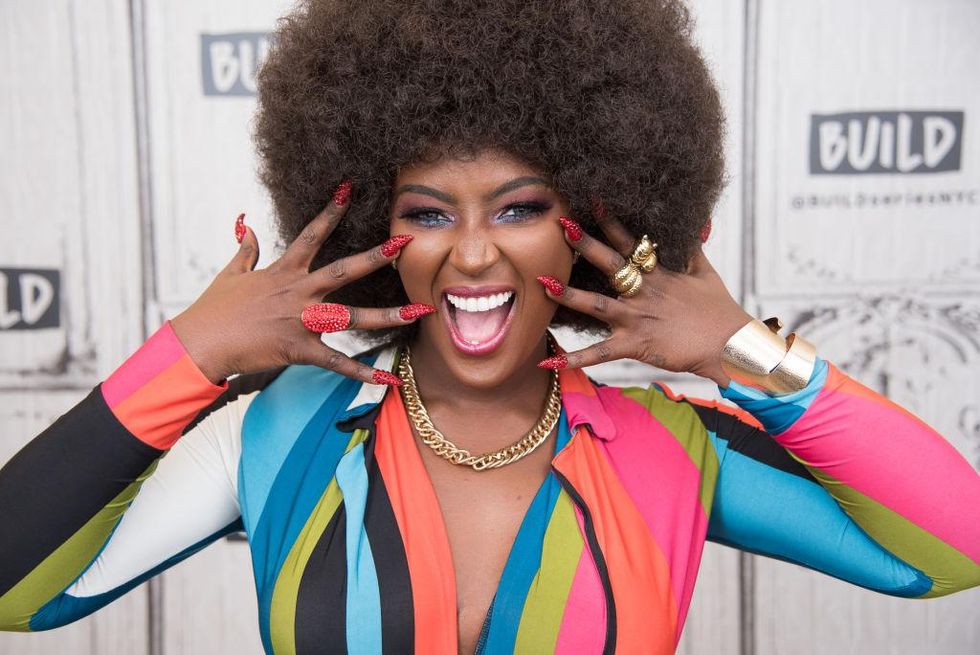 Mike Pont/Getty Images
"I don't know their experiences and I can't buy into another person's perception of beauty that isn't true to how I feel or see beauty. When I look at myself and see little girls and women who look just like me, I see nothing but beauty!" Amara exclaimed proudly during our chat.

Amara La Negra is as eccentric as Celia Cruz, as vibrant as Selena, and perhaps even as ambitious as Evita Peron. Although she is just now getting mainstream recognition through the latest installment of the Love and Hip Hop franchise, in the Latin entertainment sector, Amara is a household name with an enormous following. She has been in the business since she was three, and has worked as a television host, dancer, actress, as well as in radio.
In her crossover success, she is taking the world by storm on a global level, having recently signed a multi-album record deal, as well as some acting gigs and a contract with top global booking agency UTA.
The glow up is real.
The Afro-Latina beauty also credits her mother for her motivation, citing her mother, Ana Maria Oleaga, as her biggest inspiration. Her motto, "Success belongs to those who never give up," has fueled Amara to continue her path of greatness no matter how hard the grind gets.
"We have to have a solid reason for what we do, a purpose. Everything I do, I do for my mother. My mother works in a kitchen and when I see her come home with burns on her arms and chest, I am motivated to keep going. She always acts like it doesn't hurt to stay strong for me so I don't feel bad. But I know how much she has sacrificed for me, so no matter what, I have to keep reaching for the stars and not get discouraged."
To Amara, "success is no accident" and that drive is arguably one of the reasons for the wins her career has been attributed with recently. "It is hard work and perseverance," she explained. "It's learning, studying, and most of all, being in love with what you are doing. You can't get around those things!"
Her hard work in investing in herself has paid off and paved the way for the bronze goddess who is absolutely in demand. From red carpets to shoots to bookings, Amara is truly shining in the light of her moment.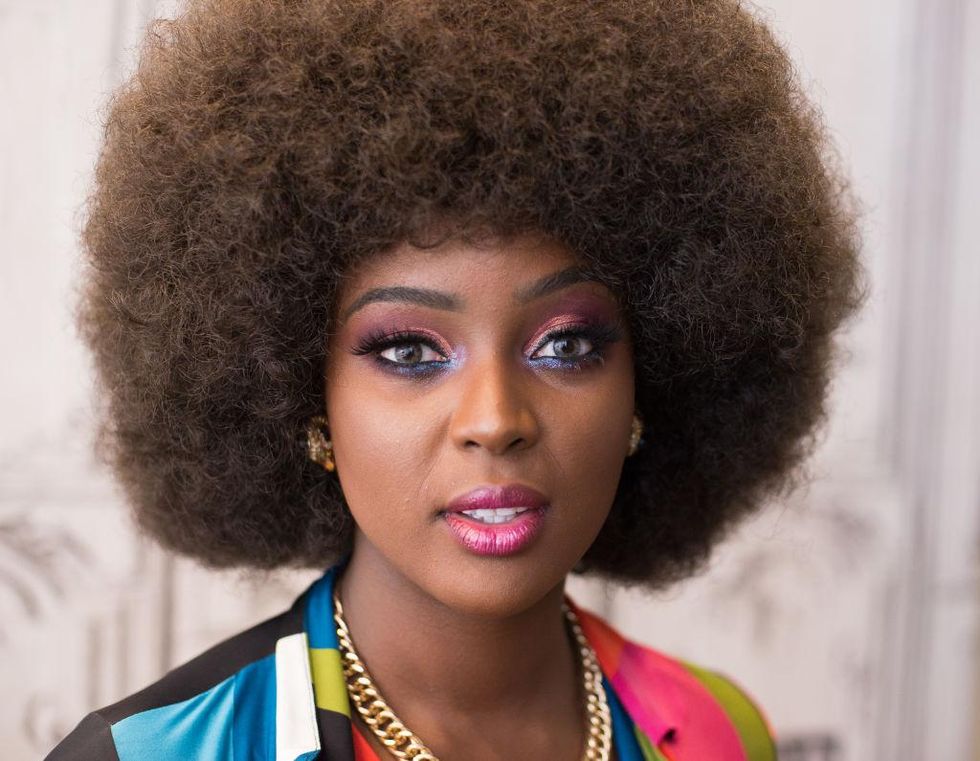 Mike Pont/Getty Images
It's a moment that she takes seriously with a platform that she does not take for granted.

Still, like anyone else, she has had her moments in which she could have very well been discouraged. The premiere episode of Love and Hip Hop Miami captured one of these moments. When Amara La Negra graced the screen on the highly buzzed-about Mona Scott-Young franchise, it was evident that a social seismic shift was occurring.

With her immaculate chocolate-dipped skin tone, obvious curves, and Pam Grier-esque Afro, the accomplished Caribbean and Spanish songstress was nothing close to the women we have become accustomed to seeing on reality television and, for her cast-mate and producer, Young Hollywood, her affinity and love of her culture, natural beauty, and hair was not acceptable. "You could be more Beyonce and less Macy Gray," he was quoted saying in the much talked-about episode.
Perhaps he thought Amara was supposed to feel shame about the characteristics that lent themselves to her physicality. Perhaps he thought she would shrink beneath the weight of his obvious disrespect, but instead Amara responded to Young Hollywood with a tsunami of reads with an intensity, and pride, and a knowingness of who she is. "I was very frustrated at that point and it wasn't the first time that I had encountered this issue with racism and colorism," Amara recalled of the moment in our interview.
In that scene, Amara was a sea of emotions, some suppressed since she was a young deep-hued Dominican child growing up in Miami. Instead of playing off Hollywood's obvious ignorance, Amara let it be known that his colorism would not be tolerated. Although anti-blackness towards people of darker skin is nothing new, it had rarely been challenged on such a platform. Amara seeks to be the change she wishes to see in the world.
"Colorism and xenophobia are very real. It's more addressed in America and it exists a lot in Latin culture but it's not talked about as much. It's in the shadows," Amara said. "I definitely feel like in America you have a lot of people who speak out against racism. There are entertainers, activists, and even people on social media that will stand up against discrimination. There are strong movements in America that aren't as visible in the Latin community. So I think sometimes a lot goes unchallenged and people don't speak up in the same manner as they do in the U.S."
"I think in Latin culture, they've become numb to it. That's the thing about why I am vocal about these things. There are so many young people and adults experiencing the same thing. Women and young girls come up to me at the airports and on the streets and they hug me and tell me I speak for them. It's bigger than me... it's really about shifting a cultural norm and mindset that really hurts and impacts a lot of people around the world."
Amara hopes that being a voice will one day decrease the disparities in representation among Latin women. "I feel honestly like God has given me the blessing to really bring to light a really important issue that has been in the shadows for a very long time not just for Afro-Latinas, but for African-Americans who have been dealing with it forever and Black people throughout the Diaspora. For me, it's about fairness, representation and creating a balance in entertainment that is reflected of our diverse population and various looks."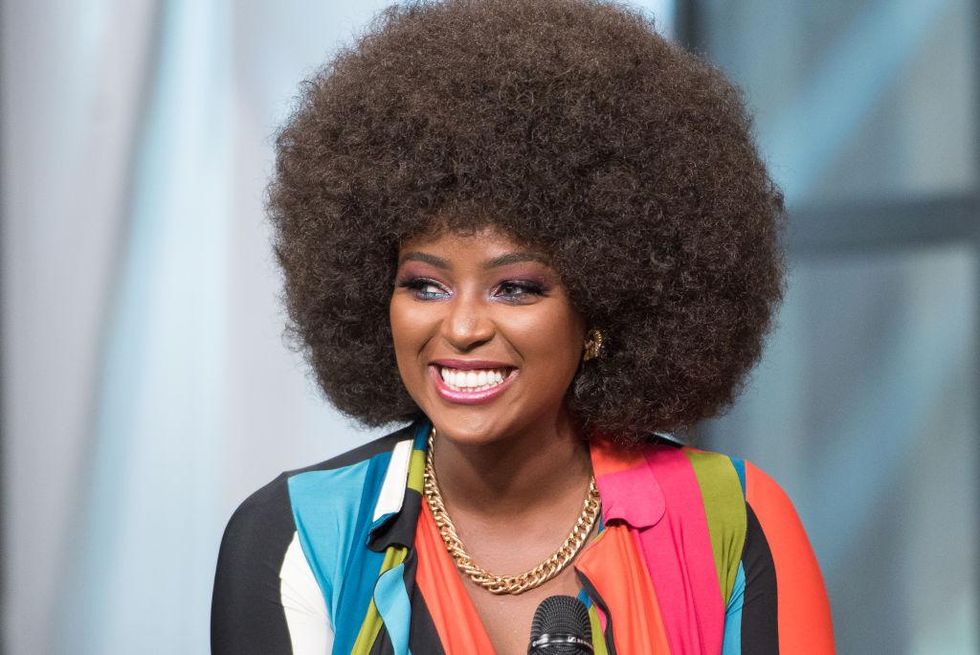 Mike Pont/Getty Images
"I know, especially in the Latina community, people have been taught to think a certain way about beauty and when you look on television, magazines, and the media and you don't see yourself being represented, you can question if you are beautiful or where you fit in and I'm here to show everybody that, yes, we are what beauty is too. People aren't always going to accept you. That can be in your work, in society, or in a relationship, but that means they don't deserve you. You have to move on and away from other people's thoughts and love yourself."

As we approach Valentine's Day with so many women getting caught up in feelings, Amara says this transcendant message of self-acceptance has to be applied in love too. "People always search for someone to love them but you have to be in love with yourself first and love yourself just as much as you would want someone else to love you. Self love is vital. It's embracing who you are and loving the person you see in the mirror with all your flaws. Self love is not letting anybody or anything make you change who you are. It's understanding that there is only one of you and you are special," she said.
"You alone are beautiful. You alone are art and that alone makes you beautiful. No one has to tell you that for it to be true. That's what self love is. For a very long time, I thought I needed other people's approval and another person's validation, but when I learned to love all of me, I let that go. If ever you want to change, do it because you want to not because someone made you feel like you had to."
Amara, in all her undeniable beauty, her sparkling talent, and her unapologetic nature is a queen in her own right, but with all her knowledge of self love and the relationship with self, we had to ask her what her relationship status was like. Briefly, she broached the topic of loving people who don't love you back, a common occurance among women. The message is still clear, love people who deserve you.
"Aye girl, l I've been there before, shoot. And it's painful. I've fallen in love hard with people who haven't loved me in the same way that I loved them and wouldn't give me the same energy I was giving to them but again when I began to understand self-love, I realized that not everyone deserves you. Not everyone deserves your energy and not everyone deserves the love you give."
She continued, "There may be instances where you may feel potential and you may think that you have the power to maybe bring that love out of someone but if someone doesn't love you...come on, you don't deserve to put yourself through that. More importantly, If someone puts you down ladies, please don't stick around and try to fix them. That's God's job, not yours. Don't waste your time. There's like 7.1 billion people in the world. If one person doesn't love you, keep it moving."
Outside of her activism and television, Amara is adding to her coins by working on her clothing line, touring, and her album of course. As she lays vocals to another track, she stops and shares a final message saying that it's important that every woman does what they love.
"From the time I was a young girl, I've known that everything that is happening is exactly what I wanted to do. I feel blessed. Music is everything to me. It's freedom. I think every woman knows what she wants to do in her life and I say to each of you, you must trust your instinct. You must pay attention to your energy and make choices based on energy. The process is not easy but if you stay true to yourself and put in the work, you will succeed."
Featured image by Mike Pont/Getty Images