They say the key to generating real wealth is having multiple streams of income.
---
If you need a real-life example, look no further than Kandi Burruss, who is no stranger to this method. The Real Housewife of Atlanta has her hands in multiple endeavors, including but not limited to: her line of sex toys and lingerie, web-series turned late night Bravo show Kandi Koated Nights, as well as her family style southern food restaurant Old Lady Gang. Not to mention, she's still collecting those royalty checks from her time with the music group Xscape and the solo publishing work she's done for other artists.
On top of it all, she still makes time to be a wife and mother of two.
If you thought juggling those tasks was difficult for the young mogul, then you are seriously underestimating Kandi's level of hustle. Recently, she revealed the launch of her new line of cruelty-free cosmetics called Kandi Koated Cosmetics, and it's another example of the wave of inclusivity in the makeup world.

The luxury line will include lipsticks, glosses, eyeshadows, and eyeliners among a number of other beauty products. According to the website, the line's mission is "aimed at celebrating and accentuating beauty in all its diversity, with color palettes designed for a range of skin tones and everything from soft nude lipsticks to fierce metallic eyeshadows."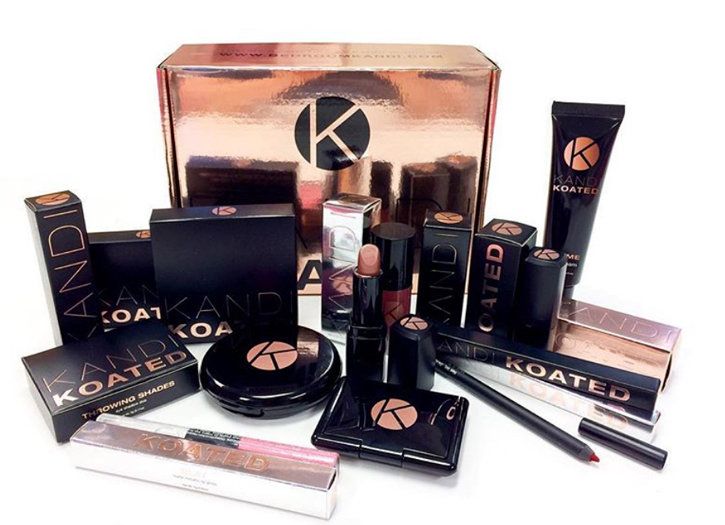 www.sheenmagazine.com
With the rise of more inclusive makeup lines, it makes perfect business sense for Kandi to enter this new realm entrepreneurship. Maybe it's the "Fenty Beauty effect", but the mark of any good business is fulfilling an existing need; and, boy, do we need good makeup that doesn't force us to search high and low for the perfect blend.

According to a recent Nielsen report on the beauty industry, over the last five years, the "number of unique facial cosmetic colours available on shelves has grown 22 per cent, outpacing the general pace of new product development in facial cosmetics by seven times."
Inclusivity sells, y'all.
For now, Kandi Koated Cosmetics will only be available at Bedroom Kandi Boutique Parties hosted by Bedroom Kandi consultants in your area. And if you want to get in the game yourself, you can sign up to be a consultant for the company and get your hands on the sex toys line as well as the new line of makeup. Get all the goods AND become your own boss: win, win!

If you're trying to step up your entrepreneurial game to Kandi-like levels, here's some advice she gave up-and-coming boss babes in an interview with Ebony:
"My advice to anyone out there looking to go into business is to first cut back on your spending…Pull back on your expenses and put money to the side until you've stacked up enough to put toward your dream. If you're not willing to invest in you, why would anyone else?"
Mogul talk.

Check out some behind the scenes footage of Kandi's grind for yourself right here. Will you be adding Kandi Koated Cosmetics to your beauty routine?
Featured image by Drea Nicole Photography via Kandi's Instagram