---
As we all know, the entertainment industry is a beast—especially for women of color. From television to music, it is fairly (or unfairly) understood that black women are often portrayed as aggressive, argumentative, or hyper-sexualized. Even for those of us who choose to celebrate their crowns through basic talent and hard work, the journey of "making it" comes with a unexpirable set of challenges.
And most frustrating of all, for those ladies who have a heavier dosage of melanin—such as the Justine Skyes or Normanis of the culture—that journey becomes that much more of a challenge, regardless of how talented they are. With knowing this, we have become highly aware of the fact that the resiliency to conquer this beast of an industry, must always, and only, be unwavered.
But what's a beast to a beast?
Someone who can explain entirely is Jessica Juste, the triple-threat, Haitian seeester-in-chief, who has affectionately captured our hearts, televisions, and social media scroll. We know her best as Jessie Woo: host, stand-up comedian, and ultra-talented vocalist, who has encapsulated her brand geniusly.
And with the recent release of her charting debut EP, Moods of a Cancer, Jessie Woo is proving her beast to be solid.
Ten-toes down, solid.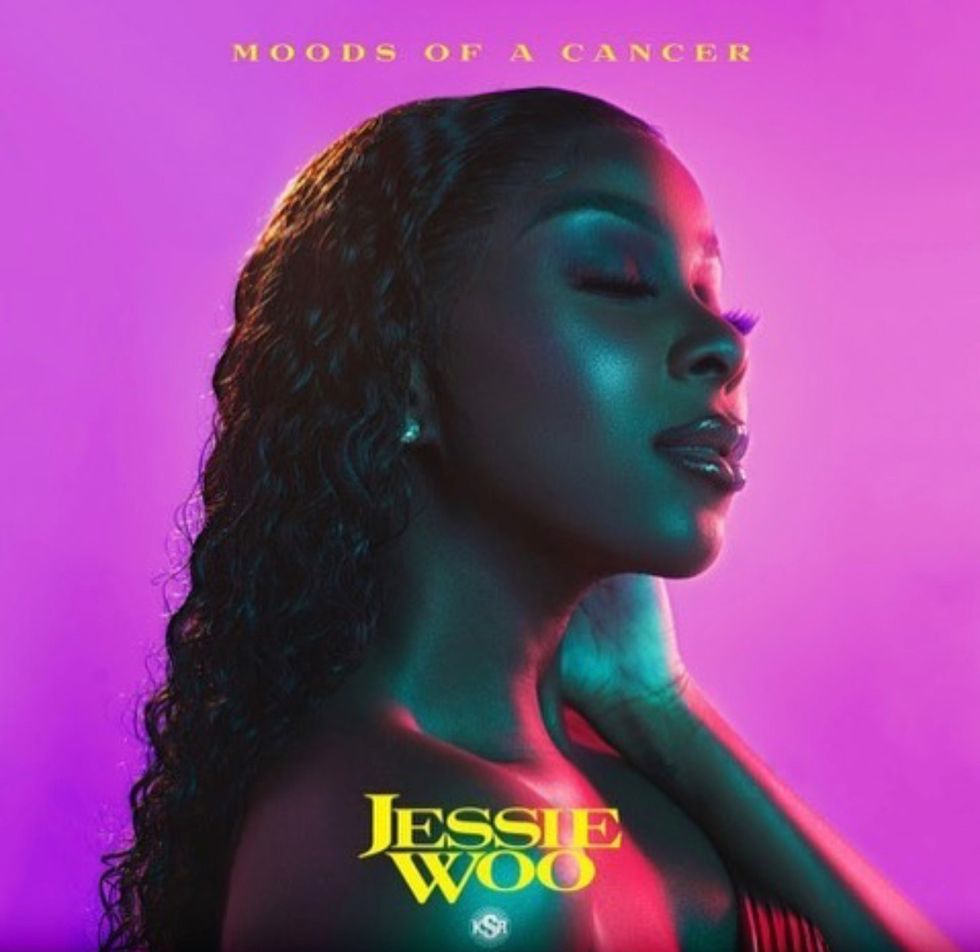 Courtesy of Jessie Woo
We sit down to discuss her evolution into music and womanhood since her last chat with us; and getting to know Jessie was admittedly a joy. She reminds me of a butterfly that is shy because it's blossoming from its caterpillar state, but also knows her new wings are poppin' as they emerge.

During our conversation, I study her presence. Her aura has a majestic possessiveness for her character and space, and she carries an unexpectedly stoic demeanor. She's fun but reserved and I am immediately enamored with the code switch from 'professional' to 'vibrant social media personality.'
I take note of her skilled approach, and ask how it feels to emerge from a class of fellow highly sought-after black women (Luvvie, Jackie Aina, Chrissle, etc.) with large platforms that the culture often looks to for their views on relevant topics. "I just keep it real," she says. "I'm not always joking, things aren't always funny. I've used my platform to speak on alot of things; politics, sexual abuse, Haiti, makeup, relationships. I think people gravitate towards folks who are honest; folks who aren't afraid to be transparent."
She's been a bit busy with being a host for various largely embraced platforms (Will Packer's Power Star Live, stages at Essence Fest, BETher red carpets, etc.) and managing a social media account of hilarious content that garners millions of views from her loyal 630K+ followers. And now, Jessie has slowly transitioned to a place she has always felt she should be, since she was a young girl: music.
With a standout single (and my jam) "Vacation" on the airwaves, and an EP peaking at number two on the R&B iTunes charts, Jessie is finally receiving well-deserved recognition for her music. "I was so scared to release this EP. Like, even the night before I asked myself, 'Are you sure you want to do this?' But I did. I wasn't going to let anything hold me back. So, we released it the next day and it beat Chris Brown, girl! I have the screenshot!" she says with a laugh.

"An evolution is happening for sure, in a great way. [Now] when people see me out and about, they talk about my music first."
Known as a boisterous ambassador for her ancestry of Haitian descent, she proudly flies the flag of her heritage through her music, comedy, and vibrant personality. "I grew up going [to Haiti] all the time. It's my favorite place to vacation. My mom is from Gonaïves (up north) and my dad is from Jeremie (down south). Unfortunately, people focus on the bad, the ghettos of Haiti, the political turmoil. Haiti has its issues just like every other island and every other black country in the world, but don't count us out. We've given too much to humanity to be cast aside."
Footage of boat rides on the clear waters, meetings with senators and tourism boards, and her roaming through the streets of Cap-Haïtien fill her instagram on her recent trip for a music video.
"Going back to Haiti to shoot the video for 'Vacation' was so important," she says. "It is very important to me that I use my platform to educate people about the Wakanda of the Carribean. It is beautiful. The beaches are unlike anything you are ever going to see. The food is incredible. The people are amazing."

I quickly realize that you can literally hear her smile and admiration of Haiti each time we discuss it.
"And 'Vacation' is the most popular song on the EP for obvious reasons. It's flavorful R&B, EDM and kompa all in one, so it all just made sense."
I take a moment to brag on her vocals and then I ask how she manages to balance the pressures of being a comedian, with wanting to be taken seriously as an artist. "You know what, that's a good question. I was just speaking with my manager, Shaft, about that. He worked with Cardi B on 'Bodak Yellow' and that's who he compared me to career-wise. I look to her as someone who has mastered the balance of the two beautifully. She is silly when she wants to be, but she is also serious when it's time to be serious. And whether you like her or not, one thing she is always serious about, is her music. And I feel we have that in common."
Another factor the two have in common is a stint in reality television. She speaks briefly on what she has learned through the process and if she would change anything. "Definitely. I wasn't prepared and I didn't know the politics behind it. I made mistakes in front of millions of people but God still had favor over me. What was meant to destroy me, turned out to be for my good."
I couldn't agree more.
"But I think my resume pre-reality TV, helped prevent reality TV from defining me. I hosted Essence Center Stage at Essence Fest this year. That was major. That opportunity didn't come from reality television. That came from Essence seeing my BET Breaks work, my BETher red carpet work, my Power Star Live work. Thank goodness I laid a solid foundation down so that opportunities could still roll in because chile," she laughs. "God is good!"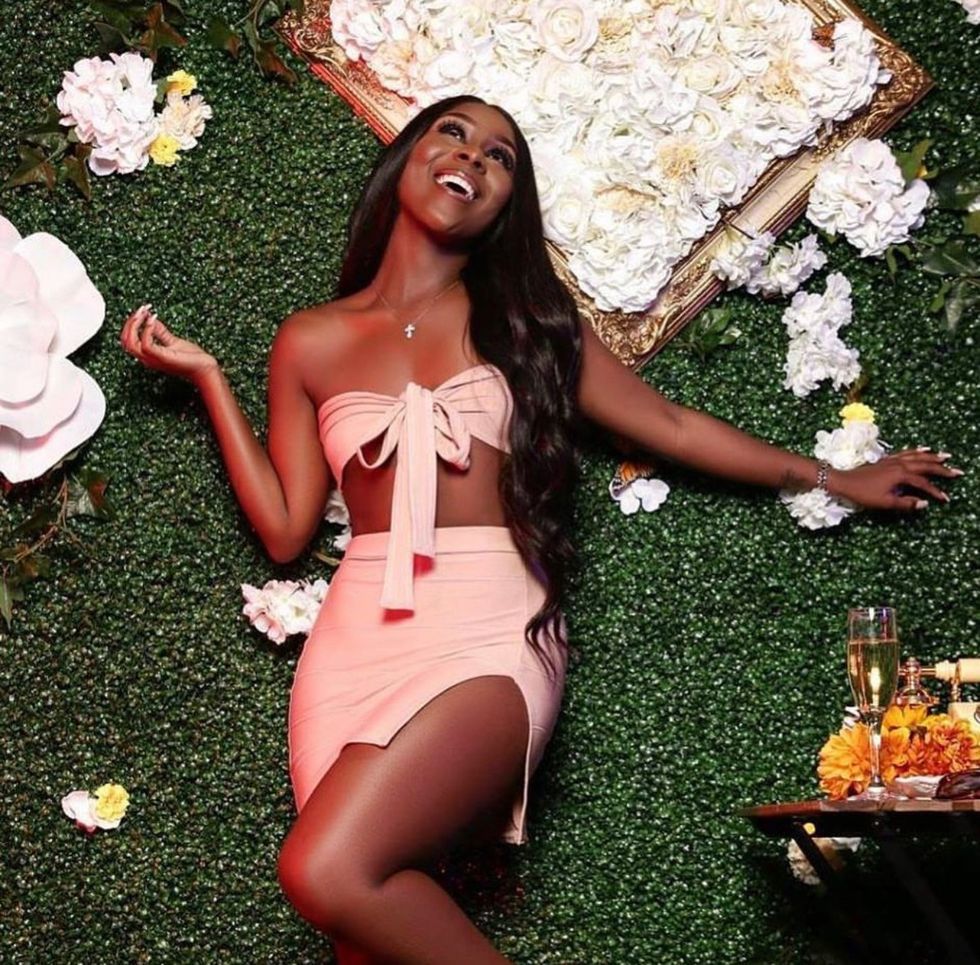 Courtesy of Jessie Woo
With her plate full and cup running over, I can't help but wonder how she manages to decompress and practice self-care. And although she hasn't quite figured out a routine yet (send her some tips, yall!), she does enjoy being in the quiet at home, which gives her the opportunity to think, talk to God, and process her feelings.
To keep her mental health in check, she does credit friends like Tanya Hoffler (BET producer), Jamila Mustafa (MTV's TRL), and Yves Carmelle (music agent at ICM) as women that she can look to for advice in navigating this chaotic industry. "[Yves] was one of the first people to reach out to me when folks started spreading my funny videos online. She's a successful Haitian woman who is well-respected and it means a lot to me to have access to her."
We close out with me asking her to describe herself. And without hesitation, she says, "Jessie Woo is a Haitian woman who loves God, has a great education and is talented beyond measure. She's not afraid to be herself, and make mistakes while reaching for every star destined to hang in her sky. She's a fearless go-getter, who is going to leave a major mark on this world."
I smile and think to myself: Wi, seeester.You already have.
For more of Jessie, follow her on Instagram @thejessiewoo.Moods of a Cancer is out now.
Featured image courtesy of Jessie Woo.