---
Technology and travel are becoming the driving force behind so much of what the world is evolving into. For example, Americans make up about 85% of all flight travel in the world. In the U.S. alone, Black millennial travel comes in at nearly 5 million, roughly 43% of the entire American Black population. And with popular social media groups such as Nomadness and Travel Noire leading the pack, the newly coined "black travel" has saturated a $63 billion chunk in the space.
That's billion, with a b. #BlackTravelDollarsMatter.
But with all this traveling we're doing, I couldn't help but wonder what methods most people use to manage communication with locals on a fundamental and conversational level. I recall traveling to Kenya where I was met with "Jambo mrembo" and other Swahili phrases and conversations at every turn. Although largely a bilingual country, I remember times where there were major language barriers.
In comes Quiante Hedrick (call her Qui), co-founder of the most game-changing translator app in the world, Instaspeakers.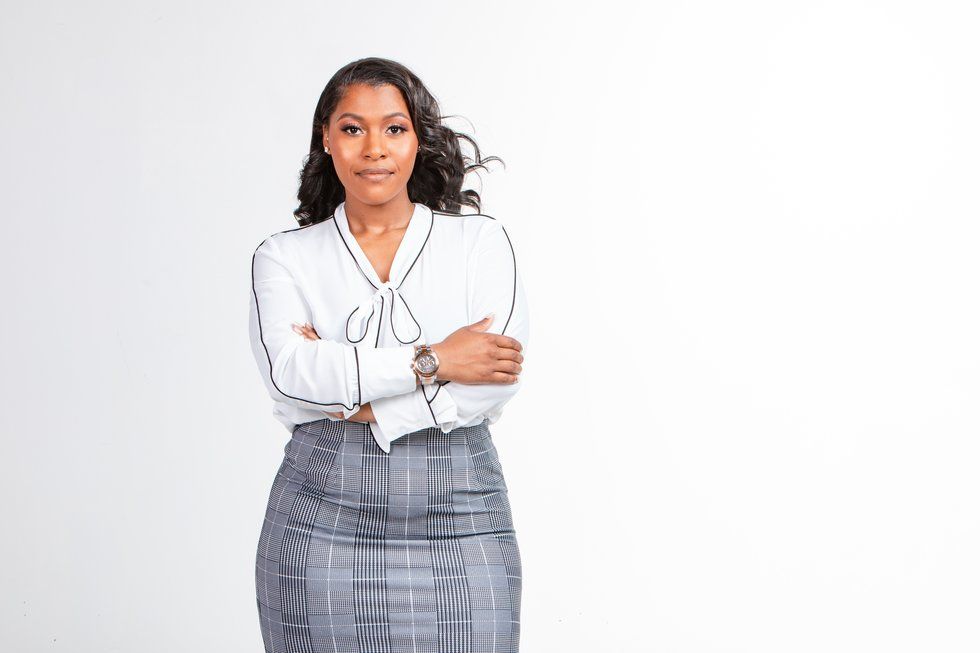 Jasmine Oliver of J Lauryn Photography
Instaspeakers is a live, on-demand translating app that allows you to video chat with a translator anywhere in the world. With the app, you can have a seamless conversation with individuals that do not speak the same language as you at any time, on any level.

I took the time to meet with Qui to learn more about how she plans to revolutionize travel. She joins me for smoothies at Fruve' Xpress Juicery in Chicago's South Loop for our interview. As she arrives, she has a captivating, mini-powerhouse scent that fills the room. We greet each other with smiles and pleasantries as she shifts into business-mode to discuss how Instaspeakers came into fruition.
"One of the major issues that prevent people from traveling, or truly experiencing different countries is the language barrier," she begins as we review the app's capabilities. "You can go anywhere in the world, but can you have a seamless conversation with someone while you are there? The answer is no. That's why we created Instaspeakers."
Her excitement shows beyond her huge smile, natural aura illumination, and fly outfit. She explains, "[For example], Google Translate doesn't know how to connect what we've just talked about two sentences ago, with what I'm saying now. It's literally just meant to spit out the best version of what you say, in the language that you choose. That's it. And we wanted to change that narrative. We noticed this problem and wanted to provide a solution."
As a former law student, Qui ultimately made the decision to forego her education in an industry she had studied in, to shift to an entirely unfamiliar concentration in the tech space. And although she comes from a family that has operated multiple successful businesses, she knew that she was in over her head. "In addition to Instaspeakers, I am also a wife and mother. I didn't have the flexible schedule to adequately continue law school and develop a company at the same time. I knew I had to adjust my focus to the brand 1000%," she explains.
And from there, Instapeakers was fully born.
It goes without saying that there is a large disparity between black women in STEM (only 2.9% of STEM bachelor degrees belong to black women) versus an industry such as beauty and cosmetics. But over time, STEM has become a highly encouraged industry by other high-profile giants such as Lebron James, Verizon, and Drew Brees.

Yet, due to many melanin-related problems that are relevant in all industries across Corporate America, STEM has routinely had a difficult time retaining those who enter the field. Researchers suggest that the best way to keep black women in STEM is to give those women someone that looks like them to look up to and that's where Qui comes in.
"[Because I hadn't] had previous experience as a student in tech, I had to learn a lot on my own and become comfortable with being uncomfortable. As much as we want to have all of our ducks in a row before we embark on a new journey, it doesn't always happen that way. It was best to just start."
In my head, I take note of this same recurring theme from all the entrepreneurs I've featured in the past. She continued, "Now we're on track to reaching one of our largest goals in a year. So, in many ways, Instaspeakers is vital to the culture. It's one step closer to breaking barriers, providing opportunities for our people, [and] allowing us to participate in this new tech boom."
She takes a quick call as I continue to play around with functionalities. I'm pleased to see the user experience is straightforward and minimally invasive. The most interesting element to the app is it allows you to have a personal translator on standby, at all times. Think of their business model as being identical to Uber, but instead of calling a ride, you're calling for language assistance.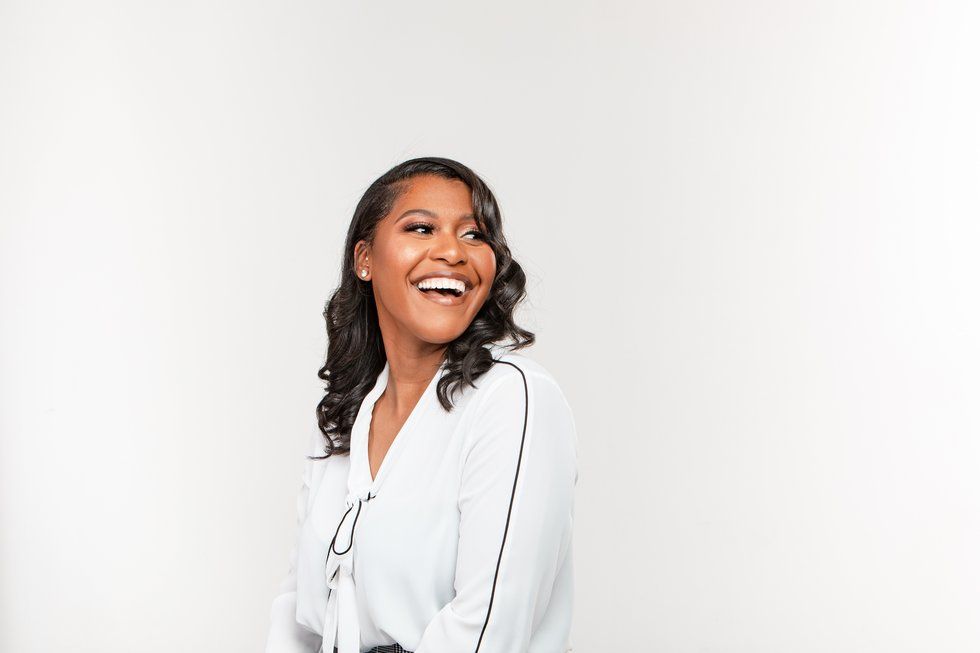 Jasmine Oliver of J Lauryn Photography
When Qui returns, she notices that I'm having a little too much fun playing around and we both laugh. I tell her about my Kenya trip and how the app would have been so beneficial.

"You know what, in Kevin Hart's Irresponsible stand-up he explained how he forgot to schedule a translator for his visit to Japan, and by the time he realized that he needed a translator it was too late. He pivoted this moment into a hilarious joke about being at a theme park while in Japan, and not knowing the language. This literally could have been an Instaspeakers ad," she laughs.
We switch gears and begin to touch on her family, home life, and her best self-care practices. Her contagious smile appears again as her acai bowl arrives. We briefly chat about her husband and son, who she credits with as the aspects of her life that keep her going. I then ask how she balances being both a wife and mom, with being an entrepreneur.
"Well, I've changed my mind about the number of hours that are within a day," she says as she laughs. "I remember waking up at 7 am and thinking that was early! Ha! Now my mornings begin at 4:30."

A true struggle all business owners can relate to.
Qui shared, "Plus I have successful people in my life that won't let me give up and continue to push me. As long as there is a problem that needs to be solved, I [am] motivated."
We close out with me asking what's next for her and Instaspeakers.
"Simply put, we want to be the reason that people can travel anywhere in the world, and never worry about language again. So, this is what we'll remain focused on."
She sits back and takes a sip of her smoothie as if to humbly celebrate what's coming her way.

And with full pride and satisfaction, we toast our smoothies and cheers to all the women who unapologetically do the same.
For more on Instaspeakers, visit their website at www.instaspeakers.com. It is available for download in all app stores.
Featured image by Jasmine Oliver of J Lauryn Photography.