As Told To is a recurring segment on xoNecole where real women are given a platform to tell their stories in first-person narrative as told to a writer.
This is Stephanie's story, as told to Charmin Michelle.
So, before I open up this conversation, let me say that I don't think I am an unattractive girl. I know I am attractive in some ways, and I understand as a Black woman, that we are all beautiful. I am not discussing this for pity. And I am not discussing this to be dismissed. I simply want to have a conversation about what it means to have pretty privilege. This conversation has been swirling around the social media-sphere for much of 2021, and I have always had opposing experiences from those who usually actually have the conversation—or those who are pretty.
---
Celebrities such as Saweetie have opened up about her experiences with whether she does or doesn't benefit from this type of leverage, and there's a multitude of videos on TikTok floating around on the subject of pretty privilege as well.
But this is my story, and what my mental health has personally struggled with for some time. And, well, I want to be honest about it. I just want to be honest. That's all. Please don't dilute my story with yours. This is my truth about the difficulties of not having pretty privilege in an image-based society.
OK. Here we go. *sigh*
Growing up, I always knew that 'pretty privilege' existed. I always knew people, specifically women, could use their looks as a form of currency as they move through a patriarchal society and that they could use it to get better mates, or they can use it to get better jobs that "regular-looking" women couldn't get. I was aware that this type of privilege is out there.
And I also knew that I didn't have it.
For anyone who doesn't know the concept of pretty privilege, it's when you basically get treated better in life due to how attractive you are. It never really bothered me until I got a little older and began to take stock of different things I didn't have in my life, which honestly, is natural as we all often compare ourselves to other people.
I started to just think about all the things in my life that probably would have been a little bit easier if I had some pretty privilege. But pretty privilege is not something that you, yourself, can decide that you have. It's something that society just gives you based on what the systems of society already are.
I began noticing subtle changes in behavior toward me and then toward my girlfriends. For example, for my most recent birthday, a few friends and I decided to go out and celebrate, which was a huge deal for me. It was monumental. I was never that girl who went out or that participated in the stereotypical rituals of partying, dressing up, or anything that most young, millennial women take part in. And sadly, this was because at a very young age, I realized I was the girl at the bar paying for my own drinks or never being approached by any men. I created a defense mechanism to where I would only go to places where I knew no one there would be anyone I was attracted to. I was roughly 22 years old.
But anyway, for whatever reason, this particular birthday, I decided, "You know what, sis, you've been watching YouTube tutorials, you are poppin' AF, go out and have a good time." I felt so pretty that night and I remember walking into the restaurant like I was a star. I felt like I was on top of the world and if anyone was going to notice me, it was going to be tonight!
But I walked in, and not a single person made eye contact with me. No one even budged, actually. 
And what's wild, is my friend walks in to meet me, and the entire place shifts towards her beautiful light skin and effortless aura that I just do not possess. I went home, after such an amazing night out with friends, hurt. I felt I did all the things that women are supposed to do, and most importantly, I was confident. I was happy. But it just wasn't good enough.
I realized I will always be invisible, even if I try.
Another time, I was at the airport and crossed paths with a guy a few times as we were on the same flight. We stood near each other much of the boarding process, and didn't speak, no eye contact or engagement at all. We were offered to sit near each other but he chose to sit elsewhere (which in hindsight, it didn't dawn on me why he chose the other seat until we sat down) so when we began to board, I went to my seat, and he went to his. He was near another woman, who was Indian or Latina. And within two minutes, she knew his name, where he worked, they connected on social media, and she was invited to a party in the Hollywood Hills.
Go figure.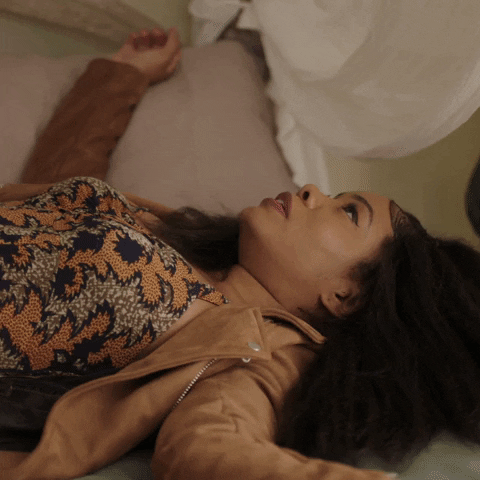 Tired Give Up GIF by HBO
Giphy
And it sucks because for me, the guys that usually approach me are those who have minimal ambition or aren't equally yolked career-wise (not that I make a million dollars), therefore my dating experiences are limited. Like, I always make sure I'm even employed before I begin to date. Let's just say this is never the case for me, as successful men often look for a certain "type" of woman.
This is why women like Lori Harvey, or Ciara, or Cassie aren't role models for me, and never were. Women often ask Ciara what was her prayer for her husband and this conversation isn't even in the scope of my life as I can sit up here all day in a convent and pray and it won't work like that for me.
Ciara is not a regular, degular, smegular girl. She is beautiful, talented, and has a career all her own. No matter how much people try to dress it up, Russell Wilson was attracted to her because of that first. This is how pretty privilege works.
And it's the same with work. I have to work for people to think of me positively. Be more, have better, or seem stronger. It's exhausting.
But ladies, I say all of this to say, as superficial as this all may sound, it's real. The thing that hurts the most about not having pretty privilege is that I feel like I get left out of the amazing, beautiful things about being a woman.
Something did dawn on me, however: even without pretty privilege, I won't look like this forever. I thought to myself, 'You're missing out on the parade of life.' I may not be a pageant queen on a float, but I'm still here. And it's my job to adorn myself, the way I see fit.
Even though traffic may never stop when I go outside or I may have to pay for my own drinks at a bar, I can still make an effort to make myself be a reflection of how I feel about myself. And even if no one ever turns their head when you walk in the room, or if they never buy you a drink, when a picture is taken, and you go back and look at it years later and think, 'Wow, I can tell she loved herself,' that is all that matters.
Society may not feel that you have pretty privilege, but if you feel you have it, then you're going to reflect that back into the world.
And at the end of the day, that's all that matters too.
Stephanie often has open and honest conversations about societal norms on her YouTube channel. Follow her on Instagram @ohstepco for her latest updates on her life's journey.
Feature image courtesy of Instagram/ohstephco