Marlene Aymone certainly knows a thing or two about the sacrifice that comes with being your own boss.
She passed up opportunities for a steady income to start her luxury eyelash line, Lena Lashes and almost lost her marriage in the process. She was even on the brink of losing her son due to the late nights and early mornings required to keep her company running.
---
But with sacrifice comes great reward, and thanks to social media, the wife and mother of two, who at one time only had $26 to her name, has built an incredibly successful business within just a couple of years.
"I was expecting to sell a few thousand a month, not a huge volume every single month," Marlene says of her seemingly overnight success.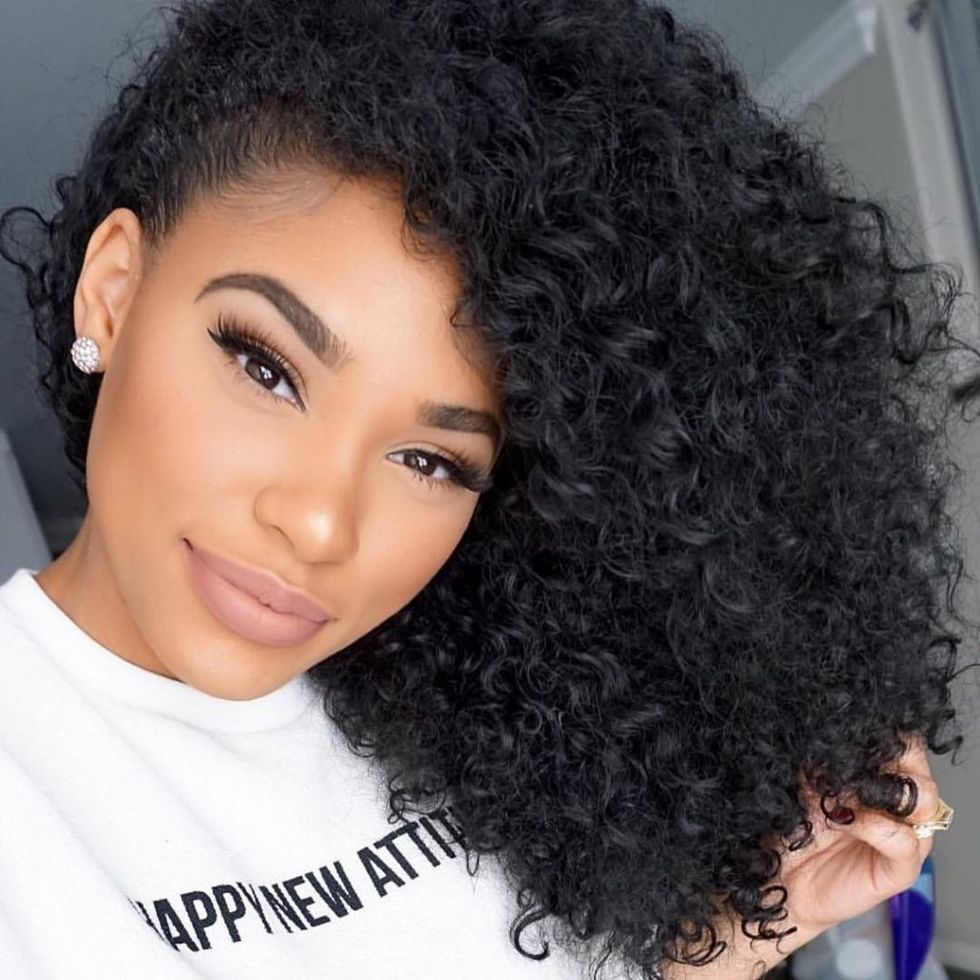 Beauty blogger Raye Boyce rocking a pair of Lena Lashes
There's something about a good pair of lashes that takes even the most beautifully beat face to the next level. Slick on a pair of the peep enhancers and suddenly you can't help but to smize in front of the camera, fluttering your faux lovelies as if they were your own. Marlene refers to them as an addiction, and with social sites like YouTube and Instagram catering to beauty enthusiasts, there has been an increasing demand for her product from both casual consumers to celebrities and influencers.
Like most fairytales, though, Marlene's journey to profitability wasn't picture perfect. Just two years ago, the entrepreneur was going to grad school on a full fellowship and teaching science to kids in underperforming schools. The money was decent, but her passion was in the beauty industry, so when her head wasn't buried in textbooks, she was selling hair bundles and doing makeup tutorials on YouTube.
"I was like, okay, I want to try something else because there were so many people selling hair and it's expensive to promote and sell. I needed to find something that was a little easier to promote."
Marlene took her love for makeup and developed it into a side hustle and, in the process, came up with the idea for starting her own eyelash line.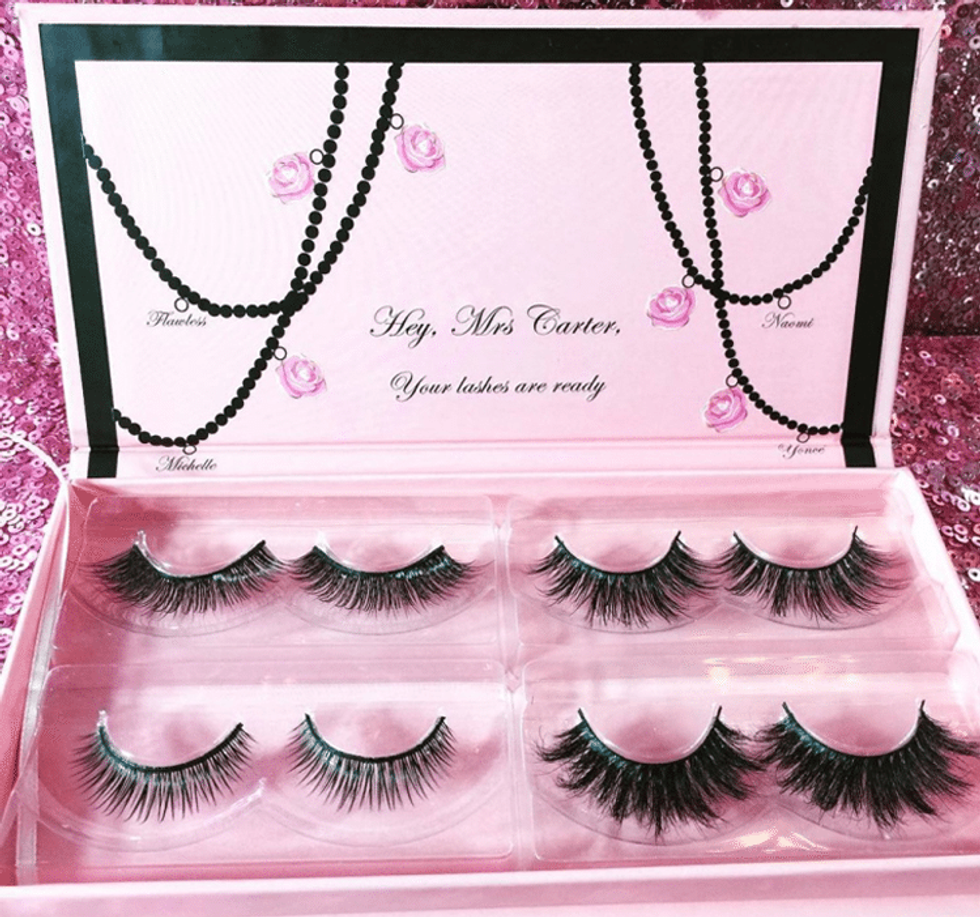 Taking $750 from her savings, she began researching suppliers in Asia and bought $250 worth of inventory and put the rest of the cash towards creating her website. But the pressure of being an entrepreneur hit hard before she could even make her first sale. Juggling her marriage, a two-year-old, and a hectic work and school schedule had her questioning whether or not she was making the right decision, and she feared that her company wasn't going to give her a return on her investment.
Her husband was even less supportive of her vision and told her that she was wasting her time thinking that she could build a successful business using social media as a primary promotional platform. "He would say things like, 'This is beneath you; you're so smart and you're so intelligent, but now you're doing Youtube videos. Like what is this? You don't care about the family.' He started having these feelings of resentment and being bitter on the inside."
Sinking into a revolving state of depression, Marlene convinced herself that there was something wrong with the product and shelved her products for a year until her mother encouraged her to sell the inventory that she had. In February of 2014, she began shipping out her product. Business was steady and things seemed to be looking up, but two months in, she opened an email from her husband who had relocated to Georgia for work just a few months prior. He was filing for divorce.
"He had talked about divorce a few times, but I thought he was just trying to scare me. My husband's African-American and I'm from West Africa. So he knows that African people, we take marriage very seriously. I was like, he's just doing that to scare me because he knows I'm African, alright cool."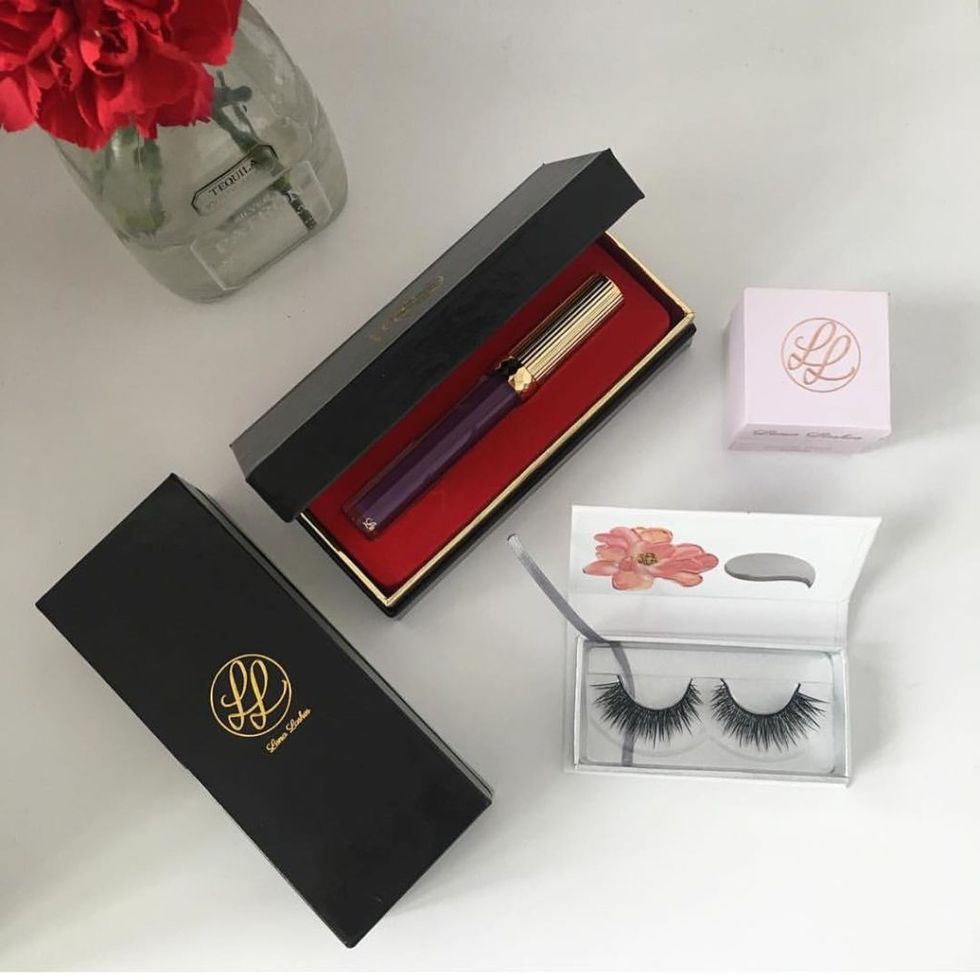 Photo Credit: Lena Lashes
The joke became real when she saw his attorney's name at the bottom of the divorce papers. At the time, her son was staying with her husband while she continued going to school and running her business. The pending divorce meant that she could possibly lose custody of her child, so she packed her bags and the little inventory that she had and moved to Columbus, Georgia, determined to fight for the courts for sole custody. "I didn't have any money; it wasn't something I was preparing myself for. You don't really think that, oh yeah I'm going to be divorced tomorrow so let me start saving some money."
"You don't really think that oh yeah I'm going to be divorced tomorrow so let me start saving some money."
She rented an apartment and brought her son to live with her, but with no money to her name and mounting attorney fees, she had to apply for welfare, and sank deeper into depression. Though she had hit rock-bottom—sleeping on an air mattress in an unfurnished apartment with only $300 to feed her and her child—she decided that fighting for her dream was better than being broke. She shipped out her remaining inventory to influencers in the makeup industry who were following her on Instagram in exchange for promoting her products, leaving her down to just $26 in her bank account.
"Luckily it paid off, and from there, we started having bigger YouTubers wear and promote the lashes, and it started to grow from there," says Marlene. She compares her journey to Radio One founder Cathy Hughes, who went from sleeping on the floor of her radio station to creating a media empire. "She had no money, all she had was her vision."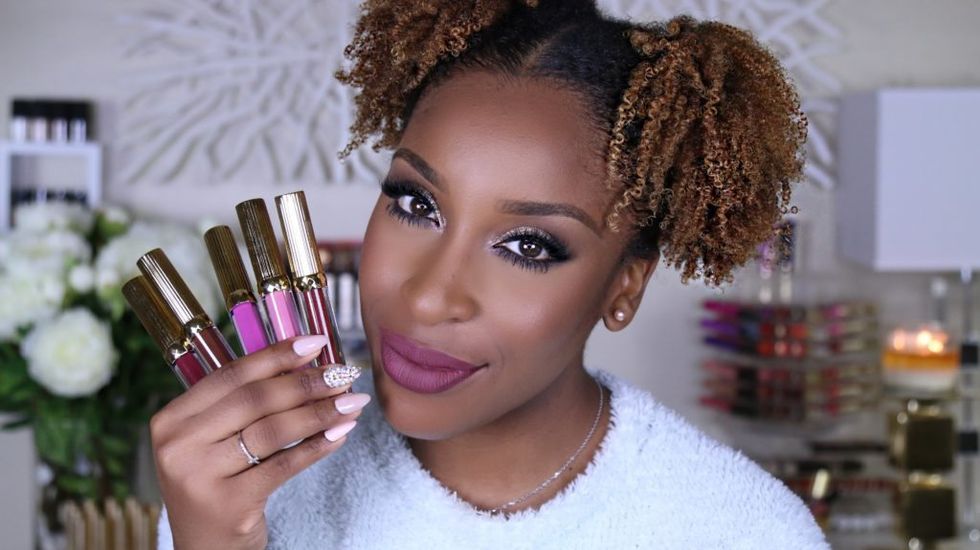 Beauty vlogger Jackie Aina rocking Lena Lashes and Liquid Lipsticks
By December, Marlene was off of food stamps and the money was rolling in thanks to social influencers helping push her products on YouTube. Her husband had even called off the divorce. But Marlene ran into another issue—she didn't have the supply to meet the demand, and though she had proof that she was running a profitable business (she was making so much money that she was being audited by PayPal and Square every month), she struggled to get the capital needed to purchase enough products in advance.
It's something that still greatly bothers the now 31-year-old as she looks to expand her business into storefront locations outside of her current location in New Orleans. Being a minority in the beauty industry means often being overlooked for opportunities for funding, and having to work harder than her Caucasian counterparts to prove the profitability of her idea. "If you're Black and you ask for a loan, they'll ask you for your granddaddy's freedom papers. When you're black, everything has to be perfect."
"If you are black and ask for a loan, they'll ask you for your granddaddy's freedom papers."
There's also the issue of black-owned businesses being stereotyped as not having the same level of customer service as another company, causing many not to support their own. "You pay people to do customer service, and when you pay people you have to put them on your payroll, you have to pay Medicare and social security taxes and worker compensation," says Marlene. "Those costs add up. I can't afford to have 24/7 customer service support."
There's no denying that being an entrepreneur, especially a black one, is hard. Damn hard. But Marlene, who refers herself as the Walt Disney of lashes due to her pretty packaging and creative collections, is determined not to give up on the one thing that has kept her going when she hardly had a dollar to her name. "I look at my lashes like my babies, because when I didn't have anything, my lashes got me through bad situations, so it's always a pleasure for me to come up with collections and release new lashes."
"I look at my lashes like my babies, because when I didn't have anything my lashes got me through bad situations."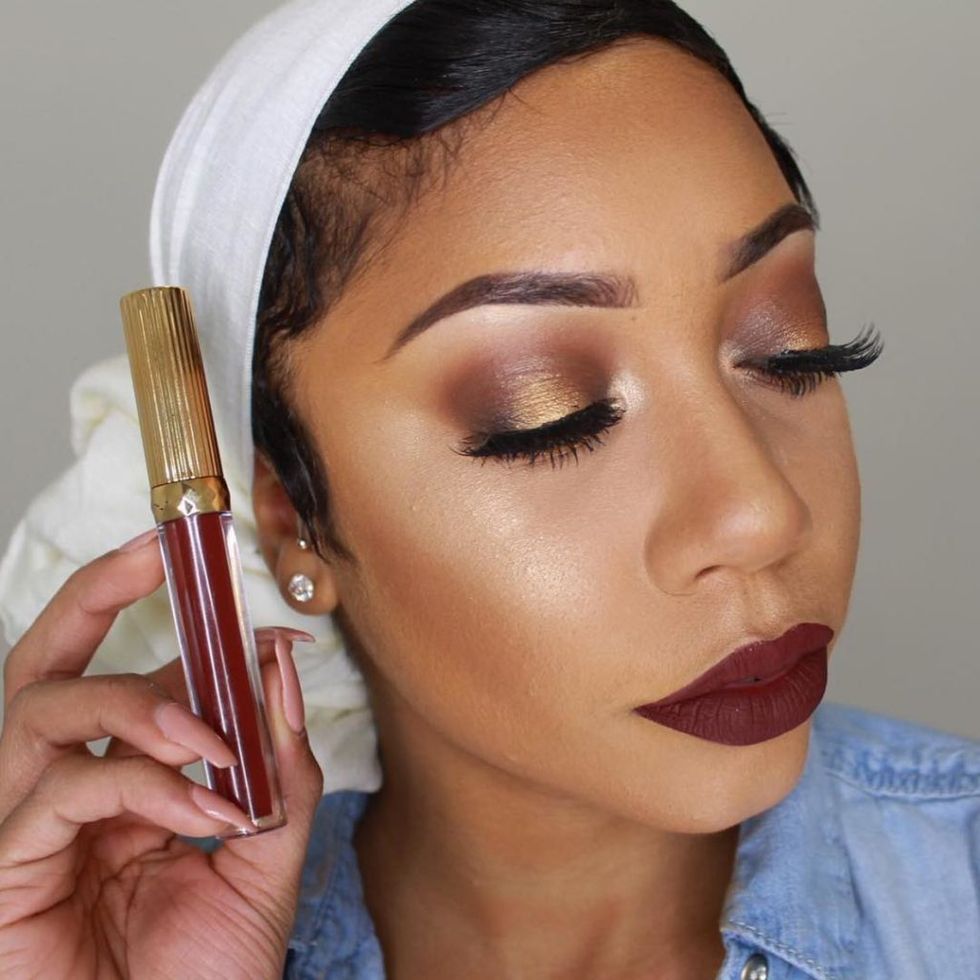 Beauty blogger Jae wearing the "Dante" liquid lipstick.
Though she's getting better, there are still moments when she battles with depression due to the demands of the business. "The whole thing about depression is that it allows fear to grow, so your fears keep growing and growing to a point where you feel like you are completely defeated. Depression also causes you to self-sabotage. Every time we have an opportunity, depression will tell you don't go because it's not going to work out. Or don't go because you're not smart enough; don't do it because you wont succeed. It always causes you to commit self-sabotage."
She credits prayer and making a point of getting out amongst people to helping her to stay strong in moments where her anxiety attempts to get the best of her. "Don't isolate yourself. Depression will tell you to stay in the house, stay by yourself. Sometimes people who are depressed, they have a saying of, 'I like to stay by myself, I like to stay home.' No, it's depression. It's not normal for women to want to live isolated, so talk to people."
Balancing being a mom and a boss is no easy feat either. When she was pregnant with her second child, she missed prenatal appointments after her first trimester, and after he was born, she would breastfeed him in the office while taking orders. Her marriage has also taken a few hits on days when she's too tired to be intimate. "Men are just like us. Sometimes we don't realize it because they have muscles and they're big, so we're like well he's strong anyway; he'll be alright. And it's like, not really because they're also emotional creatures too, and they take rejection the way we take rejection."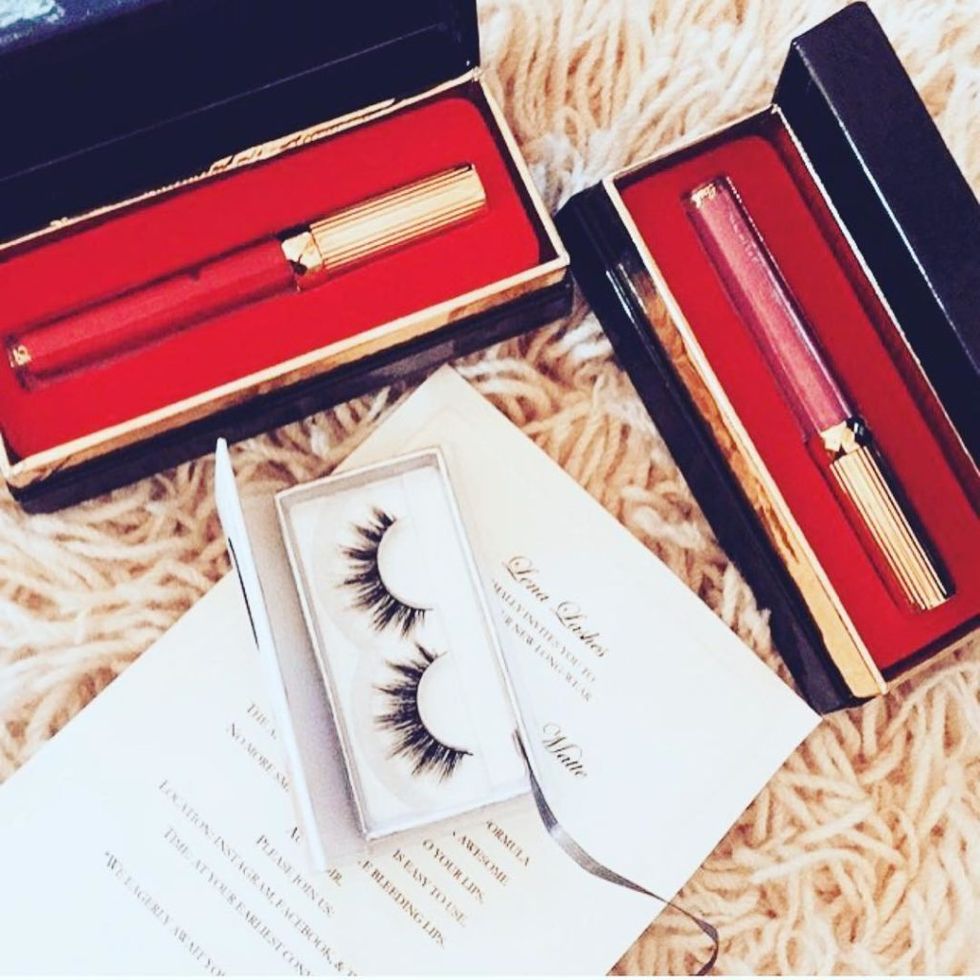 Marlene has been in the business long enough to see even the most picture-perfect relationships fall to pieces when the roles reverse and the woman becomes the primary breadwinner. She, too, is making more money than her husband, who works as an engineer at an oil company, but makes a point to remind him of his value. "I would tell women even if you start marking more money, still be a wife, still be kind, we know you make the money, you don't need to rub it in his face. It does something to you as a woman to know that you have a strong man by your side because when you go home, life is kind of tough. When you have bad days, he can't even uplift you because you crush his self-esteem."
"It does something to you as a woman to know that you have to a strong man by your side."
Helping other women become more confident and her desire to put her sons in a position to where they won't have the same struggle of following their dreams also gives her just the bit of juice she needs to keep going.
"I just hope that they'll be able to have a really good life, and if they are able to start something one day, I'll be able to give them the money so they can start their own businesses, and be who they want to be," she says. She apologizes as the tears start streaming, "I don't want my kids to go to college and have to worry about financial aid and being in debt. I want my kids, when they become adults, to have a big advantage over other people by not having debt."
She might not be donning the cape of a traditional super hero, but there's no denying that Marlene is a super woman both on and off the job.