---
Crisp mornings decorated with orange and red leaves, thick layers, and warm pumpkin spice lattes are a few reasons why fall is a favorite for many. It's around this time of year I start digging out my coziest sweaters and transitioning my favorite summer items . The cold weather swept in fast and looks to stay awhile.
A lot of people don't consider how inexpensive the colder seasons can be. Yes, you want a stylish coat and potentially a pair of animal print boots, but otherwise, you can get away with whatever. For the most part, autumn has a few key pieces: longline coats, boots, eye-catching blouses. Many times you can recycle the same trends over and over again, keeping your looks fresh but your budget down.
Every season doesn't require new clothes, nor should they. Here are some pieces you can invest in now, and wear for many falls to come.
Lace Detail Blouses.
One good blouse can take you far, believe me. The great thing about layering : you can re-wear pieces without many noticing. When you have an item like a lace detailed blouse, you're killing three or four birds with one stone. You can wear it under a sweater with the collar poking out, under a cozy maxi dress to jazz it up, or simply by itself.
The devil's in the detail and that's why lace blouses are perfection. The lace detailing is right on trend with the Victorian influences we saw on the spring runways. It also adds a layer of class to any outfit. You can pair it with an oversized blazer or a pair of crisp black pants for work; change it up with a colorful midi or distressed boyfriend jeans for a day with the girls. This sort of blouse compliments anything and can be worn for any occasion or outing.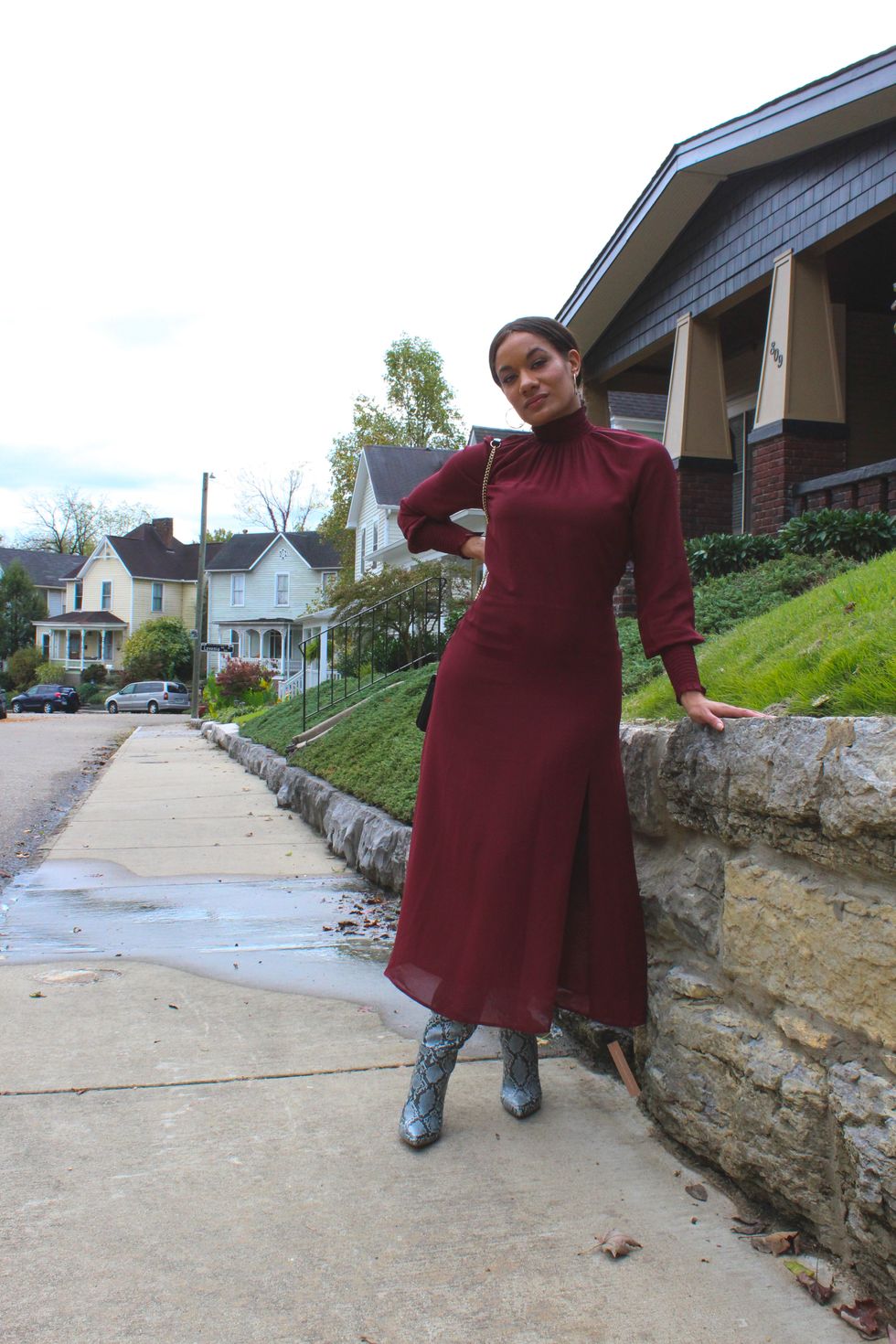 Writer Courtney Simpson
Tom Foltz
Tall Boots.
Even though over-the-knee boots are still riding high in 2019, the tall boot is making a comeback. This is a boot that hits between mid-calf and below the knee and can be seen in a variety of ways. Spring runways showcased slouchy and structured boots, a slew of animal prints , and a few cowboy-inspired designs. This boot trend comes with an added bonus: a much lower heel.
This style of boot is timeless, which makes it extremely easy to style. To channel 70's boho chic style, pair it with your favorite long-sleeve maxi and a structured blazer. You can also modernize the look with skinny jeans and an oversized wool sweater. A tall boot can be paired with almost anything and is a fundamental item for any woman's wardrobe.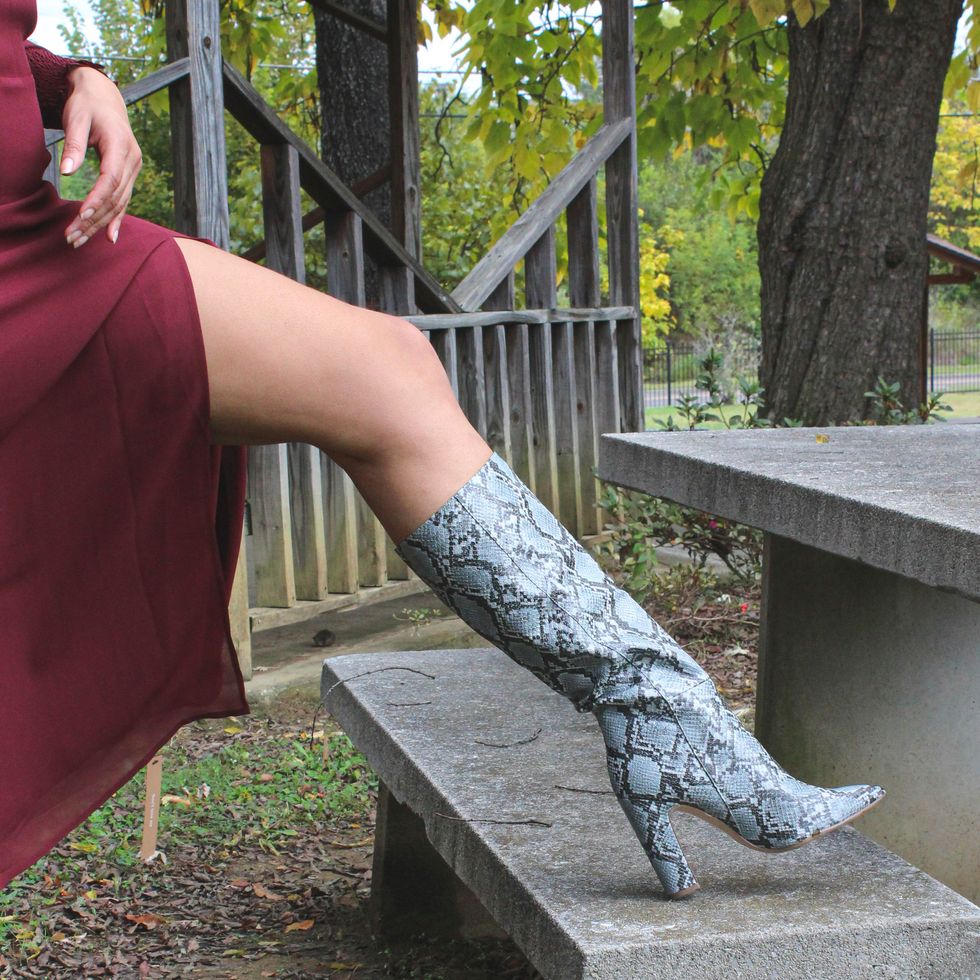 Writer Courtney Simpson
Tom Foltz
Cozy Teddy Coats.
A newer trend that's not going anywhere, teddy coats are the snuggly version of the beloved trench coat. The lines are clean and on the longer side. This is a fun silhouette you can dress up or down. Last year, we saw oversized teddy coats everywhere. This year, the cut is a bit cleaner and flattering. Teddy coats are the perfect addition to make any outfit stylish.
For a super comfy look, pair it with your favorite jeans and sneakers. If you're more of a risk-taker, try a fitting midi dress to pair underneath. It creates an understated sexy look that flatters every shape and size.
Want more stories like this? Sign up for our newsletter here and check out the related reads below:

14 Times IGers Slayed The Teddy Coat Trend
11 Statement-Making Fall Coats That Radiate Boss Energy
14 Ways To Look Fly In A Puffer Coat
Did you know that xoNecole has a new podcast? Join founder Necole Kane, and co-hosts Sheriden Chanel and Amer Woods, for conversations over cocktails each and every week by subscribing to xoNecole Happy Hour podcast on Apple Podcasts and Spotify .
Featured image by Courtney Simpson/Instagram

Courtney Simpson
Courtney is a contributing writer, based in Puerto Rico by way of Tennessee. Interested in the intersection of fashion and culture, she has an affinity for fashion, empowerment, and really good tacos. Keep up with her on Instagram (@hautecourtxo).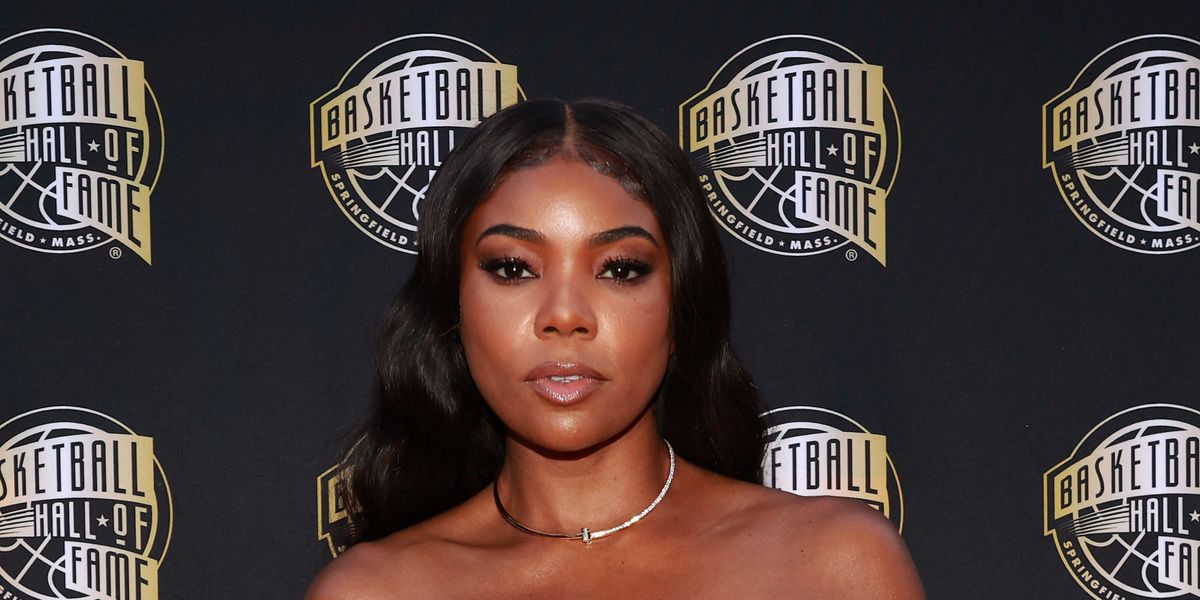 Whenever Gabrielle Union graces the movie screen, she immediately commands attention. From her unforgettable scenes in films like Bring It On and Two Can Play That Game to her most recent film, in which she stars and produces Netflix's The Perfect Find , there's no denying that she is that girl.
Off-screen, she uses that power for good by sharing her trials and tribulations with other women in hopes of helping those who may be going through the same things or preventing them from experiencing them altogether. Recently, the Flawless by Gabrielle Union founder partnered with Clearblue to speak at the launch of their Menopause Stage Indicator, where she also shared her experience with being perimenopausal.
In a xoNecole exclusive, the iconic actress opens up about embracing this season of her life, new projects, and overall being a "bad motherfucker." Gabrielle reveals that she was 37 years old when she was diagnosed with perimenopause and is still going through it at 51 years old. Mayo Clinic says perimenopause "refers to the time during which your body makes the natural transition to menopause , marking the end of the reproductive years."
"I haven't crossed over the next phase just yet, but I think part of it is when you hear any form of menopause, you automatically think of your mother or grandmother. It feels like an old-person thing, but for me, I was 37 and like not understanding what that really meant for me. And I don't think we focus so much on the word menopause without understanding that perimenopause is just the time before menopause," she tells us.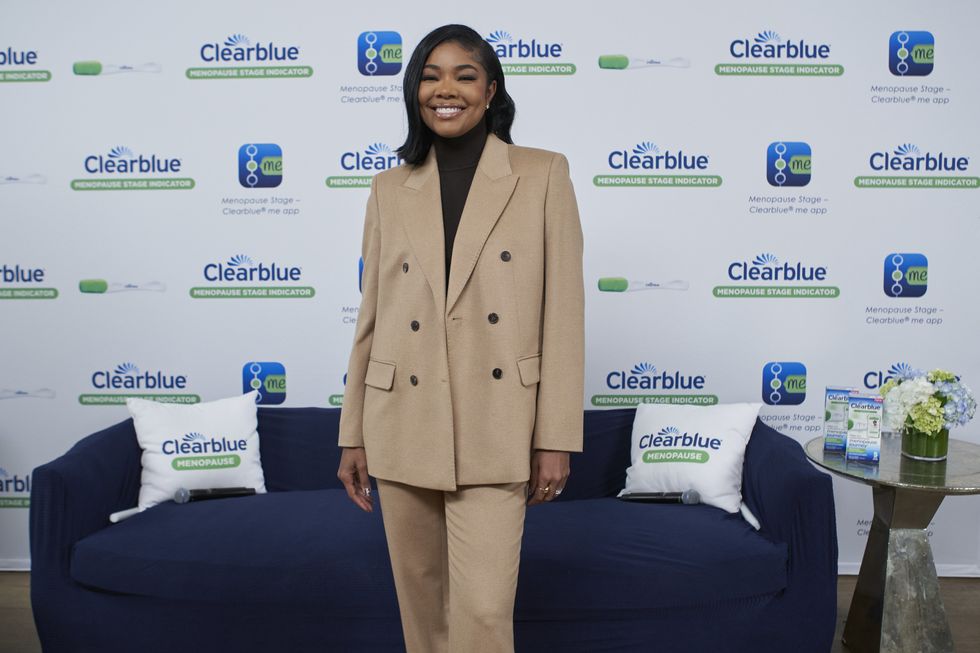 Gabrielle Union
Photo by Brian Thomas
"But you can experience a lot of the same things during that period that people talk about, that they experienced during menopause. So you could get a hot flash, you could get the weight gain, the hair loss, depression , anxiety , like all of it, mental health challenges , all of that can come, you know, at any stage of the menopausal journey and like for me, I've been in perimenopause like 13, 14 years. When you know, most doctors are like, 'Oh, but it's usually about ten years, and I'm like, 'Uhh, I'm still going (laughs).'"
Conversations about perimenopause, fibroids, and all the things that are associated with women's bodies have often been considered taboo and thus not discussed publicly. However, times are changing, and thanks to the Gabrielle's and the Tia Mowry 's, more women are having an authentic discourse about women's health. These open discussions lead to the creation of more safe spaces and support for one another.
"I want to be in community with folks. I don't ever want to feel like I'm on an island about anything. So, if I can help create community where we are lacking, I want to be a part of that," she says. "So, it's like there's no harm in talking about it. You know what I mean? Like, I was a bad motherfucker before perimenopause. I'm a bad motherfucker now, and I'll be a bad motherfucker after menopause. Know what I'm saying? None of that has to change. How I'm a bad motherfucker, I welcome that part of the change. I'm just getting better and stronger and more intelligent, more wise, more patient, more compassionate, more empathetic. All of that is very, very welcomed, and none of it should be scary."
The Being Mary Jane star hasn't been shy about her stance on therapy . If you don't know, here's a hint: she's all for it, and she encourages others to try it as well. She likens therapy to dating by suggesting that you keep looking for the right therapist to match your needs. Two other essential keys to her growth are radical transparency and radical acceptance (though she admits she is still working on the latter).
"I was a bad motherfucker before perimenopause. I'm a bad motherfucker now, and I'll be a bad motherfucker after menopause. Know what I'm saying? None of that has to change. How I'm a bad motherfucker, I welcome that part of the change."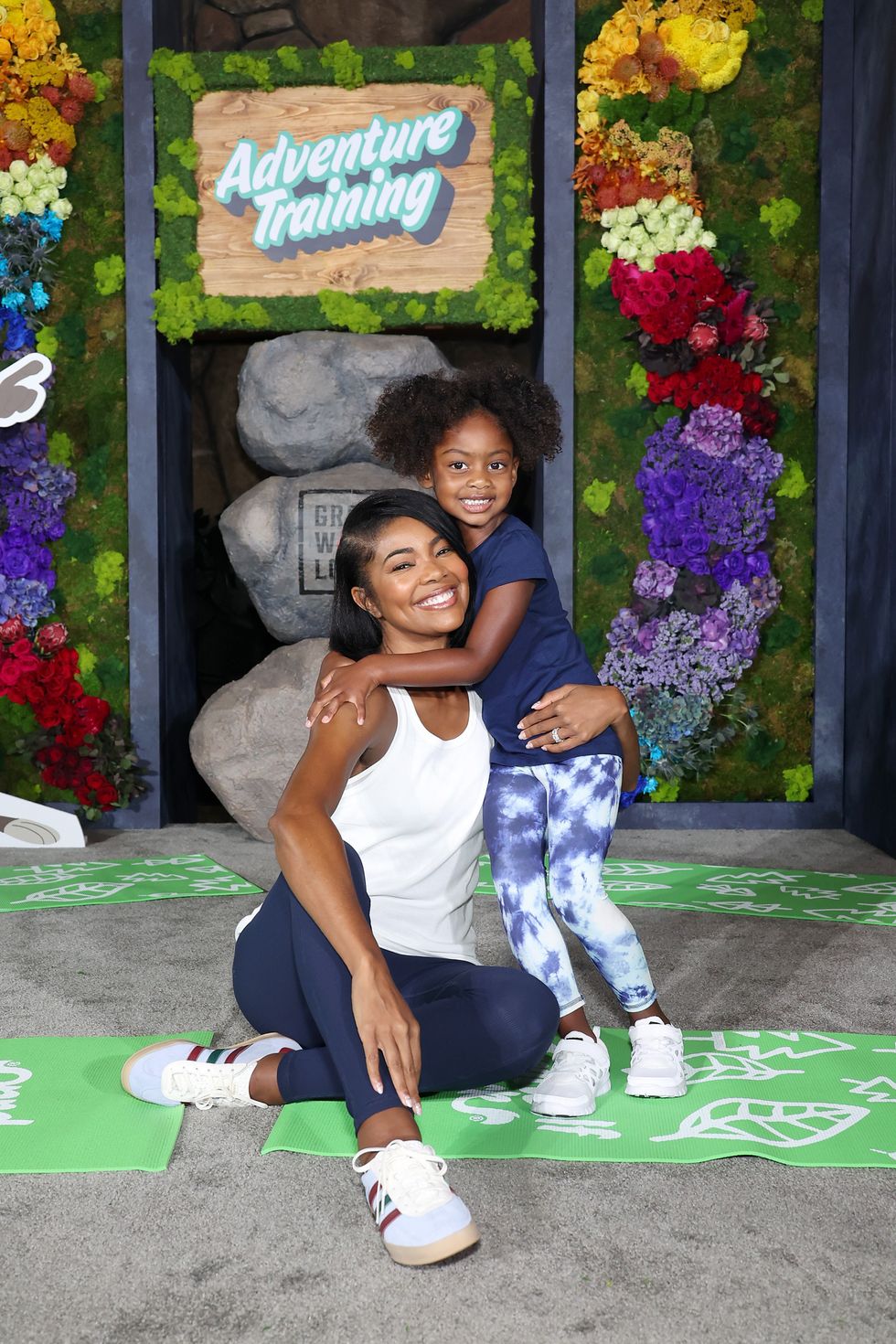 Gabrielle Union and Kaavia Union-Wade
Photo by Monica Schipper/Getty Images
"I hope that a.) you recognize that you're not alone. Seek out help and know that it's okay to be honest about what the hell is happening in your life. That's the only way that you know you can get help, and that's also the only other way that people know that you are in need if there's something going on," she says, "because we have all these big, very wild, high expectations of people, but if they don't know what they're actually dealing with, they're always going to be failing, and you will always be disappointed. So how about just tell the truth, be transparent, and let people know where you are. So they can be of service, they can be compassionate."
Gabrielle's transparency is what makes her so relatable, and has so many people root for her. Whether through her TV and film projects, her memoirs, or her social media, the actress has a knack for making you feel like she's your homegirl. Scrolling through her Instagram, you see the special moments with her family, exciting new business ventures , and jaw-dropping fashion moments. Throughout her life and career, we've seen her evolve in a multitude of ways. From producing films to starting a haircare line to marriage and motherhood , her journey is a story of courage and triumph. And right now, in this season, she's asking, "What's next?"
"This is a season of discovery and change. In a billion ways," says the NAACP Image Award winner. "The notion of like, 'Oh, so and so changed. They got brand new.' I want you to be brand new. I want me to be brand new. I want us to be always constantly growing, evolving. Having more clarity, moving with different purpose, like, and all of that is for me very, very welcomed."

"I want you to be brand new. I want me to be brand new. I want us to be always constantly growing, evolving. Having more clarity, moving with different purpose, like, and all of that is for me very, very welcomed."
She continues, "So I'm just trying to figure out what's next. You know what I mean? I'm jumping into what's next. I'm excited going into what's next and new. I'm just sort of embracing all of what life has to offer."
Look out for Gabrielle in the upcoming indie film Riff Raff , which is a crime comedy starring her and Jennifer Coolidge, and she will also produce The Idea of You , which stars Anne Hathaway.
Feature image by Mike Lawrie/Getty Images

The journey of becoming a mother can come with its set of personal struggles, and singer Queen Naija is opening up about the impact that motherhood has had on her personal growth.
On the first episode of her new podcast Let's Talk About It — with her best friend Dominique Moore — the 28-year-old admitted to occasionally feeling "envious" of women who don't have children, expressing her desire for the freedoms that come along with a childless life .
"Sometimes I envy the girls that get to wake up with no kids and like literally get to design their apartment the way that they want and literally just go and do whatever they want," she says.
The social media personality started her motherhood journey and marriage at 19 with ex-husband Chris Sails. At the time, the two shared a YouTube channel, Chris and Queen, documenting their life and relationship. The two soon had a son, Chris Sails Jr., but divorced due to his infidelity .
Following the breakup, Naija entered a relationship with her current boyfriend, Clarence White, with whom she has a child named Legend Lorenzo White.
While the "Karma" singer expresses deep love for her sons, she highlights the need to find balance between motherhood and continuing the journey of self-discovery beyond her music career and public persona.
"I never got to learn myself," she said. "I'm still trying to learn myself outside of just music while still trying to become a wife too and the best mom. It's hard to do all of that, I feel like sometimes I've got to choose."
Queen Naija and her co-host continue by emphasizing the pressure to perform "the titles" of mother and wife , while still uncovering deeper layers of themselves as individuals.
Although the two agree to be "blessed" and "grateful" to be mothers, the need to make the choice between these responsibilities and identities still leaves residual curiosity about the lives of women who are single and child-free .
"It just goes back to that, I envy girls that can…because it seems their life is so organized. I don't want to say envy like I'm jealous, but you know, fake envy," she says.
Girl Talk | Let's Talk About It (Ep. 1)
Let's make things inbox official! Sign up for the xoNecole newsletter for daily love, wellness, career, and exclusive content delivered straight to your inbox.
Featured image by Aaron J. Thornton/Getty Images