For black women, going to the hair salon has historically been the epicenter of our lives. It is the place where you can get your hair "did" and learn all the juicy gossip at the same time.
---
It's a place of fellowship as women from all walks of life come together to receive the same glorious feeling, the feeling of a new 'do. As times changed, so have some of the standard practices of salons, and even hairstylists. While we search for a hairstylist to provide attention to our needy roots, some stylists are unfortunately in search of a quick buck and don't take the time to provide the tender love and care our hair needs. In fact, there have been a few articles over the years slamming those types of stylists calling it the "black salon culture."
But there are some stylists like Dominique Evans who are going the extra mile to provide the best care and experience possible for their client's hair and heart.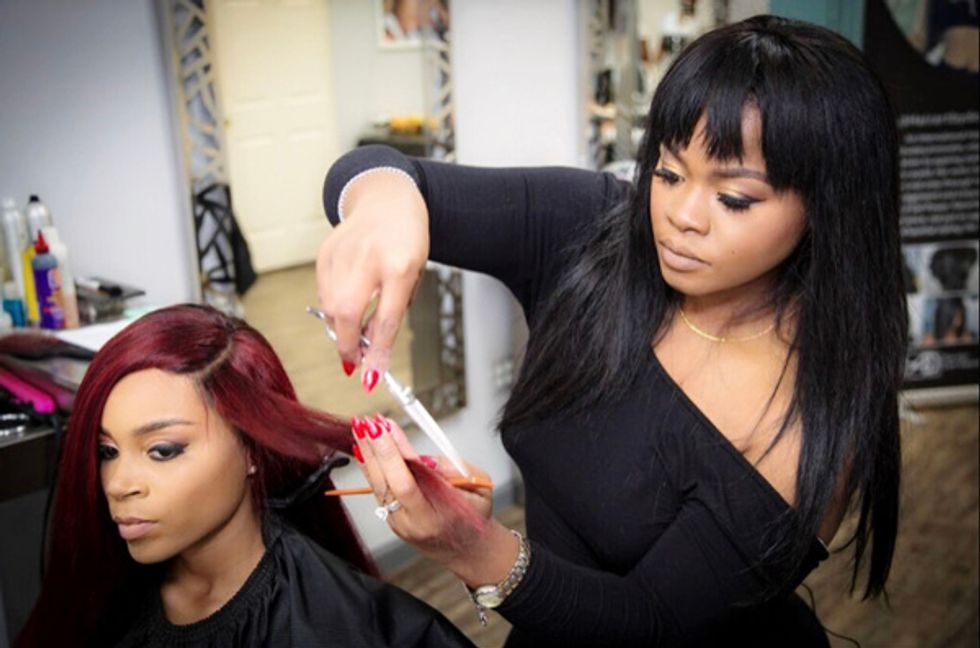 SHEEN Magazine
Dominique is a Milwaukee-bred celebrity master hairstylist who, after moving around a lot with her son, decided to make Atlanta her new home. She comes from a line of hairstylists and uses her gift as a way to not only make her clients shine on the outside, but most importantly shine through from within. "Growing up, I had low self-esteem and I think that [working as a hairstylist] kinda helped me get over my personal issues. Sometimes you can look the part but don't feel it and vice versa, so I'm just inspired by making people feel beautiful and I love what I do. It comes from my heart and I try to make a difference in their lives," she says.

"Sometimes you can look the part but don't feel it and vice versa, so I'm just inspired by making people feel beautiful and I love what I do."
Making a difference in the lives of other women through hair is a responsibility that Dominique takes great pleasure in. Since a little girl, she has always been a "pusher," you know the friend that always uplifts others around her. Because of her keen ability to dive below the surface, clients who might have entered the salon full of insecurities, end up leaving her chair with their heads held high ready to conquer anything. "A lot of hairstylists don't tap into the soul and for me, I like to tap into their soul and it's effortless because I'm being myself and I feel like it's my purpose. God put me on this earth to help other people," she states firmly.
While being a successful hairstylist for 10 years, it was only after her move to Atlanta where she began experiencing revelations about herself and her career. The first year was the hardest as she struggled to get herself established in the Atlanta market. "When I first got to Atlanta, I believe I was at 50,000 followers on my Instagram and all the people who were excited to see me came, but after that, it was like everybody that was following me got their hair done already. The six months that followed, I struggled and I sacrificed. I slept on the floor for a full year, my son had his bed, [and] I worked hard," she recalls.

Having to start over and build a steady clientele in a fresh city felt insurmountable, but it was something that Dominique had to do. Though she had grown up and began the early stages of her bloom while in Milwaukee, it became clear that actively pursuing her dreams meant moving to Atlanta. "I was gonna be at a standstill in Milwaukee and there are so many people watching me and inspired by me and I just want to let people know that if you are disciplined in the things that you do, it doesn't matter, you're gonna make it."
And make it she did.
Along with a hair salon, she recently launched a new product and wig line, Hair Art by Dominique that includes 24 products and four systems for natural hair, hair growth, moisture and hydration, and dry, itchy scalp. She also has her fabulous clientele, which includes reality star and entrepreneur Toya Wright and gospel extraordinaire Tasha Cobbs. She positively believes both Toya and Tasha were God sent. "Toya would shout me out on her hair page and so when I moved to Atlanta, I knew I was gonna one day do her hair. Long story short, she reached out to me on Instagram and when I got to her house, I said, 'What took you so long?' and she was like 'Huh?' Because God already gave me the vision and ever since then, I just started doing her hair."
Her encounter with Tasha was much more dramatic. As previously mentioned, Dominique was having a hard time adjusting to life in Atlanta and it took a toll on her spirit. One of the ways she worked to restore her spirit was by listening to gospel music on repeat, particularly Tasha Cobbs. But at the time, she didn't know it was Tasha who was singing the song she worshipped to every day and when she discovered that she was sitting in her chair one day, her life changed forever.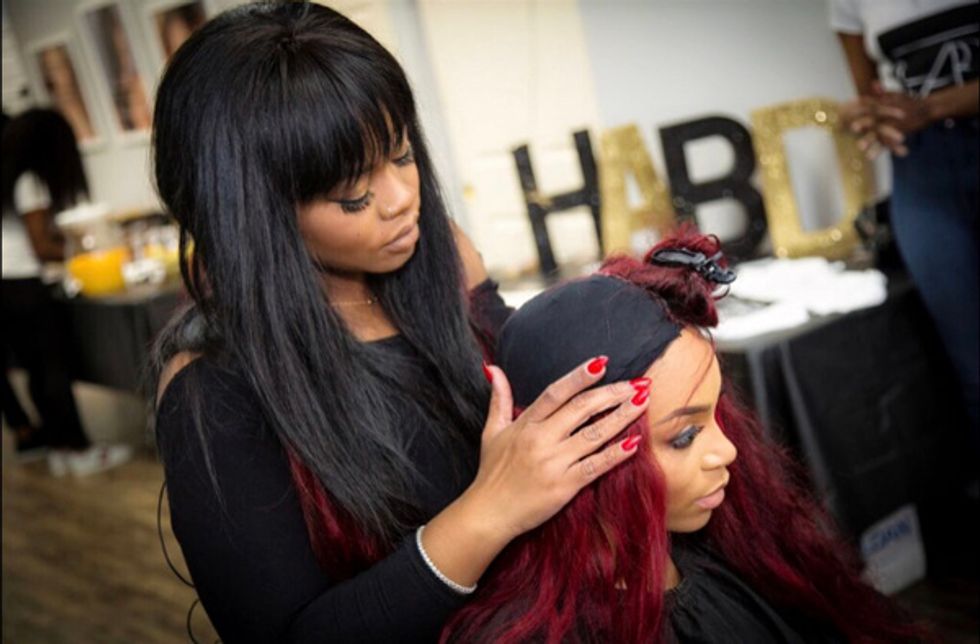 SHEEN Magazine
"I knew she (Tasha) was a gospel singer, but I didn't know that she was the one that sang the song I would worship to. How I found out was, she was sitting in my chair and she pulled up an interview on her phone and I'm not even gonna lie, I probably shouldn't of been nosey, but I looked down at her phone at the interview and it had the song playing in the background, the same song I've been worshipping to, and I said 'Please don't tell me you sing that song,' and she said 'Yeah,' and I just broke down," she shares. "I couldn't believe she was sitting in my chair and I knew it had to be God, that He placed somebody in my life to help me get through what I was going through and ever since then, she never went to anybody else and it's been two years. She took me to the Stellar Awards, NAACP Awards, the BET Awards, everything that I ever dreamed of. Tasha helped me fulfill my dreams."

"Tasha helped me fulfill my dreams."
Though Dominique works as a stylist, helping her clients deal with heartache, pain, suffering or conquering their fears, she had no idea that she would be the one to receive healing from a client who happened to be one of the biggest voices in gospel music. But that's exactly how it happens sometimes. It's the people or situations you least expect that can lead you to greatness.
"Sometimes the people that are close to you don't really uplift you the way you want and sometimes it takes a stranger to uplift you. Just the other day, a girl (her client) started a dance team, but she was scared and I kinda pushed her to do it and she told me, 'Every time I come to you, I get what I need.' And if you got more than five or six people telling you this, then I know I'm doing something right."

Follow Dominique on Instagram @hairartbydominque or check out her products hairartbydominique.com.