Since I've been doing my own hair, my standards for hair salons are even higher than ever.
---
I love and take good care of my hair, and anyone who does it has to have the same pride and love in doing it. Going natural has been more than a hairstyle change, it's been an empowering self-love journey. I've discovered more ways to express myself, get to know myself, and be more comfortable with who I am. This is why each product I use and each salon I visit is so important to me.
If you think about it, our stylists play an instrumental part in helping us maintain our look. We want someone we can trust, understand, and slay. So, when I am looking for a salon or stylist these days, here are a few key qualities I look for to find the right one:
Love For Hair
This may be obvious, but I like for stylists to love what they do. When your stylist loves doing hair, they approach each head with excitement, as if it's a new journey for them too. He/She creates a better experience and is willing to learn and do as much as they can to make you happy, instead of just thinking of you as another paycheck.
Knowledgeable
I feel more confident when I'm in the chair with someone who knows their stuff. I like to get tips and recommendations on how to better take care of my hair. I also love to exchange thoughts and get an expert opinion on current hair trends. As we all know — especially if you're natural — there's always a new oil or a new product to use, and it wouldn't hurt to get a professional opinion. The perfect salon should be your one stop shop for hairstyles, hair knowledge, and hair products.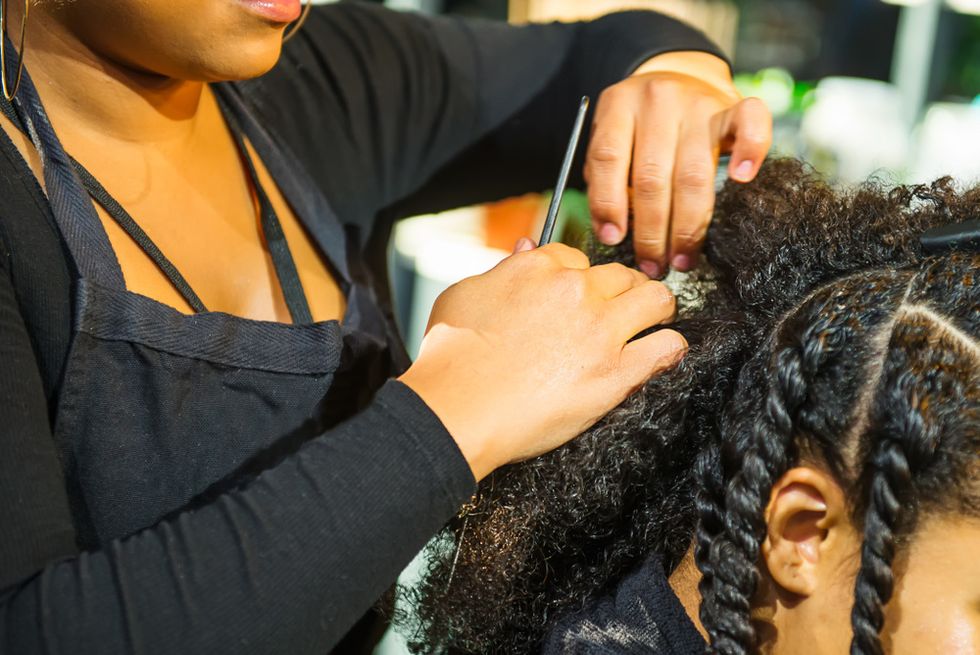 Shutterstock
Furthermore, it's not enough to just know how to do hair, but the stylist has to know how to do my hair. Any salon I consider has to have experience styling and treating all natural hair types, especially 4C hair. It's important to me that understand the needs and techniques of each hair type.

Budget-Friendly
I look for a salon that is reasonable in price and time. What I've been noticing about natural hair salons is that they are charging monthly membership prices. I personally don't like this for a few reasons: one, I don't want my salon experience to feel like another bill that I have to pay. Salon time is a pampering experience for me and I don't want it to feel like anything else. Two, I don't want to be charged monthly if salon visits are not as frequent. I do my own hair, so I tend to only go to salons for a trim or special treatments. I also expect to have a timely service, I don't want to be in the salon all day, nor do I want to wait hours to get seen.
Accessibility To Products
It's an extra bonus if salons offer the products that they use on their customers. It's also very important to me to learn how to upkeep my style and have access to those resources. I think with the evolution of beauty salons it is becoming industry standards to be the one-stop-shop with natural hair salons.
And since I'm from Atlanta, a city known for hair, I couldn't leave you without a few salons in Atlanta that you should try if you're ever in the area:
Replenish Salon
Replenish Salon prides themselves on practicing healthy hair methods that promote hair growth. Their staff of highly trained stylist have years of experience and believe in the importance of not just healthy hair, but healthy stylist-customer relations. Replenish Salon offers a variety of services including, but not limited to: micro twist treatments, silk press, and hair color services.
Find them on Instagram: @replenishsalon
What are some non-negotiables that natural hair salons have to check off for you to consider them "the one"? Let us know in the comments down below.
Featured image by Shutterstock