---
It's 2018 and we are still encountering many "firsts" for women of color. First black woman to headline Coachella. First black woman to own a NASCAR team. First black woman to earn a PhD in nuclear engineering from MIT. First black woman to win the San Francisco mayoral election. The list goes on. One notable "first" took place earlier this month: Dee-Ann Kentish-Rogers was crowned Miss Universe Great Britain – the first black woman to do so in over 66 years of the pageant's history.
Miss Universe Great Britain: Dee-Ann Kentish Rogers. Photo by Teresa Brooks.
Recently, Dee-Ann chatted with xoNecole to discuss her journey to pageantry, original aspirations to become an Olympic athlete, competing with natural hair, advice to her younger self, and everything in between. All hail the queen!
"I hope that my win will translate into a significant increase in the number of black woman entering Miss Universe Great Britain," Dee-Ann said, regarding her new crown. "My win says to them and woman of other ethnic background: Be bold, be courageous there is space for you in pageantry. Step into it and own it."
Long before Dee-Ann aspired to compete in Miss Universe Great Britain pageant, she had her sight set on a different competition: the Olympics.

"I was born in Antigua and spent most of my childhood running barefoot and climbing trees on Anguilla's beautiful shores. My mom was the soccer/volleyball/track/debate team mom and spent her time shuttling me from one extra curricular activity to another. I spent the vast majority of my time training to become an Olympic athlete for Great Britain and my determination allowed me to compete in the Commonwealth Games on two occasions and the World University Games three times as a heptathlete. Unfortunately, a knee injury at the Commonwealth Games in Scotland ended that dream prematurely."
Rather than let this devastating career blow keep her down, she found a new outlet for her competitiveness and a platform that would let her shine: pageantry.
"I looked for something else to channel my competitive energy into and in came pageantry on a shining white horse. My first attempt at pageantry was the Miss Anguilla pageant in 2017. After I won that crown, I caught the pageant bug and immediately began searching for another pageant."
Photo by Kev Wise.
Through her reign, Dee-Ann hopes to bring attention to a number of women's rights issues, including: fighting against female genital mutilation, ending acid attacks in India, supporting The Black Mambas, an all-female Anti-Poaching Unit, and providing programs for homeless women in Wales through the charity, A-Sisterhood.
Following in the footsteps of Miss Jamaica 2017, Davina Bennett, and taking another massive win for representation, Dee-Ann will compete with her natural hair and become the first Miss Universe contestant to compete with dreadlocks.
"I grew up with my natural afro frequently combed into two cornrows. My mother never allowed me to straighten my hair, even when I begged her. It was one of those decisions you become grateful for later on in life. As a student athlete, sometimes caring for my hair took up time I did not think I had. After researching dreadlocks, I decided it was something I wanted to do. I could trace my life journey through the knots in my hair. I made the decision not to change my dreads for the pageant because I felt it was important for young women to understand that they don't need to change themselves through enhancements in order to belong. Miss Universe has been edging close to crowning a natural hair woman."
"I could trace my life journey through the knots in my hair."
Photo by Zuri Wilkes.
Dee-Ann credits a lot of her success up to this point to the support and guidance of the strong black women in her family.
"My drive [is] to make the matriarch of my family - my late grandmother proud. For her, happiness came from seeing her children and grandchildren living their fullest lives. She grew up poor, working with her hands all her life but her ironclad determination allowed her to see her children succeed. As a fruit of her labour, I want to achieve everything she never got the chance to."
"My drive is to make my late grandmother proud."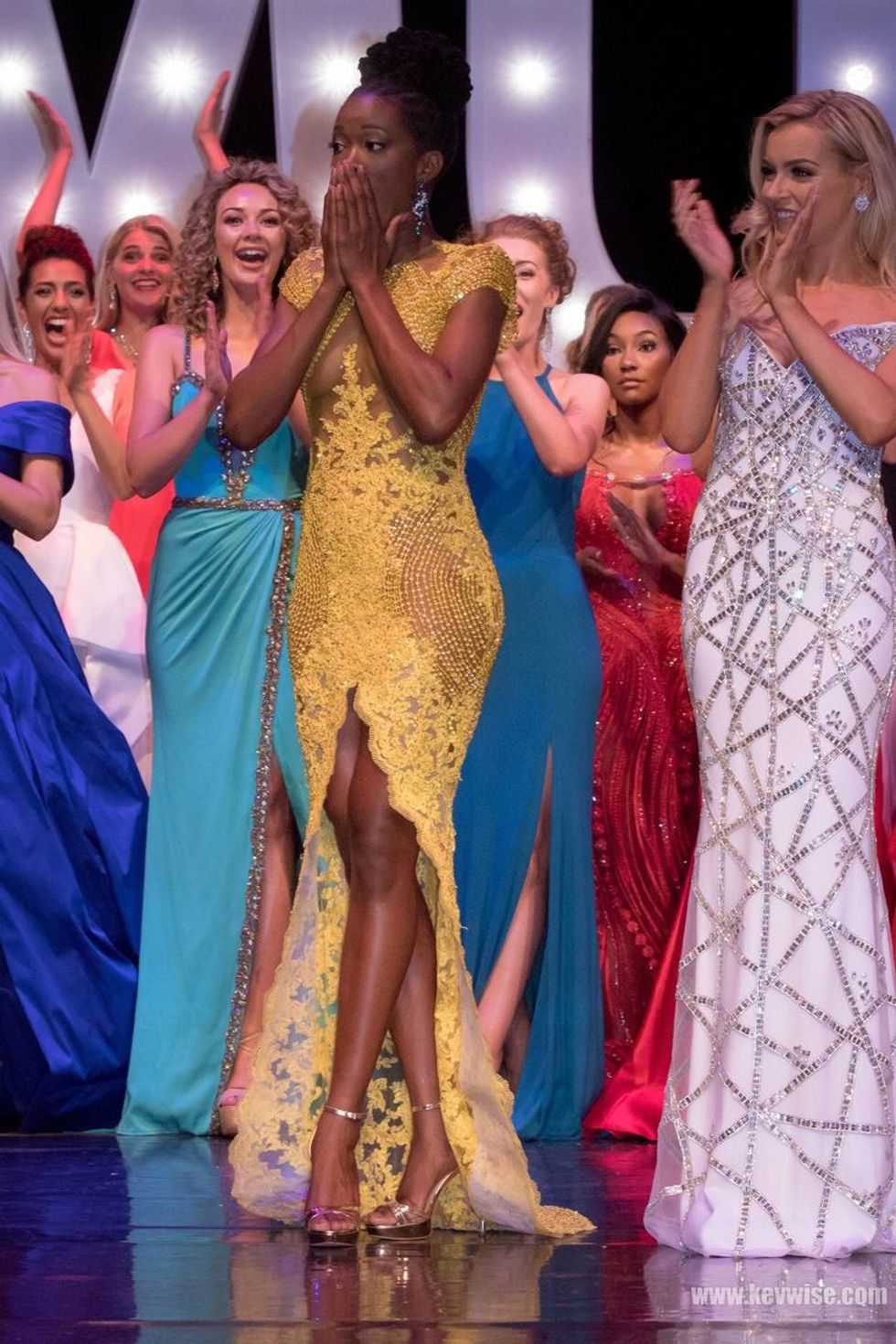 Dee-Ann hopes her win will be a call to action for women of color to fearlessly pursue their dreams and to be more than a face in underrepresented spaces, but to be endearing and unwavering in their ambitions. "Do not to be afraid to reinvent your dreams. Life won't always pan out exactly as we plan but it always shifts course for a reason. Setbacks happen. Have the determination to stay focused and you will overcome."
6 Fun Facts About Dee-Ann Kentish-Rogers:
Favorite food? OXTAIL!
Favorite song? "All the Stars" by SZA and Kendrick Lamar
Favorite hair product?June Milnrow Jamaican Black Castor Oil Edge Freeze Gel (life saving!!!)
Favorite hobby? Salsa dancing
One place you want to travel? Cuba
The thing you can't live without? Honestly, it's probably my phone (I can feel my mother's disapproving glance from here).
For more De-Ann, follow her on Instagram.
Featured image by Teresa Brooks.