Over time, I'm learning that a lot of favorite products aren't really good for me.
---
In fact, a lot of brands use harmful chemicals in their products that can have some serious effects on our health. Lately, I've noticed that my nails were becoming super brittle and broke off with the slightest touch. In efforts to achieve good nail health, I cut out tips and acrylic and took it back to simple manicures. While on the hunt for ways to heal my damaged nails, I came across vegan nail polish. If you're like me, then you're probably wondering, what's the difference? Well, many vegan nail polishes contain vitamins and minerals that can help your nails become stronger and more durable, helping it to serve as a more suitable option. It doesn't contain any of the toxic ingredients found in regular nail polish, like DBP (Dibutyl phthalate), Toluene, Formaldehyde/Formaldehyde Resin, and Camphor. These ingredients can cause skin damage and irritation among many other harmful effects.
Vegan nail polish is a healthier and safer way to do your nails. If you're thinking about making the switch, check out these vegan nail polish brands created by women of color and what I thought about them.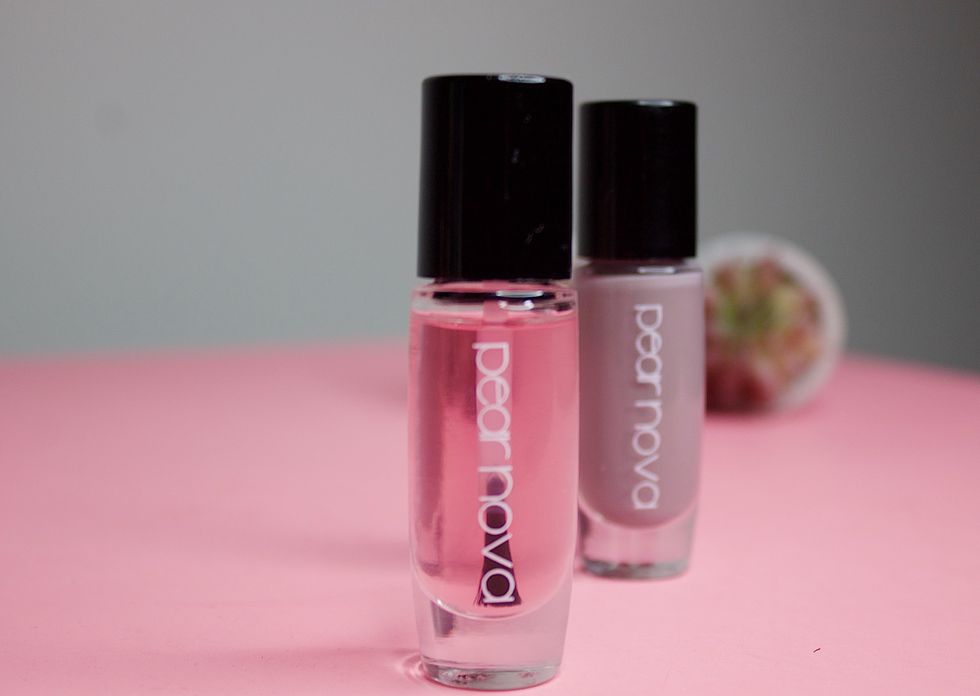 Krissy Lewis/xoNecole
Pear Nova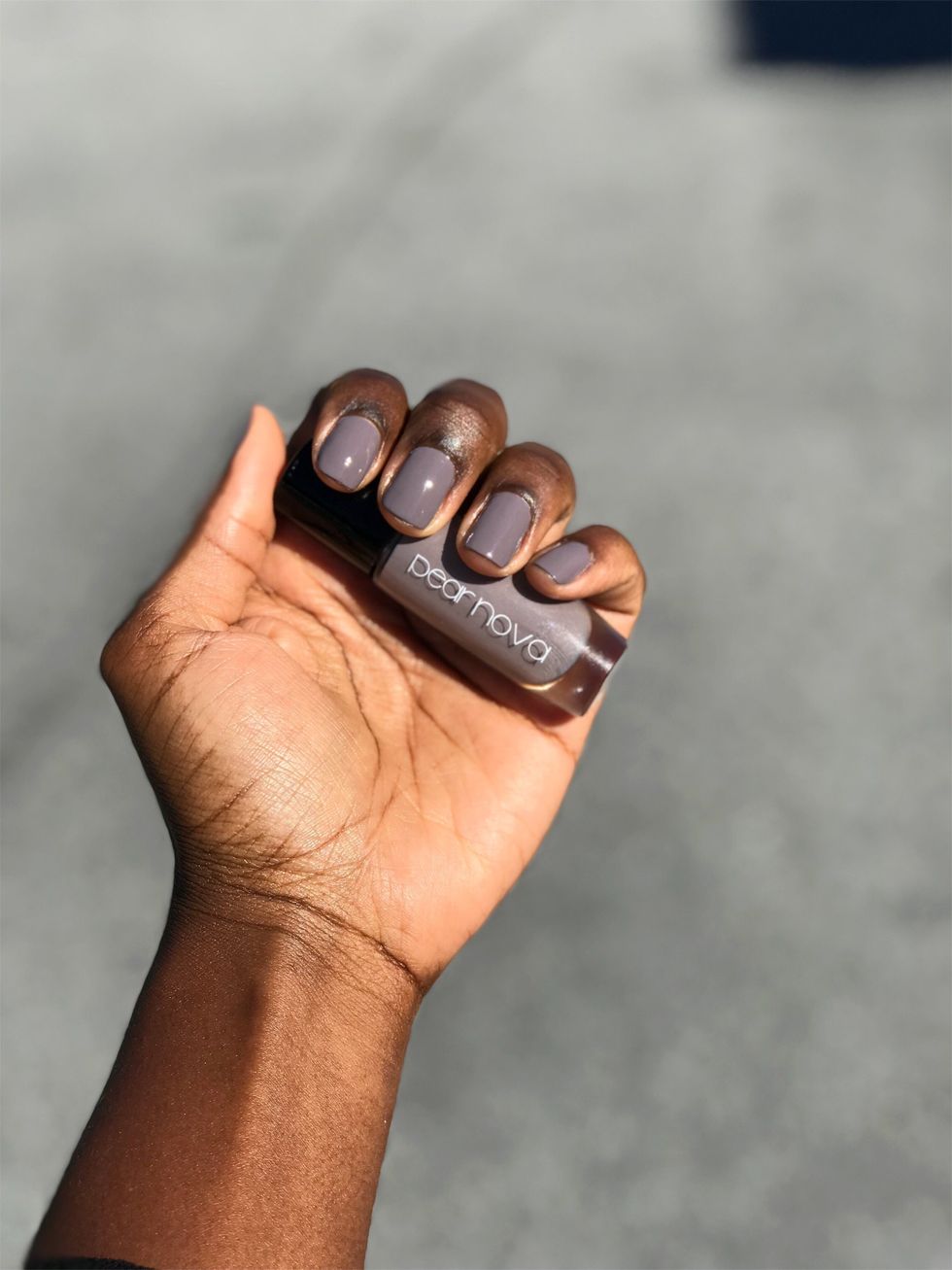 Krissy Lewis/xoNecole
Pear Nova is a vegan-friendly and cruelty-free nail polish brand created by mompreneur Rachel James. Pear Nova is the perfect mix of function and fancy and is committed to celebrating the strength and beauty of women everywhere.
Nail Color: Ginzaholic
Price: Originally $11.50 | On sale for $9.75
Thoughts: I tried the Ginzaholic, which is a mixture of grey and purple, and I loved it. Usually, when I shop for this color combination, it's either too light or it blends in with my skin complexion without any pop. But this wasn't the case. Ginzaholic is a soft color that works for the fall and winter season. So if darker colors aren't your cup of tea, then this is a great option.

As for the formula, it is five-free, meaning it doesn't contain five of the most toxic nail chemicals. Pear Nova polish has a long-lasting shine and applies very easily. While I wore it, I didn't experience any dullness or color fade. I learned that when I apply the Pear Nova top coat, after getting it done the first time, it will extend your nail polish wear. That top coat is a must if you want your nails to last even longer.
Breukelen Polished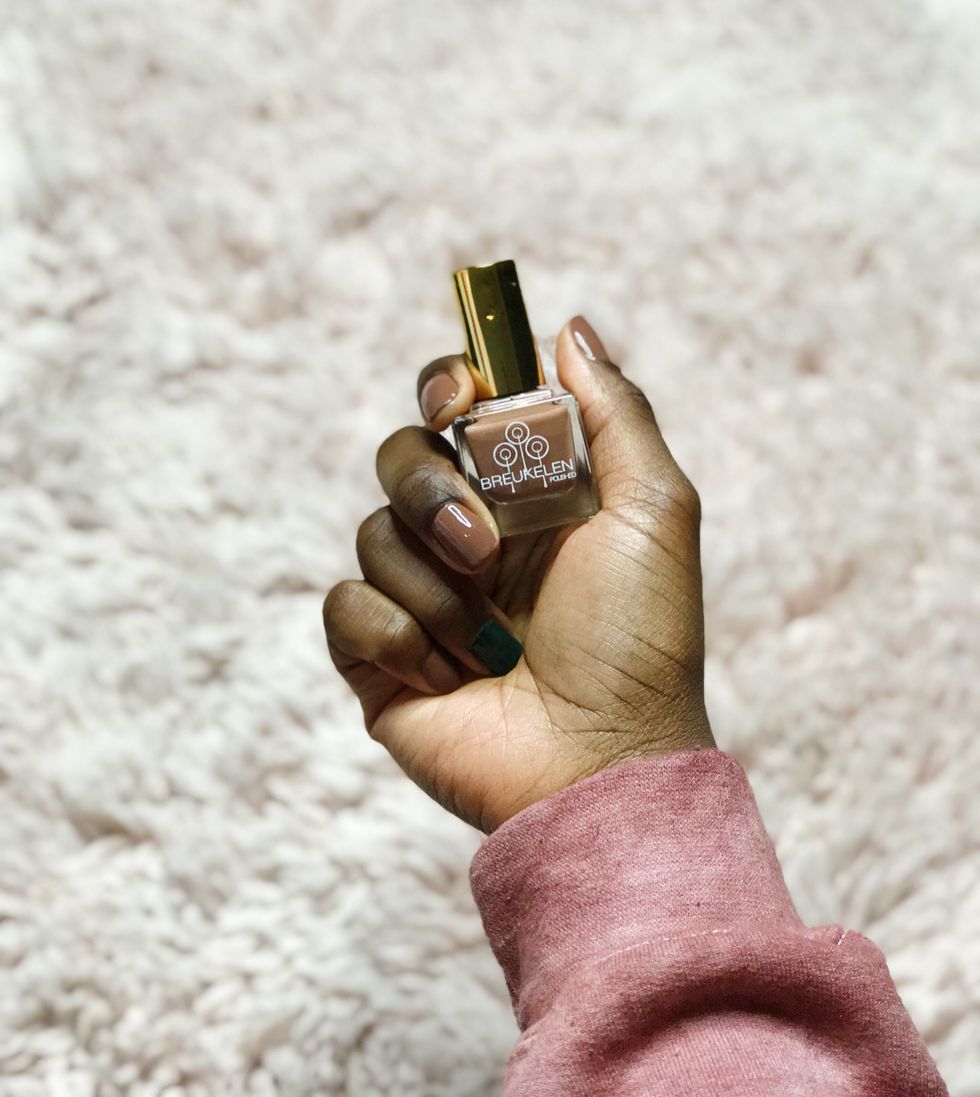 Krissy Lewis/xoNecole
Breukelen Polished (which I assume is the luxury way of saying Brooklyn) is a luxury vegan nail polish brand straight out of Brooklyn. They cater to the the health conscious while also representing the grit and evolution of Brooklyn.
Nail Color: Cocoa Bread
Price: $10.00
Thoughts: Cocoa Bread is a really pretty dark nude color. I don't usually do nude because it's hard for me to find a shade of nude that fits me and my skin complexion, but this is the perfect nude! It seems like it has more hues of brown in the formula and it has a really shiny finish. Speaking of the formula, this is an 11-free polish, which means it doesn't contain the standard five toxins nor Ethyl Tosylamide, Xylene, Acetone, Parabens, Wheat and Eggs. Breukelen Polished is also pigmented, chip-resistant, and I really loved how fast the nail polish dried. The website didn't claim to be a quick dry, but I was out of the salon in no time and you know regular polish takes a bit longer.
As for shipping, I think they can improve a bit. I understand this is a small business but I ordered all my nail polishes on the same day and this one was the last to arrive. I order my polish on October 12 and received it on October 19. The website said it will take 1-3 business days and I paid $7.05 for shipping (their shipping cost was also the most expensive). Don't get me wrong, I will still shop with them again, I was just a bit surprised by the shipping experience.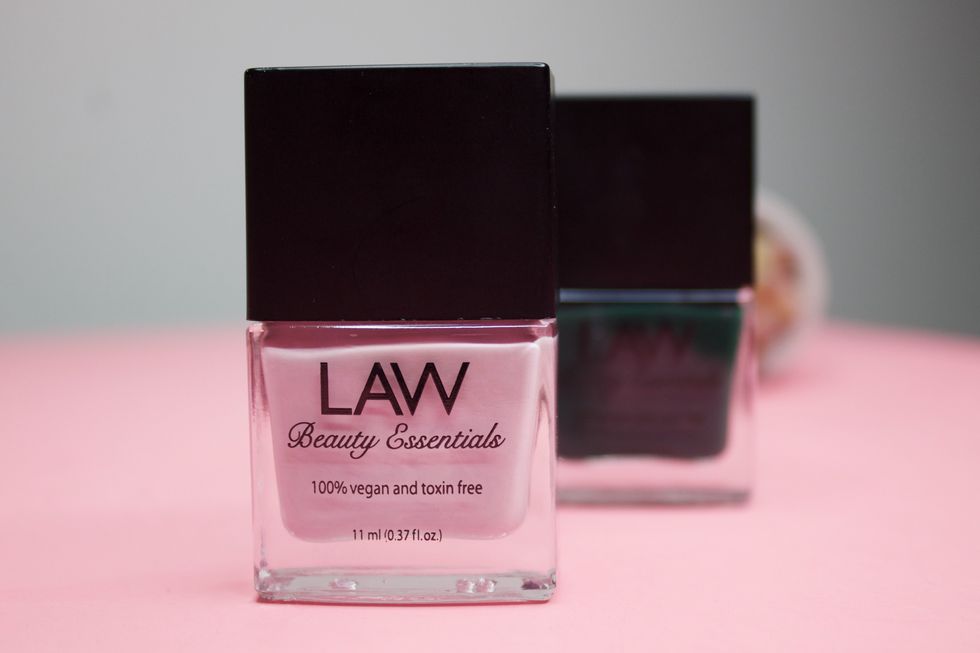 Krissy Lewis/xoNecole
Law Beauty Essentials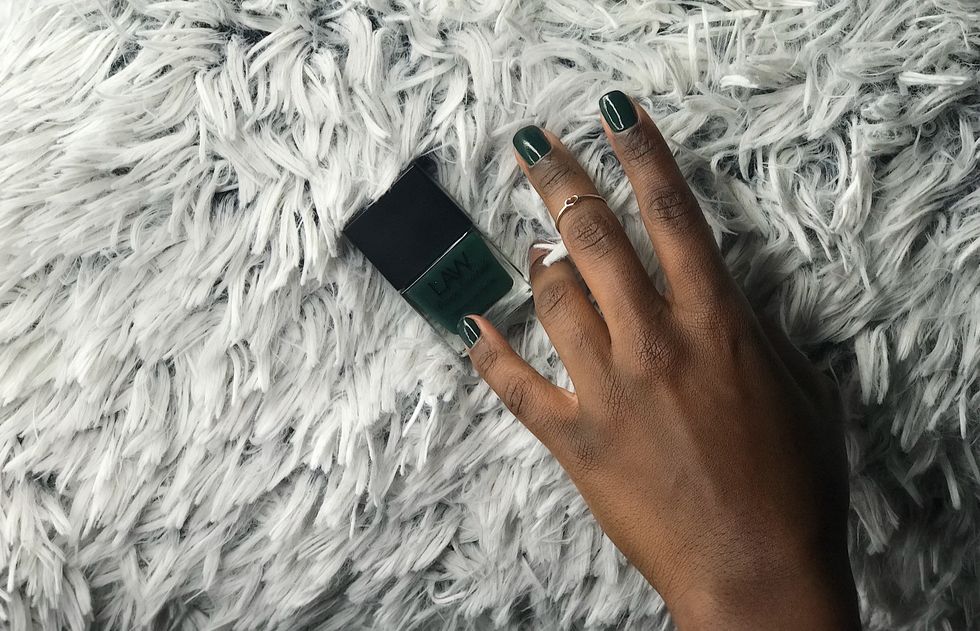 Krissy Lewis/xoNecole
Law Beauty Essentials is a vegan polish line that encourages self-love and woman empowerment. The founder, Tanisha Lawrence, made it a mission to create pigments that are high shine, chip-resistant, and serve as a healthy alternative for self-care.
Nail Color: NETWORTH HOW MUCH?
Price: $7.00
Thoughts: When I first saw this color, I immediately thought of fall and Christmas. It's such a pigmented and smooth green— it catches your eye instantly. The name is also very catchy and cute, it's like each polish comes with its own vibe. As for the formula, I can attest to it being chip-resistant and shiny and it is also five-free. This polish also takes a bit longer to dry.
I think it's only right to include my shopping experience because I was very impressed. The shipping is very quick (my products came in two days) and they keep you informed of each step via text and email. And, what I loved the most is that shipping was only $3. I mention this because, due to this not only being the most inexpensive one, the shipping cost was low and it influenced me to buy more.
Overall, I loved all of the nail polishes. Each brand has a unique vibe and set of colors. All three are definitely inclusive, and every nail color is perfect for all skin complexions and shades. This is my first time trying any vegan nail polish and I will most likely use this moving forward. I initially thought using vegan polish would be more expensive, but it's the same price as any good quality polish.
Related Stories
I Tried Beauty Products By Popular WOC YouTubers & Here's What I Thought - Read More

The $10 Product That's Missing From Your Everyday Makeup Routine - Read More

I Tried It: 5 Longwear Lipsticks That Are Actually Worth The Coin - Read More