Dear Ayana Iman: I work in corporate America. I've tried to play politics and I feel like I was criticized.
---
I stay to myself and come in to get the job done, and then I'm criticized. If I'm not smiling, I'm criticized. If I don't speak to everyone (majority people don't speak), I'm criticized. I never point out my co-worker(s) flaws or their faults but it seems like they have no problem pointing out mine under the guise of "I'm looking out for you, how dare you not appreciate it." I've never asked them to look out. As a matter of fact, they are the ones who project attitudes towards me and I've let it slide.
I've had co-workers who've voiced the frustrations about the job to me and when I agree or slightly voice mine, now I'm called negative. The co-worker(s) are black too, around my age (mid-30s). I feel like I'm stuck in high school, it's Mean Girls, black adult version. Once, I confronted my co-worker, I was professional, she was louder so that people could hear her "going off" on me as if I'm a child, and now I feel that everyone is even weirder when dealing with me because she is manipulative. At this point, I feel like really going into my shell and not dealing with my co-workers.
Hey Girl,
The sad reality of this situation is that we all deal with forms of toxicity at work in one way or another. The silver lining: you have the power to change it. You've already recognized the issues happening at your office, from attitudes to criticisms; this is the first step towards your breakthrough. Before moving forward, my question to you is have you looked in the mirror lately? Seldom, do we recognize our own negative behaviors and become victimized by our thoughts. I want you to really think about your actions to make sure you were in alignment with the policies and positivity.
This clarity will allow you cash checks and not feelings.
Working around people of color is a privilege, especially when diversity is lacking around the country. As the great Zora Neale Hurston once said: "All my skinfolk ain't kinfolk." To make it plain, just because they're black does not mean they are automatically tribe members. A person's skin color does not determine their character. This is one of those situations. I hope you find it in you to give mutual respect as a fundamental right if nothing more. Regardless of color, no one deserves to steal your joy - don't give them your power.
Here are a few survival tips:
Embrace Emotional Intelligence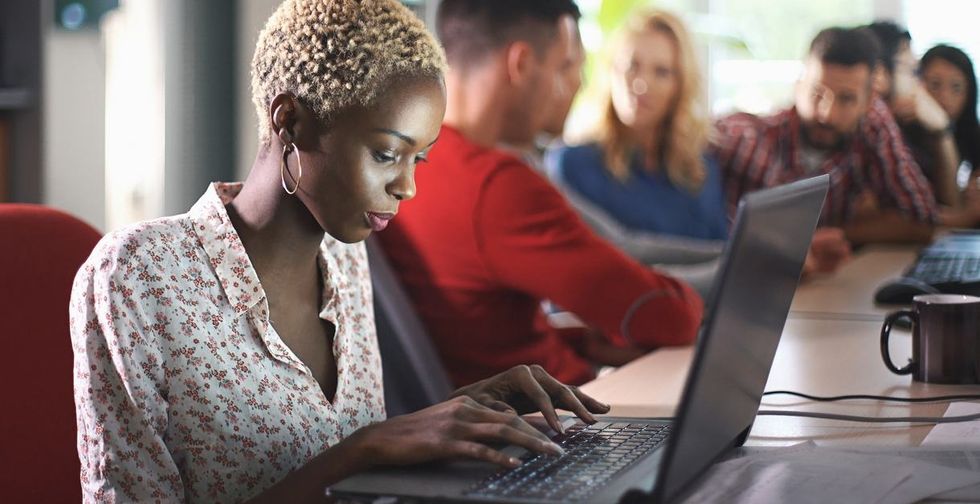 Getty Images
Emotional Intelligence (EQ) measures your capacity to be aware of, control, and express one's emotions, and to handle interpersonal relationships judiciously and empathetically. It is the key to both personal and professional success. This skill will allow you to manage how you react to situations, as well as, influence others. Some additional ways to increase your EQ is to pause before talking, control your thoughts, embrace criticism, apologize, and give praise to others. Increasing this skill will help you navigate uncomfortable situations by acknowledging not everyone has the mental capacity to do the same.
Affirmations + Self-Care 
Your personal space should reflect beauty to promote peace and love. If you have not done this already, spend some time decorating your cubicle or working environment. I personally love affirmations - positive words for change - and think placing them around you could enhance your mood for the better. Affirmations can affirm your self, your job, and the people around you. Ex. I accept responsibility for my own happiness and development.
Also, fresh flowers are great for scent and visuals. Various studies have shown that flowers can improve a person's memory and make them concentrate a lot better in the workplace; buy yourself a small bouquet or indoor plants to place on your desk.
Find Gratitude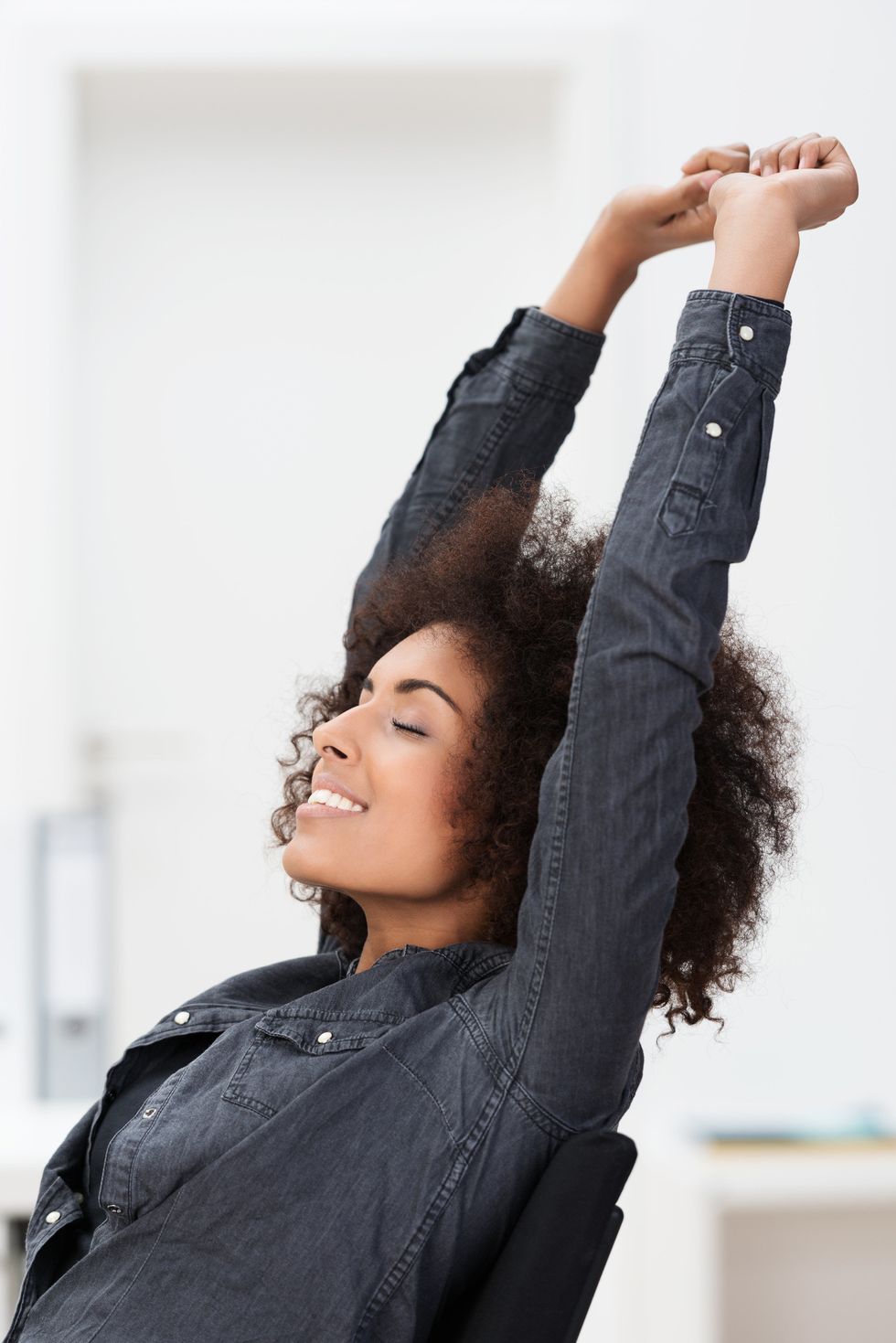 Getty Images
I know it can be tough, but it's worth it to find gratitude for your current place of employment. Gratitude is the ultimate sign of abundance and the more you pay homage to it, the more you receive. This starts with changing your thinking and being appreciative of receiving a paycheck in exchange for your time, or for the clarity you've acquired that you deserve more out of your professional career. Whatever it is, there's value.
"Gratitude is the ultimate sign of abundance and the more you pay homage to it, the more you receive."
Look For New Employment 
If you think you've exhausted all possibilities, then it's time to look for employment elsewhere. Use your free time to refresh your resume and network. This is the best time to visualize your next role, the company culture, and benefits. Vision boards are a great way to implement these goals in a tangible productive way.
Just remember, it is not enough to write the vision. Affirmations without action produce no results. Carry that with you and you'll go far.
With Love,
Ayana Iman xx
Featured image by Getty Images