A few days ago, while hanging out with one of my favorite people, she said to me, "Ooo, I love your eyeshadow." Here's what's cool about what she said—I didn't have any on. I can't even remember the last time I've worn eyeshadow. When I told her that and she said, "Your eyelids have a natural golden glow to them", I know I was grinning from ear to ear because that means all of the water, witch hazel (which I'll get into in just a sec), and sweet almond oil is truly paying off. How cool. How very cool.
---
That got me to thinking about a few all-natural beauty trends that I will be incorporating throughout 2019 and beyond. Whether you like a bare face like I do, you prefer to switch up between a naked face and a full face of make-up, or you want to know some ways to care for your skin underneath your glam face, there are gonna be at least 3-4 things on here that you will totally fall in love with. I'm willing to bet my annual lipstick and lip gloss budget on it (and that's really saying something)!
1

.

Bakuchiol
I already know that some of you read that word and was like, "What the heck is that?!" It's kind of a long story, but the short of it is bakuchiol is a meroterpene (chemical compound) that mimics retinol (a Vitamin A based drug that treats fine lines and slows down the appearance of aging). Thanks to it being plant-based, it's a whole lot gentler with fewer side effects than retinol has.
Although it's not guaranteed that bakuchiol will work super-effectively for everyone, if you have super-sensitive skin (especially), it's worth giving a shot. As far as where to buy it, Sephora carries products with bakuchiol in them. However, it's not the cheapest stuff on the planet, so you might want to opt to cop some Whish cosmetics with bakuchiol in it on eBay.
2

.

Grey Hair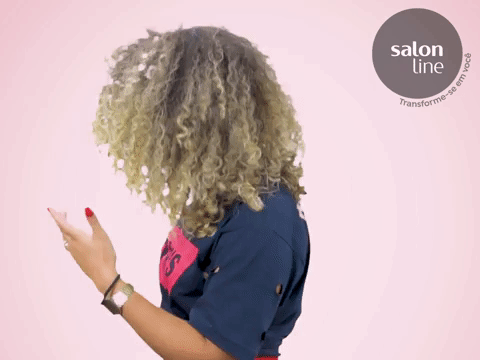 A few years back, teenagers were dyeing their hair grey and silver on purpose. This year, natural grey is totally what's in. So, if you've been noticing a couple of grey hairs popping up and you're tempted to color them, consider letting them shine through instead. You can do this by purchasing shampoos and conditioners that are specifically-designed for grey tresses, wearing neutral-colored clothing more often and rockin' a really dope haircut. Something that is modern and super striking.
By the way, there's an actual scripture that celebrates grey hair—"The silver-haired head is a crown of glory, if it is found in the way of righteousness." (Proverbs 16:31—NKJV) See, you've even got the good book's stamp of approval to let your natural glory shine through. Let it.
3

.

Oil as Mascara
Although I personally don't wear a ton of make-up, something that I don't go without is mascara. I try and stay on top of the fact that if I don't get a fresh tube every 2-3 months, not only does it become a breeding ground for bacteria, it also can inhibit the growth of my eyelashes over time.
An alternative? Using oil on my lashes instead. Castor and olive oil work really well. So does petroleum jelly, Vitamin E and Shea Butter. They all have less chemicals in them and can help all of our lashes to grow as they also help to make them appear longer and fuller every time we use them. (FYI—with all of these options, less is more. Otherwise, you could get oil in your eyes.)
4

.

Witch Hazel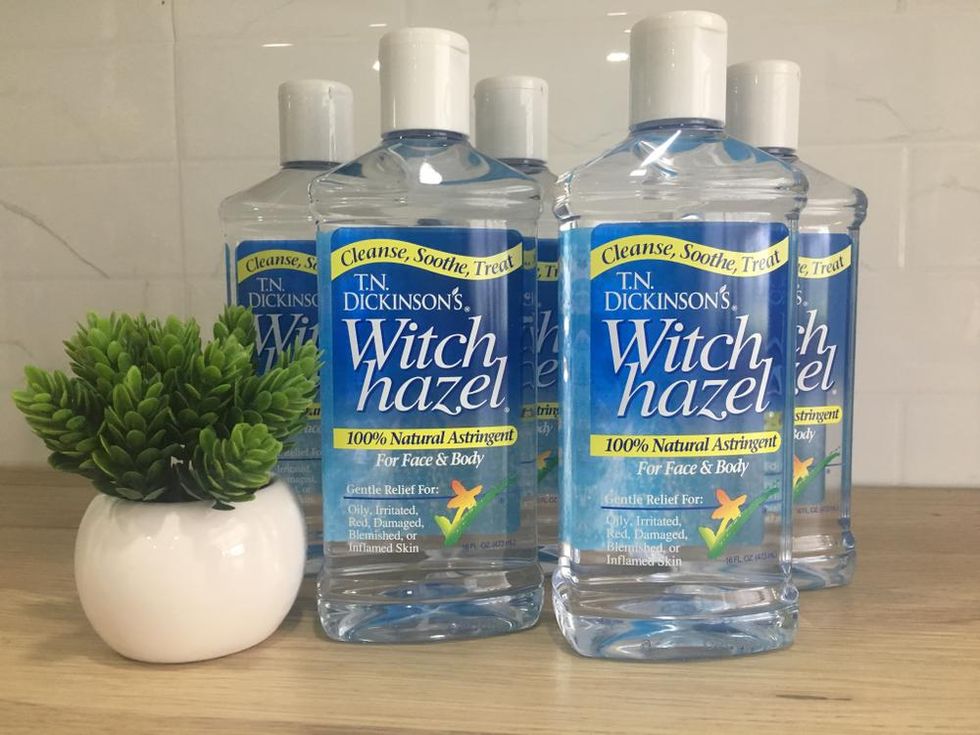 Jaiz Anuar / Shutterstock.com
Something else that is a current beauty trend liquid exfoliants. Something that's a natural form of one is witch hazel. When it comes to achieving beautiful skin, there aren't too many things that are more effective and affordable than witch hazel.
It's an awesome toner, helps to speed the healing process of breakouts, contains tannins that slow down the aging process, and even aids in treating the inflammation and flare-ups associate with psoriasis and eczema. It's also great for getting rid of any cold sores that you might have along your lip line too.
5

.

DIY Stain
There's nothing like a bit of color to make your skin look youthful and glowing. Something that can give your cheeks, lips, and even eyelids (if you want) a pop of pink or bronze is DIY stain. It's not as hard to make as you might think either.
If you want a pink color, mix two teaspoons of rose mica powder with kaolin clay and a half-teaspoon of shea butter. If you'd prefer a sun-kissed look, go with some 2 ½ teaspoons of cocoa powder, three-fourths of a teaspoon of rose mica powder and 2 ½ teaspoons of shea butter. Mix everything together and apply. You'll achieve beautiful results sans any of the chemicals that are in commercialized stains.
(Plus, if you store your DIY stains in ounce tins, their shelf-life will be 12-14 months!)
6

.

Thick Eyebrows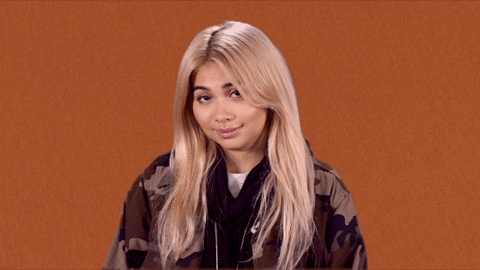 I'm totally digging the fact that the kind of eyebrows that look like they are on their last leg are a thing of the past (at least for now). These days, the thicker and more natural your brows appear to be, the better! If you need to grow your eyebrows out, one way to do that is to apply some Jamaican Black Castor Oil on them at night. And, if you want to keep them tame during the day, some clear eyebrow gel will do that for you.
There are some eyebrow gels that you can purchase at cosmetic counters, but how about you save yourself some money and gas by putting a pea-size amount of Aloe Vera gel on an eyebrow brush and gently brushing your brows in the direction that they naturally grow? The gel will keep them in place while nourishing them all day long.
7

.

CBD Oil
I'm pretty sure you don't feel like a science class right now, so I'll be brief in the breakdown of what CBD oil is. It stands for Cannabidiol and its one of the 104 chemical compounds that's found in cannabis. While Tetrahydrocannabinol (THC) is responsible for marijuana making us feel high, CBD is not. It still has some great benefits thought and is usually added to a carrier oil like coconut, avocado, grapeseed or hemp seed oil.
Why is CBD oil currently all the rage? Aside from reducing pain, relieving anxiety, and even combating certain symptoms that are cancer-related, it's also the kind of oil that slows down the over-production of sebum in skin while healing a lot of the inflammation that's associated with pimples.
Now here's the bad news. You can only use this oil in the states where medical marijuana is legal. But since that's
currently 32 states
(with more on the way, I'm sure), chances are, you're living someplace where you can get your fill.
8

.

Fades with Designs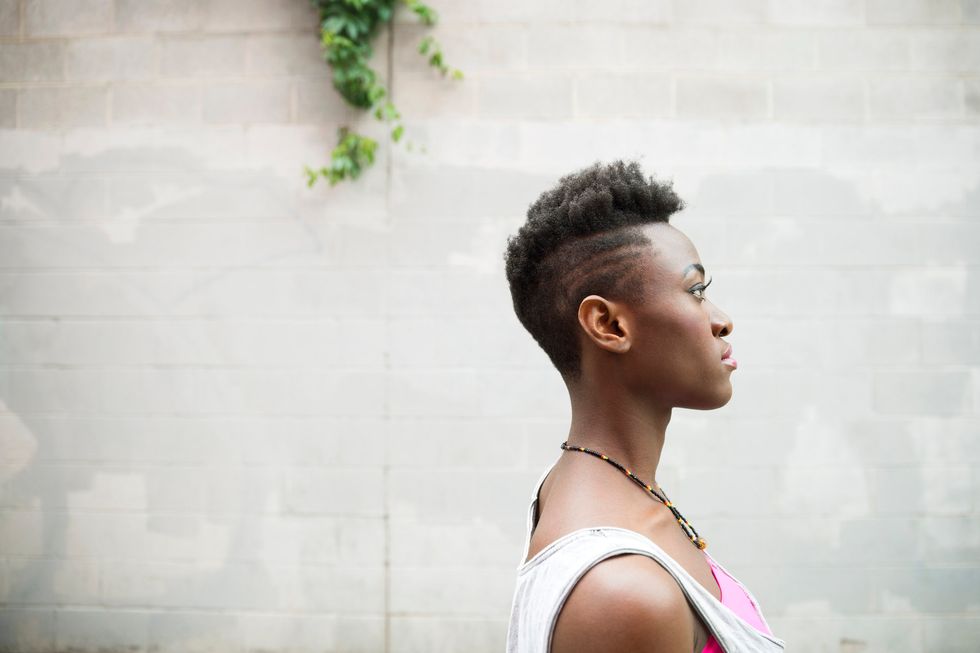 Getty Images
When I read about this particular all-natural trend, I couldn't help but reminisce back to the days when I rocked a fade. There really is nothing like getting a fresh cut, going to bed, waking up and needing to do nothing to your hair but run a brush through it. It cuts down the morning routine by at least 15 minutes!
So, if you've been thinking about undergoing the Big Chop in a very major way, there's no time like 2019 to do it. Take it to the next level by getting some bold artistic designs into it too. You won't just by fly as all get out—you'll be super on-trend too!
Featured image by Getty Images.
Related Articles:

Black-Owned Beauty Brands That Were So Good We're Taking Them Into 2019 - Read More
11 Of Our Favorite Black-Owned Holy Grail Beauty Finds - Read More
The 10 Best Over-The-Counter & Natural Makeup Removers - Read More