If you're like most Issa Rae- and good TV-loving humans with a pulse, you probably ran, not walked, to catch HBO Max's Rap Sh!t. On top of celebrating Black women in their most authentic essence, the show highlights Florida's rarely seen yet indulgent side. As a Florida-born and raised woman who loves her Cuban sandwiches, slowed-down music, rims, bass, and never-ending sunshine, seeing Rap Sh!t pay homage to my state has been like receiving an overdue love letter in high school from the guy you've been crushing on for weeks.
---
Rap Sh!t follows the unlikely yet revived friendship between Mia (KaMillion) and Shawna (Aida Osman) as they dip their perfectly pedicured toes into the world of a rap duo. The two, who belong to different worlds in the same city, in Miami, Florida, find themselves randomly paired together after connecting on Instagram and soon are drunkenly creating a viral hit called "Seduce & Scheme." Mia, a single mother and 9-to-5 influencer with more followers than funds, finds herself intrigued by the possibility of doing the unthinkable: being a rapper. Shawna, on the other hand, is a semi-established "woke" rapper with a seemingly stalled career and a fraud scheme or two up her hotel reception sleeves.
The two are different - as most great connections and friendships are - but they make it work. They see the magic. They understand that what they have is rare. While they wade through the world of pimps-turned-managers, toxic ass boyfriends and mothers, and deferred dreams, they find that making it is the easy part; maintaining it is where it gets tricky.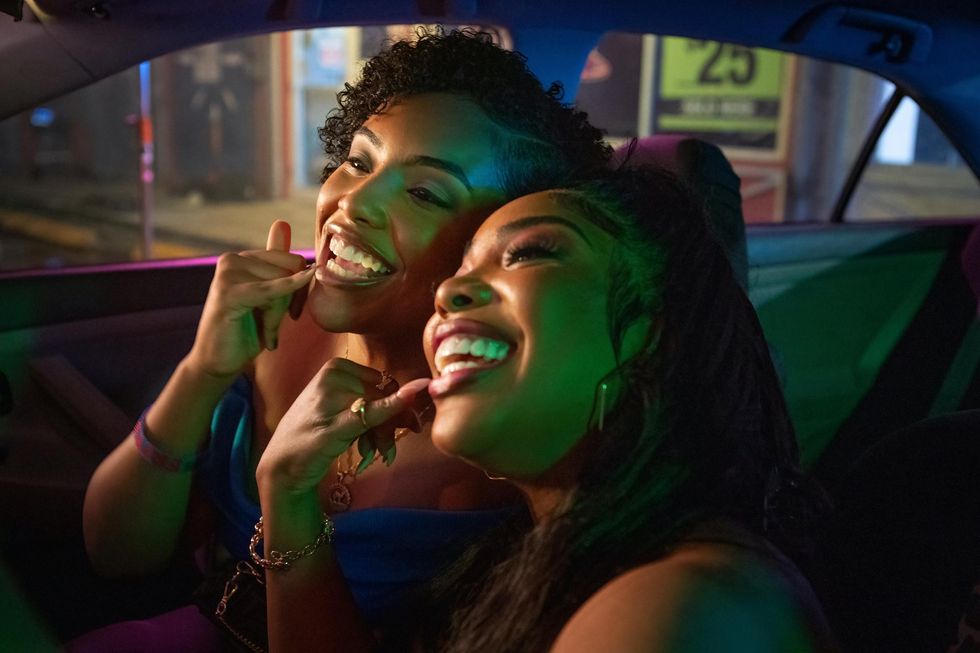 Alicia Vera/HBO Max
As usual, Issa Rae authentically gets the stories of Black women right. With Insecure, we saw it come to life in California; in Rap Sh!t, we see the Black Girl Magic in the Sunshine state away from reality TV. For far too long, Florida's music scene has been considered gimmicky hip-hop by the mainstream - with artists like Major Nine, Tom G, Tokyo Jetz, and even the show's star KaMillion - staring at us, waiting for us to "get" it. Hip-hop in Florida is just as monumental as in any borough in NY or any 'hood in Cali.
There's more than the beaches and nightclubs; the show represents the duality of how something appears and the underlying beautiful spots we often don't take the time to see. Similarly, the duality of being a Black woman in America is that, wherever you reside, and whoever you stand beside, you'll always have the weight of working towards a dream while ensuring your superwoman cape doesn't strangle you simultaneously. Rap Sh!t gets all the things right about being caught in the middle of doing everything for others, by others' standards, and with everyone else in mind at the expense of your destiny.
While we sit on pins and needles waiting for season 2 of Rap Sh!t, we can rest assured that the five lessons we learned from the show will live rent-free in our heads until then. And if you haven't binged the season already, be aware that some light spoilers are ahead.
Featured image by Alicia Vera/HBO Max