The #blackgirlmagic was real at Summit21. Created by women's lifestyle brand 21Ninety, the event brought more than 1,200 Black women together in Atlanta to network and discover ways to elevate their life.
---
I've been to a few amazing conferences over the years, but Summit21 transformed me in a way that I could never imagine. I laughed, cried, and said "yasssssss" more times than I can count.
There were so many gems dropped by the speakers, but here are five that stood out most:
1. You can't afford to not take care of yourself.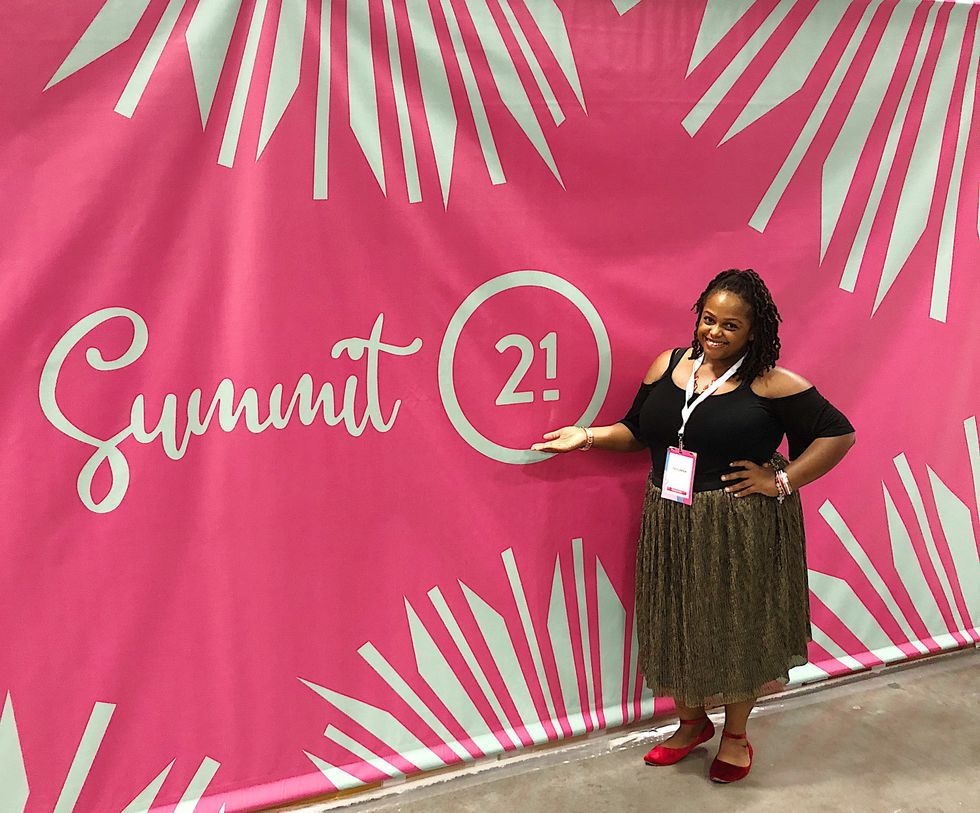 Author Teyonna Lanez
Self-care was a big focus during Summit21. Each day began with meditation to set the tone for the day.

Celebrity wellness and lifestyle guru, Latham Thomas, shared that self-care includes doing check-ins to see how you're feeling and asking for what you need. Equally important is creating boundaries to protect your space and taking your time so you aren't rushing through life.
For branding mogul Karen Civil, self-care includes meditation and leveraging the power of crystals.
To close out Summit21, the founders of GirlTrek highlighted their goal to inspire one million women to commit to 30 minutes of exercise each day. Through their "Tubman Doctrine," a radical self-care practice for freedom fighters, they encouraged women to channel Harriet Tubman by saving themselves first and finding wellness practices that brings them joy.
Throughout the conference, these ladies and many others emphasized the need to take care of yourself to truly lead an enriched life.
2. Know your why.
"If you stand on your why and learn the lessons you need to know this season, you'll get where you need to be," said author and business executive Sarah Jakes Roberts.
She described how your "why" keeps you grounded. Whether it's for the culture, community, or your family, it's bigger than you and ensures that you stay committed to what's important.
A part of knowing your why is understanding your purpose.
"You can choose your passion but you can't choose your purpose," said actress Ashley Blaine Featherson during her fireside chat with comedian Robin Thede. "If you're living in your purpose, success is inevitable. You can't fail because God created you for it."
3. You are culturally wealthy.
Writer Alex Wolf helped me see the power in being a Black woman in a different way. During her session about capitalizing on your blackness, she showed how the people who make Black culture aren't the same people who make money off of Black culture.

Alex highlighted that as Black women, we are the mother of American culture, and we're sitting on a goldmine just for being ourselves. Her "Issa-Cardi Theory" showed an example of how to capitalize on our cultural wealth. Using Issa Rae and Cardi B as inspiration, Alex says that we can resonate with others by starting where we are, being unapologetically Black, and focusing on being relatable.
"The whole world is in love with our culture, and if you don't own it, someone else will."
4. Getting involved with politics is not an option.
"Our lives are literally on the line," said political strategist Angela Rye during her fireside chat.
She discussed the importance of identifying our top concerns (such as justice, prison reform, or women's rights), so we're prepared to raise our voices during the midterm elections this November.
Natasha Murphy of Black Girls Vote and Dr. Wendy Osefo of 1954 Equity Project echoed Angela during their impact session. Black votes are crucial because blood was paid through our ancestors. We owe it to them and ourselves to get involved with our local, state, and federal government elections.
5. Embrace the growing pains.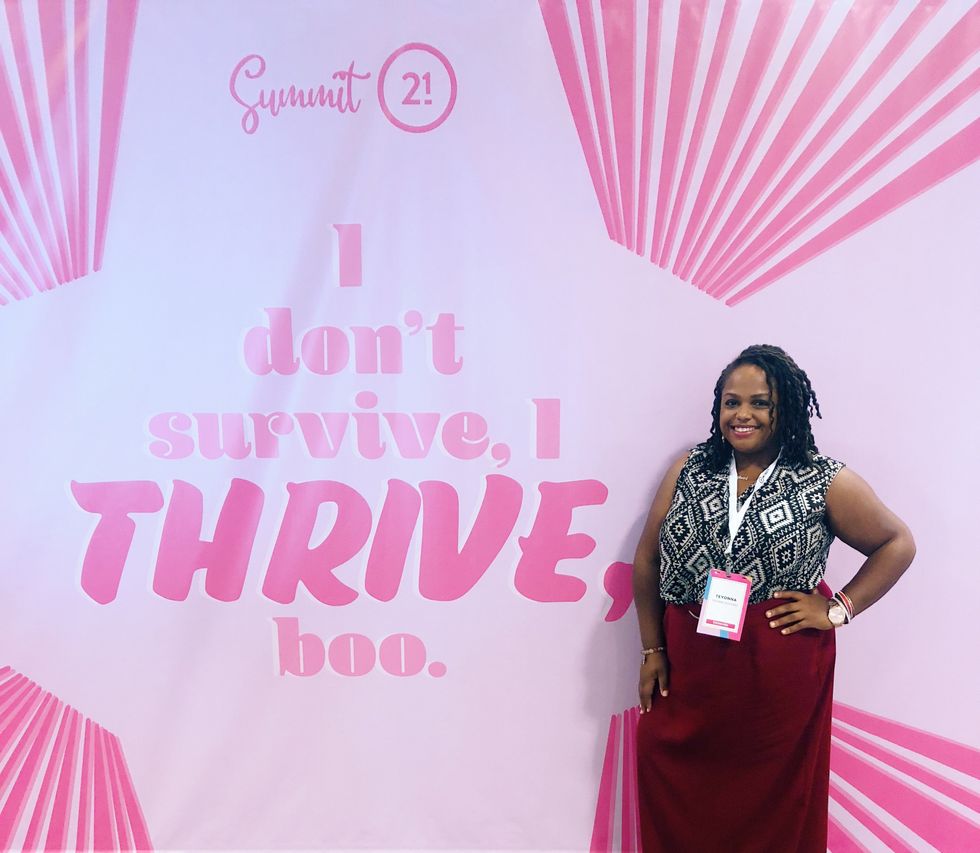 Author Teyonna Lanez
Singer Sevyn Streeter talked about how she gets excited when she feels things coming to an end because it signals a new beginning. She mentioned that it's important for us to understand that change doesn't have to be perceived as negative - instead view it as an opportunity to add different things to your toolbelt of life.

"Don't be afraid of transitioning," says Sevyn. "If God is tapping you on the shoulder, telling you to jump, don't be afraid of the water."
Summit21 helped me see my life more clearly and provided me with actionable steps towards making my dreams a reality. If you weren't able to attend, I encourage you to come to this transformative conference next year!
*Featured Image via Sistas In Stem/Instagram