---
Over the past few years, the craze of affirmations has swept various self-love circles. Speaking love and light into life by repeating uplifting words to ourselves has become a practice all throughout social media and among some of our favorite celebrities. I've dabbled in affirmations myself for a few years and the payoff has been incredible.
Speaking positivity over myself every morning has done plenty for my confidence and self-esteem. It has consistently equipped me with the bravery and gall to tackle each day with poise, grace, and self-assurance. However, the principle of speaking, believing, and acting accordingly doesn't just apply to affirmations. It's also ever-present in another practice: intention-setting.
Intention-setting is a mindfulness technique that requires you to reflect on how you want to live and show up in life. Much like affirmations, setting intentions takes your mind off areas of lack and redirects your attention toward positivity, intentionality, and productivity.
purduecco.files.wordpress.com
Intention-setting is the art of declaring victory, achievement, and discipline over your life.

Intentions should not be forced. For them to be effective, they must be felt. They require awareness and reflection. Usually created from an area of struggle in your life, intentions are specific to your own personal journey and are used to sow positive seeds in your everyday life of doing. The focus of intentions are not about tangible outcomes (e.g. "I will make 5 friends", or "I will apply to 3 jobs"), but instead, are set based on how you want to navigate yourself in the world. They're usually created by answering questions about what means the most to you, how you want to feel, and the energy you want to emit each day.
Below are a few in-depth intentions that I uphold to ensure my work and life remains passion-filled, my days remain purposeful, and my processing of life's challenges is rooted in growth and blooming:
Today, I will use my wholeness to share my joy and positivity with those around me. I will operate in love and compassion as I make decisions that affect others. I will be considerate, jovial, and grateful no matter what challenges come my way.
Today, I will navigate myself from a place of fullness, not lack. I am equipped with everything I need, and I will use it all completely. I will use my gifts to manifest greatness and will welcome opportunities that do the same.
This week, I will set boundaries that agree with my emotional and spiritual capacity. I will not overexert energy into people or things that cannot replenish me. I will not lend myself to people or things that will leave me empty. Instead, I will be deliberate about what I am willing to expend and what I must preserve for my own well-being.
I am walking in kingdom's order by allowing God to guide my every move. I will follow Him, and Him only, rebuking my need for control and letting Him order my steps.
Today, I will move in courage and try things I've always been too fearful to do. I will take risks, and big leaps if I'm led to.
I usually set my intentions each week and recite them to myself every day. This way, I work it into the practice before moving on to the next one. Others tend to repeat the same set of intentions throughout the month or year. Do what works best for you.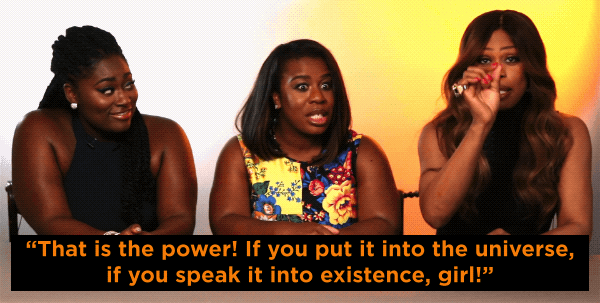 img.buzzfeed.com
Setting an intention, speaking it over your day, and holding it with you as you navigate various spaces reminds you to be deliberate with every decision you make and aware of every emotion you allow to consume you.

As the year winds down, this is the perfect time to start setting your mind on how to manifest even more greatness next year. So instead of focusing on one specific resolution, work on setting clear intentions and watch the beauty of becoming unfold!
Featured image by Shutterstock.
Originally published December 29, 2018