A dollar and a dream can be invaluable if correctly put to use. In many cases, that's the only thing in this world we are offered. We work the grind, 9-5, all so that we can invest our couple of dollars into our own vision for our dream. That dream for you may mean a paid-off mortgage or a closet full of Louis Vuitton, but for Sanicole Young, that dream was to create a more inclusive landscape for black women in the film industry.
---
The Chicago-based filmmaker's latest film, Training Wheels, was the result of Sanicole's largest and most lucrative self-investment yet.
Training Wheels is a film based on the childhood experiences of Sanicole, who is depicted by a gorgeous little brown-skinned girl with psychic powers who is determined to bring her waywood wayward father back home. A story that was once a memory in the young director's mind has now been transformed into a vision that will touch the minds of many, but that dream didn't come to fruition without making the decision to invest in herself. She said:
"I've always known it was important for me to invest in myself, because as I thrive in my career doing independent things,there were items I had to buy order to achieve what I had to achieve. [Self-investment] has always been an important concept for me.," she said. "As far as just major sacrifice, it was more so the passion that I had behind what I wanted to do. It was that driving that decision more so than anything. It was the first big step I needed to take in order to get to the finished product of what I was trying to do."
"Self-investment has always been an important concept for me."

Sanicole has successfully transformed what started as a dollar and a dream into a plan of action with concrete goals. She has since gained the entry to some of the country's most prestigious film festivals, and garnered the attention of celebrities like Lil' Rel and Ava Duvernay, and the young filmmaker says that this is only the beginning.
Sanicole Young is proof that self-investment is key to success, and xoNecole got a chance to sit down with the young trailblazer to discuss how she got a 10-fold tenfold return on her initial contribution. San said despite popular belief, believing in yourself isn't always as easy as it seems, and it takes a whole lot of belief to drop a check on a vision that others can't see. She told us: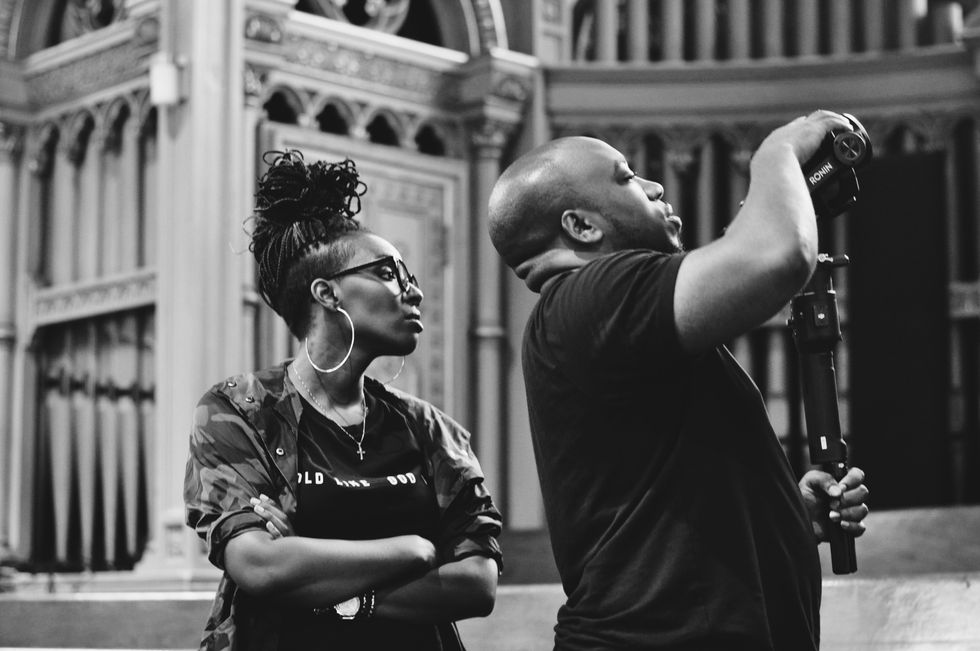 "It was really a scary step, it wasn't an easy to make that decision because I could have done a million different things with that money," she told us. "But I believed in my idea very strongly, I believed talent strongly. And I felt like I deserved to take a shot. And you only get one shot. I didn't want to look back and regret not moving forward and really making the sacrifice."

A dollar and a dream may be a good starting point, but passion and consistency are needed to cross the finish line.
Sanicole stated, "You are going to have doubt. But the faith in your idea has to be bigger than that doubt. You have to really believe that you will win. I know that sounds cliche, but I've had to wonder whether or not this would be lucrative to me, and I got to a place where I was okay with failing if I failed. Because I wanted to take the shot so bad."
"The faith in your idea has to be bigger than doubt… I was okay with failing if I failed."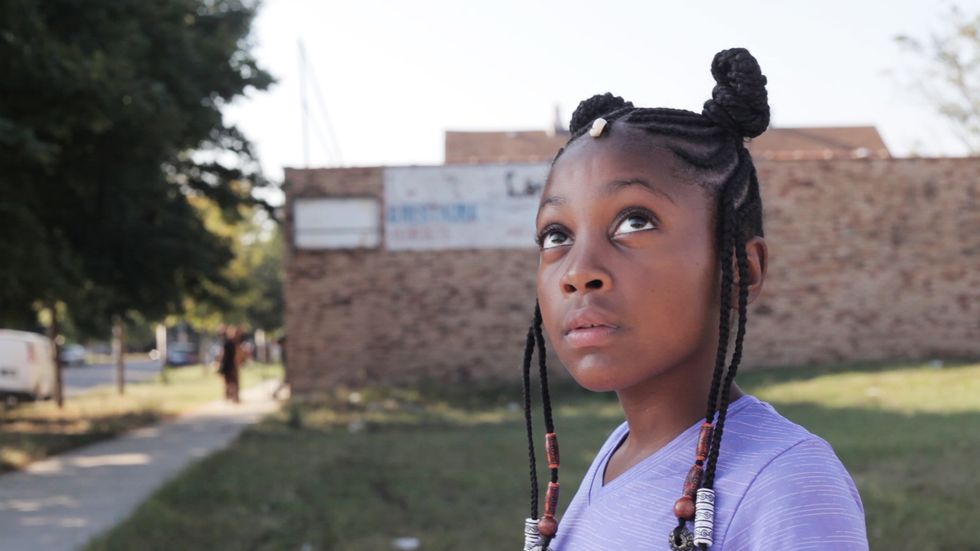 Training Wheels
It was at that point that Sanicole shot decided to shoot her shot and ultimately, the budding visionary scored in a major way. Thanks to a number of side hustles and a few sleepless nights, she had finally earned the money she needed to bring her dreams to fruition without even realizing it.

"It's weird because at the time, I had never really even been good at saving money. I'll be honest. And it was crazy how I was willingly saving it. Like, I really didn't even have plans for that money. And I always had my idea, but I never really put them together. I just knew at some point, I'm gonna have to pay for this film. But then, the more I was like working the craft and writing the story, and the more excited about it, it was like man, I started to believe it. Every revision was getting better and better. "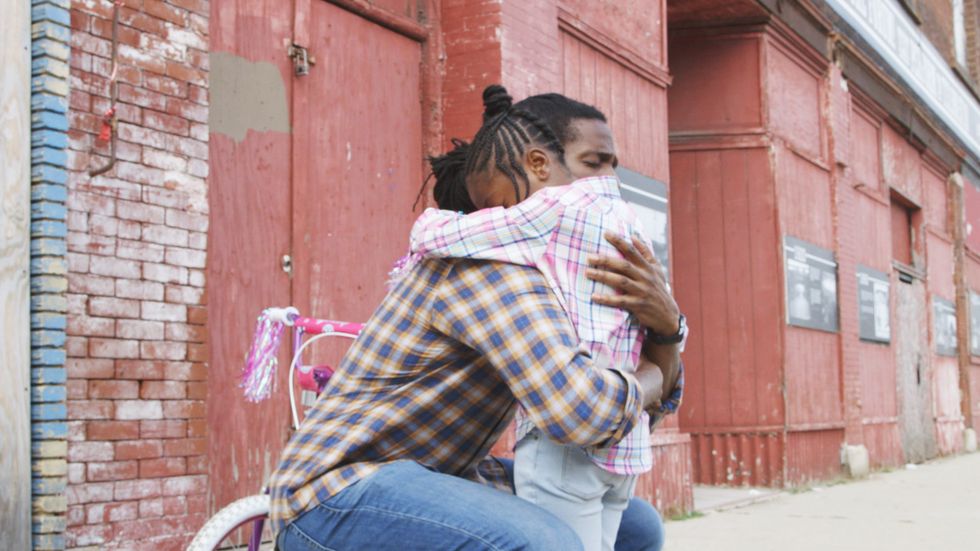 Training Wheels
With $5,000, a heart full of ambition, and a brilliant idea, the formula for her biggest film yet had been concocted.

Only one thing was missing: the rest of the money.
Although her contribution was enough to get started and cover pre-production for Training Wheels, there were still a number of costs that needed to be covered before the project was complete. This left Sanicole at a crossroads, filled with the same self-doubt and inadequacy that we all feel when we've done all we can and it isn't enough. But God came thru, honey.
"When I cut the trailer, I knew I had to raise some money. So, I cut that trailer so many times, and I was letting people watch it and they gave me their feedback. I was just trying to get it perfect. When I got it to a place where I felt like it was the best it could be, I released my indiegogo and I released my trailer and I got an overwhelming response of support that I had never received. That was a very accomplishing moment."
San says that despite her recent success and accreditation, she is most grateful for the connection she's been able to make with her audience.
"Not even just getting into film festivals, I'm not even that far.," she explained. "I felt accomplished just by people connecting to something that I had personally experienced and they were like, 'Oh yeah me too, and let me give you some money and help you finish this.' That was gratifying - not just meeting my goal in four days, - but just connecting to people and really watching my art come alive and touch people. That was big for me. When people really rock with something that you do, they really reach out and thank you for sharing that because they've experienced that too."
Sanicole Young turned her dollar and a dream into a vision for investors, and thanks to her persistence and determination, has garnered executive producers for her film including but not limited to KevOnStage, Lil' Rel, and even some of her own mentors. She is a reminder that self-investment is priceless, and when you truly believe in yourself, you can earn a return on that investment that's beyond your imagination. San had this piece of advice for other women who struggle with the burden of their own aspirations:
"Whatever your heart desires, don't let your inability to recognize your own strength stop you from taking a leap of faith to do what you love."

The short film's opening night will be during the Black Harvest Film Festival at the Siskel Film Center in Chicago on August 4th. If you're in town and you're down to relish in some black girl magic, this event is definitely not something you want to miss. Check out the trailer below: