This article is in partnership with Starz.
Listen. We all love a good rerun of Sex and the City, but the ghosts of Carrie, Samantha, Charlotte, and Miranda can go ahead and rest. There's finally a new, formidable foursome further uptown—Harlem that is—and they've taken the fashion, sex, and sister-girlfriend drama to entertainingly engaging new levels. Trust me, Starz's new series Run the World is the ode to Black femininity, friendship, and NYC flavor we all need right now. And if you haven't been tuned in on Sunday nights at 8:30 p.m., you're truly missing out.
---
The series features women we can all either relate to, live vicariously through, or maybe even side eye, wondering where our coin is because at least one sis is us. Ella is a sexy, Caesar-cut rocking writer (played by Andrea Bordeaux) who begins the season mourning love lost and stumbling through a career renewal. Sondi (played by Corbin Reid) is a Ph.D. student who serves Cree Summer-in-A-Different-World-edgy realness, while juggling school and an entanglement with her single-dad advisor.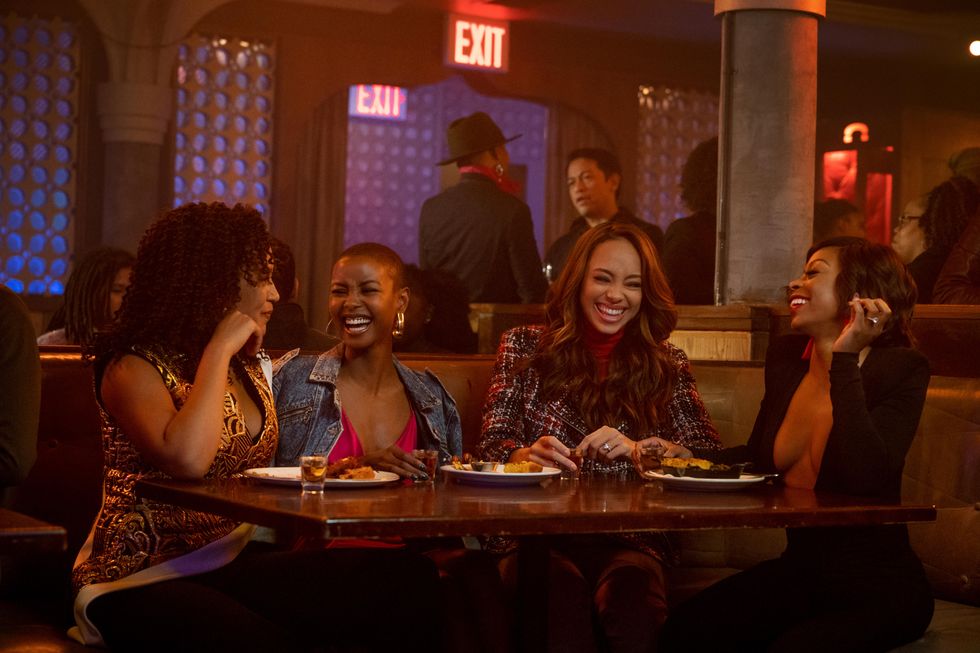 Rebecca Smythe (Starz Entertainment)
Whitney is an elegant yet aloof banker (played by Amber Stevens West) prepping for a massive Nigerian wedding after cheating on her fiance. (And that's reason enough to continue watching if not just to see the festivities unfold. If you know, you know.) And last but certainly not least is Renee (played by Bresha Webb), a feisty-fiery soon-to-be-divorced marketing exec who unapologetically serves as the tell-it-like-it-is voice of ratchet reason in the group.

Featured image courtesy of Rebecca Smythe (Starz Entertainment)