Black maternal health awareness is starting to receive recognition from policymakers. For decades, many Black women have suffered from improper maternal health care due to racism, bias, and overall lack of access. Centers for Disease Control and Prevention reported that Black women are three times more likely to die from pregnancy-related issues in comparison to white women. And because of these staggering statistics, a number of Black women have turned to doulas and midwives in order to have a smoother and safer pregnancy journey.
---
A doula is a trained professional who offers various types of support such as physical and emotional, to the mother before, during, and after pregnancy. A midwife is also a trained professional who helps the mother before, during, and after pregnancy, but they can also offer medical care.
The costs to have a doula can reportedly range from $500-$2000 and while some of those companies offer payment plans, it is still unaffordable to many women. But there is one city that is on a mission to do something about it. Last Wednesday, NYC Mayor Eric Adams announced the expansion of the Citywide Doula Initiative to offer free access to doulas for families in low-income areas and an expansion of the Midwifery Initiative.
In a statement from the NYC Mayor's Office, Mayor Adams noted the racial biases and is working to present a solution. "The root causes of racial disparities in maternal health are real, so it's time we do right by every mother and every baby, no matter the color of their skin or the language they speak," he said. "Today, we are announcing a multifaceted initiative to help reduce the inequities that have allowed children and mothers to die at the exact time when we should be welcoming a life. By expanding and investing in both doulas and midwives, we are taking the steps necessary to begin to address the disparities in maternal deaths, life-threatening complications from childbirth , and infant mortality."
The Citywide Doula Initiative will focus on 33 neighborhoods while the Midwifery Initiative will be available at all 38 public and private birthing facilities. Fifty people will be trained to be doulas in order to help over 500 families by the end of June.
Other important city officials spoke out in support of the initiatives including New York Assemblymember Rodneyse Bichotte Hermelyn who experienced the loss of her son due to a pregnancy-related cause. "For me, advancing Black maternal health is more than just a policy initiative, it's personal," she said.
​ "The loss of my son Jonah in 2016 was a heartbreak that has never been healed. The cause was a common and preventable preterm labor condition. The Adams administration's doula and midwifery initiatives take a critical leap towards narrowing the racial and socioeconomic gaps that have long perpetuated a sense of fear and prevented new families from experiencing joy when they're expecting. I encourage all expecting parents in my district, and all 33 neighborhoods this program will pilot in, to sign up to access doula and midwifery care. The difference could mean life or death."
In comparison to nationwide statistics, the mayor's office reported that Black women in NYC are nine times more likely to die from a pregnancy-related cause than white women. Also, infants are three times as likely to die under the age of 1.
Featured image by Getty Images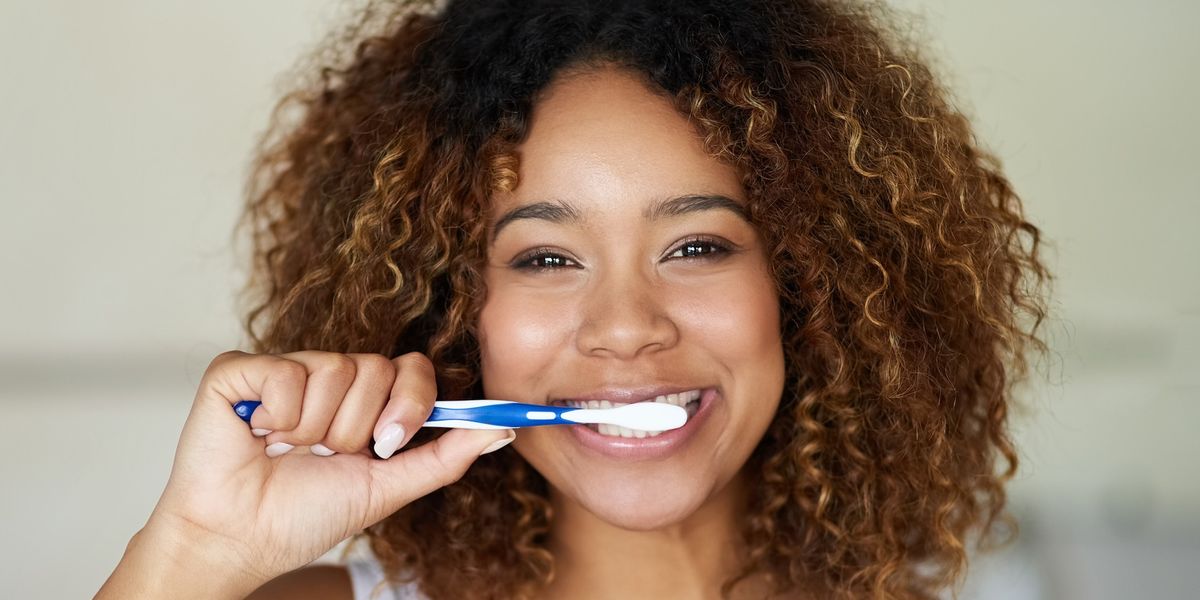 This article is in partnership with Sensodyne .
Our teeth are connected to so many things - our nutrition, our confidence, and our overall mood. We often take for granted how important healthy teeth are, until issues like tooth sensitivity or gum recession come to remind us. Like most things related to our bodies, prevention is the best medicine. Here are five things you can do immediately to improve your oral hygiene, prevent tooth sensitivity, and avoid dental issues down the road.
1) Go Easy On the Rough Brushing: Brushing your teeth is and always will be priority number one in the oral hygiene department. No surprises there! However, there is such a thing as applying too much pressure when brushing…and that can lead to problems over time. Use a toothbrush with soft bristles and brush in smooth, circular motions. It may seem counterintuitive, but a gentle approach to brushing is the most effective way to clean those pearly whites without wearing away enamel and exposing sensitive areas of the teeth.
2) Use A Desensitizing Toothpaste: As everyone knows, mouth pain can be highly uncomfortable; but tooth sensitivity is a whole different beast. Hot weather favorites like ice cream and popsicles have the ability to trigger tooth sensitivity, which might make you want to stay away from icy foods altogether. But as always, prevention is the best medicine here. Switching to a toothpaste like Sensodyne's Sensitivity & Gum toothpaste specifically designed for sensitive teeth will help build a protective layer over sensitive areas of the tooth. Over time, those sharp sensations that occur with extremely cold foods will subside, and you'll be back to treating yourself to your icy faves like this one!
3) Floss, Rinse, Brush. (And In That Order!): Have you ever heard the saying, "It's not what you do, but how you do it"? Well, the same thing applies to taking care of your teeth. Even if you are flossing and brushing religiously, you could be missing out on some of the benefits simply because you aren't doing so in the right order. Flossing is best to do before brushing because it removes food particles and plaque from places your toothbrush can't reach. After a proper flossing sesh, it is important to rinse out your mouth with water after. Finally, you can whip out your toothbrush and get to brushing. Though many of us commonly rinse with water after brushing to remove excess toothpaste, it may not be the best thing for our teeth . That's because fluoride, the active ingredient in toothpaste that protects your enamel, works best when it gets to sit on the teeth and continue working its magic. Rinsing with water after brushing doesn't let the toothpaste go to work like it really can. Changing up your order may take some getting used to, but over time, you'll see the difference.
4) Stay Hydrated: Upping your water supply is a no-fail way to level up your health overall, and your teeth are no exception to this rule. Drinking water not only helps maintain a healthy pH balance in your mouth, but it also washes away residue and acids that can cause enamel erosion. It also helps you steer clear of dry mouth, which is a gateway to bad breath. And who needs that?
5) Show Your Gums Some Love: When it comes to improving your smile, you may be laser-focused on getting your teeth whiter, straighter, and overall healthier. Rightfully so, as these are all attributes of a megawatt smile; but you certainly don't want to leave gum health out of the equation. If you neglect your gums, you'll start to notice the effects of plaque buildup, which can irritate the gums and cause gingivitis , the earliest stage of gum disease. Seeing blood while brushing and flossing is a tell-tale sign that your gums are suffering. You may also experience gum recession — a condition where the gum tissue surrounding your teeth pulls back, exposing more of your tooth. Brushing at least twice a day with a gum-protecting toothpaste like Sensodyne Sensitivity and Gum, coupled with regular dentist visits, will keep your gums shining as bright as those pearly whites.

The face of tennis is changing, and it's about time. Over the years, if you were asked to name any Black tennis player, two would come to mind: Serena and Venus Williams — and rightfully so. But as new tennis sensations like Coco Gauff and Naomi Osaka rise to fame for their athleticism and tenacity, it's clear that there's a new era of tennis taking shape to bring forth a fresh take on representation and reclamation on the courts.
For that reason alone, there's no better time than now for Black Girl Tennis Club co-founders Virginia Thornton and Kimberly Selden to lead the charge of making tennis more accessible to Black women and girls so the next Serena and Coco can emerge.
What began as your everyday lunch chat between friends to discuss their mutual dream of owning a boutique hotel turned into a proposition to start a tennis club together. With Virginia being a tennis player since adolescence and Kimberly entering the sport as a hobby in her adult life, the two jumped at the idea of making a space where Black women could discover a new hobby and not feel like the "only one" on the tennis court.
"The club kind of started for selfish reasons, but not in a bad way," Virginia tells xoNecole. "We realized that there was actually a need for this."
Kimberly adds, "Now we're literally disrupting a whole industry. We didn't plan it, but it felt divine; like we were called to do this. Black Girls Tennis Club has been a catalyst for personal growth in all areas of life, and we would have never anticipated that."
Since establishing the Black Girl Tennis Club in 2022, the two have made it their mission to cultivate a space for "Joy Equity and Radical Wellness." Their platform serves as a means to inform, inspire, motivate, and reshape the narrative around Black women and girls in the tennis world while highlighting the transformative power of sports and play for liberation.
With approximately 78% of tennis players being white and only 6.8% being Black , and the average cost of a private tennis lesson being $60 per hour , racial and economic disparities within the sport are vast. To help close this gap, the two founders have banded together to develop free tennis instruction clinics for girls aged 8-18 and local tennis events that bring adult offerings through programs like the Self Love Tennis Club and Cardio Tennis Classes to HBCU campuses in Virginia.
Both Virginia and Kimberly understand the power of their mission and believe that they were brought on each other's path to execute it together. "It's the power of alignment," Kimberly says. "I think when you're doing the right thing and you're obedient, and answer the call, that's when things start to happen, and the universe conspires to make them happen."
We caught up with the founders to discuss their mission, the importance of representation , and how they plan to disrupt the tennis industry one court at a time.
xoNecole: Could you talk a little more about your CARE pillars with change, access, representation and exposure?
Kimberly Selden: As we started to do the work, we saw that there were so many equity issues. Although we knew from our own personal experiences that there are barriers to tennis being an expensive sport, we just acknowledged it as the culture of tennis. Because it's predominantly white, that transfers over to the fashion, the dynamics on the court, the attitudes, and the mindset. And so we knew this required a culture shift for us to ever really feel comfortable.
We were exposing kids to tennis, and then after the clinics, they're like, "Okay, now what?" It's still expensive, and they still may or may not have had access to it if they're not with us. We don't want to just pop in like, "Hey, here's a clinic, bye!" So, the culture change is just a reflection of what our existence looks like. Access is about being able to access the sport through courts, programs, or a coach. Representation is that we can't believe it until we see it.
Granted, there are a lot of pro Black women tennis players taking off, and we love that. But we think about media representation as well [as] representation within the USCA, in the boardrooms, and the people that are making the rules around the game.
xoN: Why do you all think it's important for Black women and girls to reclaim their space on the tennis court?
Virginia Thornton: It's rare, at least in my world, where you're in a space and see nothing but women who look like you. But it makes me feel great when I can be my authentic self , especially on a tennis court. Just shedding all the weight of pretending to be anything else. You feel at home when you're around nothing but Black women. Even small things like seeing a young Black girl being okay with how God made them is amazing.
KS: [In] the Atlanta clinics we did, everyone was crying. It's just clear how desperately we need it. Connection is the key to a long life. So many of us — especially from the pandemic and working from home — are isolated. With every clinic, it's just fun to be there, and it just fills you up. I think people need hobbies. I think a lot of people, especially people in big cities, feel that way and were confronted with that during the pandemic.
xoN: How did sports play a role in helping you two find your voice and confidence both on and off the court?
VT: I think what people don't realize is that tennis is such a mental sport. You could be a 4.0 player and have a bad mental day, and you will play like you've never picked up a racquet before. So, the mental piece is super important. For me, it's like 'you against you,' even though you are playing somebody.
If you're able to work through those mental pieces with yourself on the court, that will translate off the court. I had an issue on the court where I have a habit of saying, "Sorry," — I think a lot of Black women do, honestly. Then I realized that they wouldn't say sorry or they'd use my kindness as weakness. I've learned a lesson in that because everything translates on and off the court.
"If you're able to work through those mental pieces with yourself on the court, that will translate off the court."
KS: It's easy for me to do things that I'm good at, but it's not easy for me to do things that I'm not good at. Tennis is still challenging for me, but it pushes me. It's a reality check for me; I know when things are aligned , and when they're not. It feels like a big metaphor for me because it's pushing me to do something that's uncomfortable and makes me work for myself more.
xoN: What do you hope the long-term impact of Black Girl Tennis Club will be?
VS: We want to have a space for people who might be workaholics or might be going through depression. It's always great to have a hobby, whether that's knitting, sewing, or what have you. For me and Kimberly, it's about creating hobbies for Black women and girls but also knowing that it's okay to not be amazing at it. You don't have to be amazing at tennis; you could hit around the court, and that's okay.
The next Serena or Venus might come from Black Girls Tennis Club.
To support Black Girl Tennis Club's mission, donate to their cause here and follow their Instagram page to stay up to date with new clinics and events.
Featured image by LumiNola/Getty Images