As Told To is a recurring segment on xoNecole where real women are given a platform to tell their stories in first-person narrative as told to a writer.
This is Maya's story, written by Charmin Michelle.
I know this may come to a surprise so many, but here we are. Yes, I got a BBL. If you aren't aware, a BBL is a Brazilian Butt Lift, a cosmetic surgery process where the doctor uses a combination of liposuction and fat-grafting, transfers the fat into the butt, resulting in added volume, defined curves, and a lift. It is technically lipo and a fat transfer. But yeah girl, this has been on my to-do list for a while. And now that I am able to afford it, I went for it.
---
This was a really personal decision for me to get one, and I also went back and forth on whether I would share. In the end, I am in a position to share what I know, so I decided to do so. It could help other women who are considering the surgery make a more informed decision. So, here we go:
Why, sis? Why did you get a BBL?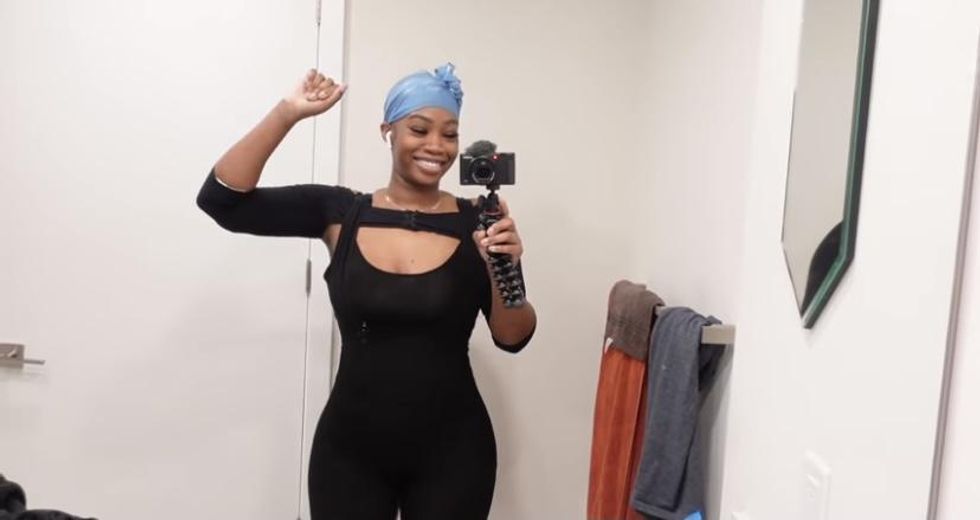 Maya Galore/YouTube
For my surgery, I got 360 lipo, meaning the doctor took fat from my entire abdomen, my love handles, my entire back, my arms, and my sides. I got a fat transfer which means my doctor just took that fat, and put it somewhere else. The fat was then injected into my hips and my butt, creating the hourglass shape I was going for.
I am actually not one of those people who got a BBL to get a fat butt, to be twerking, as someone looking for clout, or whatever. To be honest, I didn't even do this for my career. I got a BBL specifically to have a more feminine look about my body. I wanted an hourglass shape, being that that's not something I was born with. And like most women, I've always have body issues , or things I didn't like, so the things this surgery did for me, I could not have gotten in anybody's gym. Plain and simple. I have been super, super, super fit before—working out, eating clean, all of that—and I had no curves whatsoever. Like...none.
So my decisions had nothing to do with anyone else—my friends, my family, my man. I wanted to look more feminine in my clothing and I just wanted to be happy with myself when no one was in the room but me and Jesus.
And I have been considering this for years. I know it's easy to say that I got one because it's trendy or popular, or whatever the case may be, but I have been researching this for a long time. This is nothing new, ladies. There is nothing new about it. And I had been researching BBLs hard.
Let's talk numbers: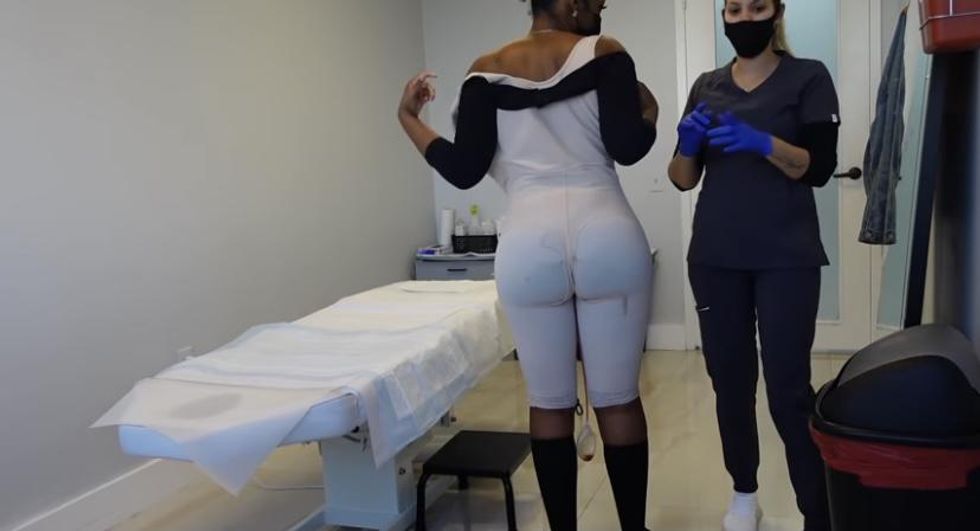 Maya Galore/YouTube
If you are familiar with BBLs, or if you've been doing your research, then you are familiar with Dr. Fisher in Miami , who conducted my surgery. His prices are on the expensive side, my entire BBL surgery—minus the arms—cost $8,000. I added my arms for another thousand, totaling $9,000. This price includes the surgery, my post-op care, the first five massages at his facility afterwards, and more.
A little BBL preparation insight: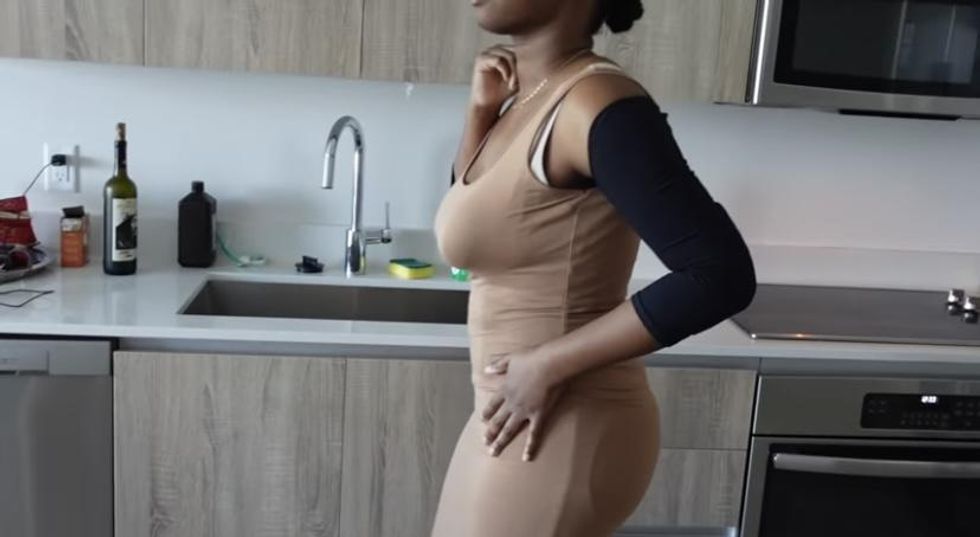 Maya Galore/YouTube
OK, so 30 days leading up to my surgery, I had to stop taking all my vitamins, I couldn't drink alcohol, no drugs, and no medications. I tried to eat clean because doctors advise you to be close to your goal weight before having the surgery to avoid trying to lose weight after (and potentially alter results). You have to get blood work done, and have approved labs prior as well. Sidebar: I was on keto but had to get off because they messed up my labs. Once I began eating food from all food groups, my levels were good to go for surgery.
Obviously, because of the times, I had to take a COVID test as well. You will also need excess fat for the procedure, which is another reason I chose not to lose weight before surgery. You will need a BMI of 32 or less.
Dr. Fisher took 4,000 ccs, the maximum amount of fat you can transfer, and put almost took exactly 2,000 cc's in each butt cheeks and hips.
How is the healing process for a BBL?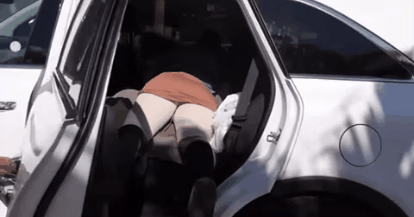 Maya Galore/YouTube
The healing process is...something. You learn the tips and tricks of many things that you've never even thought of before. Things like wearing foam boards under your shapewear to tighten skin, or drains, or placing a marble in your belly button to prevent the skin from hanging too low. I had on waist trainers (and more) all the time. The scars are everywhere your lipo entry points are for both removing fat, as well as taking it out. I couldn't take a bath, couldn't get in the pool for six weeks. And using the bathroom is a new normal (and super uncomfortable).
Everything is uncomfortable. Everything.
The bulk of healing or recovery comes from your lipo areas, not even your butt or hips. You can't sit down until three weeks after surgery, but when that period is over, it's important to ease into it to begin the softening process because you'll notice that it's not soft like a normal booty for a while. The sooner you start to sit, the faster it gets soft. Please keep in mind that doctors cannot change your genetics and they can only work with what you have. This is why BBLs look different on everyone.
I wore four foam boards in my faja (shapewear), and a triangle on my back to create the dip. It's important to note that you're not fully healed, or won't see full results, until six months later despite feeling normal immediately, or not feeling sick.
Also, there is no maintenance for BBLs, which is a perk.
Any regrets?
Having the BBL surgery is something that is extremely personal for me. I did something to improve myself and this is a part of my self-love journey and it's all about loving on yourself , regardless of what that looks like for you.
Financially, I was more than OK, I made this choice when it was a good time for me.
Spiritually, I was a mess. I prayed to God that this was the right thing to do. Every little sign where I questioned if getting a BBL was a part of my story, I paid attention to. He and I talked a LOT. But he gave me the confirmation I needed to move forward, which is why I did.
And honestly, not everyone understands this. Many people questioned my integrity, or somehow thought I was above having cosmetic surgery , and it's so hard for me to rationalize why people were shocked. But, listen, I am a woman with her own personal body issues at the end of the day. I feel like, of all the things to discuss about my experience in having a BBL, that that isn't one that I should have to explain. This is a reflection of something I've been going through my whole life with my body, and it was a choice I made, that I'm super happy about.
This was self-love for me. I loved myself enough to get myself out of that negative space that I felt about myself and my body.
And for that, I couldn't be any happier with my decision.
Maya is a social media influencer and has a beauty channel on YouTube where she sometimes blogs about her daily life. Follow her on Instagram @maya_galore .
Featured image via Maya Galore/Instagram

Related Articles Around the Web
Charmin Michelle
Charmin Michelle is a southern native and creative spirit who works as a content marketer and events manager in Chicago. She enjoys traveling, #SummertimeChi, and the journey of mastering womanhood. Connect with her on Instagram @charminmichelle .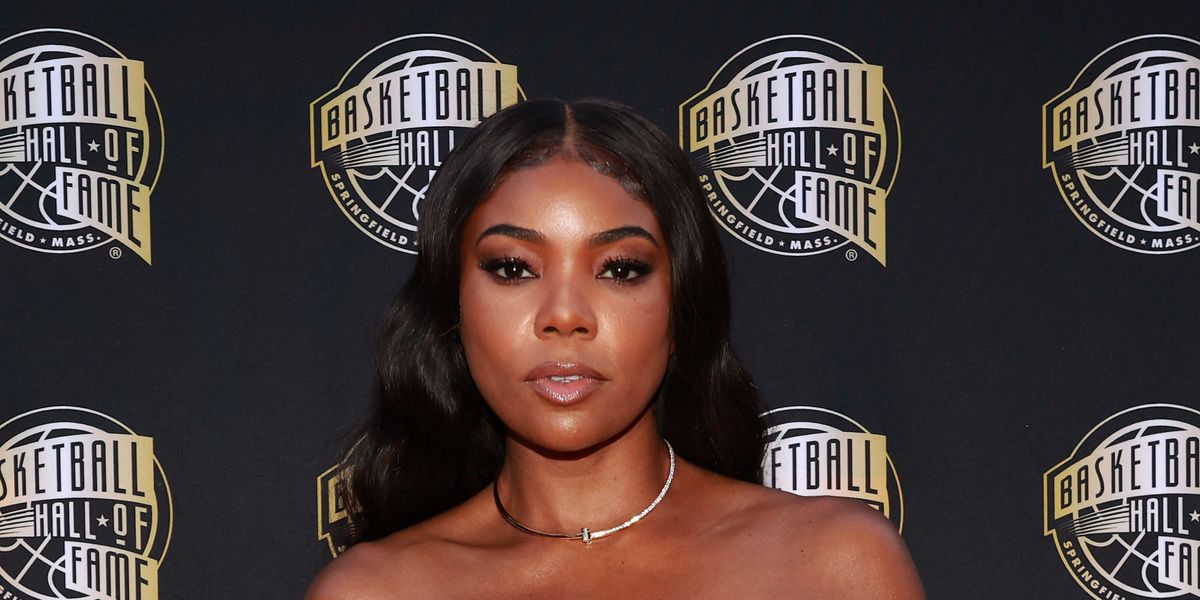 Whenever Gabrielle Union graces the movie screen, she immediately commands attention. From her unforgettable scenes in films like Bring It On and Two Can Play That Game to her most recent film, in which she stars and produces Netflix's The Perfect Find , there's no denying that she is that girl.
Off-screen, she uses that power for good by sharing her trials and tribulations with other women in hopes of helping those who may be going through the same things or preventing them from experiencing them altogether. Recently, the Flawless by Gabrielle Union founder partnered with Clearblue to speak at the launch of their Menopause Stage Indicator, where she also shared her experience with being perimenopausal.
In a xoNecole exclusive, the iconic actress opens up about embracing this season of her life, new projects, and overall being a "bad motherfucker." Gabrielle reveals that she was 37 years old when she was diagnosed with perimenopause and is still going through it at 51 years old. Mayo Clinic says perimenopause "refers to the time during which your body makes the natural transition to menopause , marking the end of the reproductive years."
"I haven't crossed over the next phase just yet, but I think part of it is when you hear any form of menopause, you automatically think of your mother or grandmother. It feels like an old-person thing, but for me, I was 37 and like not understanding what that really meant for me. And I don't think we focus so much on the word menopause without understanding that perimenopause is just the time before menopause," she tells us.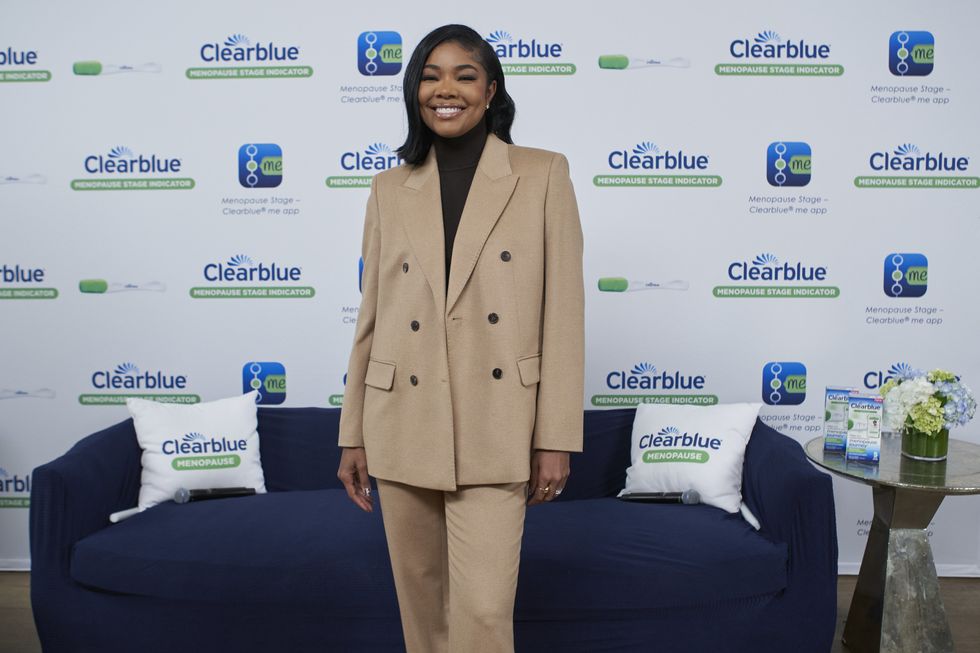 Gabrielle Union
Photo by Brian Thomas
"But you can experience a lot of the same things during that period that people talk about, that they experienced during menopause. So you could get a hot flash, you could get the weight gain, the hair loss, depression , anxiety , like all of it, mental health challenges , all of that can come, you know, at any stage of the menopausal journey and like for me, I've been in perimenopause like 13, 14 years. When you know, most doctors are like, 'Oh, but it's usually about ten years, and I'm like, 'Uhh, I'm still going (laughs).'"
Conversations about perimenopause, fibroids, and all the things that are associated with women's bodies have often been considered taboo and thus not discussed publicly. However, times are changing, and thanks to the Gabrielle's and the Tia Mowry 's, more women are having an authentic discourse about women's health. These open discussions lead to the creation of more safe spaces and support for one another.
"I want to be in community with folks. I don't ever want to feel like I'm on an island about anything. So, if I can help create community where we are lacking, I want to be a part of that," she says. "So, it's like there's no harm in talking about it. You know what I mean? Like, I was a bad motherfucker before perimenopause. I'm a bad motherfucker now, and I'll be a bad motherfucker after menopause. Know what I'm saying? None of that has to change. How I'm a bad motherfucker, I welcome that part of the change. I'm just getting better and stronger and more intelligent, more wise, more patient, more compassionate, more empathetic. All of that is very, very welcomed, and none of it should be scary."
The Being Mary Jane star hasn't been shy about her stance on therapy . If you don't know, here's a hint: she's all for it, and she encourages others to try it as well. She likens therapy to dating by suggesting that you keep looking for the right therapist to match your needs. Two other essential keys to her growth are radical transparency and radical acceptance (though she admits she is still working on the latter).
"I was a bad motherfucker before perimenopause. I'm a bad motherfucker now, and I'll be a bad motherfucker after menopause. Know what I'm saying? None of that has to change. How I'm a bad motherfucker, I welcome that part of the change."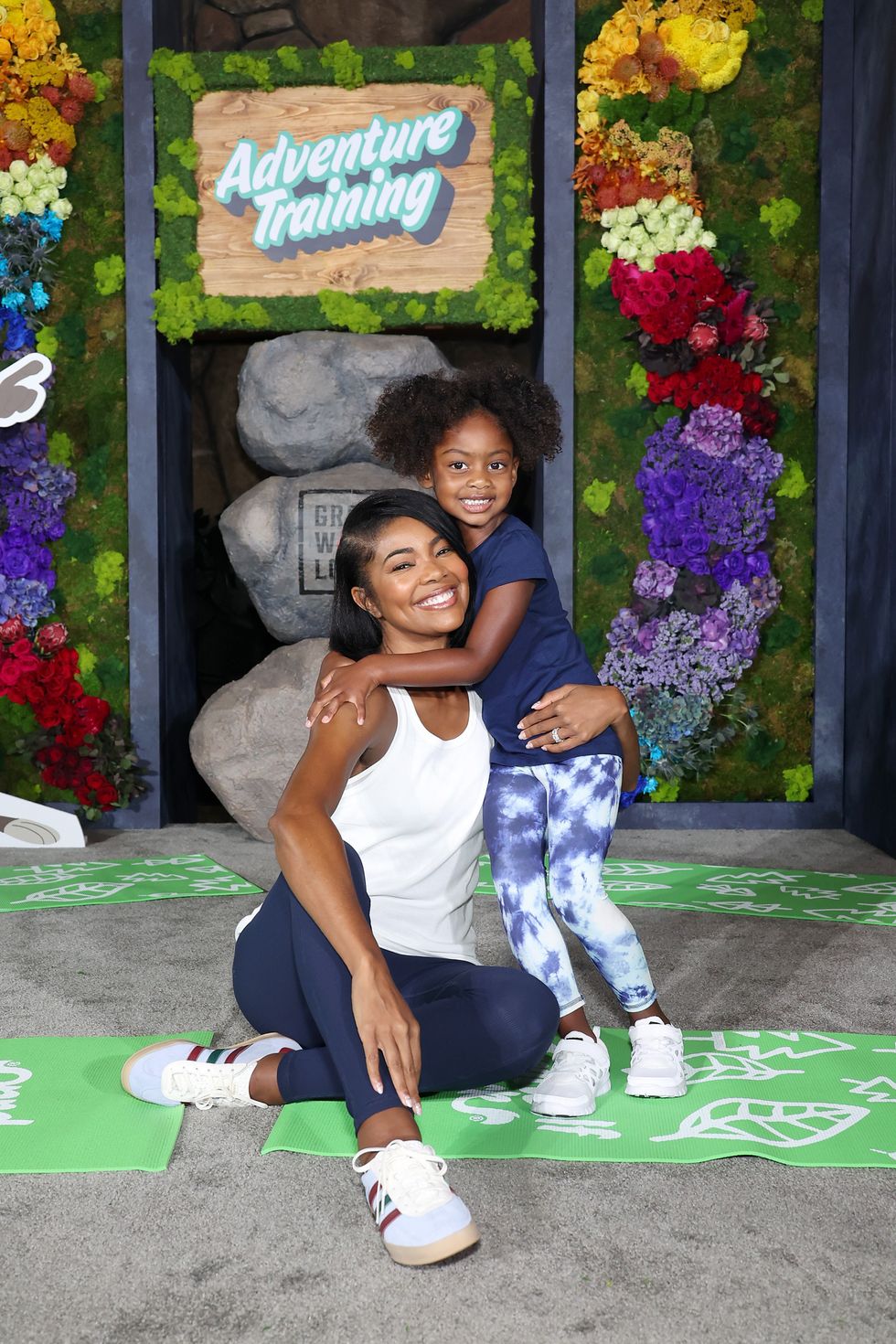 Gabrielle Union and Kaavia Union-Wade
Photo by Monica Schipper/Getty Images
"I hope that a.) you recognize that you're not alone. Seek out help and know that it's okay to be honest about what the hell is happening in your life. That's the only way that you know you can get help, and that's also the only other way that people know that you are in need if there's something going on," she says, "because we have all these big, very wild, high expectations of people, but if they don't know what they're actually dealing with, they're always going to be failing, and you will always be disappointed. So how about just tell the truth, be transparent, and let people know where you are. So they can be of service, they can be compassionate."
Gabrielle's transparency is what makes her so relatable, and has so many people root for her. Whether through her TV and film projects, her memoirs, or her social media, the actress has a knack for making you feel like she's your homegirl. Scrolling through her Instagram, you see the special moments with her family, exciting new business ventures , and jaw-dropping fashion moments. Throughout her life and career, we've seen her evolve in a multitude of ways. From producing films to starting a haircare line to marriage and motherhood , her journey is a story of courage and triumph. And right now, in this season, she's asking, "What's next?"
"This is a season of discovery and change. In a billion ways," says the NAACP Image Award winner. "The notion of like, 'Oh, so and so changed. They got brand new.' I want you to be brand new. I want me to be brand new. I want us to be always constantly growing, evolving. Having more clarity, moving with different purpose, like, and all of that is for me very, very welcomed."

"I want you to be brand new. I want me to be brand new. I want us to be always constantly growing, evolving. Having more clarity, moving with different purpose, like, and all of that is for me very, very welcomed."
She continues, "So I'm just trying to figure out what's next. You know what I mean? I'm jumping into what's next. I'm excited going into what's next and new. I'm just sort of embracing all of what life has to offer."
Look out for Gabrielle in the upcoming indie film Riff Raff , which is a crime comedy starring her and Jennifer Coolidge, and she will also produce The Idea of You , which stars Anne Hathaway.
Feature image by Mike Lawrie/Getty Images
Sex
Nov 24, 2023 18:00 PM EST

I didn't think much could get better about the blissful high that comes with oral. That was until I came across the Kivin Method.
As someone who was never a huge fan of oral sex and could largely take it or leave it, I must admit that I have started to come around in recent years. With my head thrown back, hands gripping sheets and hair, and toes curling from the intense sensations of the work my partner is putting in at my center, I now give myself over to the pleasurable act wholly and unapologetically.
When I came across a way to maximize the pleasure I receive from cunnilingus (already), I had no choice but to tap in. Who knew the key to taking oral sex to new heights was giving it a sideways twist? For those of you who might also be interested in ways to spice up the way you do oral , experience faster and stronger orgasms , or simply want to indulge in something new with your partner, the Kivin Method could definitely be the oral sex technique for you, too.
Keep reading to learn about the method that is sure to have you writhing in ecstasy in no time at all.
What Is The Kivin Method?
For the uninitiated, the Kivin Method is an oral sex technique that focuses on stimulating the clitoris from a different angle. Dubbed " sideways oral " by some, this method involves the action of giving head from a side-to-side movement as opposed to the up-and-down motion that people typically perform when giving head . ( If you need a visual, this illustration is helpful. )
The difference in approach as you're receiving head can be a game-changer in how you receive pleasure. Not only does the giving partner have access to the clitoris , but they can also access more easily the vulva and the labia , which are objectively a bigger focus in this version of cunnilingus . More access means wider coverage, and that, plus the new sensation of oral from a different angle, can heighten the way you experience oral sex that much more.
Where more pleasure flows, intense orgasms are sure to follow.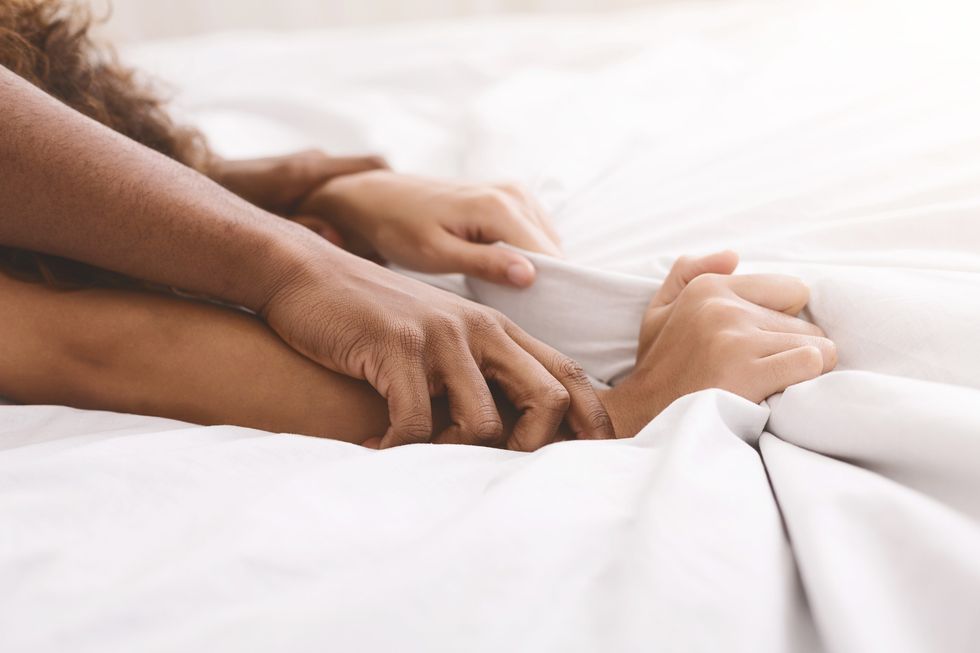 Getty Images
How To Do The Kivin Method
If you want to know how to do the Kivin Method, it's actually pretty straightforward. The receiver lays on their back while the giver positions themselves perpendicular to the receiver. Their head will be facing the vulva , but instead of vertical, their face will be horizontal to the vulva .
From there, the giver can get to business, ensuring that they keep their head perpendicular to the receiver's vulva while working on their craft. Because this technique can be more intense for some receivers, start slowly by stroking the vulva and clitoris sideways with the tongue, and allow sensations and communication from the receiver to be a guide of what you need more or less of with the Kivin Method.
Ultimately, the Kivin Method allows experimentation and unlocking what pressure, rhythm, and tricks work best for the giver and the receiver. Try implementing a finger or two, or adding a sex toy to the mix to intensify the act even further.
Let's make things inbox official! Sign up for the xoNecole newsletter for daily love, wellness, career, and exclusive content delivered straight to your inbox.
Featured image by Delmaine Donson/Getty Images