---
Meagan Good and her husband DeVon Franklin married after only six months of dating and have been living blissfully in melanin matrimony since 2012. While many have asked the couple when they'll make their twosome a party of three, Meagan and DeVon recently told the audience at The Dr. Oz Show that they'll start family planning when they're good and damn ready.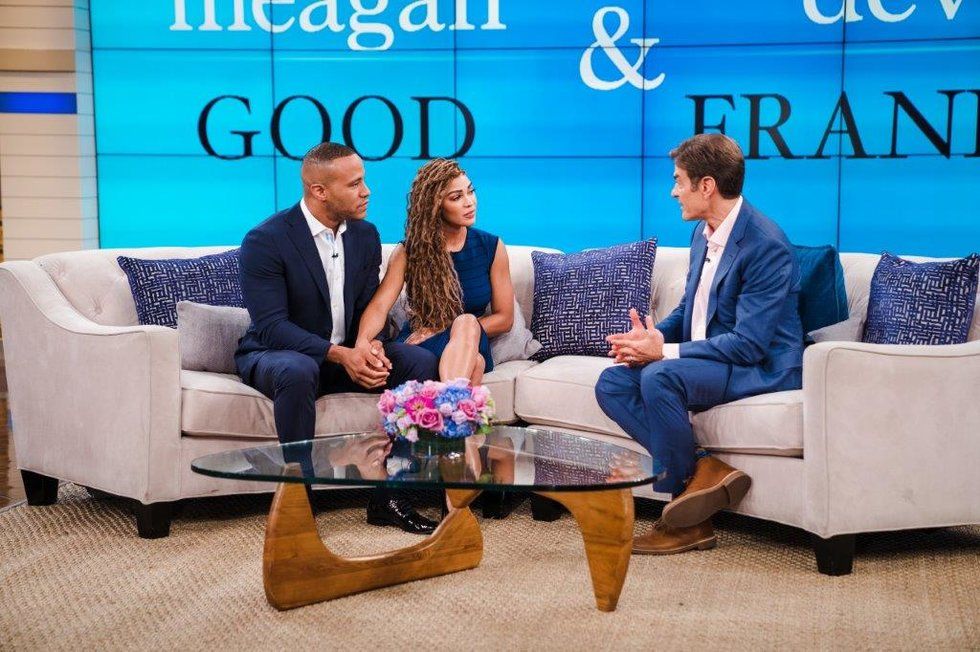 Sony Pictures Television / The Dr. Oz Show
Although the couple says that they are eager to expand their family, timing has been an important factor in their decision-making process. DeVon explained that although there were times throughout their 7-year marriage when he expressed he was ready for children, he later discovered that Meagan was not.

"Before we got married, we spent a long time waiting and that waiting actually laid a foundation because in marriage — we've been married for seven years. So we've had this dialogue about having kids. And I've wanted kids and she wasn't ready and then there were times we were talking about it."
While in the past, women weren't afforded the luxury of time when it came to conceiving children, technology has put its game down, flipped it and reversed the medical industry so that our biological clocks no longer have to feel like ticking time bombs. Egg freezing is a method that women like Halsey, Angela Rye, and now, Meagan Good and her husband say has changed their perspective on childbirth. According to DeVon, the couple decided to move forward with the process after a suggestion made by Dr. Oz:
"As I've come on the show and we've been friends for years, you always encouraged us to freeze eggs. And so we did that. At the beginning of the year, we froze eggs and we probably wouldn't have done it without your urging. So thank you."
DeVon went on to say that the time they've had to spend together alone in their marriage has made them even more prepared to become parents:

"Because we had the foundation of waiting in patience and preparing, it actually gave us the tools we needed to be successful in marriage. I think a lot of times we're rushing. We're in an Instagram society. We all want it now, but there's a lot of value in just taking time, committing to the process, and letting the process take us where it wants us to be."
Meagan, who recently launched a 30-day fitness challenge, says that she always knew it was in the cards for her to become a mother later in life and thinks now may be the perfect time to start:
"That's a part of why I did the 30-day challenge as well, because I wanted to really set an affirmation into the world and say, 'Okay. I'm preparing myself for things that I want career-wise, but I'm also preparing myself for having children. And again, for me, it was really about how do I say to myself, like this is every part of me getting ready for that? So yeah, we're in a place now where we're looking to do it."
Featured image by Sony Pictures Television / The Dr. Oz Show.