The sweltering sun is playing hide-and-seek in lower Manhattan this afternoon as Tracy G. approaches a makeshift bench in front of her alma mater Pace University.
---
In this moment, the on-air edutainer fuses seamlessly with scattering students swinging doors to and fro as they make their way around the city campus. The average passerby doesn't speculate that the woman clad in all black fitness attire is Tracy G., the woman who lends her voice to the masses every weekday morning beside radio giant Sway Calloway and hip-hop aficionado Heather B. on SiriusXM.
"A lot of times in radio, people think you are a full-time extrovert, but I don't want to talk all the time," the Sway In The Morning co-host admits with respect to her incognito outfit of the day. Yet, before sneaking in a few lone hours to work on her wellness brand She's Beauty And The Beast, Tracy G. graciously scribbles me into her schedule to take a trip down memory lane.
Before stepping foot on Pace University's campus as a freshman, the one-time aspiring fashion designer loosened her grip on fleeting runway dreams during a trial-and-error semester at the Fashion Institute of Technology. She suddenly realized--as many young adults do--that her mother's reservations were not out of sync with the truth. This was not her calling. "I literally hollered at Google as my life coach at the time, and I put in 'writing, entertainment industry, sales and talking,' and I came up with this term 'public relations,'" she recalls of the first of three career changes to unfold in her life.
The Brooklyn native got to work immediately after transferring to Pace, landing a myriad of internships in her field throughout the breadth of her collegiate journey. Then, the summer before her senior year, a New York Women in Communications panel threw a dart in her unsuspecting plans. A full-time job offer at a renowned PR firm was on the table, but a burgeoning fervor for journalism relentlessly vied for her attention, prompting her to reevaluate her next move. "When I was literally holding a tangible piece of my dream in my hands, I realized this is not it," Tracy G. reflects. "I wanted my loyalty to be to the people rather than to the product."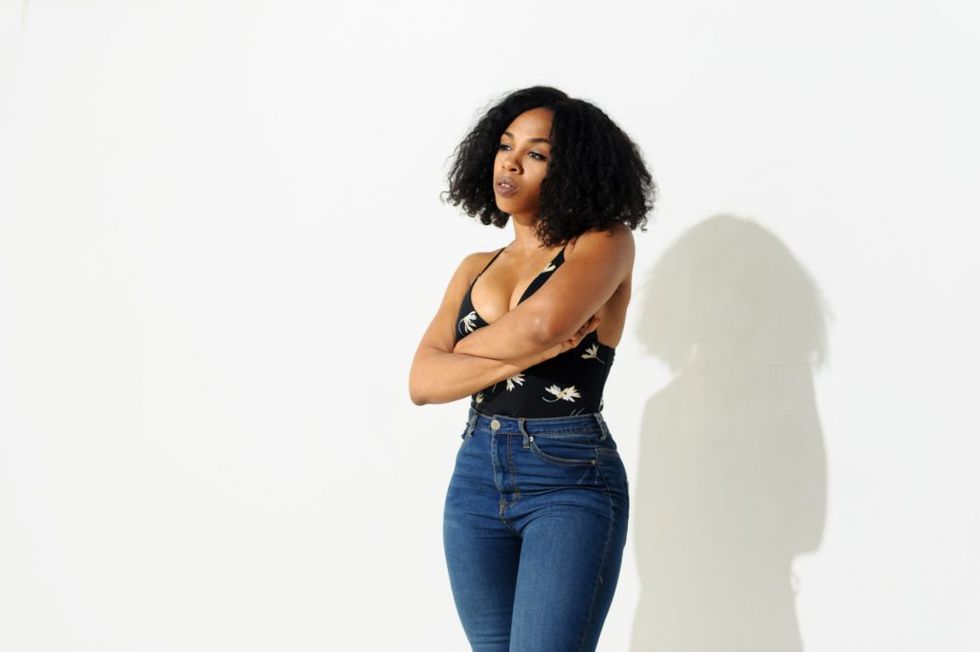 Tommy T Photography
As graduation day loomed ahead, Tracy incorporated journalism courses including a graduate class with former ESSENCE Managing Editor Denolyn Carroll, fittingly titled "Writing for Magazines," into her scheme while closing the deal on a spring internship with VIBE after her friend, who completed the program in the fall, put in a good word for her.

"VIBE was very intense," she says, accentuating each word. "This boss a** lady Shirea [Carroll] remolded you into someone of use." The respect for her former internship coordinator, then the executive assistant to former VIBE Editor-in-Chief Danyel Smith, is evident as she gushes with a smile and good-hearted laughter at the flashback.
While she managed to win Carroll over, Tracy understood that she couldn't delude herself into thinking one favorable impression was enough to turn her internship into a promising career. "I'm always just looking at how I can maximize the opportunity that's been presented to me," she begins. "I literally had informationals with everyone there because I was like if I'm ever going to get a job, it can't just be one person vouching for me."
As she collected a grand jar of gems from top-dog journalists within and outside of VIBE (for the first time on record, she discloses she once compiled a list of her favorite writers' email addresses when left to assume assistant duties at Caroll's desk for an hour), she didn't neglect to build relationships with the hopeful scribes she rubbed shoulders with every day. "Often when we're in the infancy stages of our career, we forget that our peers and the people we're interning with are probably going to make it into positions alongside us."
Though her revelation certainly would assist her on the cusp of a career shift to radio years later, a semester at VIBE didn't result in a hiring opportunity as quickly as the spirited intern had hoped. "I was devastated. I melted into a sour puddle of shame," she proclaims as she transports back in time to rehash her immediate reaction to the disheartening news. In a meteoric flash, she re-enters her charismatic, self-assured realm of being.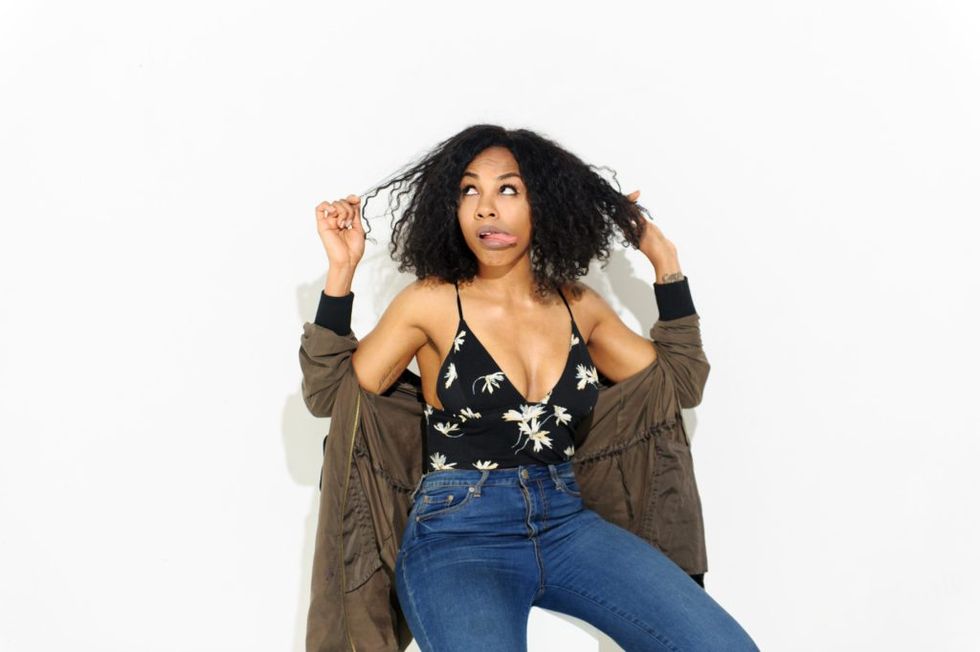 Tommy T Photography
"What kind of biography would it be if everything went my way?" she asks, shutting the door on the recollection. "It's not going to resonate."
Instead of shriveling in defeat, the rising writer, once exclusively known as Tracy Garraud, tirelessly pushed her pen and landed bylines in Honey, Complex and XXL before returning to her home base. "Eventually, because the universe has a hell of a sense of humor, it turns into me getting a position at VIBE full circle." The former full-time editor describes her relationship with writing as a monogamous one during her tenure under Editor-in-Chief Jermaine Hall. "I wake up to find myself cuddling with my freaking MacBook," she confesses. "Writing was my everything."
It's not hard to think what happened as Tracy details the untainted love she once had for her craft. "I was around so many f**king brilliant brains," she says of her team as she flips through the highs of her work environment before answering my unexpressed inquiry about the hurdles that got in the way. "I felt like I was a leg on the clickbait monster," she muses without a hint of animosity in her tone. "We all evolve. I've never been a slave to a job title because if anything happens to that title, your whole identity can crumble."
She began toying with the idea of closing her chapter at the legacy publication, a decision she made official in November 2011, once an untapped passion crept out of the shadows of her comfort zone. "I love the art of communication and humanizing people. I like finding the thread that connects me to you and us to the width of the world so radio started calling me."
The year that followed proved to be arduous, however, as she attempted to transfer her skills to the microphone. "It's not like I had Sway Calloway's number on speed dial," she says of her start in radio business, which took form when she co-hosted a short-lived podcast for clothing brand LRG with fellow Pace graduate Shine Travis. She admits the venture was a gamble at the time, considering podcasts had yet to reach their spike in popularity. "I'm not hard on myself if I did my best. If I did my best, and it doesn't work out, that's when I really have to lean on my faith because my life is a collaboration with God."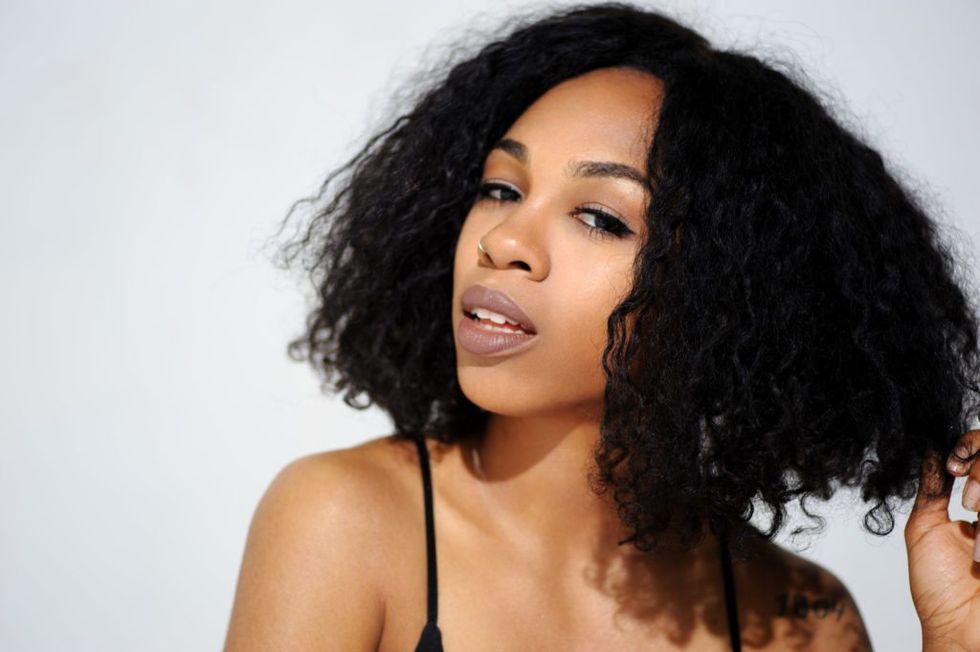 Tommy T Photography
A chance encounter with music industry insider Amber Ravenel at a Carol Daughter's event fueled her efforts before she could get trapped in a web of uncertainty. "I never told her anything about radio," she reveals in reference to the woman who connected her with SiriusXM Program Director Reggie Hawkins. This was her shot, but the winning buzzer didn't sound off until October 2012, when she finally landed her gig at Sway In The Morning after months of pitching ideas, auditioning and following up.

"You have to humble yourself and say I'm at the bottom of the totem pole so it's my responsibility to keep up this relationship because they're at the top of my to-do list. I'm not at the top of theirs," she says of her unshakable go-getter mindset.
On the day of our meeting, Tracy G. is gearing up to release #TeamYesSleep, a "turn down alarm" for the millennial woman who needs a gentle but firm reminder to indulge in necessary me-time before going to bed at night. It's one of the many good-for-the-soul finds on She's Beauty And The Beast.
Since its inception last year, the brand has been crossing the bridge from passion project to entrepreneurial business, but Tracy G. clarifies that she didn't set out to create a side hustle for the mere sake of having something to call her own. "My brain was in a really f**king cloudy place, and I needed to figure out how to perform self-therapy."
She immersed herself in the healing force of audio vision boards after tuning into a Joel Osteen sermon where the acclaimed televangelist challenged his congregation to craft 10 empowering affirmations that would renew their psyches.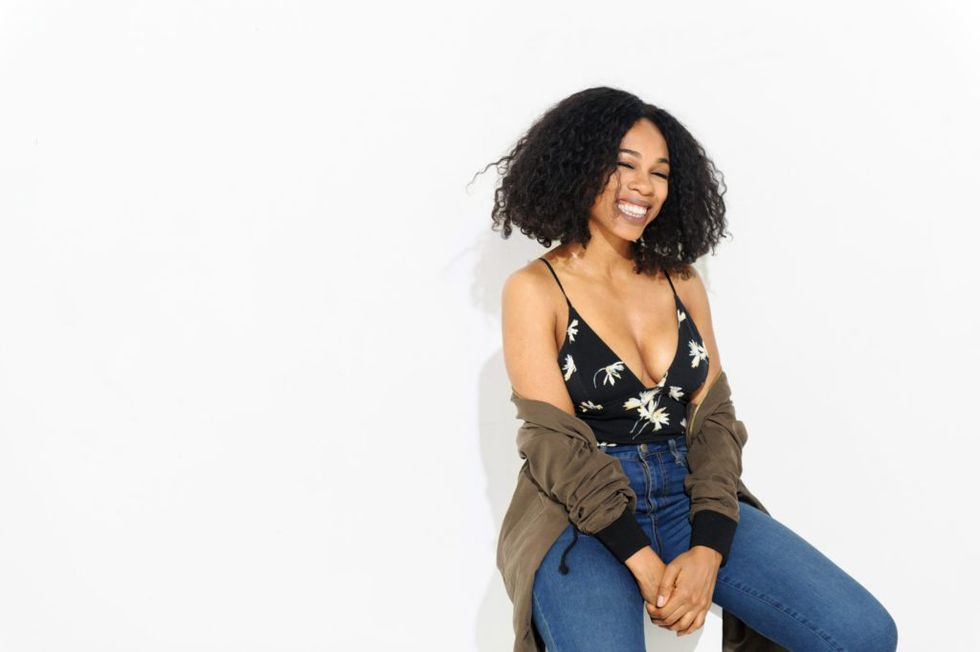 Tommy T Photography
"I don't write basic sh*t," the self-proclaimed personal development junkie reminds me. "I write as if something is going to be plastered on somebody's wall."
Her first EP Love, Light and That Good Sh*t, chock full of affirmations like her personal favorite, "I will not forget my blessings when faced with my burdens," is not only a testament to her unfailing, yet ever-evolving relationship with her pen, but also a reflection of her decision to embrace the power of her voice. "I've been able to understand my voice as an instrument and as a match to light someone's fire," she says when staring at the sum of her career trajectory's various parts.
It's the reason why, weeks after our sit down, she launched She's Beauty And The Beast: The Podcast with Tracy G. "I'm still flesh, bones and blood," she tells me of her initial reservations to add her weekly series to a mounting pile of podcasts on the Internet. "I'm not going to escape certain feelings so when me and these feelings meet on the block, it's just a matter of do I invite them in or do I keep it moving?"

In the name of emotional empowerment, she drops new episodes every Tuesday that unveil her life theories, experiences and conversations with guest voices. "So many people go through similar events in life, but they tell the story differently," she adds. "There's so many more topics I want to explore, and there's so many more opinions, ideas and expertise that I want to share from other dope a** humans that's not necessarily coming from my own lens on life."
Although Tracy G. is far beyond her wide-eyed intern days at VIBE, she's in no hurry to quit being a student in the world of entertainment.
"You're fighting your own expiration date of relevancy when you are focused more on quantity versus quality," she says while addressing alternative--and often quick--roads to success in an era where social media and reality TV prevail.
"People have different agendas, and they're allowed to have that."
As far as her story goes, she's content with not taking shortcuts to lasting influence. "I'm doing the best in the role that I'm in, but I can't even begin to act as if I'm on the same level as a Sway Calloway. Me saying that would be saying I don't have any more to learn."
While we prepare to part ways, I finally decipher the tattoo etched on Tracy G.'s left wrist--Carpe Diem. It's a principle--seize the day--that she has unarguably weaved throughout her approach to life's fluctuating winds. "I don't want to be in a state of perfection because you don't grow there," she says, twisting the lid on our hour-long conversation. "I want to be a partner in progression with people."
For more Tracy G., find her here, here, & here.
Shanice Davis is a proud alumna of Howard University who earned her BA in English in May 2016. The emerging writer currently contributes to VIBE Magazine. Follow her on Instagram & Twitter: @alwayshanice