---
Kamie Crawford is not only a TV host, model and former Miss Teen USA, she's also the stylish, cool, calm and collected homegirl bestie that everyone wishes they had in their day-to-day life.
Her positive personality and charming wit shines through in her new role as MTV's Catfish co-host alongside Nev Schulman. Coming from a background in content development for beauty, fashion and luxury lifestyle brands from Swarovski, Lancôme, Dove, and Rent the Runway, Kamie's Catfish debut in front of the camera was nothing shy of the perfect fit for her love of pop culture and investigative journalism. When I asked her what word or phrase she would use to describe her new career turn, she simply replied, "My dream job."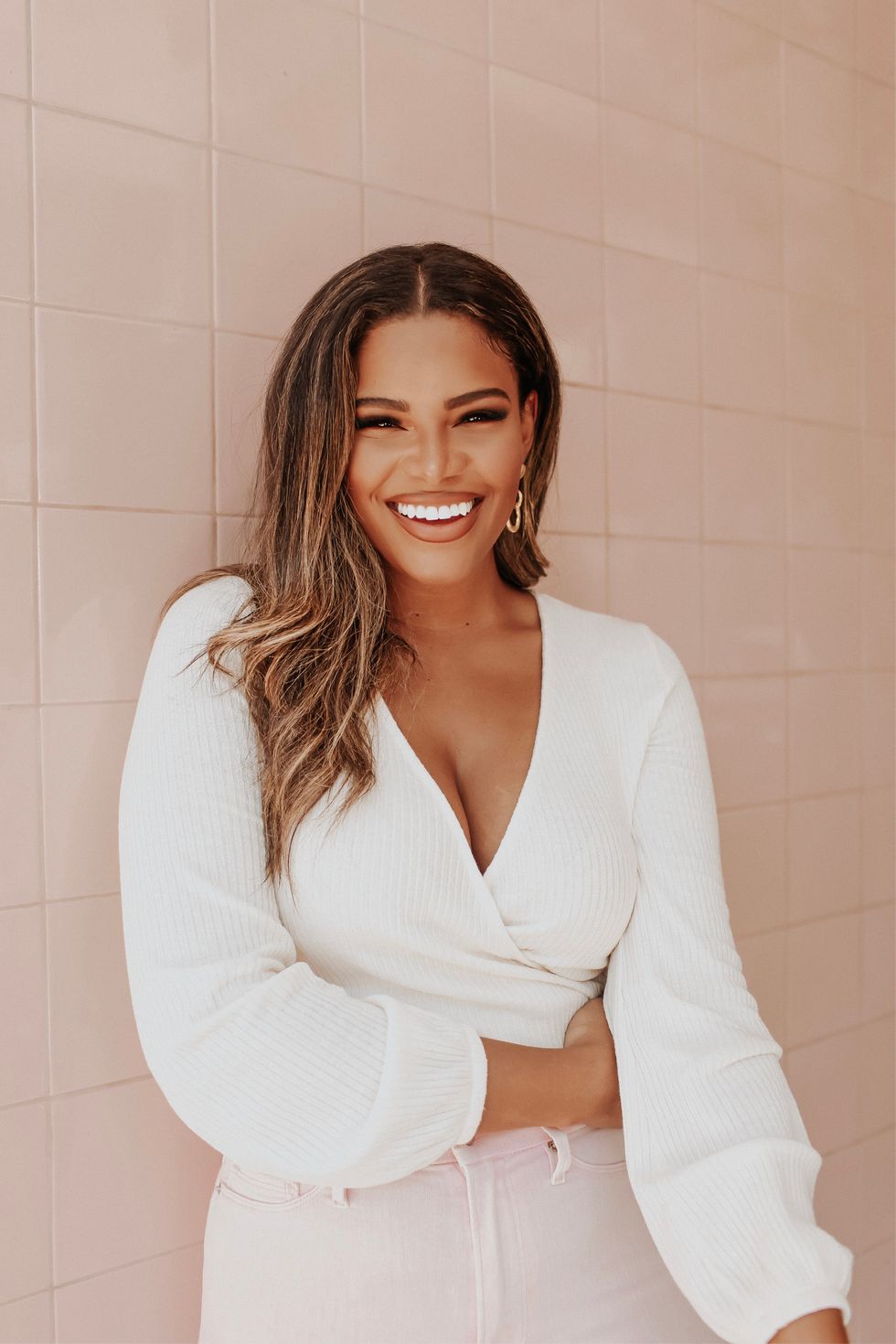 Courtesy of Kamie Crawford
"I truly feel as though I was made for this position, and it's not to sound cocky – I just really love what I do and I love helping people and giving them my honest opinion," Kamie gushes about her new gig.

Being the oldest of six girls, giving nurturing sisterly advice is ingrained in her DNA - though it may be brutally honest, it always comes from a place of love and compassion. For any young woman who has been afraid to chase her dream job or make a career switch, Kamie advises to put action behind your desires and push the fear aside. "My mom always says, 'fear cancels out faith,'" she begins anecdotally. "If you want something and it's more than just an idea – it's a gnawing need that speaks to you every day when you wake up and before you go to sleep, what the f*ck are you waiting on?! You don't need an invitation to follow your dreams. You need action. So go for it, because one of the worst feelings in life is regret."
I had the opportunity and honor to speak with Kamie about all things Catfish set life, shutting down anxiety during the quarantine, and positively practicing stillness. Here's what she had to say.
Being the Hostess With the Mostest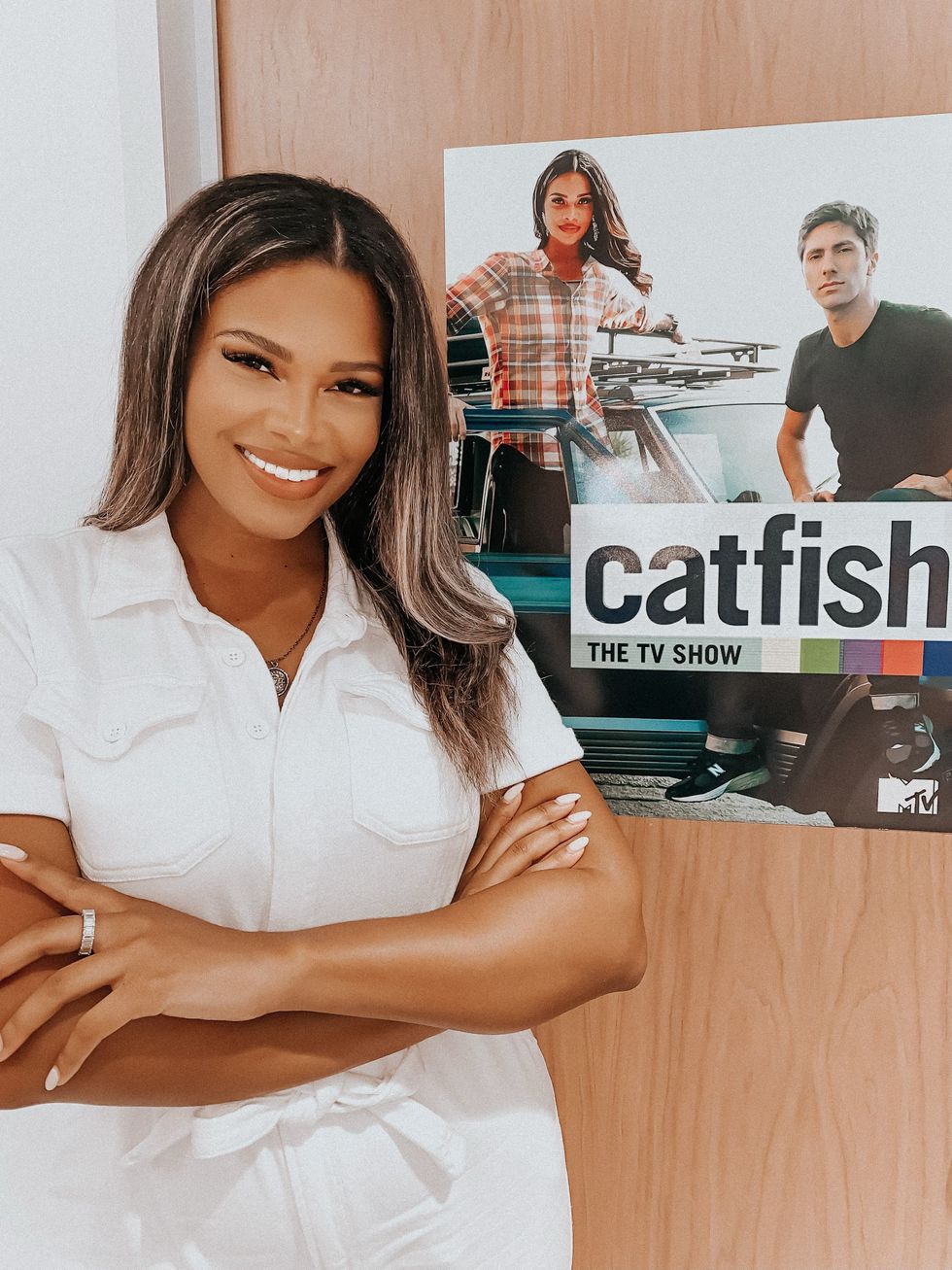 Courtesy of Kamie Crawford
As a fan of the show since the original documentary's premiere at Sundance Film Festival, Kamie Crawford has been a faithful fan of the eight-season series and knew that the opportunity felt right from the beginning. Kamie practiced the art of manifestation and hard work to achieve her results, which were also sought after by other auditioning contenders for the role of Nev's new catfish-busting buddy.
Though she knew she had the credentials and the talent, like any other human being, her doubts and nerves came and went, but did not allow herself to be defeated by situations that had not yet arisen. "I didn't want to get my hopes up though because there were great hosts in the running for the position and after working in hosting for 7 years before this opportunity came about, you kind of learn to not get your hopes up in entertainment," Kamie explains.
"But something told me that this was my opportunity and if I wanted it, I needed to manifest it and speak life into it."
The life of this body positive advocate on-set varies depending upon the episode, as one would expect, but she enjoys every moment of being in her manifested destiny, from chilling with Nev and the gang to reading emails from their newest hopeful. "Everything you see as you watch an episode is in the order as it happened and in 'real-time'. There are no reshoots," she explains. "We will film for 7 hours per day and if travel is necessary, we will spend a day doing that and pick back up with filming in our new destination. Each episode takes around 3-5 days to film, depending and it's never boring."
It's not all work and no play, though. Kamie goes onto talk about cherishing the bonding moments between herself, Nev and the rest of the team between takes. "We typically will start at our production offices and film as we hang out, eat breakfast, etcetera. We like to make time for crew dinners and fun activities during the evenings – if I'm not fast asleep post-filming, I'm with Nev and the crew hanging out!"
Embracing the Slow Life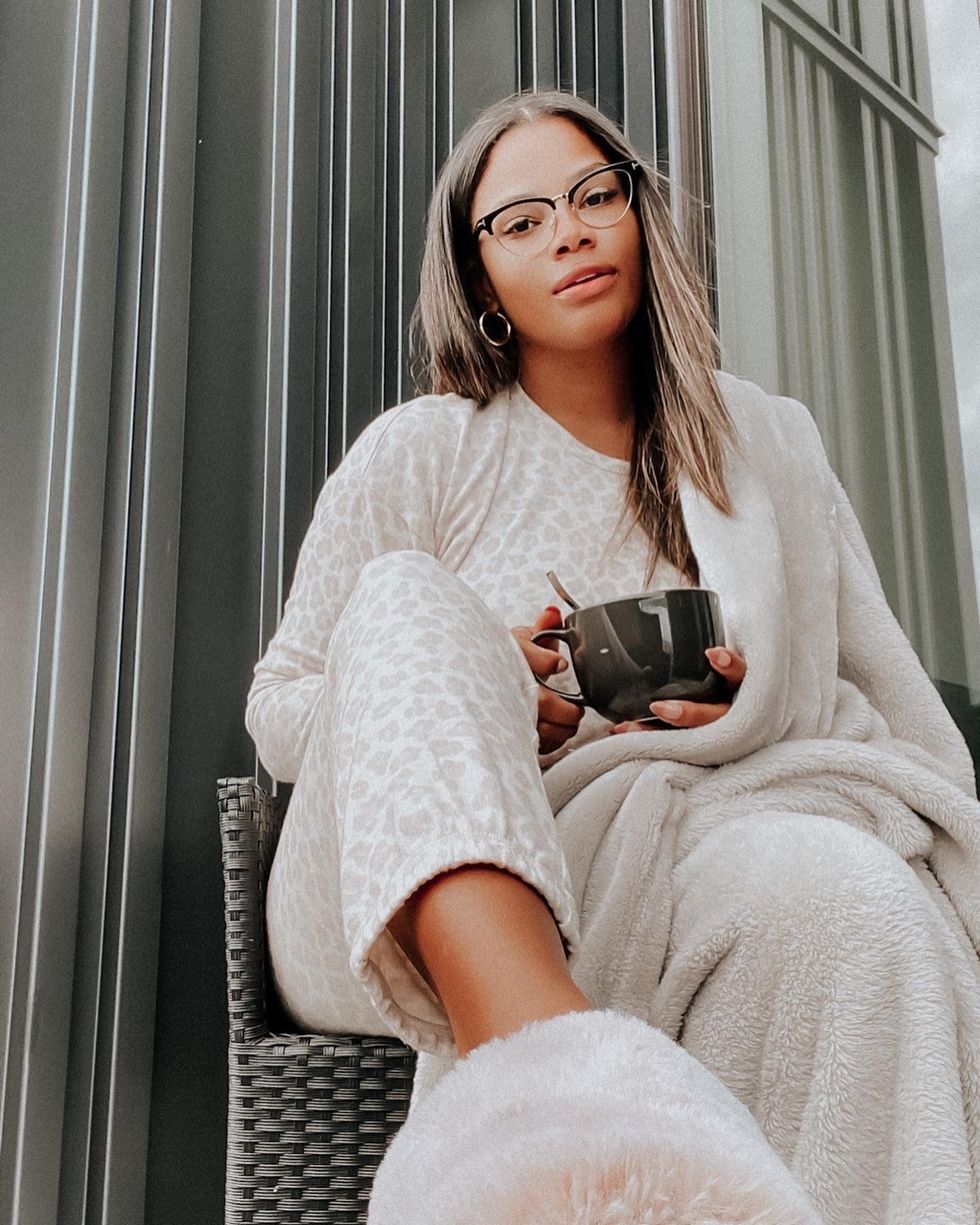 Courtesy of Kamie Crawford
Unfortunately, due to the COVID-19 pandemic sweeping the nation and large crowds being forbidden, stay-at-home orders have greatly affected those in the entertainment industry requiring shoots, reunion filmings and audience gatherings. For Kamie, a woman who is constantly on-the-go between creating dope content and being one of MTV's newest faves to hit the screen, quarantine has been a hit or miss for her newly adjusted style of living. "It has been really hard. [It's] definitely getting better though, and there are good days and bad days! I'm a homebody as is so I try to take time off for myself in between all of my work responsibilities. While I have zero routine in my quarantine life, my normal life is actually very routine," Kamie describes.
Most of us, especially as creatives, are teetering between thankful thoughts of resting everyday and being ansty from developing stage one of stir crazy, Kamie is strategically utilizing her time indoors to practice stillness throughout the government issued stay-at-home orders. While a lot of us, myself included, are using this time to shove everything into this quarantine period that we never had time for prior to, Kamie believes that everyone should just do what's best for them and not fall victim to the pressures of social media. "Even outside of quarantine, social media will make you believe that everyone is busier, more fit, more beautiful and more motivated than you are. Everyone is perfect and they have the handbook for 'How to Deal with Quarantine During A Pandemic' that the rest of us just didn't get. Trust me - I checked my mailbox – twice. It ain't in there," Kamie facetiously adds.
"There is so much pressure right now to be your best self during quarantine and accomplish all of the big and little tasks you put off up until now. I'm a person who if it doesn't feel good to me, I'm not doing it. As a Scorpio - I'm either all in, or I'm out. That's how I feel about creating during this time. It just doesn't feel right. I've postponed campaigns because advertising anything right now that doesn't directly benefit those who are suffering or our essential workers gives me the ick. No shade to anyone who is – I know influencers still have to work and earn a living, but for me, that just isn't where my heart is right now."
Mastering the Art of Self-Care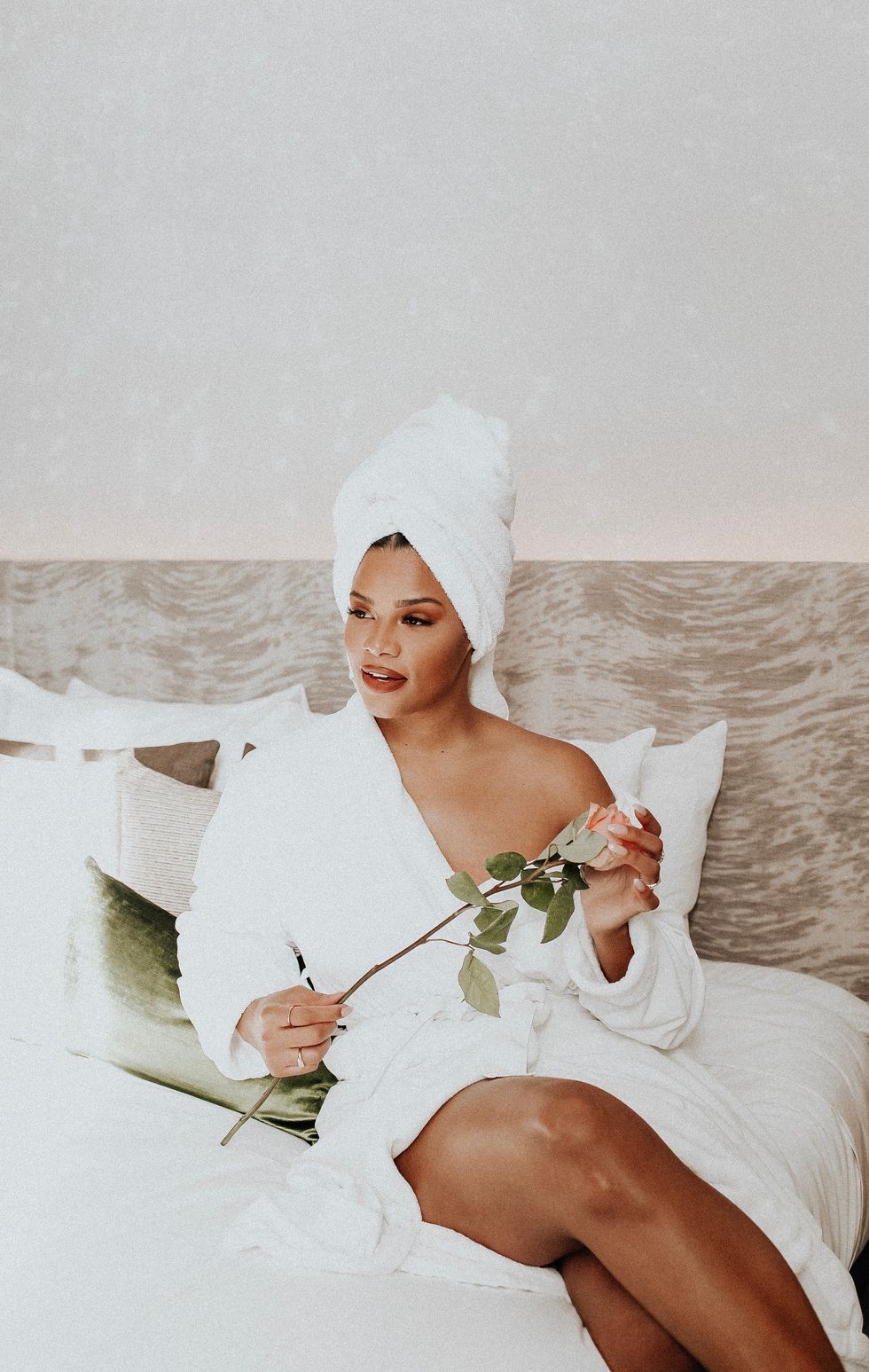 Courtesy of Kamie Crawford
When she's not mastering her new craft in the kitchen, Kamie takes time to turn her attention to work obligations, but fortunately, none of which require immediate responses or assistance. Clearing out her inbox one email at a time is a small form of self-care that she integrates into her newly acclimated work from home routine. "[I've been] sending a lot of, 'Sorry for the delayed response, been taking time away for my mental health' replies – and I think people understand because everyone is dealing with the same thing right now. "
When it comes down to a 'routine' for working from home, I think we can all safely admit that none of us have the exact formula that works for us everyday. Kamie herself admits that taking everything day-by-day and taking care of her mental health is a priority during the quarantine, even if it means praying, crying, watching Netflix as soon as she wakes up or all of the above. "Each day is different and I try to go into each morning with a refreshed and positive outlook. I want to try staying away from the news updates, but I also feel that knowledge is power. It's just difficult because the news changes every hour it seems like," Kamie tells me.
"I've been giving myself permission to wake up naturally, which helps a lot during this chaotic time. Sometimes the body's best way of healing is through resting. I'm not going to lie – I've been getting out of bed when I feel like it and just taking it from there. If I want to work out or go for a walk, I'll do that. If I want to lay in bed and watch funny Tik Toks until 2pm, I'll do that. I haven't gotten into the habit of creating a 'routine' during this quarantine yet, and I'm perfectly fine with that as of now."
Her mental health takes precedence and priority as she combats the anxiety linked to the pressures of "staying on top" everyday, even with our limited resources. "My anxiety has been through the roof, but I notice that it worsens when I'm being told or made to feel like I'm not doing enough," Kamie confides in the interview, as are most of us being pressured into feeling, thanks to our dear friend Imposter Syndrome. "If you're going through something similar, I recommend unfollowing that account for now or telling that person, 'Hey, I know you mean well and appreciate your suggestion because that's what works for you. I'm going to focus on doing whatever works for me at this time.'"
For those of us who haven't necessarily put ourselves, including mind and spirit, on the forefront of our agenda, now is the time to monitor your mental health. "So much is happening in the world, and for people who have already been struggling with mental health issues, this time can be even more triggering. I've been waking up each morning and thanking God for letting me see another day, keeping my loved ones safe and healthy, thanking Him for my health and just acknowledging the fact that I am OK, and that's a blessing within itself," she praises.
For more of Kamie, follow her on Instagram.
Featured image courtesy of Kamie Crawford