Jesseca Dupart could truly be called the queen of social media marketing, and if anything, her photo should be beside the definition of "level up" in the dictionary. From her early viral videos rolling up on celebrities with her edge control and Miracle Drops, to building a following of more than 2 million followers on IG (and turning many of them into die-hard customers), she's launched her haircare brand, Kaleidoscope, into a multi-million-dollar empire.
---
As a teen mom, the New Orleans native pursued a career as a licensed cosmetologist and advanced into bringing her dreams of owning a salon to reality in 2006, building a loyal clientele for over a decade. A tragic fire served as a challenge but propelled her to go bigger and harder, and she reopened her salon in 2014, launching Kaleidoscope Hair Products in the same year. In 2017, she decided to pursue the other side of the industry as a product-line boss full-time, and extended the legacy by launching KaleidoKares, an organization that gives back to the community. She's done all of this while juggling duties of being a proud partner (to bae and hip-hop icon DaBrat), grandmother, and businesswoman.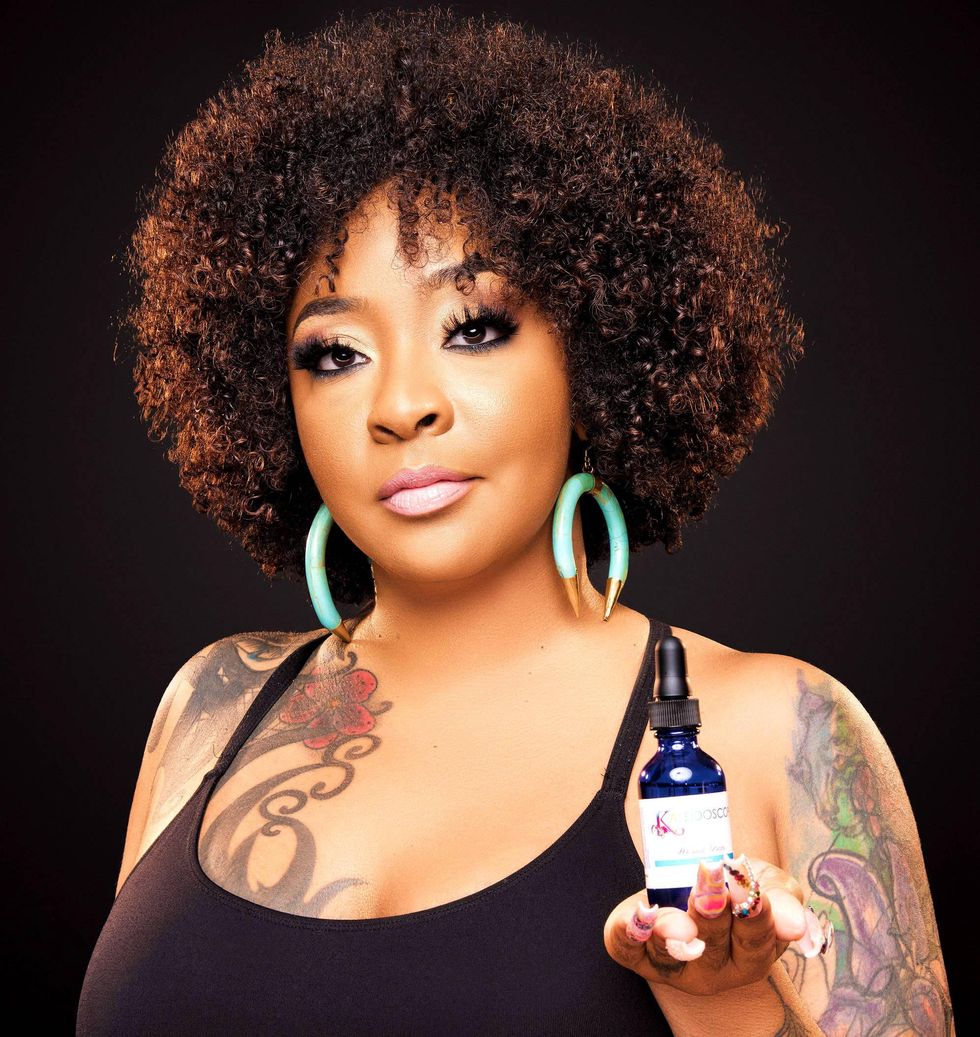 Courtesy of Kaleidoscope
If there's one woman who can remind us all that there are no excuses to go for yours, it's Jesseca. Find out more about what her version of "balance" is, how she's continuing to make sure Kaleidoscope becomes a household name, and her advice for young women looking to boss up on their own terms:
xoNecole: You've built up a huge presence on social and launched your brand into success via word-of-mouth. What was the key to infiltrating the market and cultivating a unique brand?
Jesseca Dupart: I was doing something called the 'Edge Police,' and I would hire people who were popular online. [Comedian] Michael Blackston was coming to New Orleans, and I reached out to his team to see if I could get him to do a video. Initially, I was just bringing him the products to make a video, but instead, we decided to shoot a mini-skit where I knocked on the door, and I told him, "I saw the woman you were downstairs with and she was baldheaded." Honestly, that one video basically walked me into the door with other people. It went from one celebrity to another.
I will say, the lesson in that was to never be afraid to reach out.
Before I reached out to him, I got a million no's. It took one yes to open a door that I didn't even think would be the one.
Tell us a few lessons about the day-to-day aspects of running a business that you wish you'd learned early in your career? 
Honestly, I wish I'd learned [the practice of] team-building and hiring properly. I've never had to do a resume ever, so looking at them was like [reading] a different language. Also, I had to learn about how to follow up or call referrals. That has been one of the biggest lessons for me to date.
Another lesson was scaling at the right time and not necessarily being scared to invest money into the business. You have to make sure you're paying attention to what's growing and the speed at which it's growing. Pay attention to the products that are moving fast and be sure to keep up with your inventory.
The third lesson involves understanding the changes of social [media]. Since it's ever-changing, never get discouraged with the way it changes. I'm a person who has a passion for content, so we would do these big campaigns, and but then social changed, and it's like, "They're not interested in two-minute videos." That can be a hit on someone who's a creative who likes to do larger projects. So, it's just about knowing how to pivot when the changes come.
What tips do you have for someone just starting out today—those looking to launch a brand that can surpass the viral moments and stand the test of time, as your brand has?
My biggest thing was what I found when I paid attention to social [media]. You'd see [brands] that had a great ride but then they would start to slow down. So, in my first 18 months of doing business, I put all of my profit back into it. I would not touch it for a long time. I didn't want to touch my profit at $2,000 and say, "Hey, we did good this week." I wanted to touch it at $200,000. So, you might have to sit through and celebrate with your friends on their successes that might have come faster than yours. You might have to watch social and celebrate things but never celebrate too early. Always keep your foot on the gas and keep your eye on the end goal.
A lot of money can come fast, but if you don't spend it correctly, you'll lose the business. There's a difference between a lifestyle and a moment. It could be, "I have this great business. I was able to buy this fancy car," but then you don't have enough money to keep up inventory or enough to scale to put into marketing because you've spent it all. I think the focus should be on creating a brand and making sure you reinvest in your company, versus trying to create an image.
That's great advice! And as a mom, businesswoman, and partner doing all that you do, what does work-life balance look like for you?
I'll tell you when I find out. That is the hardest thing in the world. If I'm in the bed, and I'm on the phone, it might look like I'm on Instagram being nosey or doing this, that, or the other, but sometimes I'll be up all night writing down ideas. Sometimes, I'm closing out emails or doing other things for the business. The balance? I haven't found it yet. When is a slow time in business? The times where I think it's slow are the times when we have to put the structure together for when business picks up. It's hard.
That's understandable, but what do you do for self-care? What is something that Jesseca does just for Jesseca—a treat or must-have for you?
Honestly, I am a stickler about having my hair looking a certain way, so I keep products around. And after stepping from behind the chair and taking this journey of wearing my own natural hair, I just like styling my own hair.
I also absolutely love music. It's the perfect combination of Jesus and Jeezy. If I need to get pumped up or get my creative juices going, I turn on trap music. In the morning, I'll put on a Joel Osteen podcast and some Christian music to make sure I'm starting off grateful and in the right mental space.
Where do you see Kaleidoscope in the future?
I never put limits on God. Every time I try to put a plan out or say where I think I'm going to be, we surpass it. I can say that I love marketing and I have a passion for teaching people how to sell products or services—how to position their products and how to offer an experience, those sorts of things.
In 10 years, besides being a household name, I want Kaleidoscope to have as much distribution as possible not only in the haircare aisle but in other aisles. We want to tap into different markets and expand as far as God blesses us to reach.
Find out more about Jesseca Dupart and Kaleidoscope products via her Instagram or the brand's website.

Featured image courtesy of Kaleidoscope