---
As Told To is a recurring segment on xoNecole where real women are given a platform to tell their stories in first-person narrative as told to a writer. If you have a story you'd like to share but aren't sure about how to put it into words, contact us at submissions@xonecole.com with the subject "As Told To" for your story to be featured.
This is Kenehilwe Libate's story, as told to Charmin Michelle.
"What Happened to Your Face?"
These are words that I've heard uttered throughout my entire life.
Growing up, I lived with my grandmother as an only child. I was often around cousins, who were like siblings, so I was never treated any differently than how they interacted with everyone else. In fact, never noticed that I had a distinctive look until I played with other children outside of home. Eventually, I was always asked about my birthmark—which is when I realised I was unlike others.
Primary school was the worst. I was bullied and called more names than I can even count. I remember going home crying to my mom telling her about being teased. She would always gently remind me that the mark on my face was a gift from God, and that He created me this way because I was special.
Traumatized from the teasing, I developed a habit of not making much eye contact with anyone. It wasn't until I moved on to high school that I started to work on my confidence. Most of my peers would tell me that I was beautiful and that I should embrace my birthmark, but it all fell on deaf ears. I remember times when my friends would complain about strangers staring, and I wouldn't even notice. I had instinctively learned to block it all out over the years.
So, although I credit my friends for giving me confidence to love my birthmark, I knew I had to make the choice to find and value its beauty on my own. I began to focus on just that.
The Glow Up: From Birthmark to Beauty Mark
College was my glow-up season. I graduated and received my Financial Management Sciences degree, and began working as a Senior Finance Business Analyst for a global corporation. This is also one of the times I truly realised that my birthmark was striking—not because I was told; it was all me. And I started taking my self-esteem into my own hands.
I began noticing a weird dynamic developing: me learning to appreciate compliments for something that I had been tormented for my entire life. It was a struggle to adjust to. It's as if I suddenly became a swan and everyone around me shifted from wondering what was on my face, to loving what was on my face.
It admittedly took time to learn to balance the two, but I learned to receive it all. And just thinking about it, I knew I had come such a long way.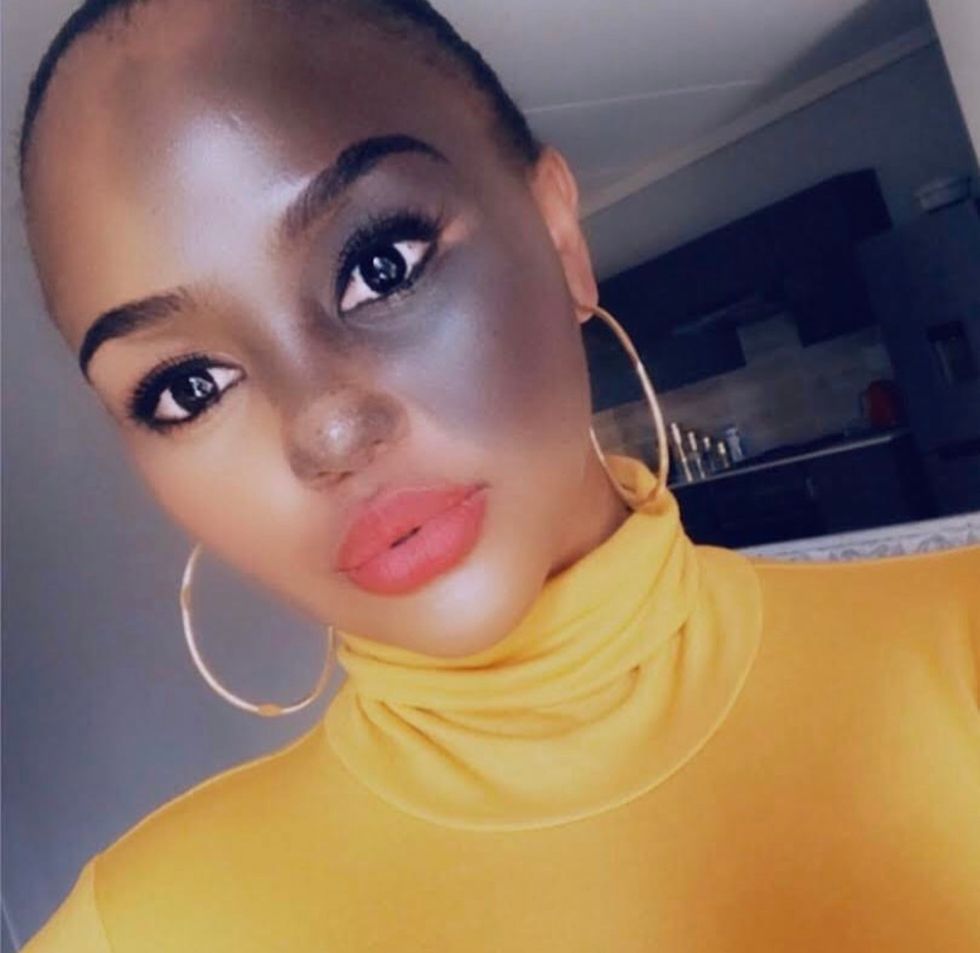 Courtesy of Kenehilwe Libate
I would reminisce about the time I decided to try my luck with television, and ultimately was crushed, when the agency told me I would not be accepted in the industry. I remembered the time curiosity got the best of me and used concealer to see how I would look without my mark—which I just thought I looked really weird and that was the last time I did such a crazy act.
All this built up to a turning point for me. And affirmations were key. This made me take charge of how I defined my birthmark.
I changed how I referred to my mark: from a birthmark to a beauty mark that made me who I am. I began to embrace being described as "Kenehilwe with a birthmark." But most importantly, I learned that beauty cannot be boxed; it is what you make it—as long as you look and feel good on your terms.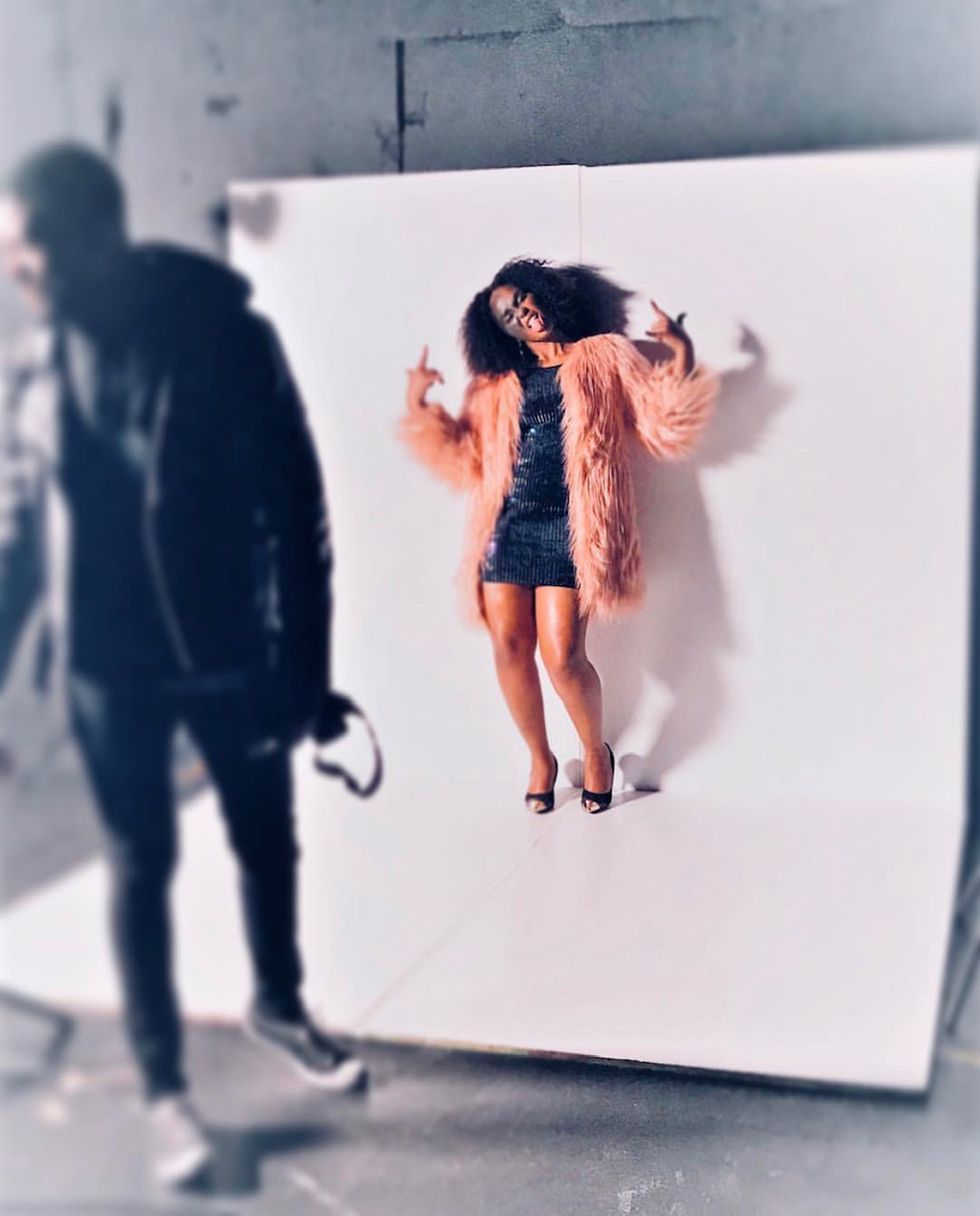 Courtesy of Kenehilwe Libate
And I certainly feel good.
Free At Last.
It took me forever to fully embrace who I am. The wear and tear over the years caused me to be diagnosed with anxiety so I had to learn coping mechanisms to keep me going. I pray, a whole lot. I have learned that having a conversation with God about how I am feeling helps me. I cry if there is a need to, I meditate—which that, and the occasional jog, keeps me going as well.
Listen ladies, we are doing great. We must learn to embrace our beauty, no matter how different, and this will snowball into helping others overcome their insecurities without us even noticing. We are changing the world. Ignore all the people who once said that you will not succeed because you look a certain way.
Do not fall into the trap of conformity. God made you unique for a special reason. You are beautiful just the way you are.
Looking at society now, I see that what was deemed as "normal" back then, has changed completely, which makes me so happy. If I can lead a movement in a tiny piece of that change, I know I have done my part. I even hope that those of us with birthmarks can be celebrated more often, as we continue to silently struggle with people asking if "we're hurt" or "painted our faces."
Today, I aspire to be an individual who has a positive impact on others, despite obstacles. I dream of mentoring and changing lives of young black women in corporate that were not prepared for the "big world". I yearn to continue to be a reliable, positive, and honest friend. I value these characteristics in myself.
And every moment I took to build myself up, and the forced effort I took to strengthen my confidence, has come to peak fruition. Last year, I was even chosen as one of the faces of an alcoholic brand's women empowerment campaign.
Looking back, I just laugh about the times I didn't accept my full self. Now, it's funny that I sometimes forget which side my birthmark is on.
To keep up with Kenehilwe and her journey, follow her on Instagram @keneliberty.
Featured image courtesy of Kenehilwe Libate