Infused oils, essential oils, and tinctures are extractions of earth's resources that can be used in the same way that crystals are used in alternative and holistic healing. Whether you are using them in aromatherapy, meditation, tinctures, or for body and bath, you can utilize their power for healing and rejuvenation.
---
Energy blockages in our souls act as walls, or gaps, in our mental, emotional, or physical planes. When we experience energy blockages anywhere in these locations, we are unable to clear the karmic, childhood, or repressed energies that are tied up in blocks that we need in order to help raise our vibration and frequency, moving us forward toward our highest and greatest good. Using aromatherapy as energetic support is a great way to heal those blockages. This read will help you get started on your oil healing journey.
Essential & Infused Oils in Diffusers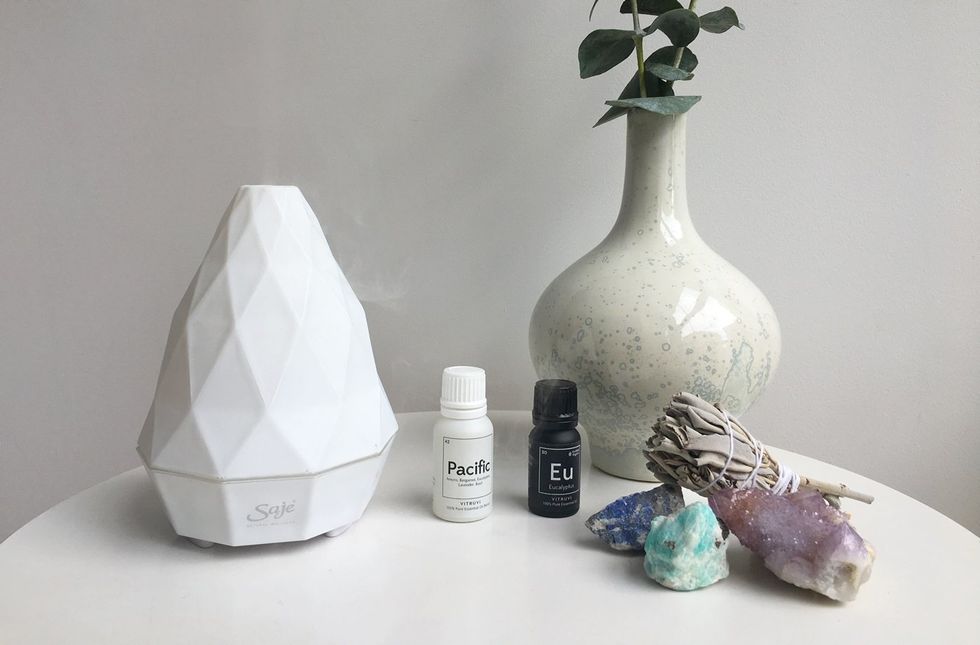 Aromatherapy uses plant materials and aromatic plant oils, including essential oils, and other aroma compounds for improving psychological or physical well-being. It can be used in conjunction with holistic services such as Reiki, Acupuncture, or Spiritual Massage.
It has the ability to assist in reducing high levels of anxiety, easing depression, boosting energy and low spirit levels, eliminating headaches, boosting cognitive performance, relieving insomnia, strengthening the immune system, relieving physical pain, improving digestion issues, and increasing circulation throughout the body.
Using a diffuser is the easiest way to enter into a vibration of the essential oils you would like to achieve healing energy from. It releases the infused steam that you can time with your breath exercises. We recommend the GuruNanda Honeycomb Aromatherapy Ultrasonic Diffuser.
Before meditating, set your intention on what energy blockage you wish to relieve. For instance, if you know you have a problem with opening up, being honest, communicating, or expressing your truth or creativity, you'll want to use a blend of essential oils that raises the vibration of your throat chakra. Basil, Bergamot, Chamomile, or Peppermint essential oils are perfect for aligning the energy of your throat chakra and clearing any blockages that are present.
While you can purchase essential oils already made, you can also create your own infused oils. The best way to create the most potent blend of these essential oils is to infuse them yourself to reflect what energy blockage you are trying to heal.
Read: "How To Make Your Own Infused Oils For Living Your Best Life," to learn how to make your own infusions.
Tip: If you are on a budget, and don't want to buy an expensive diffuser system, you can most definitely find one for $20 or under, or you can make a DIY essential oil steam mist. You can do this by boiling hot water, dropping in your infusion, and placing your nostrils over the steam once it cools down to a safe temperature.
Herbal Tinctures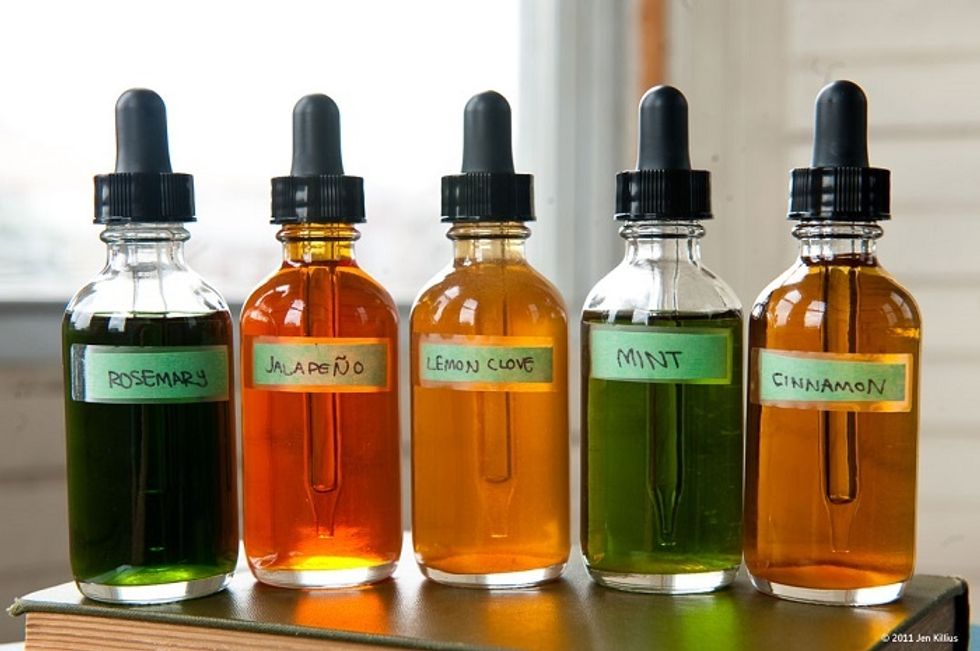 homespeakeasy.com
Tinctures are liquid extracts made from herbs, usually extracted into alcohol. They are normally used to help heal physical ailments by dissolving a drug into an alcohol. Using a tincture that replaces a drug with an herbaceous extract allows you to directly absorb the energetic healing elements into your bloodstream orally or through absorption via the skin in a salve or lotion.
Though drinking alcohol as a beverage lowers our frequency, the amount used in a tincture acts as a micro dose to treat any energetic blockages that exist within your physical body and energetically extends into your emotional, mental, and ethereal bodies. Tinctures can also be extracted in vegetable glycerine or apple cider vinegar.
Technically, this kind of herbal plant medicine has been around from as early as 1000 AD, and its healing effect is quickly absorbed through the liver. Spiritual herbs activate higher consciousness, intuition, spiritual awakening, and deep energetic healing and cleansing. Tinctures can be used to enhance emotional moods, aid clarity of thought, improve memory, ease mental anguish, open the heart chakra, and enhance psychic ability - just to name a few.
Tinctures are usually taken by the dropperful (or squeeze), and a dropperful is equivalent to half of an 8oz cup of tea. They can be taken as a multivitamin every morning, or worked into a personal ritualistic timeframe, or for as long as you are healing a blockage in your spirit.
You can find an array of healing tinctures online, at your local botanica, or if you are advantageous, you can create your own tinctures!
Tip: Be sure to consult an alternative or holistic practitioner before using or applying tinctures.
Oils in Bath & Meditation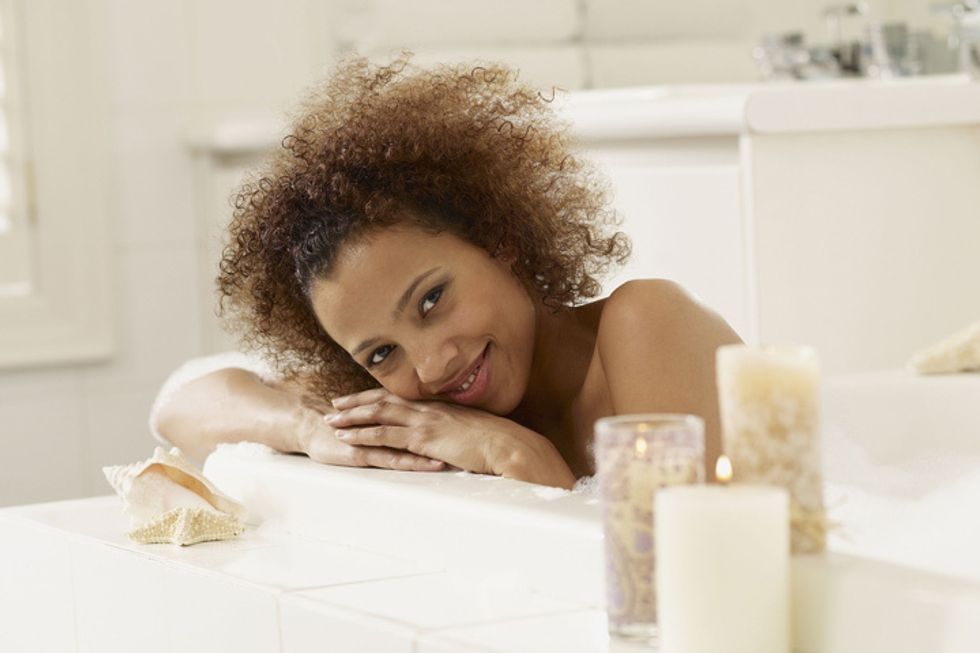 Immersing yourself in a hot bath infused with essential oils is a perfect way to incorporate self-love, blockage healing, and meditation into your essential oil healing journey. The best way to take full advantage of this method is to know exactly what energy block needs to be healed.
It could be helpful to consult a Reiki energy healer, tarot reader, or Shaman to find out what specifically is blocked in your spirit. It's almost as if you'll receive an energetic diagnosis, so you know exactly how to treat your problem. Be sure to request a chakra, aura, or body scan.
Once you know where your problem is:
Select the appropriate essential oils to bathe in.
Set aside at least 45 minutes to meditate.
Light a small black candle anointed with your oils.
As you soak in the water, be sure to clear your mind, enter into the vibration of the oils, and allow your spirit to connect with your guides, ascended masters, angels, and higher self to receive any messages you need to aid in healing your blockage.
Ask for help with removing or cleansing any negative energies in your body and allow yourself to feel and visualize the blockage being cleansed and removed.
Thank your support team for the help and imagine any impurities being pulled away as you drain your bath and rinse your body with warm water.
Imagine any residuals of negative energy trapped within the candle and blow it out.
Tip: Use the same blend of essential oils in a body butter or salve to seal in all the healing energy after your meditative bath.
Related Stories: