---
Gaynete Jones's story leading up to her venture into entrepreneurship almost plays out like a good Nollywood flick you'd find on Netflix, except hers is very, well, real, is much more poised, and is set in paradises of the Caribbean.
Jones, founder of Best, Periodt, a femcare brand making major waves both on drugstore shelves and social media, has had to push through more than a few traumatic and dramatically life-changing events to get to the point of investing nearly $100,000 to start her business.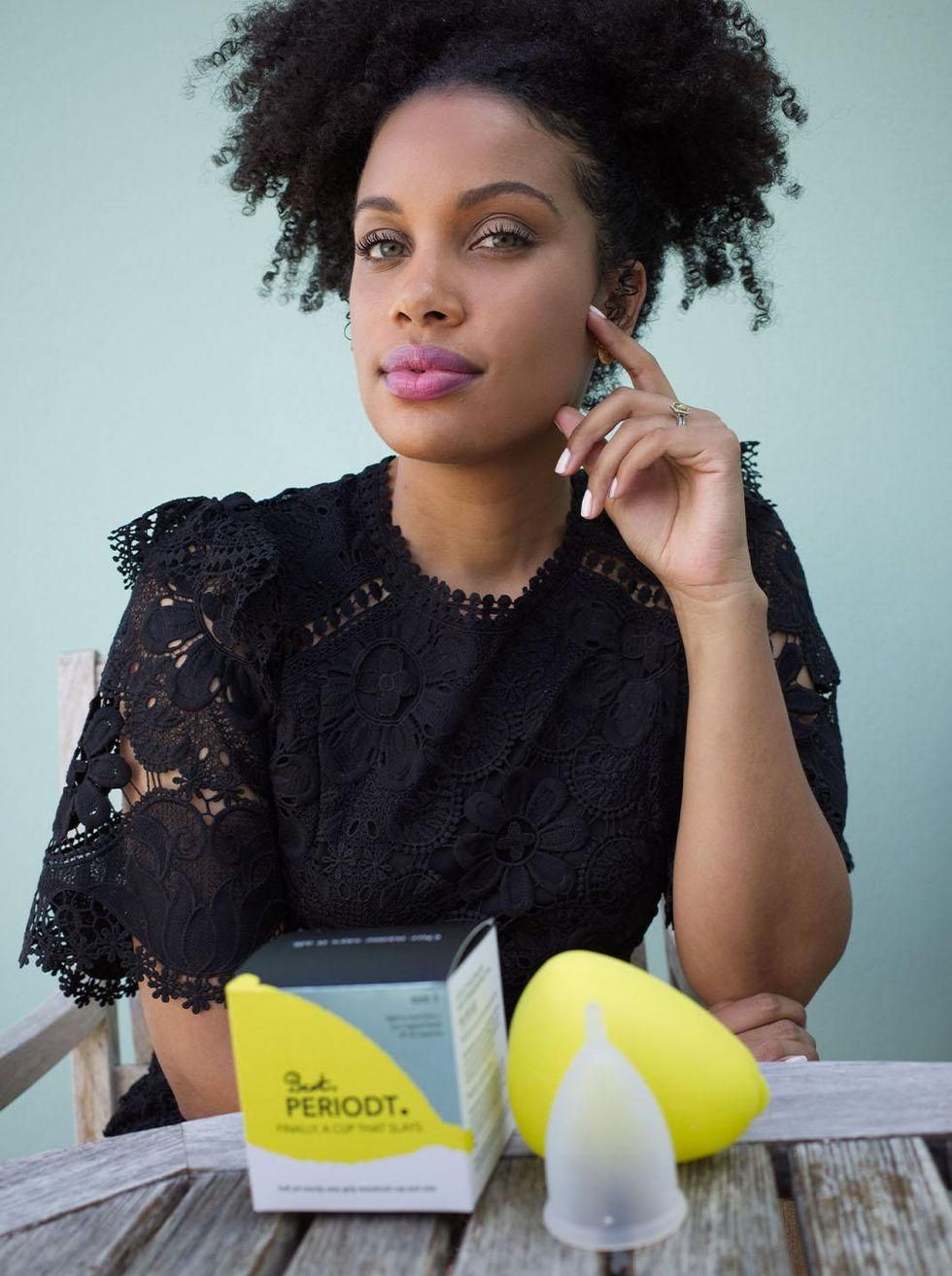 Courtesy of Gaynete Jones
"I go hard for everything. I think that's just in my innate makeup," Jones says. "Truly, it's the hardships that have helped me be able to prioritize what's important in my life and what I need to focus on going forward. So any hardships that [I've faced with] Best Periodt—like manufacturer delays with COVID happening and all of that—I stepped back, [and was] like, 'If I could handle all those things I've already been through, I can handle anything.' "

Anything, indeed. The Bermuda native, author, and host of Freedom Slay Podcast survived the removal of a tumor on her windpipe at 14, a specialized surgery, by her recollection, that had a very low survival rate. "There were only three people that had the surgery before me, and two of them didn't survive," she recalls. "So I knew going in, even at 14, that I had a one-in-three chance of surviving, and that just put a little perspective shift where you're like, man, life's finite."
At 18, she'd be held at gunpoint in a robbery. In her account of things, the day seemed just like any typical one would for a rotary exchange student in Venezuela: an exploration of sights in the streets of Maracaibo, a summer BBQ with the host family, and the online sharing of memories with the folks back home. Then normal turned dangerous when a group of what Jones says were "cops" crashed the party and instructed everyone to lay on the ground while they collected electronics, passports, keys, money, jewelry, and the family's car. Though no one was physically harmed, the mental damage had definitely been done.
"Again, things get put in perspective because the whole— everything was robbed. I didn't have anything at that point. I remember my host family coming up to me and they're like, 'But you have your life.' So again, it's just those little moments that are like perspective shifts."
Jones would finish out her time in Venezuela despite the incident and says she still holds a love for her host family, the culture, and the overall experience. From there, she returned to Bermuda, with plans to work in law only to find out she was pregnant. "I was 19 when I had my baby, which made me a teen mom, and I didn't want to be a statistic. So I did what success looked like to me or what I thought success was, which was climbing the corporate ladder."
While working as a trust and estate practitioner, she found out that her dad had fallen ill from complications of a tumor on one of his kidneys.
"I remember asking at my job for the time off, and that was an issue. They were giving me trouble to get off from work and I'm like, 'Listen, I'm here all this time. This is my time.' Like, why do I have to ask for time off? It just used to frustrate me."
Another family emergency would lead her back to a hospital again when her mother got sick and had to have major surgery in 2015. "That's when I actually started writing my book. Again, [I had the] same issue trying to get off from the employer and they were giving me push-back. And I really, at that point, knew I had to figure out a way out of this." Jones adds that though her job paid a decent wage, she was living paycheck to paycheck, so the funds to make a clean break and travel to be there for her mom were also scarce.
"I remember my mom was going to Johns Hopkins. She was in Baltimore getting her surgery, and I had the issue where I didn't have enough money to pay for the two bags [to get on the plane]. I asked my [now] mother-in-law for the $50 to cover it. I wrote myself an email while I was on the plane [which] was just a message to myself like, 'You're not going to let this happen again. For your sake and for your daughter's sake, you have to figure this out.'
"I didn't know where it was going from there, but I knew that I had to do something different from what I was doing at the moment. I had been taking online classes with the University of London [to get a] finance degree, and I dropped out. I paid for a writing course, I put my book, The Lucky Code: A Guide to Winning at Life, out in May 2015, and it became an Amazon bestseller in a few different categories."
That same moment of truth also led to her decision to up her presence in teaching people to self-publish and building a brand from that. She's also hosted webinars and masterclasses covering lessons on subjects including how to create passive income. "I've been able to create a business teaching people how to start their own businesses and things like that. And from there I just had a bunch of courses and things I was selling on the side. I was able to triple my income before I left in 2019."
Jones's community has grown to more than 28,000 followers across her social platforms and her podcast has had some of your favorite highly successful women entrepreneurs including New York Times best-selling author Luvvie Ajayi, Schmidt's Naturals founder Jamie Schmidt, and Black Girl Sunscreen founder Shontay Lundy. It's what served as the springboard for launching Best Periodt. "I bring on six- to nine-figure business owners that really help the listeners to just figure out what they need to grow their business. I had someone on one day, and she had an Amazon business that she grew from bonnets—yes, bonnets.
"And at that point, just talking to her and listening to the process, I got really intrigued about creating a physical product. So I didn't know at the time what it was going to be or anything like that, but I knew I wanted to create something. I went to sleep that night, and I woke up, and my period had started. It seemed like divine intervention at that point because when I went to go grab one of the [menstrual] cups I was using, [I realized] it just didn't have enough capacity for heavy flow days."
Talk about a light-bulb moment. Jones knew then what problem she had to solve and through research, she found a female-led manufacturer to create a menstrual cup prototype. "I wanted them to be US-based and [the product to be] FDA-registered. It was just so many things I had on the checklist that I wanted with this cup," Jones said of the process to get started. "Once I found a manufacturer that ticked all the boxes—they had done cups before, they haven't had any issues with them, and all of that kind of stuff—I sketched what I wanted mine to look like."
"I worked with the engineer they had on their team to create a mock up, and then we got a 3-D model printed. And from that model, we actually had to get samples created from their sample. Something that I thought was going to take just a couple of months ended up being close to a year [because] it was a lot of headaches, especially because it started at the beginning of COVID last year."

Jones didn't want to go the white-label route, where she basically took something already made and added her branding to it to sell. She wanted to be sure she was offering something unique that would really make an impact on the market and serve women's needs. Best Periodt offers cups that are made with medical-grade silicone, are vegan and environmentally-friendly, and come in two sizes (one of which holds the capacity of up to eight regular tampons). They are also OBGYN-tested and cost-effective, considering they can last for up to 10 years.
Another bonus: They come in a convenient (and cute!) hygienic case. "I try to make it as relatable as possible, even the instruction manual. I've never seen an instruction manual in my entire life with Brown bodies, so of course I wanted to include that in this one. It's so important to have representation, right?"
The cups are sold in drugstores in Bermuda and online, and according to Jones, they'll be on U.S. shelves soon. She has even more plans for her brand's expansion, which points back to her persistent drive to achieve her wildest dreams and push limits. "I know for certain, our next product is not in the femcare aisle, but it all ties together with having a better period experience. This is the genesis of a mega brand."
Find out more about Best Periodt products via their website and more about Gaynete Jones via her Instagram.
Featured image courtesy of Gaynete Jones