---
It's no secret quarantine has done a number on our mental health, but what about our skin's health? Summer may be in full effect, but we might not have the same glow we're used to having by this time of year since we've been indoors waiting out COVID-19. Women of color should also be giving their skin some extra TLC this season regardless or not of the pandemic since our skin suffers more from hyperpigmentation , scarring and more. So, what do we do about it?
Here at xoNecole, we take glowing skin and anything that tries to get in the way of it seriously. We chatted with Dove Dermatologist and leading skincare expert Dr. Mona Gohara on her advice and favorite products for prepping Black and Brown skin to emerge from quarantine like a goddess.
Keep reading if "glass skin" was on your 2020 vision board.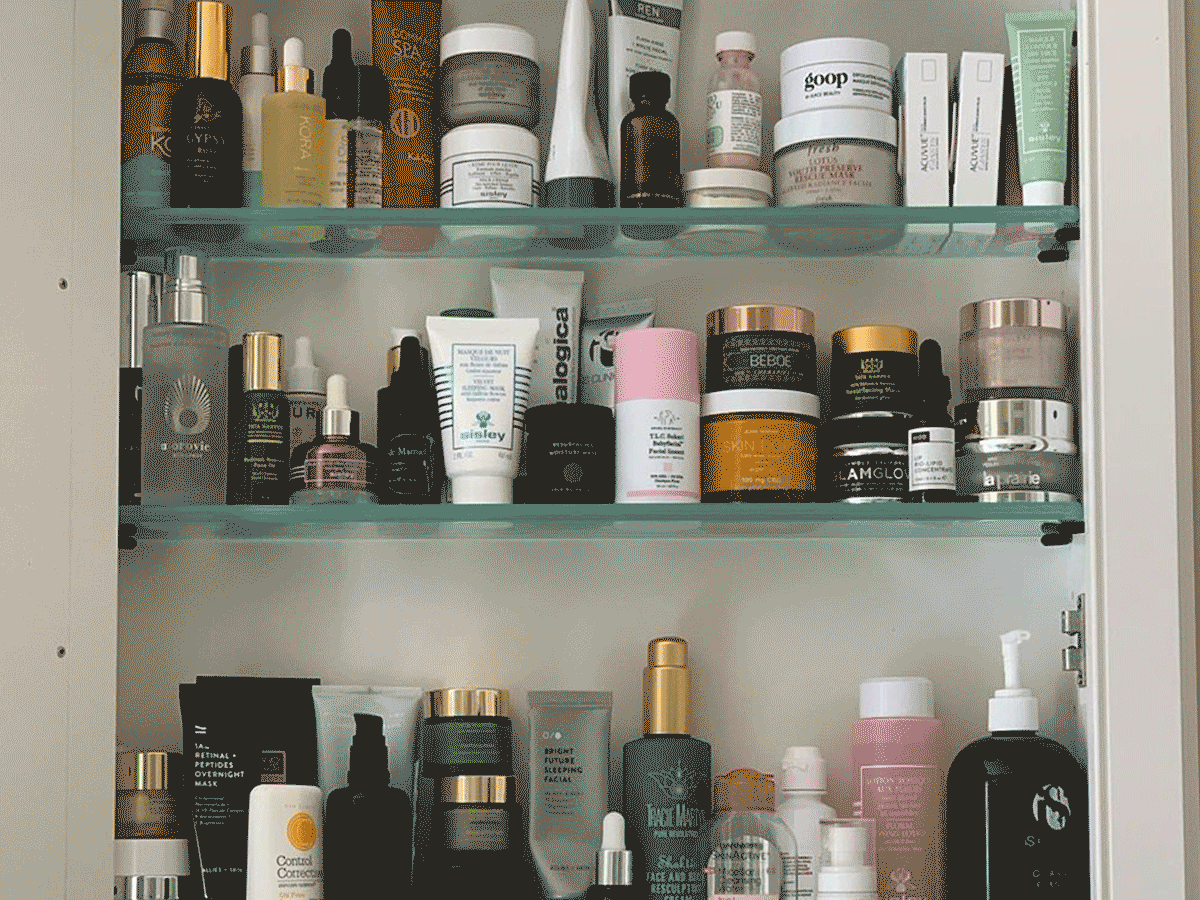 The effects of quarantine on skin, Black and Brown skin especially:
"Not so much quarantine itself but the whole pandemic does create unique concerns for brown skin. Mask-wearing can lead to acne , referred to as 'maskne'. This is much more likely to lead to hyperpigmentation in brown skin. Actually, one component of quarantine that is unique to darker skin is the hyperpigmentation that can come from Zoom-ing all the time. Blue light from our devices create hyperpigmentation, melasma and skin damage. This is much more likely in Black/Brown skin. I recommend a gentle cleanser and of course a lot of SPF. Nothing overly aggressive or harsh."
​What we should have done all quarantine-long to prep our skin for "the outside" and can still do:
" Wear sunscreen! Especially if you spend your days sitting by a window or in a room with lots of sunlight as UV light penetrates right through window glass, so sunscreen is useful even if you're inside. Many people of color tend to believe they're invincible when it comes to the sun and needing sun protection, but you should wear sunscreen every day! Your skin is the largest human organ, and it is the most visible. No matter what season we're in, know that the skin constantly absorbs ultraviolet aging rays like a sponge, which then damage your DNA, collagen and cause pigment abnormalities later in life.
"As you start transitioning back to normalcy and going outside, use makeup with SPF in it as well as a separate sunscreen. You can never have enough. Also note that sunscreen is the last product you put on your face after your moisturizer, right before your makeup."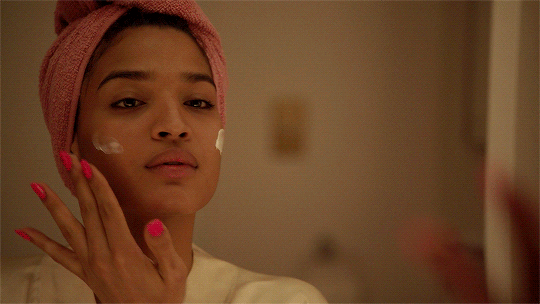 Ways can we refresh skincare routines for the summer on a budget:
"Just as we transition our wardrobes to hotter weather, the shift in seasons necessitates a refresh in our skincare routine. I recommend using a gentle, moisturizing, all-in-one cleanser like the Dove Beauty Bar ($6) . With its signature cleansing ingredients and 1/4 moisturizing cream, it effectively cleanses the skin without leaving behind that dry, tight sensation. It's also gentle enough to use on your face and can be used for handwashing as it removes dirt and germs while nourishing the skin, making it the ultimate all-in-one cleanser.
"For all skin types, a broad-spectrum SPF of 30 or higher ( Black Girl Sunscreen, $16 ) which is essential for those with melasma or skin discoloration. Remember even light bulbs worsen melasma, so SPF 30 is essential. If you do experience sun damage [add on] a Vitamin C antioxidant like La Roche-Posay Vitamin C Face Serum ($40) . For those with dry skin, use a gentle hydrating cleanser ( Aveeno Ultra-Calming Hydrating Gel Facial Cleanser ) and follow it with a petroleum-based ointment (Aquaphor Advanced Therapy Healing Ointment, $10) on top."
*Some links are affiliate links. If you make a purchase, xoNecole may earn a small commission.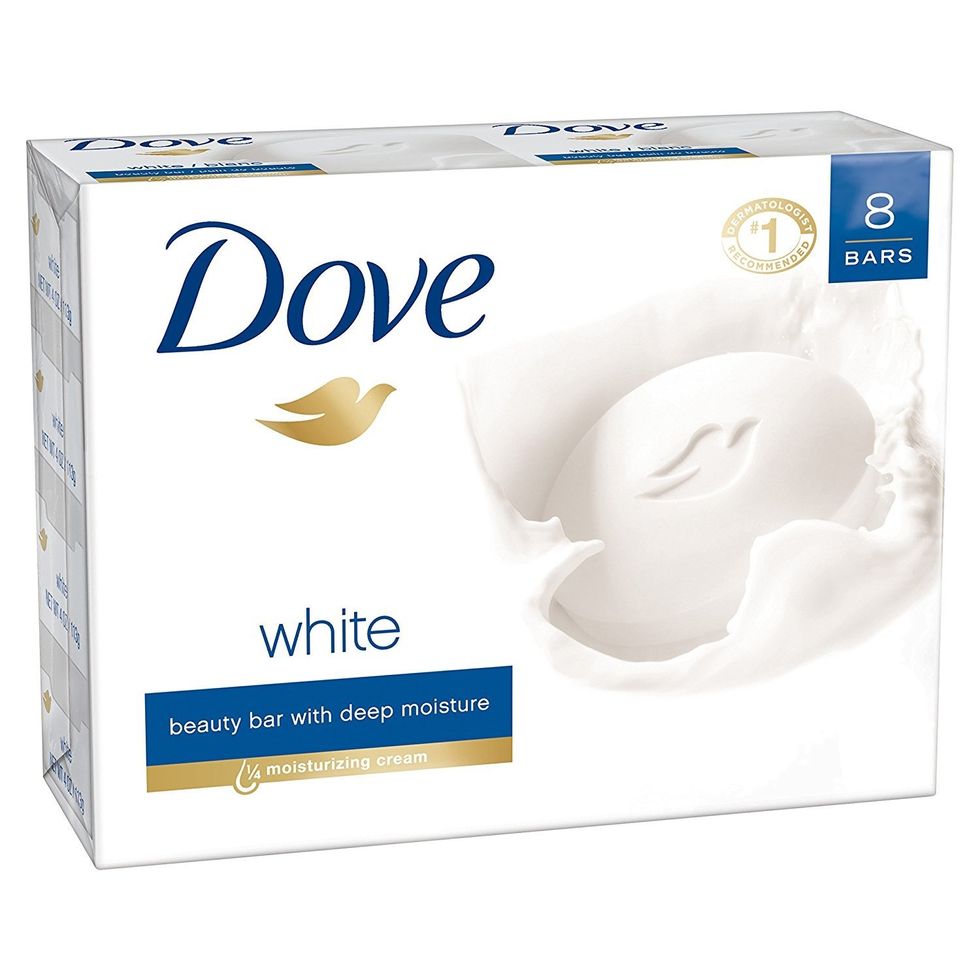 Target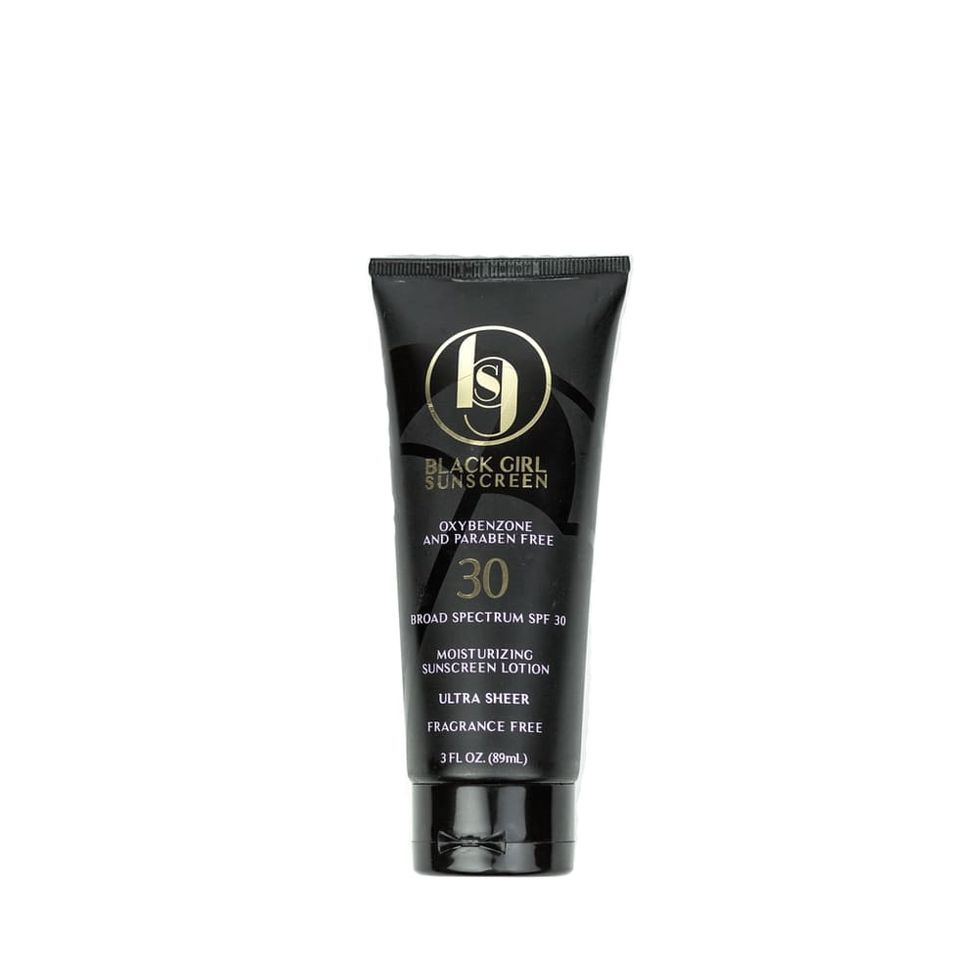 Target
La Roche Vitamin C Face Serum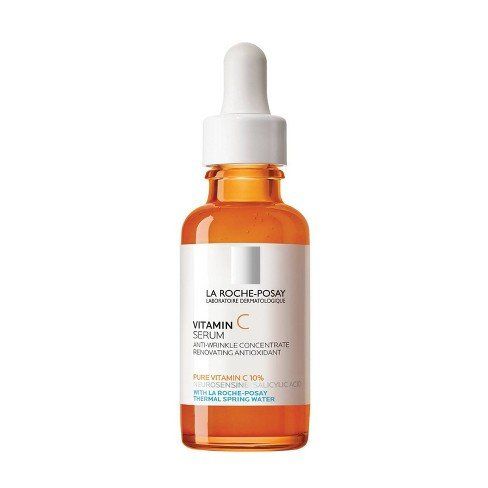 Target
MUST-have ingredient(s) in skincare products this season for WOC:
"In terms of ingredients, a good rule of thumb is to stay away from products that have the word "fragrance" on their ingredient label and look for "fragrance-free" alternatives, products that contain a lot of "alcohols" can also be irritating on the skin. Look for ingredients like glycerin, ceramide, etc. Also avoid long hot showers, as they strip away your skin's natural moisture barriers, instead opt for shorter, warm showers."
Advice for treating skin irritated from wearing masks in combination with the heat:
"Gently cleanse, if you over-irritate the skin with a lot of scrubbing or exfoliation, it will just stoke any inflammation. If the skin is irritated in the form of eczema, a little over-the-counter cortisone cream may help. If it is breaking out in the form of acne, I like to put Benzoyl peroxide spot treatment right over the affected area."
Join our xoTribe , an exclusive community dedicated to YOU and your stories and all things xoNecole. Be a part of a growing community of women from all over the world who come together to uplift, inspire, and inform each other on all things related to the glow up.
Featured image by Shutterstock
Jazmine A. Ortiz
Jazmine A. Ortiz is a creative born and raised in Bushwick, Brooklyn and currently living in Staten Island, NY. She started in the entertainment industry in 2012 and now works as a Lifestyle Editor where she explores everything from mental health to vegan foodie trends. For more on what she's doing in the digital space follow her on Instagram at @liddle_bitt.
Amber Riley has the type of laugh that sticks with you long after the raspy, rhythmic sounds have ceased. It punctuates her sentences sometimes, whether she's giving a chuckle to denote the serious nature of something she just said or throwing her head back in rip-roarious laughter after a joke. She laughs as if she understands the fragility of each minute. She chooses laughter often with the understanding that future joy is not guaranteed.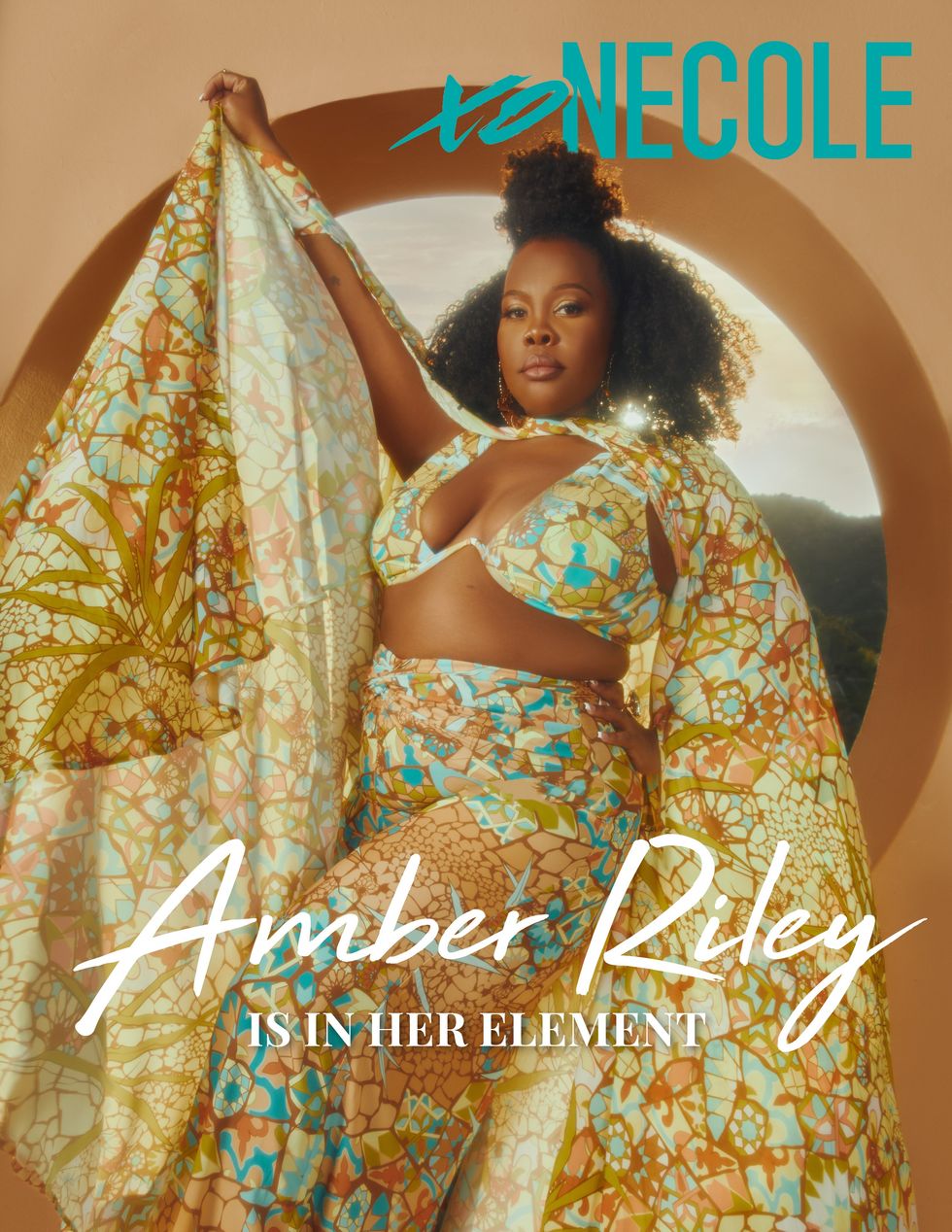 Credit: Ally Green
The sound of her laughter is rivaled only by her singing voice, an emblem of the past and the future resilience of Black women stretched over a few octaves. On Fox's Glee , her character Mercedes Jones was portrayed, perhaps unfairly, as the vocal duel to Rachel Berry (Lea Michele), offering rough, full-throated belts behind her co-star's smooth, pristine vocals. Riley's always been more than the singer who could deliver a finishing note, though.
Portraying Effie White, she displayed the dynamic emotions of a song such as "And I'm Telling You I'm Not Going" in Dreamgirls on London's West End without buckling under the historic weight of her predecessors. With her instrument, John Mayer's "Gravity" became a religious experience , a belted hymnal full of growls and churchy riffs. In her voice, Nicole Scherzinger once said she heard "the power of God."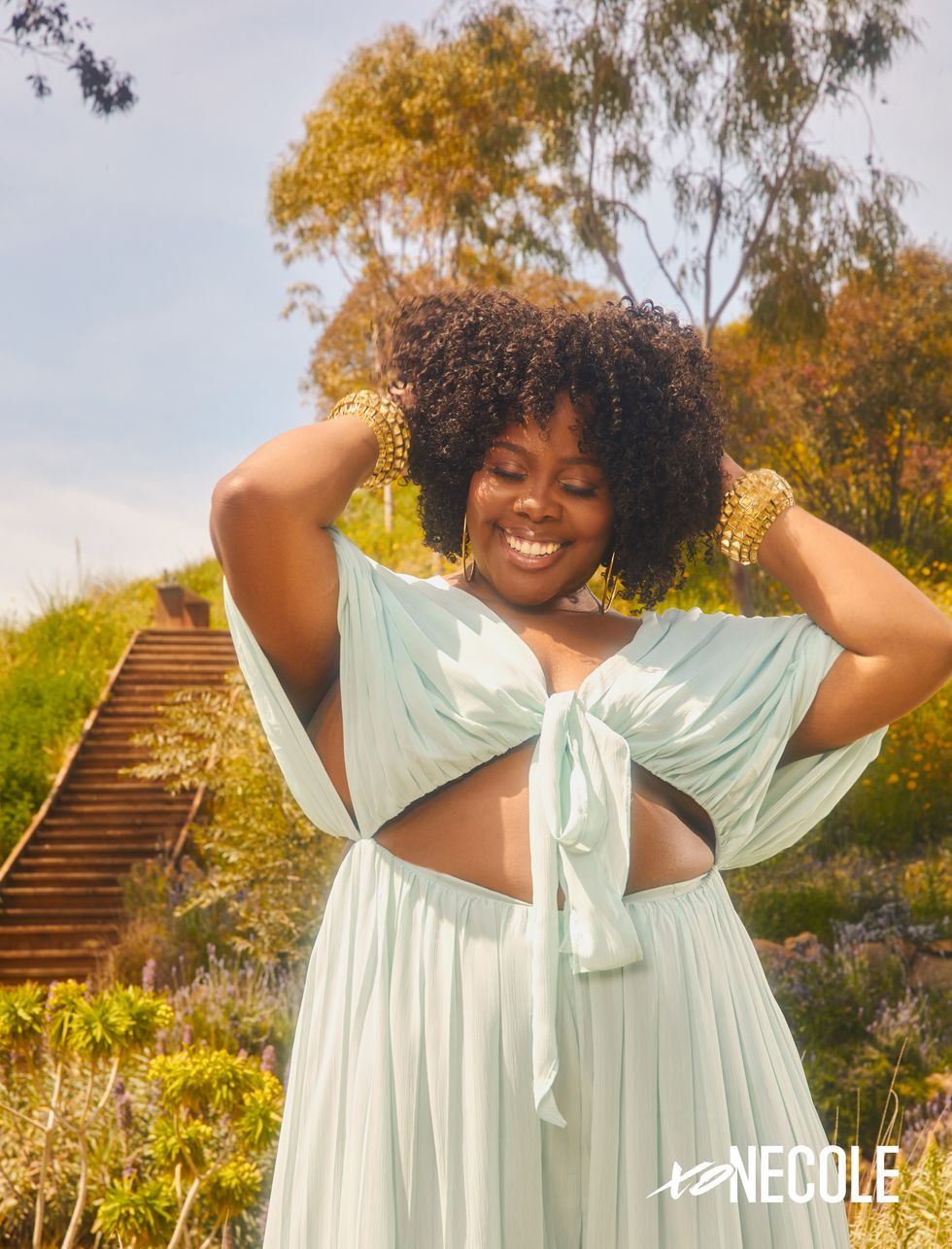 Credit: Ally Green
Riley's voice has been a staple throughout pop culture for nearly 15 years now. Her tone has become so distinguishable that most viewers of Fox's The Masked Singer recognized the multihyphenate even before it was revealed that she was Harp, the competition-winning, gold-masked figure with an actual harp strapped to her back.
Still, it wasn't until recently that Riley began to feel like she'd found her voice. This sounds unbelievable. But she's not referring to the one she uses on stage. She's referencing the voice that speaks to who she is at her core. "Therapy kind of gave me the training to speak my mind," the 37-year-old says. "It's not something we're taught, especially as Black women. I got so comfortable in [doing so], and I really want other people, especially Black women, to get more comfortable in that space."
"Therapy kind of gave me the training to speak my mind. It's not something we're taught, especially as Black women."
If you ask Riley's manager, Myisha Brooks, she'll tell you the foundation of who the multihyphenate is hasn't changed much since she was a kid growing up in Compton. "She is who she is from when I met her back when she was singing in the front of the church to back when she landed major roles in film and TV," Brooks says. Time has allowed Riley to grow more comfortable, giving fans a more intimate glimpse into her life, including her mental health journey and the ins and outs of show business.
The actress/singer has been in therapy since 2019, although she suffered from depression and anxiety way before that. In a recent interview with Jason Lee , she recalls having suicidal ideation as a kid. By the time she started seeing a psychologist and taking antidepressants in her thirties, her body had become jittery, a physical reminder of the trauma stacked high inside her. "I was shaking in [my therapist's] office," she tells xoNecole. "My fight or flight was on such a high level. I was constantly in survival mode. My heart was beating fast all the time. All I did was sweat."
There wasn't just childhood trauma to account for. After auditioning for American Idol and being turned away by producers, Riley began working for Ikea and nearly missed her Glee audition because her car broke down on the highway while en route. Thankfully, Riley had been cast to play Mercedes Jones. American Idol had temporarily convinced her she wasn't cut out for the entertainment industry, but this was validation that she was right where she belonged. Glee launched in 2009 with the promise of becoming Riley's big break.

In some ways, it was. The show introduced Riley to millions of fans and catapulted her into major Hollywood circles. But in other ways, it became a reminder of the types of roles Black women, especially those who are plus-sized, are relegated to. Behind the scenes, Riley says she fought for her character "to have a voice" but eventually realized her efforts were useless. "It finally got to a point where I was like, this is not my moment. I'm not who they're choosing, and this is just going to have to be a job for me for now," she says. "And, that's okay because it pays my bills, I still get to be on television, I'm doing more than any other Black plus-sized women that I'm seeing right now on screen."
The actress can recognize now that she was navigating issues associated with trauma and low self-esteem at the time. She now knows that she's long had anxiety and depression and can recognize the ways in which she was triggered by how the cult-like following of the show conflicted with her individual, isolated experiences behind the scenes. But she was in her early '20s back then. She didn't yet have the language or the tools to process how she was feeling.
Riley says she eventually sought out medical intervention. "When you're in Hollywood, and you go to a doctor, they give you pills," she says, sharing a part of her story that she'd never revealed publicly before now. "[I was] on medication and developing a habit of medicating to numb, not understanding I was developing an addiction to something that's not fixing my problem. If anything, it's making it worse."
"[I was] on medication and developing a habit of medicating to numb, not understanding I was developing an addiction to something that's not fixing my problem. If anything it's making it worse."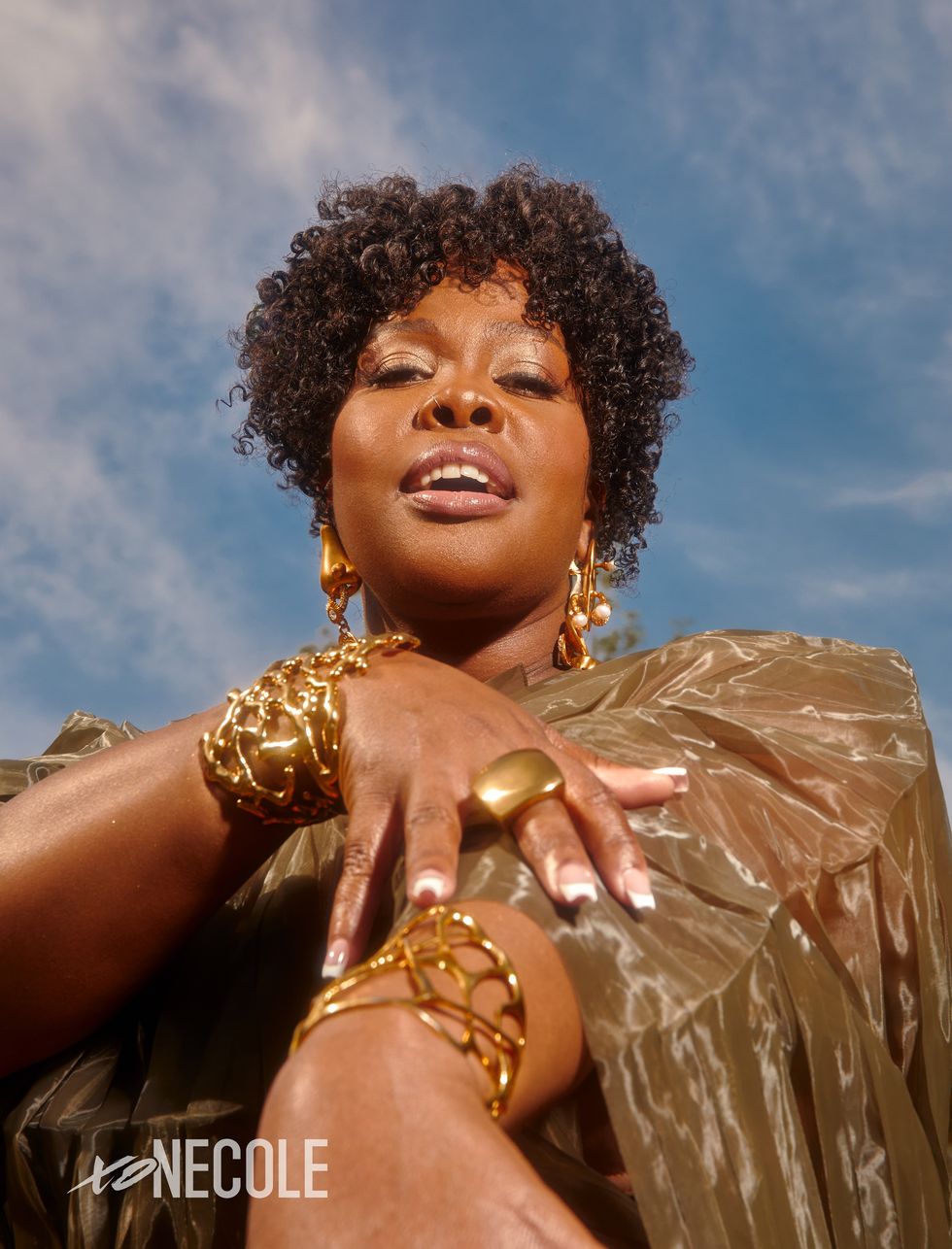 Credit: Ally Green
At one point, while in her dressing room on set, she rested her arm on a curling iron without realizing it. It wasn't until her makeup artist alerted her that she even realized her skin was burning. Once she noticed, she says she was "so zonked out on pills" that she barely reacted. Speaking today, she holds up her arm and motions towards a scar that remains from the incident. She sought help for her reliance on the pills, but it would still be years before she finally attended therapy.
This stress was only compounded by the trauma of growing up in poverty and the realities of being a "contract worker." "Imagine going from literally one week having to borrow a car to get to set to the next week being on a private jet to New York City," she says. After Glee ended, so did the rides on private planes. The fury of opportunities she expected to follow her appearance on the show failed to materialize. She wasn't even 30 yet, and she was already forced to consider if she'd hit her career peak.
. . .
We're only four minutes into our Zoom call before Riley delivers her new adage to me. "My new mantra is 'humility does not serve me.' Humility does not serve Black women. The world works so hard to humble us anyway," she says.

On this Thursday afternoon in April, the LA-based entertainer is seated inside her closet/dressing room wearing a cerulean blue tank top with matching shorts and eating hot wings. This current phase of healing hinges on balance. It's about having discipline and consistency, but not at the risk of inflexibility. She was planning to head to the gym, for instance, but she's still tired from the "exhausting" day before. Instead, she's spent her day receiving a massage, eating some chicken wings, and planning to spend quality time with friends. "I'm not going to beat myself up for it. I'm not going to talk down to myself. I'm going to eat my chicken wings, and then tomorrow I'm [back] in the gym," she says.
"My new mantra is 'humility does not serve me.' Humility does not serve Black women. The world works so hard to humble us anyway."
This is the balance with which she's been approaching much of her life these days. It's why she's worried less about whether or not people see her as someone who is humble. She'd rather be respected. "I think you should be a person that's easy to work with, but in the moments where I have to ruffle feathers and make waves, I'm not shying away from that anymore. You can do it in love, you don't have to be nasty about it, but I had to finally be comfortable with the fact that setting boundaries around my life – in whatever aspect, whether that's personal or business – people are not going to like it. Some people are not going to have nice things to say about you, and you gotta be okay with it," she says.
When Amber talks about the constant humbling of Black women in Hollywood, I think of the entertainers before her who have suffered from this. The brilliant, consistent, overqualified Black women who have spoken of having to fight for opportunities and fair pay. Aretha Franklin. Viola Davis. Tracee Ellis Ross. There's a long list of stars whose success hasn't mirrored their experiences behind the scenes.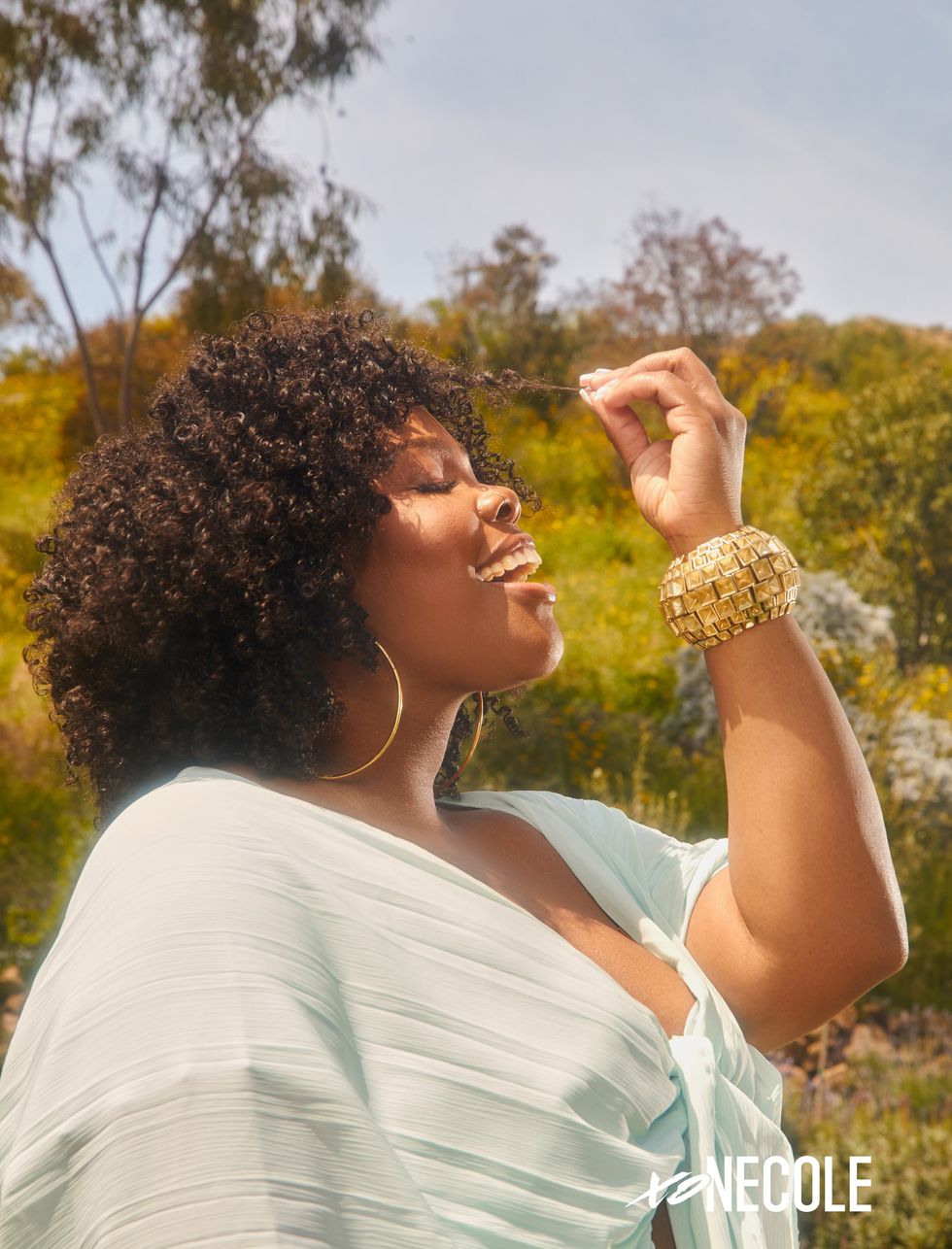 Credit: Ally Green
If Black women outside of Hollywood are struggling to decrease the pay gap, so, too, are their wealthier, more famous peers.
Riley says there's been progress in recent years, but only in small ways and for a limited group of people. "This business is exhausting. The goalpost is constantly moving, and sometimes it's unfair," she says. But, I have to say it's the love that keeps you going."
"There's no way you can continue to be in this business and not love it, especially being a plus-sized Black woman," she continues. "We're still niche. We're still not main characters."
"There's no way you can continue to be in this business and not love it, especially being a plus-sized Black woman. We're still niche. We're still not main characters."
Last year, Riley starred alongside Raven Goodwin in the Lifetime thriller Single Black Female (a modern, diversified take on 1992's Single White Female ). It was more than a leading role for the actress, it also served as proof that someone who looks like her can front a successful project without it hinging on her identity. It showcased that the characters she portrays don't "have to be about being a big girl. It can just be a regular story."
Riley sees her work in music as an extension of her efforts to push past the rigid stereotypes in entertainment. Take her appearance on The Masked Singer , for instance. Riley said she decided to perform Mayer's "Gravity" after being told she couldn't sing it years earlier. "I wanted to do 'Gravity' on Glee . [I] was told no, because that's not a song that Mercedes would do," she says. "That was a full circle moment for me, doing that on that show and to hear what it is they had to say."
As Scherzinger praised the "anointed" performance, a masked Riley began to cry, her chest heaving as she stood on stage, her eyes shielded from view. "You have to understand, I have really big names – casting directors, producers, show creators – that constantly tell me 'I'm such a big fan. Your talent is unmatched.' Hire me, then," she says, reflecting on the moment.
Recently, she's been in the studio working on original music, the follow-up to her independently-released debut EP, 2020's Riley . The sequel to songs such as the anthemic "Big Girl Energy" and the reflective ballad "A Moment" on Riley, this new project hones in on the singer's R&B roots with sensual grooves such as the tentatively titled "All Night." "You said I wasn't shit, turns out that I'm the shit. Then you called me a bitch, turns out that I'm that bitch. You said no one would want me, well you should call your homies," she sings on the tentatively titled "Lately," a cut about reflecting on a past relationship. From the forthcoming project, xoNecole received five potential tracks. Fans likely already know the strengths and contours of Riley's vocals, but these new songs are her strongest, most confident offerings as an artist.
"I am so much more comfortable as a writer, and I know who I am as an artist now. I'm evolving as a human being, in general, so I'm way more vulnerable in my music. I'm way more willing to talk about whatever is on my mind. I don't stop myself from saying what it is I want to say," she says.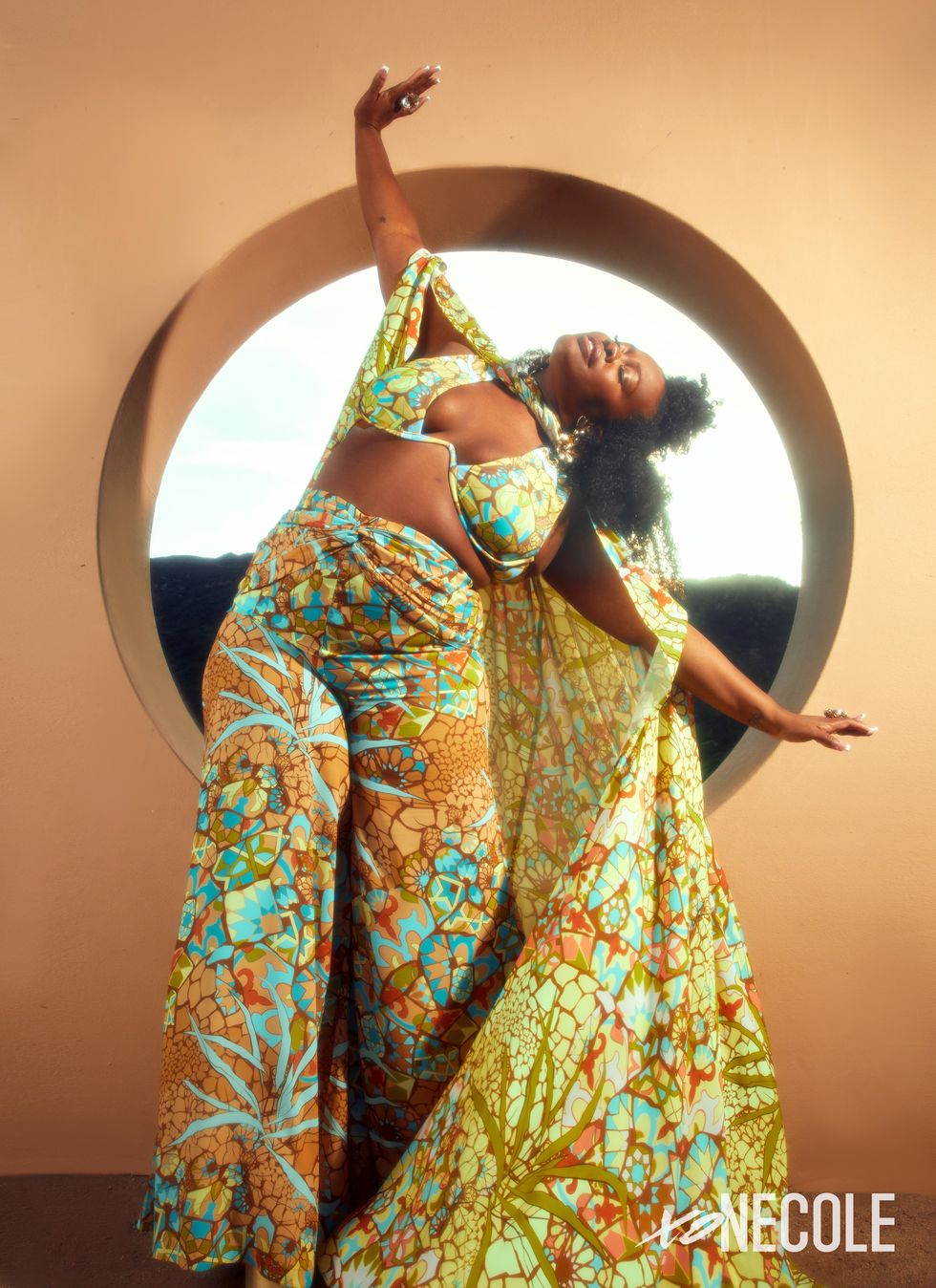 Credit: Ally Green
"Every era and alliteration of Amber, the baseline is 'Big Girl Energy.' That's the name of her company," her manager Brooks says, referencing the imprint through which Riley releases her music after getting out of a label deal several years ago. "It's just what she stands for. She's not just talking about size, it's in all things. Whether it's putting your big girl pants on and having to face a boardroom full of executives or sell yourself in front of a casting agent. It's her trying to achieve the things she wants to do in life."
Riley says she has big dreams beyond releasing this new music, too. She'd love to star in a rom-com with Winston Duke. She hasn't starred in a biopic yet, but she'd revel in the opportunity to portray Rosetta Tharpe on screen. She's determined that her previous setbacks won't stop her from dreaming big.
"I think one of my superpowers is resilience because, at the end of the day, I'm going to kick, scream, cry, cuss, be mad and disappointed, but I'm going to get up and risk having to deal with it all again. It's worth it for the happy moments," she says.
If Riley seems more comfortable and confident professionally, it's because of the work she's been doing in her personal life.
She'd previously spoken to xoNecole about becoming engaged to a man she discovered in a post on the site, but she called things off last year. For Valentine's Day, she revealed her new boyfriend publicly. "I decided to post him on Valentine's Day, partially because I was in the dog house. I got in trouble with him," she says, half-joking before turning serious. "The breakup was never going to stop me from finding love. Or at least trying. I don't owe anybody a happily ever after. People break up. It happens. When it was good, it was good. When it was bad, it was terrible, hunny. I had to get the fuck up out of there. You find happiness, and you enjoy it and work through it."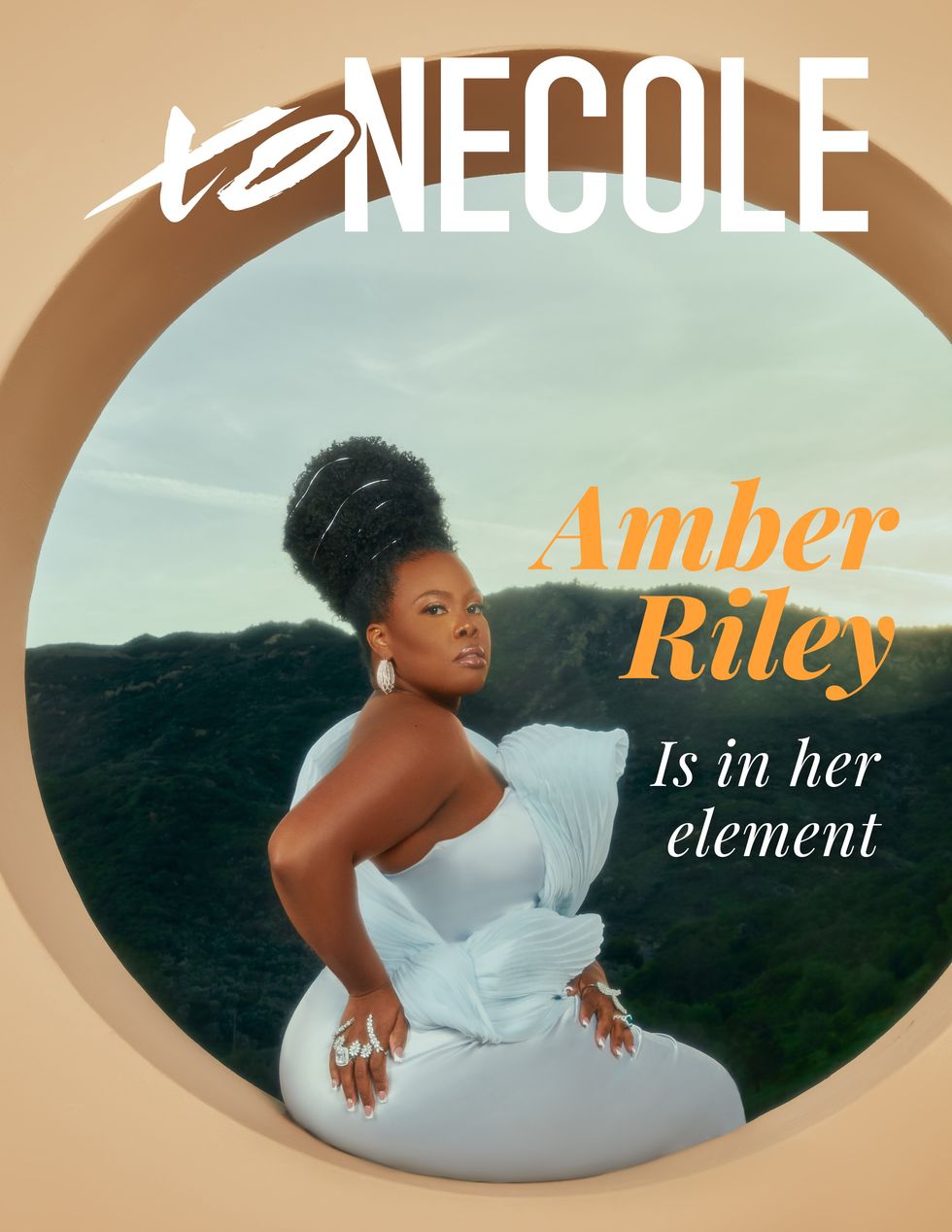 Credit: Ally Green
"I don't owe anybody a happily ever after. People break up. It happens. When it was good, it was good. When it was bad, it was terrible, hunny. I had to get the fuck up out of there. You find happiness and you enjoy it and work through it."
With her ex, Riley was pretty outspoken about her relationship, even appearing in content for Netflix with him. This time around is different. She's not hiding her boyfriend of eight months, but she's more protective of him, especially because he's a father and isn't interested in becoming a public figure.
She's traveling more, too. It's a deliberate effort on her part to enjoy her money and reject the trauma she's developed after experiencing poverty in her childhood. "I live in constant fear of being broke. I don't think you ever don't remember that trauma or move past that. Now I travel and I'm like, listen, if it goes, it goes. I'm not saying [to] be reckless, but I deserve to enjoy my hard work."

After everything she's been through, she certainly deserves to finally let loose a bit. "I have to have a life to live," she says. "I've got to have a life worth fighting for."
Credits
Director of Content: Jasmine Grant
Campaign Manager: Chantal Gainous
Managing Editor: Sheriden Garrett
Creative Director/Executive Producer: Tracey Woods
Cover Designer: Tierra Taylor
Photographer: Ally Green
Photo Assistant: Avery Mulally
Digital Tech: Kim Tran
Video by Third and Sunset
DP & Editor: Sam Akinyele
2nd Camera: Skylar Smith
Camera Assistant: Charles Belcher
Stylist: Casey Billingsley
Hairstylist: DaVonte Blanton
Makeup Artist: Drini Marie
Production Assistants: Gade De Santana, Apu Gomes
Powered by: European Wax Center

Singer and actress Janelle Monáe exemplifies how change can be a powerful catalyst for growth and transformation.
Monáe, who rose to fame in 2010 following the release of her debut album, The ArchAndroid , captivated fans' hearts with her powerful vocals, catchy tunes, and style. Around that time period, when various female artists were known to wear provocative ensembles on stage, the " Tightrope" songstress set herself apart by wearing her signature black and white suits and continued to do so for almost a decade.
In the later years of her career, after the release of her studio albums The Electric Lady in 2013 and 2018's Dirty Computer , many began to notice the shift in Monáe's artistry and fashion, which some widely praised.
Although the now 37-year-old rarely addressed the reason behind the transformation over the years, that would all change when Monáe sat down with radio personality Angie Martinez on her IRL podcast earlier this month.
During the interview, Monáe --who was promoting her latest album, "The Age of Pleasure"-- opened up about her mental health struggles, how she would cope, and why she chose to live in freedom.
Janelle On Why She Stopped Wearing Her Signature Suits All the Time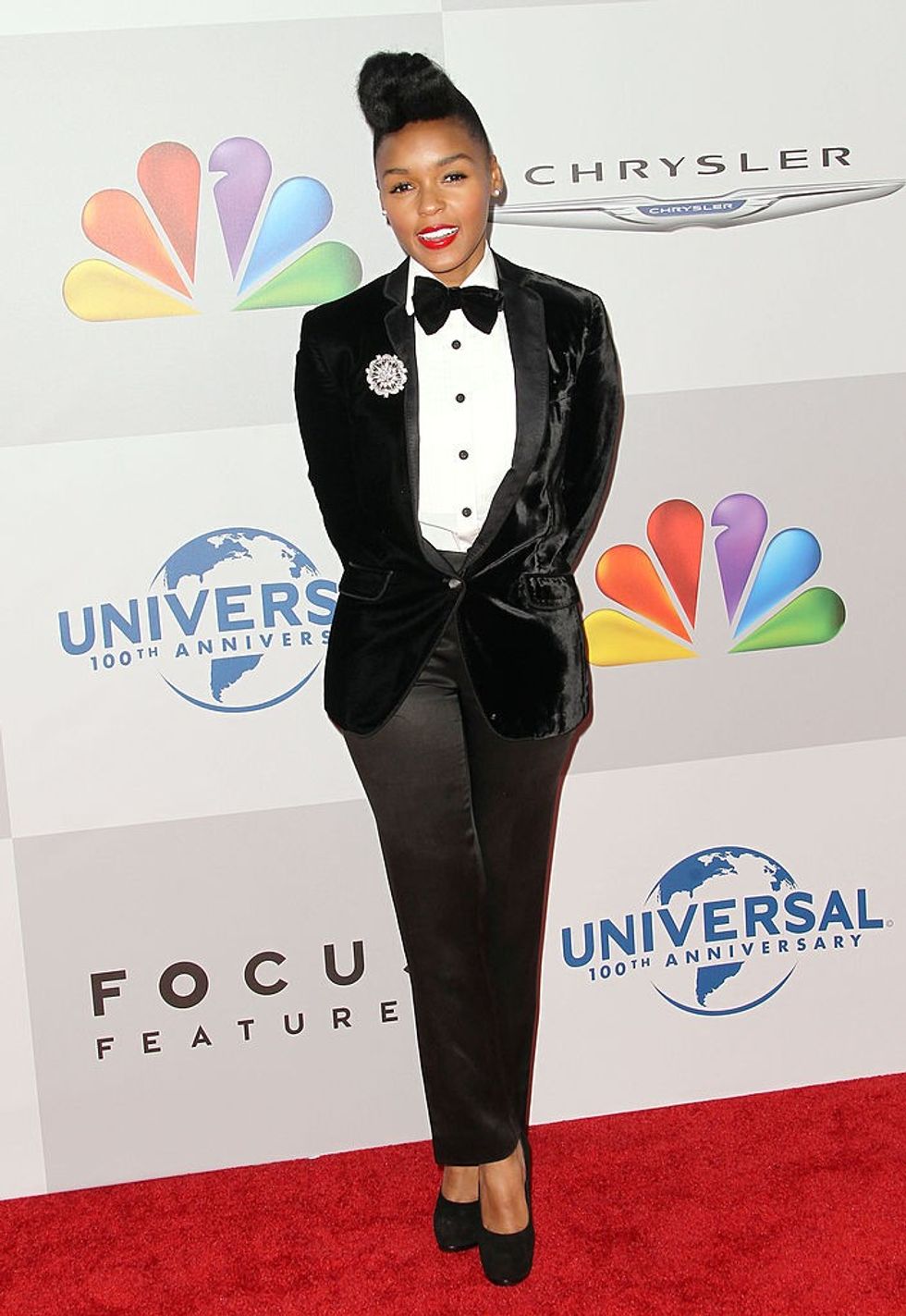 Janelle Monáe
Photo by Frederick M. Brown/Getty Images
In the May discussion, the "I Like That" vocalist revealed she suffers from anxiety, which she claimed would occur around "winter to spring."
Monáe added that when she has her bouts with anxiety, she tends to turn to food as a coping mechanism. Further in the interview, the "Lipstick Lover" singer disclosed that her emotional eating habits caused a weight fluctuation and that she could no longer fit into the suits she once wore earlier in her career.
Monáe explained that even though she tried to diet and exercise to return to her smaller figure, she ultimately stopped and made peace with herself with the help of therapy because she acknowledged that she isn't the same person she was nearly a decade ago and shouldn't try to be even if it was a highly "celebrated" version.
"I'm petite, but it can get thick... When I couldn't fit them suits anymore, and I was like, 'Oh my God, what is going on?' I would be dieting, running, or exercising, trying to fit into [it]. I'm just like, 'No. No, we're here. This is where we are.' We [are] not about to be utilizing life trying to be an old version of ourselves. No matter how celebrated that version of me was. I'm here. I'm here," she said.
Janelle On Freedom
As the topic shifted to freedom and what that meant to Monáe, the "Primetime" vocalist shared that in this new era of her life, she enjoys it because she can boldly express herself however she wants and honor who she is as a person right now.
Monáe also revealed that she had found ways to become a better artist and the best version of herself because of her freedom.
"What is the new version of freedom? What does that feel like? That's usually when I feel the most free is when artistically, I can honor exactly who I am right now," she stated. "I feel most free as a human when I can honor exactly who I am right now."
Monáe's fourth studio album, The Age of Pleasure , is set to be released on June 9.
Feature image by Rachpoot/Bauer-Griffin/GC Images