---
These days, you might recognize Coco Gilbert as Teyana Taylor's dance captain, but the dancer, creative director and producer first embarked on her career journey in entertainment when she moved to New York City in her teens. There, she attended the American Musical and Dramatic Academy where she honed in on her love for storytelling, performance and dance. Her relationship with Teyana Taylor began when she auditioned - and got booked - for her music video, "Maybe," only a year into her studies.
"From there, everything started to spit-ball with Teyana from tours, to movies to music videos to co-owning our production company, The Aunties," Gilbert shared with xoNecole. "But that allowed me to dig into the fitness world a little deeper when Teyana launched her dance fitness workout, Fade2Fit, which I had the pleasure of co-choreographing and producing with her."
When it comes to her daily fitness routine, Coco is typically accustomed to going to an actual gym and being in the presence of others, but due to social distancing, she's practicing self-discipline to the max in her own living quarters. She starts her day with yoga and bodyweight exercises with the help of Fade2Fit to start the day off strong. #ShamelessPlug, am I right?
Something else Coco knows is that every beginner has to start somewhere, so her key recommendation to easing your way into fitness during your downtime at home is to start by doing something, including eating correctly and setting small fitness goals for yourself. She also advised about the expectations of our bodies' adjustment to working out. "You should expect your body to some days feel stronger and other days feel tired and weak," Coco explained.
"The best way to push through the pain is to first breathe and focus on the moment. Pain is only temporary. Allow your mental strength to change before your physical strength. Establish discipline so your body will follow. Some days will be harder than others, but if you pay attention to the present, what will come later will also be better."
Check out her advice for absolute beginners and some recommended beginners' workouts at the end for a quick routine!
5 Workouts For Absolute Beginners Recommended by Coco Gilbert
1. Forearm or Full Planks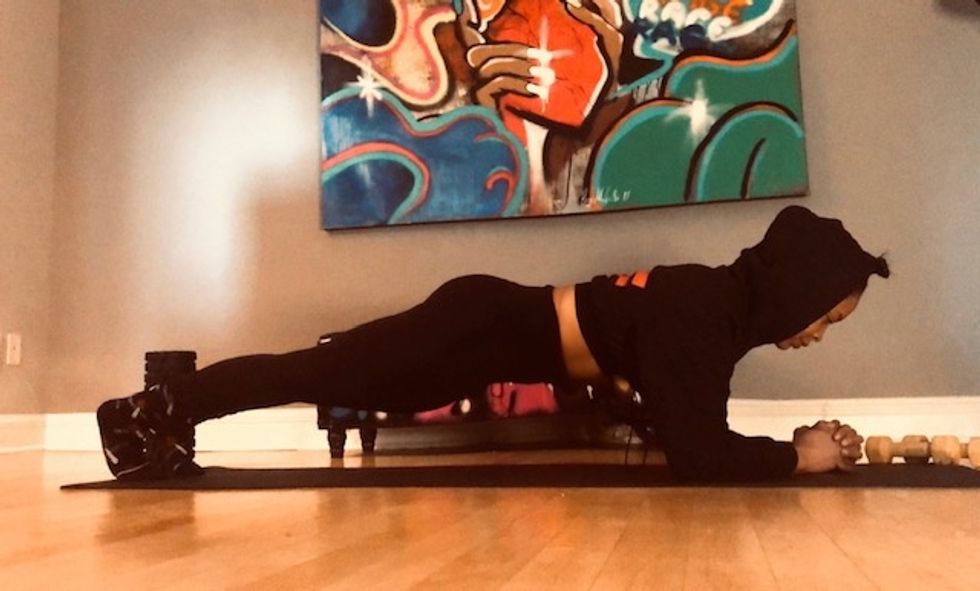 Courtesy of Coco Gilbert
Bring yourself into a kneeling position, bending your elbows to a 90-degree angle and pitch forward to place your hands and forearms on the floor shoulder-width apart. When you're ready, extend your legs with your toes tucked under as you press into the plank. Distribute the weight into your hands evenly by spreading your fingers apart, keeping your abs tight and keeping your body in a straight line. Do this exercise for up to one minute or more.
2. Push-ups
Similar to your plank, begin in a kneeling position on a mat with your hands below your shoulders and knees behind your hips, lengthening the back and angling correctly. Leave your knees on the floor (or tuck your toes under after extending your legs), tighten your core and bend your elbows to lower the chest onto the floor. Repeat for desired number of repetitions. This exercise can be modified on the knees to build strength.
3. Hip Raises
Lie on your back on the floor, a mat or a towel with your knees bent and your feet flat on the floor. Place your arms out to the sides at a 45-degree angle, squeeze your glutes, brace your core and raise your hips so that your body forms a straight line between the shoulders and the knees. Hold for 30 seconds, release into the body and repeat.
4. Downward Dog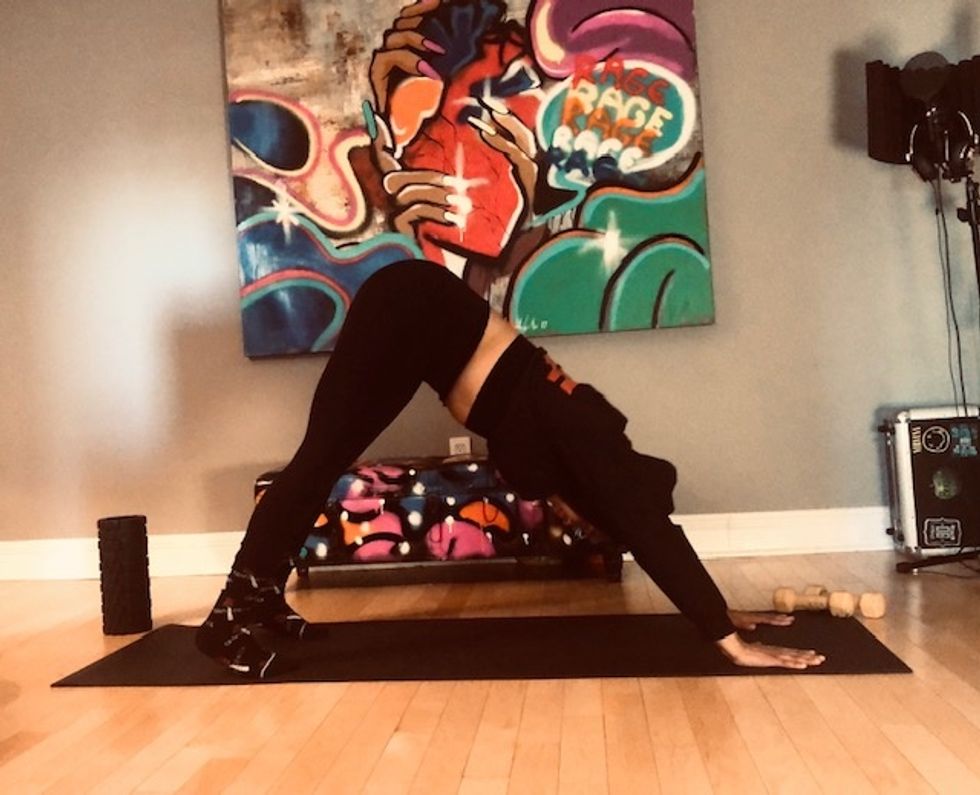 Courtesy of Coco Gilbert
For our yogis out there, or anyone looking to get into yoga, this may or may not be something you're familiar with already. On all fours, hands and knees. Spread the palms wide, stack the shoulders over wrists; knees are hip-distance apart, curl the toes under; then walk the palms just out in front of the shoulders. Be sure the palms are spread flat, no air under palms. Raise your body up and then back into the position by raising the knees off the mat while shifting the stomach toward the thighs. As the legs straighten, lift your hips up higher but be careful not to lock the legs to avoid injury. Lastly, hold and breathe. Start by doing this for 30-second intervals.
5. Wall Sit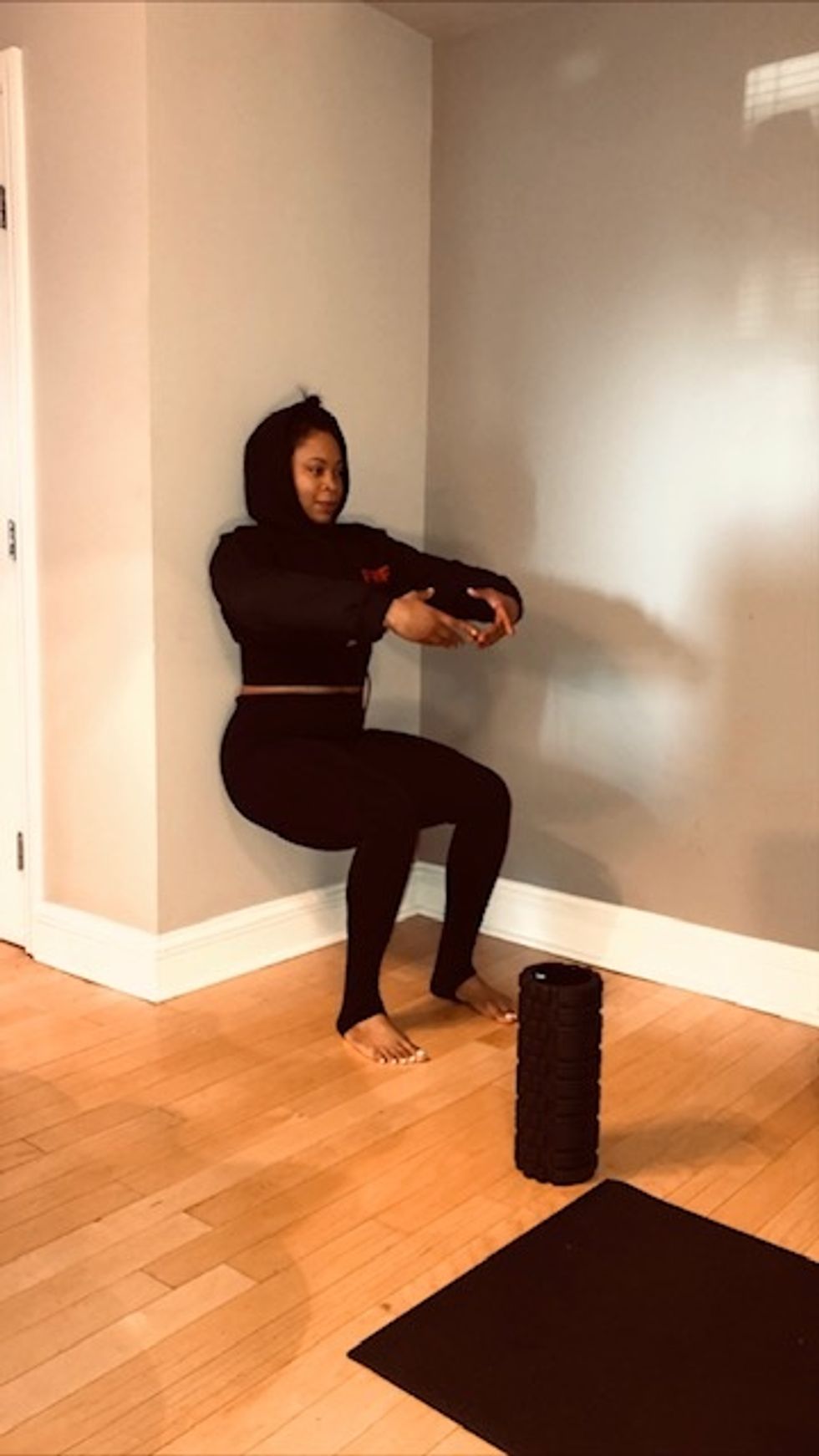 Courtesy of Coco Gilbert
This only requires your body and the wall - both of which are free of charge and found in your own home. There should be two right angles formed at the body - your hips and knees. Place your back against the wall with your feet shoulder-width apart and a small distance out from the wall; approximately two feet should do the trick. Feel it in your quadriceps yet? Make sure to engage your abdominal muscles and slowly slide your back down the wall until your thighs are parallel to the ground. If you want extra credit, try doing this position for one minute and work your way up as you build strength.
For more of Coco, follow her on Instagram.
Featured image courtesy of Coco Gilbert