Take a quick glimpse into black history and you will see the infinite groundbreaking achievements that various black figures have made that ultimately impacted our people and the world. One of the more popular areas that many African-Americans have left their footprint in is the world of sports. Who can forget Jackie Robinson, who faced overt racism every day as the first African American to play in Major League Baseball. And we have to acknowledge our black queen Serena Williams who continues to rack up titles in tennis despite modern-day racism and sexism.
---
Whether it's breaking barriers as a top-tier player in a predominately white sport or proving that athleticism knows no gender, we have always found our way to victory. Following in the footsteps of these legends is self-taught golfer/long-driver Troy Mullins. After years of being a Track and Field star, Troy decided to trade in her track shoes for a golf club instead. "I fell into golf and long driving. I used to be a track athlete. I used to do the heptathlon. Shot put and javelin have pretty much the same lower body movements as golf, and so I had this natural kinda swing," she told xoNecole.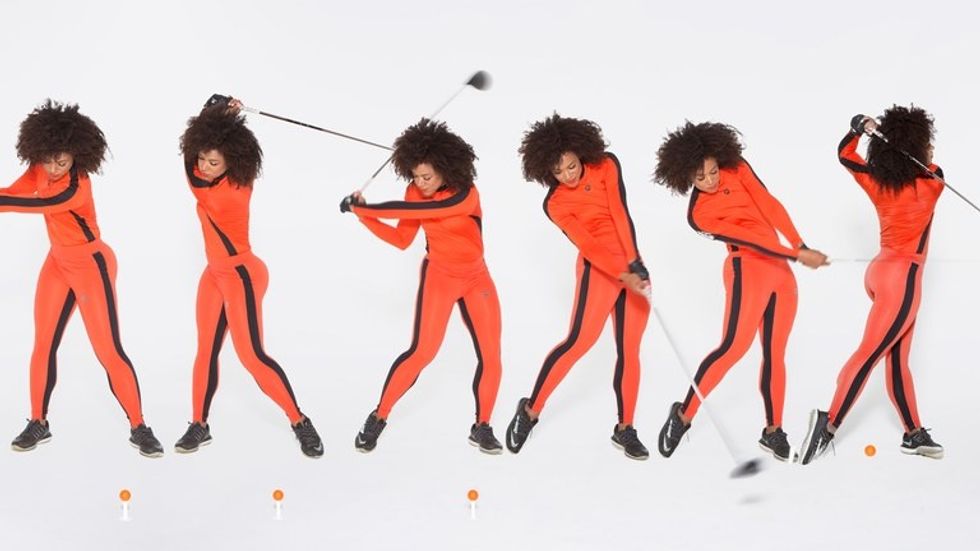 Golf Digest
As she began embarking on a new journey into golf, she started to notice how far she can hit the ball and with more practice, she started entertaining the idea of long-driving, but it was a risky move. Being a long-driver is all about hitting the golf ball as far as you can by driving it with the swing of your golf club. When she decided to meet with a long driving coach, he cautioned her that if she went this route, she would no longer be labeled as a "golfer." His warning kept Troy at bay for only so long, as she knew that this was a new avenue that she was willing and ready to explore.
So in 2012, Troy decided to enter a long driving contest as a golfer instead of a long driver, and she ended up taking second place. And in that moment, her new career in long driving began. Even with such an astounding win, five years went by before Troy decided to enter another contest and in 2017, she entered the World Long Drive Mile High Showdown and won, even breaking a world record, solidifying her position as a World Long-Drive champion. "My aspiration is to still be on tour. I love golf and I love all aspects of it so being able to hit the ball really far and do all these long drive contests is just a plus," Troy explained.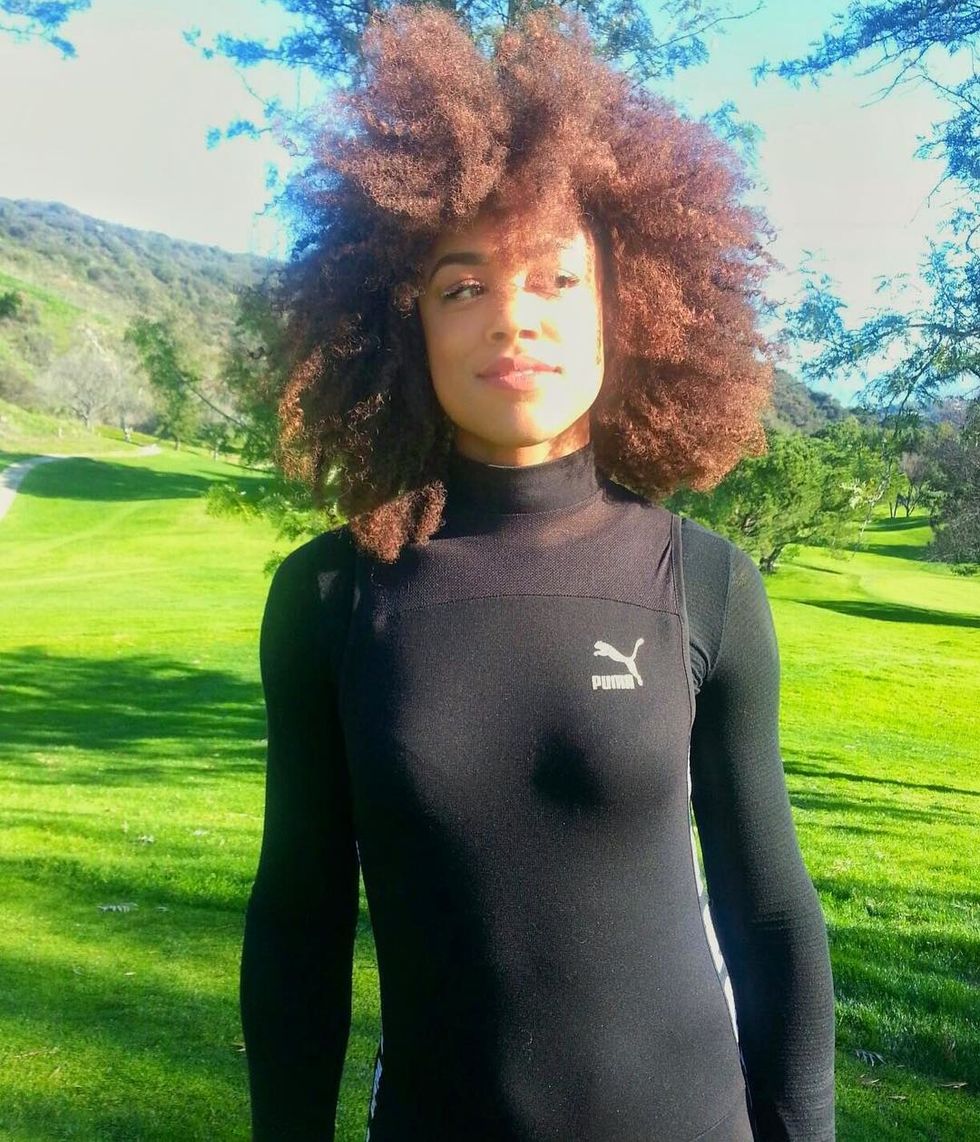 "I love golf and I love all aspects of it so being able to hit the ball really far and do all these long drive contests is just a plus."
Being successful in a sport that she picked up for only a few short years is unheard of, and as talented as she is, there are others who seek to dim her light. A black woman with big, natural curls on a golf course isn't necessarily something that you see every day, and just like the aforementioned athletes before her, her presence wasn't always welcomed.
"It's still a very elitist sport and there's a lot of country club girls that end up playing golf. There's a lot of situations but golf is---when I step onto a golf course--I'm usually the only woman of color and I've definitely had looks and comments, but nothing outright racist. I haven't been verbally assaulted or anything but I've definitely been picked on and I think it's just with any sport that's only beginning to be more diverse. I think that's expected and I don't really let it hinder [me]. I expect that people still have their views and that's ok, that's their prerogative. It doesn't stop me from what I'm set out to do."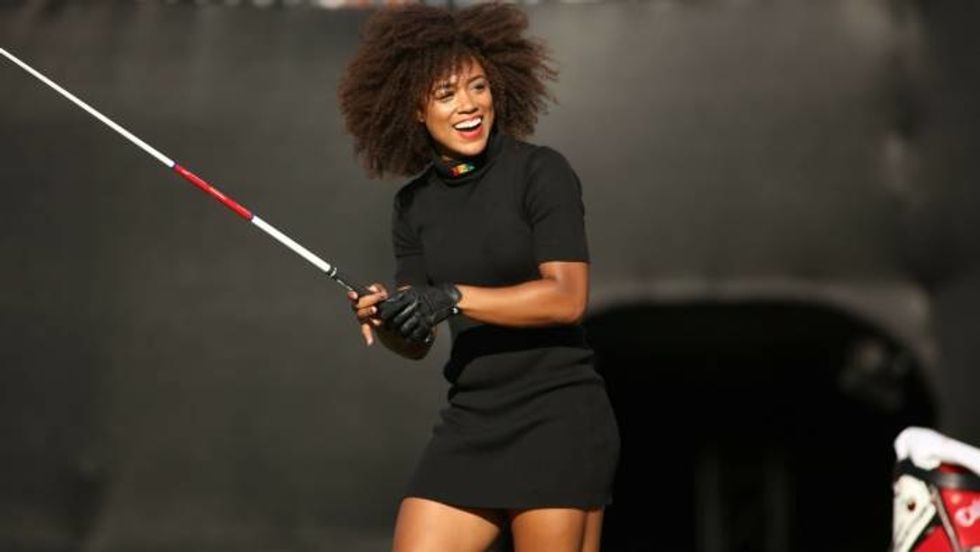 World Long Drive
But when things do get rough, she turns to her support system or, as she lovingly calls them, "her tribe." These people range from her mom to her friends, and even the parents of students that she tutors.

As a young black woman breaking barriers on the golf course, she understands that other people are looking at her, especially children and so she always makes sure that she is carrying herself in a positive light, even when social media says the opposite. "I know in this world of social media, you can kinda get sucked into it and as a woman athlete, people try to sexualize [us] and because I have a lot of young followers, I think it's important to show that you can be who you are and you don't have to give into the male gaze," she expressed.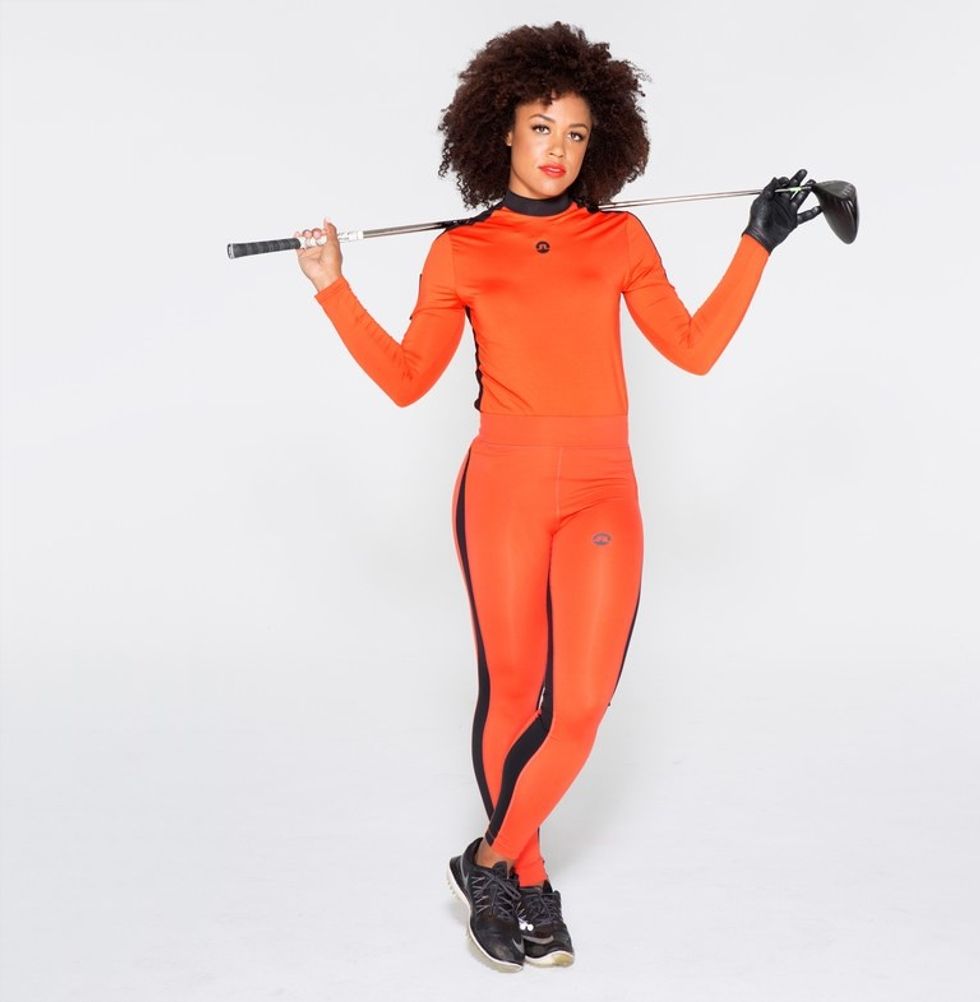 Golf Digest
"It's important to show that you can be who you are and you don't have to give into the male gaze."
Having morals and a strong identity of self might have a little to do with her personal heroes. One, in particular, is her father Billy Mullins, who was a professional track and field athlete and was invited to participate in the 1984 Summer Olympics in Moscow. She also admires Florence Griffith Joyner aka Flo Jo, Jackie Joyner-Kersee, Serena Williams, and Michael Jordan, just to name a few. When she's not knocking golf balls out of sight, she enjoys spending time outdoors with her Pomeranian named Etta James and catching up on tea over tea.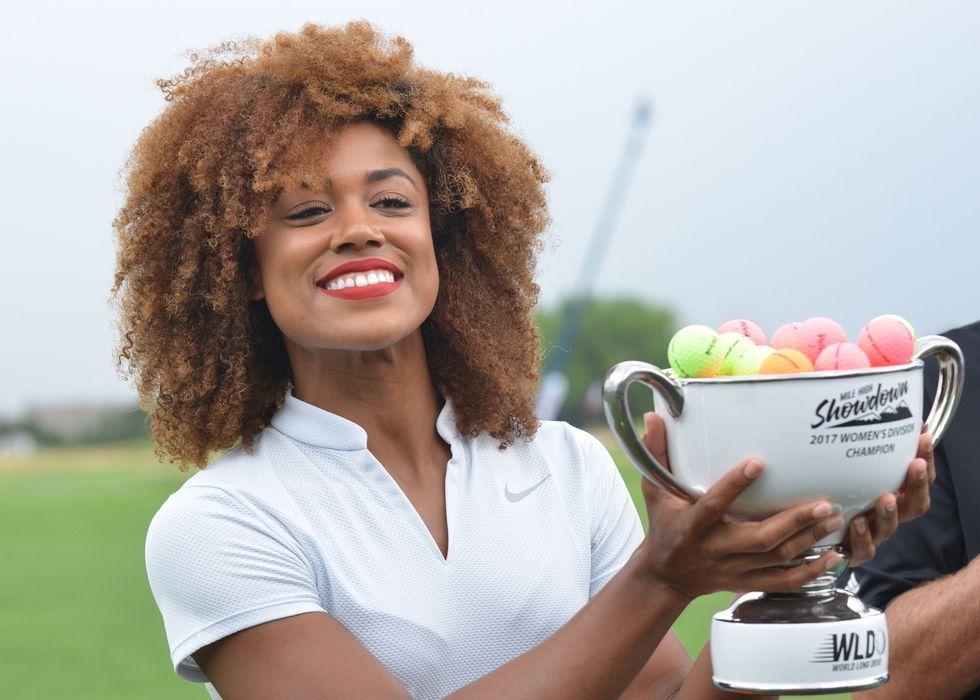 Troy Mullins
But whether she's golfing or sipping tea with friends, one thing's for sure, Troy is leaving behind a legacy by laying down the foundation for other young black girls who are wanting to pursue golfing and don't instantly see themselves. Because of her, now they can, and now they do.
To keep up with Troy Mullins and her history-making journey, follow her on Twitter @Troyger and Instagram @trojangoddess.
Related Stories:
This Atlanta Makeup Artist Is Inspiring Body Positivity With Dance Your Pounds Off - Read More

5 Black Women Artists You Need To Know - Read More

Living With Crohn's Disease: One Style Blogger's Story - Read More

This Baltimore Teacher Uses Hip Hop Lyrics To Create Woke Students - Read More
Featured photo by World Long Drive