---
Sylvia Obell isn't a new name to many in the industry.

The North Carolina A&T and Columbia Journalism School graduate has held multiple stints at some of today's leading media outlets, including her current role as entertainment reporter for BuzzFeed News. While tasked with the constant work of reading, researching, and reporting today's biggest breaking news to the mainstream, Obell also has a responsibility to serve a demographic that is undeniably forgotten about consistently in media: Black people.
That's why Hella Opinions, an unapologetically Black show, initially started to recap the popular HBO show, Insecure, means so much to the journalist. "It provides a safe space for cultural references that don't have to be explained and codes that don't have to be switched," Sylvia told xoNecole. "We can talk freely like we would at a kickback among friends and occasionally break into songs from Sister Act 2 without judgment. That's a real thing that happened last week."
Read on to learn more about Hella Opinions and the dynamic team of Black creatives behind it:

How did you get into journalism and storytelling? Did you always know you wanted to tell other people's stories?
Writing was always my strong point in school, I enjoyed it but knew I didn't have the patience to be an author full-time. My love for pop culture magazines and Black magazines that told our stories led me to journalism. Being able to help someone find their story, and amplify it in a way that could inspire/inform/empower others was definitely the allure to me early on when I was just a local news reporter, and even then I would highlight a real-life Black woman doing something impactful in her community; that was at my first job at Essence in the "10 Things We're Talking About This Month" column.
How did 'Hella Opinions' come to be? What was the original thought process behind the show?
BuzzFeed News had gotten into original programming the year before with AM to DM and was accepting pitches. Our Entertainment News editor, Kovie Biakolo, pitched the idea of an Insecure aftershow for Twitter Live with me tied to it as the host. She felt like both the show and I understood the pulse of Black culture and the conversations Black millennials are having as a result of shows like it.
On my end, I had been guest hosting AM to DM over the past year and it had become clear to me and higher-ups like Shani Hilton and Cindy that I was good on-camera. I had been thinking of the right opportunity to do something outside of the morning show so the pitch from Kovie was perfect, and I jumped on immediately to help her develop the show. The "Men Are Trash" segment was one of my first ideas. The name of the show was actually one of the very first I came up with, but we pitched like 100 others before we ultimately came back around to it.
Now more than ever, we're seeing more Black creators create our own lanes and champion ourselves when mainstream media doesn't do it. How does 'Hella Opinions' add into that celebration and into the larger conversations we're having right now?
My favorite thing about Hella Opinions is that it provides a lane for Black media personalities and experts to come on a platform like BuzzFeed. It opens a lane for them to reach a people they may not have been reaching or flex muscles they hadn't been able to at their current job. There's so many talented black creatives in the city that deserve a chance to be seen on a mainstream platform, I'm happy that Hella is playing a small role in doing that. The result of having an intentionally curated Black-only panel is that the conversations are automatically genuine because we are the ones pushing, leading them on social media.
"The result of having an intentionally curated black-only panel is that the conversations are automatically genuine because we are the ones pushing/leading them on social media."
A lot of people don't know the time and resources it takes to produce and run a show. How do you balance a show and your 9-5, and what type of research and work does it require of you?
Yeah it's definitely a lot, but thankfully I have an amazing team made up entirely of Black women – something I can thank EP's Kovie and Tracey Eyers for because they made the hires and manage the staffing. The show's senior producer Donya Blaze really took the baton and ran with it when she came on for S2. We were working on re-developing the show from an Insecure aftershow to a nightly show with a Black culture lens and she gave it a script format that manages to do just that.
Together, with our new segment producer Diane Oswu (who truly gets my humor), Donya created segments like "Unpack It" where we have a deep conversation about issues pressing the Black community on and offline; "Black AF" trivia; "Preaching or Reaching" where we decide if selected tweets are doing the most or just enough; "First of All" which is basically our version of hot topics.
There is nothing else on Twitter right now like the show. What do you think has added to the show's success and the dialogue that it is having on Black media?
I think it's that there are so many great Black culture podcasts, but not many video shows that have the production quality that a company like BuzzFeed is able to provide. I love seeing our energy play out, the way we laugh, dap each other up, roll our eyes, make faces, sip tea (or in the case liquor) – those are things you miss on a podcast. Black people are also just beautiful AF and I love seeing us on camera every chance I get so I'm just happy to be able to provide one of those chances. There's also the way we incorporate Twitter, we also use tweets to drive the show's conversation because we want it to feel like an extension of the conversations we're all having on the platform.
What is missing in today's media? What is the show adding to our communities?
I'm not sure how many FUBU productions exist with this kind of budget but there's definitely not enough. This show is run by Black women behind the camera and on camera. All the major positions are filled by us. I've never had this much freedom over the kind of content I'm creating, it's something I want as many Black women to feel as possible. Give us all shows! Let us write and produce everything. Sometimes my guests catch themselves mid-conversation like, "Oh can I say that?" or "oh my bad I just said nigga" and I'm constantly reassuring everyone that they can be their unapologetic Black selves.
And these are folks who are not new to this media game. I can't wait 'til experiences like this are more common than not with us. The short of it is, what's missing from today's media is more Black women being given the reins to have fun on the job. I get to have fun with old and new friends week-to-week; that energy translates to those watching. At least that's my hope.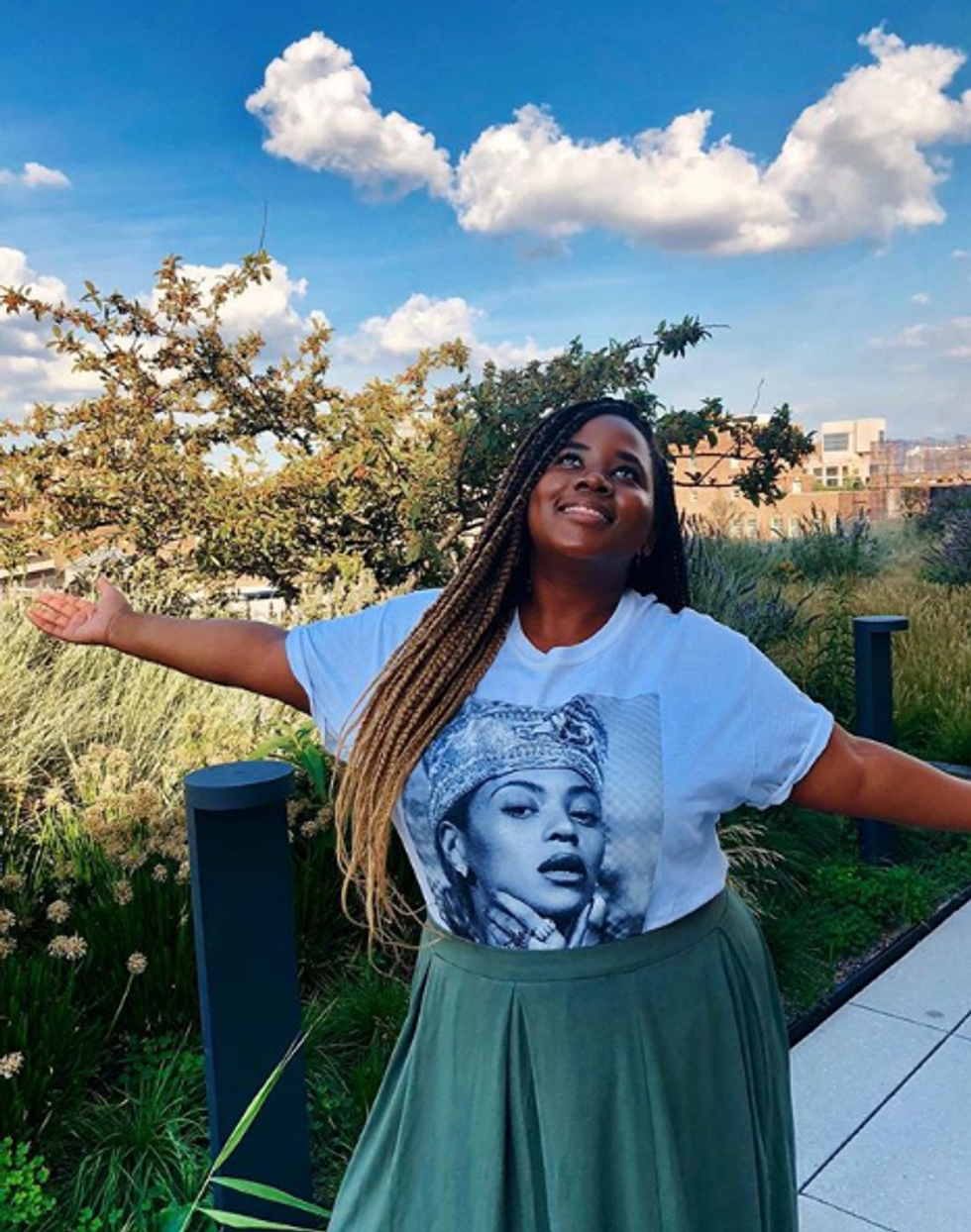 Instagram/ @sylviaobell

"What's missing from today's media is more Black women being given the reins to have fun on the job. I get to have fun with old and new friends week-to-week; that energy translates to those watching."
What's next for you and for Hella Opinions?
We've been really fortunate that BuzzFeed News has decided to continue to invest in this season enough for it to be about twice as long as the first. It would be great if brands could notice what we're doing and see this as a show they'd like to sponsor in some way; to pour back into us as we attempt to pour into our community. I told myself from day one, "This show will do for my career whatever it's supposed to do for my career."
If I put too much expectation or stress on it, I think it would show and also eat at me all the time. Digital media has taught me to only plan about 3-4 months ahead at a time because things change quickly and often. What I do know is that whether this show lasts a long time or not, hosting is something I'm good at and want to continue to do for as long as I can. And that's a sentence I would've been shocked to hear myself say this time last year.
For more Sylvia, follow her on Instagram @sylviaobell.
Originally published on January 9, 2019

Featured image courtesy of Sylvia Obell