Awards season is upon us, ladies. As we usher in 2019, awards season gives us the chance to look back and celebrate the previous year's outstanding performances and achievements in Hollywood.
First up: the 76th annual Golden Globe Awards airing this Sunday, January 6.
---
From the Whoopi's and the Denzel's to the Lupita's and Donald's, every year we're doing like Issa does: rooting for everybody Black. This year is no exception.
Speaking of Lupita Nyong'o, she alongside Chadwick Boseman and Michael B. Jordan were announced as presenters this year. I, for one, can't wait to see her notorious red carpet slayage. The three will be pulling double-duty on Sunday night as Black Panther has been nominated for Best Motion Picture, Drama. Arguably the biggest film of the year, Black Panther shattered the box office worldwide. And if this film wasn't a first for so many other reasons, it is also the first superhero movie to ever be nominated in this category: big ups to Ryan Coogler for this historic moment, which only adds to our Wakanda pride.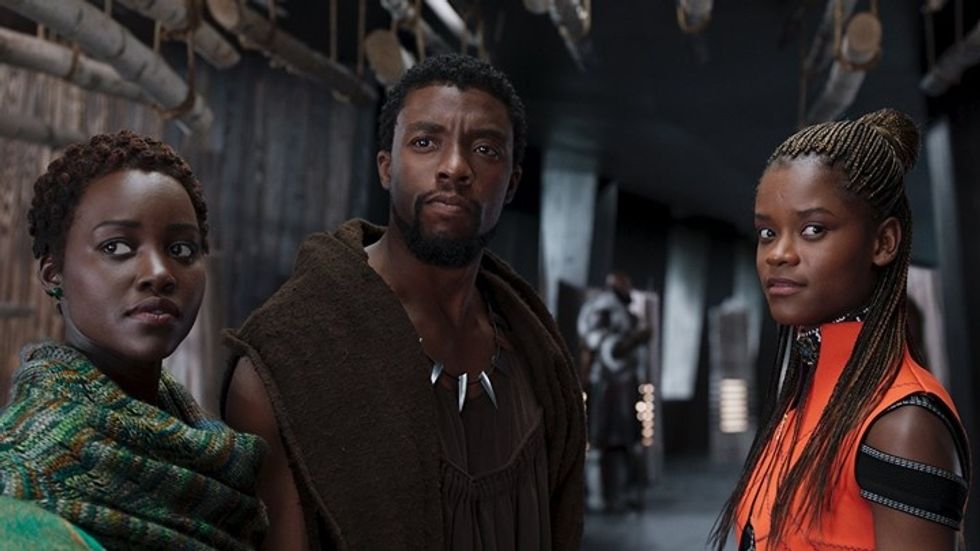 A still from 'Black Panther'
The Hollywood Foreign Press announced these other extended family members as presenters during Sunday's live telecast: Taraji P. Henson (Golden Globe Winner, Empire, 2016), Halle Berry (Winner, Introducing Dorothy Dandridge, 2000), Sterling K. Brown (Winner, This Is Us, 2018), Idris Elba (Winner, Luther, 2012), Octavia Spencer (Winner, The Help, 2012), and Lena Waithe.

I often view The Golden Globes as the set up for what's to come during awards season, and if the nominations list is any indication, If Beale Street Could Talk should be on everyone's radar. Nominated for Best Motion Picture, Drama, Barry Jenkins also received a nod for Best Screenplay while Regina King is nominated Best Performance by an Actress in a Supporting Role in Any Motion Picture for the film. Regina is also nominated for Best Actress in a Limited-Series or TV Movie for Seven Seconds. Wins here are sure to be icing on the proverbial cake for Regina who won the Emmy last year for her role in Seven Seconds.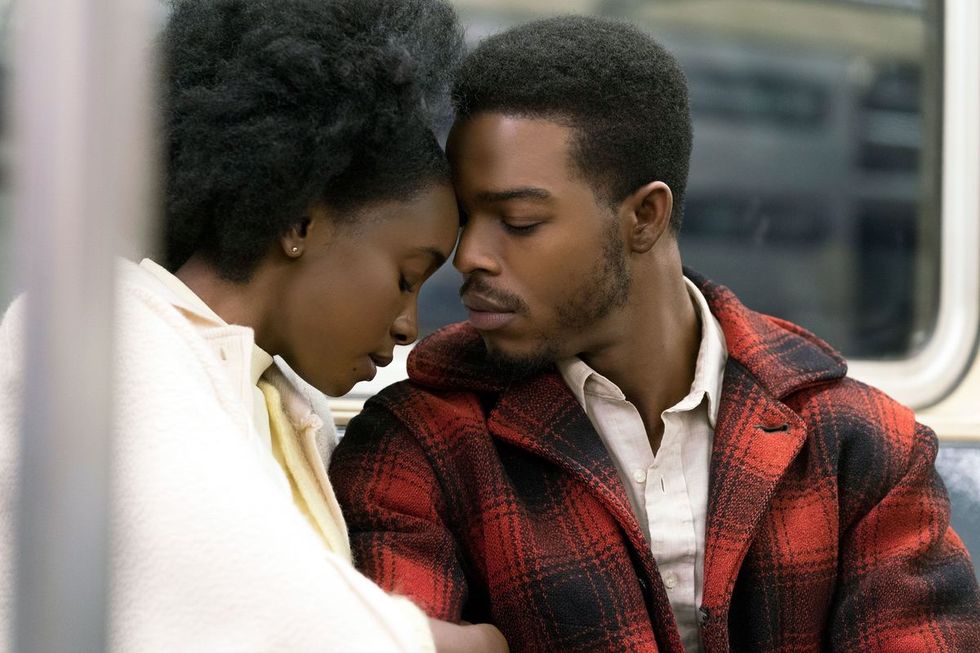 A still from 'If Beale Street Could Talk'
Despite mixed reactions and reviews, Green Book has been nominated for Best Motion Picture, Musical or Comedy, and Mahershala Ali has been nominated for Best Performance by an Actor in a Supporting Role in any Motion Picture for his role in the film. This is the second nomination for Mahershala, as he is also the first Muslim actor to ever win an Academy Award. May the odds be in his favor.

One of the most recognizable directors of our time, Mr. Spike Lee, is also nominated for Best Director for the film BlacKkKlansman. While he's won several Emmys and various other awards, a major award for one of his films still eludes him. I'm willing to bet that his time has finally come with BlacKkKlansman, which is also nominated for Best Motion Picture, Drama.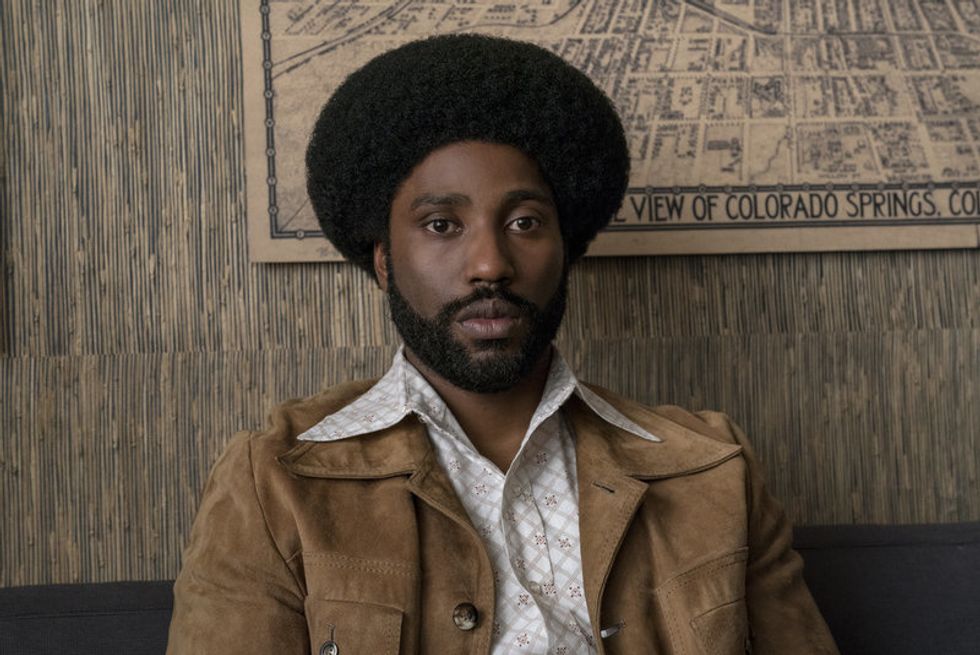 A still from 'BlacKkKlansman'
The film also has another nomination to celebrate and that is the first nod for actor John David Washington. Nominated for Best Performance by an Actor in a Motion Picture, Drama (BlacKkKlansman), John David is obviously following in his father Denzel's footsteps. The apple sure doesn't fall far from the tree in the talent (and looks) department. But if you let him tell it, he gets it from his momma. Swoon.

The award nominations for television is stacked with melanin, too. Pose received a nomination for Best Television Series, and if you let Twitter tell it, it deserves to win. Multi-hyphenate Donald Glover has been nominated again for Best Actor in a TV Series, Comedy for his role in Atlanta for which he took home The Globe back in 2017. Donald has previously won two Emmy awards, one for acting and one for directing the hit show.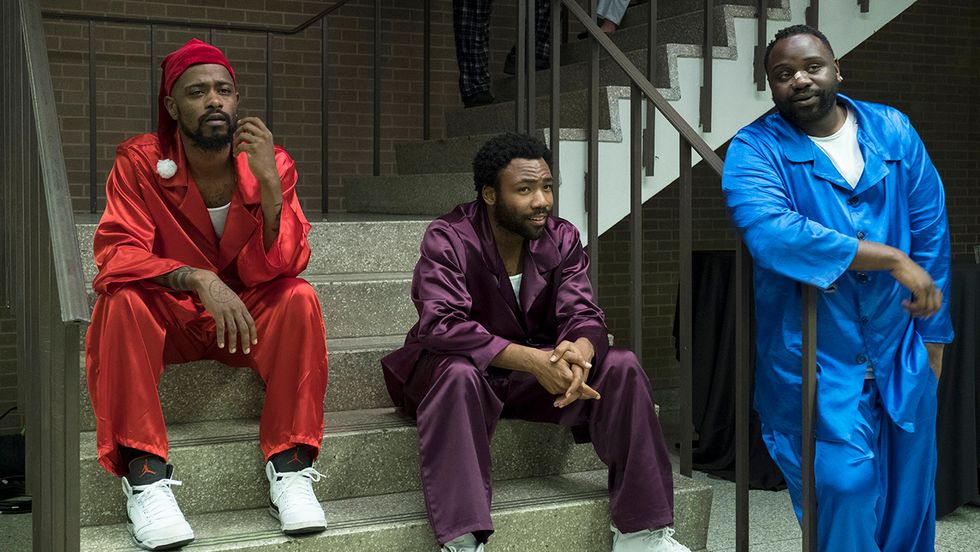 A still from 'Atlanta: Robbin Season'
For you Homecoming fans, keep an eye out for Stephan James who is nominated Best Performance by an Actor in a Television Series, Drama. This is his first Golden Globe nomination. Our girl Thandie Newton has been nominated for Best Supporting Actress in a Series, Limited-Series, or TV Movie for her role in Westworld for which she was nominated for in 2017 and actually won the Emmy for in 2018.

Black Panther also received two additional nominations in the music department. "All The Stars" featuring Kendrick Lamar and SZA has been nominated for Best Original Song. The win would be the first win for either artist in the movie realm. The blockbuster is also nominated for Best Original Score, and if they take home The Globe, it will be the first for a black artist since Isaac Hayes won in 1972 for the score for Shaft.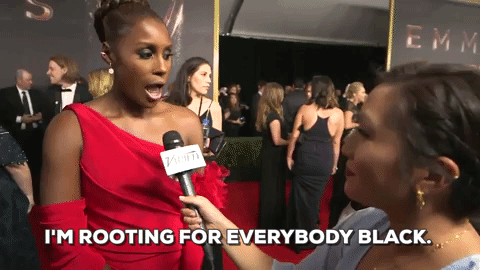 From the glitz and glamour, to the wins and the potential meme-inducing moments, I live for awards season. It will be interesting to see who wins, who gets snubbed, and who gives the most epic acceptance speech a lá Oprah.

The 76th annual Golden Globes airs on NBC at 8 p.m. ET/5 p.m. PT, live from the Beverly Hilton in Los Angeles, on Sunday, January 6.
Featured image by 'If Beale Street Could Talk'/Still.