For 32-year-old Candis Welch – excuses are not an option.
---
At just 18 months' old, Candis was diagnosed with Spinal Muscular Atrophy – a rare neuromuscular disease that deteriorates muscular strength over time. The condition eventually left her permanently wheelchair bound by the age of 11.
Despite the early predictions on her life, Candis became a first generation college graduate with a Master's Degree in Public Administration, founded the blog Can Can on Wheelz where she chronicles daily life from her perspective, works full-time for the Los Angeles Homeless Service Authority, and has been Issa Rae's executive assistant for five years – all from her wheelchair.
How does she do it all?
I recently chatted with Candis about her career journey and how she's been able to persevere and prove people's stereotypes about differently-abled persons wrong. "For a long time I had a fear of not seeing myself go past the age of 25. A lot of my friends I met who had a similar disability had already passed away. I feared I wouldn't be able to see a certain part of my life or do certain things. I didn't see them happening for other people that looked like me. My big fear was 'Am I going to experience life?'"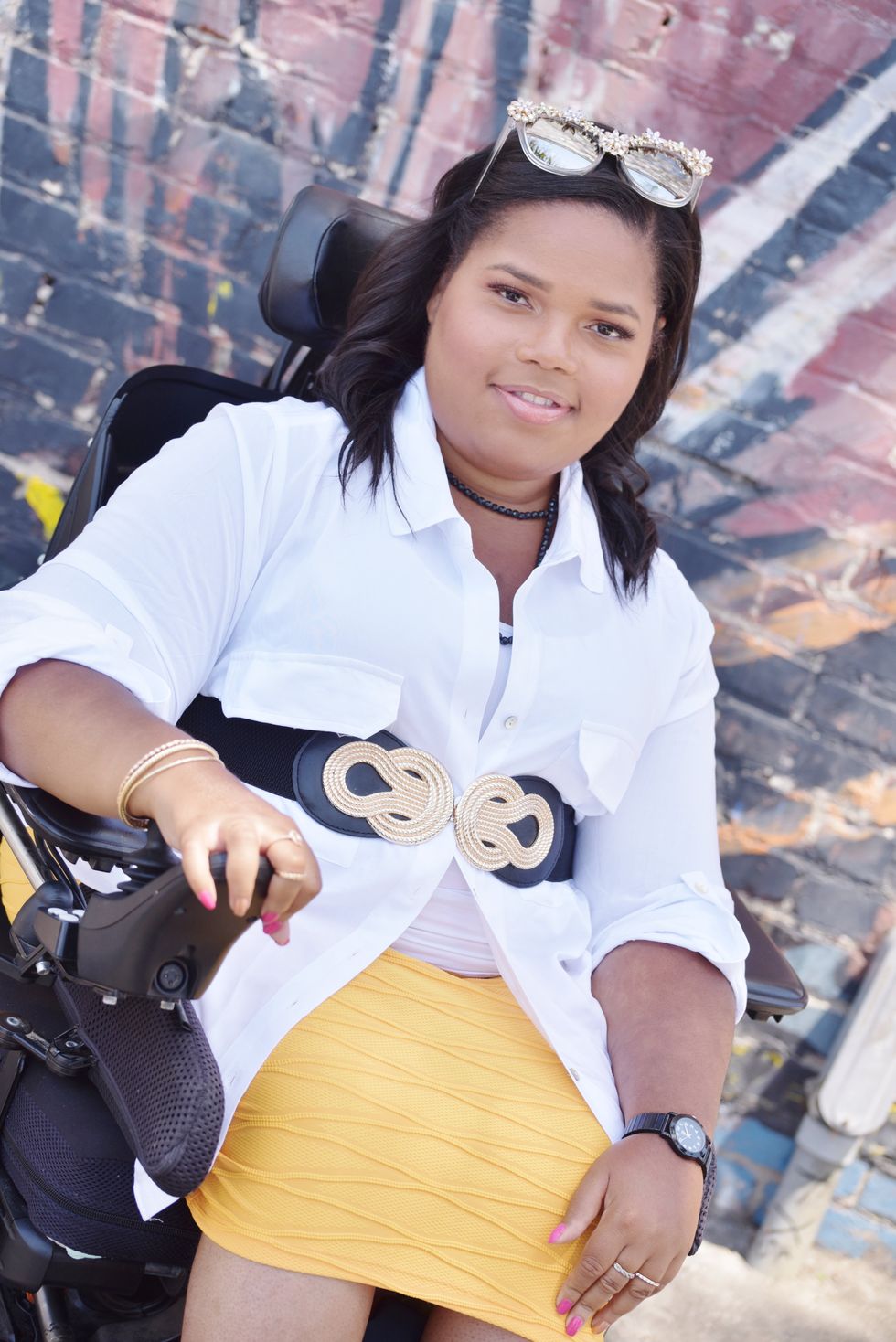 Candis Welch
De Dee Verdin
Navigating the workforce was also a challenge for Candis. "I had to work hard to prove myself. In general, as a Black woman… as a Black disabled woman... as a Black disabled woman who is not a size two, I had a lot of proving to do especially in the entertainment industry. I didn't look the part. I had to let my work ethic and hustle speak for itself. Anyone who I've ever worked for, they all had a general consensus, I work my butt off. I stay late just like anyone else. I get to the job by any means necessary. I am going to be one of your most valued employees. I want to show you that I am capable."

One of the major milestones along this path has been her work with the Hollywood creative Issa Rae – a position she received after a friend who knew she was unemployed at the time recommended that she interview for the open assistant job. Candis credits Issa Rae as being the first person in the entertainment industry who did not judge her or deem her incapable of doing the job. Instead, Issa valued her education, ability to articulate her thoughts, and ability to perform well on the job.
Though she had a lot of learning to do in the beginning and "made mistakes" along the way, Candis shared three of the biggest lessons she's learned over the past few years being a pivotal member of her operations team. These lessons transcend beyond the workplace and have been key pillars in Candis' approach to life and success.
1. Always be nice.
"A lot of people in the industry get a high horse, thinking you have to be rude to people and demanding. You don't have to do none of that." Candis credits Issa's camp as always remaining nice and professional, "You get more with honey than with oil or vinegar."
When working in the industry and building your dreams, you'll meet all sorts of personalities, but remaining nice will go a long way.
2. If you don't like what you're seeing, create it. 
Issa Rae is known for her original projects, such as Awkward Black Girl, that stemmed from a lack of storytelling that represented her truth.
Likewise, Candis started her blog to tell her story and help others in her position "see the light." There was no representation when she was growing up, so she wanted to be that representation. Her blog chronicles her day-to-day life experiences, sheds light on other disabled persons thriving, details her self-care routines, and more.
The very act of creating will also bring you closer to your purpose, strengthen you, and inspire your community along the way. "Finding my purpose and my calling to tell my story has calmed my soul. I was so frantic [questioning] what am I on this earth for. When I found my purpose, I said, 'I get it God...this is why you had me go through all those crazy times because [I] had to help someone else live through it.'"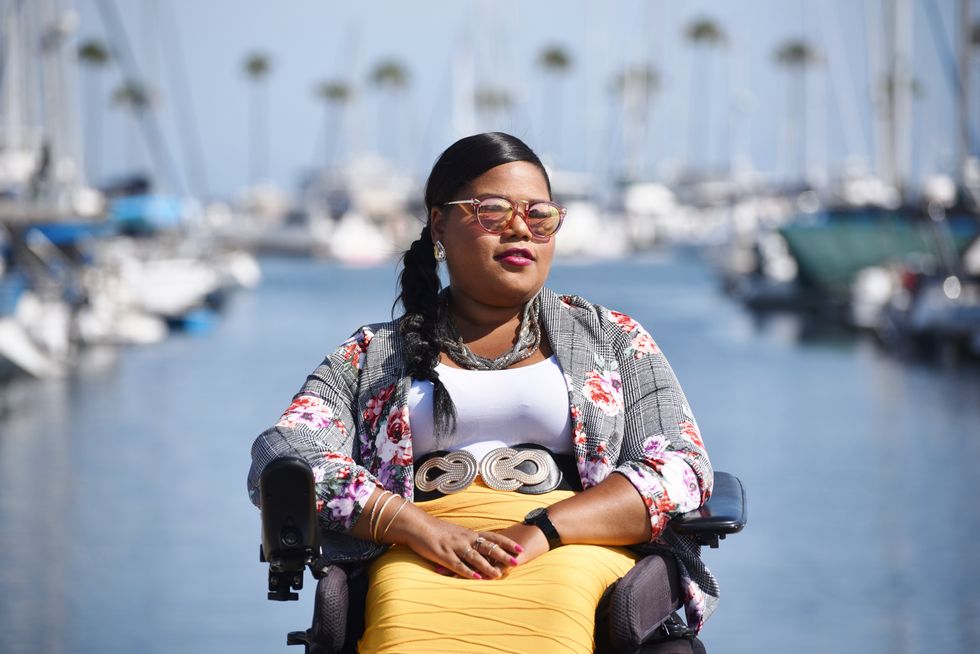 Candis Welch
De Dee Verdin
3. If you want to see your work flourish, you have to put in the work.
"You can't try to be at all the parties, it's not going to happen. I saw [Issa passing on social events] for years, but that's how you get Insecure and all these other projects. She's locked in. Nothing else happens unless you're dedicated. She taught me a tremendous work ethic."
As you're building your dream, it will be necessary to ask yourself: Am I making excuses or am I making it happen?
Candis' dedication to her goals are in full throttle. Candis is currently focusing on building the CanCanonWheelz platform and growing it to encompass speaking, panel discussions, brand partnerships, and advocacy opportunities for people with disabilities across all platforms, such as employment and travel. She also wants to create a social network for the disabled and address issues such as dating and living independently. Ultimately, Candis' end goal is to start a nonprofit that caters to disabled adults.
"You are going to fall. You are going to break. This process as living and thriving as a disabled person is difficult."
However, according to Candis – when you're a "hustler by default", there's no way to go but up.
To learn more about Candis' journey, listen to her story on episode 179 of the Dreams In Drive podcast.
Rana Campbell is a Princeton University graduate, storyteller, content marketing strategist, and the founder and host of
Dreams In Drive
- a weekly podcast that teaches you how to take your dreams from PARK to DRIVE. She loves teaching others how to use their life stories to inspire action within oneself and others. Connect with her on
Apple Podcasts
,
Spotify
,
Soundcloud
, Instagram
@rainshineluv
or
@dreamsindrive
.
Featured Image via De Dee Verdin.