Can we just take a second to bask in Imaan Hammam's beauty?
---
The Dutch-Moroccan model can do no wrong in our eyes, but her effortless style and beauty get us riled up every time. You can catch the model traveling the world and doing shows, but if you're like me, the first thing you would ask her is, "How does your skin still look so good?"
Well, she recently chatted with Vogue where she shared her secrets on how to look like you've had a full night's rest, even when you haven't. Here's 4 ways to master your beauty routine, even when you're tired:

*Taking notes, immediately.*
Oils Are Your Friend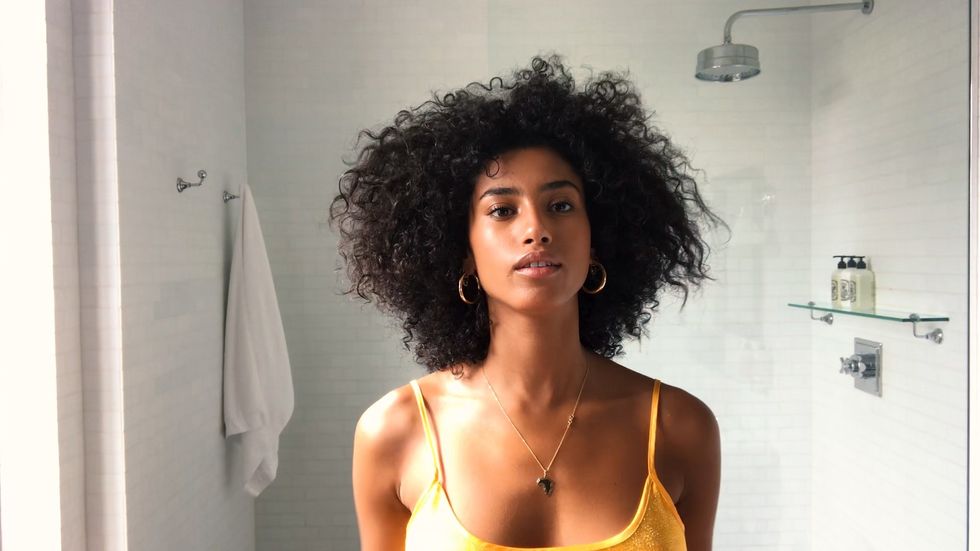 Upon watching the tutorial, we immediately see Imaan dive into oils, and she has no shortage of them — argan oil, olive oil, rose oil, and countless others are her oils of choice. Even if you have oily or combination skin, massaging your face with oils keeps you moisturized and your skin hydrated.
She goes in with Chantecaille's Rose de Mai Face Oil and a serum, rubbing the product in with a stainless steel facial massage wand, which by the way is great for helping with inflammation and really pushing that product in!
Of course, she doesn't deny her eyes (where many of us show that we've had a long night), and she applied Kat Burki Rose Hip intense Recovery Eye Serum and Kat Burki Vitamin C Intensive Face Cream to give her skin a brightening effect. If you check out her eye serum of choice, it's a bit expensive but she says it takes all the bags away, and it should girl!
You can either take the plunge and really see how you like this approach, or look for another product that has its active ingredients: DMAE and retinol.
Good Brows Go A Long Way
Y'all know how we say that as long as your brows look good, you can convince people that you have put a lot more time into your beauty regime then you really have? Well, there's some truth to that.
In this video, Imaan brushes her brows up to make look "a little rough," giving you a natural vibe. Just take the spooly and push up, and if you need a bit more umph, feel free to pencil in where you are sparse.
Concealer Is Bae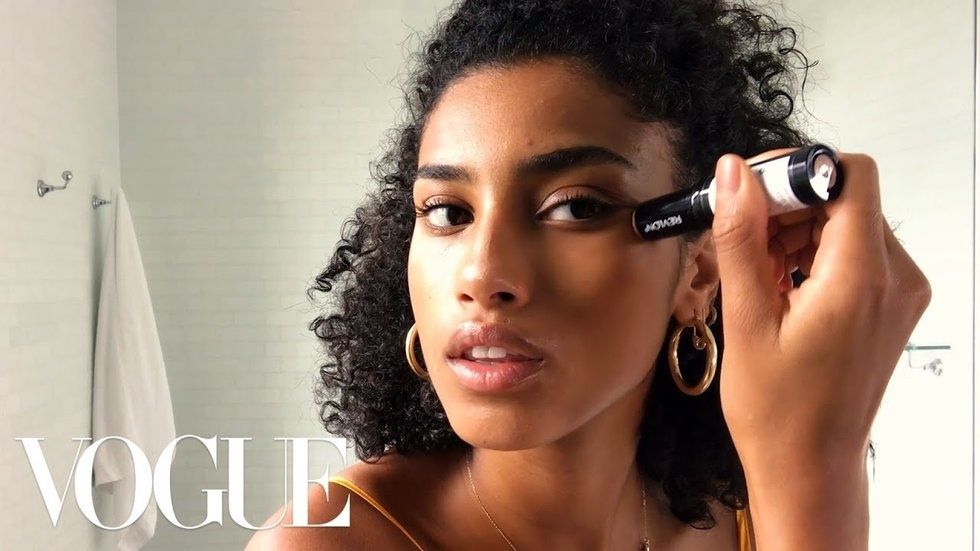 Vogue
The model dabbles a bit of concealer under her eyes and around her jawline, places where many of us get hyperpigmentation. Instead of dumping a ton of foundation onto your face, use your favorite concealer and wipe it out generously, giving your skin an even and flawless finish with half the product (and without the cakey feels).
Brighten Up With A Bronzer
Just because summer is gone, doesn't mean you can't keep bronzing!
Take your favorite bronzer and do a light sweep on your cheeks. For an added bonus, take a small eyeshadow brush and put some on the bridge of your nose and on your eyelids. The golds in the palette will immediately make you look more awake and sunkissed, and who are we to deny that?!
She also goes in with highlighter, adding it on her chin, right below her eyes, and on her nose. Don't feel compelled to drop mega bank on your highlight and bronzer, either — the drugstore has a ton of great options for you to find your shade and the color you want to pop out in!
To watch Imaan's beauty secrets in full, watch the video below: