---
As Told To is a recurring segment on xoNecole where real women are given a platform to tell their stories in first-person narrative as told to a writer. If you have a story you'd like to share but aren't sure about how to put it into words, contact us at submissions@xonecole.com with the subject "As Told To" for your story to be featured.
This is Ashley's story, as told to Charmin Michelle.
I have to make art to survive.
No, I'm serious.
I attended Morgan State University in Baltimore and got my Bachelor's Degree in Painting. Once I graduated, I began looking for ways to simultaneously make art and money. After lots of self-reflection, I decided that I wanted to be the black Kat Von D, so I googled which cities had the largest tattoo industries. Ultimately, I decided to move to California.
Once my job transferred me to another location, I found a same-sex couple on Craigslist to live with, shipped my car, and made the move to San Diego. And because I had never been there before—and I knew no one there—I went door-to-door offering my services. Well, one lucky day, I stumbled upon a tattoo shop that loved my portfolio enough to allow me to be an apprentice for free.
And from here, my life changed.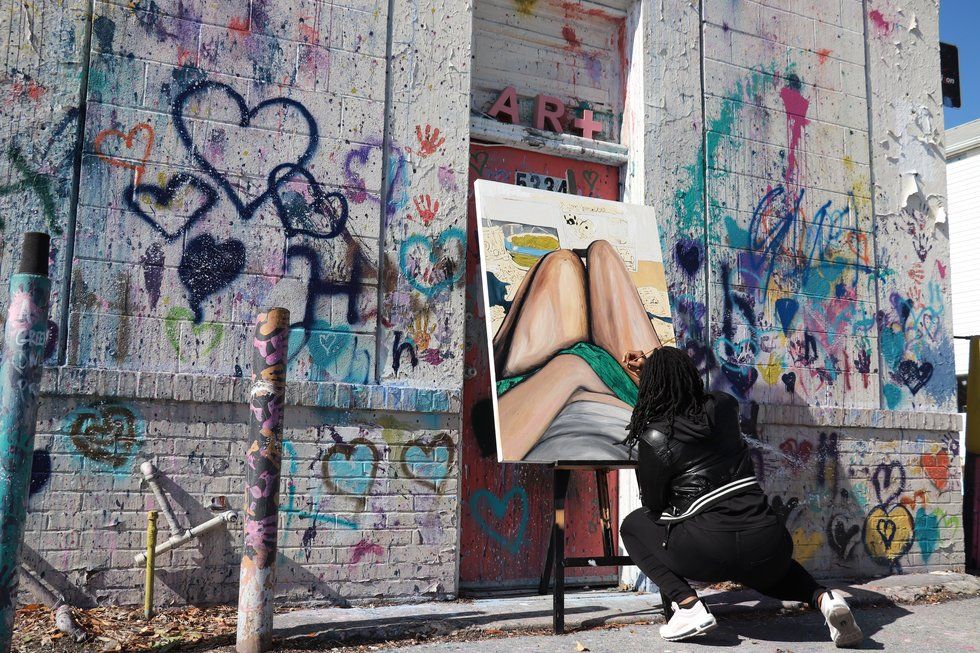 Courtesy of Ashley Paige
Upon entering the industry, I immediately noticed the stigmas and challenges that women who look like me, often face—and I'm even asked about it all the time. I mean, as a woman of color, you generally know what challenges you'll have in any situation, but now I witnessed an industry where I knew I would have to learn to play the game and speak the language above standard.

I see visual representations of stereotypes on a daily basis. I see it in surprised looks. I see it in pitch changes when customers ask questions. Like, the ridiculous notion that black women can't tattoo as well as men, or at all for that matter. Ugh. I've been in many rooms and have attended many conventions, where out of thousands of artists, I was the only black woman tattooing.
Anytime someone finds out my assistant, a man, isn't the artist behind the work they're admiring, a moment of shock always follows. But I love those moments. I live in those moments.
There's a major lack of products catering specifically to our skin tones as well. And as old as the tattoo industry is, I'm always amazed there isn't color ink designed specifically for people of color yet.
The good news is there has been some progress. In the 90's, it seemed that all of the tattoos on darker skin were difficult to see (or as we call, prison tattoos) and very rarely did they have color. The options for people of color are almost endless now. We have come a long way and more than ever, there are black people walking around rocking really phenomenal work. Additionally, I've met many really dope black women who tattoo. So, it's extremely reaffirming to know we're evolving. It's a beautiful time to be alive.
When my apprenticeship was over, and I began building clientele, the tricks and trades became a little more manageable. It was less of a culture shock, I'm assuming because I knew what I was up against. I quickly caught on to the fact that it takes more than an apprenticeship to excel in this industry. If you don't hunt, you won't eat. So, I was certainly toughened and I grew out of being as trusting and naive. I choose to live as if no one is coming to save me, and in the meantime, I'd fight to the death for what I want.
In the end, would I trade tattooing for anything? Absolutely not.
My profession has afforded me a multitude of amazing stories from thousands of people across the country. One of my favorite people to ever tattoo was a guy named Eli. He passed away just over a month ago but he frequented an old shop I used to work for and every time I saw him, he would tell me how big he thinks I'm gonna be. Some of my favorite conversations came from him. I've also inked a vast range of tattoos: from something as simple as names (those are usually the biggest regrets from customers), all the way to complicated and intricate full back pieces. I even once tattooed a "Lovingly Owned By:" tramp stamp on an elderly lady.
There's no limit to what you can be asked to create. You never know what people are passionate about or what their interests are so I try not to predict what clients will or won't eventually regret—and I don't know most of them personally to even guess. I give them what they ask for, I make it look great so even if they hate the fact that they got it later, they will still love the quality of the tattoo itself.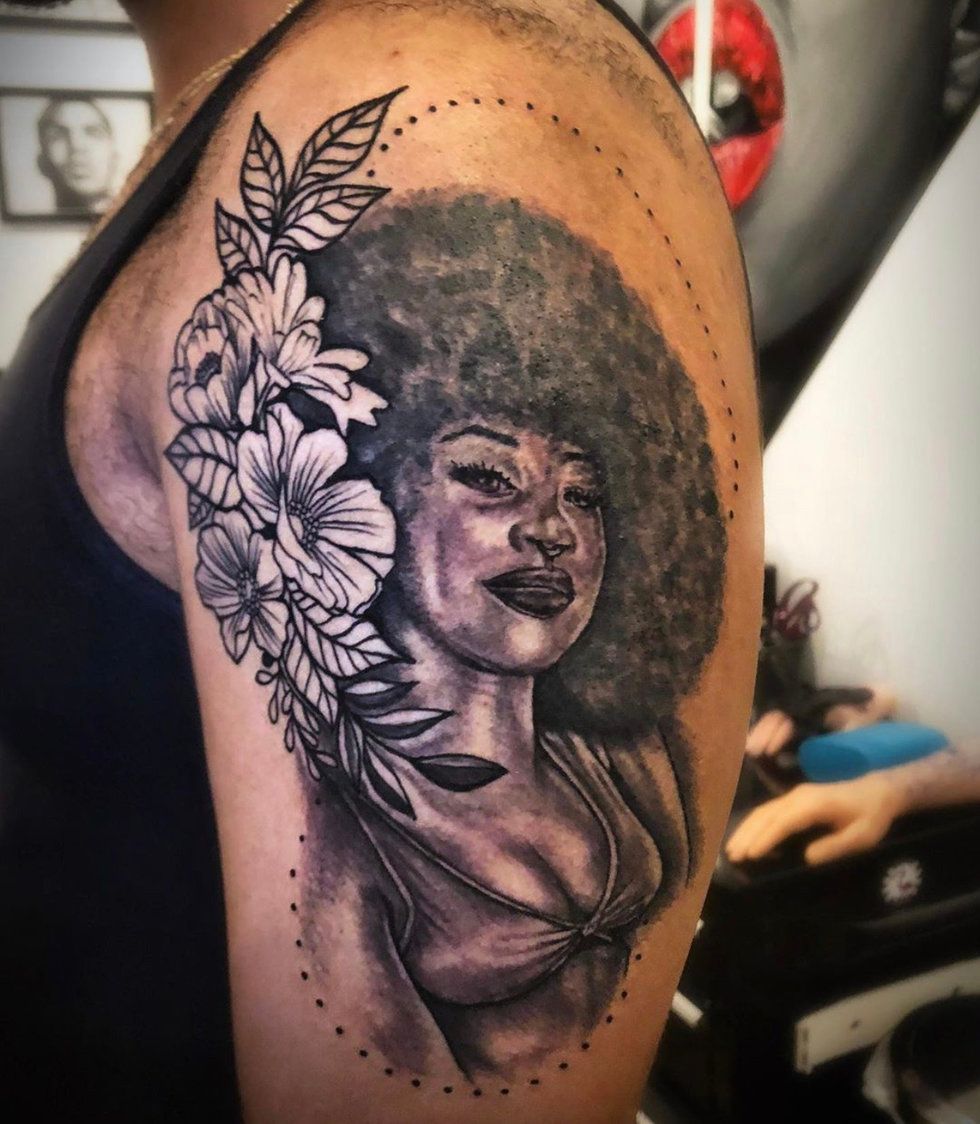 Courtesy of Ashley Paige
Outside of tattooing, I'd say I'm just a driven and kind-hearted jokester who thinks way more than she says. I love herbs and essential oils—both being quick mood elevators to offset a hectic day. I love the gym and pushing my body to its limits. I love realism and portraiture (I love the details, they make the larger piece look even more magnificent).

So, what's next for me? Everything.
I am and would like to be a part of the evolution of the tattoo industry by providing boss ass, true and permanent works of art on people who look like me. I want to be a household name for my work, graciousness, work ethic, innovation, and growth within the tattoo industry. I want my work to help change what the culture, and everyone else, expects a high-caliber artist to look like.
And I want everyone to know she has brown skin. And that she looks like me.
You can book Ashley for your next tattoo by clicking here to secure your spot. You can also keep up with her latest work through Instagram @artizmylov.
Featured image courtesy of Ashley Paige.