"Y'all don't hear me!"
The words echoed throughout the dance studio as Monica Wilson, founder of XOTICY—a dance class for the every-day woman to build confidence, self-esteem, endurance, and sensuality—played back the song that had filled the otherwise quiet room.
---
She walked to the mirrored wall before taking her place in the center of the class. If we couldn't hear her, she made us listen the best way she knew how: through her body.

I was seduced by thick legs in knee high socks, ass for days, wild curls, and seductive dance moves. Like many I first became intrigued with Monica through her Youtube channel. Her tantalizing movements to sexy and sensual music like Rihanna's "Skin" and Beyonce's "Dance for You" were hypnotizing. But it's a lot more than that; it's art in motion. The way Monica moves is effortless fluidity. She feels the music and interprets it through her body as if its first nature, as if it is innate to her very being.
"I lose myself in the song. I don't sit down and think of steps. I just move. If it feels right, it sticks to my soul."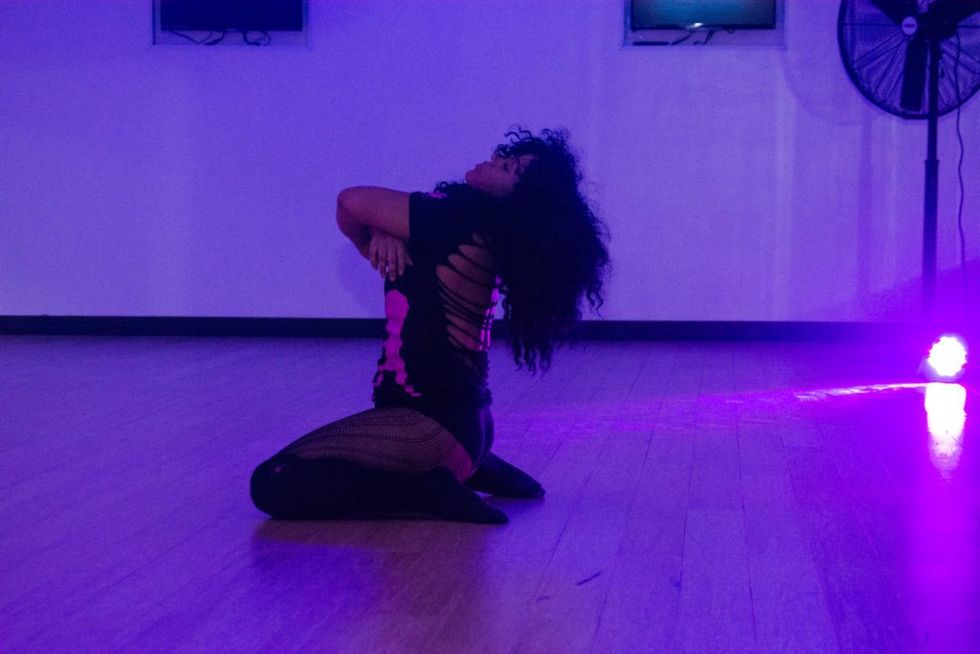 After my own failed attempts to master her moves through the screen from my living room, I decided that I wanted to join her in real time at a class. What kept me from doing it? Oh, I don't know. An innate lack of coordination? A feeling of shyness? But dancing is good for the body and for the soul, and that particular Wednesday at 8:30pm marked a perfect moment because my love tank was on E, and I needed an outlet to release some of that energy.
The day started with me feeling sexually repressed, and I walked into the Xoticy class hoping to tap into the inner goddess in me that had largely been out of commission for the past week or two. "I give you the tools and the steps, but it's all about the feeling that you have inside of you that you forgot was there because you allowed other people and other things to get in the way of it," she said.
She apologized for the chill in the air that greeted my girl and me, but we were fine. We'd heat things up soon enough. I panned over the room of women, all different shades, shapes, and ages, bodies donned in fishnets and black knee high socks. I felt slightly intimidated out of lack of knowing the moves, but quickly morphed into a feeling of "I don't give a fuck" after the music started blaring.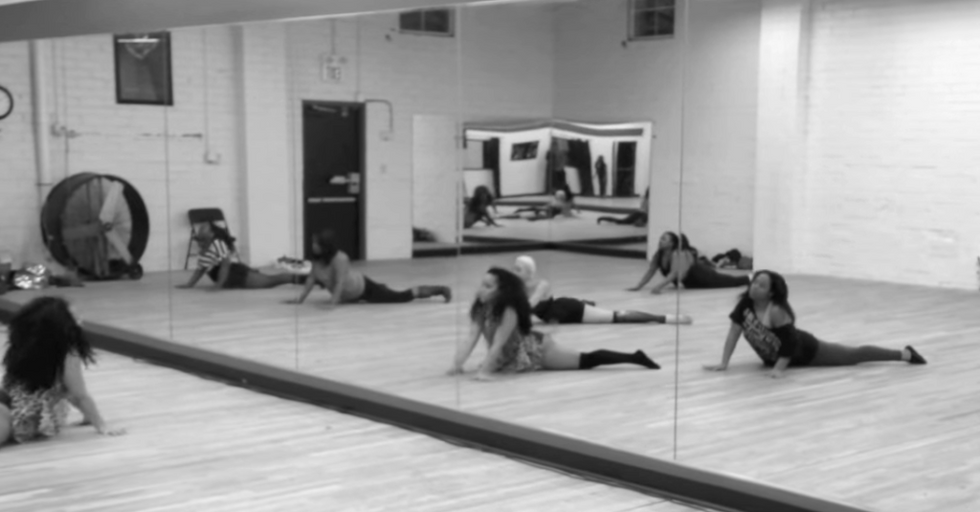 "Y'all are f-cking up," she said to the class after showing us the first eight counts of choreography.
As I said, none of us were dancers. The moves were even harder to pick up in the class and you instinctively want to move in a mechanical 1, 2, 3, 4-count. But counting isn't sexy. Perfection isn't sexy. The hour and a half long class was no joke and it was a challenge to not only the physical, but the mental as well because it asks you to relinquish control and trust the guidance Monica is offering.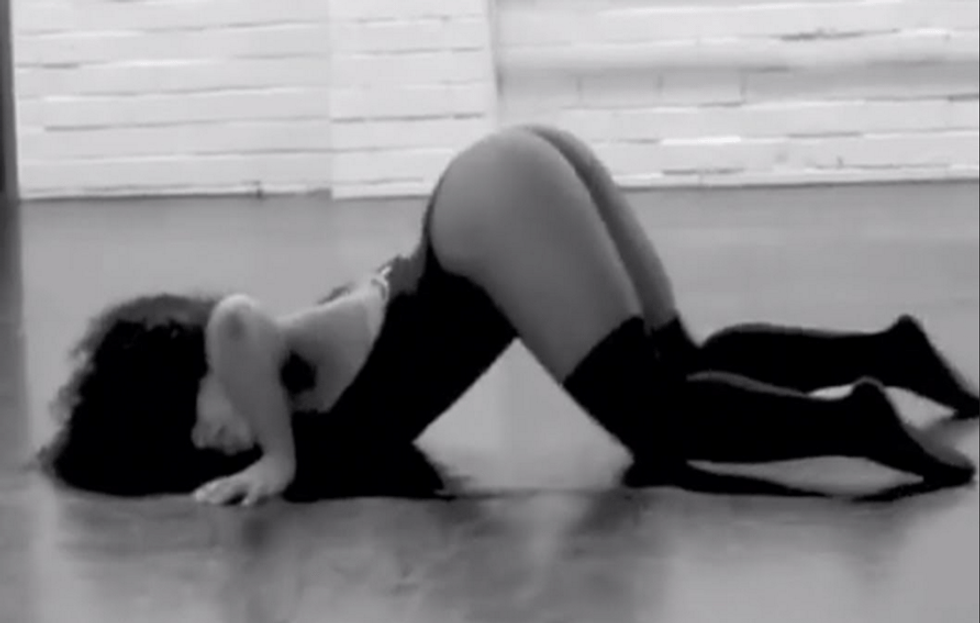 I was in her presence for a couple of hours and sexuality resonated from her aura and spirit so intensely. That's her. She exudes sexiness, confidence, and self assuredness and it's evident why women gravitate towards her to learn her ways and absorb some of her magic.
You have to forget yourself and stop worrying about things that don't matter, like comparing yourself to the next woman or feeling like you look silly attempting to bend yourself like Monica. No, quiet the mind, quiet the doubt, and let that shit go. Connect with what is already in you.
To Monica, that's the true definition of sexy:

"Sexy is the way you feel; it's who you are. It's your walk and your step; it's your groove – it's you. It's in you. As women we go through so much shit. We're moms. We take care of every thing. Sometimes we forget that we can take a step back and reconnect with ourselves. Saying f--k it to everything and just taking care of you every once in a while is sexy."
She encouraged us to let go of our control, to surrender to the song as she does and leave our minds for a bit. I was there. I was sexy, and I felt confident about my sh-t. And I began to understand why women came here, why XOTICY is a movement. My spirit could feel the love I was attempting to give it by taking care of me for a bit. That, to me, was sexy.
Self love in the room was evident, but also an unmistakable aura of confidence. Monica's advice for women struggling with self confidence is:
"Move out of your way. Get the f-ck out of your way. You are put on earth in your own purpose. There are people out here trying to live their mom and their dad's life and wonder why things are not as they should be. Think about self. When you start thinking about self love and you please yourself, everyone else around you should be pleased. If not, you shouldn't be worried about it."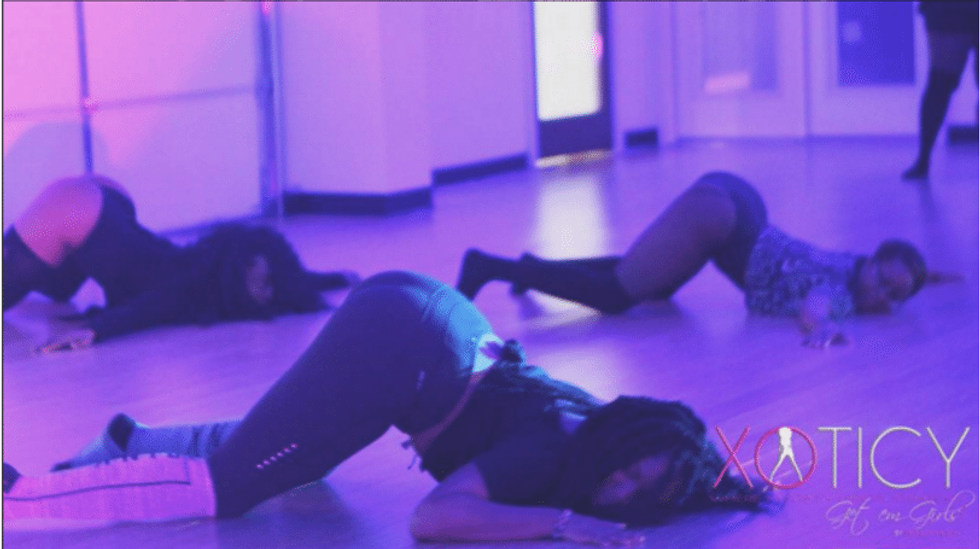 Afterwards, the ladies in the class, Monica, my friend, and I all sat around in a circle having a candid conversation about sex and how the class has taught them to own their lives, both in the bedroom and outside of it. Monica still needs to show me how she slides across that floor so effortlessly. Damn, that woman. I need a pair of those socks!
If you are ever in the Atlanta area on a Wednesday night, be sure to check out Monica Wilson's XOTICY class. It does wonders for the bedroom, but also for the soul, and that's where it all begins anyway, right?
Check out more of Monica's erotic moves below!