Admit it, HGTV is lit. We're all guilty of indulging in the extravagant property transformations and quirky relationship dynamics that DIY reality shows like Fixer Upper or Flip or Flop have to offer, but one of our favorite couples is about to add some color to the renovation game and we are here for it.
---
Gabrielle Union and Dwyane Wade recently announced that they are taking a step away from their rigorous professional careers to become television's newest house flippers.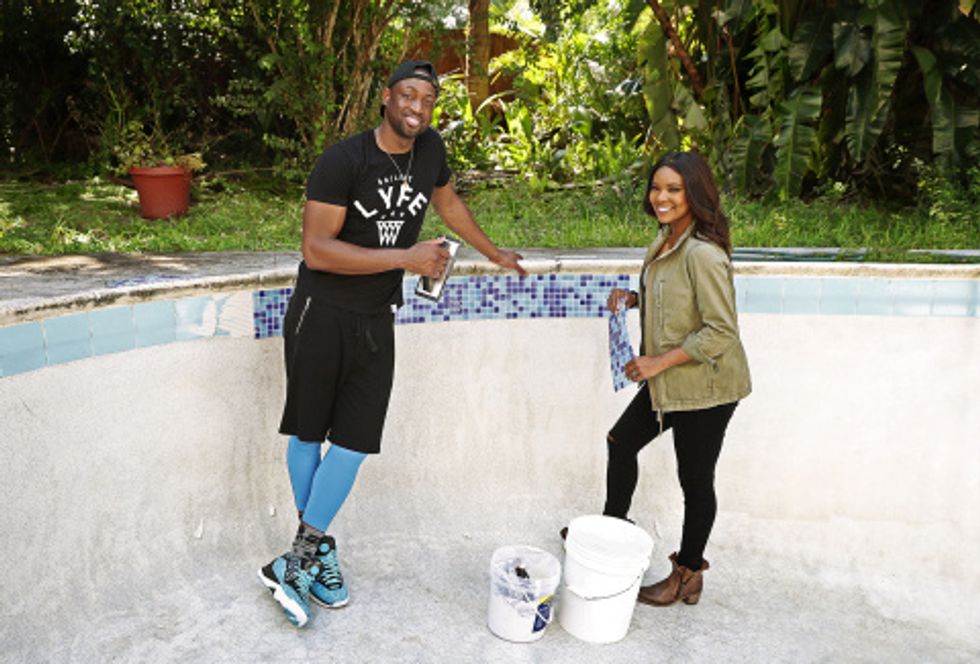 HGTV said in a release that the show would feature the couple fixing up an outdated ranch style-home in an up-and-coming Miami neighborhood on the HGTV half-hour special, All-Star Flipper. Union and Wade will collaborate with their construction team to add value and square footage to the property by adding a second-story master suite and transforming the home into a sleek and modern showplace that will be sold to a fellow Floridian.
The superstar couple is proud to call Florida "home" again after Wade's highly publicized trade from the Cleveland Cavaliers to back to the Miami Heat.
According to Union, she's always had a passion for remodeling and says that their latest project idea came after renovating her own home. She said:
"Ever since we renovated our house a few years ago, I've been a little real-estate obsessed.It took a while, but I finally convinced Dwyane that we should try flipping a house."
Wade added:
"And we're doing it to raise money for charity. So how could I say no?"
Move over Chip and JoAnna.
The DIY renovation market is thriving, but it's rare that we see black couples at the forefront of these renovations. Flipping the Heartland premiered on HGTV in 2015 and starred married YouTubers Daniel and Melinda Wiafe who sought to remodel homes in the Tulsa area, but the series unfortunately only lasted on air for one 13-episode season. Also, in 2017, HGTV announced Fort Worth couple Ashley and Andy Williams as the new hosts of Flip Or Flop, but aside from these examples, Union and Wade are among the first couples of color to shake up the market.
And it's about damn time.
Union and Wade first announced their collaboration with HGTV using the hashtag #TheWadeUnion when they were house hunting in 2016, but there was no release date. Now, we finally get a glimpse at the Wade's DIY remodeling skills for one night only, but we certainly hope that the network takes the hint and adds more color to their reality TV roster.
You can catch our favorite couple buy, flip, and sell their Miami fixer upper on HGTV April 12 at 9:30 ET/PT. This project will serve as the Wade family's latest act of giving back, as the proceeds from the property sale will be donated to a charity of their choosing. Union and Wade are setting a trend of generosity among entertainers and also donated $200,000 to March for Our Lives fundraiser last month.
Representation is important in all genres of media, because black women love granite countertops, quaint breakfast nooks, and big ass farm sinks too, damn it.
Featured image via HGTV