---
Fall is about more than pumpkin spice and the leaves changing colors. It's a whole revamp of energies, whisking away the carelessness of summer and ushering in the romanticism of winter. The fall transition period is always a favorite, for reasons like pumpkin spice lattes, Halloween, or the crisp, refreshing autumn mornings. More importantly, it's a season full of warmer tones, thicker fabrics, and statement accents.
This year is all about non-traditional and exaggerated suiting. Whereas traditionally it's more form-fitting with a more conservative necklines, 2020 suiting is all about revealing slivers of skin with higher waists and a trendier silhouette. A big trend on the runways for shows like Dior, Versace, and Pyer Moss, there's a variety of suiting pieces to play with than in previous years. Our favorite style icons like Rihanna, Tracee Ellis Ross, and Zendaya effortlessly slay this trend on the streets and virtual red carpets.
Contrary to popular belief, you don't need a lot of money to look like a proper businesswoman. You can make any ensemble look luxurious and expensive, thanks to a bit of tailoring here and there. The perfect suit is less about price and more about the proper way to tailor and fit pieces together.
From monochromatic tones to longer lined blazers to loose-fit trousers, suiting is a fall staple that will immediately elevate your girlboss wardrobe.
The 'Sweet But Business' Suit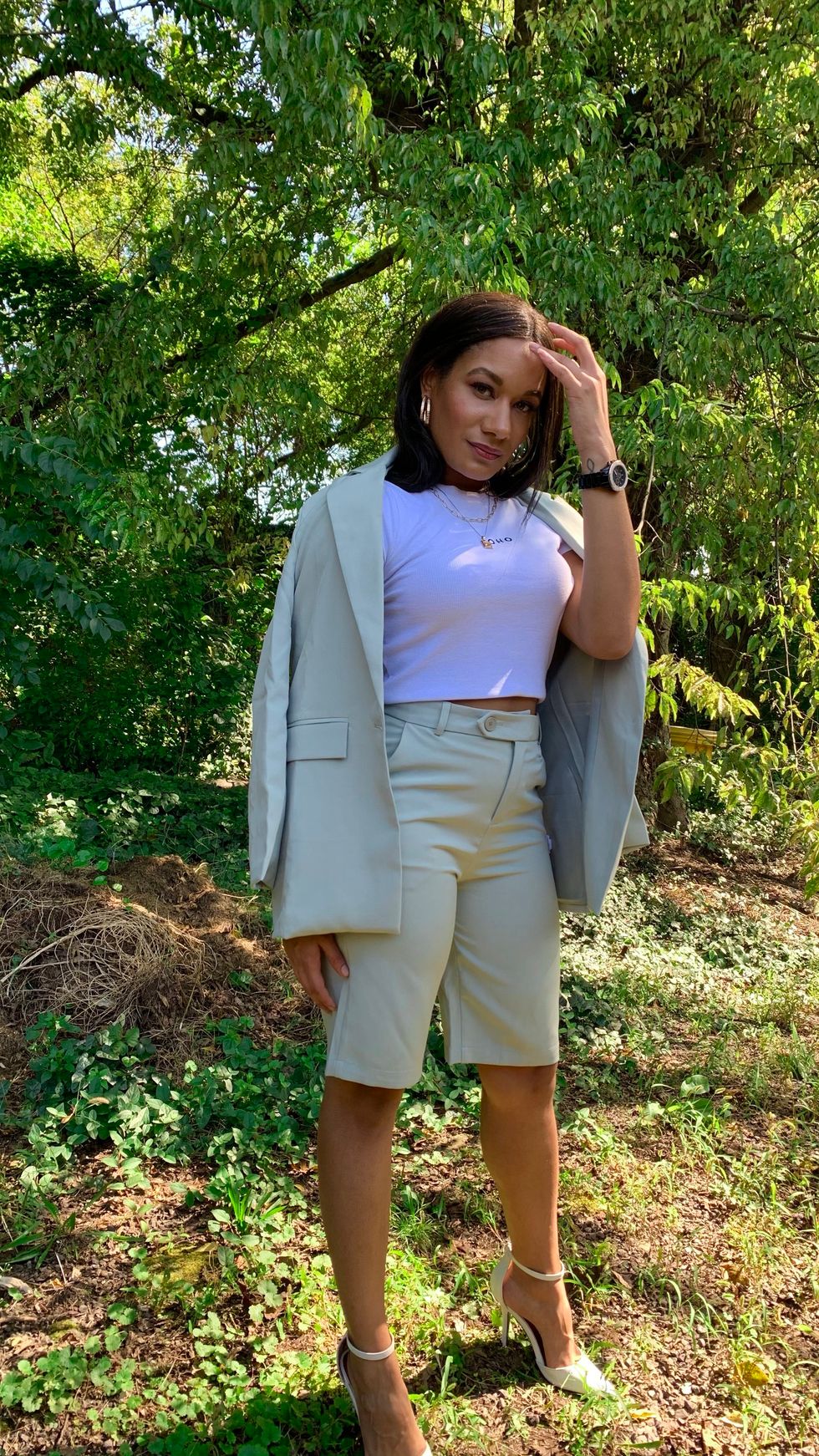 Courtney Simpson for xoNecole.com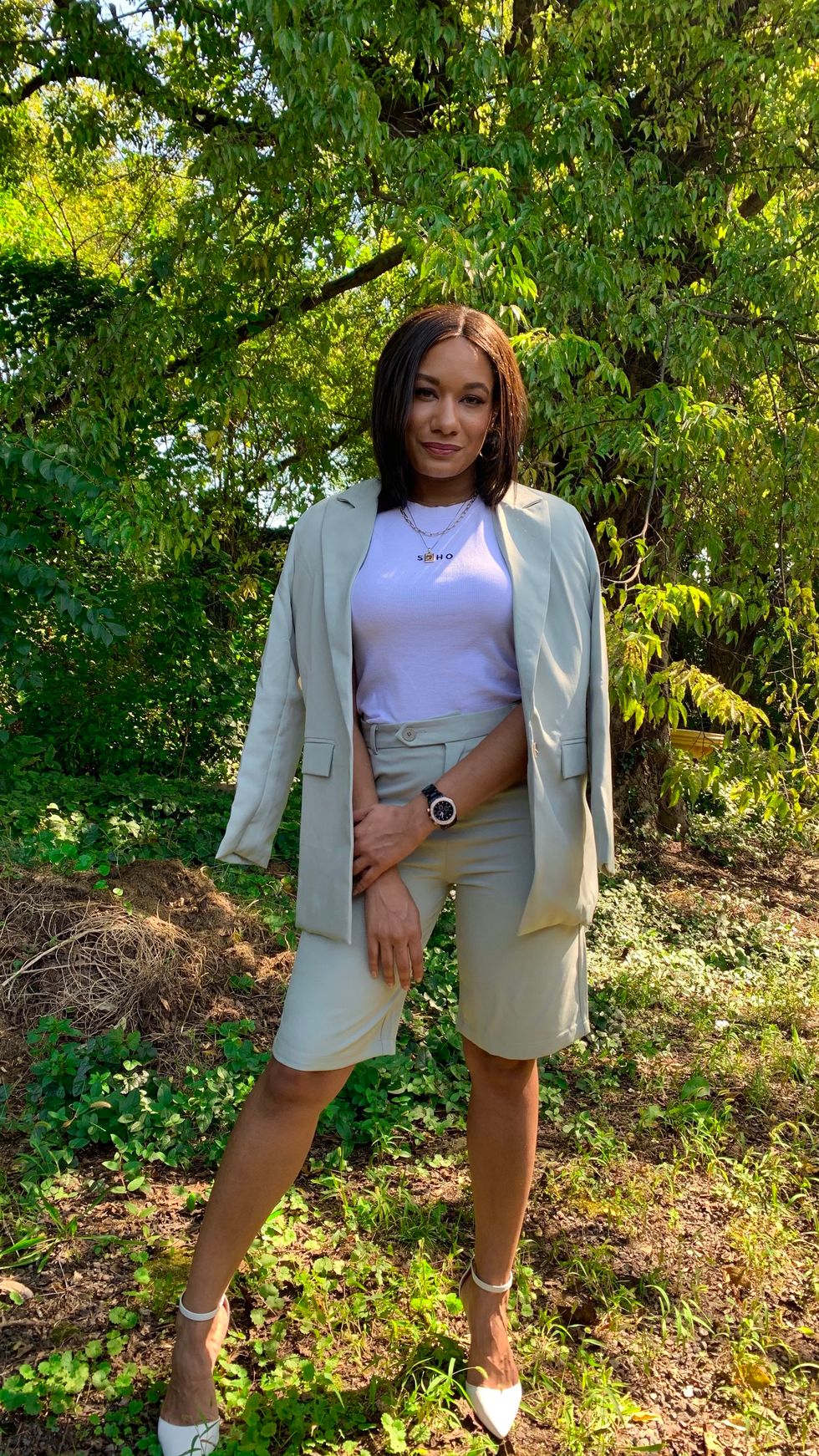 Courtney Simpson for xoNecole.com
We all know monochromatic is the way to go if you want to stunt. Sage is the color of the year (especially for mental health purposes) and compliments every skin tone. While green symbolizes warmth, this particular hue is exceptionally calming and brings tranquility. As opposed to a longer set, the shorts set is more youthful and a better option in warmer climates. You can easily dress this down for a more casual vibe by pairing it with a t-shirt instead of the traditional blouse, and sneakers instead of ankle-strap heels.
The 'Let's Brunch' Suit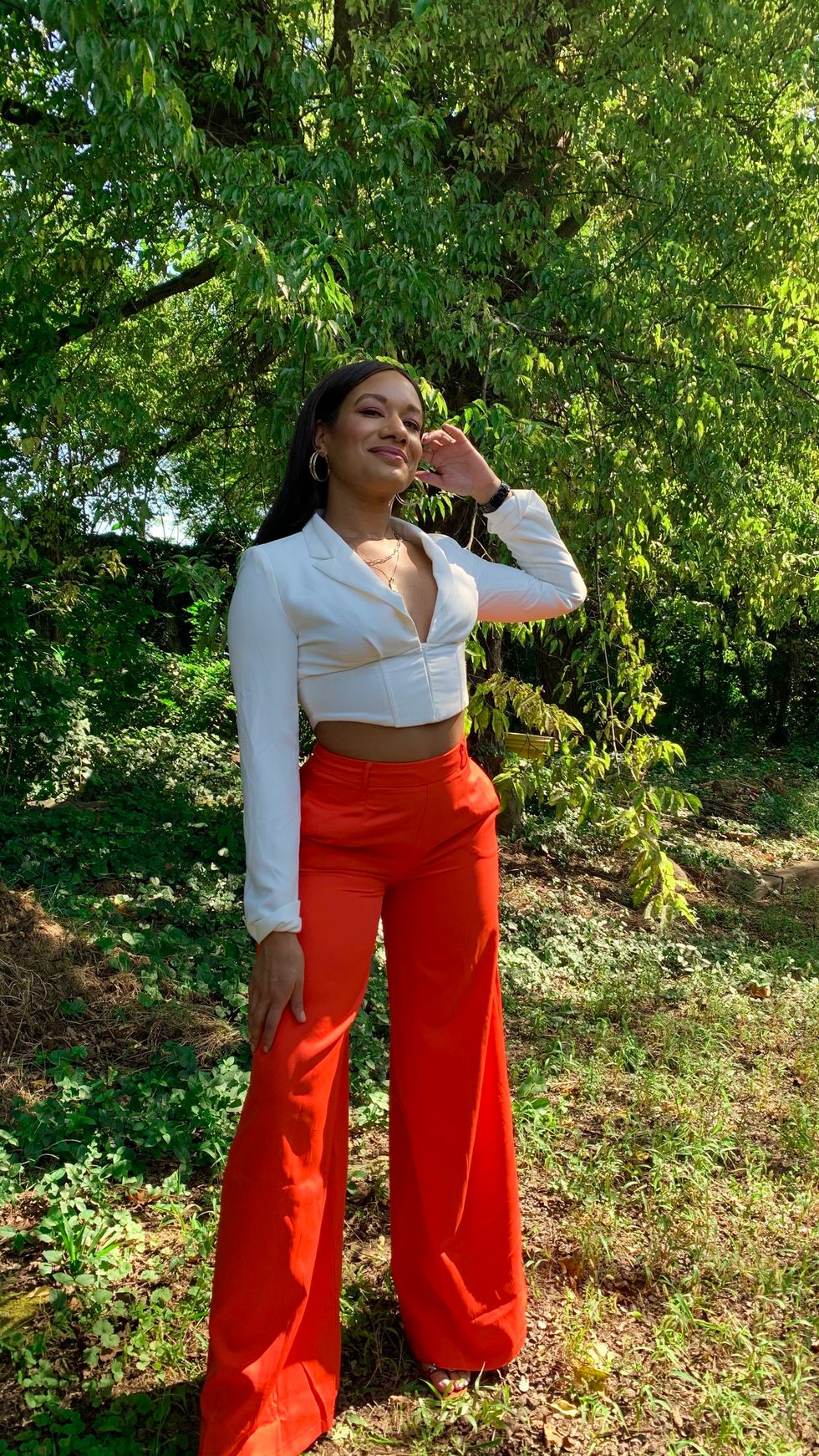 Courtney Simpson for xoNecole.com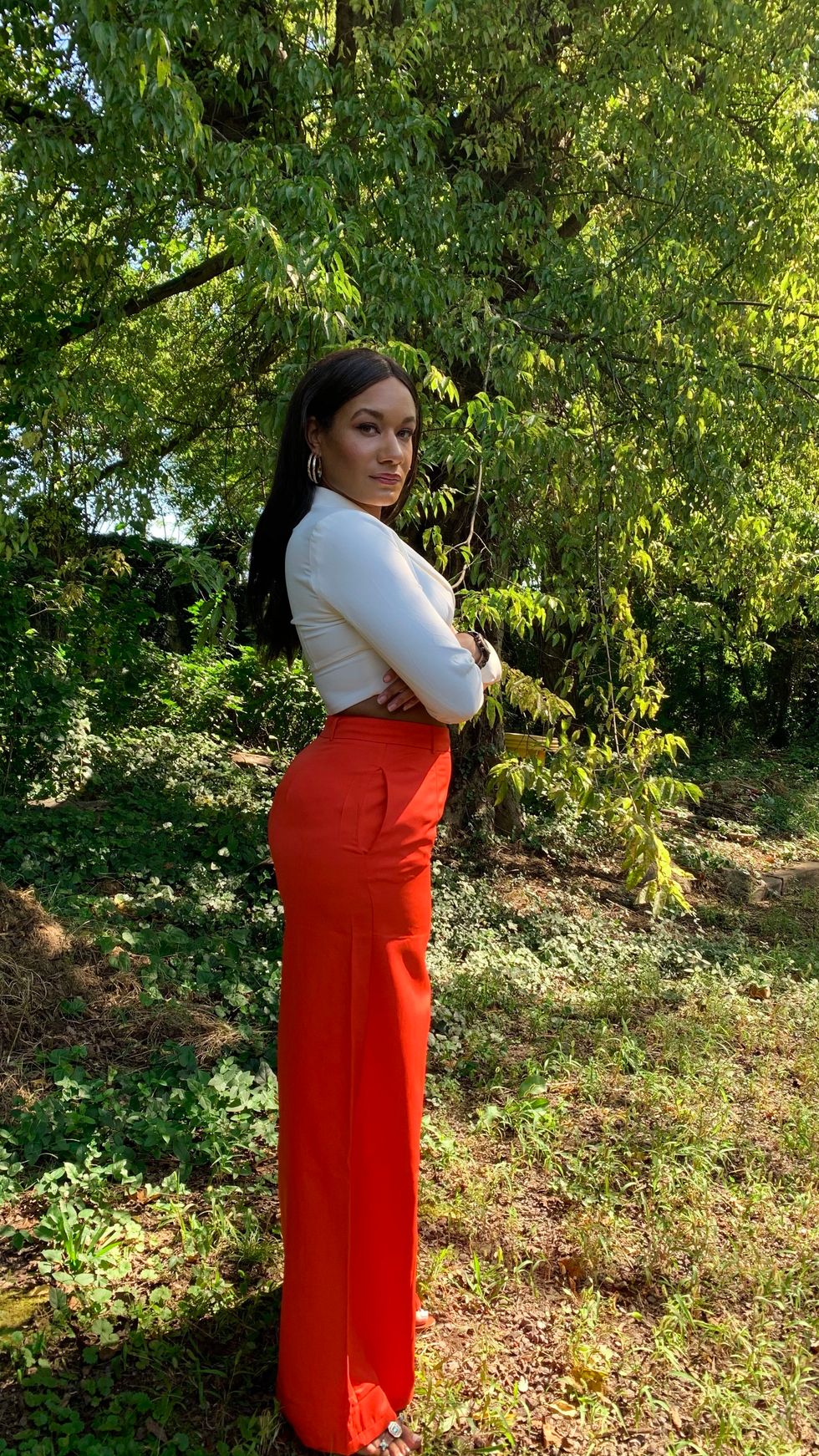 Courtney Simpson for xoNecole.com
While everybody loves a good monochromatic moment, the most dynamic and stylish looks are mixed and matched. A cropped blazer is one of my favorite items in my wardrobe right now. The neckline is seductive yet not too revealing, while the structured shoulder adds a hint of professionalism. The high-waisted pants elongate the legs, while the exaggerated bell-bottom is very on-trend for fall/winter. Step out of your comfort zone and play with statement colors that elevate your look.
The 'Off Duty' Suit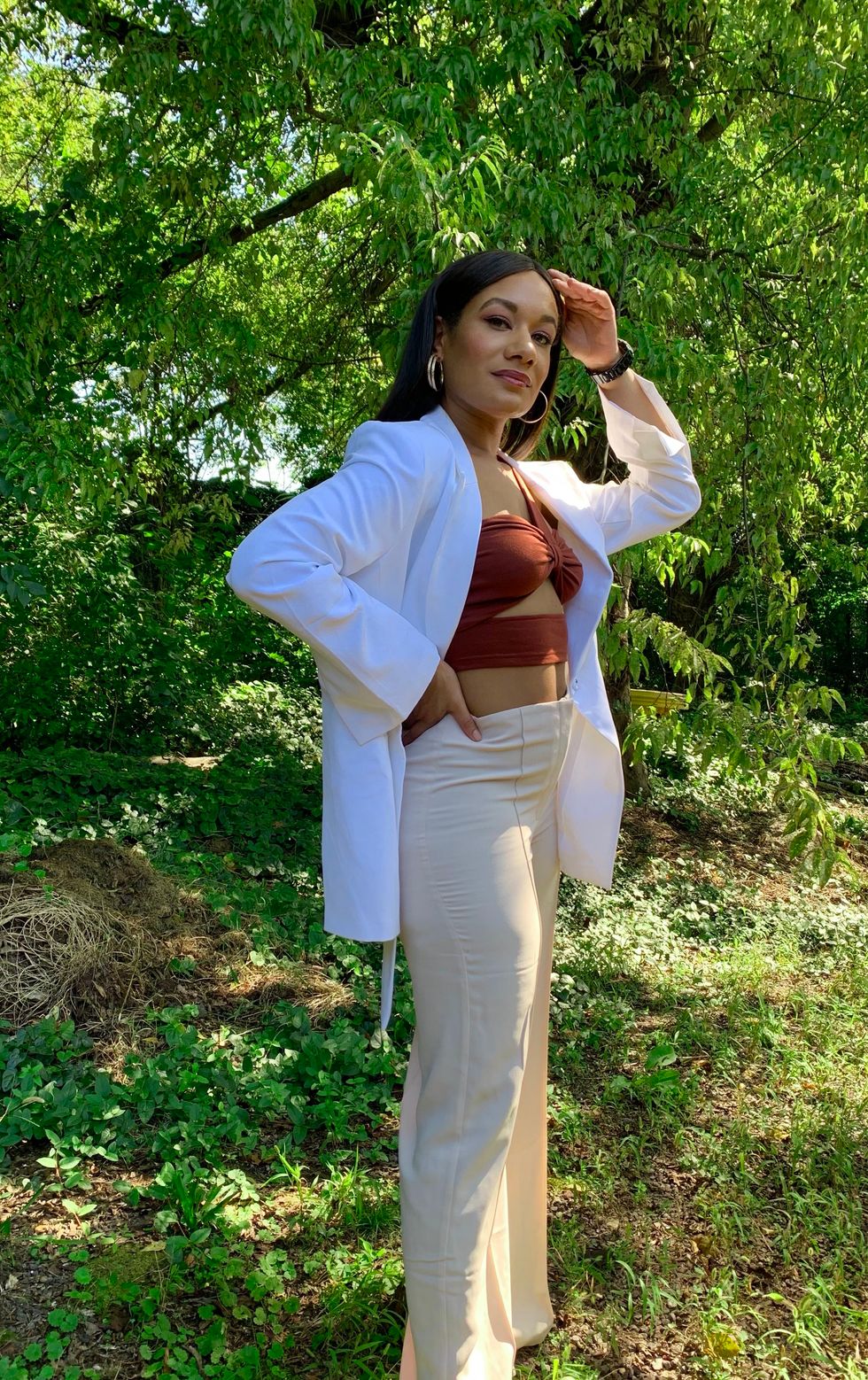 Courtney Simpson for xoNecole.com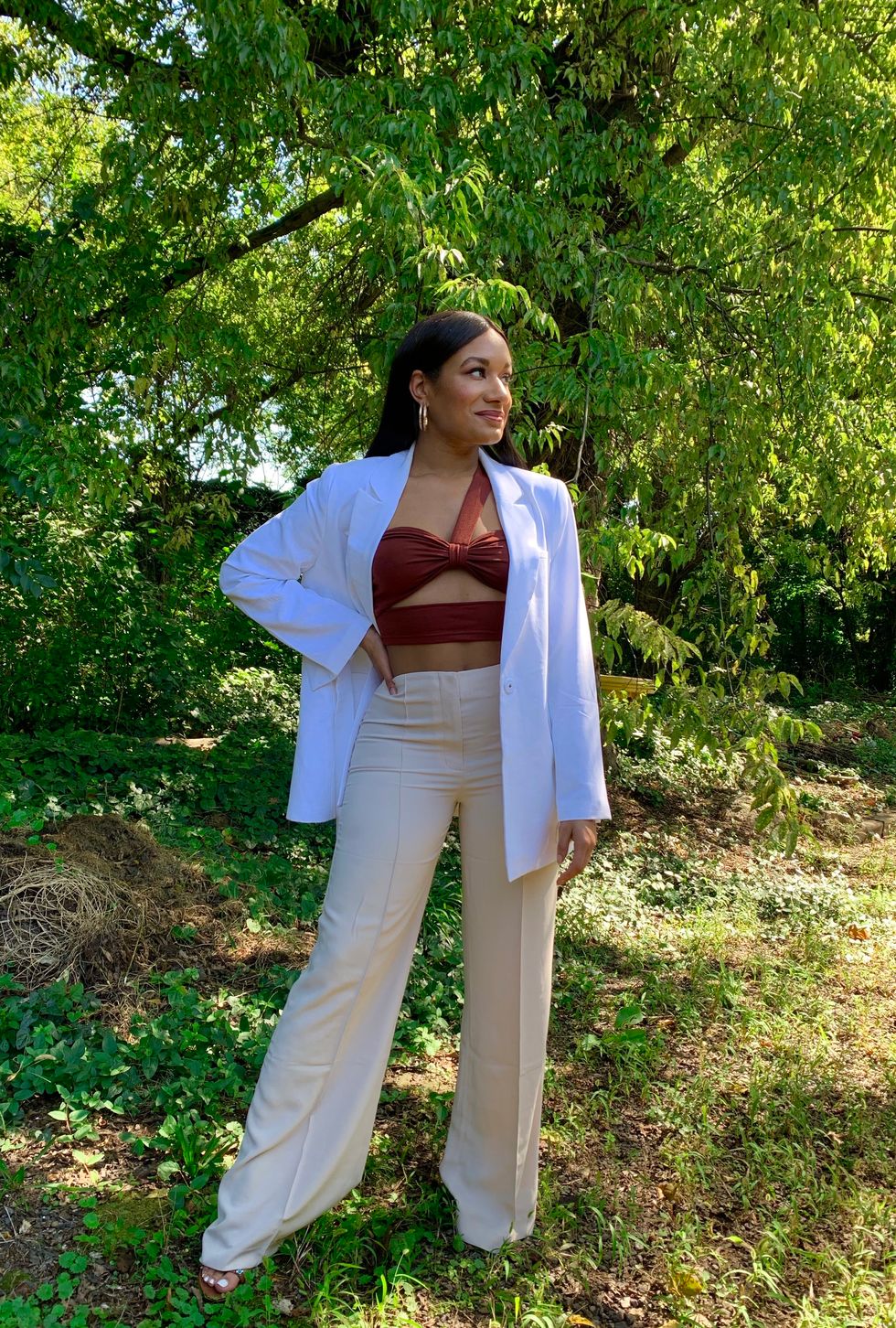 Courtney Simpson for xoNecole.com
The transitional season is great for mixing your summer staples with new-in winter pieces, and this outfit is a prime example of that. The relaxed suit is a prominent piece in the A/W season and heavily influenced by the recent rise in athleisure. You can style up the pants by opting for a longer hem, which works perfectly with heels or fresh white sneakers. The asymmetrical crop is a summer favorite and necessary for defining your shape under the loose-fit blazer. This look is off-duty chic and gives off a relaxed, tailored vibe. Don't be afraid to play with neutrals, either! They aren't just for summer; winter white is a whole look itself!
What look suits you best?
Are you a member of our insiders squad? Join us in the xoTribe Members Community today!

Featured image by Courtney Simpson for xoNecole.com