---
In xoNecole's Finding Balance, we profile boss women making boss moves in the world and in their respective industries. We talk to them about their business, and most of all, what they do to find balance in their busy lives.
Stepping out of the shadow of two well-respected and highly accomplished parents in the music industry can be tough. Especially when they're Xscape member, Tameka "Tiny" Harris and Grammy-award winning rapper, actor and podcast host Tip "T.I." Harris. However, Zonnique Pullins has managed to quiet the noise of the haters and step into her own limelight as a solo artist.
Recently releasing two singles, "Winner" and "#FTCU", Zonnique has made a name for herself since her days on BET's Tiny and Toya and as a member of the OMG Girlz with besties Bahja Rodriguez and Reginae Carter. The Atlanta-bred princess is now recognized as a soulful songstress with the ability to throw a vibe to anyone who is willing to catch it. From her trap-inspired single "Nun For Free" with Young Thug to sexy R&B vibes in "Should've Been", Zonnique is a name for you to watch out for in 2020 if she hasn't been already.
The Growing Up Hip-Hop: Atlanta alum shares with xoNecole about how she finds balance between music, family and relationships with thanking God for seeing another day, journaling and working out with bae, Bandhunta Izzy.
xoNecole: At what point in your life did you understand the importance of pressing pause and finding balance in both your personal and professional life? 
Zonnique: Taking the break I just took from putting out music was something that I didn't plan, but realized it may have been something I needed. I've been making music since I was 8, so stepping back for a while and taking time to myself to grow was helpful for me.
Courtesy of Zonnique
"Taking the break I just took from putting out music was something that I didn't plan, but realized it may have been something I needed."
What is a typical day in your life? If no day is quite the same, give me a rundown of a typical workweek and what that might consist of. 
A typical day in my life is different, but I try to combine a little bit of work and family time together. I usually start my days off with what I have to do first, whether it's filming, studio, interviews, and/or meetings. I like to record at night, but I've been getting into doing it earlier in the day and when I finish I'm not so tired. I [also] go visit my family or my friends, who are really family.
What are your mornings like? 
My mornings are always chill. [I] always thank God when I open my eyes, maybe just lay there, look around and think about my dreams for a minute. [I also] see what notifications I have on my phone and take it to the bathroom with me. When I open my eyes, I thank God first, do the regular routine of brushing my teeth. I honestly don't wash my face every day and I usually eat a bowl of cereal because I don't enjoy cooking. If I have nothing to do, I lay and watch something good to start off the day like Cheaters.
How do you wind down at night? 
I love to watch a good movie or show until I get sleepy, then I turn on something I don't care to watch until I'm in a deep sleep - just to wake up in the middle of the night and turn the TV off.
When you have a busy week, what's the most hectic part of it?
When I have a busy week, the most hectic part of it would just be the [act of] moving from place to place to get everything done [because] then you don't get a good amount of sleep because my nights end late and mornings start early. Probably, the most hectic part is traveling from one place to another [and] not being able to eat or rest except in between the little car rides. Especially on a press day in New York! I don't have an assistant but a person from my team is always with me to keep me on schedule.
Do you practice any types of self-care? What does that look like for you? 
I never looked at it as practicing self-care until maybe a month ago when someone made me realize how much joy I get in writing in journals and reading. I've always enjoyed doing both since I was a little girl and still enjoy it now. I would say that is a form of self-care for me.
What advice do you have for busy women who feel like they don't have time for self-care? 
The advice I have is to just find time even if it's for five minutes. Sometimes it's just taking a breather and giving yourself the tiniest moment to step back from everything.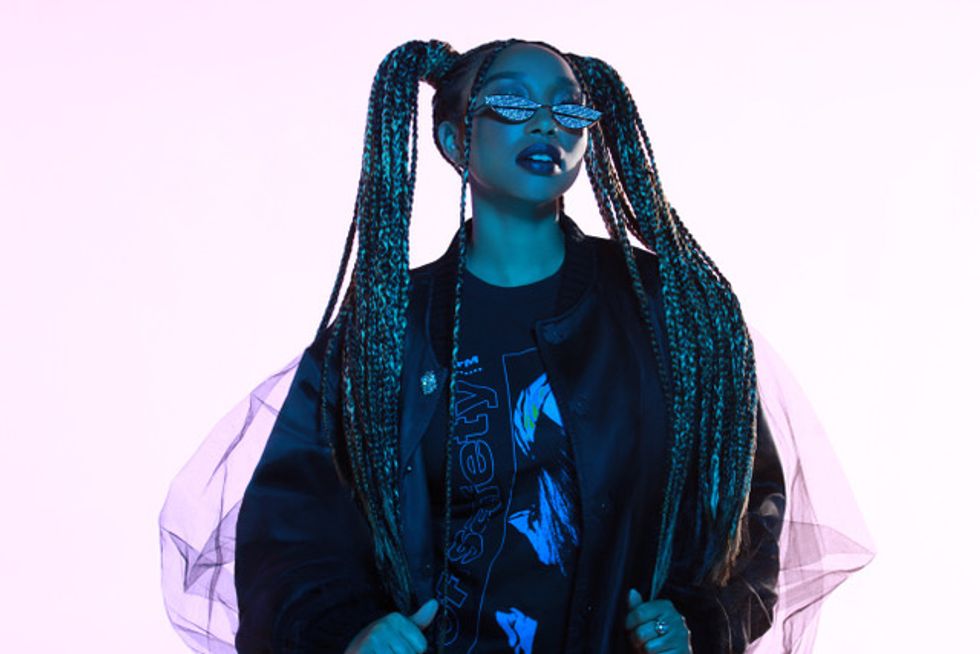 Courtesy of Zonnique
"Sometimes it's just taking a breather and giving yourself the tiniest moment to step back from everything."
How do you find balance with:
Friends? Family?
I find balance with my friends by visiting them when I'm not busy and talking to them on a regular basis. I honestly have such a big family and sometimes it can be difficult to make time for everything and everyone. I visit my family a lot as well but my friends and I like to meet up at least a couple of times a week.
Love/Relationships? Dating?
My boyfriend and I live together, so we're always together and do a lot including visiting my family. I don't really have to find a balance between being with him and doing my own thing and when we both have a free day we'll do stuff together and we also work together sometime.
Exercise?
I usually start my day off by going to the gym (before quarantine), so that's how I make sure to exercise. [My boyfriend and I] also work out together!
What about health? Do you cook or find yourself eating out?
When it comes to health, I like to work out as much as possible and I drink mostly water. Those two are the easiest things for me to keep up with, but the eating part is the hardest. I don't really eat pork or beef and in quarantine, I just learned how to cook. I still eat UberEats and DoorDash almost every day.
When you are going through a bout of uncertainty, or feeling stuck, how do you handle it?
I just take time to myself. I don't really like being around people when I'm feeling down, so I sit with my feelings and think of ways to solve my problem and then get back up again. I went through a lot of uncertainty while starting my career as a solo artist coming out of a group, and I just continued to work on myself and find myself more. When I have a creative block, I step back from the situation for a second to give my mind a break from overthinking and come back to the idea when it feels right.
What do you do when you have a creative block when writing music or creating in the studio?
When I have a block, I always ask the people around me for input. I love to create with other people and that helps me get back into the groove whenever I feel really stuck.
And honestly, what does success and happiness mean to you?
Success to me means being happy with the things you have done and/or accomplished [and] simply doing things you're proud of. [Being] happy to me is loving yourself, being happy with the person you are within, loving your own pretty and ugly side.
For more of Zonnique, follow her on Instagram.
Featured image courtesy of Zonnique