Yara Shahidi has officially entered her selfish era. The 22-year-old is known for her beyond-her-years wisdom, her passion for activism and human rights, her stunning beauty, and her unapologetically radiating main character energy both on-screen and off. She divides her time between acting, producing projects that move through her production company 7th Sun Productions, and spending time with her close-knit family. And as a recent grad from her dream school, Harvard University, Yara is coming even more into herself as she enters 2023 with the decision to take the focus off of dating and put that energy on herself.
---
From the outside looking in, Yara has always been in her "me" season, but the actress shared that this was uncharted territory for her, at least as of late. The Grown-ishstar recently stopped by The Drew Barrymore Show where she revealed that yes, she is single and that she doesn't know if she is looking to start dating anytime soon. And here's why.
"I like meeting people. And then the other thing is, I just got out of a relationship," she tells Drew before laughing. "So, I'm just kind of, you know, I'm a big commitment person. It was three years, so I don't even know what to do with myself. I'm just taking some 'me' time. My friends and I are calling it 'selfish season.'"
My first thought was, Yara? In a relationship? Since when? But as the actress is notoriously private, it should have come as no surprise that she was in a relationship, let alone one for three years that seemed to fly underneath the celeb news radar. And although she is taking a break from dating for the foreseeable future, she did touch on her hopeless romantic belief of love at first sight. Something she credits her parents Afshin and Keri Shahidi for inspiring.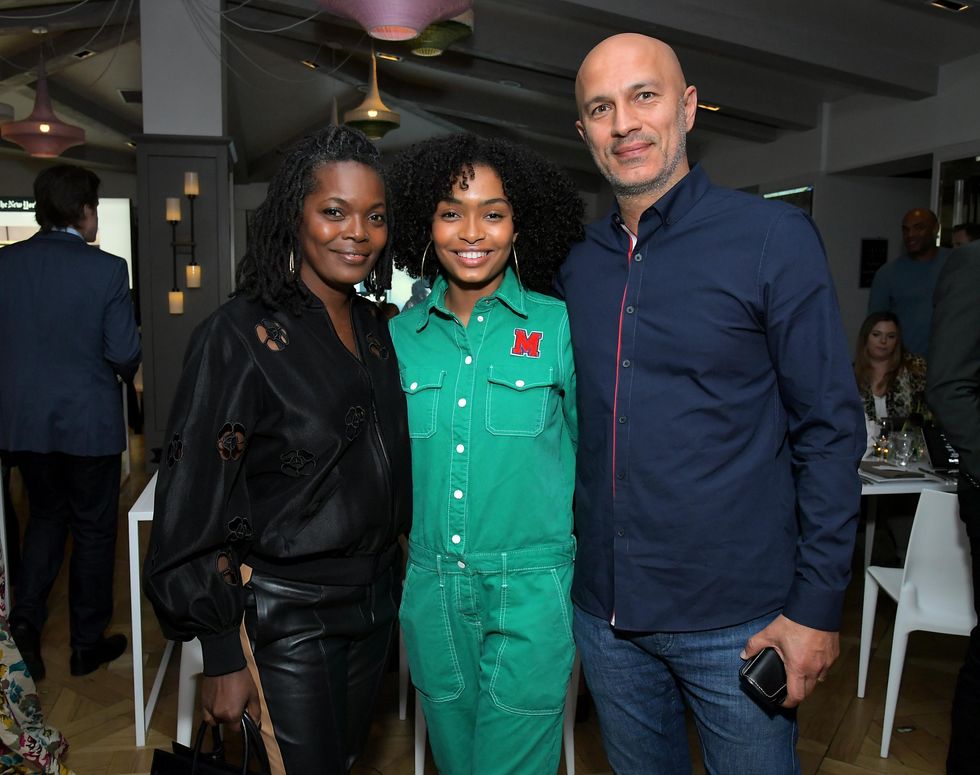 Charley Gallay/Getty Images for The Weekly
"I have to give full credit to my parents because they have the best story. And I remember hearing this growing up, and in Minnesota, my mother's out with some of her friends, my father's out with some of their friends, and she turns the corner and goes, 'Oh my God, that's my husband.' Says it out loud and catches herself. They've never met before, like have not spoken. She does not know who he is. Ends up later that night not talking, but getting a picture of him. Like a proper photo of him. And then friends would come over and look through the phone book to see if they could figure out who this was. And finally, finally, I'll fast-forward through some of the details, but when they get in touch, you know, he actually lists everything she had on that night."

She went on to describe her father recalling everything her mother wore the night they met but never spoke as if it was a vivid picture of her in his head. Yara ended the story by sharing, "There's something about that meet-cute where they both noticed each other and did not speak."
Inspired by the stories of Yara's parents' meet-cute, Drew later asked whether or not she believes that people will go to great lengths to find each other.
"I hope it's true. I'm in my mid-twenties. I'm hoping that that's how it works."
Yara Shahidi's "Selfish Season" & Why She's Taking a Break from Dating | The Drew Barrymore Show
Let's make things inbox official! Sign up for the xoNecole newsletter for daily love, wellness, career, and exclusive content delivered straight to your inbox.
Featured image by Marc Piasecki/WireImage