When Allison Person walked into work last week, the last thing that she was expecting was that a selfless act of kindness would have her in tears. She didn't expect that a brief moment would turn into a memory of a lifetime, nor that through her the message on the importance serving others would be shared with the world.
---
In fact, as soon as she stepped into the door to begin her daily duties as Promotions Coordinator at Radio One, she was ready and anxious to clock out. It was a morning where she just wasn't feeling the vibe of the day, and after a fellow coworker proposed the idea of a foot bath as part of a skit promoting the stageplay Things Your Man Won't Do starring Essence Atkins, Allen Payne, and Tony grant, Person was ready to run out the door.
But things took an unexpected turn for the better when actress Essence Atkins (Deliver Us From Eva, Half & Half, Smart Guy) decided to take part in the skit. As the promo coordinator at her station, Allison was used to serving the many celebrities that would stop by to discuss upcoming projects. But that day she found herself at the mercy of loving hands as Atkins bent down to wash her feet--an act of humility that was recorded in what would later become a viral video.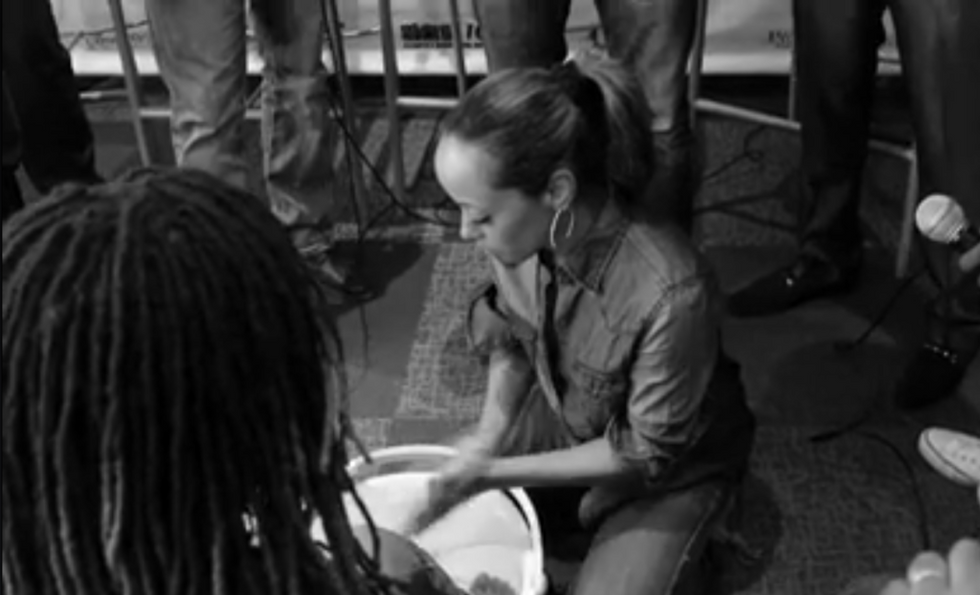 When I talked to Allison about the experience, I wanted to know why her? Person initially laughs as part of her response and takes a moment to reflect on it all, a day she says she'll never forget. She follows up believing it was an act of reciprocation from God with her delving into a story about her own acts of service on a daily basis at work.
Walk us through The 'Things Your Man Won't Do' event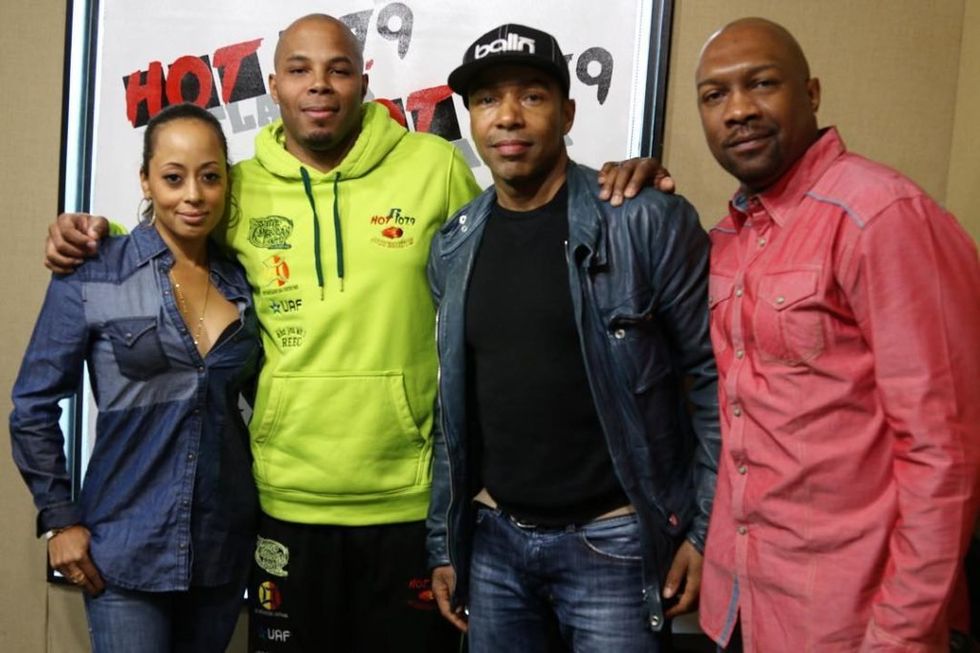 We did a Meet & Greet of the cast of a play called Things Your Man Won't Do created by Je'Caryous Johnson. The cast came and we had a lot of listeners, and it was actually my co-worker, Myron "Magic" Gigger's idea to kind of take it to another level and do things different. He wanted to put on a skit of things your man won't do, and his idea was to do a foot bath. What people didn't know was that my foot was actually in a boot because I had a minor foot surgery. I said "Magic, I cannot do this with this ugly boot on my foot" and I was really reluctant like, I'm not down for the cause. But I went on ahead and did it. That's where it came from.
It started out with Leon Robinson playing a role in it, and Allen Payne and Tony Grant who are actors in the play. Essence, who really wasn't involved in the skit, I guess, felt compelled by the spirit to take it to another level. None of us were really expecting it. Before I knew it, she was rolling up her sleeves and taking off her jewelry and she said, "I have something I want to say." I could see by the way she was moving, I thought, "Oh Lord, I ain't really ready" and she just went into it.
As you could see from the video, my heart was just so full of joy and it was such a selfless act. It was even greater being that it came from someone of her stature. It would still be great if it were from someone I didn't know or a friend, but someone who wasn't doing it for the video or accolades, she was doing it because she was being obedient to the spirit of God. It was absolutely a joyful moment.
Do you know why she chose you in particular?
I have no idea. If I had to give an idea, I'm a natural servant and when we have guests come to the radio station, I like to serve them and give them that VIP experience. It's just little things I like to do that make their experience a little bit better, such as when we have food, I don't let them get up to throw their food away. I like to grab their plate. So, I'm thinking maybe she saw me working and in that boot, and she's like this girl is getting it. That's just me.
[Tweet "I don't do it for the accolades; it's my job!"]
I was once a listener and I still want to give our guests what I would want when I was the average listener.
Tell me about your reaction prior to Essence doing the foot bath and the moment when she did it and it was caught on camera.
I'm going to be transparent and say I was having a rough day. In my head, I'm thinking, "Can we wrap this up because I'm not feeling it?" Again, I was really reluctant when my co-worker brought the idea to me and even in that moment right before she started I was laughing, but I wanted to get it all done. When she did it, I kind of became numb and all I could do was just cry because my heart just filled immediately. It wasn't gradual.
"It just feels so amazing how God can take you out of yourself and make you realize it ain't always about you."
When she did it, my mindset obviously changed and because my co-workers were recording it, I allowed myself to be free and vulnerable in that moment as the Holy Spirit compelled her to do what she did. Who am I to stop that? It's about God; it's not about Allison Person. I'm so humble because I'm like, here I was in a bad mood, upset about nothing when I look back at it, and here I was about to stop the process and His will. I'm honored. I'm not perfect and we all have our days and that just was not my day.
When Essence started speaking–and she speaks with so much power–you can tell she's anointed. She just let it flow and she's such a beautiful spirit.
I spoke with her afterwards and told her, "You really just blessed my socks off, for real." I just thought it was going to be some little skit and I still can't wrap my mind around it.
What were your thoughts seeing yourself on a viral video?
My first reaction was thank God it's something good and something glorifying your name [laughs]. It could've been much different. It's mind blowing. I have people from high school, middle school, elementary school saying things. When I saw it on xoNecole and then VIBE picked it up and Shade Room, it was crazy. I'm just a young adult in Riverdale, Georgia that most folks don't know about. At the end of the day, it's not about me at all. It's not even about Essence; it's about an act of God being done.
Hopefully through that exposure, people can take that same act and it's not about getting down and washing everybody's feet. It's not about that, but metaphorically, how are you washing somebody's feet? It's not about me, but the message being sent out to the masses. My prayer is that people see the message. There were people like why did she have to go and wash her feet? Let's step outside of that and see it for what it is–it's about serving. That's what Jesus did. How are we serving one another?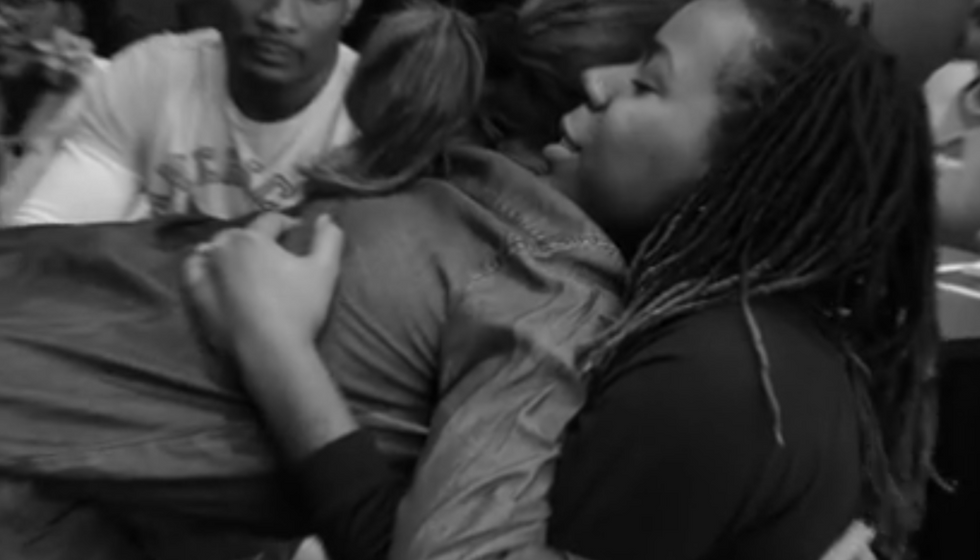 If we, especially women–Black women–take a little bit of time to empower our sisters and serve them a little bit more, we probably wouldn't have all this negativity coming towards us, the stereotypes and the drama. It would be a lot more loving, even in the world. If we just learn to love one another, things would be a lot different.