Sheriden Chanel
Sheriden Chanel is the Managing Editor at xoNecole.com, covering all things love, life, beauty, and wellness. She has an affinity for travel, self-care, and anything BTS touches. Keep up with her on social
@sheridenchanel
.
I didn't think much could get better about the blissful high that comes with oral. That was until I came across the Kivin Method.
As someone who was never a huge fan of oral sex and could largely take it or leave it, I must admit that I have started to come around in recent years. With my head thrown back, hands gripping sheets and hair, and toes curling from the intense sensations of the work my partner is putting in at my center, I now give myself over to the pleasurable act wholly and unapologetically.
When I came across a way to maximize the pleasure I receive from cunnilingus (already), I had no choice but to tap in. Who knew the key to taking oral sex to new heights was giving it a sideways twist? For those of you who might also be interested in ways to spice up the way you do oral, experience faster and stronger orgasms, or simply want to indulge in something new with your partner, the Kivin Method could definitely be the oral sex technique for you, too.
Keep reading to learn about the method that is sure to have you writhing in ecstasy in no time at all.
What Is The Kivin Method?
For the uninitiated, the Kivin Method is an oral sex technique that focuses on stimulating the clitoris from a different angle. Dubbed "sideways oral" by some, this method involves the action of giving head from a side-to-side movement as opposed to the up-and-down motion that people typically perform when giving head. (If you need a visual, this illustration is helpful.)
The difference in approach as you're receiving head can be a game-changer in how you receive pleasure. Not only does the giving partner have access to the clitoris, but they can also access more easily the vulva and the labia, which are objectively a bigger focus in this version of cunnilingus. More access means wider coverage, and that, plus the new sensation of oral from a different angle, can heighten the way you experience oral sex that much more.
Where more pleasure flows, intense orgasms are sure to follow.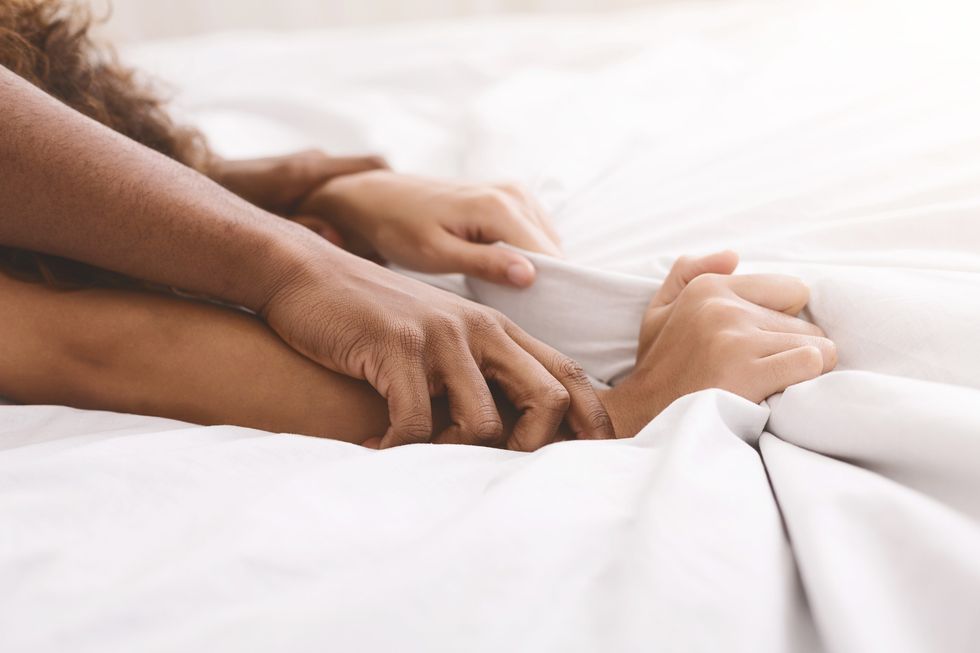 Getty Images
How To Do The Kivin Method
If you want to know how to do the Kivin Method, it's actually pretty straightforward. The receiver lays on their back while the giver positions themselves perpendicular to the receiver. Their head will be facing the vulva, but instead of vertical, their face will be horizontal to the vulva.
From there, the giver can get to business, ensuring that they keep their head perpendicular to the receiver's vulva while working on their craft. Because this technique can be more intense for some receivers, start slowly by stroking the vulva and clitoris sideways with the tongue, and allow sensations and communication from the receiver to be a guide of what you need more or less of with the Kivin Method.
Ultimately, the Kivin Method allows experimentation and unlocking what pressure, rhythm, and tricks work best for the giver and the receiver. Try implementing a finger or two, or adding a sex toy to the mix to intensify the act even further.
Let's make things inbox official! Sign up for the xoNecole newsletter for daily love, wellness, career, and exclusive content delivered straight to your inbox.
Featured image by Delmaine Donson/Getty Images
Whitney Alford's presence can be seen and heard all throughout her longtime partner, Kendrick Lamar's impressive rap career, inspiring such deep cuts like the 2009 song "She Needs Me" and providing background vocals on To Pimp a Butterfly's "Wesley's Theory" and "King Kunta." Perhaps the most visible she has been was in his latest release, Mr. Morale & the Big Steppers, where she appeared on the album's cover art with the couple's two children, as well as in the visual for his single, "Count Me Out."
The Grammy award-winning rapper is largely heralded as one of the greatest to ever do it, and the bond he shares with his high school sweetheart that has inspired some of his most introspective projects and self-reflective tracks has cemented Whitney as a forever muse.
The 37-year-old makeup artist has been with Kendrick since they were teenagers, with the couple meeting while attending Centennial High School. Both Whitney and Kendrick were born and raised in Compton, California, and began as friends before eventually starting a romantic relationship. In a 2015 conversation with Billboard, Kendrick expressed that he frowned on the way certain terms minimized who Whitney is to him. "I wouldn't even call her my girl," he told the outlet. "That's my best friend."
"I don't even like the term that society has put in the world as far as being a companion — she's somebody I can tell my fears to."
Featured image by Larry Busacca/Getty Images for NARAS
Omar Epps might have had his claim to fame in the 90s, starring in Black film classics like Juice, The Wood, Higher Learning, and who could forget Love & Basketball? But these days, the 50-year-old actor has also added writing to his repertoire. Omar recently published his second book, a dystopian novel, Nubia: The Reckoning. When he is not writing or starring in Power Book III: Raising Kanan, something else Omar has a lot of passion and purpose in is his love for his rock, his wife, Keisha Epps.
In a recent conversation with PEOPLE for their "One Last Thing" column, the author made sure to show love to his long-time partner, Keisha Epps, in a question that prompted him to recall the last time he danced. "My wife and I were at an event, and she was looking great, so I had to take her hand and cut a rug," Omar told the mag.
The simple but sweet moment was a reminder of just how vocal Omar is from time to time, either through social media or in various interviews, about his love and appreciation for his soulmate. R&B singer and one-third of the R&B group Total, Keisha Spivey and Omar, have been married since 2006, an achievement the actor credits taking "breaking up off the table" for.
In a 2022 interview, Omar opened up about the "secret sauce" to a nearly 20-year marriage.
Featured image by Leon Bennett/WireImage
Sometimes, things end so that better things can come together. Singer-songwriter, actress, and director Zoë Kravitz is a true believer in the bittersweetness of endings. It was something that she first opened up about in 2021, shortly following her divorce from actor Karl Glusman.
Back then, she was talking about projects she had in the works and detailing her thoughts about the beauty of breakups in a 2021 cover story with AnOther Magazine. "I got married. I got divorced. Separations, breakups are sad but are beautiful things too. It's about the bittersweetness, that beginning and that end. It's so complex, that space, when you're in between heartbroken and mourning the loss of something and excited for what's ahead of you," she told the publication.
Little did she know what was ahead of her was her directorial debut in a film she co-wrote called Pussy Island. One of the thriller's stars would be actor Channing Tatum, whom she'd meet in 2021. And there would lie her new beginning. Rumors of the pair dating started to circulate after they were spotted riding a bike together in New York City in August 2021. Kravitz and Tatum (who was also previously married to longtime love Jenna Dewan) seemingly found love and maintained a relatively low profile during their budding relationship.
Shortly after rumors of a romance between the collaborators swirled, an interview with WSJwas published where Kravitz was quoted saying about Tatum, "When you make things with people it's a very sacred space, and when you're compatible with somebody creatively it often opens up other channels, because you're kind of sharing all of yourself." She continued, "I'm really grateful that this movie has brought him into my life that way."
Fast forward to just last week, the couple announced that they were engaged after two years of dating. Kravitz, 34, and Tatum, 43, were spotted in matching Halloween costumes as Rosemary and Rosemary's "baby," respectively, and Kravitz was spotted sporting what looked like an engagement ring. Sources confirmed exclusively to PEOPLE that the couple is newly engaged, so big congrats are in order!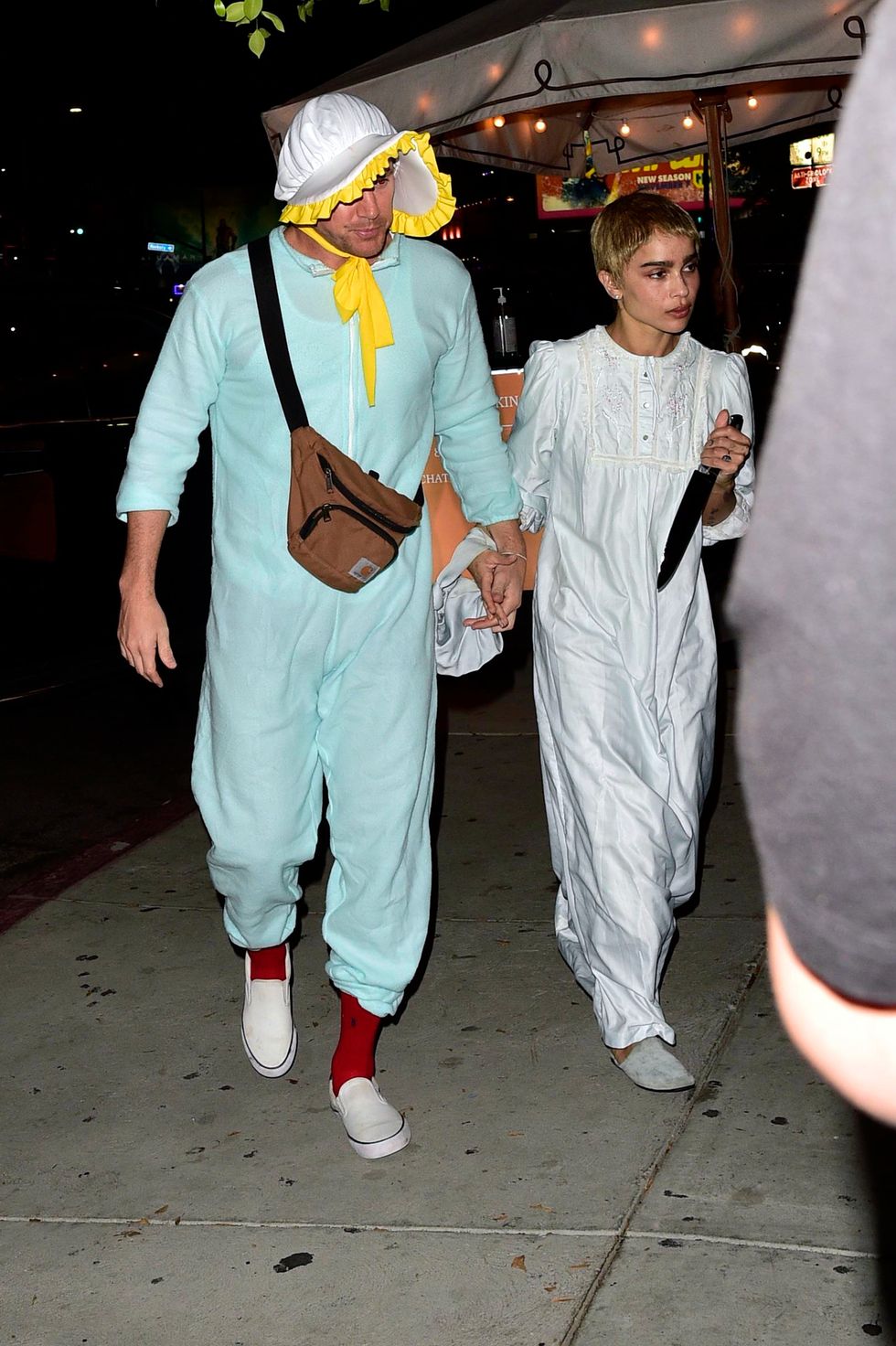 Channing Tatum and Zoë Kravitz are seen arriving at Kendall Jenner's Halloween party on October 28, 2023.MEGA/GC Images
On the heels of this exciting news, here's a look back at Zoë Kravitz's dating history and the "bittersweet" endings that led her to what might be her best beginning yet.
A Deep Dive Into Zoë Kravitz's Relationship History
Ben Foster (2007-2008)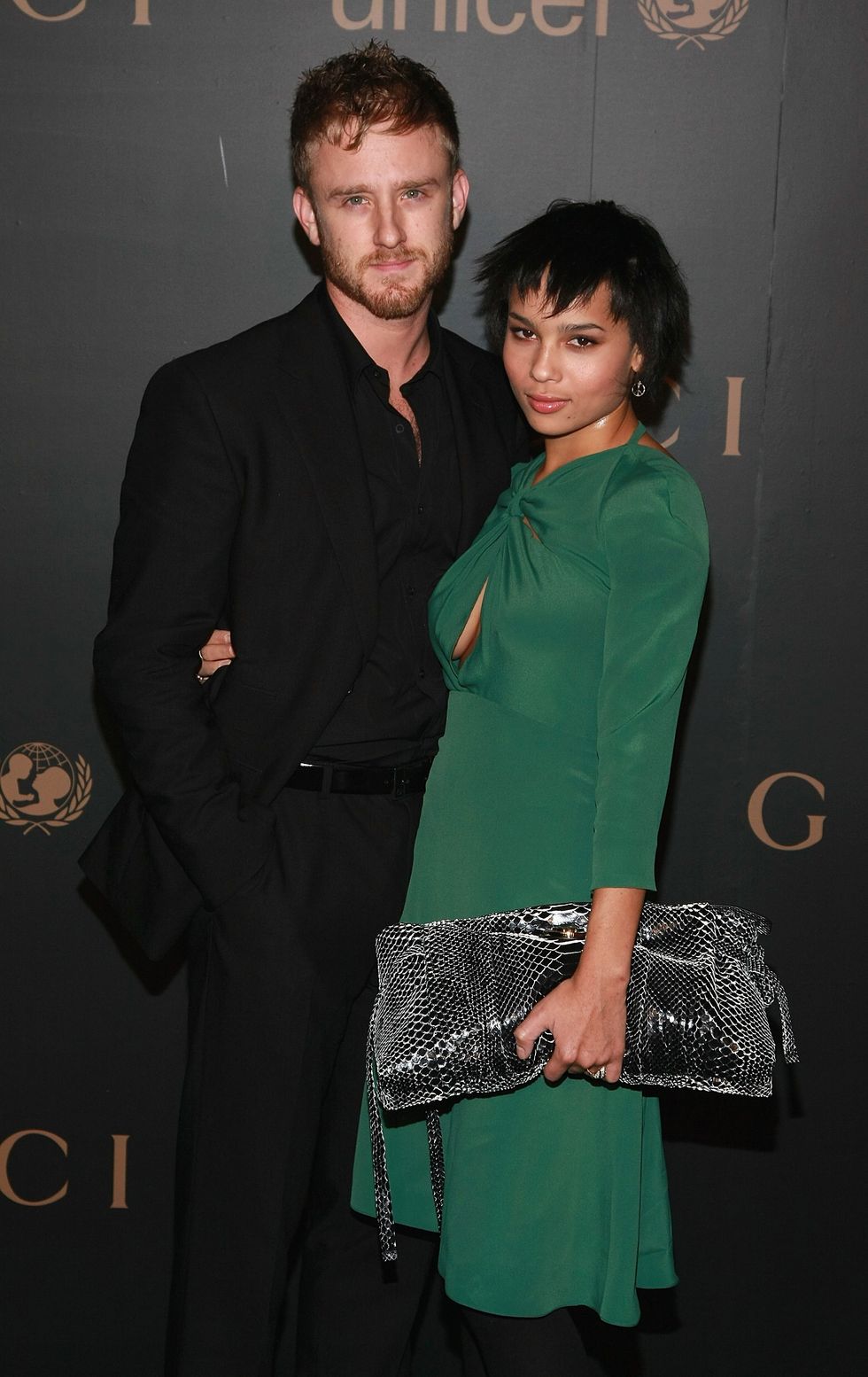 Dimitrios Kambouris/WireImage
It is speculated that Kravitz and actor Ben Foster dated between the years 2007 and 2008, though neither actor has ever publicly confirmed the relationship. Despite being spotted together at different events both on and off the red carpet, whether they were an item or not was kept private. Nevertheless, Ben Foster, whom she co-starred with in the movie Birds of America, seems to be her earliest Hollywood relationship.
Michael Fassbender (2010-2011)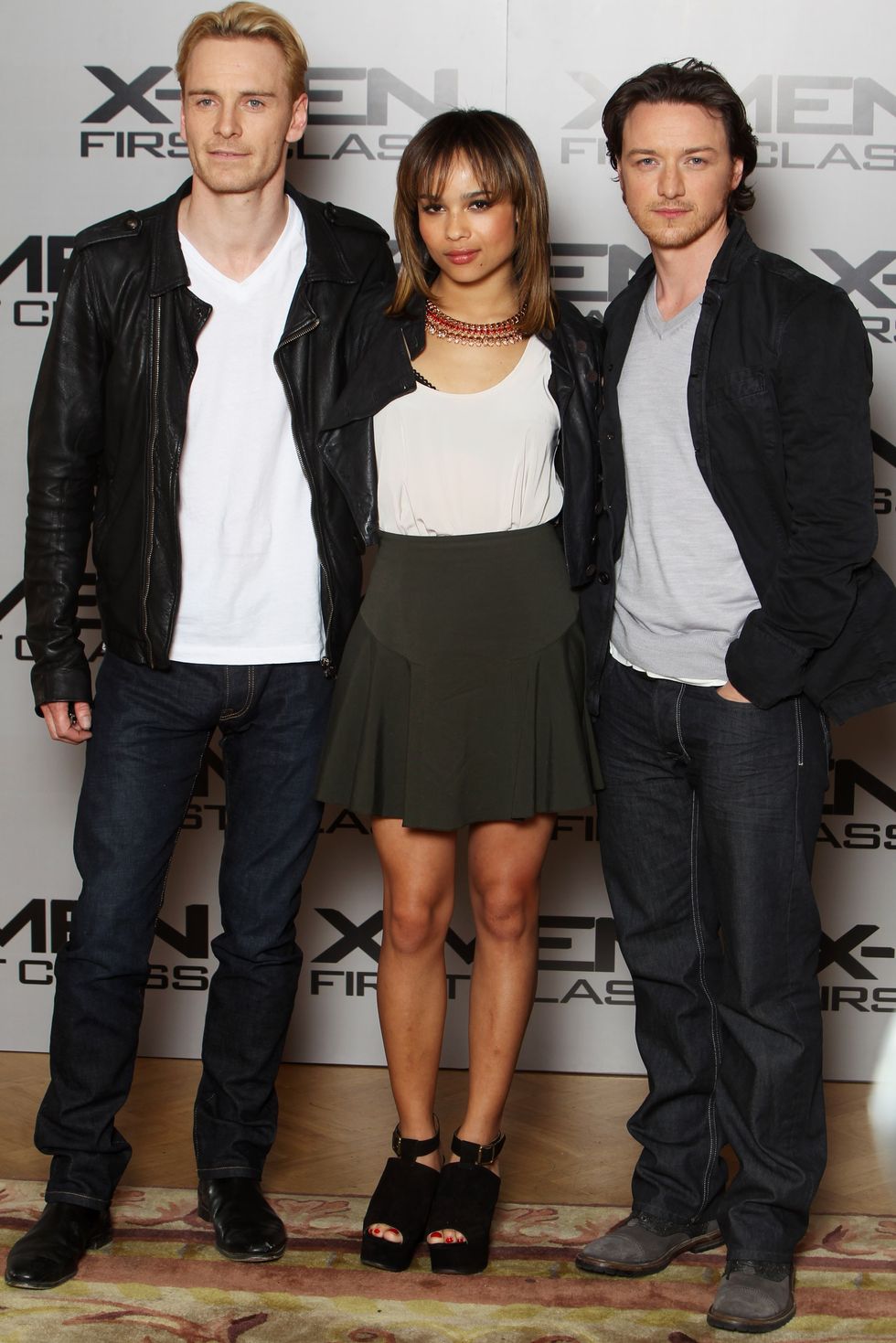 Dave Hogan/Getty Images
This relationship was never confirmed in the media, although the photos, which you can find through a simple Google search, can tell you that love was in the air for a time with these two. Kravitz and Michael Fassbender met in 2010 on the set of X-Men: First Class.
Their 12-year age difference might point to this being more casual than long-term, with Kravitz being 22 at the time of the fling and Fassbender being 34.
Penn Badgley (2011-2013)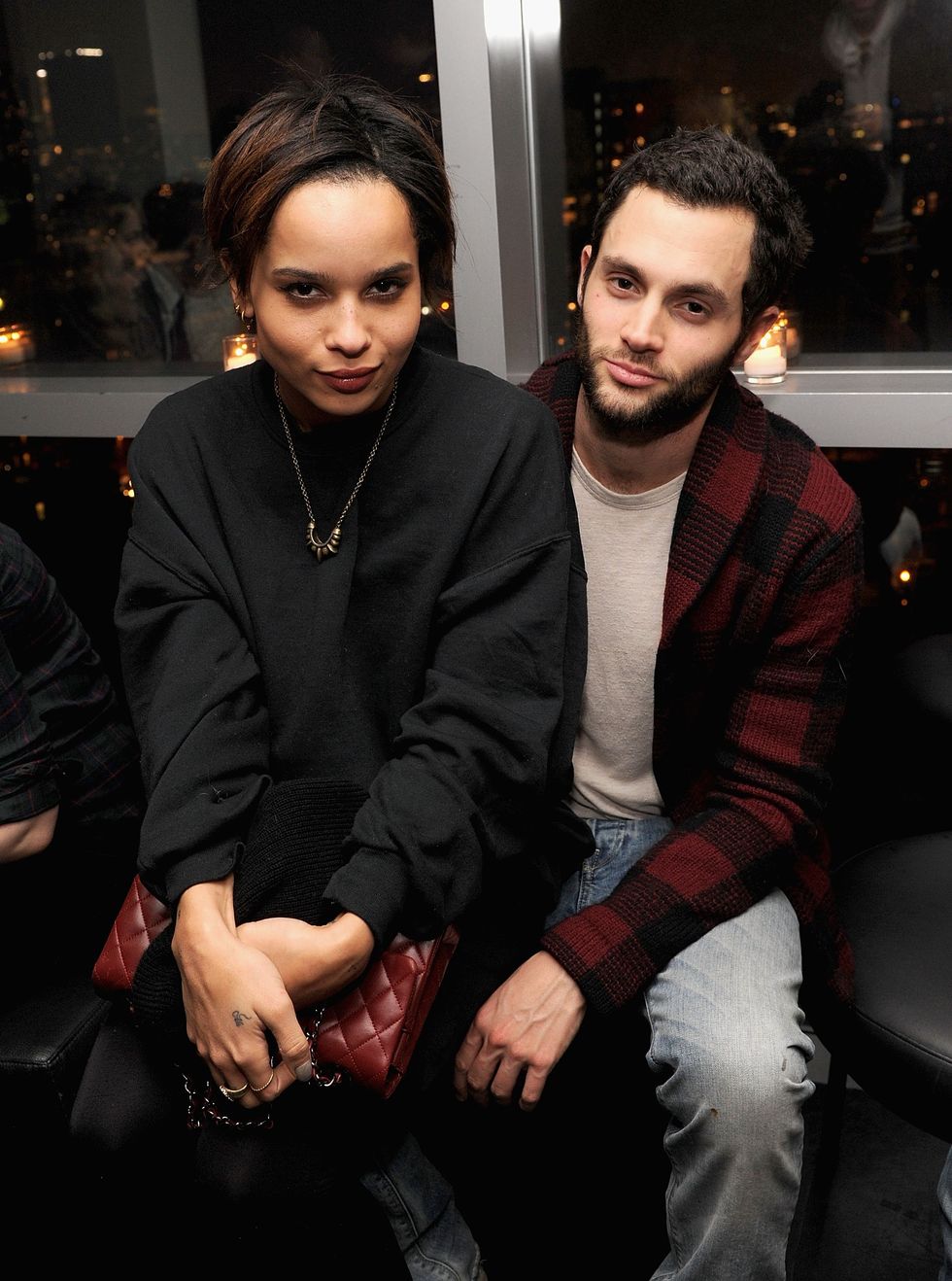 Jamie McCarthy/WireImage
Yes, that Penn Badgley. Following his split from his Gossip Girl co-star Blake Lively, Badgley entered a relationship with Kravitz that lasted two years before losing its steam. For most of the relationship, Kravitz didn't speak much about the You star. He, however, was quoted referring to the love he shared with Kravitz as one that was "earth-shattering."
In a 2013 interview with Movie Line, he spoke of the way 22-year-old Kravitz changed him and inspired his portrayal of Jeff Buckley in Greetings From Tim Buckley, saying about their relationship, "At that time I was falling madly in love in a way that was changing me and opening me up." He added, "I was kind of going through what Jeff [Buckley] was going through emotionally in the movie in the sense that the worlds of music and love and women and art were opening up to me. Honestly, I needed it. It was like this cosmic intervention where, if you're going to play somebody like Jeff you've got to at least be in love, you know?"
"And being in love, real, true, earth-shattering love – even though it sounds hyperbolic I really was going through it — helped me be as good as I could be," Badgley continued about Kravitz and her influence on his performance.
The relationship reportedly came to an end in June 2013.
Karl Glusman (2016-2020)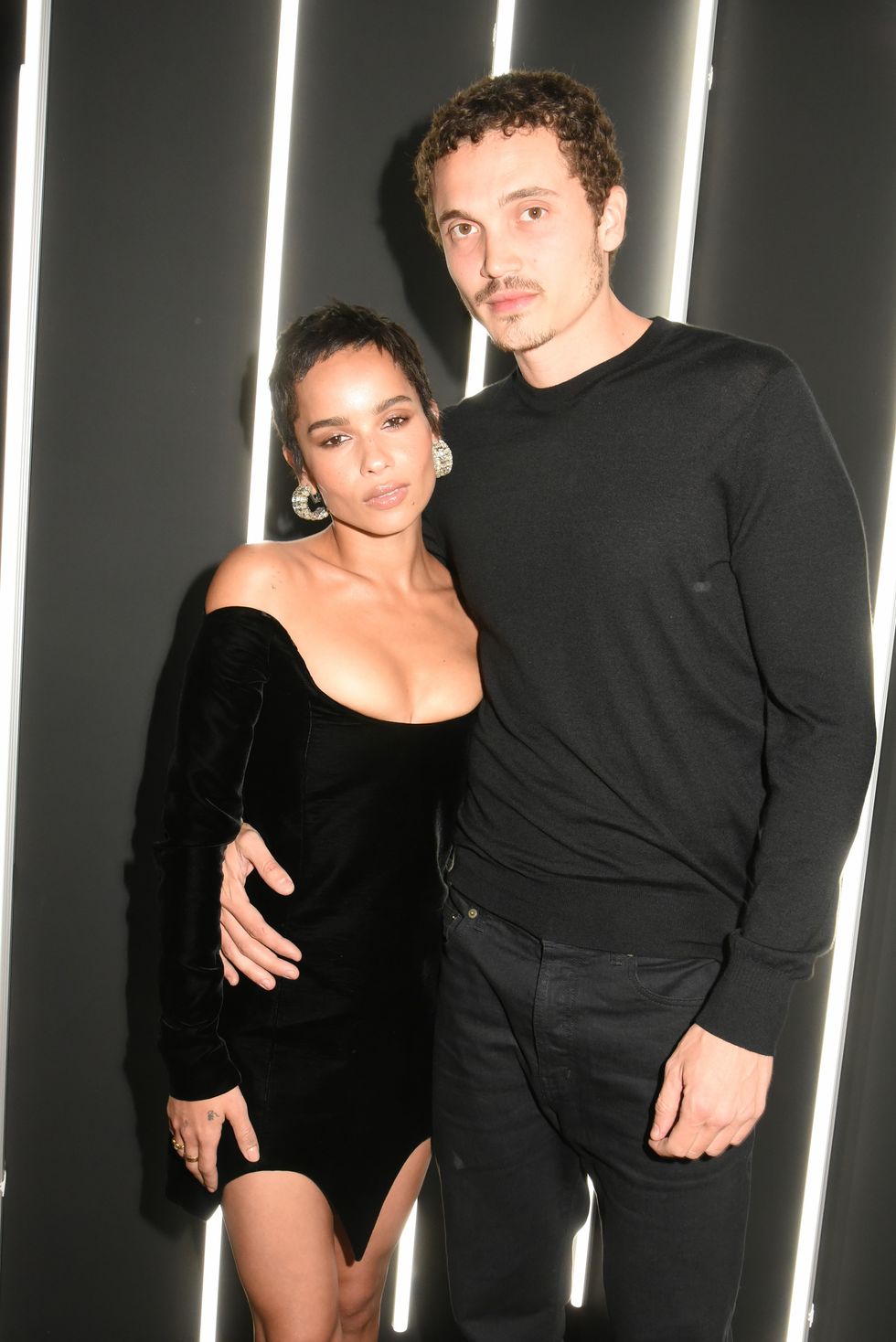 Foc Kan/WireImage
Kravitz met actor Karl Glusman through a mutual friend in 2016 and began a relationship with him sometime after. By now, you might notice that the actress has a pattern of keeping things about her love life private, and her relationship with Glusman was no different. The Big Little Lies star quietly dated Glusman from 2016-2018 before announcing their engagement in October 2018 with Rolling Stone. It would later be revealed that she was proposed to in January 2018. She kept the news under wraps for so long by wearing her ring around her neck instead of on her finger.
The couple tied the knot in 2019 but would split 18 months later, with Kravitz filing for divorce. In a March 2022 interview with ELLE, she confirmed that there was no bad blood about their ending, even referring to her ex as an "incredible human being."
"It really is less about him and more about me learning how to ask myself questions about who I am and still learning who I am, and that being okay. That's the journey I'm on right now," Kravitz explained to the mag.
Channing Tatum (2021-Present)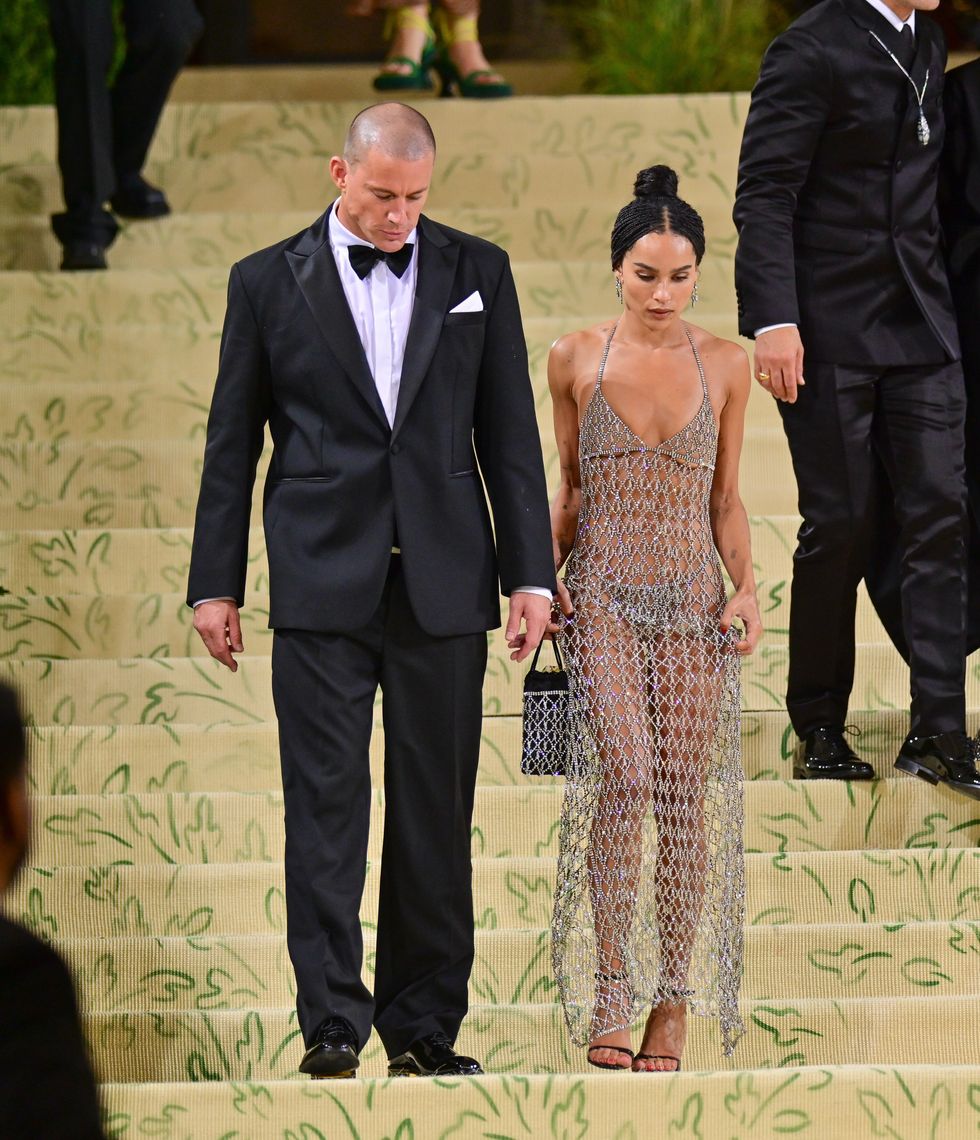 James Devaney/GC Images
The Magic Mike star and the Batman actress have been reportedly "inseparable" since his casting for the forthcoming film Pussy Island back in 2021. Though they crossed paths before in 2017 while voicing the animated characters in The Lego Batman Movie, Kravitz and Tatum (who were also in other relationships at the time) wouldn't connect until 2021, both divorced and happily single. A common thread between the pair seems to be a mixture of mutual admiration and creative compatibility.
Tatum sang Kravitz's praises for the work she was doing behind the camera for Pussy Island in a July 2022 interview with ET. "I'm in awe," he said of her directorial debut, adding that when he was at the helm for the 2022 film Dog as co-director he "barely survived" but that Kravitz was "killing it." He also said that with his role in her film being so different from others he has played in the past, it was nice to be directed by someone who "saw me."
He continued about Kravitz, "She's got a weird gift for that. She sees right through a lot of people's stuff and really, just who they are to her is really simple. She's one of the more intentional people I've ever met in my life."
Kravitz also gushed about Tatum in a GQ cover interview in 2022, calling the actor "a wonderful human." She told the mag, "He makes me laugh and we both really love art and talking about art and the exploration of why we do what we do. We love to watch a film and break it down and talk about it and challenge each other."
Additionally, the 34-year-old Kimi actress recalled for the mag how much of a saving grace Tatum was for her on the set of their film. She said, "Whether it was making me tea or pouring me a drink or going to whip someone into shape or whatever — he really was my protector and it was really wonderful and sweet."
"I think if you can do something like that together, it's a good test. And we came out even stronger," she added.
Congratulations once again to the happy couple!
Let's make things inbox official! Sign up for the xoNecole newsletter for daily love, wellness, career, and exclusive content delivered straight to your inbox.
Featured image by James Devaney/GC Images
Breaking up is hard to do, no matter who you are. Following reports of a breakup with former partner Selema Masekela, Lupita Nyong'o took to Instagram to set the record straight about the "season of heartbreak" she is currently enduring.
In the Instagram post, she acknowledged the hardship she is navigating pales in comparison to the current state of the world but hinted that her own pain came about due to "deception."
In both her caption and as an all-text carousel, the Black Panther actress wrote, "At this moment, it is necessary for me to share a personal truth and publicly dissociate myself from someone I can no longer trust…"
Featured image by Alberto E. Rodriguez/Getty Images
In xoNecole's Finding Balance, we profile boss women making boss moves in the world and in their respective industries. We talk to them about their business, and most of all, what they do to find balance in their busy lives.
The Balanced Black Girl podcast is back for a new season, a new look, and a new network.
The content creator and host of the podcast, Les Alfred, had no idea when she launched the podcast that it would result in becoming a part of the Dear Media podcast family five years later; but the best success stories are the ones you had no idea were being written.
---
The 34-year-old described her career journey as one that isn't linear. Les started her career in corporate finance but, over time, realized that though working in corporate might have been paying the bills, it wasn't feeding her in ways she needed. The depletion and burnout she experienced inspired her to turn to exercise to support her mental health and boost her energy.
"That habit blossomed into a love of all things wellness," Les explained to xoNecole. "I became a personal trainer and nurtured a fitness career on the side, venturing into content creation in 2014."
Les would continue to pursue her content creation endeavors for four years in the form of a fitness blog. That fitness blog evolved into the launch of her podcast in 2018. The Seattle-based creator said the idea to expand her blog into a podcast sparked from her desire to cover broader conversations within the wellness niche. And thus, the Balanced Black Girl podcast was born.
The podcast touches on topics like wellness, healthy habits, rest, fitness, confidence, heartbreak, healing, and more and is sometimes structured as different "issues" similar to a magazine and what is expounded on in the podcast's wellness community and sister site, Balanced Black Girl. And what is a "Balanced Black Girl" exactly? "It's being a well-rounded, multi-faceted person who wants the best experiences life has to offer. So much of that starts with getting centered and focusing on habits that help us feel our best," Les shared.
Through the BBG journey, Les acts as a "wellness-y big sister" who is navigating similar life trials and seasons in a supportive way that makes her listeners who are going through similar things feel less alone with the help of community and someone who just gets it. With her work, Les guides others to their own expansion, healing, growth, and, of course, balance.
"I think I have had so many years in survival mode that they've blurred together. But being willing to make changes -- whether that was changing my environment, leaving relationships that weren't working, leaving jobs that weren't supporting my growth, etc., always helps build some momentum," she said of her journey to cultivating a life well-lived through optimal well-being.
In this installment of "Finding Balance," Les chats with xoNecole about the advice she'd give her younger self, making self-care a prerequisite in everything she does, and what balance looks like to the ultimate "Balanced Black Girl."
xoNecole: How has practicing self-care helped you become a better person?
Les Alfred: I don't think practicing self-care makes me a better person than I was before, however, I now have more patience and tools to help me be a better version of myself. I've learned how to communicate my needs, hold more space for others, and I've learned how to believe in myself.
xoN: What is the best advice you could give your younger self on how to navigate your 20s/30s?
LA: Stop putting pressure on yourself to figure everything out -- nobody ever has everything all figured out. Focus more on building the skills you need to have to build the life you want. Instead of focusing on finding the right relationship, focus on having healthy relationship skills. Learn how to manage your finances. Understand the ripple effect decisions you make in your 20s can impact you later on in life.
"Instead of focusing on finding the right relationship, focus on having healthy relationship skills. Understand the ripple effect decisions you make in your 20s can impact you later on in life."
xoN: At what point in your life did you understand the importance of pressing pause and finding balance in both your personal and professional life? 
LA: I think I'm still learning that lesson! But in my late 20s, I had a bit of a reckoning with my personal life and career, when I realized what I had been doing just wasn't working for me. I wasn't having the social and professional experiences that I was seeking, and I had to learn how to assess what decisions I'd made until that point.
By pausing, getting curious, and being willing to do things differently, even if I didn't have immediate examples around me, I learned how to hold space for things being so much greater than I could imagine by releasing control.
xoN: What is a typical day in your life? If no day is quite the same, give me a rundown of a typical work week and what that might consist of. 
LA: On a normal weekday, I wake up around 5:30 or 6 a.m. and do a quick meditation, then practice a little French. Then I'll throw on workout clothes, brush my teeth, and sip on warm lemon water or tea while doing a bit of reading. After that, I'm out the door going to my morning workout (usually either a class or a strength workout in the gym). After my workout, I get dressed for the day, have breakfast, make my to-do list, and get to work around 9 a.m.
I work [the] typical 9-5 hours and wrap up the work day around 5. Evenings totally vary -- I could be heading to an event, meeting up with friends, going on a date, or going for a long walk after work before having dinner at home and ending the night reading a book.
xoN: What are your mornings like? 
LA: I'm a pretty early riser. I'm usually up by 6 and like to spend a bit of time reading, journaling, and getting in a morning workout. I've been doing these things for so long, this morning routine is like second nature to me by now.
After my workout, I get dressed for the day, whip up a smoothie for breakfast, and am usually ready to start the workday by about 9. I try to stay off my phone as much as possible.
xoN: How do you wind down at night? 
LA: My wind-down routine usually involves a hot shower, doing my evening skincare, and reading (always fiction at night!) on my Kindle until I fall asleep.
xoN: When you have a busy week, what's the most hectic part of it? What techniques or tools do you have in place to maintain your sense of self amid chaos?
LA: I tend to be time-optimistic in the sense that I have a habit of underestimating how much time things take (whether that's the time it takes to do a task, travel time to an event, etc.) so I have to be really mindful to not overbook myself. I also have to make it a point to build in downtime for myself.
I definitely don't feel my best if I don't have a bit of quiet time to recharge.
xoN: Do you practice any types of self-care? What does that look like for you? 
LA: I try to infuse self-care into everything I do. Before starting a task, I like to get really clear on what I need to do and why -- that clarity to me is self-care. Spending time with my loved ones (and enforcing boundaries when needed) is self-care. I also consider my hobbies self-care. Earlier this year, I started taking tennis lessons not to be the next Serena [Williams] or Coco [Gauff] but to learn a new skill and to have an outlet that feels like play.
I also love buying flowers from the grocery store and making arrangements. Reading fiction and getting lost in a story is a huge form of self-care for me. And, of course, the standard practices like exercise, meditation, and journaling -- we talk about them so much because they work.
xoN: Oftentimes, when we hear talk about love languages, it is how we give love to others. What is your self-love language and how do you give that to yourself?
LA: This year, I learned my love language is quality time. I really like having rich experiences and creating memories, so I'm always looking for ways to do that. Whether it's through travel or intentional time with friends and family, I'm always looking to create a positive, memorable experience.
xoN: When you are going through a bout of uncertainty, or feeling stuck, how do you handle it?
LA: I embrace change because, in those scenarios, things can't get better without it. Even making the smallest change can provide much-needed momentum. Whether it's trying a new workout, taking a new route to work, changing up daily walks, or listening to new music, embracing small changes helps us see new perspectives and prepares us for the bigger changes that help take us to the next level.
"I embrace change because, in those scenarios, things can't get better without it. Even making the smallest change can provide much-needed momentum."
xoN: Lastly, how do you define "balance" in your life?
LA: Balance to me doesn't mean doing it all or packing my plate until it's full to the brim. It means being a whole, well-rounded person who is able to hold space for the various experiences life brings us.
For more of Les, check out Balanced Black Girl and its new season here. Follow Les on Instagram @balancedles.
Featured image by Kaye McCoy