Sheriden Chanel
Sheriden Chanel is the Managing Editor at xoNecole.com, covering all things love, life, beauty, and wellness. She has an affinity for travel, self-care, and anything BTS touches. Keep up with her on social
@sheridenchanel
.
In About Face, xoNecole gets the 411 on IGers who give us #skincaregoals on a daily. Here they break down their beauty routines on the inside and out, as well as the highly coveted products that grace their shelves and their skin.
If you ask Micaéla Verrelien the secret to good skin that just won't quit, the creative would tell you that there is truth in less being more. After years of thinking that keeping up with a 10-step skincare routine was the move, the on-air camera host and content creator learned that her skin thrived on simplicity, derived from beauty lessons rooted in her motherland of Haiti. The roots of this were nurtured by seeing her own mother's approach to beauty and skincare at a young age. In particular, during her childhood, one of the most important beauty lessons she uncovered from her mother was the importance of a skincare-first approach to beauty.
"Growing up as a Caribbean woman, the biggest thing is kind of like how you look, and it's not a superficial thing where it's like you have to be your prettiest self and wear makeup because a lot of natural, my mom, specifically doesn't even wear makeup," she explains to xoNecole during our chat. "But skincare was always like so pivotal. So I would grow up seeing her take care of her skin every morning, every night. Like it was a religion, you know, making sure you wash your face. And it's funny because people say don't go to sleep with makeup on. You know, but even if you don't have makeup on, don't go to sleep with your day on."
Based on the inspiration she found in her roots, Micaéla's beauty evolution involved cultivating a routine that focused on the basics of a cleanser, serum, and moisturizer in that order. Whereas before, her skincare routine consisted of numerous steps and products she received from different brands that didn't necessarily cater to her oily skin type, nowadays, the recipe behind her glow is no more than four steps, and there is a hyperfocus on technique and application. When asked about the simplicity of her beauty routine, she responded, "I guess it's always been simple because before it was non-existent, and now it's existent. You want to be able to have a skincare routine that doesn't feel like a job or like work."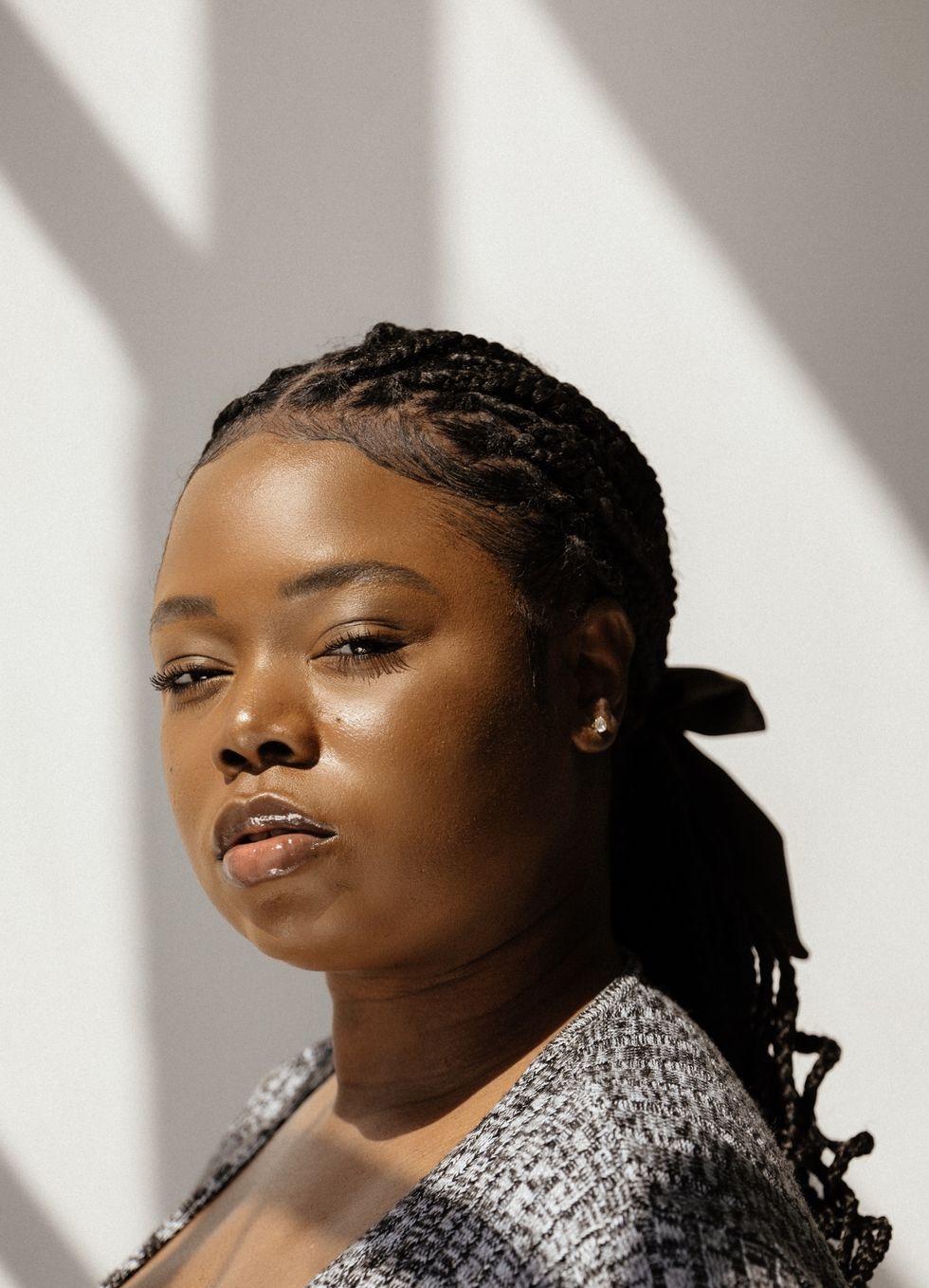 Courtesy of Micaéla Verrelien
"It's a part of the relaxation, just taking care of yourself. And if you have like a 10-step process, either you're forgetting things, you run out of one thing, or it just feels like an assignment. And I think skincare should feel like luxury. Like you're allowing yourself to be immersed in that luxury for that moment of time. It shouldn't feel like a task. And I think that's how I feel about it. And the simpler, the better, especially if it works," Micaéla added.
"I think skincare should feel like luxury. Like you're allowing yourself to be immersed in that luxury for that moment of time. It shouldn't feel like a task."
Feeling like luxury is a prevalent throughline in Micaéla's approach to her self-care. She ritualizes activities like taking herself to the movies and on solo dates, prioritizing routine massages, crossword puzzles, and meditation. This chapter of her life is about intentional indulging which is why she no longer deprives her oily skin of the moisture it craves. Having learned better, she does better.
"You need the moisturizers, you need the serums, and you need to drink more water, which is why the first thing I always do in the morning is drink more water. And I'll notice that my skin is less oily." She added, "Listen, I am looking like a glazed donut, like a whole brown glazed donut, when I go to sleep, I don't care. I'm like, my skin's going to glow in the morning. And you know what, it does, it glows."
Keep reading to learn more about some of the holy grail skincare products the creative keeps in rotation.
Micaéla Verrelien's A.M. Skincare Routine Must-Haves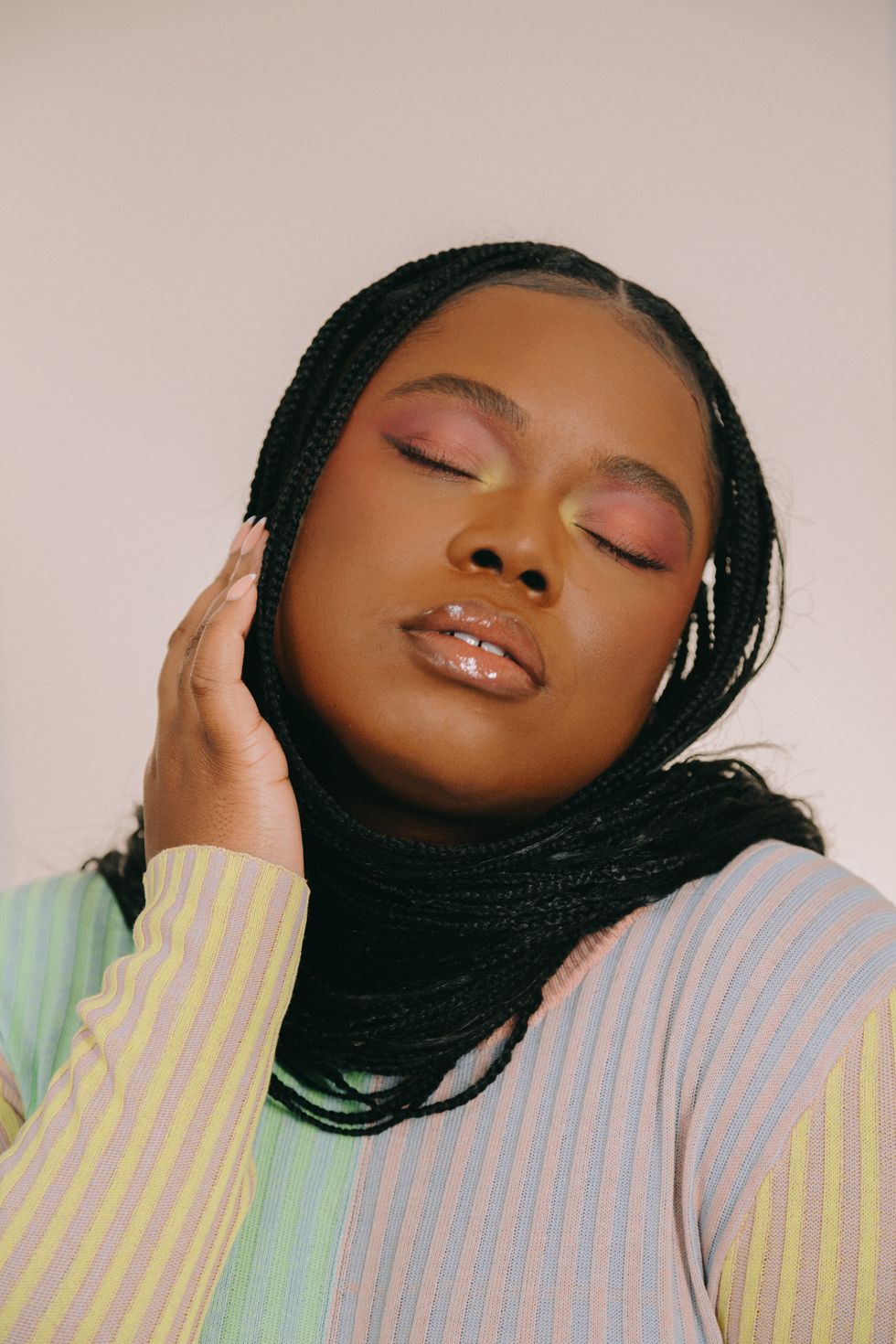 Credit: Patrizia Messineo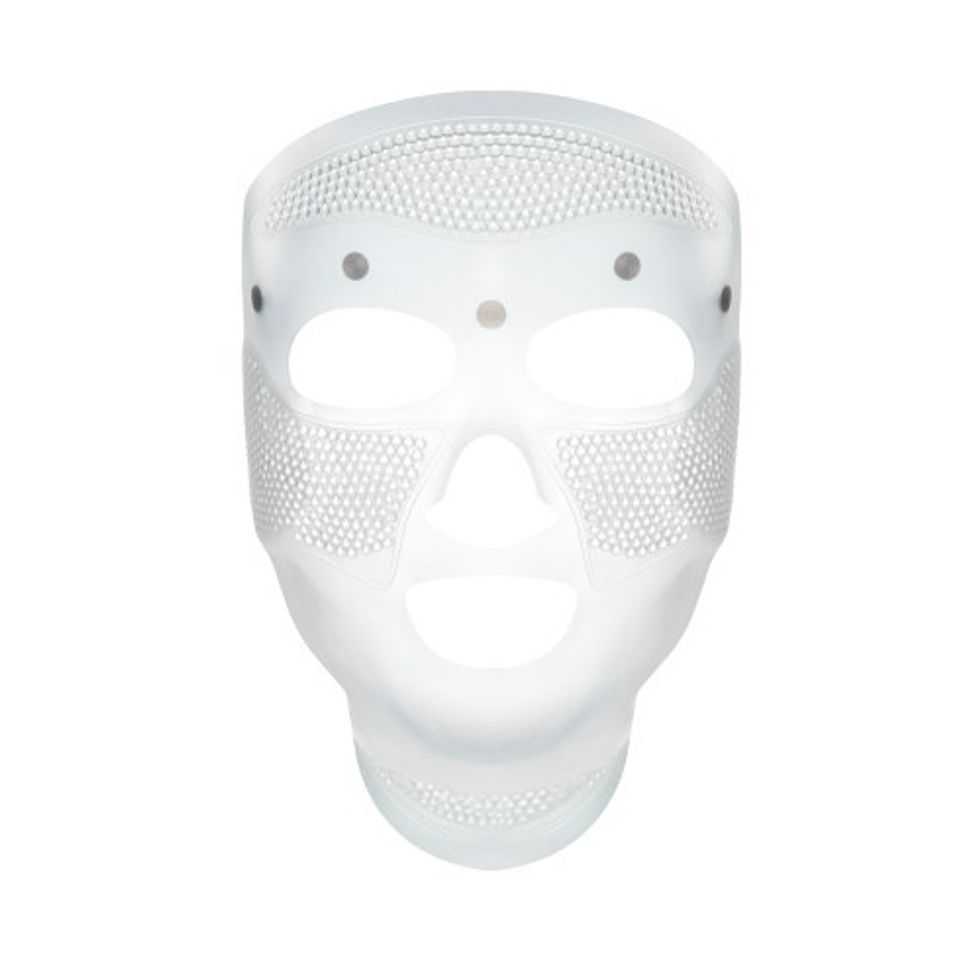 Charlotte Tilbury Cryo-Recovery Lifting Face Mask
Charlotte Tilbury
"It's like a rolling ball of ice. But imagine that, but on your face, just a flat ice mask on your face, and you can actually attach it so your face lifts up like that. And it also has acupuncture technology. It's a really cool thing. You look kind of crazy when you're wearing it. I definitely start off the morning routine with that."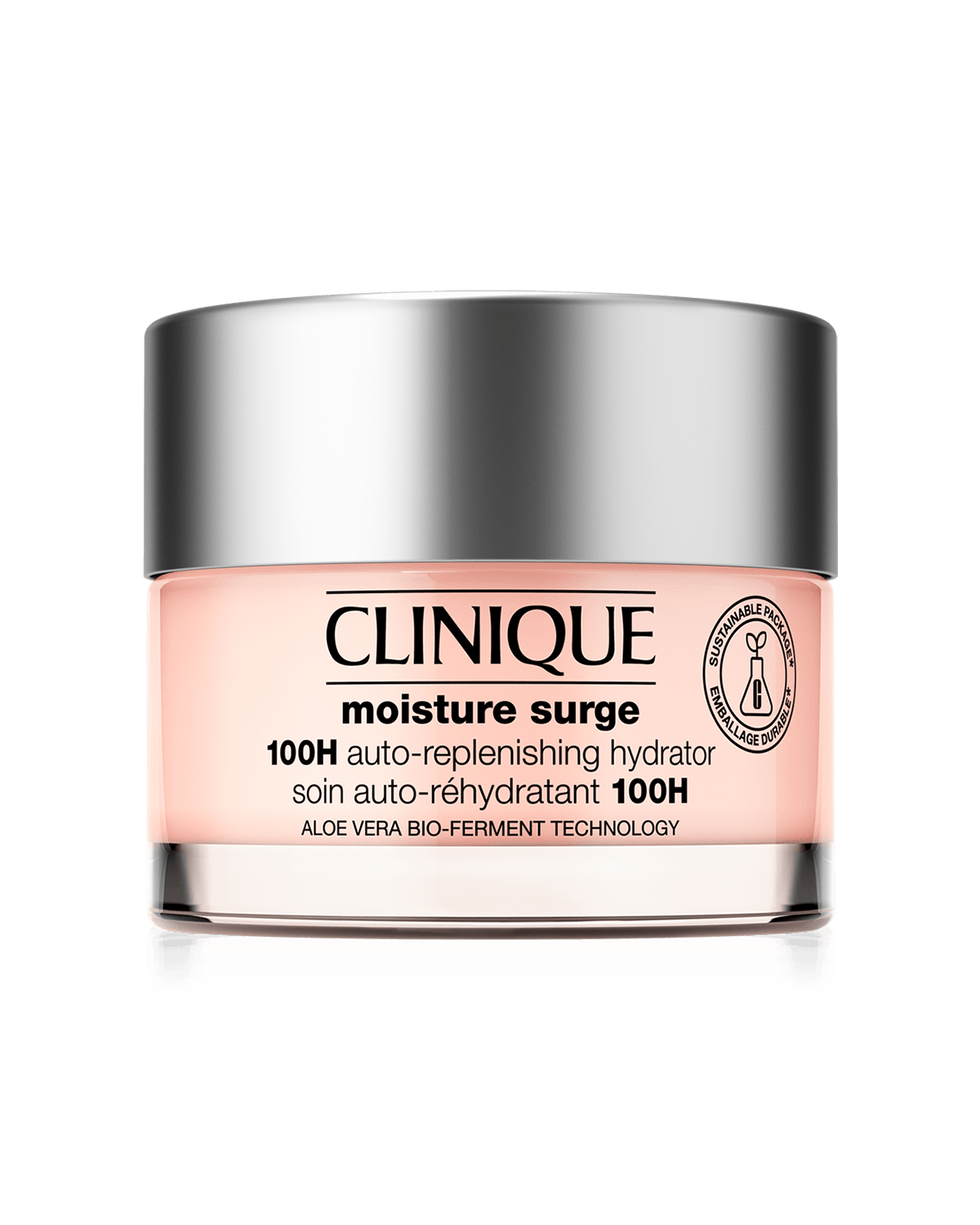 Clinique Moisture Surge™ 100H Auto-Replenishing Hydrator
Clinique
"Then I'll go into my skincare, and one of my favorite moisturizers right now, which I love, and I think I need it because I am someone that deals with oily skin, is the Clinique Moisture Surge. And I recommend the 100-hour one because that means, you know, when you add this 100-hour Moisture Surge, it's working and kicking off all the time. So when I wash my face, and then I add it again, it's just kind of like ongoing, always moisturized."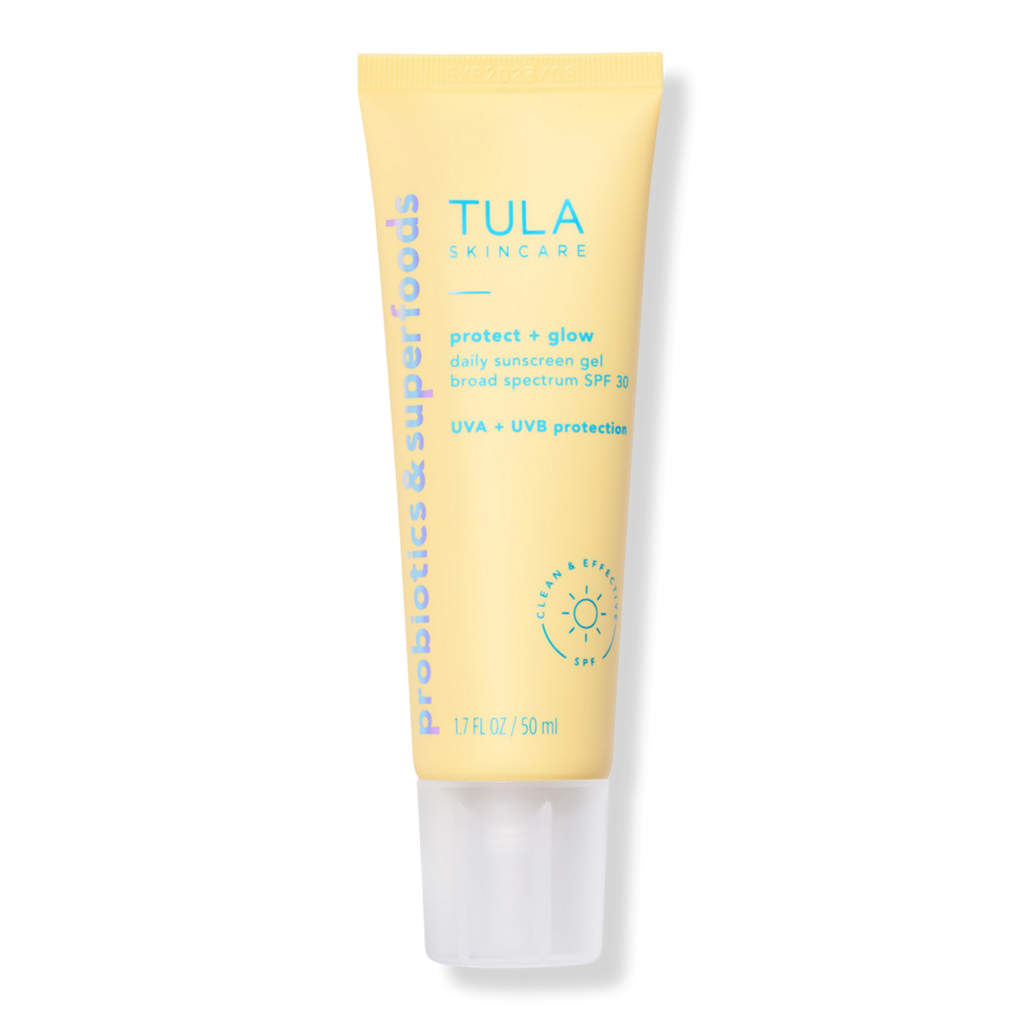 TULA Protect + Glow - Daily Sunscreen Broad Spectrum SPF 30
TULA
"I love sunscreen. My favorite sunscreen is TULA. TULA has probably one of the best sunscreens. It's called Protect + Glow Sunscreen. And it's great, you know, if you're going on trips and you want to look very glowy, it kind of gives you a little bit of sparkle too. But that's my preferred sunscreen.
"And then after the sunscreen, I'll add like a dime size of moisturizer. I add more sunscreen than moisturizer. And I don't necessarily add serums on my day-to-day because I have oily skin. I'm looking for moisture in my skin, which is why I use a moisturizer."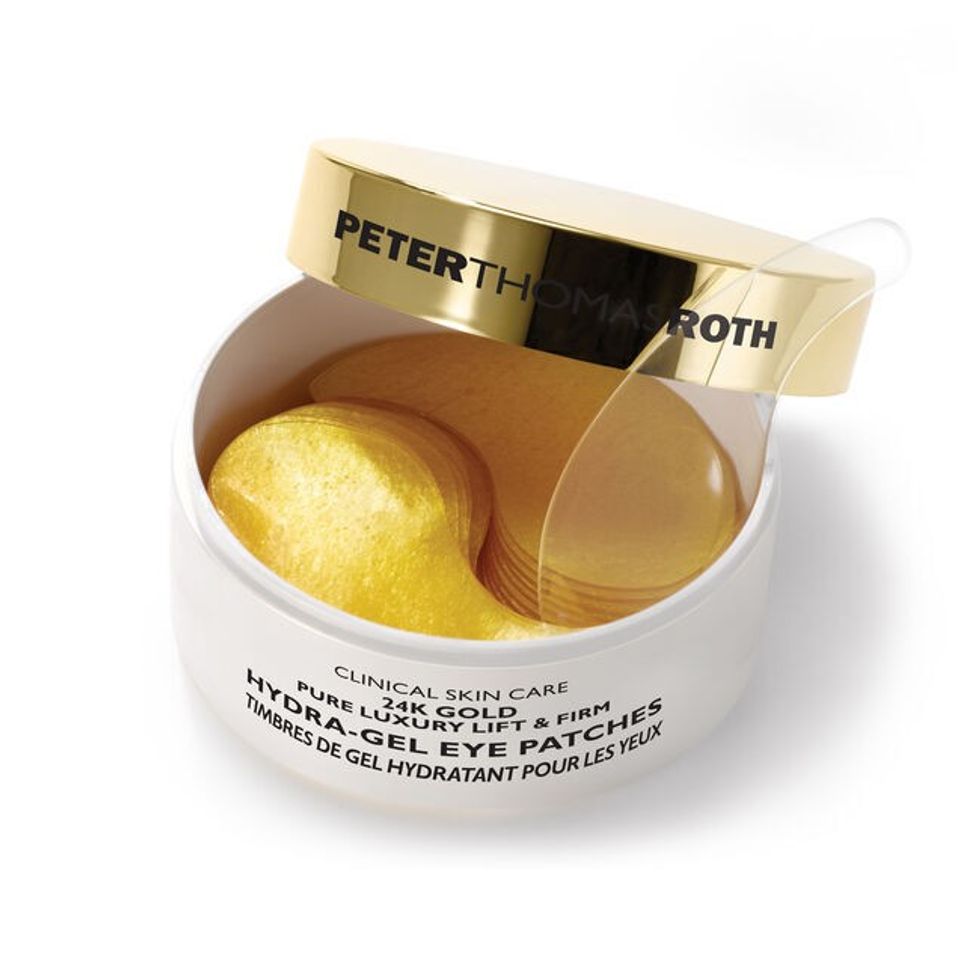 Peter Thomas Roth 24K Gold Pure Luxury Lift & Firm Hydra-Gel Eye Patches
Peter Thomas Roth
"I love these under-eye masks. So I never used to use under-eye masks, but now I'm like obsessed with them. I don't know if you heard of the brand Peter Thomas Roth. They're such a great brand. So, if I'm doing makeup or if I'm not doing makeup, I always add that in the morning. I've been doing that a lot lately."
Micaéla Verrelien's P.M. Skincare Routine Must-Haves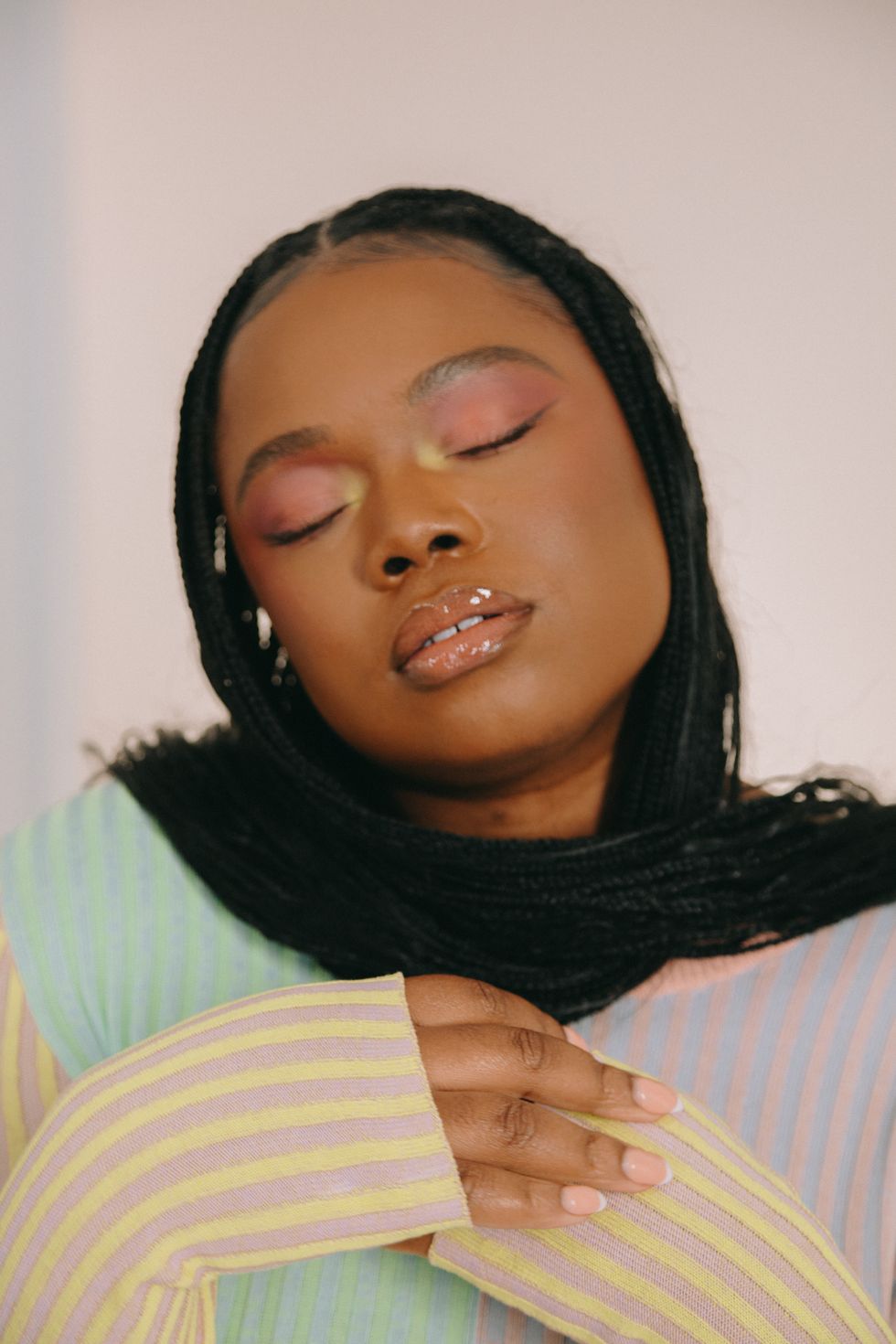 Credit: Patrizia Messineo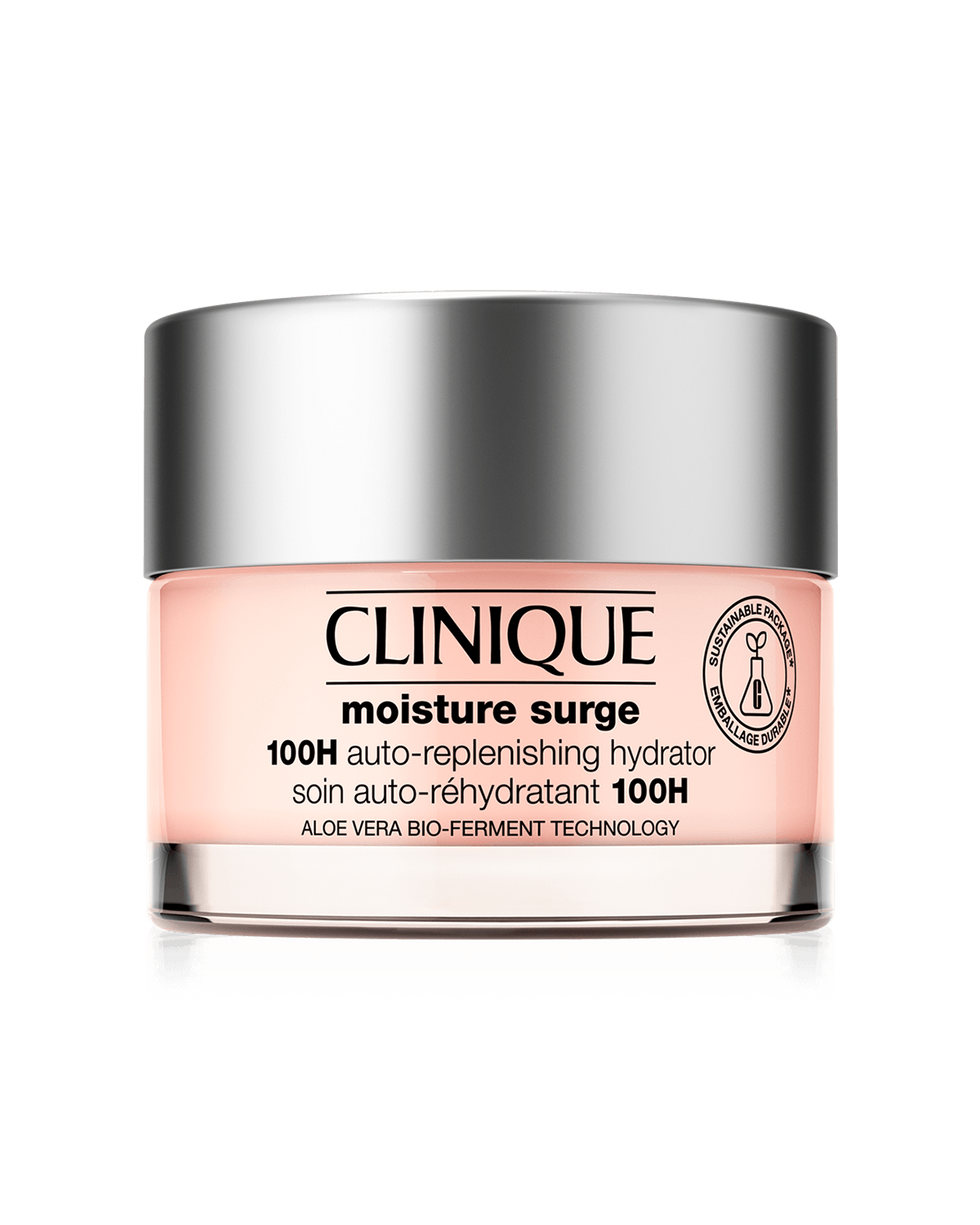 Clinique Moisture Surge™ 100H Auto-Replenishing Hydrator
Clinique
"There's so many different moisturizers, but my preferred one is the 100-Hours. So I'm adding a dime size in the morning, and I'm adding a little bit more [at night]. I would say within two fingers of that Moisture Surge for my skin."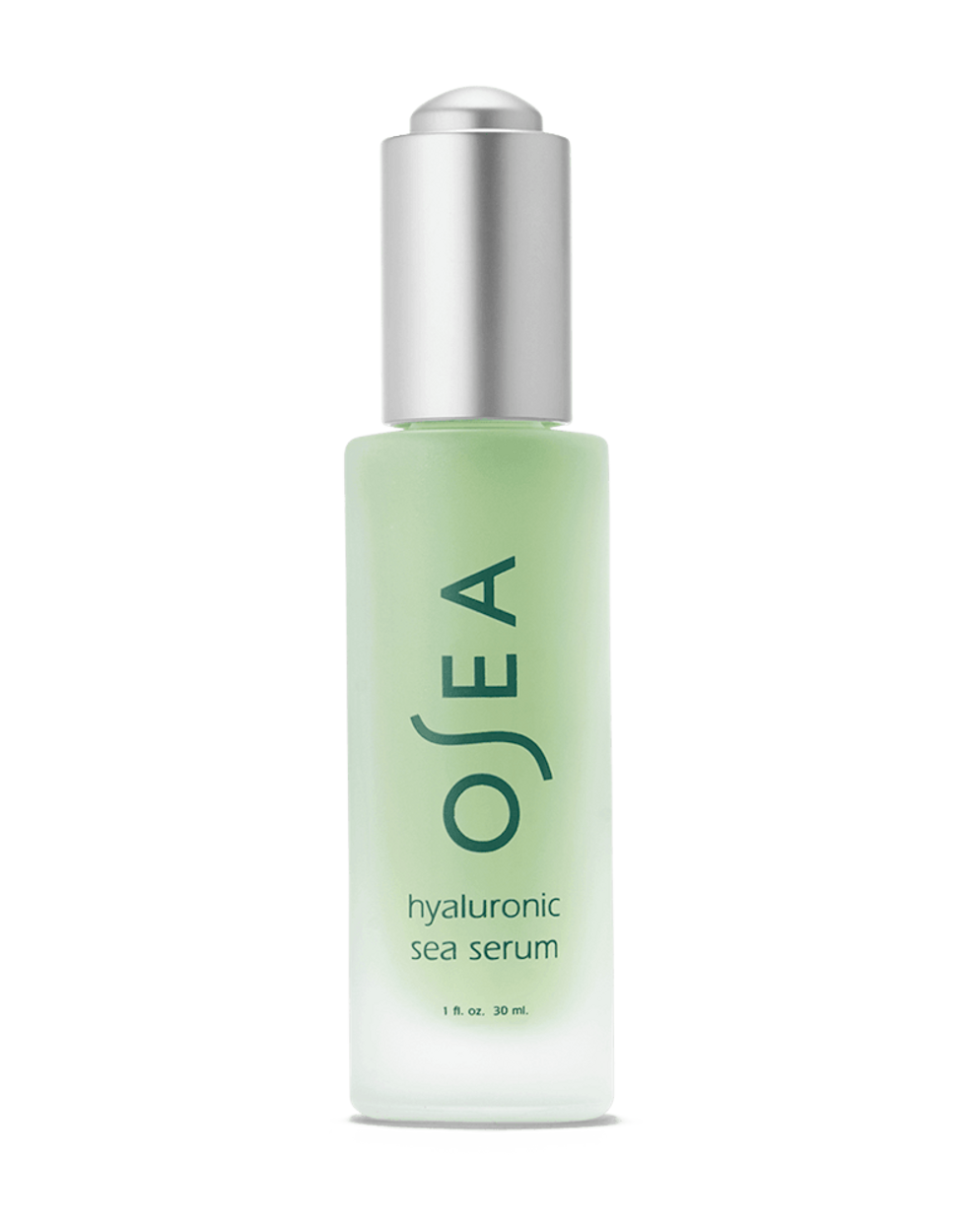 OSEA Hyaluronic Sea Serum
OSEA
"I love serums right now. And one of my favorite ones is from a brand called OSEA. I love them a lot."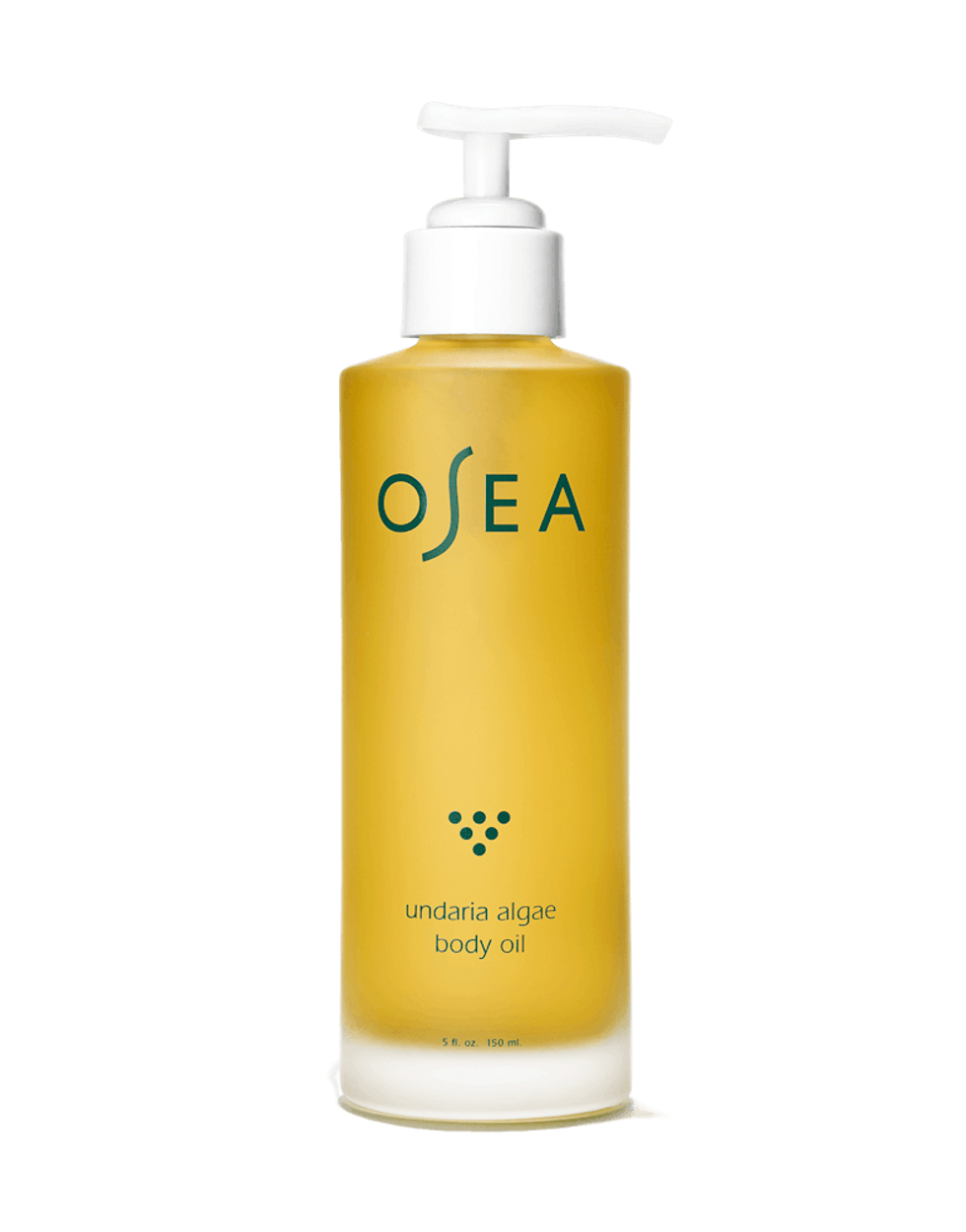 OSEA Undaria Algae Body Oil
OSEA
"I also love adding their body oil to my body. So that's something that I use at night as well. During the day, it's not that I don't hydrate my full body, but at night, because while we're sleeping, that's the best time for your body to kind of 'reboot' itself. So I'm adding the same brand OSEA. I add their body oil, like everywhere."
Featured illustration by Qori B.
The honeymoon's officially over, and not every couple made it out of paradise with their engagements intact. However, for the Love Is Blind Season 4 hopefuls that did, episodes 6-8 are about cultivating a love that stands the test of time and reentering the real world as husbands- and wives-to-be. In shared apartments provided by the show, the couples will learn to navigate cohabitation, work routines, finances, family and friend dynamics, and most importantly, putting in the work to eventually make the commitment of a lifetime to someone in a matter of three weeks.
In case you missed our first recaps, you can find those here and here. Keep reading for a recap of everything you missed on episodes 6-8 of Love Is Blind.
Spoilers are most definitely ahead!
Kwame + Chelsea
Kwame is doing his best to get back into my good graces, and it's somewhat working. In episode 6, after the real-ass conversation, he and Chelsea had in Mexico, where she urged him to let the Micah ish go, Kwame seems to be walking the talk of the man that said he was where he was supposed to be in regards to his engagement with Chelsea. As he basks in the glory of doing adulting to the highest level, he seems in awe and at ease and even tells Chelsea that walking into their place together makes him feel "at home in it."
As they are enjoying their first takeout meal in their spot together, the two begin to talk about cleaning duties and how they should go about dividing chores. Chelsea expresses that she prefers going to bed with a clean kitchen, but Kwame is more 80/30 when it comes to clean dishes. Surprisingly, he notes that he would like for Chelsea to flush the toilet after she uses the bathroom every time. Chelsea makes excuses but eventually agrees. Come on, boo. We can't be pressed about clean dishes 100% of the time and then leave pee in the toilet for our fiancé to flush for us.
Later on in the episode, the two explore each other's apartments in real life. I loved the backstory of the healing nature of Chelsea's decorating decisions and how her space was one of self-expression and fulfillment of her being her full self in ways she couldn't be in a previous relationship.
Chelsea shares with the camera that things got really real for her that day because, during her single days, she was met with a lot of loneliness. She reveals being on FaceTime calls constantly to feel some kind of connection. "Everything's different now," she ends tearfully. "I get to come home to Kwame. And that's a whole new feeling for me. I've wanted it for so long."
In the episode's cliffhanger, Kwame and Chelsea learn that they both have dads named Charles, but Chelsea is nervous about how her dad Charlie will receive the news of this very unique circumstance of falling in love, getting engaged, and married in a matter of weeks. While doing her best to combat her nerves, Kwame and Chelsea have a semi-passive-aggressive back and forth about who lectures who the most before Kwame waves his white flag to share why he should be on edge more than she should be on edge.
Despite some of his anxiety around the situation, he does his best to try to assuage Chelsea in her stressful moment, but Chelsea ain't trying to hear none of that.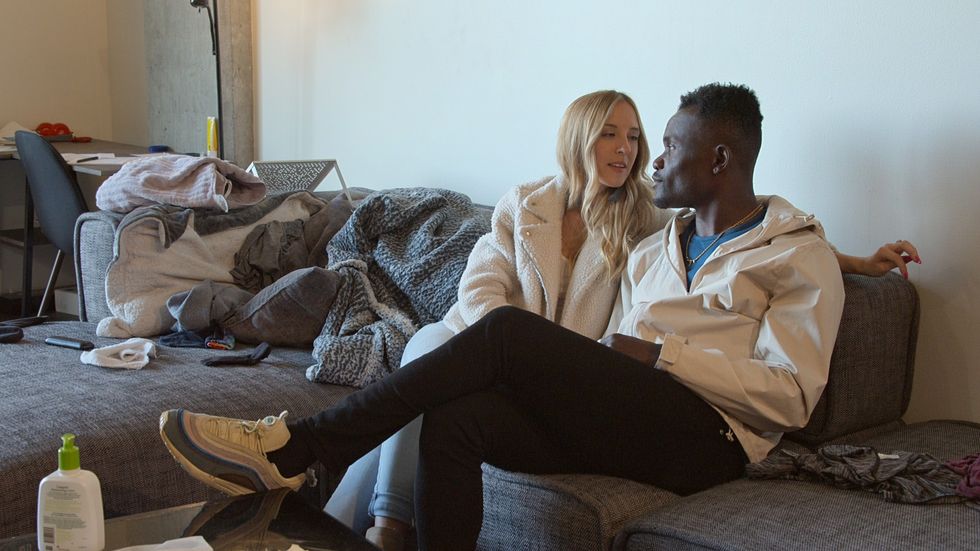 Courtesy of Netflix
As revealed at the top of episode 7, all the conversation leading up to meeting Chelsea's dad was for naught because Charlie barely needed an explanation to get with the program. He embraced Kwame and Chelsea's relationship with him with literal arms wide open! Later in the episode, Chelsea and Kwame head to Portland, where Kwame actually resides (not Seattle like the majority of the other cast members of the season), to visit his apartment and take some things of his to the shared apartment in order to really coexist.

It's interesting to note that Kwame would have to uproot the life he leads in Portland to make the relationship and could-be marriage work with Chelsea. He tells the camera he has no friends in Seattle. He has things about Portland that are routines for him. Chelsea is dead set on having a life in Seattle. Kwame notes that he sometimes feels he compromises a lot, maybe too much even.
Later in the episode, when Kwame has the phone conversation with his mom about doing the experiment and moving forward with an engagement with Chelsea, the news is not received well. He tells Chelsea that his mom is a big part of his life and that it is tough to hear that she isn't happy for him. It's a stark contrast to the unyielding acceptance we felt from Chelsea's dad.
Kwame seems to take things in stride, giving his super emotionally intelligent recap of the events to Chelsea, but I can't help but think that it must be hard to always swallow your emotions and filter them in a way where you have to apply so much reason to the things you have every right to feel. He was hurt and disappointed but does his best to smile through everything. I thought that said a lot about who he strives to be in life.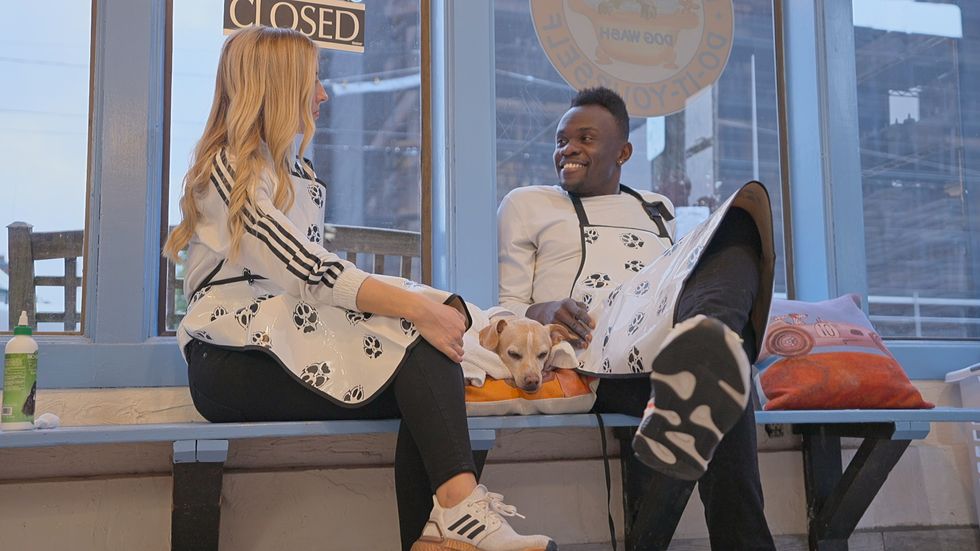 Courtesy of Netflix
In episode 8, Kwame is making major life adjustments, from moving to Seattle for Chelsea to taking care of her dog, Rocky. When they have a conversation about having a family after bathing Rocky, I appreciate the seriousness of such a topic. It seems like it's been broached before because Chelsea leads with reminding Kwame that he said three years into being married would be a good time to start a family. The pressure is on, and you can tell as Kwame seems uneasy while Chelsea is speaking her piece about always seeing herself as a mom.
He emphasizes wanting to have time to "enjoy each other." He notes that Rocky infringes upon their ability to be flexible as it is, even if he sees himself and his future wife traveling the world together. Kids would add another difficult layer to that desire. When she notices that it seems Kwame is grieving a past version of his life, Chelsea asks a fair and important question, "Do you want to settle down?" Thank you, someone who remembers the point of this show.
Kwame tells her that he is compromising a lot. There goes that word again. I have a feeling that is more so what it is about than having kids versus not having kids. He ends the conversation by explaining that he just wants his feelings to be considered. "Considered," Chelsea replies.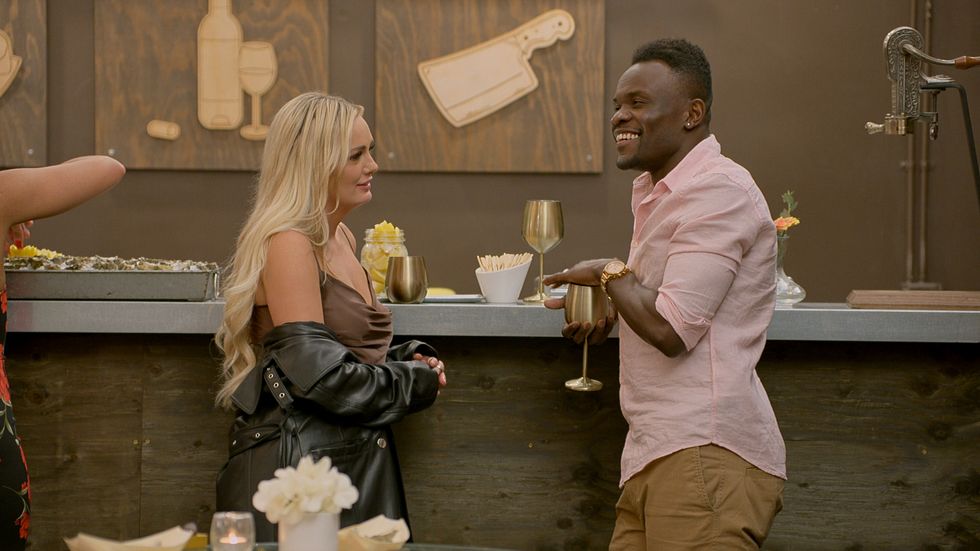 Courtesy of Netflix
As he opens up to Tiffany at Chelsea's birthday party later in the episode, his issues with compromise and the potential of being too compromising are something that comes up again. In another inappropriate sidebar conversation with Micah, Kwame asks her if she feels she's made the right choice. As usual, with their conversations, it feels like they are applying feelers to the situation to see if there's smoke where there's fire. I have my eye on these two.
He tells the camera that he will always have feelings for Micah, and he likes that their connection is "seamless," and there's no pressure to it. I rolled my eyes because he's not engaged to her and there are no ties, and that's why there's no pressure. You're having to make these life-changing decisions about your partner in a matter of weeks. Of course, you'll feel some pressure with Chelsea that you won't feel with another woman not directly involved in that relationship.
The fantasy of what could be doesn't always tell the story of what is and blatant acts of disrespect like this after the conversation he had with Chelsea about letting it go makes me feel for his fiancée. She deserves better than that.
Brett + Tiffany
The hygiene Olympics continue as Tiffany and Brett come onto the scene heading into their nighttime routine. They are sharing the bathroom while Brett brushes his teeth, shirtless, might I add (there was no need, but I felt like context would be a great addition here). Tiffany reveals to the camera that cleanliness might be an issue for them because she likes things clean, emphasis, and Brett is the type to exit the shower and leave water everywhere, which she says is a big pet peeve of hers. When she brought it up to him, he dismissed it as just being water. I mean, it does dry.
When they exit the bathroom, Tiffany tells Brett that a TV in the bedroom would be great to have. Brett disagrees and lets her know that the only thing that should have her attention in the bedroom is sleep or him. She takes that as an invitation and coquettishly replies, "My attention is on you now," before joining him in bed. "I'm really happy here. And I really mean that," he expresses to her as she smiles.
Later in the episode, Tiffany introduces Brett to her chosen family of friends for food and drinks. And they started with some tough questions right out the gate, feeling him out for their friend. It was also cool to learn about Tiffany being an easy sleeper from her friends because it provided some context about that infamous night sis fell asleep on Brett in the Pods. Apparently, sir passed their "tests" with flying colors.
Feeling the love from her friends and how much they wanted to see that love epitomized in her partner and how much Brett seemed to exemplify that made for a very endearing scene.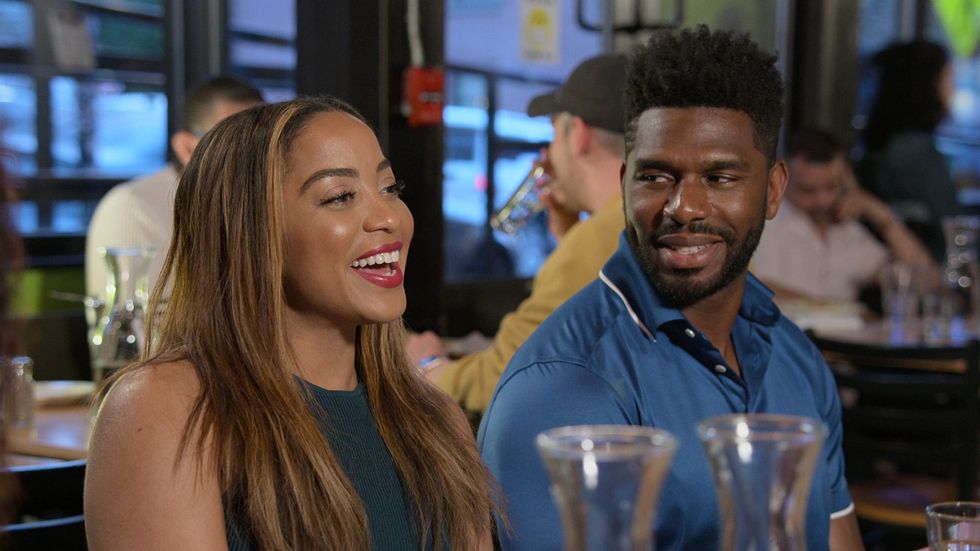 Courtesy of Netflix
In episode 7, Brett takes Tiffany to check out his apartment because if they make it to the altar, it's where they will be living. It is there that Brett gets coined the nickname "Bougie Brett" by Tiffany, who, despite going on about how clean she is, seemed super impressed with the look and feel of Brett's uber-neat apartment.
Space, though, quickly becomes an issue as the couple tries to figure out where will things like Tiffany's clothes fit or even a workspace for her to work. Brett reminds her that he is willing to upgrade to a bigger apartment in the same building if she likes the apartment. "I can see myself living here," she says to Brett eventually.
As the episode continues, Tiffany is cooking a meal for the pair, and they embark on a conversation about their approach to finances and what their lifestyle will be like after their lives have effectively merged. It was refreshing to hear these types of conversations had between a couple on this show, as I don't think it's shown amongst the other couples if they are having these types of convos.
Tiffany references Brett's expensive taste as something she doesn't necessarily want to infringe upon, but she does want the bills to be taken care of without having to monitor how much he is spending and on what. Brett adds to that by saying that he is comfortable with doing a 75-25 split or a 60-40 split on some bills. I'm like, okay here. Love to see it. Brett and Tiffany are a beautiful example of what emotional maturity looks like and being on your grown man/grown woman ish. I think this show could definitely use a lot more of that. Cast more Bretts and Tiffanys, please!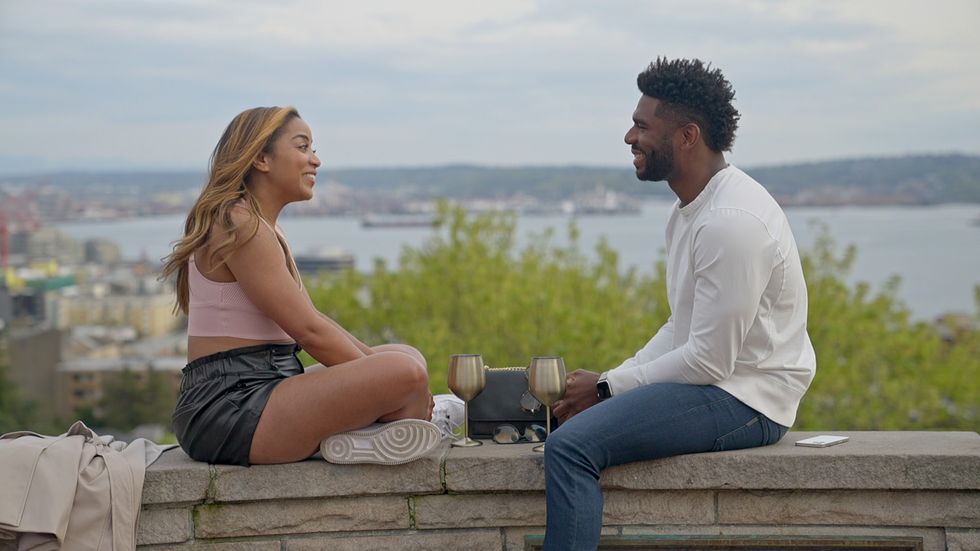 Courtesy of Netflix
Nothing of real consequence happens between the couple in episode 8, just Brett and Tiffany being adorable and expressing gratitude about having found each other to be able to do life together. That's the thing about being a pretty solid couple on the show. There's no need to do extensive recaps on this couple because conflict doesn't tend to occur unhealthily.
And that's also why they are my Unproblematic Faves.
Marshall + Jackie
Marshall is a grower, not a shower, it seems, because I felt his love for Jackie beaming through the screen as he talked about the joy he found in developing a routine. I was a little lukewarm on him, but I think when he is expressing his pleasure in doing things for Jackie, his inner light is glowing, and he seems that much brighter overall. He recounts the good things about doing life with her, like waking up to her, making her breakfast before sending her to work, doing his things, and then waiting for her to get home.
While they are on the couch together talking about telling their respective families about their engagement, Marshall shares that his family is "over the moon" happy for him. However, Jackie shared that she told her mom and dad and that their response was, "This is not Jackie." She says it with a laugh and reiterates that they were so shocked and she had to tell them that she was "dead-ass." She ends the story by saying that she still doesn't think they believe her, but they will just have to come to terms with her being engaged in their own time.
Jackie notes that she has to be "up to par" when it's time to meet Marshall's folks but says that she wants to hold off on him meeting her family for as long as possible. When Marshall asks if Jackie thinks her family wants to meet him, she answers, "I would hope so," and then details how her mom and dad are.
Later in the episode, we see Marshall doing his aforementioned favorite thing, cooking breakfast for Jackie. She greets him warmly and learns he is making pancakes with a strawberry raspberry compote. Jackie is so impressed by the initiative and the effort and says excitedly, "Wow, I feel like I'm in a restaurant!" and thanks him with a kiss. "I'm so blessed," she says to him. "You are," he responds.
Jackie reveals to the camera that she has never been loved like this or experienced anything like this before. And that explains a lot of the self-sabotage vibes I got from the previous episodes. She's never been treated like this before, so she might be combatting feelings of unworthiness and doing that thing where we fuck up things that we know are good for us because somehow we've convinced ourselves we don't deserve it. Self-sabotage is a mf.
I see glimpses of the self-sabotage threaten to reemerge in episode 7, where Jackie seems very anxious about something. It is revealed that the couple is talking about meeting his family plus her family's lack of support and that Jackie is stressed out because "it is a lot." Jackie wants Marshall to give her some space to get herself together, and Marshall agrees to take a walk to give her some time. He tells the camera that Jackie has a tendency to ruminate and stay in moods for a long time but that he is able to give her the space she needs to sort through her own feelings. "I can do that for her," he explains.
Jackie eventually opens up to Marshall about her emotions and feeling like she has to make a hefty decision at the end of this experiment that will not only impact her but her relationship with her family since they are not in full support of her and Marshall. She doesn't want to hurt her family, but she also doesn't want to hurt herself in the process. Her anxiety is getting the better of her and as a result, she doesn't feel like she is at her best to meet his family.
Great news, Jackie does decide to meet his family that day despite the emotional tailspin she was in. Marshall's sister and brother-in-law come through with his niece. And the vibe completely shifts from tears to all smiles. "I need to know everything from the beginning," his sister announces as they eat together. Marshall lets his sister know how much of an impact Jackie has made on him as a creative, as a man, and as a person, and breaks down how they bonded.
Marshall's brother-in-law notes that he feels a positive shift in his aura. Jackie speaks her piece about her connection with Marshall and how he's taught her to be more grown. "Marriage is biblical. That's serious. I need to make sure I'm the best version of me before I say yeah," Jackie admits to Marshall's family. I love that Jackie said that because it emphasized her values around the commitment of marriage.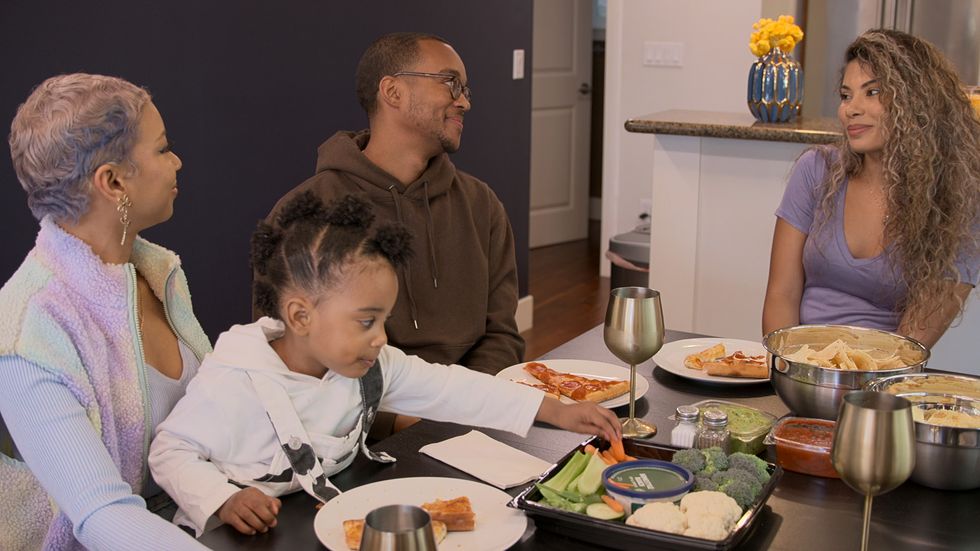 Courtesy of Netflix
I still don't see it for these two. The pieces are there, but there's something missing. They kind of remind me of another couple on the show that I don't talk much about, Paul and Micah, in these recaps. Like they're trying to get pieces to fit, but somehow, it doesn't feel organic. I don't doubt that love is there, but I do doubt this couple and that couple's staying power, especially in terms of having very real sources of conflict but being reluctant to adequately talk through the issues before they build up to be more.
Jackie is downplaying the importance of her family's support or lack thereof and can also just overall feel like a walking red flag. Micah is downplaying the fact that she wants to be able to go back and forth to her place in Arizona, and Paul isn't having any of it. Whereas I feel like Marshall has enough flexibility for a relationship with Jackie to go the distance, I do wonder if it is indeed what Jackie needs. Despite constantly reassuring the viewers and herself, how does she really feel?
In episode 8, the relationship between Marshall and Jackie officially begins to unravel. I didn't think that my concerns about them would be validated, but one argument proved to be a turning point in their relationship and would eventually lead to a point of no return. Marshall tells the camera that the relationship is looking pretty "bleak" with Jackie and that during a conversation they had while the cameras weren't rolling, Jackie told Marshall he needed to "boss up." Now, I know that's one of Jackie's favorite phrases, so I could see her saying that.
Marshall didn't take that phrase very well and heard in her choice of words that he was not "man enough." I don't know if that's what she meant, but that's what he received from her communication, which is perhaps what matters. He apparently left her to stop himself from going off and the conversation from getting too heated. When he enters the house after being gone for 2-3 days (the timeframe isn't clear), Jackie is visibly upset as she is packing.
Marshall passively aggressively questions if she's packing her stuff and why. "I'm not about to play these games with you," she says dismissively as she brushes past him. She reveals that she is upset because she wanted to be able to talk to him in his heated moment, but instead, he leaves. His leaving was a problem for her. She clarified to him that she never said he wasn't man enough for her; she requested that he be more aggressive. "We don't have sex," she says before adding, "Do something."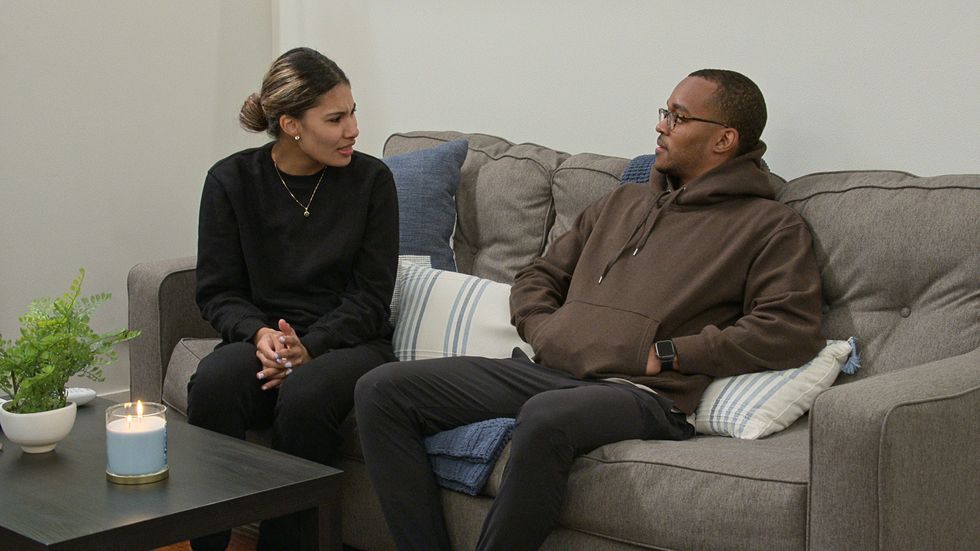 Courtesy of Netflix
Marshall counters, "It's always what you feel and how you think." Resentment. I knew it was hard having a savior complex, but he was the one who decided to take on that role. You can't be mad at the precedent you set in a dynamic. The argument that follows is so unproductive. I was shook when Marshall did a clap during the back and forth and said he was "testing" her. It's unfortunate that a miscommunication uncovered all of this with threats for both parties to leave the relationship.
Eventually, Marshall speaks his piece about putting in all the work to be the initiator of their physical intimacy, which contradicts Jackie's complaints about him not being aggressive sexually. "You have done nothing to make me feel seduced or special or anything," he tells her. "Make me feel like something, Jackie."
Jackie, of course, then asks something to the effect of why are you with me if I do nothing for you. And Marshall drops the mic when he answers very coldly, might I add, "Because I see you as a project, and I saw potential." PROJECT?!?! PROJECT?!?! I don't like Jackie like that, but I felt for her in that moment because to hear that from someone who, in the same breath, claims to love you has got to be heartbreaking.
And then he repeats the "project" talk a couple more times as if he can't see how hurtful being on the receiving end of a statement like that is. He brings it back eventually by saying it was the emotions talking and that he doesn't see her as a "project"; he sees her as having "limitless potential." It's too late, my g. For me, at least, because Jackie ends up embracing him tearfully after that back peddle. Do I think some things get said in heated situations that aren't always indicative of reality? Absolutely. But I also think sometimes truths come out when the filter and facade come down.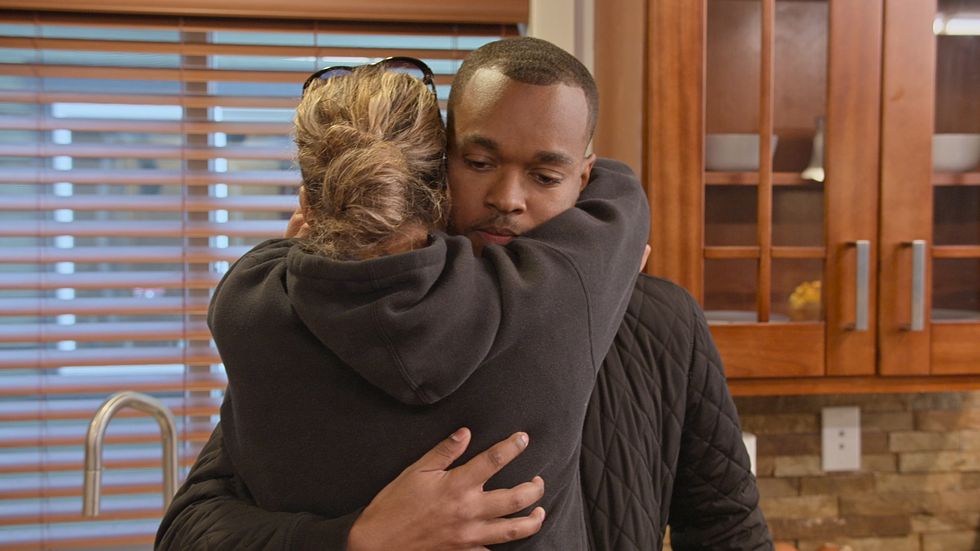 Courtesy of Netflix
With Marshall, I always wondered why he felt like he had to "save" Jackie. It turns out I got that wrong. Seeing her as a project might point to the fact that he wants to "fix" her. Jackie isn't perfect. None of us are. But it's interesting how he went from a nice guy lover boy to a puppeteer who thinks he can direct how someone is by his involvement in their lives. If someone grows from being in a relationship with you, beautiful, but it's not up to you to dictate how that comes to be. More importantly, you shouldn't look at your partner from a lens of, "If this change this, then..."
And even though I don't think he maliciously went into their romance with that at the forefront of his mind, some of what was exposed in that argument spoke volumes for how he views them. I don't care what reconciliation goes down between this couple. I stand firmly in my belief that they don't need to be together. Not right now. They both have work to do. Marshall needs to figure out why he sees partners as projects and the unhealthy cycle of that, and Jackie needs to be more ready to say "I do" ideally to a partner that she likes a little more versus tolerating them because they're "a good man."
Just in case things weren't messy enough, in true LIB fashion, an obligatory get-together happens later in episode 8 for Chelsea's birthday with couples as well as a few contestants who didn't make it out of the Pods, like Josh. Marshall arrives at Chelsea's birthday alone and says he doesn't know where he and Jackie stand.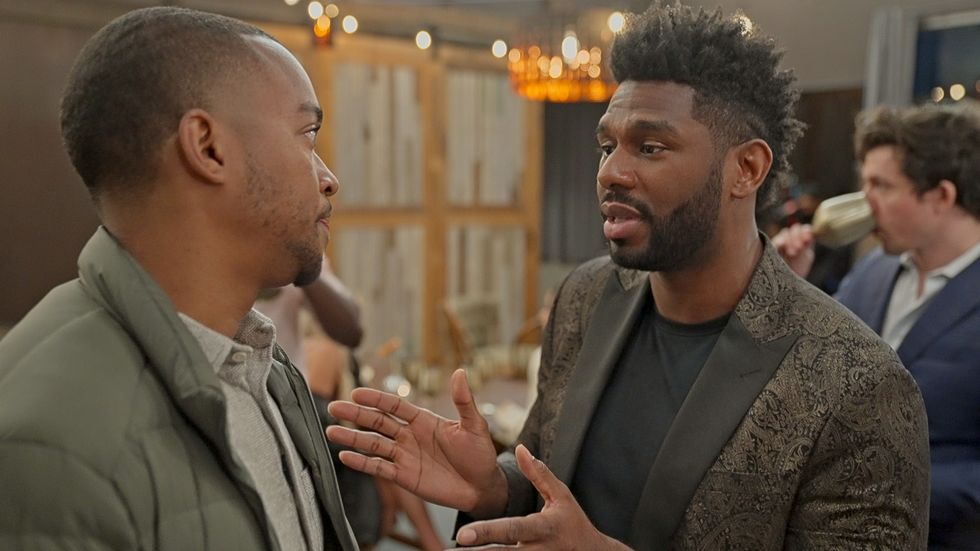 Courtesy of Netflix
He later confides with Brett that Jackie wants him to be aggressive in the bedroom, which looks like slapping her around, and that's not him. My eyes were just widening in his conversation with Brett because that's not what I got from their argument, but perhaps they had a sidebar that was too hot for TV, and that's what sis meant by "boss up" and being "aggressive." Interesting.
He also relays to Brett that Jackie tells him she "fucks with him tough" but has never said she loves him. Wow. Just wow. It's two weeks away from the wedding, and this is the type of BS this couple is navigating. Despite what they have been going through, Jackie does show up to Chelsea's birthday party. And the messiness continues.
Josh is there. If you can remember from previous episodes, Josh was one of Jackie's connections that she had Marshall tell to step. She finally gets to put a face behind the name and voice. And Josh seems dead set on making it known how he felt about Jackie, that he was in love with her, etc. Just to warn y'all, Josh also gives cringe, but somehow I see somewhat of a vibe when he is standing next to Jackie and getting her to smile with his antics.
Surely enough, Josh steps to Marshall in a drunken and passive-aggressive manner to talk to him about loving the same woman, Jackie. He refers to himself as "Mr. Steal Yo Girl," and Marshall replies half-jokingly, "If you of all people can steal her from me, you can have her." It's honestly hard to read the conversation, and even Marshall seems confused after Josh leaves him alone.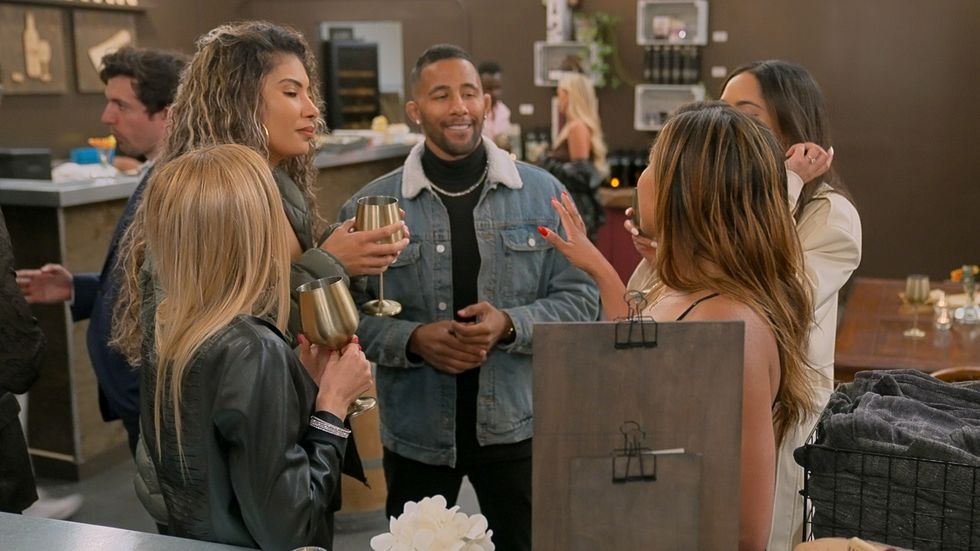 Courtesy of Netflix
Josh's liquid courage leads him to a sidebar one-on-one conversation with Jackie. Josh then takes sabotage to new heights in this series by throwing Marshall under the bus to Jackie, first calling him "NBA Cryboy" and then revealing that Marshall cried with everyone he spoke to. The Micah-Kwame poolside conversation crawled so this one between Josh and Jackie could walk. Jackie seems to really be invested in what he was saying, which is interesting because I didn't think she'd fall for it, but it seems like she might be.
She even mentions not talking about emotions with him in the Pods, which suggests to me that that might have been a reason she chose Marshall over him. Marshall wore his heart on his sleeves, while it seems Jackie might not have been sure if Josh was serious or not despite the way they vibed. "We had a connection, but you never was, like, super deep with me, super open," she explains. Daaaaaamn. All this playing in people's faces this season, I tell you.
Once Marshall becomes privy to this conversation (if he ever does), I'm sure it won't be good.
New episodes of Love Is Blind are now streaming on Netflix.
Featured image courtesy of Netflix
Now that you're all caught up on the couples who proposed and left the Pods engaged from our recap ofLove Is Blind Season 4, episodes 1-3 (if you haven't read that yet, find that here), it's time to enter episodes 4 and 5. The last two episodes of the first batch are usually reserved for the honeymoon phase of the couples' engagement, where the hard work of finding their person over the course of 10 days bears fruit in the form of an all-expense paid trip to Mexico, a step up from the previous season's "honeymoon" arc, let me tell you.
Not going to hold you, but similar to how we did the previous recap, there will be an intentional focus on the melanated cast members and their partners (sorry to these men, Paul, and Zack, and their respective love interests). They might come up here and there, though, because, as we also know, an important part of the "honeymoon" arc is the meet and greet with the other cast members, and since there were yet again love triangles present in this season, Micah might be name-dropped. Just sayin'.
Without further adieu, here's what you missed in episodes 4 and 5.
Spoilers most definitely are ahead!
After the Pods: Episodes 4-5 Recap
Kwame + Chelsea
We have made it to the honeymoon phase arc, where the couples touch down in Mexico after meeting one another in person for the first time and start to connect the dots between emotional and mental intimacy and physical intimacy. And physical intimacy doesn't have to innately mean sexual, but for Kwame and Chelsea, whose conversations in the Pods weren't shy about the physical aspects of the relationship, I am pretty sure that is what Mexico will mean for them.
I am relieved that Kwame admits early on that Chelsea is exactly what he needs. He just couldn't see it in the Pods when he was so blinded by his "soulmate," Micah. He honestly seems shook that the emotional connection they've established has made way for what has been such a fire physical connection.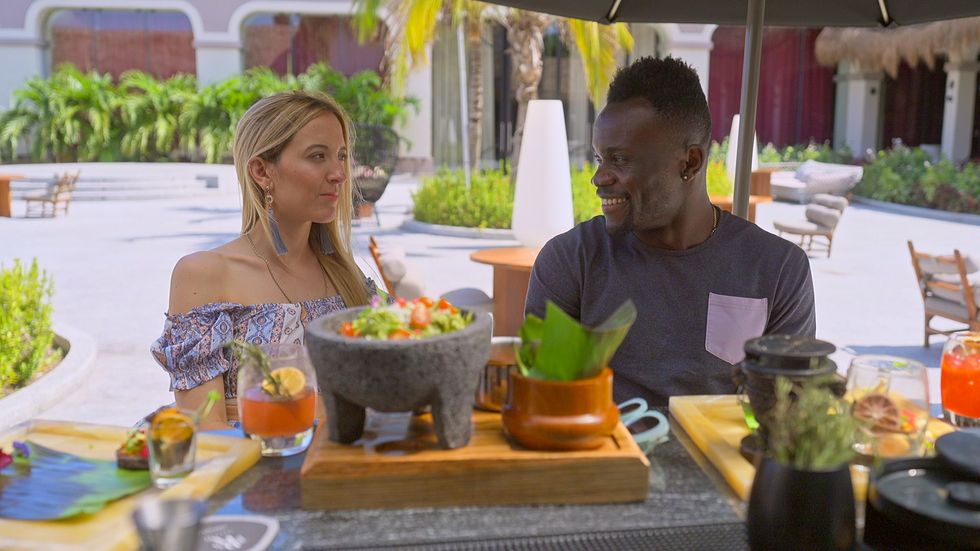 (L to R) Chelsea, Kwame in episode 404 of 'Love is Blind.'
Courtesy of Netflix
The post-coitus glow the morning after told no lies. Chelsea confirmed that the next morning when she said Kwame exceeded all expectations when they made love for the first time, "setting the tone for the rest of our lives."
What I will say about Chelsea is that she is a straight-shooter, and the energy she has was kept from day one, and there are receipts to prove it. Her confidence in herself, who she is, and what she wants are things I could never take from her. Though they aren't my favorite pairing on the show, I do think they complement each other well, and I fuck with her sincerity. And then it all goes to hell…
(L to R) Kwame, Brett in episode 404 of 'Love Is Blind.'
Courtesy of Netflix
Somewhat.
When it's finally time to mingle with the other couples for the first time, Micah enters the chat, and Kwame seems like he can't break out of her spell for whatever reason. Mind you, Micah turned him down, but somehow he is pulled into 20-minute "closure" conversations with her where she is laying it on THICK, and instead of shutting it down out of respect for his fiancée, that is also in orbit, he is indulging heavy, but that's what happens when your "soulmate" starts saying to you everything you wanted her to say to you in the first place.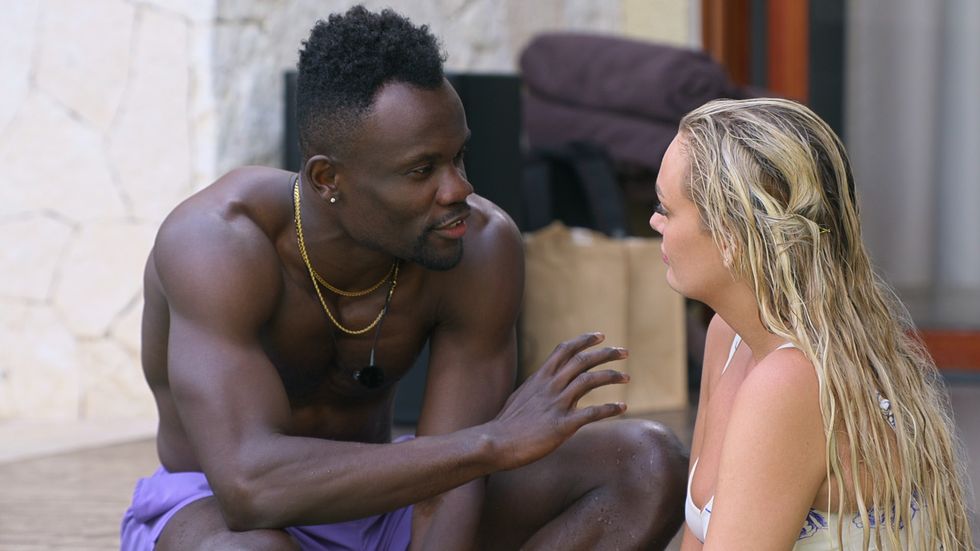 (L to R) Kwame, Micah in episode 404 of 'Love is Blind.'
Courtesy of Netflix
Meanwhile, on the sidelines, Chelsea is externally unbothered by Kwame and Micah's back-to-back pool talks but internally seething, and understandably so. The intimacy, the flirtatious banter, the touching. A lot of it was inappropriate, but the touching took it up several notches in my mind, so I understood Chelsea's discomfort completely. Meanwhile, Micah assures Kwame, "I was all in with you." From what I saw, that was the furthest thing from the truth, but Kwame is wrapped around her finger and all the while jeopardizing the safety of his actual relationship with his fiancée in the process.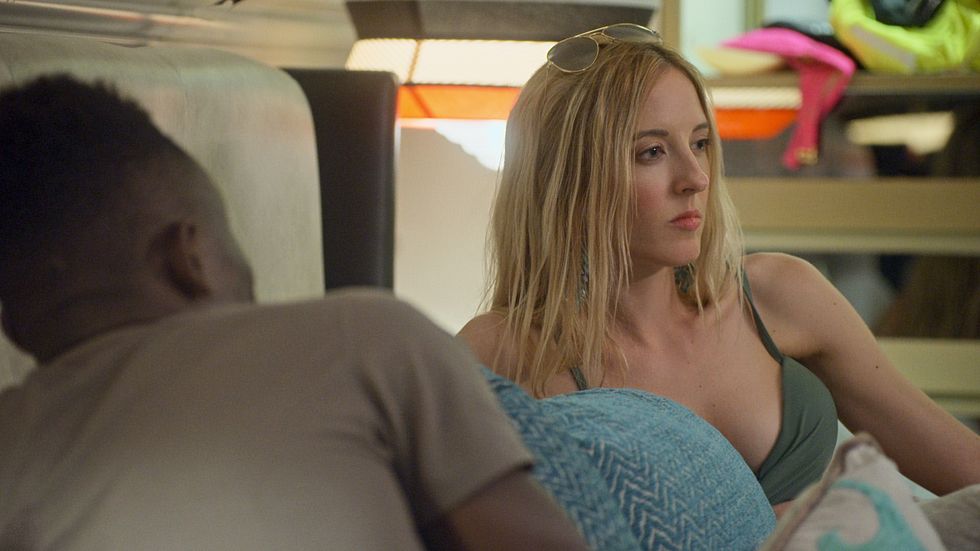 (L to R) Kwame, Chelsea in episode 405 of 'Love is Blind.'
Courtesy of Netflix
But if you wanted Kwame to get checked, that won't come until much later in the episode when he and Chelsea have a private moment, and she makes it very clear that what happened between Kwame and Micah was inappropriate. Boundary set. Well done, Chelsea.
Marshall + Jackie
Right away, Jackie lets the cameras know that Marshall isn't really the type of man she usually goes for and would probably swipe away from in real life. She explains that "this experiment has really shown me that it's more than just what looks good." Jackie cleans it up when she proclaims her relationship with Marshall is deeper than that. Still, I gave a slight yikes at her statement, but I think I knew what she was trying to say. I won't go into full detail about Zack and Irina as a couple featured on the show, but when Irina first saw Zack, her energy was giving "immediately no," and she even told the dude he looked like a cartoon character. All I said was yikes.
I bring this up because sometimes Jackie's constant need to reassure the audience of how good Marshall is feels like she is reassuring herself of her physical attraction to Marshall. I think she is emotionally there, maybe even mentally there, but she is still warming up to the physical side, which... makes sense. While Marshall is all "hell yes" in regards to how attractive he finds her, Jackie is still playing catch up in that department. This couple may be a slow burn for that reason.
However, sis wasn't shy about saying she wanted to "test drive" the car before taking off the lot, if you catch my drift. I ain't mad!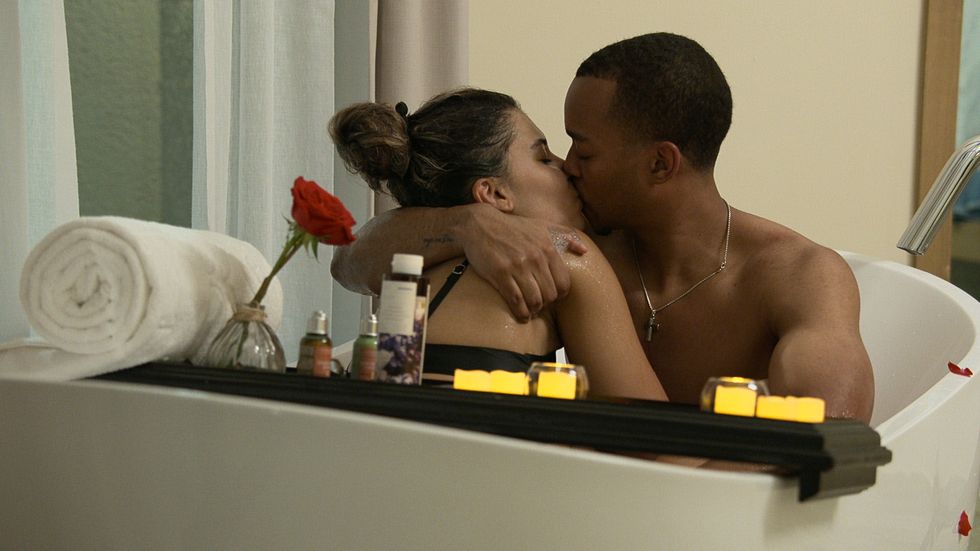 (L to R) Jackie, Marshall in episode 404 of 'Love is Blind.'
Courtesy of Netflix
The pair leave the resort to go out and about in town later in the episode, where they have lunch. "You're like a real man," she tells Marshall. "You're not a weirdo, and you're not one of these bozos out here in the streets." Not out here in these streets, chile…
Sometimes-cringy use of AAVE aside, I do like that Jackie continuously owns the fact that her reverting to old behaviors is a hurdle she has to overcome in her journey to love Marshall the way he deserves to be loved by someone. Butttt, I also say to myself, you knew what show you were signing up for, so why not come here correct versus having to guide yourself to a place of readiness to be the woman you think Marshall needs? Am I missing something about this show, or what?
"I just don't want to push you away," she warns Marshall. I love that Marshall constantly reassures her, but it feels like she is convincing herself a little and also having to remind herself constantly of who Marshall is and what that could mean for her, which I don't know how I feel about quite yet. However, as someone who has also navigated her fair share of romantic relationships, I can attest that there's a little self-sabotage in all of us. I just hope that Marshall always remembers his value because I think it's easy to get caught up in someone else's storm when you find your worth in saving people. And I'm getting that vibe from him.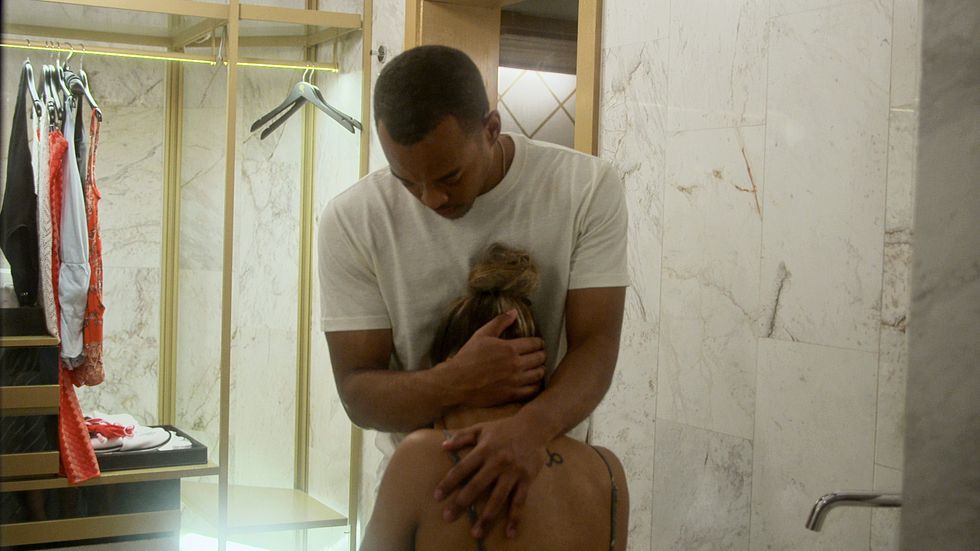 (L to R) Jackie, Marshall in episode 404 of 'Love is Blind.'
Courtesy of Netflix
They have cute moments, but it's a feeling I can't shake with them. That whole crying session at the end of what both of them described as "a great day?" I understand having emotion, but it felt like testing and that Jackie was trying to get Marshall to feel for her and with her, but at the same time, keep him at a distance even though he is trying to be there for her. We all have our baggage, and we all have to put in work to unpack said baggage, but at the end of the day, you have to know what's yours to carry and what isn't.
All in all, I think they will either balance each other out or that Jackie will end up being a lot for him. Between the forced AAVE and the glimpses of immaturity from Jackie, iono about sis. It isn't all her, though. I also don't know about sir because sometimes he seems wise, but somehow the way he is navigating his relationship with Jackie feels like it's in direct opposition to that said wisdom. But as they say, all wisdom isn't wise.
Sidebar: Forget my Jesse Williams resemblance mentioned in the last recap. Tiffany says that Marshall reminds her of the Fresh Prince, and now I can't unsee it. I see Jabari Banks, though, more than I see Will Smith.
Brett + Tiffany
Finally, the couple I'm here for. I had no doubt that their time in Mexico would highlight to me, even more, why I agree with Brett in thinking they're each other's perfect match. And knowing the history of this show, I could very well end up eating my words, but ion care, ion care! I am in the moment, and I am enjoying the steps they are taking in their pursuit of true love and the fact that they seem to have found that in each other.
I must say, something that really stood out to me during episode 4 and their time in Mexico is that while many were talking about comparing their ideas of what their partners looked like physically versus the reality of what they looked like when they finally met, Brett made it a point to explain to Tiffany during their date that he had "a picture not of what she looks like in person," but "an idea of her energy in person" based on how she leaves the people she touches and encounters. He reveals to her when he saw her, he thought to himself, "'She's the person I thought she would be.'"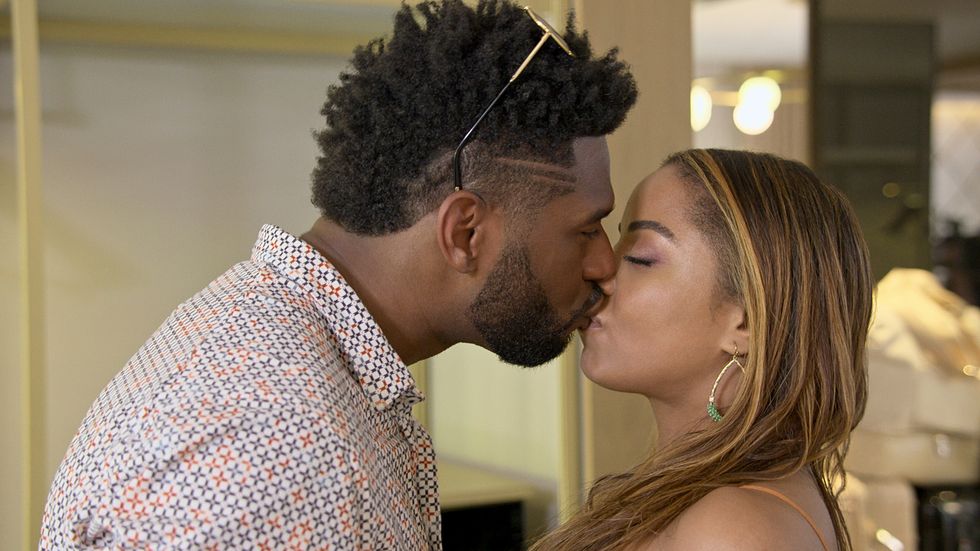 (L to R) Brett, Tiffany in episode 404 of 'Love is Blind.'
Courtesy of Netflix
Sir was fixated on attributes and her aura, and I was beaming at every word. What he expressed felt like such a welcomed departure from the typical "you don't look like what I thought you would" type conversations that are prevalent in a show format like this (and is currently an issue for another couple who just aren't couple-ing in Mexico like the others are, ahem Zack and Irina). Tiffany was no doubt speechless after his revelation, and I don't blame her. "You're perfect for me," she says eventually before he says back, "Thank you. And you're perfect for me."
There's a flow between that is undeniable, and that doesn't feel forced as some of the other connections on display.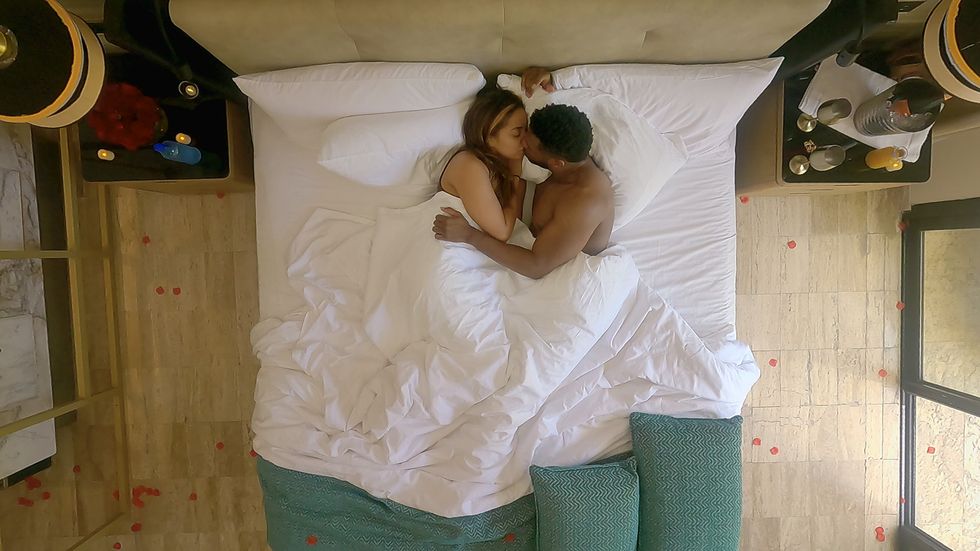 Courtesy of Netflix
Later in the episode, it was such a wholesome moment when they exchanged some cocoa butter kisses during their morning after and talked about whether or not he snored before affirming each other.
Brett chops it up with his boys Kwame and Marshall later and confesses that there was no awkwardness with Tiffany at all, and it felt like they'd been together for years. That is how much they just melted into one another and fell into a rhythm with such ease. In episode 5, Brett confesses to the same group later (I love the guys' bond) that he is so happy. He has never been so open, so vulnerable, so feeling with someone before. The power of vulnerability, man.
What a beautiful thing to see someone who admittedly was so closed off initially be wide open in the name of love. Love a Black woman from infinity to infinity. If you know, you know.
Love Is Blind is now streaming on Netflix.
Let's make things inbox official! Sign up for the xoNecole newsletter for daily love, wellness, career, and exclusive content delivered straight to your inbox.
Featured image courtesy of Netflix
Cue the vulnerability, the new season of Love Is Blind premiered today, and with it came the release of the season's first batch of episodes, episodes 1-5. And whether you tune in because you're a believer in true love or you're skeptical at how many couples navigate the inevitable red flags they encounter throughout the show, Love Is Blind Season 4 will surely be cemented in our minds and our tea-time conversations for weeks to come. Yes, there will be love, and while I don't bask in the sorrow of others, yes, there will be tears. What more can you ask for from high-stakes reality TV?
For brevity's sake, I'm focusing on the melanated contestants and giving first impressions and highlights of their journey throughout episodes 1-3, beginning with the first three episodes that focus on couples making love connections inside of the Pods. The recap for episodes 4-5 that feature the post-Pods engaged couples will soon follow.
Editor's Note: These are my thoughts in real-time as I am watching each episode; spoilers are most definitely ahead!
Episodes 1-3: During the Pods
Kwame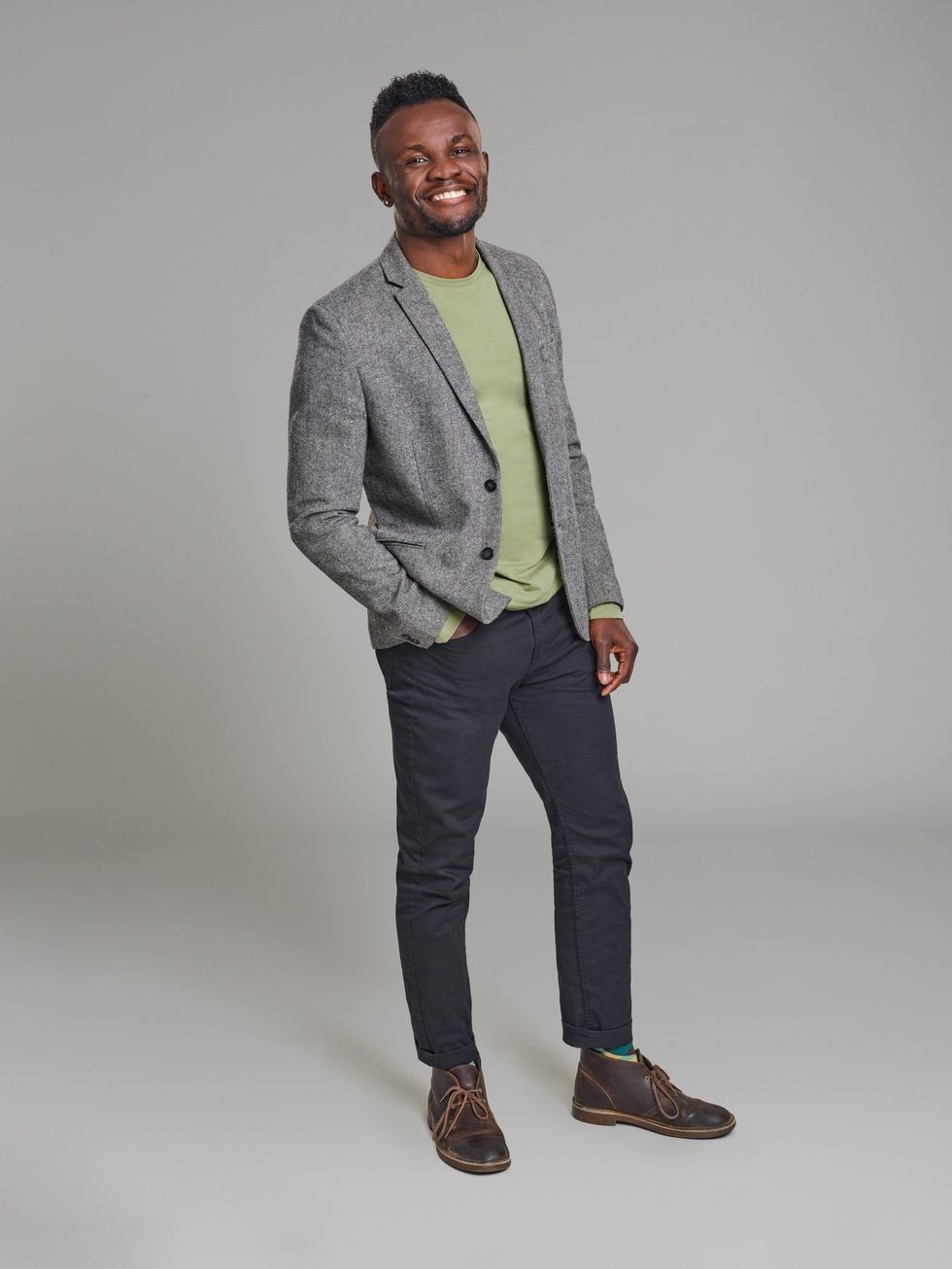 Courtesy of Netflix
33, Sales Development Manager
Let me just say, with Kwame, the edit he received from the jump wasn't the best, and I have a feeling the internet might go in a little bit on some of the soundbites he gave when we're first introduced to him. From his storytime about having to prove his worthiness to the parents of his prom date, who wouldn't let her go with him because "I'm Black," to his early admission of thinking of using his first name "Alex" in the Pods instead of the name he usually goes by (Kwame) so that there were no assumptions from the other non-Black singles, the edit sometimes did him very little favors.
As a viewer, the point of the experiment is that "love is blind," and to me, it felt like I could pinpoint very specific instances where it seemed Kwame was doing his best to still connect the dots between him and his real-world preference within the Pods. But maybe I misunderstood the point. However cringy his revelations of his dating history, they served as indicators that there was a chip on his shoulder, and I feel that shows in the way he dates in the Pods.
Case in point, feeling worthy is important to him, and there are times he seems to question that. He is into a woman named Micah, who is clearly lukewarm af about him (until she isn't), as well as a woman named Chelsea, who is sure about him and has always been sure about him, but for whatever reason, Kwame can't get Micah out of his head. What he likes about Chelsea, though, is that she validates him constantly, and he makes it a point to say this a few times over the course of the Pods episodes. See what I'm saying about those needing to feel worthy?
Although Kwame has things he likes about Chelsea overall, the trait that makes the top of his list when he is explaining her to other contestants, women and men alike, is that she validates him. For someone who might have navigated a dating scene where he always doubted himself and what he brought to the table, having someone like Chelsea in his corner who is constantly pouring into him in that way unprompted is something that feeds him in a way he didn't know he was starving for. Will he choose Micah (side eye) or Chelsea, the woman who has been sure about wanting to be with him from minute one?
The answer of who Kwame should choose becomes a lot clearer as the episodes progress, and it becomes obvious to anyone with eyes that Micah is playing games and doing her best to secure her place on the series, whether it's with Kwame or another contestant, Paul. Does she have real feelings for Kwame? I think so, in a way, but it's definitely not the same energy Kwame gives to the courtship process in the Pods.
Though I loved his proposal to Chelsea (because Kwame can articulate his feelings so well, man), and Chelsea's words back to him especially, the fact that I'm privy to some of his exchanges with Micah (including the fact that his strong connection with Chelsea was also about her validating and reassuring him of her feelings for him constantly) really made it hard for Kwame's words to hit the way they could have.
His confessing to Micah that he wanted to propose to her earlier than he originally intended because she is "what I always envisioned" didn't help alleviate those feelings of cringe I had that Chelsea probably wasn't privy to these interactions pre-engagement. Sir was boo-hoo crying when Micah gave her official notice that she wanted to explore other connections (i.e., Paul) even though all the signs pointed to "Not Micah." Honestly, how everything transpired gave me Jarette-Mallory-Iyanna teas from Love Is Blind Season 2, and I wish that on no woman. And I actually rock with Chelsea.
For that reason, the sweetness of what it should have been with Kwame's proposal to Chelsea was a bit tainted. Chelsea said off-rip that she has never been with someone she could say in her "soul" that he is the person she wants to be with. It looks like Kwame could finally be that one. In all fairness, she is aware of his sadness over Micah "ending things," but I'm certain she is not privy to the depths of all that transpired.
I just hope that by popping the question to Chelsea, he understands what he has and doesn't get caught up in the shoulda, woulda, coulda of Micah that is sure to come in the episodes where the cast members inevitably interact with one another.
Tiffany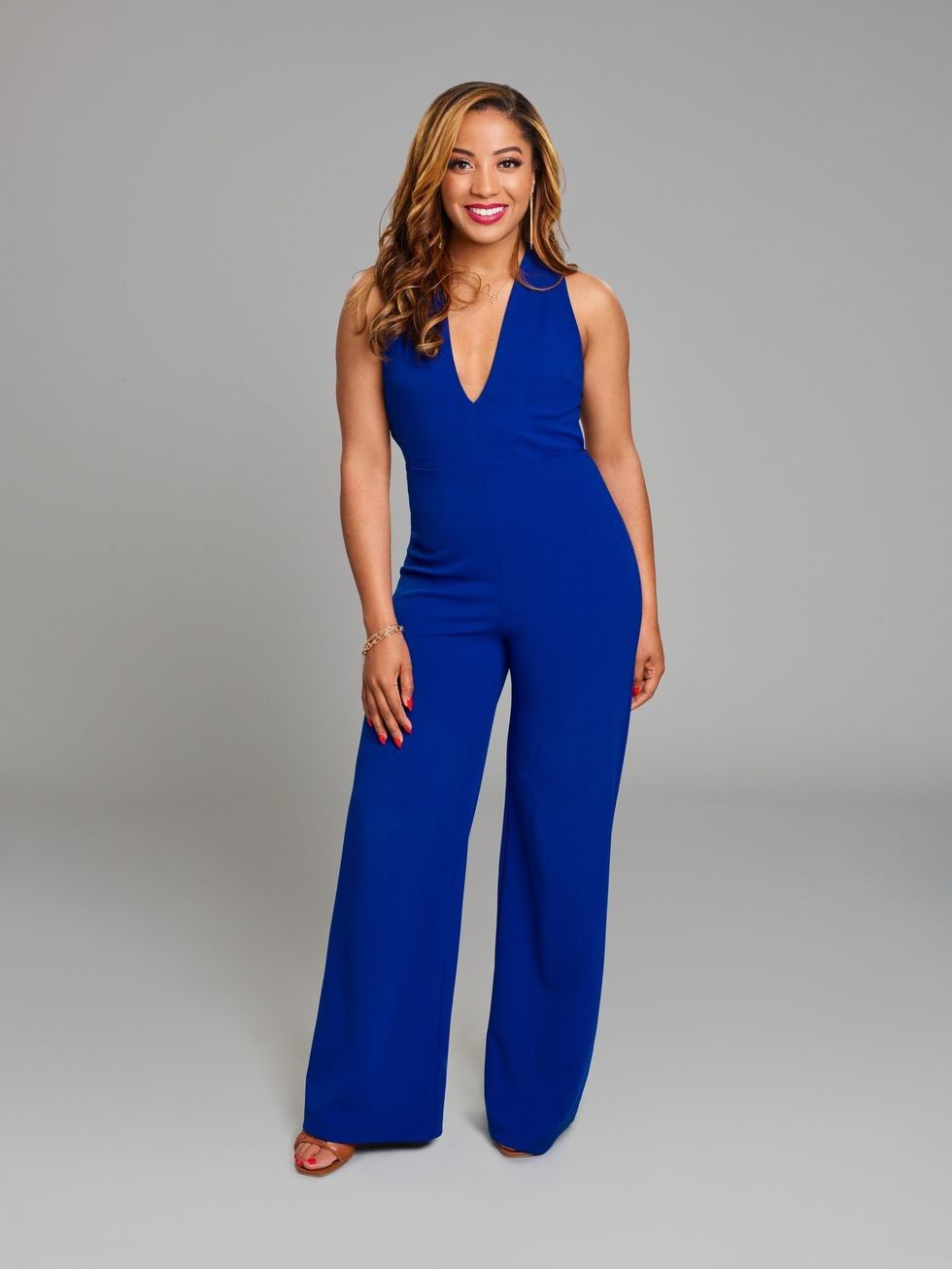 Courtesy of Netflix
Client Recruiter, 36
Now that the unpleasantness is out of the way, let's segue into a palette cleanser, otherwise known as my girl in my head, Tiffany! Yes, she's my girl. There was something about her that made me connect with her most immediately of all the contestants shown. However, I probably have a lot less to say about her because she has quickly secured her position on my list of "Love Is Blind: Season 4 Unproblematic Faves." At 36, she is one of the older cast members of the season, and it is her age that she admits made her feel insecure about coming into the experiment.
Tiffany tells the camera at one point that being her age makes her nervous about still not having her person, but she is all-in with this love experiment because she doesn't have "to shift through the BS" that is the dating scene in 2023 or any era really. She knows that whoever she is talking to is just as ready for marriage as she is.
Early in the first episode, she confesses to Brett that her longest relationship was 2 ½ years and happened more than a decade ago. He quickly reveals a similar romantic history in his past, and you can tell it was a vulnerable moment for Tiffany. We see the relief wash over her that she made a similar connection with someone else on something she was ashamed about. It was at that moment that I felt it between her and Brett.
Though she talked briefly with Marshall, who was a lot younger than her, her primary connection would be with Brett. Each scene we watch play out on screen feels like the intentional unlocking of a new level of intimacy. Something about their shared values and the fact that maybe they have some similarities with what they've experienced in love makes my heart flutter a bit during their first meeting in the Pods, and much of that continues throughout their time in the Pods.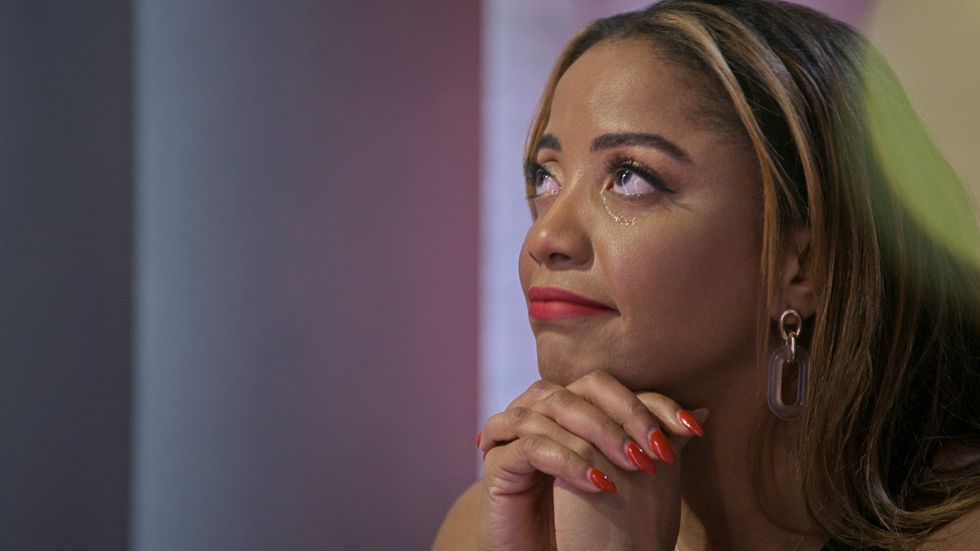 Courtesy of Netflix
Later in the episode, I love how Tiffany owned the fact that her ideas of what her partner "should be" might have stopped her from dating someone like Brett outside of the Pods just because he didn't have a degree or a linear career path, criteria that turned out to be superficial in the grand scheme of things.
Tiffany tells the camera she thought she knew what she wanted until she "met" Brett. The experiment shifted what she wanted in love and partnership, and what she loves about Brett is that she feels like she can be herself with him. That's a win right there.
Things take a dramatic turn at the end of the episode when Brett talks openly about his discomfort with the word " love, " and Tiffany falls into a deep, deep sleep! Brett felt a way and started to shut down after feeling hurt, even saying to his castmate afterward that he was "done." To be fair, I could tell they both were sleepy right before she fell asleep, so I don't think it was malicious, but I love that she owned up to her misstep in the next episode. (And I will also say that this type of low-stakes drama points to why Tiffany is an unproblematic fave of the season, just sayin'.)
But will it be enough to get him out of his feelings and onto one knee?
Brett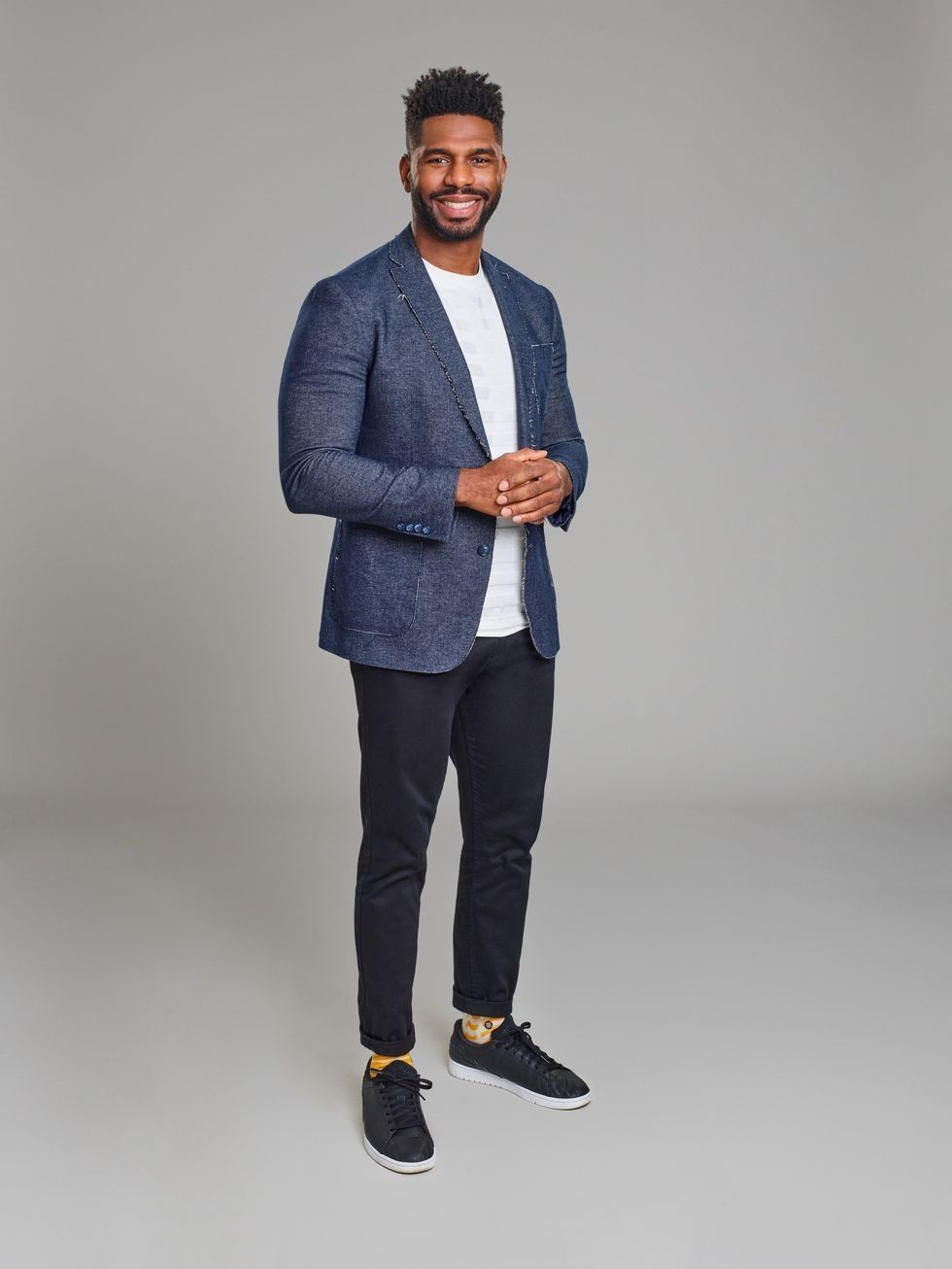 Courtesy of Netflix
Design Director, 35
Much like Tiffany, Brett had me at hello. One of my first times seeing him on the show was in the Pods with Tiffany, so maybe that's where my bias begins. He was straight up in their initial conversation, where he touched on his "purpose" for being in the experiment. Brett wants a partner, and he wants an equal. Similar to Tiffany, he reveals in his first confessional of the season that he loves that the experiment allows them to move past the guessing game of what the other person wants out of getting to know one another.
"I'm looking for a partner, and Tiffany's at the top of my list," he tells the camera. There's something about certainty in a man. It opens doors, it moves mountains, and it makes me fall in love with someone through a screen. And that is my first impression of Brett. That he knows what he wants, and there's something really refreshing about that because I don't think I see that as often in the male contestants unless it's some type of messy love triangle type setup. In so many ways, he and Tiffany feel like a breath of fresh air. He is drawn to her loving and caring nature and also loves the fact that she sometimes finds motivation in being doubted because he is the same in some ways. In a very vulnerable moment during one of their first "dates" in the Pods, Brett asks to hear her story before opening up about his own upbringing and how their shared mentality connects them.
As he is detailing a tough upbringing, to see Tiffany close her eyes while listening to him recount a time when he felt shame as a child for not having certain things, the empathy was beautiful. Love was being made. After he finishes his literal rags to riches story, Tiffany is in awe. "You're an amazing person," she tells him. Brett is beaming like the sun as she says this. Love was being made, y'all.
It's truly the synergy for me. You don't really see much interaction between Brett and other cast members inside the Pods or Tiffany and other cast members. So you know that this is real. The fact that they are both feeling so strongly about each other. Brett admits to feeling scared, but I love that one of the cast members, Marshall, advised him to push forward and "take the leap." "I'm starting to become aware of how into you I am," he admits to her.After years of dating and not feeling particularly connected, he feels fully seen by Tiffany and that she accepts him for him, which is interesting because she said something similar about him in her confessional earlier in the episode.
Despite Brett feeling a way that Tiffany fell asleep during his in the Pods confessional, he ultimately feels she is the one and proposes! Sis makes him a better man, and in her, he also sees the man he wants to become. The proposal is so sweet, and I could be reaching, but I love that she wore pink and he was wearing yellow, which reminded me of the previous episode when they accidentally matched each other. It's the synergy, baby!
Their first meeting was as cute and wholesome as their journey together has felt so far.
Marshall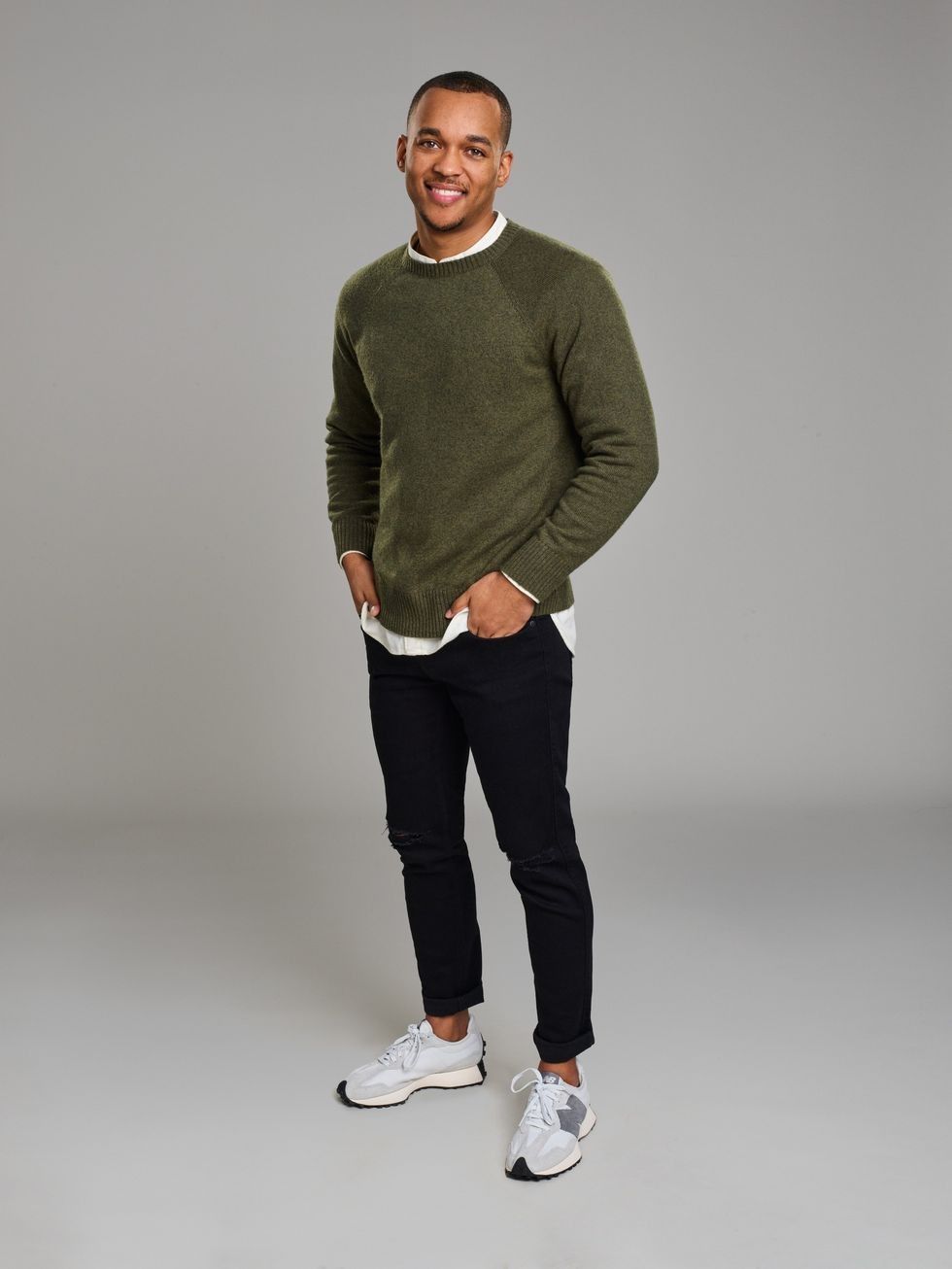 Courtesy of Netflix
Marketing Manager, 26
I can't be the only one who thinks Marshall gives Jesse Williams teas facially. I don't know about you, but when I turn my head to the side and squint my eye at the TV, I can see it. This is neither here nor there, but I had to clear the air. After not seeing much of him in the first episode, aside from the heart-to-heart message he delivered to Brett mentioned above in his time of need, in the second episode, we get more of a glimpse into his connections, particularly the one he has with Jackelina, who goes by Jackie.
In one of his very first scenes, we hear him describing Jackie as someone who is authentic and that she "feels like home" to him. And it's all real swoon-like. However, Jackie has options and is semi-entertaining Josh, who she also really vibes with. On the other end of that spectrum, Jackie is sir's #1, so this setup is feeling like yet another love triangle dynamic. Three in one season? Yes, that's where we are. Hell, there might even technically be four this season if I am counting correctly.
Marshall most definitely wears his heart on his sleeve, something he says to the camera in one of his confessionals. He is "bullied" by his emotions, in fact, his words, so I'm not surprised he is so passionate about Jackie and feels so strongly about their connection. The floodgates open early on when he and Jackie have a conversation about being raised "hard," and he recounts a moment when his father berated him as a child.
Jackie encourages him through his tears by saying he is a "good man" and that if she saw him on the side of the road, she would give him a dollar. Chile… "I wanna share my life with you," he tells her. It all sounds good, but there was something that felt a little off about their rapport. I can't quite put my finger on it, though.
Despite some reservations, Jackie does seem to be feeling Marshall and tells him that she will "break up" with her "other boyfriends" in the house for him. She says she gives him all that she comes with, 100%, which isn't a side of her anyone sees, so there might be something really special brewing there after all.
During a later date in the Pods, she admits to him that he is the only one that talks to her in an emotional way. "I want you to feel safe with me," he tells her. She has reawakened something in him, and he confesses to her that he is in love with her. IN LOVE, y'all. Jackie says nothing for a few beats before exhaling, "Oh my gosh," and then she goes into a download about a date she had with Josh earlier where he told her he would pack his bags and leave if he wasn't leaving the Pods with her.
Marshall hears this, and he gets hot. Meanwhile, I'm thinking to myself, is this the response to him telling you he's falling in love with you? If so, why? As a viewer, it felt like a deflection. But then she says that she didn't know how to tell Josh she was not going to be with him because of how hurt he was that Marshall was also into her. "I feel like I just ruined the moment," Jackie goes on to say about the moment transpiring between them. Bingo. Yes. And I think that was intentional.
At least Marshall wasn't born yesterday. In a lot of ways, sir seems wiser than his 26 years. And the fact that he notes Jackie brought Josh up to him because there is something there between them didn't fly over his head turns out. However, Marshall redirecting his upsetness to Josh felt like a choice, albeit the wrong choice. Jackie starts crying because Marshall seems mad at her. Chile…
"Be a man and talk to me," Marshall ends firmly in reference to Josh trying to talk to Jackie 'behind his back.' "I feel like I'm going to throw up," Jackie says through tears. What is this conversation about, bruh? Maybe it's the editors forcing that third love triangle I mentioned earlier, but the whole exchange felt off. When Jackie is crying on the couch with the other women moments later, it seems like she is overwhelmed by Marshall's emotions and feels forced to make a choice based on his declaration. My opinion, but I think that's why the conversation between them felt so awkward; she felt pressured to say certain things because of what he communicated so clearly and so effortlessly to her.
And I will delightfully skip over this forced pseudo-competition between Josh and Marshall because there's truly nothing to see here. To catch us up, though, Jackie explains to the camera that Marshall basically 'stepped' to Josh and 'let him know what's what,' and Jackie preferred not to see Josh again after that because she made her choice in Marshall because he "is just the better choice for me. He's gonna help me grow." Okay, sis! I do like when Jackie eventually admits she is going to have to "boss up" to be with Marshall. I appreciate the self-awareness there, at least.
I think some of my uneasiness in some of this couple's scenes is a maturity issue because I don't know how I feel about Marshall feeling like he has to check another man about getting rejected by Jackie versus Jackie rejecting that man for herself by herself... Like, whet? The difficult conversations I have seen some of the guys being really upfront about in the Pods when they've had to make another choice to pursue a different connection was needed here, but why did Marshall do Jackie's dirty work for her?
Of course, Marshall proposes to Jackie, and of course, she says yes. And no surprise there, but Marshall was utterly enamored with Jackie when they first met, and he matched the physical with the voice in the Pods. He called their first kiss "the best moment" of his life, and in her confessional, Jackie echoes much of the same, calling him a "good man" for her and saying that his vibe gave everything it was supposed to give.
It's something about how she talks about him and that repetition of him being a "good man" for her… Noted.
Sidebar: I'm not even gonna hold you. I love Brett and Marshall's friendship!
Featured image courtesy of Netflix
Ever seen a couple that doesn't make sense on paper but the moment you see them together, you understand why they work? That's Taye Diggs and Apryl Jones for me. Despite being from two different walks of life, the love birds radiate "for life" energy and I completely believe them when they say that they are in this for the long haul. And not just because the chemistry and endless laughter the two seem to share act as an indication.
The pair made a soft launch as "just friends" virtually out of nowhere, appearing in one another's hilarious TikToks in 2021. And despite making several appearances together in public outings and on the red carpet, they seemed to duck and dodge, "are they or aren't they" questions for a while. Last year though, Taye seemingly confirmed his not-so-secret romance with Apryl and loved her out loud in a vulnerable Instagram post.
Taye and Apryl are taking being public about their relationship a step further in a recent appearance in the podcast, Unconsciously Coupled with Erinn and Oliver Hudson. In the episode, the couple spilled the tea on their love, how they met, and navigating conflict, and everything in between.
Taye Diggs & Apryl Jones on How They Met
In a meet-cute that is pretty common in the digital age, Taye explained to listeners that he and Apryl met on Instagram. "Not on purpose," he clarified before explaining that his single days post-divorce involved him scrolling on the app and looking at women in a way that he describes was like "porn a little bit. But just for the eyes." On one particular day, he came across a IG Reel and described Apryl as this "beautiful girl" that popped up on his Explore page lip-synching to an audio as a mother making fun of being a mother.
From there, he sent a message of, "You're hilarious." And thought that would be the end of it because, in his words, he felt that she and any of the girls he came across during his single days on IG were "out of his league." But not for the reasons you think.
Taye explained that he thought that he was "not what 'those types of girls' were looking for. That was my thing. I'm cool, but if I stay in my lane." He added that he imagined Apryl going for "rappers, ball players, other influencers." He joked that his musical theater background wasn't something he thought she'd be checking for.
And Apryl lowkey confirmed that later by mentioning that Taye was not the type of guy that she or people in her circle would bring up if they are talking about dating pursuits. But luckily the actor took a chance by sliding in her DMs with a genuine remark that had nothing to do with her beauty because it was enough to capture Apryl's eye and a couple of days later prompt a response. Apryl gave him her number and the rest was history.
On Their First Date & Taking It Slow
After exchanging numbers, Taye and Apryl took things relatively slow. Thanks to Apryl being away due to filming in Atlanta, they were able to get to know each other offline and long-distance for a month and a half. Taye said that it gave him space which he needed because he was very nervous in his pursuit of her. They described the getting-to-know-each-other phase of theirs before meeting as a fun time where they texted, called, and sent videos back and forth to one another.
When they were finally ready to meet in person, Apryl made it known that Taye stood her up twice for plans on the same day. Taye's son Walker would be the reason for standing her up both times, which Apryl understood because she also has kids. Taye said it was a "test" and that he was impressed that she was "super cool about it" both times. "I was like, 'It's all cool.' Like, I have kids, I know what this is like. Cool, whatever. And then, he asked me for another date."
The third time would be the charm as they finally made their first date happen. Taye was late to the dinner date but Apryl absolved him of his sins because of how good he looked and how "chocolate" he was. Apparently, the date was well worth the wait in more ways than one because they ended up talking for hours up until they were the only two people left in the restaurant.
"It felt really easy," Apryl noted. "In my mind, I was hoping he'd say, 'Let's continue this somewhere.' And he was just like, 'I have to go back to my dog.' And I was like, your fucking dog? Your fucking dog?" Taye commented that in reality he was "petrified" of what was unfolding between them which is something Apryl said he would confess to her months into their relationship. "When you wait, you can't go wrong. You only go wrong when you rush," he said. "But, I was petrified."
Speaking of not being in a rush, Taye had the "taking it slow" phase on lock. Apryl revealed that they didn't touch for months, not even a kiss. They nurtured a friendship before entering a relationship. The moment of truth would eventually come when Taye invited her to a Christmas party that he said held a lot of significance for him. He had a lot of nerves about it but was blown away by how well "she held the room." It would be a turning point for their budding relationship.
On Learning to Navigate Conflict in a Healthy Way & Being Comitted No Matter What
Taye said that she intimidated him then and she still intimidates him now, which is what he feels he needs. "I think I need someone to keep me occupied. Not that it's game playing but I feel like I'm boxing above my weight. So I'm always on, I'm always on guard, you know what I mean?"

Apryl later said, "I know what I want. I know what I want. And I'm very clear on that. And I tell him all the time, like, I want you. Now get your fucking shit together or... I'm very stern on that." She added, "It's the mere fact that he knows, I don't play with my emotions."
In a very real way, the couple eventually segued into how they navigate conflict in their relationship and Apryl pointed to therapy, communication, and understanding being cornerstones of how they hold space for one another in the relationship during disagreements. Taye noted that the work was worth it because the relationship is worth it. "With him, the reason why we work is because we have a willingness to work at whatever it is," she explained.
"We talk a lot about things so also his trauma I can see in his movements and vice versa so I have a deeper understanding and love and patience with him because of why I see his habits are a particular way... We're going to do these things together or I'm going to help you get through these [things], you know what I mean? Because I don't want to change who he is."
Taye said that one of their big issues is a small issue and that is channeling vulnerability. Also, learning to accept the fact that they have different perspectives sometimes is a game changer when broaching difficult topics that come up in their relationship. That's how she feels, he said, and I have to accept that.
Before they got to that place though, Taye admitted that they would often shut the relationship down during conflict, threaten to leave, and sometimes actually leave the relationship. While they noted that there is no cheating or other people in their relationship, a lot of their arguments are rooted in the past and fear and would sometimes blow up due to mismanaging conflict when they encountered it.
Taye counted a total of three times that they broke up and made up again during their relationship (some of which we the people might have caught wind of from Instagram un-follows and re-follows). Now the couple has made the conscious decision to not activate that trigger during disagreements and to instead be "committed" to the relationship "no matter what."
On Waiting to Have Sex & How It Helped Their Relationship
In the episode, Taye and Apryl shouted out the fact that taking it slow ultimately benefitted their relationship in a number of ways. Apryl said the sex was amazing, she was happy they didn't start off with sex because they were able to create a healthy relationship with sex versus it becoming a foundation that a relationship is built on.
She said that sometimes starting off a relationship with sex makes it all that matters. "But with him, waiting scared me, number one. But number two, it was appreciated because it wasn't the first go-to for me with him. I don't fall on the sex. Although that is the most incredible thing, it is everything before that."
Apryl even recounted a trip to Mexico that they took around the holidays and the fact that she and Taye slept in the same bed together but still didn't do anything physical. It's the build-up for us. It wouldn't be until New Year's Eve when they were at dinner together sometime later, on shrooms and unable to keep their hands off of each other that they would solidify the physical aspect of their romance.
"The night was just so awesome," she recalled. After such an incredible night, Apryl said they woke up and decided they were officially together.
On Realizing They Were Each Other's "One"
Feeling like they were out of each other's leagues was something Taye and Apryl both expressed in different ways while on the podcast. Taye also touched on how becoming more in touch with his spirituality as a form of healing after his divorce opened him to see a life for himself with someone in a way that a past version of him might have not been open to.
"Meeting Apryl on Instagram and having her be... like, I saw her as a thing that didn't fit. She wasn't supposed to be with me, you know what I mean? But there was some-... I thought. But there was something inside me- the universe or spirit or whatever, God- that was like, 'Don't do what you always do. Just go with it. Just go with it...'" He continued, "And every time I took a step [in the relationship], it was great."
Taye also described signs that happened throughout their courtship that told him that Apryl was the one, including a psychic who had no idea they were dating pointing Apryl out as "the one." The conversation eventually shifts into their humor and the fact that the co-hosts knew Apryl was someone special to Taye because of the way she was able to make him laugh.
"That's the thing for me," Apryl said about their humor, "I always prayed for someone I could laugh with all the time because I feel like life is supposed to be light."
On the night before they became official, the two had a shroom ceremony on New Year's Eve where they learned that their relationship was "ordained by God," they knew each other in past lives, and that they are together for a reason and for a purpose that is beyond them to help other people see love. If their bond is any indication, Taye and Apryl are most definitely succeeding in that purpose.
Listen to the episode in full below: 
Let's make things inbox official! Sign up for the xoNecole newsletter for daily love, wellness, career, and exclusive content delivered straight to your inbox.
Featured image by Leon Bennett/Getty Images
While some of us might have mourned the demise of Michael B. Jordan's most recent public relationship, some of us had a different love pairing on our minds. Oh, just me? Anyway, the undeniable chemistry between Michael B. Jordan and his long-standing Creed love interest Tessa Thompson has been one that has caught my attention from the very beginning. And it wasn't just the dazzling magic brewing between them on-screen. No, it was the air between them that I saw from red carpet to red carpet, a reality that has only amplified over the years and most recently on the red carpet for the Creed III European premiere.
The moments between the two stars and the on-screen married couple were off the charts while they stood side by side for photo ops in a now-viral moment shared by E! News on TikTok.
When your co-star is a total knock-out. 😍 #MichaelBJordan and #TessaThompson have our whole hearts at the #Creed3 premiere.
@enews

When your co-star is a total knock-out. 😍 #MichaelBJordan and #TessaThompson have our whole hearts at the #Creed3 premiere.
The 36-year-old might have been making his directorial debut official like a whistle that night, but the general consensus was the shipping of the two stars making an off-screen romance a real thing. While Michael lowkey seems to have chemistry with a few of his female co-stars (Kate Mara and Lupita N'yongo come to mind), we can acknowledge fire chemistry where there's smoke. And there's most definitely smoke.
Don't believe us? Keep scrolling for the times these two co-stars' chemistry had us wanting to see the real thing.
When they graced the cover of 'Entertainment Weekly' for 'Creed II'...
In the behind-the-scenes video of their Entertainment Weekly cover shown above, Tessa said about the actor who plays Adonis in the trilogy, "You're charming, you are." She continued, "Your dimples..." before trailing off and adding about Michael's pecs, "How you move them like that," before the two share a laugh.
Later in the BTS interview, Tessa discussed her approach to her character in the franchise and her commitment to evolving Bianca Taylor's agency from film to film, particularly in her music which Tessa co-wrote and performed for the films. "She's a phenomenal artist," Michael interjected to commend her artistry. "It's incredible to see the way she works. Her work ethic in the studio is incredible..."
When they had this exchange on the 'Creed II' premiere red carpet...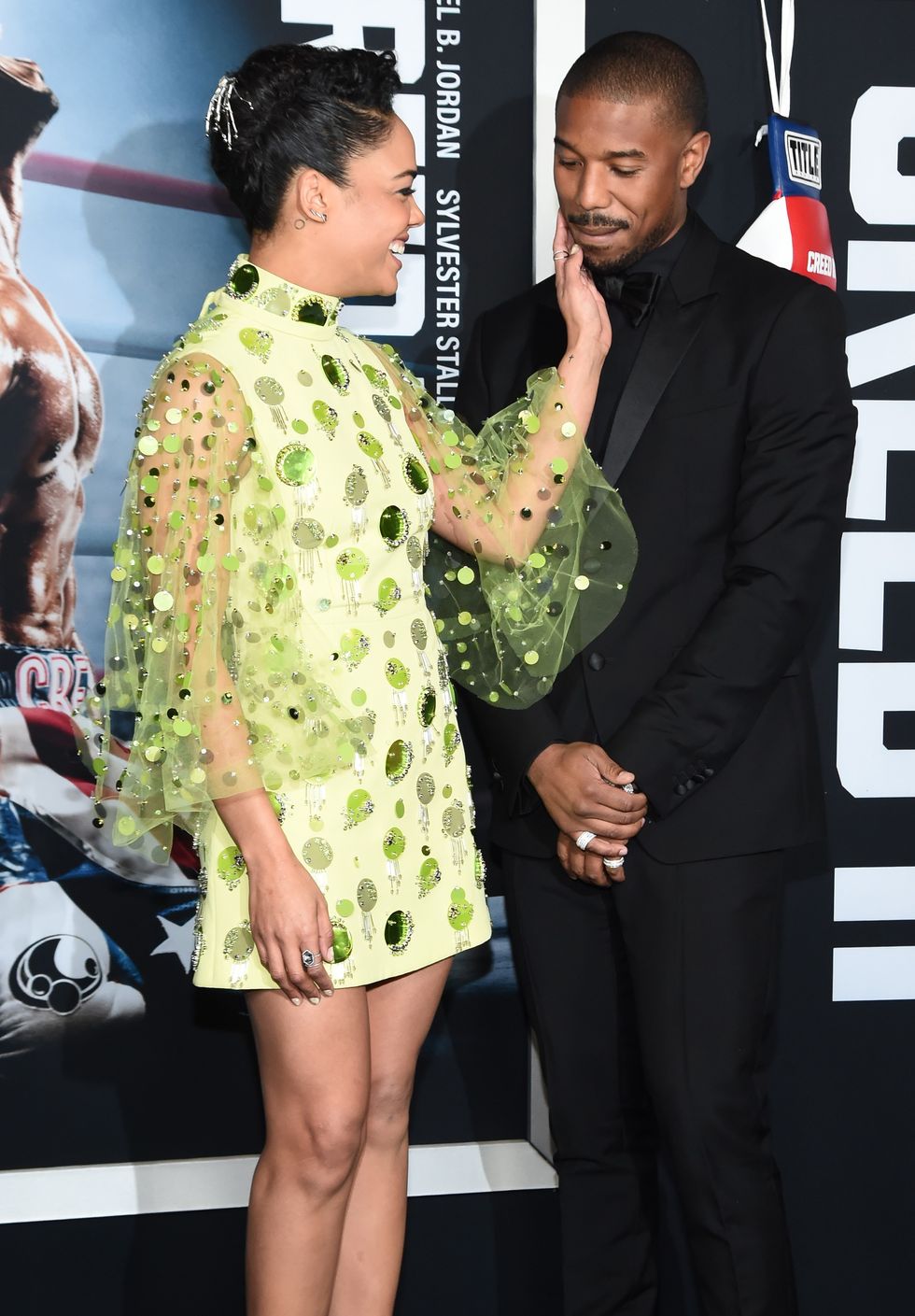 Daniel Zuchnik/WireImage
When they attended a 'Creed' appearance...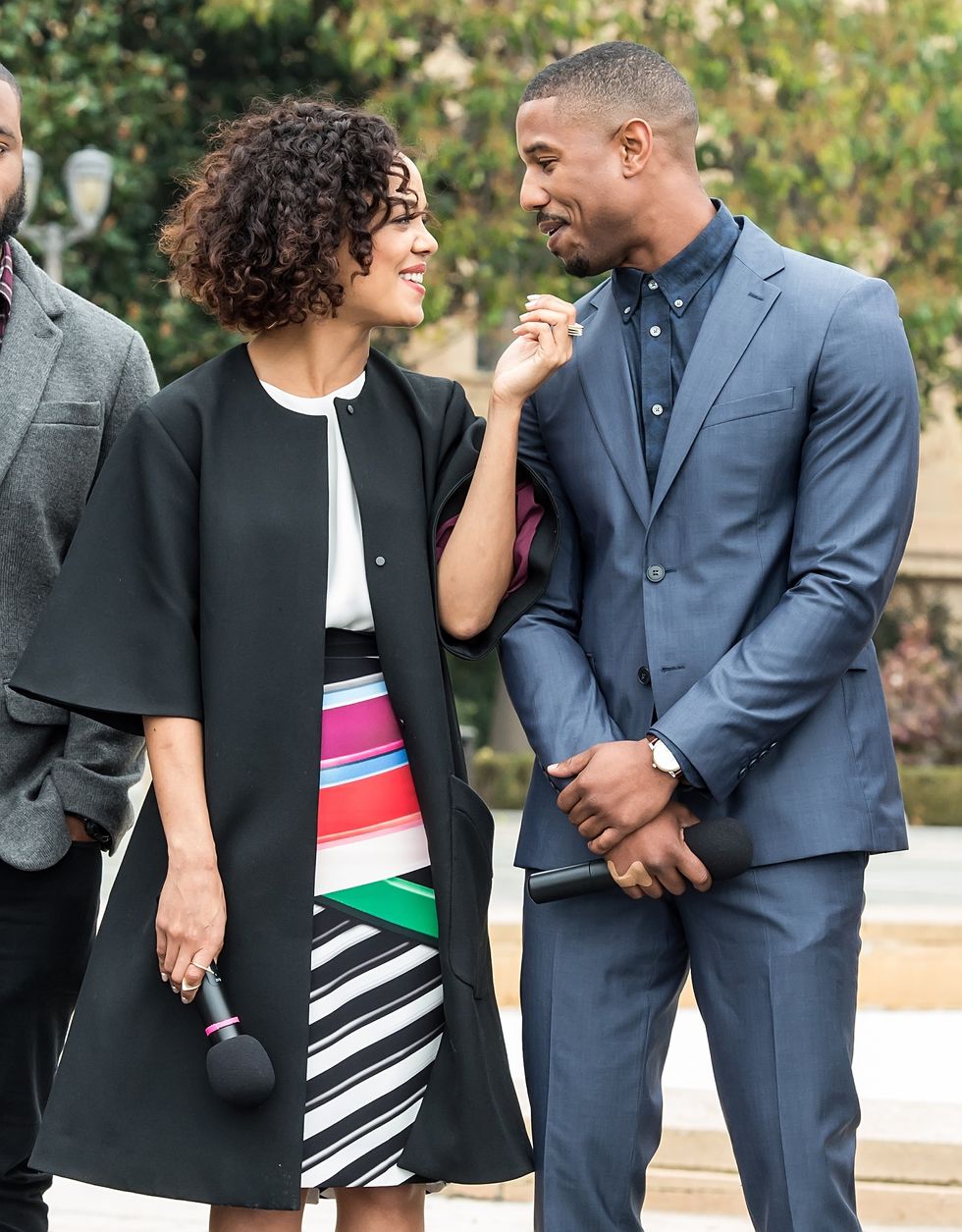 Gilbert Carrasquillo/Getty Images
When they had a laugh-inducing rapport while introducing an Amazon Studios event...
It's brief but sweet, especially because the two laugh so effortlessly together.
When they attended a Big Brothers Big Sisters of Metro Atlanta event...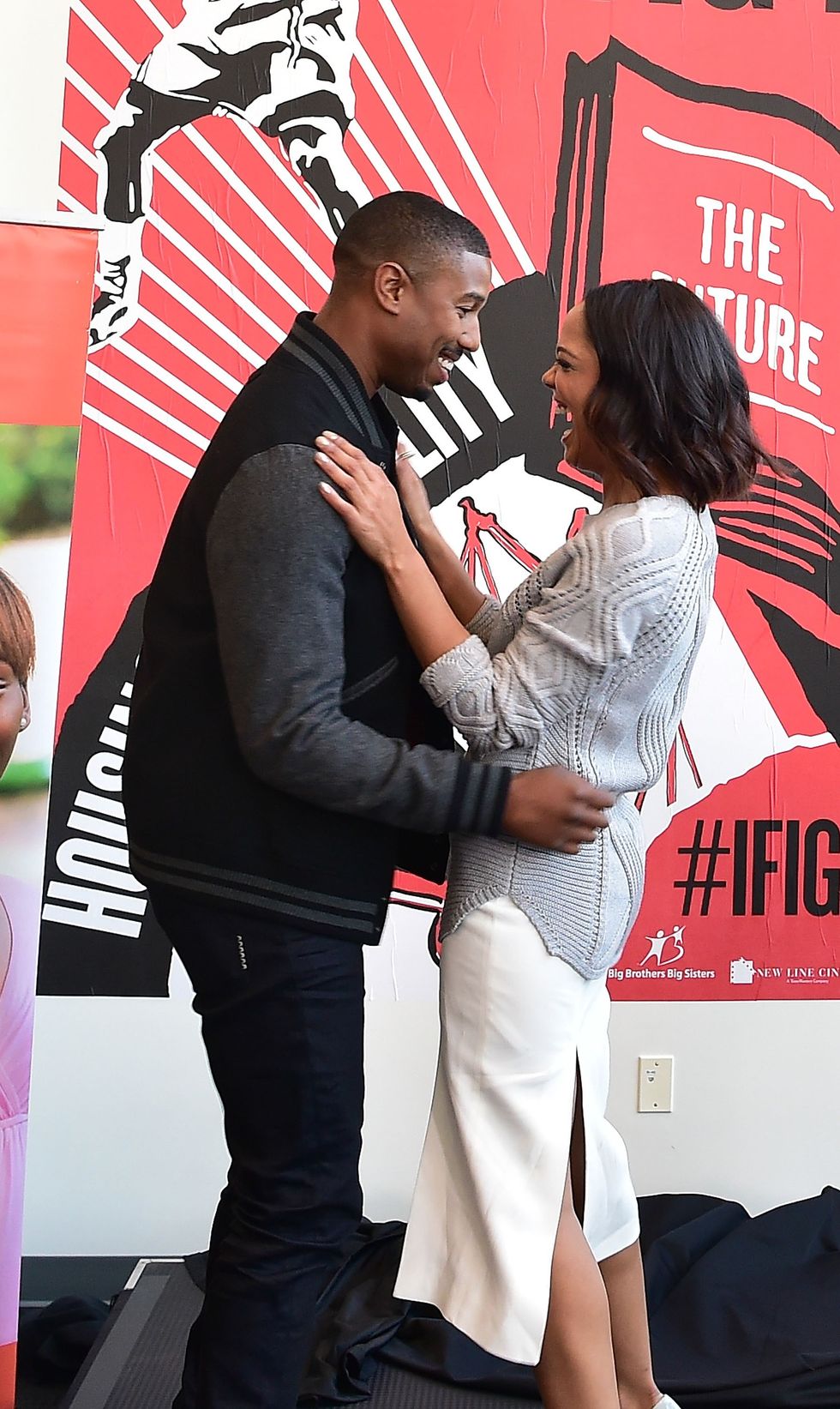 Paras Griffin/Getty Images
When Tessa sorta kinda acknowledged her chemistry with Michael... 
Speaking of chemistry, in an appearance on Jimmy Kimmel Live!, Tessa detailed her chemistry test with Michael and Ryan Coogler for Creed. When the host suggested that apparently she and Michael had chemistry, Tessa responded that there was a part of the chemistry test where "apparently" MBJ was "caught looking at my butt."
She later said that she doesn't know anything about chemistry but apparently whatever she did worked.
There might not be cause for a will they won't they type question surrounding the actors, but if nothing else the chemistry we have seen on and off screen has allowed a great friendship to flourish.
Let's make things inbox official! Sign up for the xoNecole newsletter for daily love, wellness, career, and exclusive content delivered straight to your inbox.
Featured image by Joe Maher/Getty Images