Sheriden Chanel
Sheriden Chanel is the senior lifestyle and relationships editor at xoNecole.com, covering all things love, life, beauty, and wellness. She has an affinity for travel, self-care, and anything BTS touches. Keep up with her on social
@sheridenchanel
.
'Drinking my water and minding my business' has always been my mood, but with all the talk around hydration lately, I've started wondering what exactly is the right way to drink my water. On one hand, there is the school of thought that subscribes to drinking a gallon of water a day. There's a school of thought that subscribes to somewhere around the ballpark of 2-3 liters of water per day. There are also water enthusiasts who wouldn't dare touch a bottle of purified water over alkaline water. And then there's the side of the internet who are head to head about drinking plain water and its benefits and adding enhancements to "superpower" it.
As with other aspects of health, figuring out how to hack your way to better drinking water has been making waves on the internet. I, for one, enjoy my daily fix of chlorophyll water which is said to be an internal deodorizer, clear your skin, and reduce inflammation in the body among other things. Plain water is said to be out, while 'enhanced' water is said to be in. Allegedly this is the case if you've been hitting your daily water intake consistently but still don't feel hydrated and/or if you find yourself peeing almost immediately after drinking said water. If that sounds like you, according to TikTok, you could be drinking your water wrong.
And you might need to unsubscribe from plain drinking water. According to creators like @calibabyoficial, leveling up your water with baking soda, Himalayan pink salt, and lemon or lime are essential for proper hydration. But how true is this?
I reached out to dietitian Rosie Mensah, MPH to learn more about the plain drinking water versus enhanced water phenomena and to demystify why some of us are following the 'hydrate, hydrate, hydrate' mantra to a T but still might be feeling thirsty.
You're drinking all of this water, why do you still feel thirsty?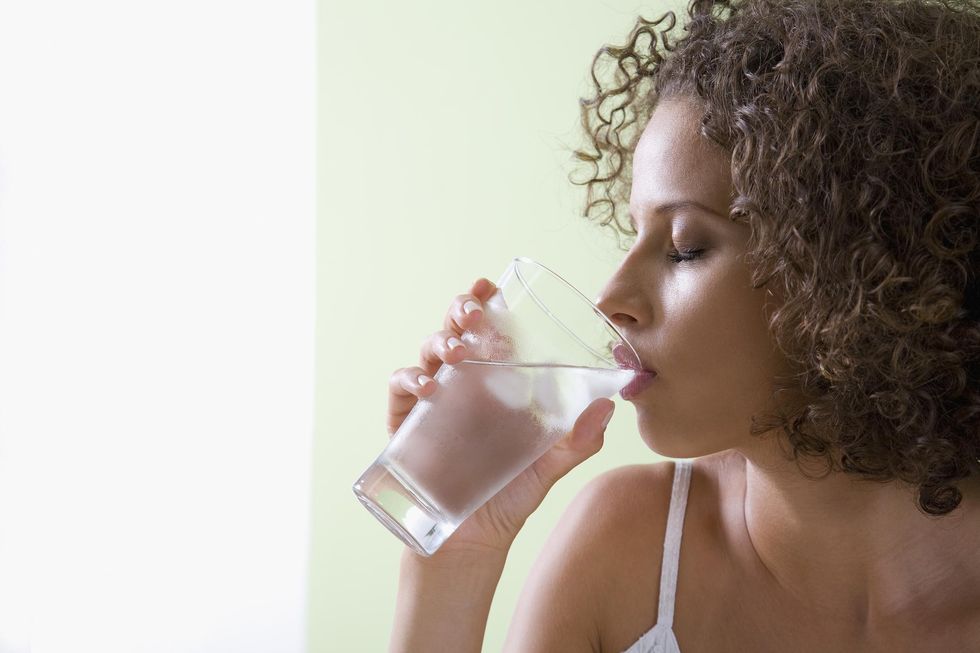 Michael Poehlman/Getty Images
First things first, if you are waiting to drink water until you are feeling thirsty, chances are, you are already dehydrated. Mensah describes thirst as a sign of mild dehydration. So you should be consuming water frequently enough throughout the day that you do not get to this point and so that the body is properly hydrated. However, if you feel that you have been drinking enough water and your thirst levels persist, Mensah suggests that this could be pointing to an underlying health concern.
She continues, "If you are feeling excessively thirsty, there could be something else going on, especially if you are staying hydrated regularly. That's something that I would encourage folks to see a health professional about because it could mean there are other bodily issues happening and could mean other conditions."
Is going to the bathroom after you drink water normal?
Whenever I think of drinking enough water, I also think about how many bathroom breaks are going to ensue shortly after. In the recent season of The Real Housewives of Potomac, one of the ladies shared that her kidney stones came from not drinking enough water each day because she feared needing to use the restroom too much while she had things to do. And I get it, who wants to drink water just to have to get up and release it shortly after? I believe that's why all the conversation around 'proper' hydration has started.
There had to be a connection between not drinking enough of the right water and using the bathroom too quickly to allow your body to retain the benefits of drinking water, right? Turns out, not exactly. It's all about the size of your bladder and the fact that it's only possible to retain a certain amount of fluids before it gets full. And once it's full, it's time to use the bathroom. The bladder holds approximately 16 ounces of fluid. If you are consuming more water than that, within an hour or two you are absolutely going to need to use the bathroom frequently.
"If you are drinking more, you are gonna have to go to the bathroom more. That's just the reality," Mensah adds. "But that's like a good thing. It's moving through your body and you want that. Your organs and your cells are being nourished."
So yes, going to the bathroom is normal. Your bladder is full and it's doing what it's supposed to do. If you want to decrease how often you go without being dehydrated, consider pivoting from chugging your water first thing in the morning to sipping throughout the day and limiting your intake to no more than 8 ounces each hour.
Does adding baking soda to water increase pH?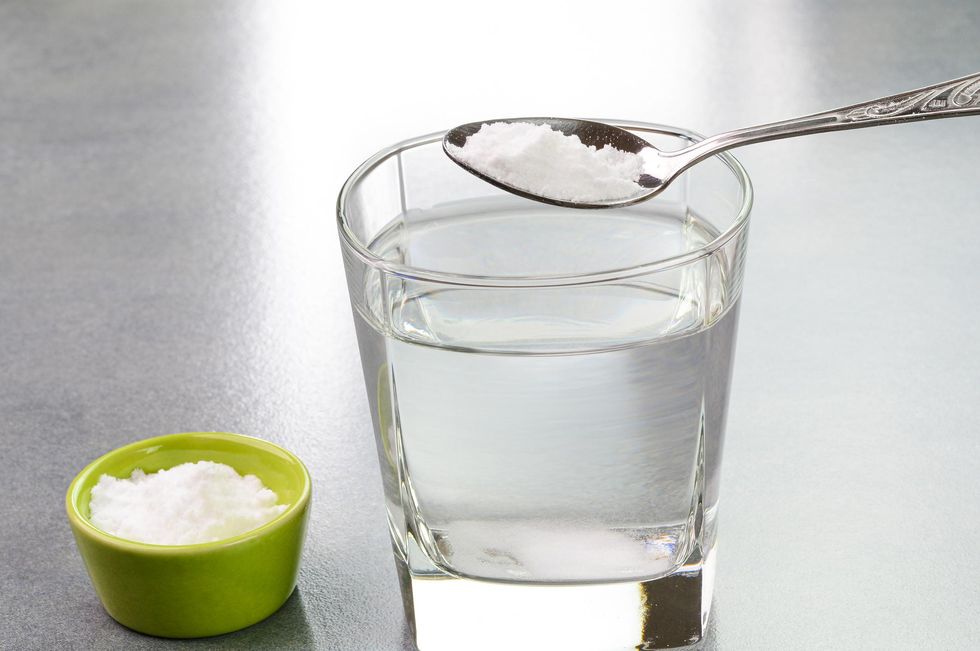 jayk7/Getty Images
The loaded question. The answer might depend on the expert, but according to Mensah, there are few studies showing the health benefit of adding baking soda to plain drinking water to alkalinize it. Based on my own research, the tactic came up most often when referring to pool water maintenance, which makes sense. I have, however, also seen other experts touting the pH and hormone regulation benefits of adding a little baking soda to your water. Mensah says that the human body already does a pretty good job at maintaining a healthy pH balance, which again makes sense.
"Whatever you are consuming, putting into your body, your body has mechanisms to put it at a functioning pH," she explains. "You could have plain water, plain tap water that is filtered to maintain the same benefits as drinking other forms of water. I think, again, a lot of it could just be a marketing tactic. But in terms of health benefits, you can get the same benefits from regular plain water."
It could depend on the expert, but if you are wanting to add baking soda to your water for the benefits, consider talking to a professional about your individual dietary needs.
What about adding Himalayan pink salt to your water?
Adding Himalayan pink salt to your water is how you make water referred to as sole water. It is said that by adding Himalayan pink salt to your drinking water, you are adding trace minerals to it that makes it easier for the body to retain these minerals. It is also believed to help with electrolyte balance, digestion, energy, and sleep. But, there is also not a lot of conclusive research to support these claims.
If you want to add Himalayan pink salt to your water because of its trace minerals in hopes of further nourishing the body, be my guest. But similarly to the baking soda mentioned above, it's not something you have to do to your water. Drinking plain water is more than enough.
What does adding lemon or lime to water do?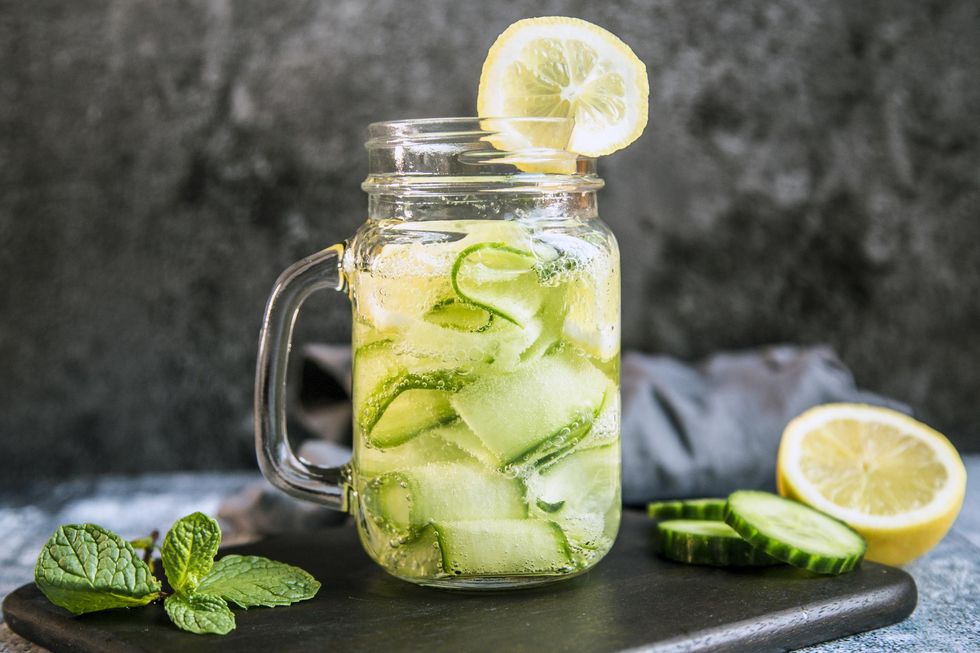 Westend61/Getty Images
We've all heard about adding fruit to water to get the benefits of said fruit from the water we're drinking, but adding those slices might just be an aesthetic choice more than a health choice. Although there are many articles around the internet supporting adding lime, or better yet lemon, to your water (especially detox water content) and the benefits of it, there are few studies that support such claims as it relates to adding lemon and lime to the water you drink specifically. However, people have reported having glowing skin as a result of drinking lemon water regularly and better digestion (although those things could be from the water more than the citrus element of the drink).
"I think a lot of it people [feel] like it makes the flavor [of water] better because I know there are some people that say they just don't like to drink water," Mensah notes. "But adding those things can make it just a better drinking experience for you. But in terms of like health, there's really not much that it does."
Does adding salt, lime juice, or lemon juice to water make it electrolyte water?
But what about electrolyte water? Surely, there are benefits to support adding electrolytes to water like lime juice, lemon juice, or salt to your water. And according to Heathline, there very well may be. However, these findings also support the fact that tap water and bottled water also contain electrolytes, just a lot less concentrated than an electrolyte-enhanced sports drink like Gatorade or Powerade. If it brings you joy to add extra sodium, trace minerals, and lemon or lime juice to your water to reap even more benefits of the minerals responsible for facilitating some important bodily functions, do you. But as Mensah has shared, you don't have to.
Electrolyte water or electrolyte-enhanced drinks like sports drinks and Pedialyte are usually recommended in cases of severe hydration, illnesses that cause fluid loss, intense workouts that last beyond an hour, long periods of heat exposure, or if you lose a lot of sweat and/or other fluids during exercise. In all of these cases, speak to your doctor about the best way to replace the electrolytes you might lose in these circumstances. Outside of that, regular water should have you and your day-to-day hydration needs covered.
How much water do you need to drink to be hydrated?
According to our expert Mensah, hydration is all relative and differs from person to person based on individual needs, body shapes, and sizes. "The recommendation of around 8 glasses [a day] is really just to ensure people are staying hydrated," she clarifies. "But that doesn't necessarily factor in other fluids that you have [during the day]. If you are a tea drinker, you may opt for more tea than clean water. And that's still fine because it's still a nourishing beverage. But it really depends on the individual."

Someone who is more physically active might have a daily water intake that signifies they require more water. Someone who drinks more coffee might also require more because of the amount of fluid they excrete as a result. Mensah explains that while you can track your water throughout the day to make sure you are getting enough, it's not always a necessary step as long as you are making sure you are consuming water frequently.
Is drinking plain water enough to hydrate you?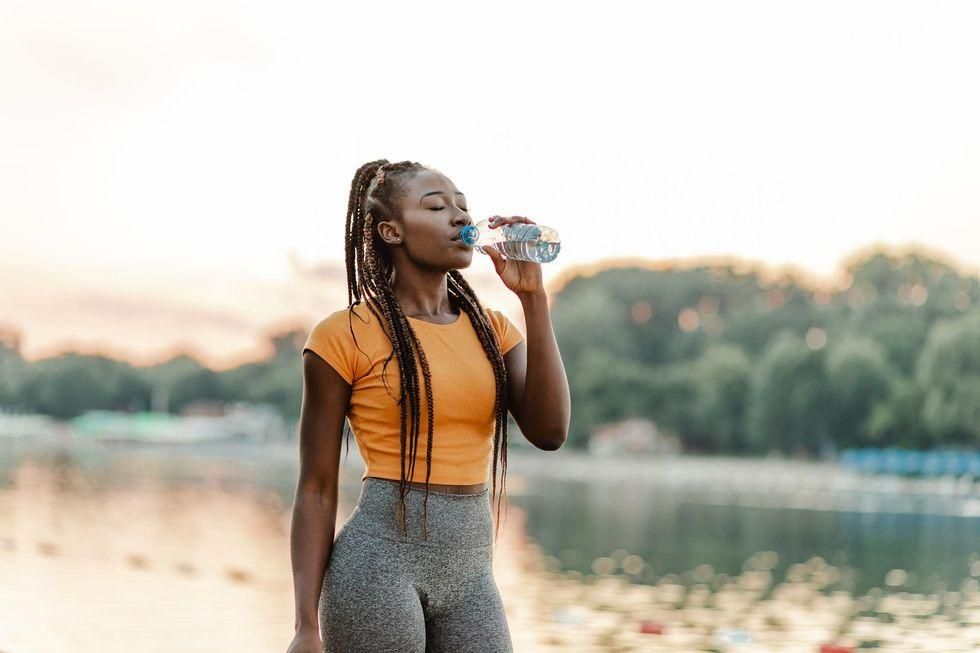 blackCAT/Getty Images
This article came about because of all the different information swirling in the social media sphere and the question it left me thinking about. The short answer to this one is yes, drinking plain water is enough to hydrate you. But if you want to make things more enticing to your palette or more nourishing to the body by trying out tips from TikTok experts here and there, then do it. Just know if you don't want to succumb to the pressure of suggestions, that's okay too. As long as you're getting those ounces in daily, and aren't excessively thirsty, your hydration levels are fine.
As with everything mentioned in this article, Mensah advises speaking with a health professional about your own individual needs, what your body might be lacking, and nutritious choices that could help improve those matters.
Featured image by blackCAT/Getty Images
As Told To is a recurring segment on xoNecole where women are given a platform to tell their stories in the first-person narrative, as told to a writer.
This is Amoya Shante's story, as told to Sheriden Chanel.
When I decided to uproot my life, move to Mexico, and leave everything I knew behind, I was at one of the lowest points in my life. My business was failing, my dating life was a joke, my finances were scary, and I felt like I hit rock bottom. I craved something different. A fresh start. A new beginning. The desire to move abroad and start over grew within me like a fire and after a while, I couldn't ignore it. Nor did I want to.
The first time I moved to Mexico was after I went through a divorce. I shed the things that did not serve me by selling all of my possessions and embarked on my Eat, Pray, Love journey with my kids in tow. Traveling was a catalyst of healing and for two and half years, I ate, I prayed, and I loved. Eventually, my journey led me back home to the United States but the seed of moving abroad to Mexico had already been planted and it would continue to bloom as I was met with feelings I felt before.
I was back at square one. I was lost, unmotivated, uninspired, burnt out, and broke, and Mexico called to me, reminding me of the healing I experienced there. I started over before, I could start over again.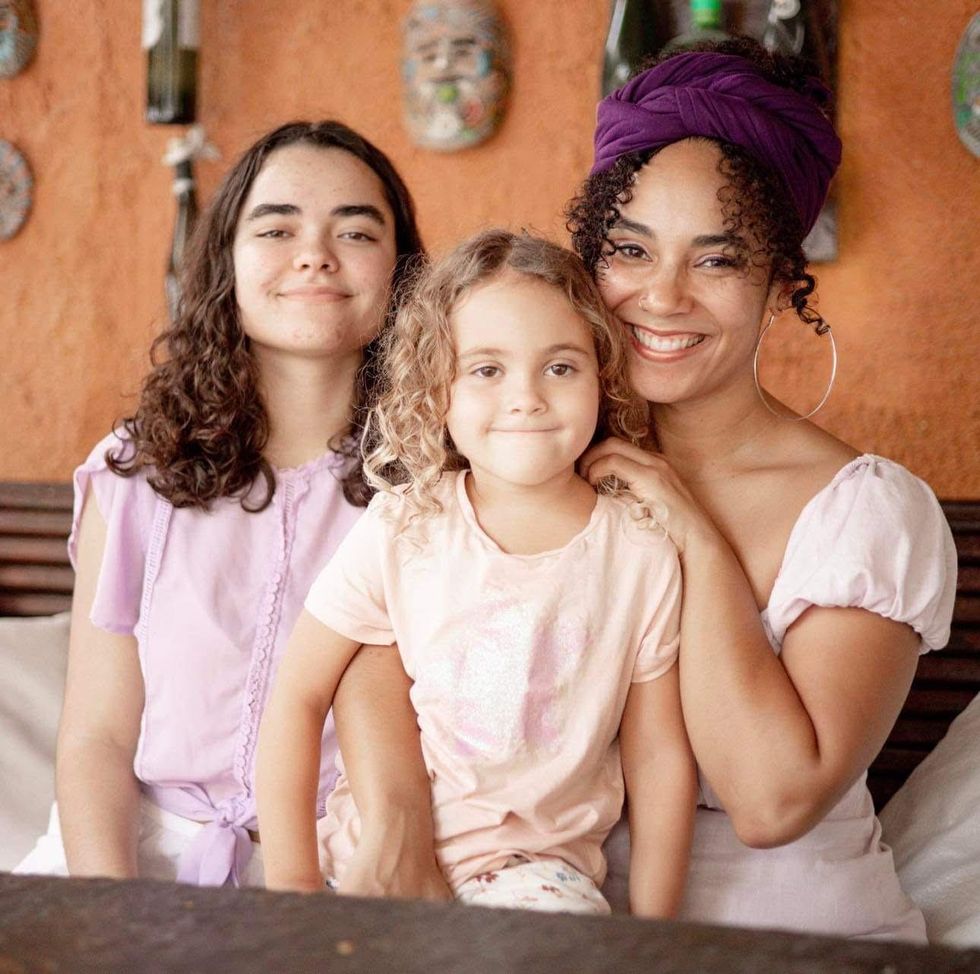 Courtesy of Amoya Shante
But as a single mom of three, I had hesitation. I feared Mexico originally due to the U.S. news and I was so sure that my kids would be kidnapped and harmed in some way if I went. It was through talking to other expats living in Mexico and understanding reality beyond the sensationalism of news stories that my nerves calmed a bit. Again, I sold all of my possessions and decided to take a leap of faith.
As a believer in the magic of manifestation, I believe I can do all things. I had my military retirement and an online business at the time, so I definitely still had to live paycheck to paycheck when I first moved to Mexico. But I jumped like I've done so many times before with faith that the universe would catch me like it always did before I fell. I set my intention, leap, and I don't get too caught up in the 'how.' I trust and I follow that inspired action. Moving to Mexico in July 2021 was no different.
I remember arriving in Mexico at night and taking a taxi from the airport to our Airbnb which was an hour away. Everyone was so kind. I didn't feel scared at all. Actually, I felt like I had been lied to my whole life. The energy in Mexico was different.
I felt calm, safe, and at peace.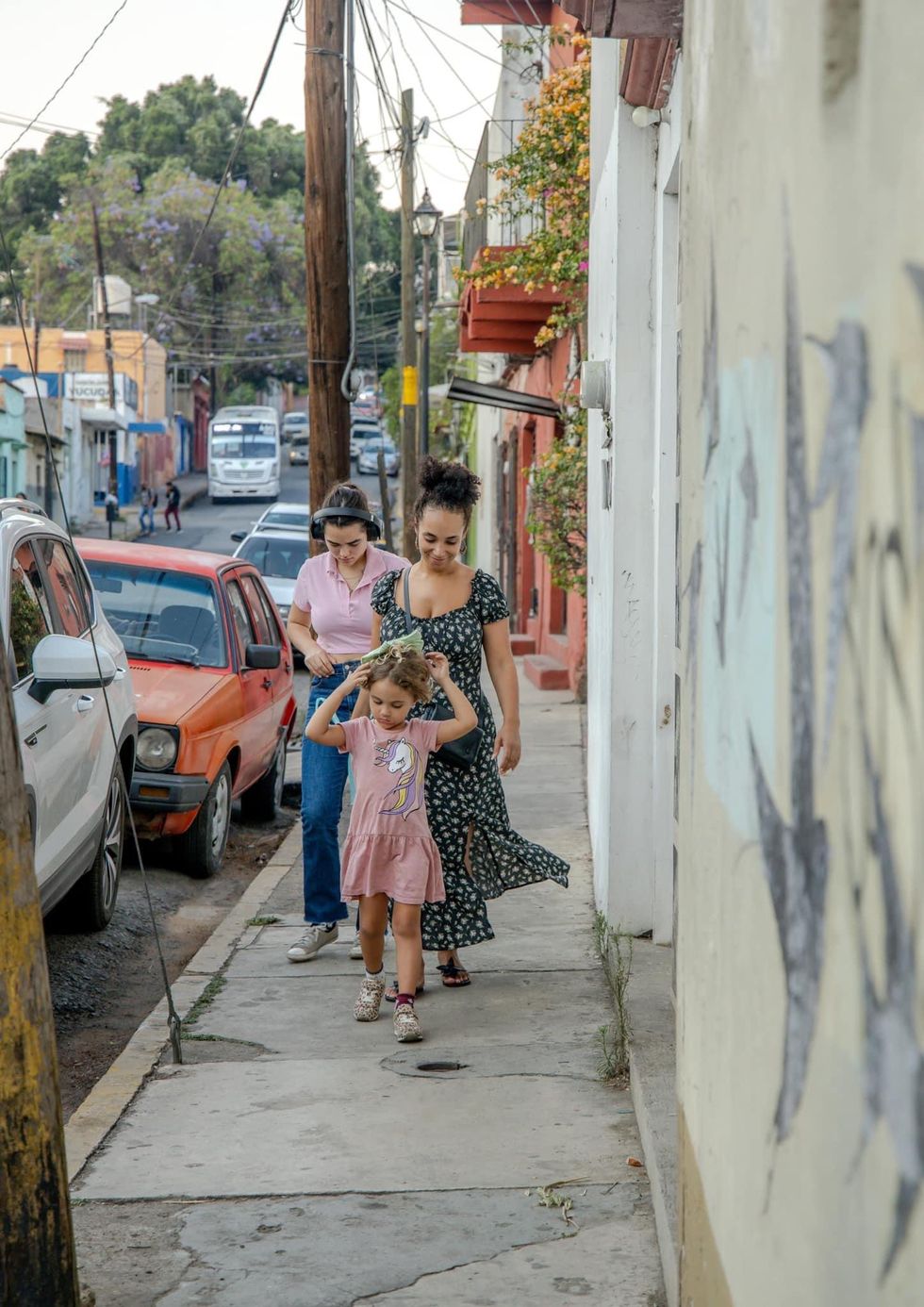 Courtesy of Amoya Shante
Those feelings would only reaffirm my decision each day that passed while living in Mexico. I was there for all of one month before meeting the love of my life. I was searching for a photographer in one of the expat groups I was in and from a list of about 60 photographers, I somehow zeroed in on his name, Julio. I don't know why. I was drawn to him. Even then. I went to his Instagram, checked out his work, and sent him a message.

I didn't look at or check prices with any other photographer. I just felt compelled to hire him.
Upon meeting Julio for the first time, I immediately recognized him as a soul I had already known. I initially tried to ignore the feelings he gave me but he pursued me in a way I never experienced before. From the very beginning, he felt so familiar to me. It was like we were two souls that had spent many lifetimes together. My normal energy in dating was one of anxiousness and desperation but with him, there was none of that. Nothing between us was ever forced, it just flowed.
With him, I felt calm. I felt at peace.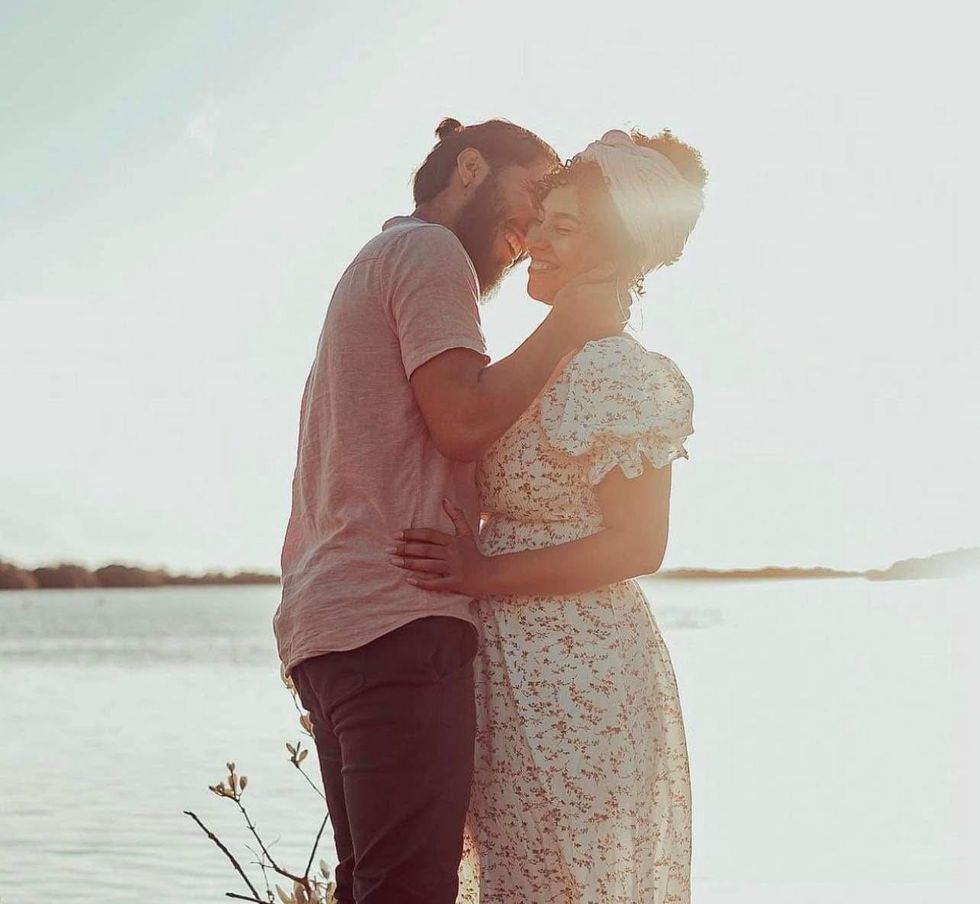 Courtesy of Amoya Shante
We had our differences. Julio is Mexican. I'm American. I'm 10 years older, he's younger. Even still, he is easily the most emotionally mature man I've ever been with. In the beginning, he spoke very little English and I spoke very little Spanish. Cultural differences and language differences hit us right away. I believed the dating process meant dating multiple people until I was in an exclusive relationship, but in his culture, that is not a thing. They take dating seriously and only date one person at a time and then need to speak to their family before asking you to be their partner. After you are official, you then meet the family.
Julio pursued me from the very beginning and still does so today. I never had to wonder what he was doing or who he was with. I never had to wonder if he was going to write because the man didn't let an hour go by without sending a message or a text. And despite the language barrier, he would also call, which wasn't something I was used to. I knew he was the one early on because I was able to be my true self with him. I didn't have to act in any way or overthink things. I could just be.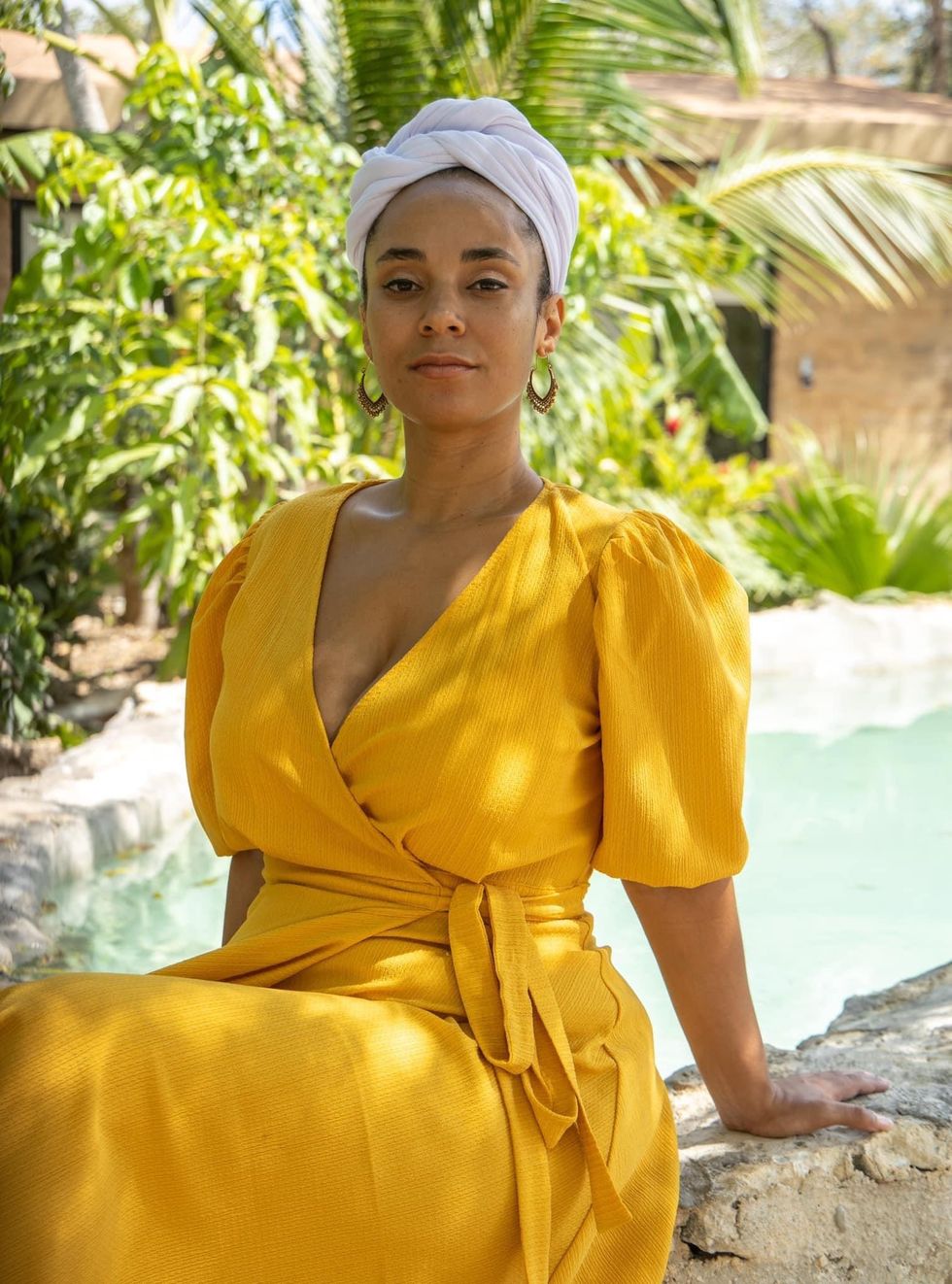 Courtesy of Amoya Shante
For a while, I felt unworthy of love because I was a single mom. In order to be ready for the love I manifested in my relationship with Julio, I had to let go of that and develop a belief that not only was I worthy of love but I was worthy of the most amazing relationship ever. I had to develop a belief that it was safe to love again after being in an emotionally abusive marriage. Not only did I have to learn to love again in a healthy, nontoxic way but I had to learn how to love myself wholly and completely so I would show up in a relationship healthy in mind, body, and spirit.
He respected my way of dating although he did not like it and he chose to remain true to his own values of only talking to and dating one person at a time. Julio was committed to getting to know me so he wasn't letting a language barrier get in the way. I remember traveling back to the States for two weeks after meeting Julio and him FaceTiming every night where we would talk for hours. He was getting an immersive experience with the English language. In so many ways, he taught me that if they want to, they will.
Despite our differences, we are most connected over our values. We value freedom, travel, family, and spirituality.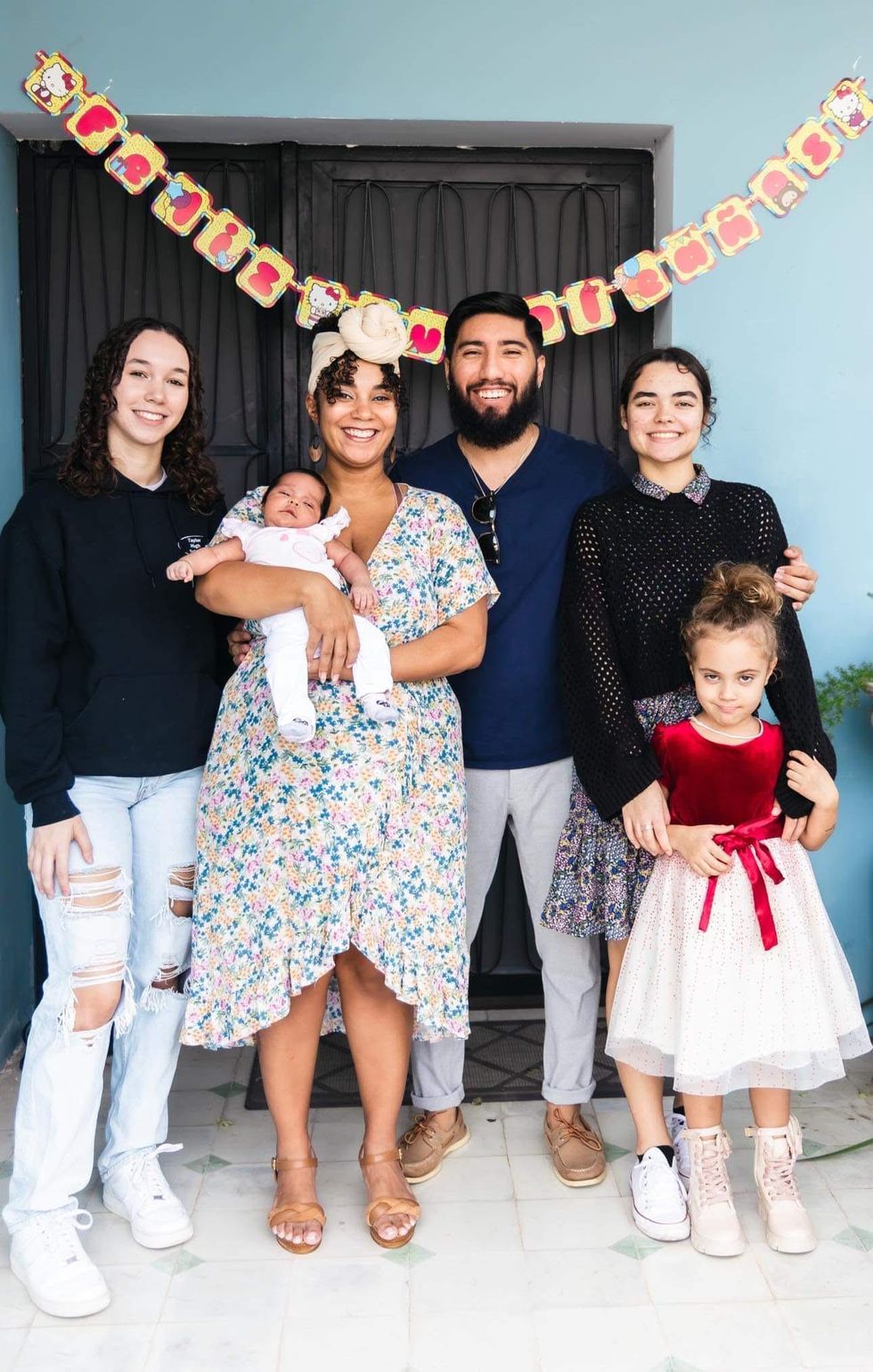 Courtesy of Amoya Shante
Not a day goes by where I don't feel seen. He listens to me. Not kind of listens but truly listens with his whole body and energy. He chooses our girls and me every single day and even though my three older daughters are not his, he has never made them feel any different than his own daughter. He takes care of us in every way by leading in a healthy masculine energetic way that allows my feminine energy to come out to play. I feel safe with him.
That is not something I experienced in my entire life. Feeling safe. He supports me and my vision and purpose. He is my biggest cheerleader. Julio is my balance. He keeps me grounded and calm. He is the best human I have ever met and I am so grateful to have found him again in this lifetime.
When I was at my lowest, I sought to manifest freedom, abundance, soul-aligned friendships, a business that lights me up, a chef, a nanny, a housekeeper, a villa with a pool, and of course, my soulmate. I am happy to say that within 16 months of moving to Mexico, I have manifested all of it.
Julio and I are engaged, run a six-figure business, and also welcomed our first child together, another baby girl to our family! And this is the first time I was able to enjoy newborn life because I am being fully supported and cared for.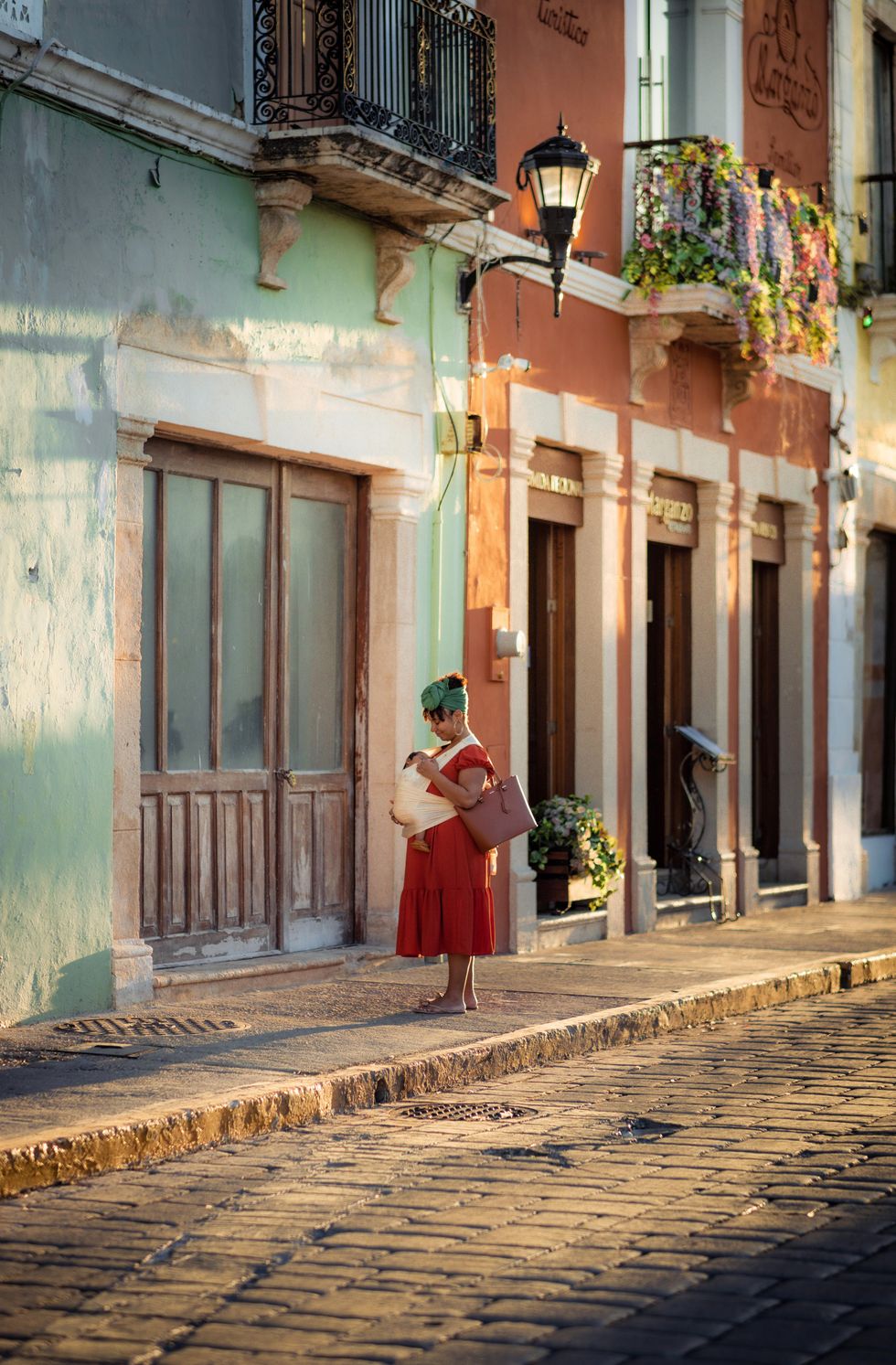 Courtesy of Amoya Shante
However, all of the rewards that are bearing fruit in this season of my life weren't without risk and they definitely weren't without inner work.
I invested heavily in my personal growth and self-development. A few months prior to moving to Mexico, I became certified in neuro-linguistics programming, timeline therapy, hypnotherapy, and life coaching.
I did deep inner work. I stopped treating my business as a hobby, started charging what I was worth, set up strong boundaries, and created a product that I knew worked so it would be easy to sell. I surrounded myself with people who inspired and motivated me and held me accountable to boldly live the life I saw myself.
There is always more healing and lessons to be learned but overall I am healthy, whole, and complete and now get to help others feel the same.
Featured image courtesy of Amoya Shante
As I prepare to enter into my third consecutive month of twerking to "Low" as one of my morning non-negotiables, I can't help but be in awe of the way 2023 is shaping up for our girl SZA. The singer-songwriter has been known to provide us with rawly introspective anthems that speak to the parts of us that are healed and the parts of us that still have a little more work to do. It's that relatability and that vulnerability that made us pay attention when she dropped her debut album CTRL, made us yearn for her in the years that followed, and made us pledge our allegiance to SZAisms after she released her highly anticipated sophomore album SOS last month.
We tapped into whatever it was SZA had to give us and what we were met with was nothing short of a masterpiece. With five years separating the first project from her latest, SZA's 23-track body of work was well worth the wait. She experimented with new sounds, hopped across different genres, and composed inner and outer thoughts into beautifully sung revelations that seemed to stretch her as both a writer and a vocalist. In the weeks since the December 9, 2022 release, SZA has had much to celebrate.
Not only did the album debut at No. 1 on the Billboard 200, but it has spent its entire chart run so far in that No. 1 slot, a feat that hasn't been accomplished by an R&B album since Usher's 2004 Confessions. This plus the songstress gearing up to perform a sold-out tour has 2023 looking like SZA and we're just a month into the year.
​One of the singles from this era includes the song "Nobody Gets Me." In a recent interview with Audacy's Alice @ 97.3 in San Francisco, SZA spoke to host Jayn about the expression of all her sides. With that song in particular, SZA touched on how she feels about her specialty for taking some of her worst moments into a thing of beauty in her art. "That's my true joy, to juxtapose all things. It's like my favorite pastime," she said.
The 33-year-old's music is a testament that the truth isn't always 'sexy,' but it can be beautiful. For SZA, in particular, the joy can be found in going deeper and daring yourself to confront emotions that might not be comfortable, but often need to be expressed. "If I was in there just singing whatever, it would be so boring I'd want to leave. I, like, wouldn't want to do music anymore. If I have to be in there alone, I need to dig in, or just, like, scare myself and put myself in situations that make me be like, 'do you really want to say that?'"
She continued, "I feel like there's so many more moments that I could take things so much further to that effect, and I'm excited to – I want to say everything that I was even scared to say on this album, I just want to push myself until I'm, like, naked. I don't know why I have this weird obsession with stripping myself of my skin. It could be like masochism, I don't know what it is. But, it's definitely an addiction."
Like an artist who is her own muse, her greatest desire is to be emotionally naked and bear it all for she knows in her vulnerability lies one of her greatest strengths. "Whether it's rushing [through] water of white rapids… or writing a song that says something about me that's like, 'I think I want to cry right now…' I feel free and empowered and curious about even what my next words are going to be. That aspect of me is something really interesting to explore."
Featured image by Anna Webber/Getty Images for Spotify
I was today years old when I learned the 'why' behind getting a pap smear. I always used to look at it as one of my annuals that I booked an appointment for, propped up my legs, braced for the discomfort of the speculum, and just did. I knew it was for my health but for some reason, it never clicked for me that a pap smear had everything to do with being preventative and was mostly about your cervix. Even as a 31-year-old who had a LEEP procedure done to remove precancerous cells nearly a decade ago, the dots never totally connected for me that 'pap smear' is to the cervix and cervical cancer as 'mammogram' is to breasts and breast cancer. Don't come for me, but I was simply doing what I was 'supposed' to do without thinking of the bigger picture as it relates to my health and preventative measures like annual pap smears.
Coming to terms with that realization is actually what led me to write this piece. I realized that there was probably someone like me who was simply rolling with the punches of booking yearly doctor exams, or even someone who might not even go because they may believe going to a gynecologist is only for people who have "an issue" down there. I'm here to demystify some of the myths around pap smears. In honor of it being Cervical Cancer Awareness Month, I am here to also do my part in empowering women to advocate for their health needs, especially when it comes to a form of cancer with a 92% survival rate when diagnosed in its earliest stages. And do you know the easiest way to detect cervical cancer before it becomes cancerous? If you said 'pap smear,' you are right on the money.
I spoke with Dr. Janelle Howell, DPT, WCS, also known as the Vagina Rehab Doctor to help spill the deets on what you need to know about pap smears and cervical health.

What is a pap smear? 
Perhaps it's elementary, my dear Watson, but I wanted to cover all of my bases when breaking down pap smears for this piece. A pap smear, or a pap test, is short for the Papanicolaou test. It is a diagnostic procedure that tests for cervical cancer in women. A doctor takes a small instrument to brush sample cells on the cervix and then sends those samples to a lab for the results. Once the samples have been tested, a patient can either get a normal test result (which literally means everything is all good under the hood) or an abnormal result (which could signify abnormal changes found on the cervix).
Depending on your doctor, they might suggest doing a colposcopy or a biopsy to ensure that the abnormal test result is not due to the presence of precancerous cells. If it is due to precancerous cells, the next step might be scheduling a procedure like a LEEP to remove those cells from the cervix. Your gynecologist will know best in regards to formulating a treatment plan that works best for you.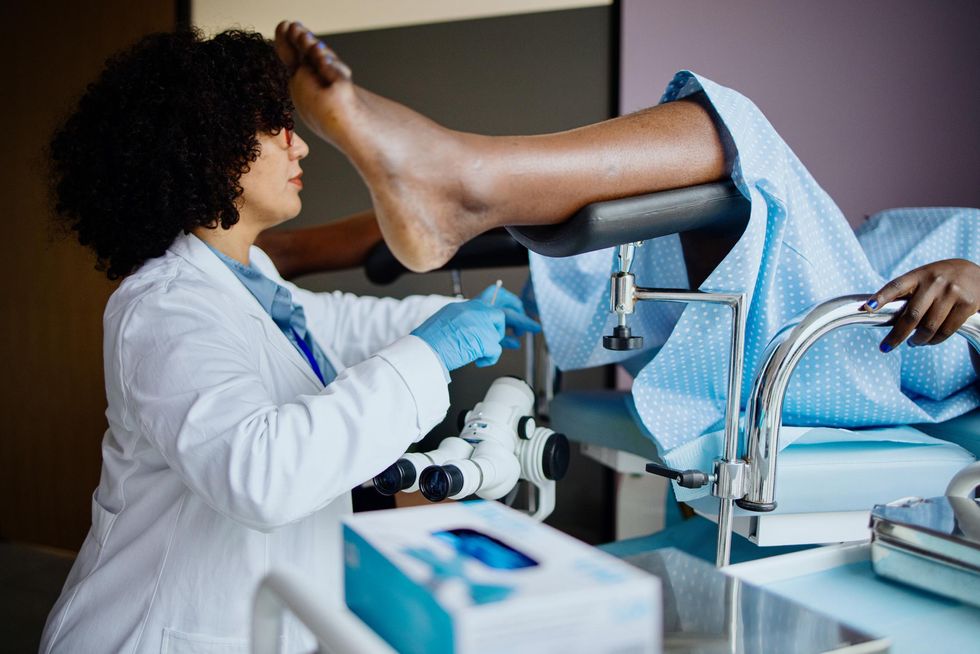 Anchiy/Getty Images
How often should you be getting a pap smear?
The answer to this question may differ depending on your medical history, but Dr. Howell shares that "generally speaking, about every three years is a good frequency to get one." She also adds that every five years, it is recommended to get an HPV test for the human papillomavirus, which is what leads to cervical cancer.
While Dr. Howell suggests people visit their gynos yearly, pap smear or no pap smear, she says that ultimately your specific gynecologist will be able to tell you how often you should visit and what the plan should be if you do have an abnormal pap test result.
When should we visit the gynecologist and what should we expect? 
Although there are some people who prioritize regular checkups, there are others who do not have the privilege of accessible healthcare. There are also folks who might not resort to visits with healthcare professionals unless there is a problem or an issue. Such is the case sometimes with gynecologists. As previously mentioned, Dr. Howell advises women to visit their gynecologist yearly even if they don't have a pap smear or a symptomatic health issue or concern. During those routine wellness checks with your gynos, you are able to get things done like a pelvic exam where they exam the vulva as well as the internal reproductive organs, which includes the cervix. Dr. Howell adds that during these exams, gynecologists usually "do an internal exam, apply manual pressure along the abdomen to see if you have tenderness along the uterine border, and order any other needed tests or measures, like a pelvic ultrasound."
She also shares that even if they don't go through the uncomfortable steps of giving you a pap smear, they will look at the cervix and the vaginal canal. "Think about it like getting an oil change. You gotta pop in there every now and then, especially if you are sexually active. You want to make sure you are staying on top of your pelvic health, your reproductive health, and all of that because we are getting our periods monthly, we are in our reproductive ages, and we still have our uterus that needs to be checked on."
"If we are having a lot of clotting, if we are having a lot of pain with our periods, or having missing periods or irregular periods -- those are things that we want to be updating our gynecologist on, so they can make sure nothing more serious is going on causing those symptoms," Dr. Howell concludes.
At what age should you start getting pap smears?
The most common age to start getting pap smears is 21, but typically when a patient is sexually active, they are advised to start getting pap smears then. Of note, just because you aren't sexually active doesn't mean you shouldn't be getting regular pap smears, especially if you are over the age of 21.
This brings us to our next question and answer...
Should you get a pap smear even if you're not sexually active? 
Sometimes, we look at doctor's visits from a lens of reactivity versus proactivity. Such is the case with gyno appointments. Sexual activity and/or vaginal health issues are not a prerequisite for gynecologist visits. But Dr. Howell encourages everyone to see the importance of getting pap smears, and even HPV tests, even if you aren't sexually active. "HPV can be transferred, not just from internal sources [like the penis and vagina] but you can get HPV just from skin-to-skin contact."
She states this to emphasize the point that sex is not the only way to get HPV, which is ultimately what leads to cervical cancer. "You can literally just have someone's skin who has HPV contact your skin, then you are at risk of getting it. There are HPV cells that live on the vulva, that live on the penis, that live on the groin. There's also oral HPV," she continues, "You don't have to have sex to get it. So be aware of that."
HPV can even be transferred from mother to child through the vaginal tract, so children can get it from their mothers if their mothers have it. The bottom line is, just because you aren't sexually active doesn't mean you shouldn't be getting pap smears and regularly testing for HPV.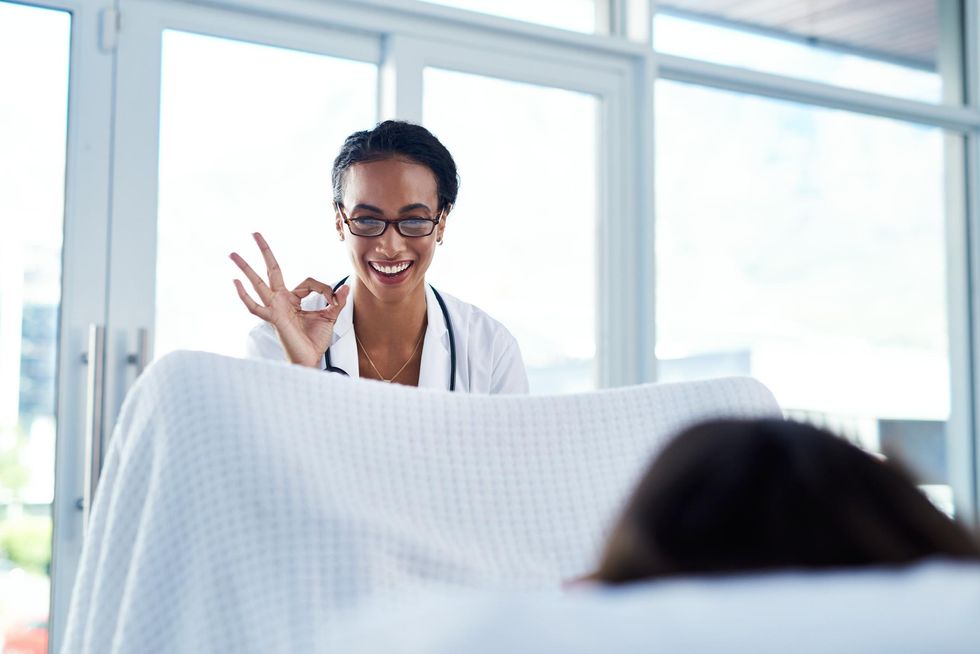 PeopleImages/Getty Images
How can you advocate for your cervical health in relationships and gyno visits? 
If you are sexually active, the number one thing you can do to better support your cervical health is to use protection. Dr. Howell notes that using condoms during sex is "one of the most basic, affordable, and safe ways" to guard the cervix. By practicing safe sex "we are limiting the amount of exposure to bodily fluids and bacteria on someone's genital skin that can impact our cervix. Exposure to someone's bodily fluid or [the] skin of someone who has HPV is a common way to become infected. We generally get it from another person."
In instances where women want to feel empowered to go beyond the routine pap smear, Dr. Howell wants you to advocate for your cervical health by doing your research and talking to your doctor openly in order to feel confident and comfortable with your cervical health status.
What are some holistic ways to support your cervical health?
Supporting your cervical health can go beyond regular doctor visits, getting pap smears, and using protection during sex. It also looks like having strong sexual health boundaries overall, as well as making better lifestyle choices. "If our diet is filled with more inflammatory foods than anti-inflammatory foods, then that is not going to necessarily help the cervix. So like processed foods, those things are more inflammatory than fresh foods."
For that reason, Dr. Howell suggests doing things like adding "color to your diet." She goes on to say, "You want to make sure that you are getting more color in your diet from plants, which help us to fight inflammation and fight disease. That's the whole purpose of food, to nourish our bodies." Speaking of diet, another key to nourishing your cervical health is by decreasing your sugar intake. "When I am saying sugar, I am talking about artificial sugar like the sugar that we are putting in our coffee, or the sugar that is in juice; it's concentrated into one small cup. Artificial sugar and high amounts of it, have been associated with just more inflammation in the body, which includes the cervix."
In addition to watching the amount of sugar you consume, she suggests observing your vitamin A and vitamin D levels as they are "protective for the cervix." "We are eating every day anyway, so you might as well eat foods that help your body to thrive." And for a beta-carotene-rich food that is accessible as it is nutritious, Dr. Howell looks to carrots and says one carrot a day is enough to assist with vitamin A levels which are necessary for cervical health.
As a Pelvic Floor Physical Therapist, Dr. Howell knows the importance of considering the pelvic floor as a way to support the cervix. "Your pelvic floor includes all the muscles that support your cervix and supports your uterus to prevent prolapse. So, checking in on your pelvic floor for pelvic floor symptoms, like urinary leakage, a bulge in the vagina, a 'heaviness' in your vagina, or constipation -- these are things you want to consider in terms of your pelvic floor. Seeing a pelvic floor physical therapist is crucial to helping you overcome those symptoms and take care of your pelvic floor muscles, which are by far the most important muscle group for supporting the position of your cervix and uterus."
For more of Dr. Howell, follow her on Instagram @vaginarehabdoctor.
Featured image by Natalia Gdovskaia/Getty Images
Yara Shahidi has officially entered her selfish era. The 22-year-old is known for her beyond-her-years wisdom, her passion for activism and human rights, her stunning beauty, and her unapologetically radiating main character energy both on-screen and off. She divides her time between acting, producing projects that move through her production company 7th Sun Productions, and spending time with her close-knit family. And as a recent grad from her dream school, Harvard University, Yara is coming even more into herself as she enters 2023 with the decision to take the focus off of dating and put that energy on herself.
From the outside looking in, Yara has always been in her "me" season, but the actress shared that this was uncharted territory for her, at least as of late. The Grown-ishstar recently stopped by The Drew Barrymore Show where she revealed that yes, she is single and that she doesn't know if she is looking to start dating anytime soon. And here's why.
"I like meeting people. And then the other thing is, I just got out of a relationship," she tells Drew before laughing. "So, I'm just kind of, you know, I'm a big commitment person. It was three years, so I don't even know what to do with myself. I'm just taking some 'me' time. My friends and I are calling it 'selfish season.'"
My first thought was, Yara? In a relationship? Since when? But as the actress is notoriously private, it should have come as no surprise that she was in a relationship, let alone one for three years that seemed to fly underneath the celeb news radar. And although she is taking a break from dating for the foreseeable future, she did touch on her hopeless romantic belief of love at first sight. Something she credits her parents Afshin and Keri Shahidi for inspiring.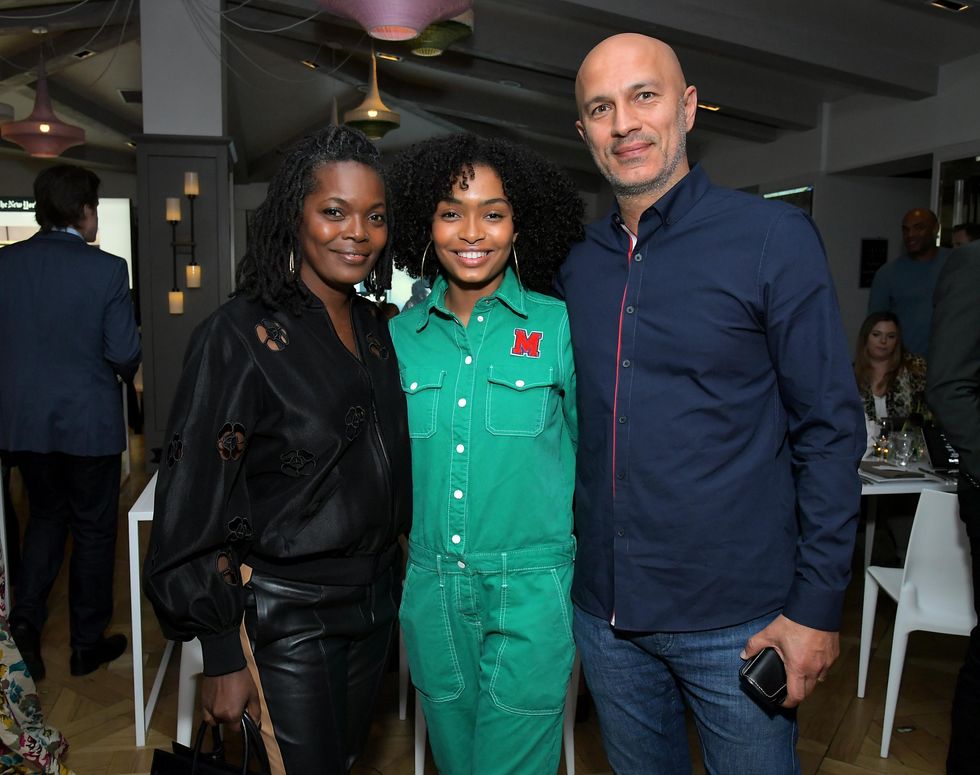 Charley Gallay/Getty Images for The Weekly
"I have to give full credit to my parents because they have the best story. And I remember hearing this growing up, and in Minnesota, my mother's out with some of her friends, my father's out with some of their friends, and she turns the corner and goes, 'Oh my God, that's my husband.' Says it out loud and catches herself. They've never met before, like have not spoken. She does not know who he is. Ends up later that night not talking, but getting a picture of him. Like a proper photo of him. And then friends would come over and look through the phone book to see if they could figure out who this was. And finally, finally, I'll fast-forward through some of the details, but when they get in touch, you know, he actually lists everything she had on that night."

She went on to describe her father recalling everything her mother wore the night they met but never spoke as if it was a vivid picture of her in his head. Yara ended the story by sharing, "There's something about that meet-cute where they both noticed each other and did not speak."
Inspired by the stories of Yara's parents' meet-cute, Drew later asked whether or not she believes that people will go to great lengths to find each other.
"I hope it's true. I'm in my mid-twenties. I'm hoping that that's how it works."
Yara Shahidi's "Selfish Season" & Why She's Taking a Break from Dating | The Drew Barrymore Show
Let's make things inbox official! Sign up for the xoNecole newsletter for daily love, wellness, career, and exclusive content delivered straight to your inbox.
Featured image by Marc Piasecki/WireImage
It's officially been a year and six months since I made the move to Mexico City full-time. And while Mexico is home to rich culture, prideful people, and breathtaking beaches, I've come to grow an even deeper love and appreciation for the place I now call my home away from home. Domestic travel will do that for you and has only helped to increase my affinity for all things Mexico. Forbes recently dropped their list of the top five travel destinations of 2023, and coming in the third position nestled right under St. Kitts and just above Japan was Mexico.
After seeing so many travelers on my timeline and my FYP respectively posted up on various beaches, I had no doubts that Mexico's tourism boom would continue in the year ahead. But what if you want to visit Mexico, and also want to travel a bit 'off the beaten path' in comparison to touristy (but still beautiful af) places like Cancun and Tulum? That's where we come in with this list of places in Mexico to add to your radar in 2023.
It's not an exhaustive list by any means, but it is one based on my own travels as an expat living abroad in Mexico. Keep reading for even more beauty this diverse country has to offer.
San Miguel de Allende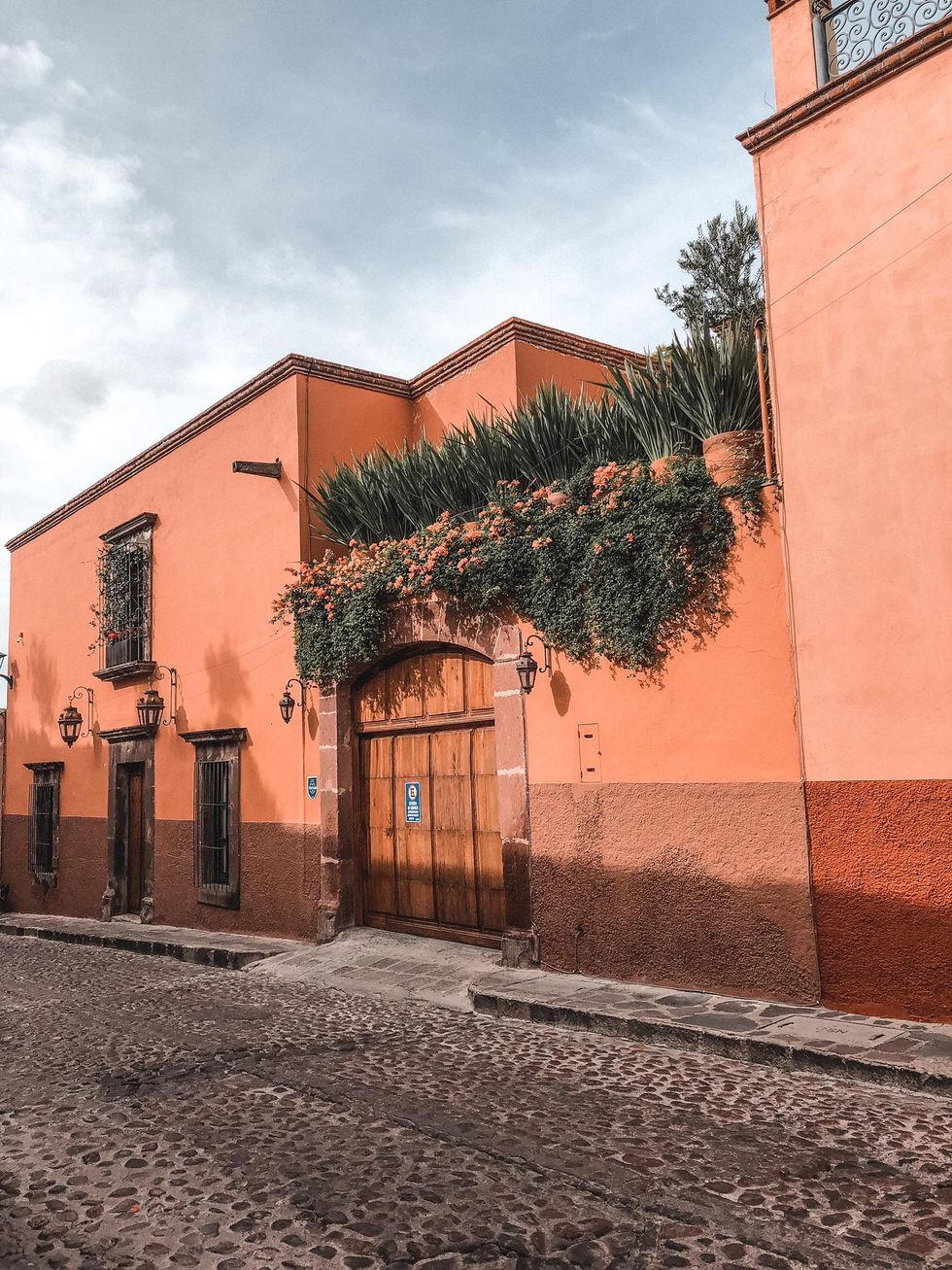 Courtesy of Sheriden Chanel
The cobblestone streets and Spanish architecture are just some of the awe-inspiring beauty San Miguel de Allende has to offer. Perhaps most known for the Parroquia de San Miguel Arcángel located at the city's center, San Miguel de Allende is a colonial-era small town that has also become synonymous with wellness. One of my favorite things about living in Mexico is how modern often mixes with history in the look and feel of pueblos and cities alike. San Miguel captures the essence of that juxtaposition so beautifully and you feel instantly transported into a storybook town of yesteryear.
The many pastel-colored buildings are only part of San Miguel's charm, as my time there was spent lavishing in massages at Essential Massage & Watsu, hiking in Charco del Ingenio, sound baths, enjoying bites at the local restaurantes, and visiting Viñedo Dos Buhos, a certified organic winery nestled not too far away from the town's center.
Tepoztlán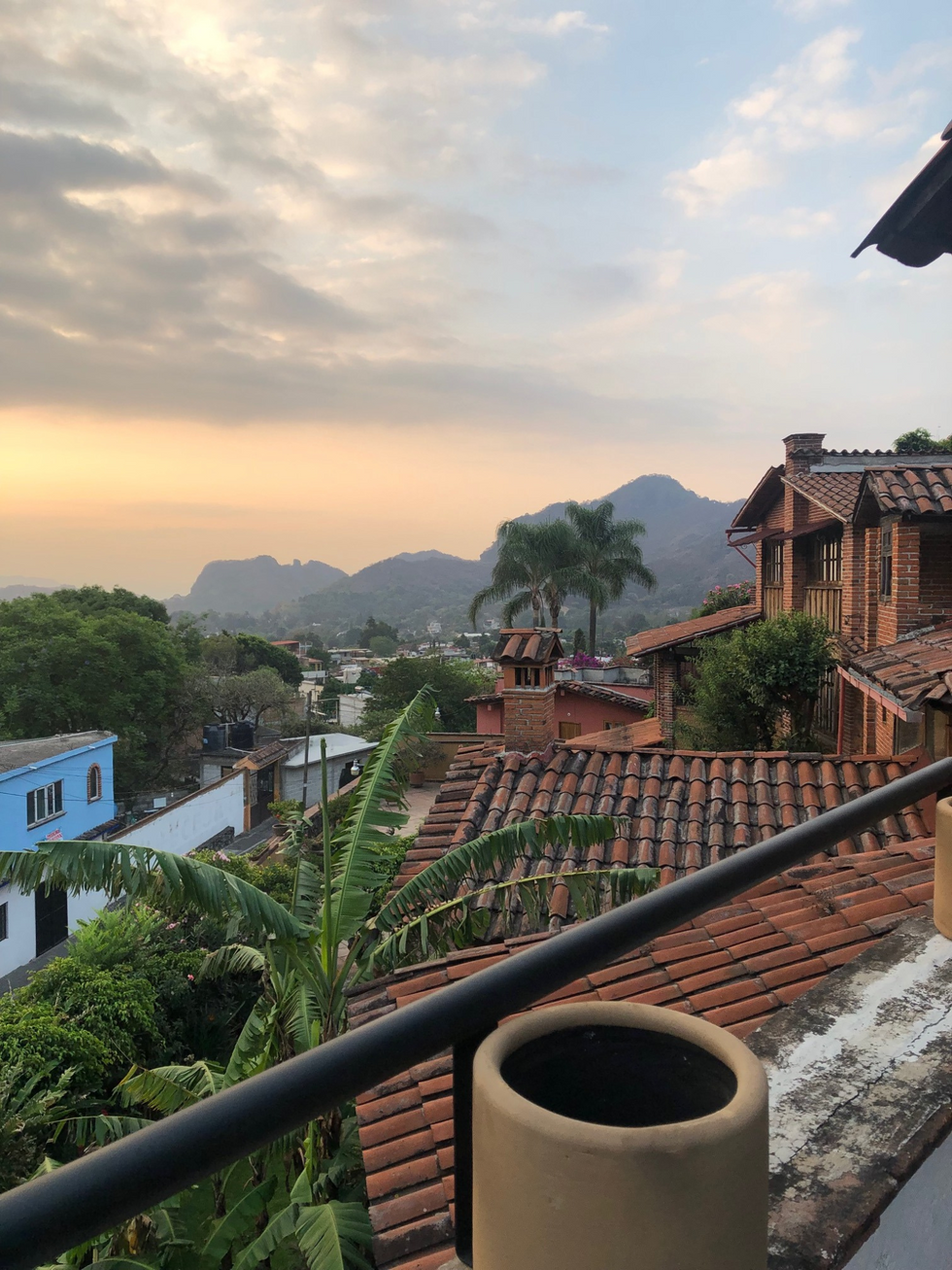 Courtesy of Sheriden Chanel
​Whenever I want to take a quick trip from my life in the city and want to feel closer to nature, Tepoztlán is there. Located less than two hours south of Mexico City is the magic town of Tepoztlán in the state of Morelos. The pueblo also has the reputation of being the birthplace of the Aztec god, Quetzalcoatl. I love being able to rent a casita in the town's center or one up in the mountains where I can access some of the hiking trails there, as well as the deer sanctuary. If you're feeling lucky, you can also climb the infamous El Tepozteco. It is steep but worth the view at least once. It really depends on the vibe you're looking for.
As a town, Tepoztlán is heralded for the wellness experiences it has to offer. Stop by the town center for a deep tissue massage that rivals any four- or five-star hotel. And speaking of hotels, there are quite of a few that have an emphasis on mind, body, and spirit rejuvenation. Visit the urban retreat of Casa de la Vida to reset with the help of packages like Elixir of Life and Detox and Rejuvenate. Hotel Boutique Casa Isabella and Nican Mo Calli are a couple of other accommodation options that are also holistic-centered.
Val'Quirico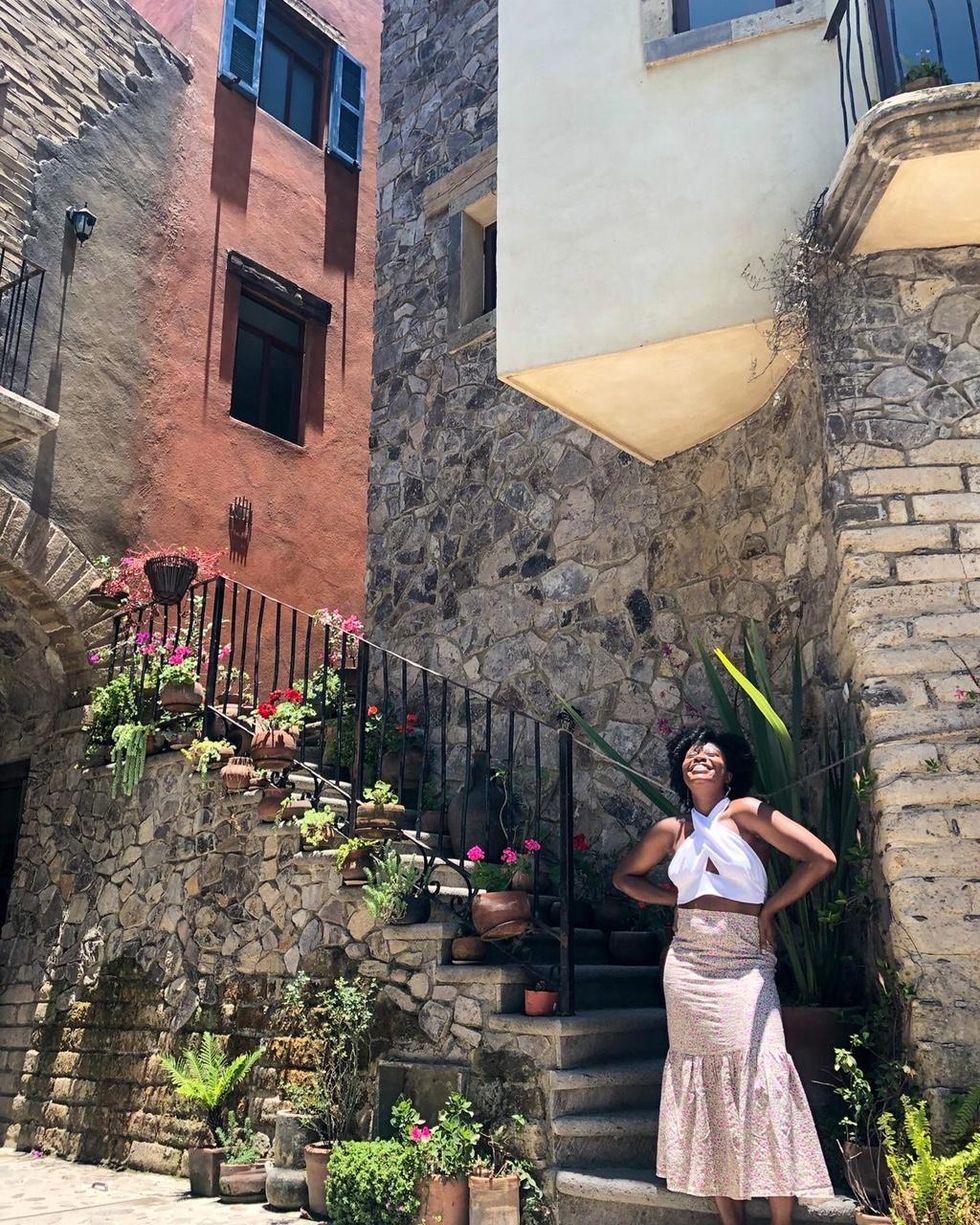 Courtesy of Sheriden Chanel
Speaking of Mexico City day trips, Val'Quirico is another beautiful place the country has to offer. Although, not quite. The housing community also has the unique feature of being fictional. So while you can visit it, it's technically not a town at all. Inspired by Tuscany, a visit there will have you feeling like you're walking the streets of Italy without ever leaving Mexico. Val'Quirico has many restaurants, cafes, and even live music, but also plenty of attention to detail which makes for a lot of photo-opp moments. You can choose to lodge there for the night (or multiple nights) or just visit during the day as a quick day trip while you're in Mexico City.
Ixtapa Zihuatanejo
By far, my favorite beach in Mexico is located in Ixtapa Zihuatanejo. It's one of those places that doesn't feel too touristy yet so I hesitate to add it to this list but we don't gatekeep around here so here I am, gifting keys to the paradise vacation kingdom. Ixtapa Zihuatanejo is located in the state of Guerrero and is a resort town located on the Pacific Coast. Surrounding the picturesque El Palmar Beach is an array of hotels, restaurants, and bars.
Although we stayed mostly on the private beach at Las Brisas Ixtapa when soaking up the sun rays and sipping on cocktails, the public beach is also a sight for sore eyes and definitely worth a visit whenever you feel like taking a break from your respective resort. I've seen some of the prettiest sunsets in Mexico, but being in Ixtapa Zihuatanejo just hits different.
Cabo San Lucas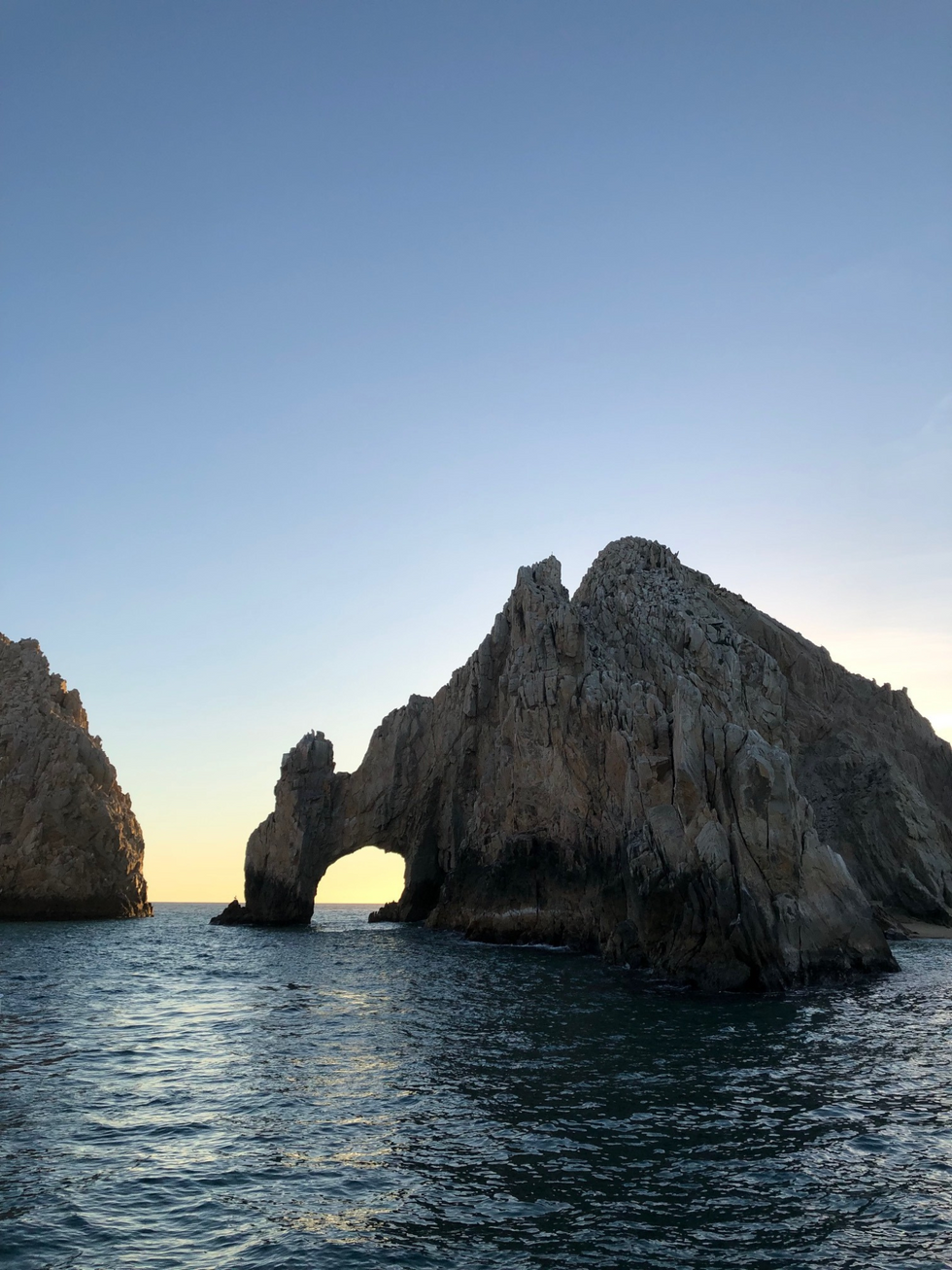 Courtesy of Sheriden Chanel
Such a list would not be complete without mentioning Cabo San Lucas. Located in Baja California Sur, the popular vacation destination is comprised of picturesque beaches, luxurious resorts, and desert landscapes. Perhaps most known for its natural rock formations aptly called The Arch, Cabo San Lucas is also home to deep sea fishing, water recreation activities galore, and a thriving nightlife. Absolutely soak up the luxury at any of Cabo's plethora of resorts, but don't forget the joy of visiting the resort town's public beach or taking a quick boat ride to see the iconic rock formations up close while visiting the famed Lovers Beach and Divorce Beach (which are only accessible via boat). Even in December, the water was warm and glittered like diamonds underneath a cloudless sky. I was in love and you will be too.
Featured image by Justin Lewis/Getty Images