Sheriden Chanel
Sheriden Chanel is the Managing Editor at xoNecole and 1/3 of the xoNecole Happy Hour Podcast. A self-proclaimed burger and Beyoncé enthusiast, find her at the intersection where art hoe and black creative meet. Keep up with her on social
@sheridenchanel
and her travels at
Postcards & 808s
.
Self-care is a word I will never tire of. It's an essential. It's vital. It's a need. I don't think I heard that message as clearly as I did in 2020. The importance of self-care was already buzzing around in the form of various sound bytes filling the social media realm like fluffy white clouds in the sky. Messages of pouring into self were everywhere I turned. And on the opposite side of that spectrum was the push for productivity, the hustle and the grind. The messages seemed to conflict back then. But I wouldn't learn until a cabin weekend away, unplugged with nature in the fall of 2019, that rest was not the antithesis to productivity; it was the key.
From that moment, I prioritized wellness and self-care. To keep it all the way a buck, that lesson got a little lost in the wake of how 2020 played out. It would peek out in the most random spurts, holding me still until I was myself again, but for much of the year, self-care wouldn't come into play as much as I knew I needed it. Life got in the way. Forget thriving, surviving got in the way. And as a result, my mental health completely suffered. For the first time in my life, I had to navigate a series of depressive episodes back-to-back. And though I feel blessed that the pain of that year was also met with elements of sheer pleasure, and didn't have the depth a lot of people experienced through loss, I found myself in holes sometimes that felt difficult to get out of at the time.
Rest is not the antithesis to productivity. It is the key.

In the process of finding my way back to a life that didn't lack color, I reencountered the power of self-care. I was reminded of the fact that when it comes to the tool, don't sleep. What I also learned in that process was the fact that there are different self-care strokes for different folks, and depending on which of the types of self-care resonate with you, the more of an impact a self-care will have on your overall well-being. Knowing the self-care types and which one works best for you will transform your world for the better. Keep reading to learn more.
What Are The 6 Types Of Self-Care?
Physical Self-Care
Emotional Self-Care
Spiritual Self-Care
Intellectual Self-Care
Social Self-Care
Mental Self-Care
What Is Physical Self-Care?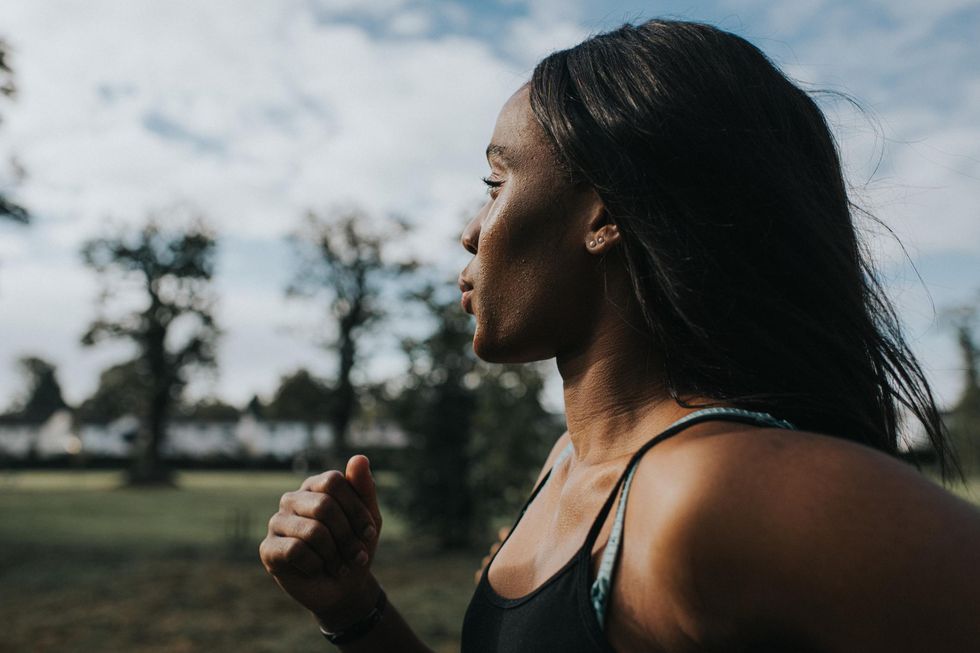 Getty Images
When it comes to the bodies that we live in, they are temples and should be honored as such. If you're wondering what is physical self-care, you guessed it, physical self-care has everything to do with acts rooted in physical well-being. While physical self-care can consist of exercise, physical fitness is not the end all be all when it comes to this type of self-care. It can include yoga and going for a walk or bike ride, but physical self-care can also include rituals like adopting a mindful skincare routine, keeping up with doctors' appointments, prioritizing sexual health, and maintaining a healthy diet that makes you feel good inside and out.
What Is Emotional Self-Care?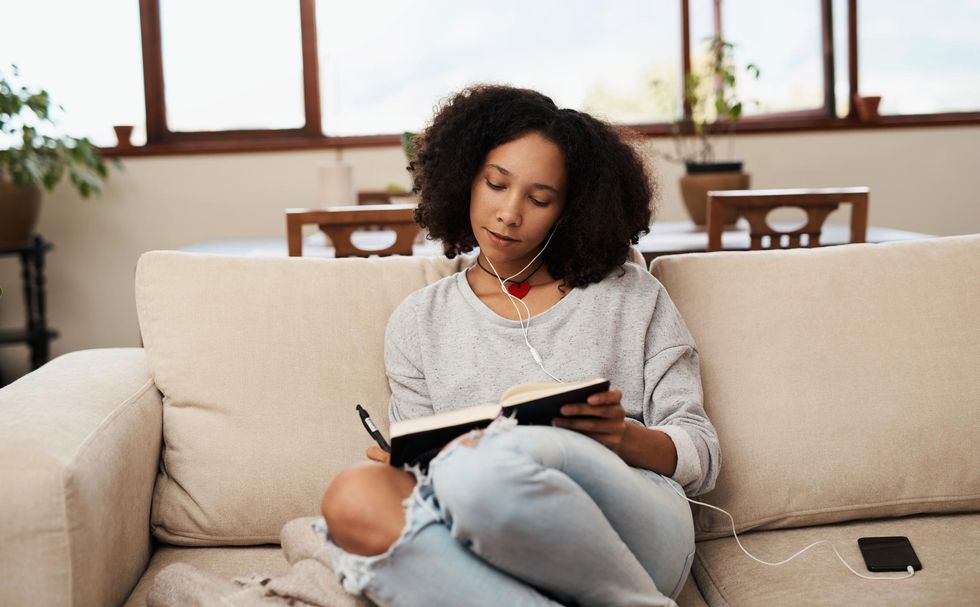 Getty Images
As a person who connects to the world and life deeply through emotions, emotional self-care is a form of self-care that resonates most with me. Emotional self-care entails becoming one with your emotional self. You check-in with yourself, and you put in work to understand any feelings, emotions or triggers you might be navigating through. It is not about replacing negative emotions with positive emotions as much as it's about acknowledging how you feel and why you might feel that way. Center yourself through emotional self-care acts like journaling and/or morning pages, meditation, or implementing a mindfulness routine.
What Is Spiritual Self-Care?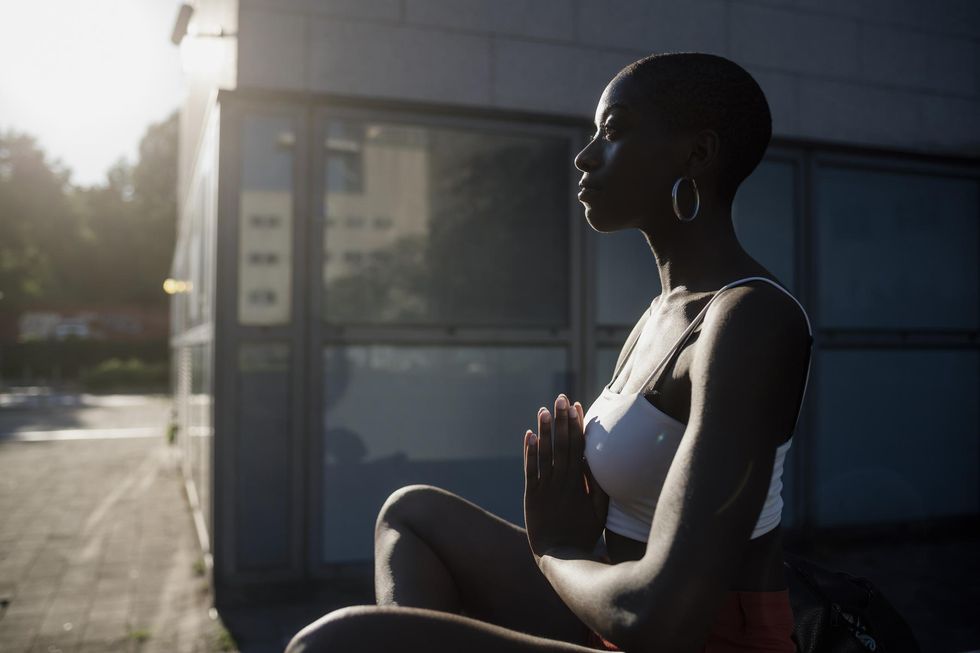 Getty Images
When it comes to the types of self-care I most readily gravitate towards, spiritual self-care is a really close second. Due to my love for spiritual maintenance, this form of self-care feels almost effortless. When you think of the word "spiritual", "religion" might come to mind, but religion isn't the only way to connect to your spirituality (though your relationship with faith can play a role in how you practice spiritual self-care). The purpose is to feed your soul as you tap into means to achieve inner peace. This can look like church or prayer, yes, but it can also look like meditating, reciting positive affirmations, and taking a walk in nature.
What Is Intellectual Self-Care?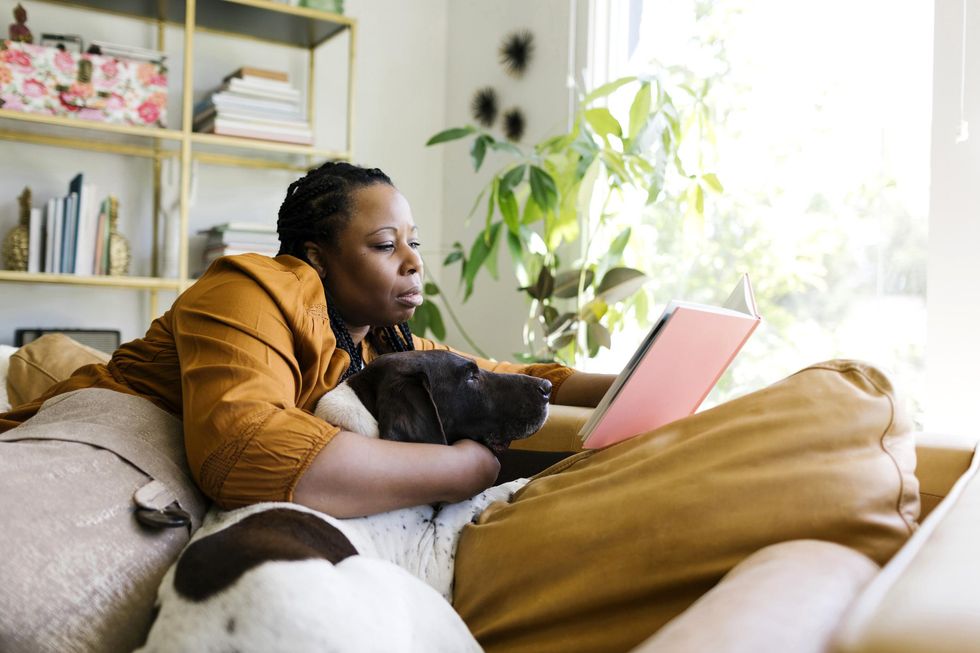 Getty Images
Developing the mind is the name of the game with intellectual self-care. There is personal growth on the other side of learning and investing in personal development. Life is about love, but it is also about pushing yourself to learn as much as possible. Along with that knowledge, it is about opening yourself up to new experiences and thereby unlocking a mindset of abundance. Expand your mind by gaining new skills. Do so by reading books, listening to podcasts that expand your worldview, or watching documentaries.
What Is Social Self-Care?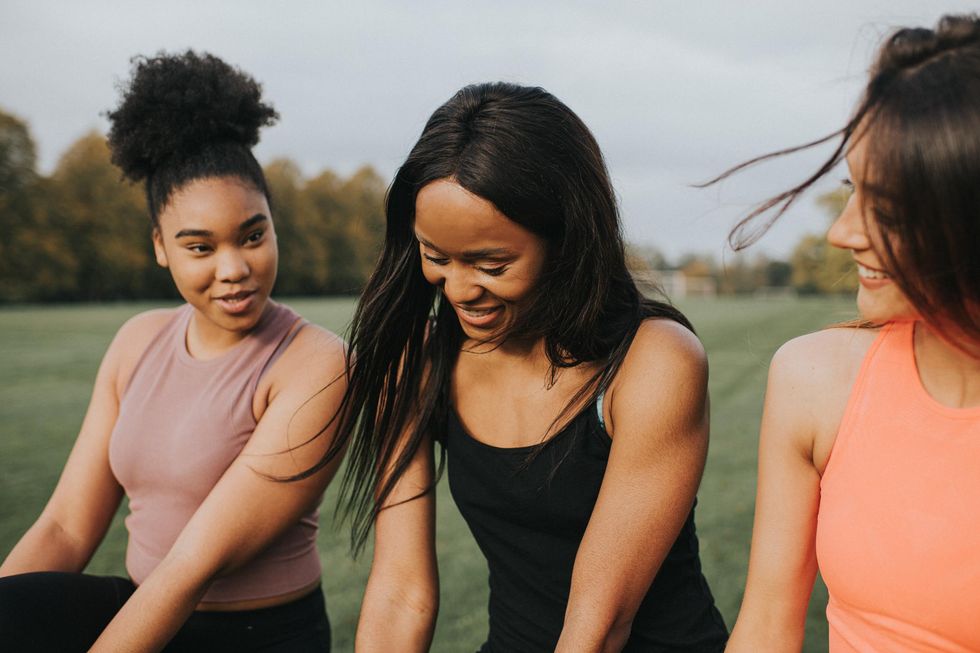 Getty Images
Human beings are inherently social creatures. We thrive off of feelings of connectedness and tend to prioritize the relationships we have in our lives, be it familial, platonic, or romantic. Regardless of if you are an extrovert, an introvert, or an ambivert, quality time with people we love and who make us feel understood and less alone makes us feel cared for. Social self-care looks like calling a friend or loved one or spending time with friends or family members. You can also get your social self-care fix through establishing new connections with strangers in order to build and deepen relationships.
What Is Mental Self-Care?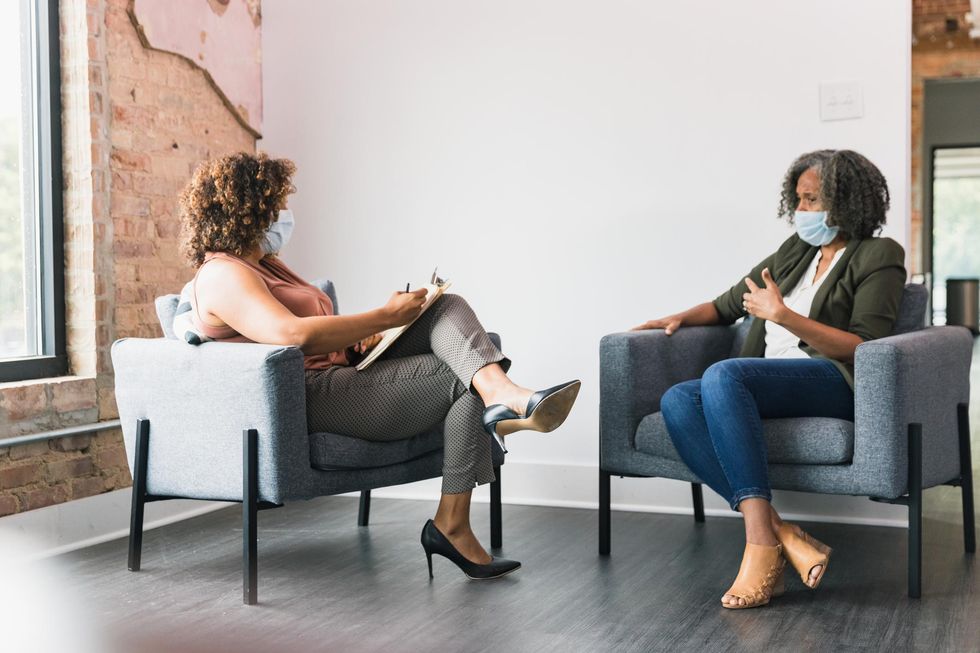 Getty Images
Mental self-care is a form of self-care that emphasizes mindfulness and the act of being present. A lot of time our worries, anxieties, and feelings of self-doubt stem from living too far in the past or too ahead in the future. However, by being present, you empower your mind and care for yourself in the process by nourishing your mental well-being. Some ways to access that nowness through mental self-care include practicing mindfulness, engaging in positive self-talk, and going to therapy.
For more inspiration, self-care, and wellness tips, check out xoNecole's Wellness section here.
Originally published on Sheriden Chanel
Featured image by Getty Images

Keep reading...
Show less
One of my favorite things about the changing seasons are the new vibes and new energies that change welcomes with it. September represents a transition from the white sand beaches, bottomless brunches, and undeniable romantic vibes long nights, festivals, and impromptu road trips often thought of when we think about the summer. In its place comes romanticism in a different approach. Pumpkin spice anything, the excuse to cuddle up, and the leaves of the trees turning warm shades sparks joy in a different way as fall begins. Perhaps what I am most excited about though are the 2021 wellness trends that come with it.
From hiking to self-pleasure, here is what the fall season has in store for you in the form of wellness trends.
1

.

Cold Water Therapy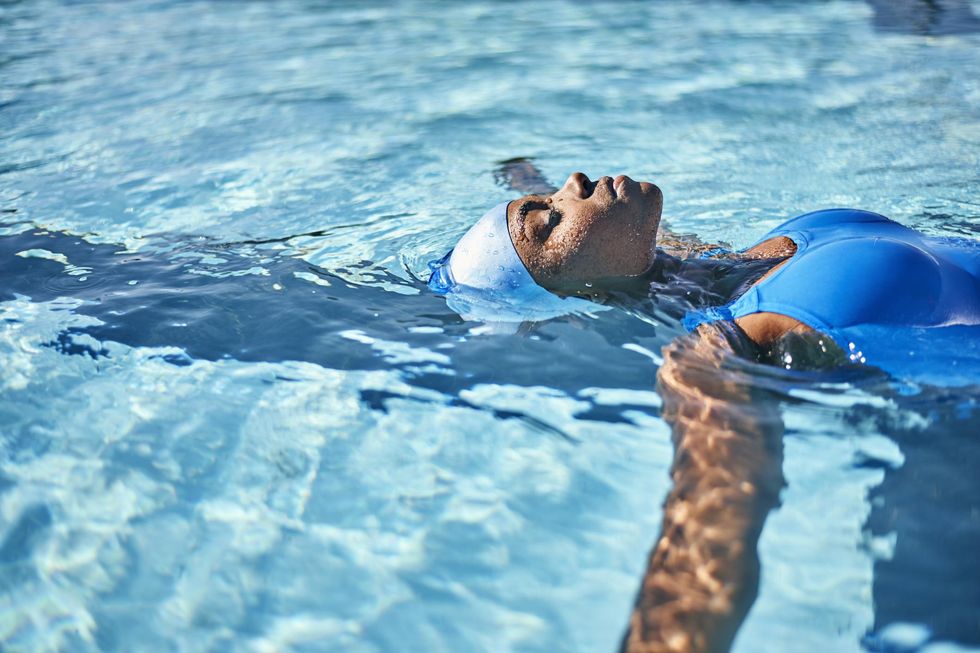 Getty Images
Cold water therapy can look like indulging in cold showers every morning or as immersive as ice water baths, swims or cold chambers. While cold water therapy might have gained popularity from Wim Hof and his infamous breathing methods, it turns out, opting for cold water over hot water comes with its share of benefits. From boosting your immune system and energy levels to improving your quality of sleep and overall mood, the benefits of cold water therapy aren't only limited to recovery (i.e. muscle soreness).
And if you were wondering what temperature qualifies as cold water therapy, according to Dr. Michael Barnish, anything below 15 degrees Celsius. Talk about icy.
2

.

Hiking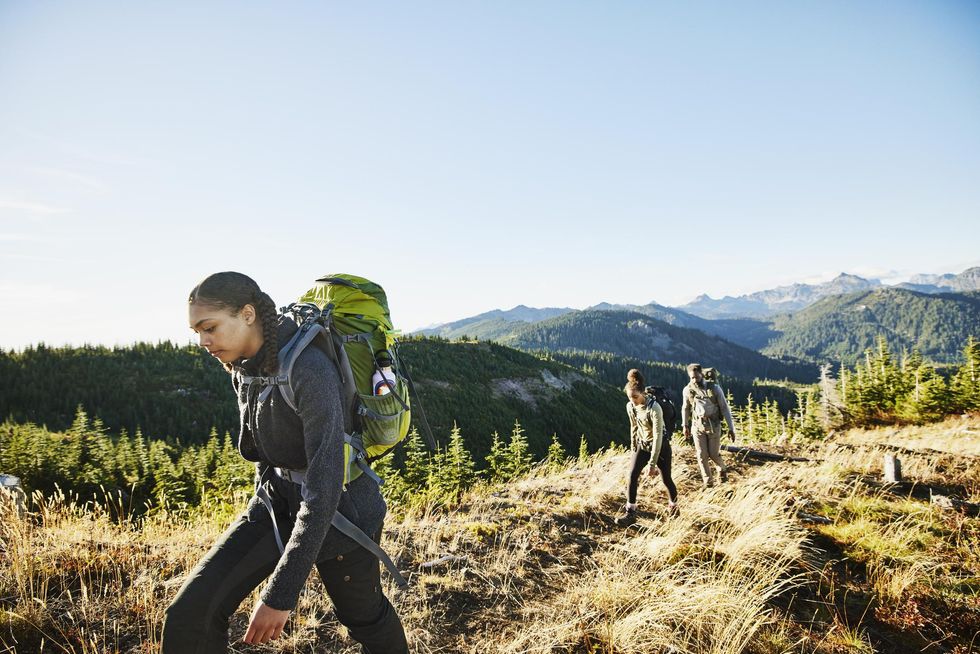 Getty Images
I first fell in love with hiking while in the mountains of Mexico and have indulged in the activity whenever I can ever since. Although it is a great thing to do for the mind, body, and spirit year-round, there is something special about fall hikes. Perhaps, it is the changing foilage. Perhaps, it is the not-too-hot, not-too-cold weather combo. Whatever it is, Outdoor Industry Association, has seen a spike in the amount of hiking people have been engaging in in 2021, and it doesn't look like it's a trend that will stop. What's better is that it it is a way to tap into escapism while being safe (because we are still in a panorama out here).
If you haven't been hiking yet this year, the fall season might be the perfect time to begin. Travel + Leisure has a great list of the best hikes in the U.S. that you can check out here.
3

.

Ritual Baths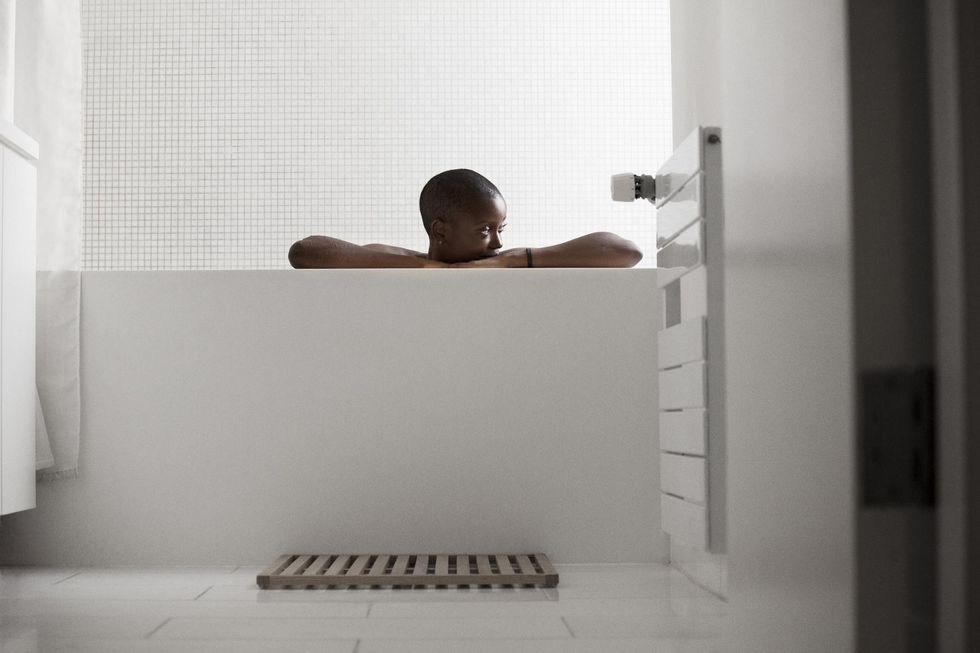 Getty Images
I first became introduced to the magical world of ritual baths in the metaphysical space where tarot readers and other spiritual practices noted the benefits of sacred ritual baths as a way to detox, ground, and cleanse. Bathing in general is about the cleansing of one's body, but ritual baths take things a step further by adding a spiritual component to how you bathe. Florida water, Epsom salt, sage, crystals, rose petals and coconut milk can be common staples in ritual bathing. Bathing can be more than a cleansing practice, it can be transformative and healing.
Mama Medicine, author of Ritual Baths, recommends starting with foundational elements like cinnamon sticks and unscented candles with your ritual baths. Depending on what you are trying to attract or channel, there are a plethora of recipes you can choose from, including ones for clarity, strength, grounding, and self-love. For more information on starting your restorative ritual bathing practice, start here.
4

.

Self-Pleasure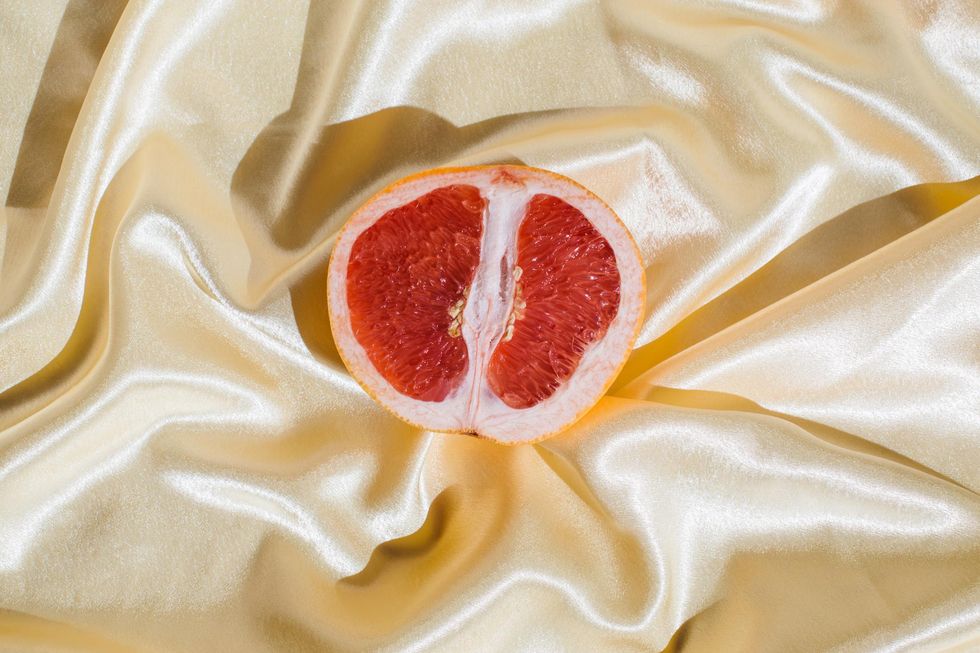 Getty Images
Nothing speaks to me quite as strongly as the word "pleasure", add some self to that, and I'm all about it. Self-pleasure through masturbation has been a staple of my life for years now, but 2021 finally marked the year where sexual wellness is much more mainstream and therefore being looked at as a means of self-care, aka self-pleasure is something to be prioritized in order to truly live well.
Besides the euphoria that usually follows a self-pleasure experience, orgasms are good for the mind, body, and soul. From regulating your cycle to being nature's painkillers, pleasure can maintain your health and your peace of mind. Doing so through acts of self-pleasure increases your self-esteem as well as your knowledge of your body and your ability to communicate your pleasure needs to others. Invest in your sexual wellness by adding sex toys to your toy box, getting some lubricant, watching ethical porn, and/or experimenting with doing more of what feels good to you.
Pleasure is your birthright. Indulge accordingly.
5

.

Face Yoga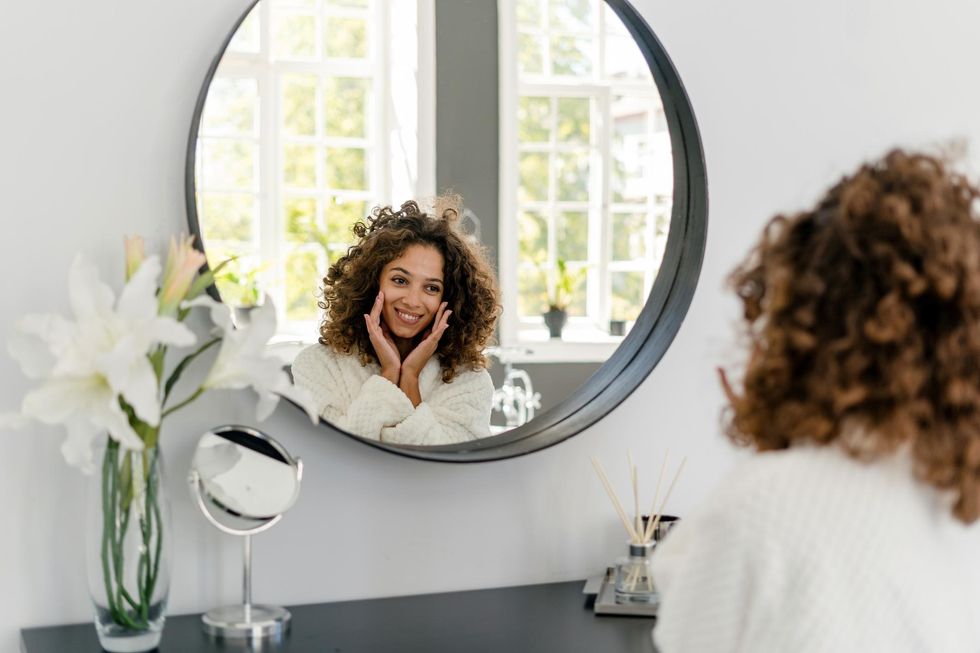 Getty Images
On the surface, face yoga can seem like yet another pathway into aging backwards. However, in reality, it's more like another way to assist you in aging gracefully. In order to combat the effects of tension, worry, and stress on your face muscles, enter face yoga. Through a series of facial exercises that include massages targeting the lymphatic system, the skin, and the muscles, face yoga is a natural approach to revitalizing the look and appearance of your skin.
The end result is a more youthful look without the Botox (allegedly). Want to give face yoga a try? The Face Yoga Expert has a 10-minute evening routine you can join in on here.
6

.

Adaptogenic Drinks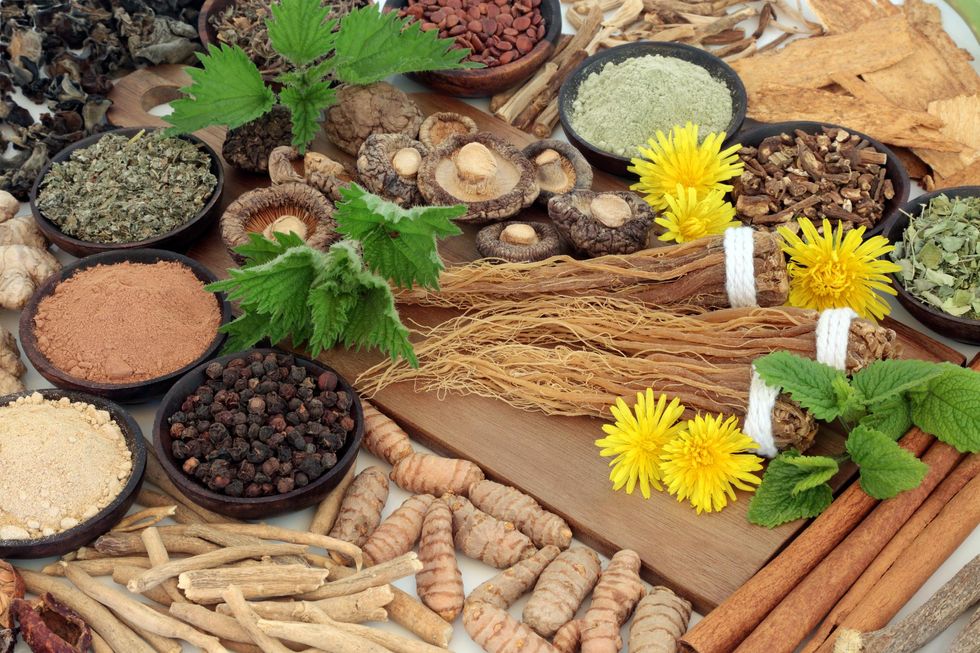 Getty Images
Want to stress less? The secret might be in implementing adaptogenic drinks into your everyday life. With stress and anxiety at an all-time high, there's no wonder people are looking everywhere for holistic approaches to stress relief, from CBD and now to adaptogenic drinks. Known for their ability to help our bodies adapt to stress and regulate our hormones, adaptogens have long since been heralded in the wellness industry for their benefits. Now that they are being consumed in readily available beverage forms, that hype has become next-level.
While adaptogens like maca, ginseng, ashwagandha, and holy basil are where it's at, adaptogenic drinks from brands like Recess, Trip, and Vybes are definitely paving the way for the adaptogenic wellness drink trend.
For more inspiration, self-care, and wellness tips, check out xoNecole's Wellness section here.
Originally published on Sheriden Chanel
Featured image by Getty Images
Keep reading...
Show less
As the saying goes, there is nothing new underneath the sun. So it comes as no surprise that something as groundbreaking as the graphic eyeliner look trend from a couple of years ago is making its rounds again as a must-try beauty trend for the fall season. Saying goodbye to the traditional thick-wit-it non-floating winged liner and hello to the new wave of if-it's-up-then-it's-up-then-it's-stuck eye makeup looks is the ultimate fall beauty move. It's the floating crease for us.
In a 2017 interview with Refinery29, makeup artist Katie Jane Hughes described the look as a "graphic, Twiggy-like line between your lash line and brow." She continued, "It's different from a cut crease in the way that it's graphic and simple, rather than heavily blended and layered"
And if our timelines have any say, the graphic eyeliner look is here to stay. Below are graphic eyeliner looks that have us clicking "save" for our future FOTDs.
Green Eyes
Writer, model, and all-around creative Yaminah Mayo took to her Instagram to flaunt a daring yet subtle rendition of the graphic eyeliner look.
Spiraling Out of Control
For one of her Spirit press days, actress Marsai Martin stunned with a simple white graphic eyeliner eye makeup look perfected by the talented Shannon Pezzetta. In a caption, the makeup artist deemed the style the "Fibonacci spiral."
The Eyes Have It
The eyes take center stage in this graphic look warned by the ever-talented and eye makeup queen, rapper Doja Cat.
Afro Blue
Keeping it electic, podcaster and NYC-based creative Jourdan Ash gave us everything and more with an electric blue shade that looks like it was made for her.
The New Classic
Forever keeping it classic while being on trend is actress Yara Shahidi. The starlet rocked a floating black cat eye in her barely-there makeup look by Nikki Wolff.
Green Eyes
Manchester-based content creator Samio opted for NYX Cosmetics' Epic Wear Liners in green and white to create this graphic eyeliner makeup look. Let's just say, we're green with envy.
Hot Like Fire
If you've never come across her content, get into it. Julia Rodrigues stuns her followers with dazzling looks and goes the extra mile when debuting eye makeup looks. The look above is literally flames.
Need to Know
Do you believe me now when I say Doja is an eye makeup queen? The "Kiss Me More" artist debuted this intricate graphic look on Instagram and we're in love.
21st Century Girl
In a cross between futuristic and sleek, actress Storm Reid donned a graphic eyeliner look created by makeup artist Pauly Blanch.
Featured image by Rich Fury/Getty Images for dcp

Keep reading...
Show less
Reading is by far one of the easiest ways to press pause and escape. Some books are page-turners, keeping you on the edge of your seat with each and every thrill. Other books are filled to the brim with intrigue. Other books are filled with so much heat between their pages, it's a wonder how erotica can almost feel as tantalizing as the real thing. Above all, we can read books for knowledge. It was author Stephen King who said, "Books are a uniquely portable magic." We learn, we love, we fantasize, we feel, and we heal from these portals of hundreds of pages offering food for thought. How could books not be magic?
These days, more and more of us are finding solace through reading and community by way of online book clubs. In the midst of a pandemic shaking our lives as we know it, many Black women found a sense of peace and normalcy in the virtual world of book clubs, a reality that's still going strong. Here are at xoNecole, we are always looking for ways to help like-minded women find community with other Black women in safe spaces. In honor of that, we've compiled a list of book clubs founded by Black women catering to Black women.
So if you're a lit lover, prepare to bookmark this article!
Noname Book Club
It's not just a "Diddy Bop" for rapper Noname, sis is the founder of a popular book club aptly titled, Noname Book Club. What began as a quick photo update on social media of a book she was reading has become an online community that amasses 140K Instagram followers and counting. With the tagline "reading material for the homies," the focus of the club is on mostly literature penned by writers and authors of color. Noname shared with The New York Times, "We read books, but under the umbrella that I am continuously trying to expand different initiatives through book club."
Required Reading: The Autobiography of Malcolm X As told to Alex Haley and Homegoing by Yaa Gyasi
Well-Read Black Girl Book Club
Created in 2015 as a safe space, the Well-Read Black Girl Book Club is yet another book club in the digital space amplifying the narratives of Black women and non-binary authors. Once just a book club, the movement has since evolved to a literary festival in addition to being a place to inspire healthy discourse amongst Black women. Of the thriving community, founder Glory Edim has shared, "I'm honored to be of service and shine a light on the work of so many amazing authors. I'm grateful for our beautiful, bright community. Together, as a collective mind with a shared purpose, we can reimagine the literary canon."
Required Reading: Seven Days in June by Tia Williams and The Love Songs of W.E.B. Du Bois by Honoree Fanonne Jeffers
For Colored Girls Book Club
The Indianapolis-based book club For Colored Girls Book Club found their community online. The founder Gizelle Fletcher had a desire to read and discuss books written by women of color as well as non-binary writers. Through her work with the club, Gizelle has been able to fulfill her purpose of amplifying Black and brown voices and does so on a monthly basis every fourth Tuesday.
Required Reading: Assata: An Autobiography by Assata Shakur and The Secret Lives of Church Ladies by Deesha Philyaw
Smart Brown Girl
YouTuber Joulzey created the Smart Brown Girl Book Club as an extension from her Smart Brown Girl brand. Her motto? Making reading accessible to all since knowledge is power. The SBG Book Club offers live discussions and syllabi based on the track you're interested in (General Track vs Exploration Track). With a mission to help Black girls in forgotten spaces gain access to a world bigger than us all, the sky's the limit with the knowledge Joulzey seeks to facilitate in her community of readers.
Required Reading: The Other Black Girl by Zakiya Dalila Harris and THICK by Tressie McMillan Cottom
Mocha Girls Read
Mocha Girls Read is an LA-based book club that meets monthly to discuss selected reads amongst a community of like-minded readers. Unlike a lot of the other book clubs mentioned in this article, Mocha Girls Read has a more expansive selection for their reading list. They read fiction, non-fiction, chick lit, self-help books, historical romance, best-sellers, and more and don't limit their selections to gender or race.
Required Reading: Dear Girls: Intimate Tales, Untold Secrets & Advice for Living Your Best Life by Ali Wong and The Midnight Library by Matt Haig
For more inspiration, self-care, and healing tips, check out xoNecole's Wellness section here.
Featured image by Getty Images
Keep reading...
Show less
The concept of going to therapy has now been made mainstream as all things mental health matters have been brought to the forefront. While prioritizing our mental health is something this panorama and 2020 overall has emphasized is of the utmost importance, enforcing boundaries and amplifying self-preservation is still something seen as a radical act of self-love among Black women. And it's because so many of us are still unlearning hard lessons of toxic strength and resilience that brainwashed us into believing we have to have our capes on at all times.
We are so used to being all things to all people, we often forget ourselves, so the Naomi Osakas and Simone Bileses of the world doing their part to emit a battle cry of "no" in lieu of placing themselves first has been yet another thing to add to the list of things "we love to see" for the culture. In her recent cover story with British Vogue, Zendaya added her voice to the growing mental health conversation by revealing why she is such an advocate for therapy.
Despite the undoubtable M's in her bank account and her award-winning projects on deck, the Hollywood starlet had trouble navigating uncertain times as shakily as a lot of us did outchea last year. She described what she went through emotionally as a "kind of taste of sadness where you wake up and you just feel bad all day, like what the f**k is going on? What is this dark cloud that's hovering over me and I don't know how to get rid of it, you know?"
After encountering one of her most difficult years to-date, Zendaya decided to look to therapy to help pull her out of her dark moments. She explained to British Vogue:
"Yeah, of course I go to therapy. I mean, if anybody is able to possess the financial means to go to therapy, I would recommend they do that. I think it's a beautiful thing. You know, there's nothing wrong with working on yourself and dealing with those things with someone who can help you, someone who can talk to you, who's not your mom or whatever. Who has no bias."
Zendaya is not alone in expressing the gratitude for the peace of mind she's experienced since investing in therapy. In fact, here are 9 more celebs on why they are advocates for going to therapy.
Issa Rae
In a 2019 interview for Fuse's The Read with Kid Fury and Crissle, Issa Rae admitted that she hadn't really considered going to therapy a priority until hearing the stories of the two co-hosts and how they've done the work. She also noted that watching her mother and grandmother as Black women carry around burdens with no one to help them with it served as another reminder to invest in therapy as an act of self-care.
"...I think the first time I finally made the time to go was just last year. I did three little sessions and I fucked with it. But it is important to not necessarily go because you think something's wrong, but you should if you're in an industry like this, prioritize it because nobody else will. And that's what I've learned just throughout my journey here."
Taraji P. Henson
Taraji P. Henson has been doing the work and paying it forward through her work with her foundation, Boris Lawrence Henson Foundation. Per The Jasmine Brand in 2019, Taraji P. Henson revealed:
"I suffer from depression. My anxiety is kicking up even more every day, and I've never really dealt with anxiety like that. It's something new… It [fame] was fun at first, but the older I get, the more private I want to be. I think there's a misconception with people in the limelight that we have it all together, and because we have money now and are living out our dreams, everything is fine. That's not the case. When they yell 'Cut' and 'That's a wrap,' I go home to very serious problems. I'm still a real human."
In regards to investing in therapy, she went on to say:
"You can talk to your friends, but you need a professional who can give you exercises. So that when you're on the ledge, you have things to say to yourself that will get you off that ledge and past your weakest moments."
Janelle Monae
Janelle Monae is another entertainer who has made it no secret that she looks at going to therapy as a vital part of her self-care regimen.
"When I first started getting a check, I went to therapy. Therapy is important. And being a Black woman that was not something that was pushed in my community, it was always 'pray about it, God will take care of it'. I believe in a higher power but I also believe that that higher power gives you people on Earth to help walk you through some of your darkest times and help you cope and deal."
Gabrielle Union
"You need to find a way to talk about the darkest parts of your life. I've been in therapy for the last 25 years. Whatever path you need to take to heal, it's the best one."
Big Sean
A couple of years ago, rapper Big Sean got real about the "why" behind him taking a year-long hiatus to take care of his mental health. Shortly thereafter, he became more candid about his experience with anxiety and depression and how therapy ultimately helped him gain clarity.
"I just felt lost. You know what I'm saying? I didn't know how I got there. I've been meditating since I was 17 years old. You know, that helps with anxiety, depression all those things. All those things that I felt. But it wasn't doing it all the way for this, so I knew that this required some special attention.
"So what I did was, I started therapy. I got a good therapist. You know what I'm saying? I was blessed enough to talk to some super-spiritual people. And they made me realize one thing that I was missing in my life, and that was clarity."
Keke Palmer
Keke Palmer is another young celebrity that has been candid about her bouts with anxiety and depression throughout the years. She opened up to Cosmopolitan about being in therapy for years as a means to cope with her mental health issues:
"Being able to say how I feel, that was something that was so hard for me for so long. If you grow up in the industry, it forces you to be agreeable at all times. When it came to saying 'I'm tired and I want to figure out how to balance my life better,' 'I feel lonely, 'I'm afraid of my stardom' — those things I could not say."

Kelly Rowland
In a 2018 chat with Oprah Daily about mental health, Kelly Rowland opened up about what inspired her to go to therapy:
"I realized I didn't want to try to figure things out by myself. I can try as much as I can, but doing it all myself, I'd end up driving myself insane circling the same situation and same problem over and over again."

She continued:
"Sometimes people feel like faith and praying...and don't get me wrong, I have faith and I pray and I do believe I'll get through things with that also. But I like to talk to somebody who has the insight of psychology, too. There are other connectors. It's important that we understand that as well."
Halle Berry
"I've done therapy on an as-needed basis since I was probably 10 years old. My father was an alcoholic and a very abusive one, and my mother knew the value of providing me with the outlet of an unbiased person to talk to. So I've done that all my life when times get stressful. It really helps me deal with stuff."
Kerry Washington
"Therapy helped me realize that maybe it's OK for me to communicate my feelings. Instead of literally stuffing them down with food, maybe it's okay for me to express myself.
"I say that publicly because I think it's really important to take the stigma away from mental health. My brain and my heart are really important to me. I don't know why I wouldn't seek help to have those things be as healthy as my teeth. I go to the dentist. So why wouldn't I go to a shrink?"
Featured image by Elisabetta A. Villa/Getty Images
Keep reading...
Show less
Say her name, say her name. There is no question that Beyoncé Giselle Knowles-Carter is a living, breathing icon, one of the last this generation has been blessed with. The multi-hyphenate pours her blood, sweat, and tears into everything she touches and not surprisingly, most all of it in her decades-spanning career has turned gold. Queen Bey has cemented her legacy by being true to herself first and foremost, a theme that has taken center stage in the latter part of her career.
To be able to take full control of the creative reins of your endeavors is something many artists aspire to and Beyonce has done it. She has shaken the industry to its core by showing up as unapolgetically herself through commercially successful projects like I Am... Sasha Fierce and ground-breaking and culturally defining bodies of works like her self-titled album and accompanying visuals, Lemonade, and the most recent work, Black Is King. Throughout her career, Beyonce has made it clear, she does what moves her. And at the heels of 40, Beyonce is taking the time to acknowledge her evolution, the lessons she has learned, and her monumental moments of reinvention in her latest cover story.
The notoriously private artist recently graced Harper's Bazaar Icon Issue (while rocking the latest drip from her IVY Park x adidas collection) for what proved to be a transparent and profoundly intimate interview where Ms. Carter dropped a plethora of gems. These were our favorites.
Beyonce on how her childhood dreams were the foundation of her life's blueprint: 
"The first decade of my life was dedicated to dreaming. Because I was an introvert, I didn't speak very much as a child. I spent a lot of time in my head building my imagination. I am now grateful for those shy years of silence. Being shy taught me empathy and gave me the ability to connect and relate to people. I'm no longer shy, but I'm not sure I would dream as big as I dream today if it were not for those awkward years in my head."
On growing up fast and sacrificing a lot to make her vision of success a reality:
"I grew up hearing this particular scripture from James 2:17, 'Faith without work is dead.' Vision and intention weren't enough; I had to put in the work. I committed to always being a student and always being open to growth. No one in my school knew that I could sing because I barely spoke. My energy went into Destiny's Child and the dream of us getting a record deal and becoming musicians.
"If something wasn't helping me reach my goal, I decided to invest no time in it. I didn't feel like I had time to 'kiki' or hang out. I sacrificed a lot of things and ran from any possible distraction. I felt as a young Black woman that I couldn't mess up. I felt the pressure from the outside and their eyes watching for me to trip or fail. I couldn't let my family down after all the sacrifices they made for me and the girls. That meant I was the most careful, professional teenager and I grew up fast."
"I wanted to break all of the stereotypes of the Black superstar, whether falling victim to drugs or alcohol or the absurd misconception that Black women were angry. I knew I was given this amazing opportunity and felt like I had one shot. I refused to mess it up, but I had to give up a lot."
On taking back her indepence and learning the power of saying "no": 
"My 20s were about building a strong foundation for my career and establishing my legacy. I was focused on commercial success and number ones and being a visionary no matter how many barriers I had to break through. I was pushed to my limits. I learned the power of saying no. I took control of my independence at 27 and started Parkwood Entertainment. At the time, there wasn't a company that did what I needed it to do or ran the way I wanted it run. So, I created this multipurpose badass conglomerate that was a creative agency, record label, production company, and management company to produce and work on projects that meant the most to me. I wanted to manage myself and have a company that put art and creativity first."
On her 30s being about building a life: 
"My 30s were about starting my family and my life becoming more than my career. I worked to heal generational trauma and turned my broken heart into art that would help move culture forward and hopefully live far beyond me. My 30s were about digging deeper...
"I've spent so many years trying to better myself and improve whatever I've done that I'm at a point where I no longer need to compete with myself. I have no interest in searching backwards. The past is the past. I feel many aspects of that younger, less evolved Beyoncé could never f*** with the woman I am today. Haaa!"
Beyonce on protecting herself in a world where people feel entitled to so much:
"We live in a world with few boundaries and a lot of access... I'm grateful I have the ability to choose what I want to share. One day I decided I wanted to be like Sade and Prince. I wanted the focus to be on my music, because if my art isn't strong enough or meaningful enough to keep people interested and inspired, then I'm in the wrong business. My music, my films, my art, my message—that should be enough."
On the intentionality of setting boundaries: 
"Throughout my career, I've been intentional about setting boundaries between my stage persona and my personal life. My family and friends often forget the side of me that is the beast in stilettos until they are watching me perform. It can be easy to lose yourself very quickly in this industry. It takes your spirit and light, then spits you out. I've seen it countless times, not only with celebrities but also producers, directors, executives, etc. It's not for everyone. Before I started, I decided that I'd only pursue this career if my self-worth was dependent on more than celebrity success.
"I've surrounded myself with honest people who I admire, who have their own lives and dreams and are not dependent on me. People I can grow and learn from and vice versa. In this business, so much of your life does not belong to you unless you fight for it. I've fought to protect my sanity and my privacy because the quality of my life depended on it. A lot of who I am is reserved for the people I love and trust. Those who don't know me and have never met me might interpret that as being closed off. Trust, the reason those folks don't see certain things about me is because my Virgo ass does not want them to see it....It's not because it doesn't exist!"
On the power of her circle and the women around her: 
"My mother has always been my Queen and still is. She has always been so strong and is filled with humanity. She worked 18 hours a day with calloused hands and swollen feet. No matter how tired she was, she was always professional, loving, and nurturing. I try to handle my work and run my company in the same way."
"My closest friends are brilliant women who run companies, are entrepreneurs, mothers, wives, and close family. Kelly [Rowland] and Michelle [Williams] are still my best friends. I gravitate toward strong, grounded women like my incredible sister, Solange. She is full of wisdom, and she is the dopest person I know."
Beyonce on learning to take care of self and breaking habits of neglect: 
"I think like many women, I have felt the pressure of being the backbone of my family and my company and didn't realize how much that takes a toll on my mental and physical well-being. I have not always made myself a priority. I've personally struggled with insomnia from touring for more than half of my life. Years of wear and tear on my muscles from dancing in heels. The stress on my hair and skin, from sprays and dyes to the heat of a curling iron and wearing heavy makeup while sweating on stage. I've picked up many secrets and techniques over the years to look my best for every show. But I know that to give the best of me, I have to take care of myself and listen to my body.
"In the past, I spent too much time on diets, with the misconception that self-care meant exercising and being overly conscious of my body. My health, the way I feel when I wake up in the morning, my peace of mind, the number of times I smile, what I'm feeding my mind and my body—those are the things that I've been focusing on. Mental health is self-care too. I'm learning to break the cycle of poor health and neglect, focusing my energy on my body and taking note of the subtle signs that it gives me. Your body tells you everything you need to know, but I've had to learn to listen. It's a process to change habits and look past the bag of chips and the chaos everywhere!"
"During quarantine, I went from overindulgences to creating positive rituals drawing from past generations and putting my own spin on things. I discovered CBD on my last tour, and I've experienced its benefits for soreness and inflammation. It helped with my restless nights and the agitation that comes from not being able to fall asleep. I found healing properties in honey that benefit me and my children. And now I'm building a hemp and a honey farm. I've even got hives on my roof! And I'm so happy that my daughters will have the example of those rituals from me. One of my most satisfying moments as a mom is when I found Blue one day soaking in the bath with her eyes closed, using blends I created and taking time for herself to decompress and be at peace."
On her theme for her 40s being enjoying life:
"I've done so much in 40 years that I just want to enjoy my life. It's hard going against the grain, but being a small part of some of the overdue shifts happening in the world feels very rewarding. I want to continue to work to dismantle systemic imbalances. I want to continue to turn these industries upside down. I plan to create businesses outside of music. I have learned that I have to keep on dreaming. One of my favorite quotes is from the inventor Charles Kettering. It goes 'Our imagination is the only limit to what we can hope to have in the future.'
"I want to show that you can have fun and have purpose, be respectful and speak your mind. You can be both elegant and a provocateur. You can be curvy and still be a fashion icon. I wish this freedom for every person. I have paid my dues and followed every rule for decades, so now I can break the rules that need to be broken. My wish for the future is to continue to do everything everyone thinks I can't do."
To read the interview in full, click here.
Featured image by Kevin Mazur/Getty Images for TIDAL
Keep reading...
Show less