Sheriden Chanel
Sheriden Chanel is the Managing Editor at xoNecole and 1/3 of the xoNecole Happy Hour Podcast. A self-proclaimed burger and Beyoncé enthusiast, find her at the intersection where art hoe and black creative meet. Keep up with her on social
@sheridenchanel
and her travels at
Postcards & 808s
.
Sex can be very different things for different people, and believe it or not, but it doesn't have to begin or end with penetration in order to be considered sex. Intercourse is often a defining principle for our language around sex, but there are some uncharted waters we should all look to discover, and that is the wonderful world of outercourse. Which then segues us into the much-needed conversation of non-penetrative sex positions.
While having someone be inside of you (or the reverse) can seem like the most physically intimate act one can experience, outercourse in non-penetrative sex can emphasize intimacy on another level. Pleasure can be felt and highlighted on parts of the body that might only receive attention during foreplay. Outercourse serves as a reminder to treat the appetizer like the entree it truly is, and the end result can be transformative to how we see and experience sexual pleasure.
Ready to take your love-making to new levels of intimacy? Below are four non-penetrative sex positions to try tonight.
Missionary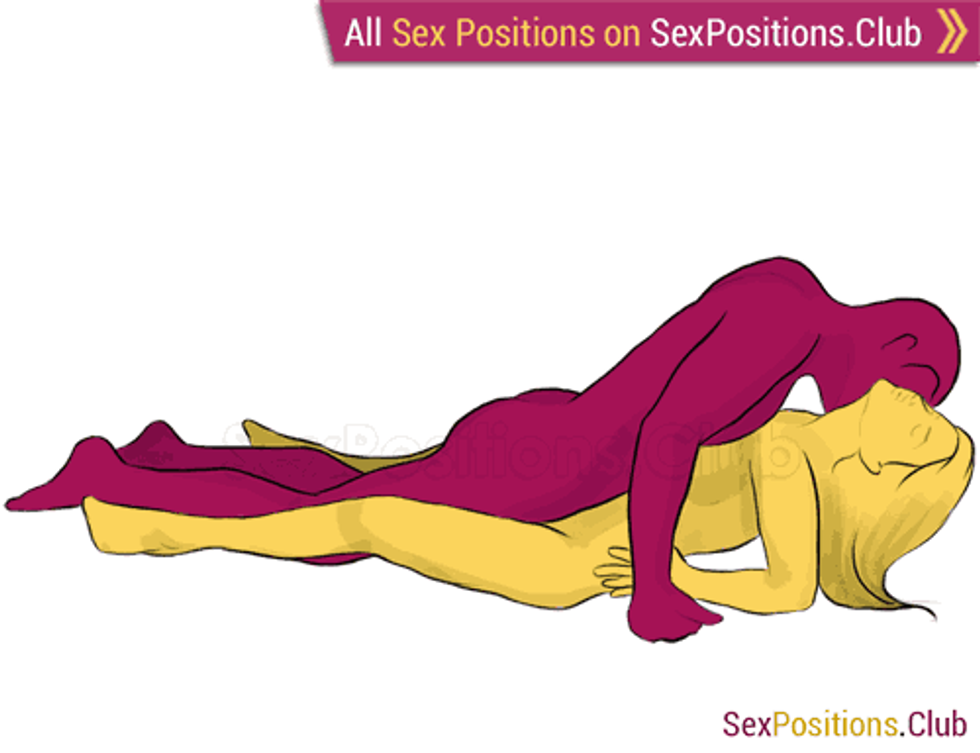 Missionary is an old-faithful when it comes to tried and true sex positions. Similar to the missionary position, this variation of the intercourse version, the receiving partner will lay on their back and the giving partner will position themselves on top of them. Instead of penetration being involved, the giving partner will grind against the receiving partner so that the focal point is arousal through clitoral stimulation, rubbing, kissing, and touching.
Pretzel Dip
A perfect position for clitoral and nipple stimulation, the Pretzel Dip position involves the receiving partner sitting back with their legs spread. While propped up on their knees, the giving partner will play with the receiving partner's clit. During this action, they can intensify things even further by upping the ante with kissing and nipple play with either the other's free hands or mouth. The giving and receiving partners can take turns and incorporate actions like kissing, oral sex, mutual masturbation, and/or nipple stimulation.
The Chairman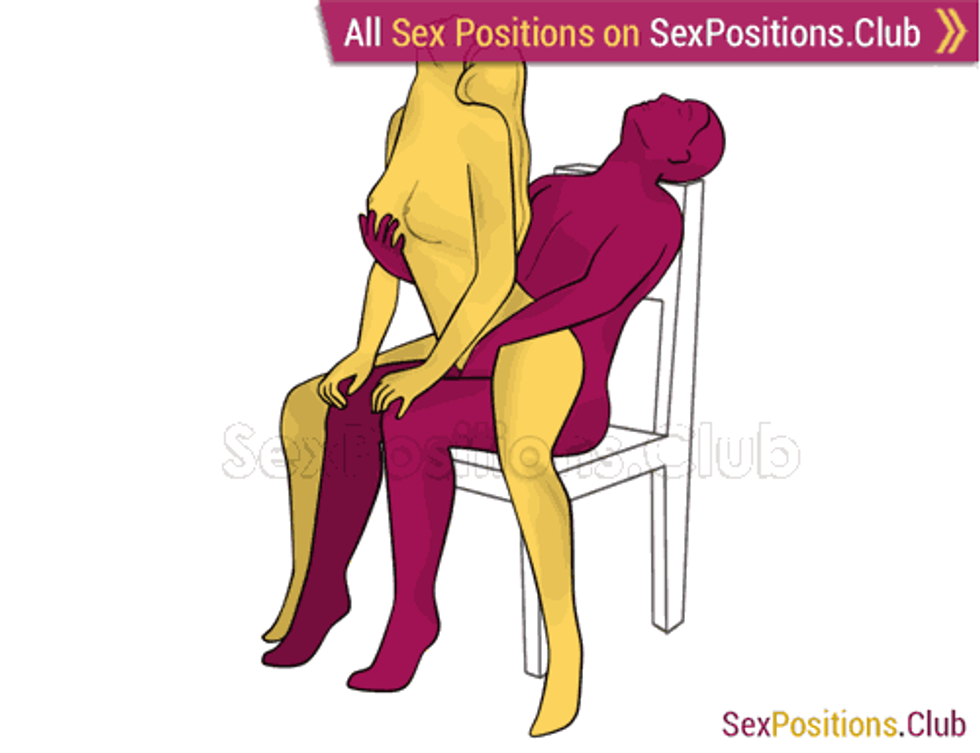 The Chairman sex position involves the receiving partner utilizing the giving partner as a "seat" so to speak as they grind their way to ecstasy. The receiving partner will straddle the partner's legs while faced away, allowing the giving partner to be able to stimulate their clit as they receiving partner grinds against them. They also have freedom to grab breasts, play with nipples, kiss their partner's neck and back, as well as bring in a sex toy or two.
Magic Mountain
Mutual masturbation is the name of the game when it comes to the Magic Mountain position. In order to do this position, both partners must sit down facing each other with their legs bent. Sit close enough so that if either partner feels like reaching out to touch the other, they can.
Both partners will engage in self-pleasure while watching the other, their facial expressions, the way they bite their lip to hold back a moan, the way they twist their nipples to intensify their pleasure, the way they lick their hand before touching themselves, etc. The end result is an extremely intimate vulnerable act that adds a new layer to the way you view masturbation.
Featured image by Getty Images

Keep reading...
Show less
In my book, I am the woman I am today because of the love poured into me by mother and my father. While Father's Day isn't the only time of year to celebrate the power and the presence of black fathers and father figures in our lives, it is a beautiful reminder to honor the men we hold near and dear to us. At xoNecole, we are all about giving credit where credit is due and in honor of today and every day, we wanted to showcase a roundup of black celebrity dads actively showcasing why representation of black fatherhood matters.
Both sons and daughters need their fathers, and these black celebrity dads serve as proof of that truth.
Usher and His Kids
Usher Raymond is a singer, actor, songwriter extraordanaire whose career spans across decades. Despite his distant relationship with his now-deceased father, Usher was intentional about playing an active role in the lives of his children. The R&B singer married his personal stylist of several years Tameka Foster-Raymond in 2007. After their union, he became a stepfather to her three sons from past relationships. Shortly thereafter, they had their child together, Usher "Cinco" Raymond V in November 2007. Regarding his decision to pass his multi-generational namesake down to his son, he explained:
"I never hated my father. I would have named my child Usher regardless. I never hated myself because I carried his name, because I made it mean what I wanted it to mean."
A little over a year later, he and Foster welcomed their second child together, another son named Nayvid Ely Raymond. Although he and Foster's marriage would eventually fizzle a short two years later, Usher was able to obtain primary custody of his sons.
In September 2020, Usher experienced fatherhood all over again with his newest addition, his daughter Sovereign Bo Raymond. She is the twice-divorced artist's first daughter and his first child with his new love, music exec Jenn Goicoechea. He shared the meaning behind her unique name in an interview with PEOPLE:
"Sovereign, man, is such a beautiful word and name to me, you know, a supreme ruler is obviously the defined name. She's definitely ruling the household, but Sovereign Bo — Bo is at the end of it, so [she's] my little 'reign-bo.'"
At 42, the "Bad Habits" singer recently revealed that he and his girlfriend are expecting their second child together and Usher's fourth overall.
Iman Shumpert and His Kids
Iman Shumpert's love for being a father probably rivals his love for the queen of his heart, his wife Teyana Taylor. The long-time couple welcomed their first child together famously in the bathroom of their home. Their eldest daughter, Iman Tayla Shumpert Jr. (nicknamed Junie), was born in December 2015.
In regards to getting some skin in the game about being a first-time father, in 2017, Iman tweeted, "This father stuff will turn you soft man, really soft." And nothing was the same. The girl-dad is now proud papa to not one but two daughters. After announcing that they were expecting their second child last June, Teyana gave birth via a home delivery in September 2020, Rue Rose Shumpert.
John Legend and His Kids
R&B crooner and The Voice judge John Legend is creating his own legacy as the proud father of two kids with wife and long-time love Chrissy Teigen. After being together for nearly a decade, the pair who met on the set of one of his music videos, had their first child, daughter Luna Simone Stephens in April 2016. The "All of Me" singer had this to say about holding Luna for the first time:
"It's beautiful, it's very emotional, and it brings you and your wife closer together. It's a very powerful feeling to see the product of your love right there in front of you."
As a couple, John and Chrissy have been super vocal about their pregnancy journey and even admitted to using IVF to conceive Luna, as well as their second child years later. Their son, Miles Theodore Stephens, was born in May 2018. John later touched on the transition of growing from a family of three to a family of four:
"It's a thing, you know. In some ways it's easier because we have perspective and we're not like, afraid. I wouldn't say we were afraid the first time, but we definitely didn't know what we were doing and leaned on our professional help a lot more. I think now we understand our style as parents and understand how to interact with each other and with the kids. The experience really helps you with the second kid."

In August 2020, the Stephens announced they were growing their family again with the reveal that Chrissy was pregnant with the couple's third child. However, a month later, the couple shared with the world that they suffered a miscarriage, a son whom they had been calling "Jack" since finding out about the pregnancy. Chrissy opened up about her experience in a personal essay.
Bow Wow and His Kids
For most of us, Bow Wow was an important fixture of our childhoods. The rapper and actor has been in the limelight since before he could drive. Bow Wow, who also goes by his real name Shad Moss, revealed back in 2011 that he had had a child with model Joie Chavis. He credits the birth of his daughter for saving his life. In a letter posted to his personal website, he also opened up about his battle with suicidal thoughts for years before the birth of his daughter, Shai Moss.
"For the past 3 years I [been] battling life. Even thought about taking my own. I felt like as a kid i did everything and saw everything too fast which spoiled my adult years. i felt as is I had no purpose to live (Thinking selfishly) until god gave me the illest gift of my life."
In 2018, he admitted in a conversation with The Grio that becoming a father himself helped him learn how to forgive his own father:
"I just wanted him to know I don't hate him. I outgrew that part. Once I had a kid and I've experienced some things with me and my daughter's mom and how we rock, I kinda understood why might have he ran out or why he wasn't around or why he left. There are reasons. My father was an alcoholic. Heavy. I didn't want to be around him when I was young and of course my career took me to other places."
In 2020, Bow Wow confirmed he became a father again, this time to a son with model Olivia Sky. Earlier this year, he finally told the world his son's name, Stone Moss.
Dwyane Wade and His Kids
Former NBA player Dwyane Wade is known for the accolades and legacy he created on the court over the span of his 16-year career. However, in his personal life, the icon has also made some incredible moves as well -- especially in regards to his family life. Although his first marriage to his high school girlfriend didn't work out, the pair's split resulted in him obtaining sole custody of the former couple's two kids, Zaya Wade (formerly Zion) and Zaire Blessing Dwyane Wade. He also raises his nephew.
Although he eventually became romantically involved with actress Gabrielle Union in 2008, the pair split in 2013. At some point during this break, Dwyane fathered a child with Aja Metoyer, a son named Xavier Zechariah Wade. Gabrielle and Dwyane later reconciled and would eventually marry in 2014. He later acknowledged having to admit that he had a child with someone else as one of the hardest things he ever had to tell Gabrielle.
"When you hold something in that you know is going to come out and you have this information and you know it's gonna f**k somebody's life up, that you care about, that you love, if it don't hurt you, then you're not human. Me and Gab just went through something that you never want to go through and we still came out of it."
In 2018, Dwyane welcomed his fourth child and his first child with Gabrielle, a daughter named Kaavia James Wade, via surrogate.
Though Zaya came out as transgender in 2020, Dwyane acknowledged in an interview with Michelle Obama that he and Gabrielle started having conversations about "possibilities" when she was three. Since being a support system for Zaya and her gender transition journey, Dwyane and Gabrielle have both become more impassioned about LGBTQ+ rights and activism. In a recent interview, he shared how raising Zaya has made him a better parent:
"I didn't know anything, really wasn't knowledgeable about the LGBTQ+ community. What it has done is it opened my eyes and my ears to something greater and bigger than I, and my daughter has allowed us gracefully to be her support system."
Bryson Tiller and His Kids
Throughout his career, Bryson Tiller has been able to maintain his self-imposed "shadowy" image as a public figure, preferring not to give video interviews to do just that. Despite not wanting to be too on the scene, the mega-successful trap-soul artist shares a lot about his daddy duties to his daughters on social media.
His oldest daughter, Harley Loraine, is from a previous relationship and was born in 2013. While his youngest daughter, Kelly Jade Tiller, was born in 2019 and his first child with current girlfriend, model Kendra Bailey.
Omarion and His Kids
Omarion is quite possibly the manifestation of unbothered energy, but his children know him affectionately as "Dad." The "Touch" singer, who recently made an appearance in the hit Fox reality TV competition The Masked Singer, has been pulling daddy duty as a father since 2014. And though his tumultous relationship with ex-girlfriend Apryl Jones has made headlines for a plethora of reasons, Omarion has always made it clear that he is all about the kids.
"When I became a father, I think that my understanding of what love was and my connection to that emotion shifted. I saw my children being born and recognizing what they call a miracle."
The former B2K lead singer's son Megaa Omari Grandberry was born in 2014 and his daughter A'mei Kazuko Grandberry was born in 2016.
Russell Wilson and His Kids
If there's one thing for certain and two things for sure, we love us some Ciara and Russell Wilson over here on xoNecole. Something about a man whose actions align with their words is awe-inspiring and aww-inducing. In regards to Russell, what won many of us over was how he regarded Ciara as a partner and her son from a previous relationship as the father he always deserved.
From the very beginning, the Seattle Seahawks quarterback embraced and continues to embrace Future Zahir as his own and it is truly blended family goals. The two made their family of three official in July 2016 when they married in England. And in April 2017, they welcomed their second child and Russell's first, a daughter named Sienna Princess Wilson. In a 2017 interview, he revealed:
"I think more than anything when you see family, have your own family and it continues to grow, you know it's a special thing. I don't just play for my family I've had before, but also my new family. Just playing for the little ones, playing for Ciara too and just playing for my teammates and trying to do everything I can to be the very best I can possibly be. I'm just truly grateful every day to get to come home and it puts a smile on my face every time."
On July 23, 2020, Russell and Ciara welcomed a son (and his mini-me), baby Win Wilson.
P. Diddy and His Kids
P. Diddy might be a bad boy for life, but the title has nothing on his status as a father of six. Also known as Sean Love Combs and Sean John Combs, Diddy is the man worth $740 million with a decades-spanning career that speaks for itself. He is also just as passionate about family life. He had his first child in 1993, a son, Justin Combs, with designer Misa Hylton-Brim.
During his relationship with the late Kim Porter, he adopted Kim's son, Quincy, from a previous relationship with singer Al B. Sure! Together, the on-and-off couple of 13 years had a son, Christian Combs in 1998, as well as twin girls, D'Lila Star Combs and Jessie James Combs in 2006. Months before the twins were born, Diddy welcomed another daughter with a different partner, Sarah Chapman, named Chance Combs. Kim passed away suddenly after complications with pneumonia in 2018.
The multi-hyphenate touched on her passing and his shift in fatherhood in a 2020 conversation with Naomi Campbell:
"Losing Kim [Porter] and now being a single father-of-six, my thinking had to change. I had to really get focused on their futures, 'cause I know how rough it is out there."
Steph Curry and His Kids
Look up the phrase "family man" in the dictionary and we're sure you'll see Stephen "Steph" Curry pop up with his characteristic pretty blues. The legendary athlete has always upheld his Christian faith and family as his foundations. He married his long-time love Ayesha Curry in 2011. On July 19, 2012, they welcomed their oldest daughter Riley Elizabeth Curry. On becoming a parent, Steph had this to say:
"You learn something from them every single day. They give you a reason to wake up in the morning, regardless of whether work is going well or not. Your biggest responsibility, obviously, is being a parent, and it's just so much fun every single day when they change so fast and you're trying to keep up. You get to share so many experiences with them and I'm enjoying every minute of it."
Three years later, they had their second child, another daughter, Ryan Carson Curry. Most recently, they had their third child together, a son named Canon W. Jack Curry on July 4, 2018. In regards to raising a son, he shared:
"Earlier this summer, a few weeks after the season ended, Ayesha and I were blessed with the birth of our third child, Canon ― our first son. And one of the things that has been most on my mind, since then, is the idea of what it means now to raise a boy in this world. I already know, just based on his gender alone, that Canon will probably have advantages in life that his sisters can only dream of. How do you make honest sense of that as a parent? What are the values, in this moment, to instill in a son? It's a lot to think about.
"But in the end ... I think the answer is pretty simple. I think you tell him the same thing that we told those girls last week at our camp: Be yourself. Be good, and try to be great ― but always be yourself. I think you teach him to always stay listening to women, to always stay believing in women, and — when it comes to anyone's expectations for women ― to always stay challenging the idea of what's right. And I think you let him know that, for his generation, to be a true supporter of women's equality ― it's not enough anymore to be learning about it. You have to be doing it."
Featured image by Kevin Mazur/Getty Images for The Recording Academy
Keep reading...
Show less
I'll be the first to admit that my relationship with penetrative sex changed when I tapped into mindfulness. Although I didn't have the language for what it was at the time, now I can see the way my mind and body opened up when I stopped thinking and started flowing. When I stopped racing to a foreseeable end and instead reveled in being fully present. My connection intensified, so did the passion, and so did my experience with previously nonexistent vaginal orgasms. It was transformative to say the least.
Nowadays, I have the language for what that state of being is. The act of being present, fully aware of the moment, giving unwavering and undivided attention. Every sensation takes center stage and the emphasis on senses intensifies how I experience touch, taste, and of course feeling filled. That word is mindful; and to apply it to sex, well, you get mindful sex.
And what makes mind-full sex different from mind-less sex?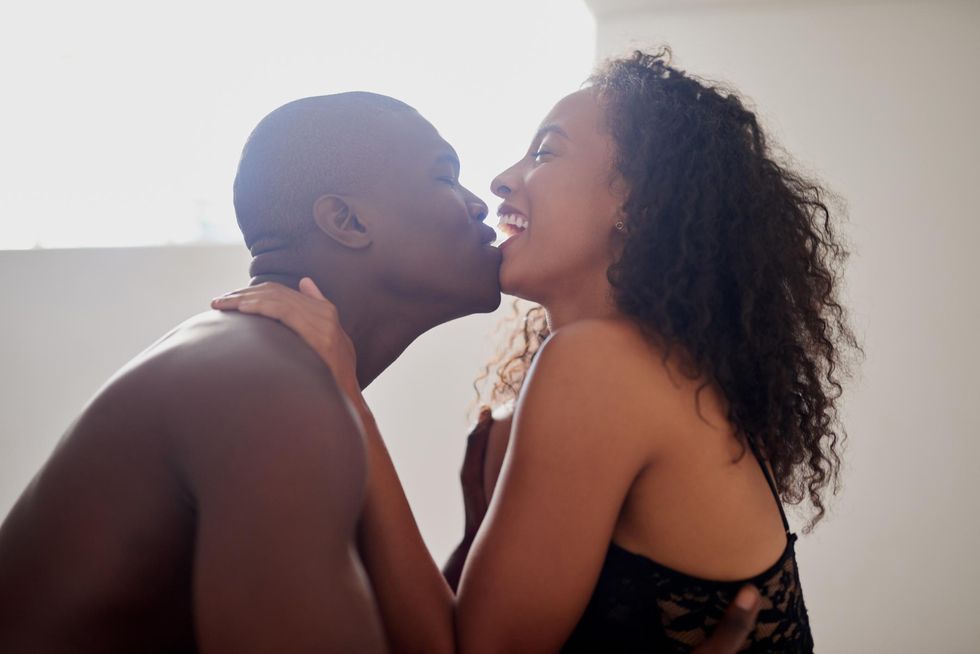 Adene Sanchez/Getty Images
What is Mindful Sex?
In a conversation with sex therapist Dr. Donna, LICSW, M.ED, founder and lead therapist at AnnodRight, she explained, "You wouldn't be having sex with your to-do list on your mind. You would be engaged in the moment with what is happening and not on other things like dishes, work, or if your fro still looks good while you're having sex. What truly makes the difference is being in the moment intentionally."
Intention. When I think back to times in my life where the sex I was having was very mind-less, it usually had everything to do with where I was physically and mentally weren't in alignment. I was in my head about feeling pressured to orgasm, I was in my head about not feeling confident in my body, I was thinking of what he could be thinking. I was everywhere and nowhere all at once.
If You Have a Hard Time Connecting Sexually with Your Partner...
For those of us who have or have had difficult times feeling connected during sex overall, what we fail to realize is how much mental blockages interrupt our connection to the moment and our ability to surrender to pleasure in a way that helps us reach ecstasy. Mindful sex can be a solution for that.
Dr. Donna advised that if you are experiencing mental blocks that stop you from connecting during sex to take a moment to get to the root of the disconnect. "What is usually going on for you where you don't feel connected? Is it only in the boudoir with your partner, or is that disconnect in other places?" she recommended. "Take some time to figure out those pieces FIRST, then come back to how you can be present in the bedroom. Some of the disconnect can be the [sex] position."
"For this, I suggest front-facing positions where you can look at each other. Practicing some mindfulness on your own can also help you to be better practiced when you get into the sexual situation you want."
Our article on intimate sex positions is a great place to start.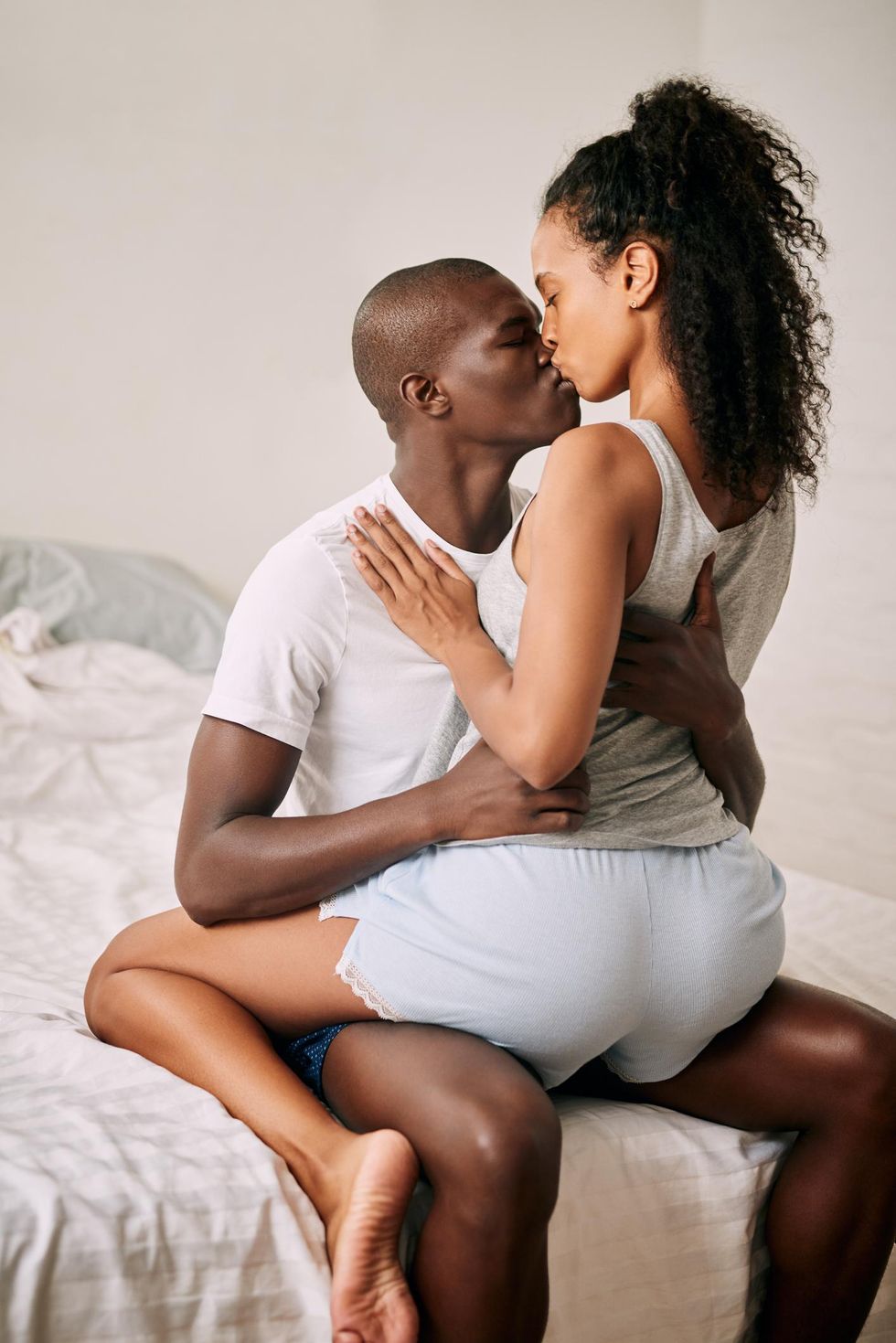 Adene Sanchez/Getty Images
3 Ways to be More in the Moment During Sex
Mindful sex is a beautiful way to deepen and intensify the sex you have with your partner. In order to practice being more present and in the moment during sex, Dr. Donna shared the following ways:
1. Remove all distractions. Including music.
"Turn off the TV, unexpected sounds and flashes can take you out of the moment. Also, until you have mastered it, turn off the music. Let the rhythm between the two of you be the true focal point here."
2. Plan the sex.
"Sounds so unsexy, but hear me out. Planning a time and space for sexy time can help to build up anticipation, on the one hand, and means that you can better plan for a distraction-free environment. You can make sure to schedule all the obligatory adulting activities before it, so that you can more easily give yourself over to your sexual desires."
3. Talk about your connection issue.
"If you find that you are consistently distracted in sex, talk about it with your partner. There is no use in keeping that secret. When we talk about what is on our minds or the feelings we have been harboring, we give them an outlet, which means they take up less space in our minds. Having the conversation can also mean that between the two of you, you can come up with some solutions."
Featured image by Adene Sanchez/Getty Images
Keep reading...
Show less
In xoNecole's quarterly series Dope Abodes, we tour the living spaces of millennial women, where they dwell, how they live, and the things they choose to adorn and share their spaces with.
It's a warm summer's day when McKenzie Renae invites us into her home.
Upon entering, the young creative has an instantly inviting aura that her space also reflects. Soft candles are lit, and on her speaker is the new H.E.R. record that just dropped, providing the perfect ambience to her undeniably dope abode. Whether it's for her hair or her sense of style, McKenzie has made waves on the internet as a woman to follow. And as we take in a tour of her place, we are reminded that the Atlanta-based multi-hyphenate (who also contributes to xoNecole from time to time) is the host of a wealth of knowledge on styling, a fact that effortlessly lends itself to her overall decor aesthetic.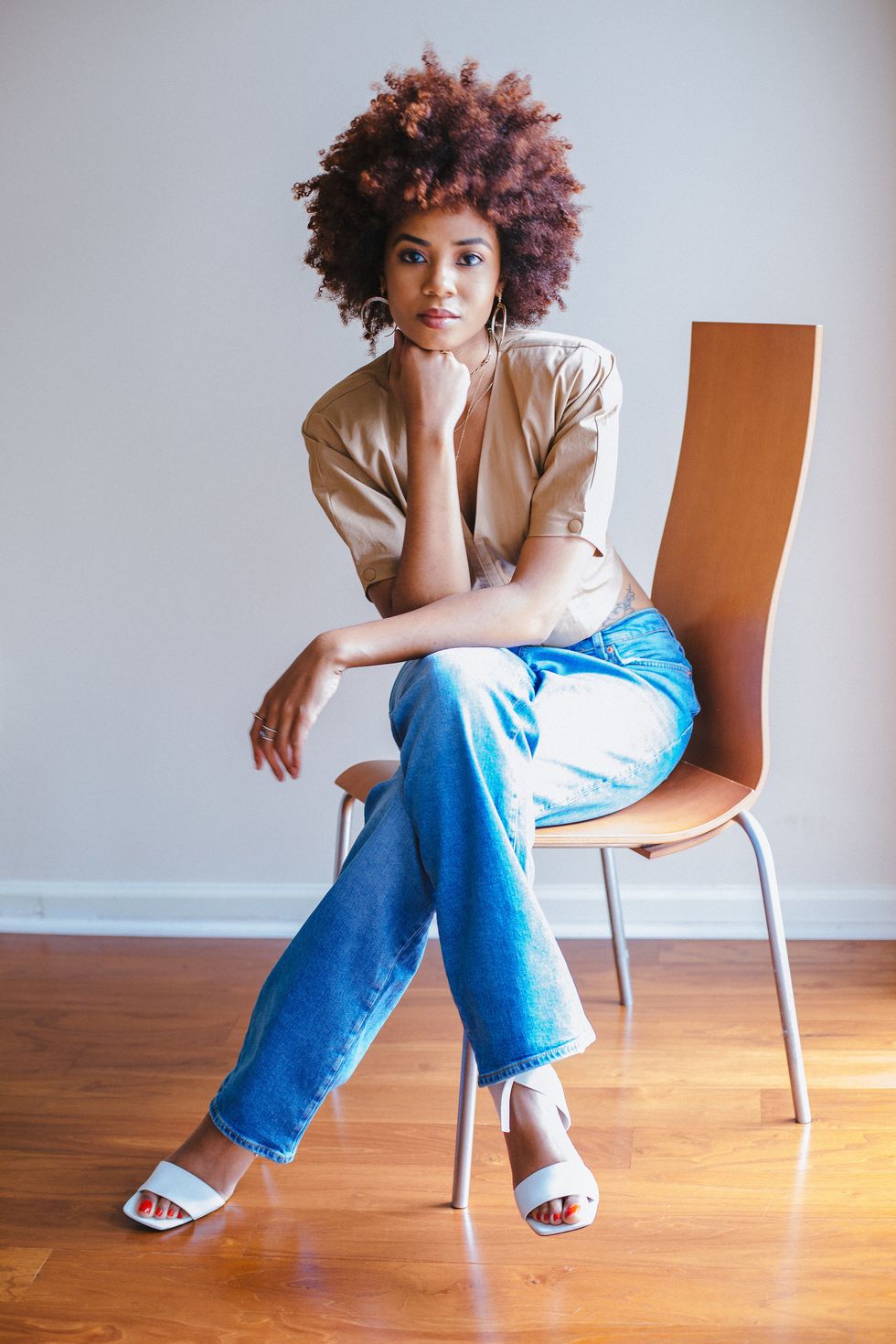 McKenzie Renae
Photo By: Sanniyah Sloan Photography/xoNecole
"My favorite thing about my home is that I feel like it's me," McKenzie shared with us. "I've lived in two different apartments and I was finding my style, but I really feel that this is really a reflection of who I am, and I feel really good about walking home every day. It's just a feel-good feeling. I don't have a favorite piece, it's just the feeling I get when I come home."
In addition to an apartment tour, xoNecole was able to see the full extent of the magic behind her eye for flair while getting some backstory on the pieces she chose to live with her in her Buckhead condo.
Something Blue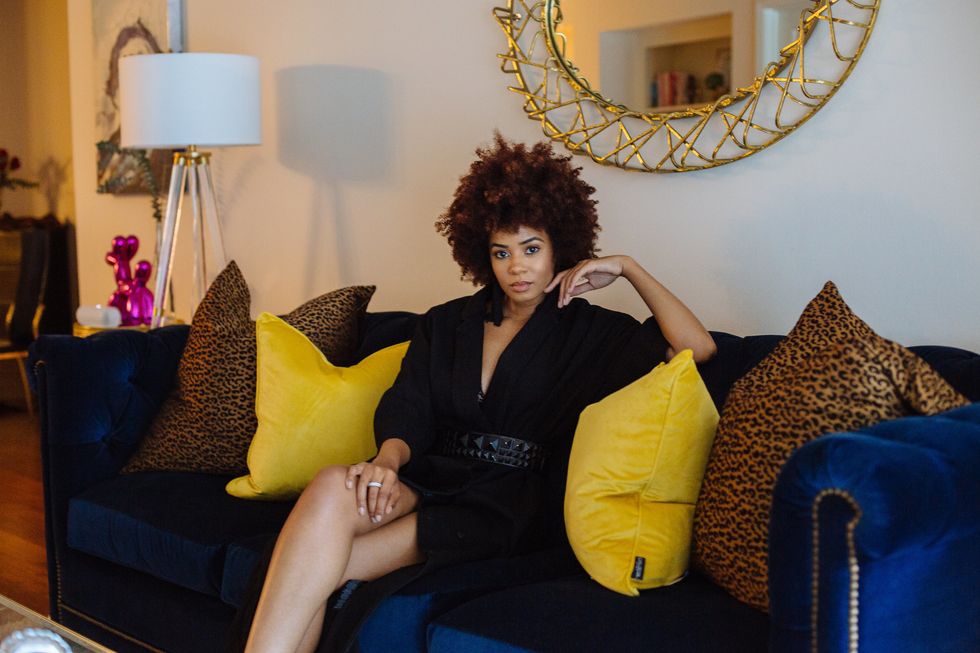 Photo By: Sanniyah Sloan Photography
"I styled everything [in my apartment] around this one sofa. I knew I wanted a royal blue tufted sofa. That's what I wanted, and I searched high and low for it. That's the first thing I started with and everything else I designed around that one sofa. I love it. I got it from Arhaus. It's my one investment piece in the entire house," she laughed. "And then everything just kind of came around it."
Barbie Dreams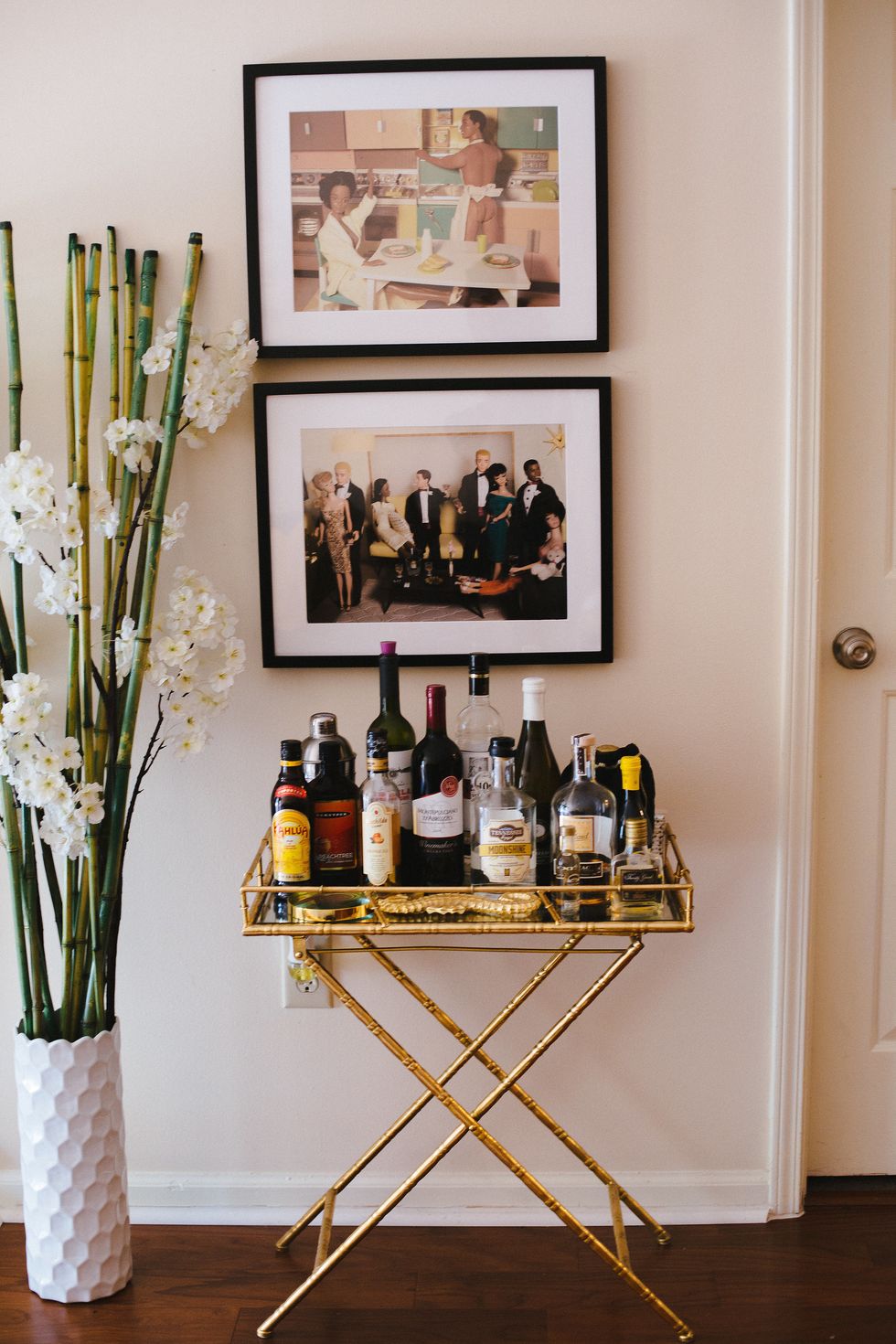 Photo By: Sanniyah Sloan Photography
"These Barbie dolls on the wall are actually vintage Barbies that I got in New York when I went for my birthday this year. They had all different kind of layouts, like Barbies on the beach, and it's all vintage," she recalled fondly. "I thought it was kinda cool because he had black Barbies."
Off the Wall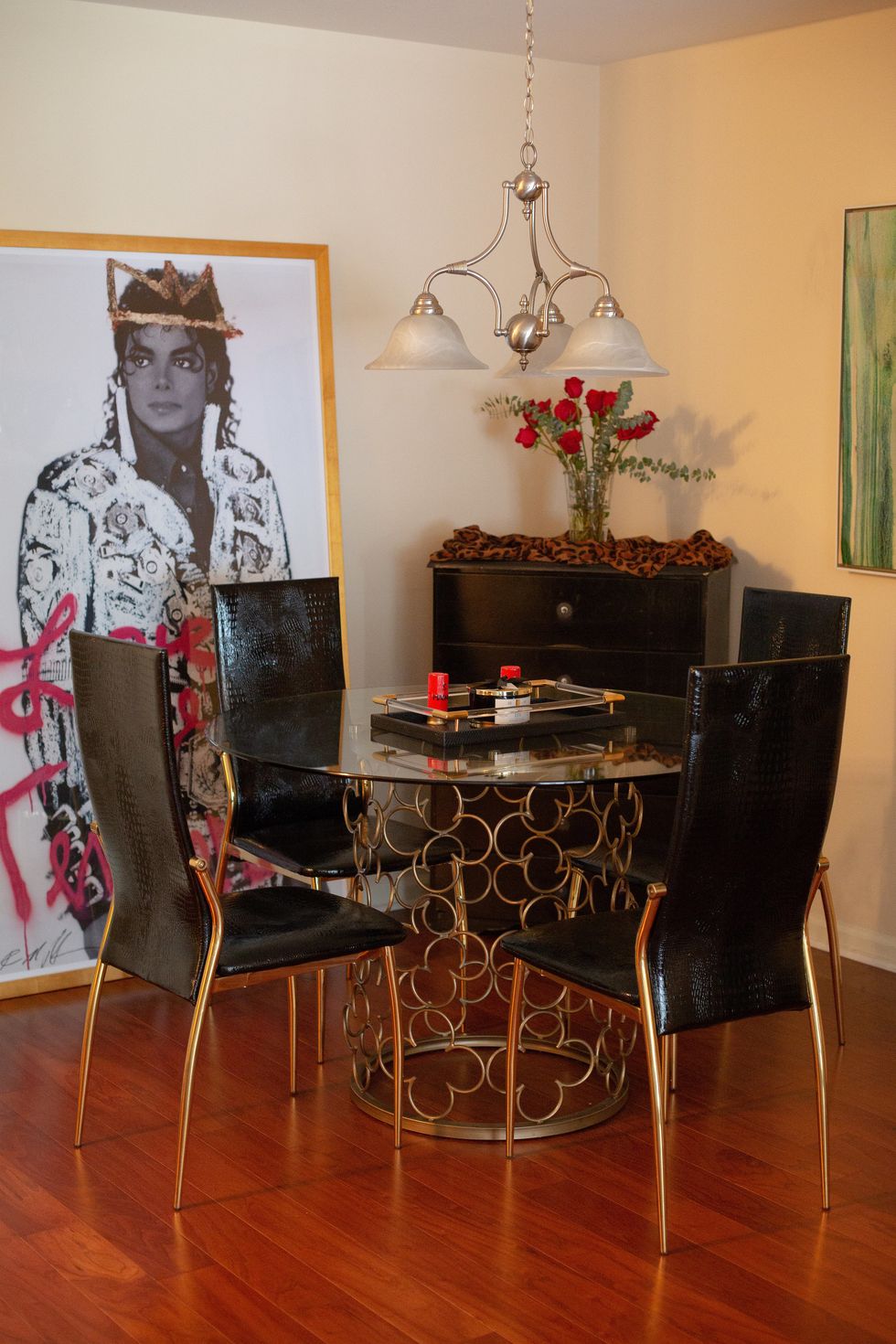 Photo By: Sanniyah Sloan Photography
"I bought this Michael Jackson piece at American Signature Furniture. I thought it was really cool and I really wanted a big piece of art. Big art is expensive and I'm a newbie at figuring out what my taste in art is, so I thought this was cool. The graffiti on top of Michael and the crown - I really liked it. It was a great deal and I just had to have it. It was perfect for the wall. I want to say I got this table from Overstock.com. And I think I got the chair from the same website."
Tunnel Vision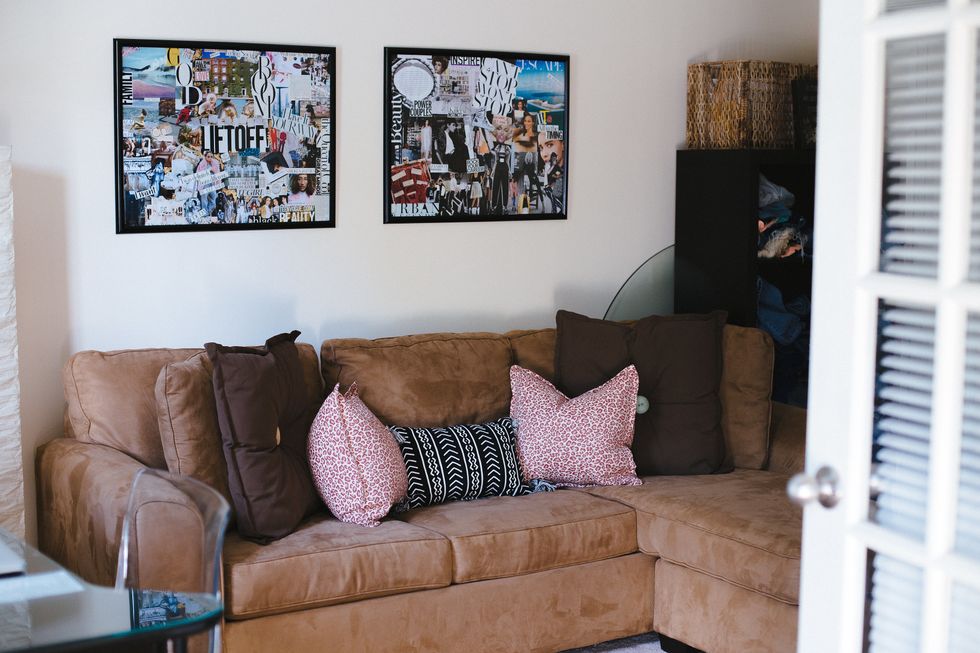 Photo By: Sanniyah Sloan Photography
"I wanted my vision boards to really speak to me - not just be thrown up there. Visuals are everything to me, so it needs to look nice, look neat, and make sense. I have it organized in certain ways on the vision board, and different words that stand out to me, and the gold that's on there - just to kind of make it look more like art so that it's not so temporary. Because I feel like your visions can last, it doesn't just have to apply to one year," McKenzie reflected.
BOSS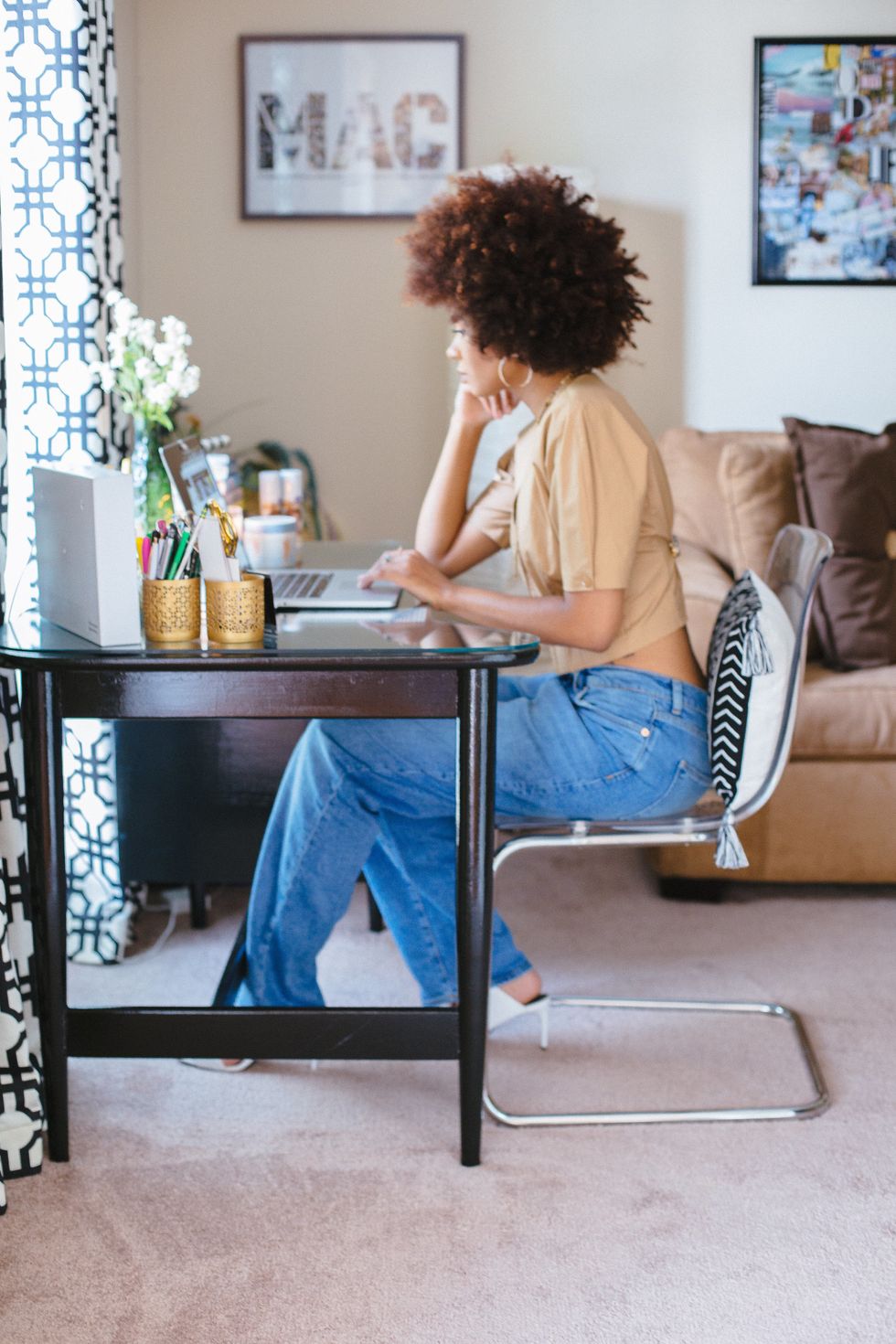 Photo By: Sanniyah Sloan Photography
"I love my desk area the most. My desk in my office is actually a vintage desk that I redid." She continued, "It's comfy in here, it's quiet in here. I write in here a lot. I read in here a lot. I like to create vision boards and stuff like that. I create my jeans in here. I take a lot of my product shots in here when I'm doing reviews. It's also my guest room when I have guests over."
Keep up with McKenzie by following her on Instagram.
Click through the gallery below to tour her dope abode, as well as some of the intimate details that make her apartment feel like home: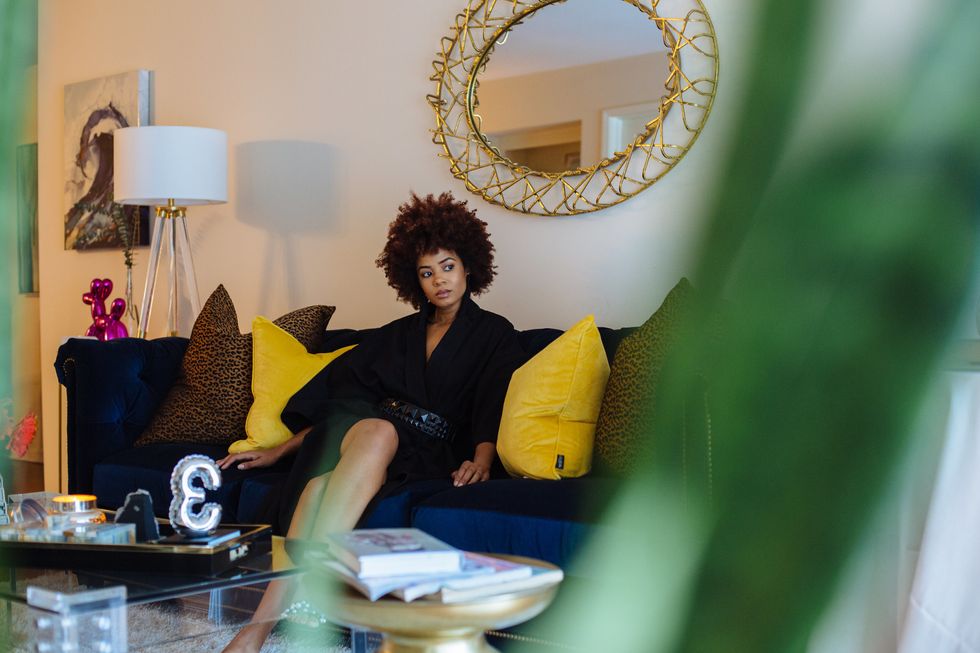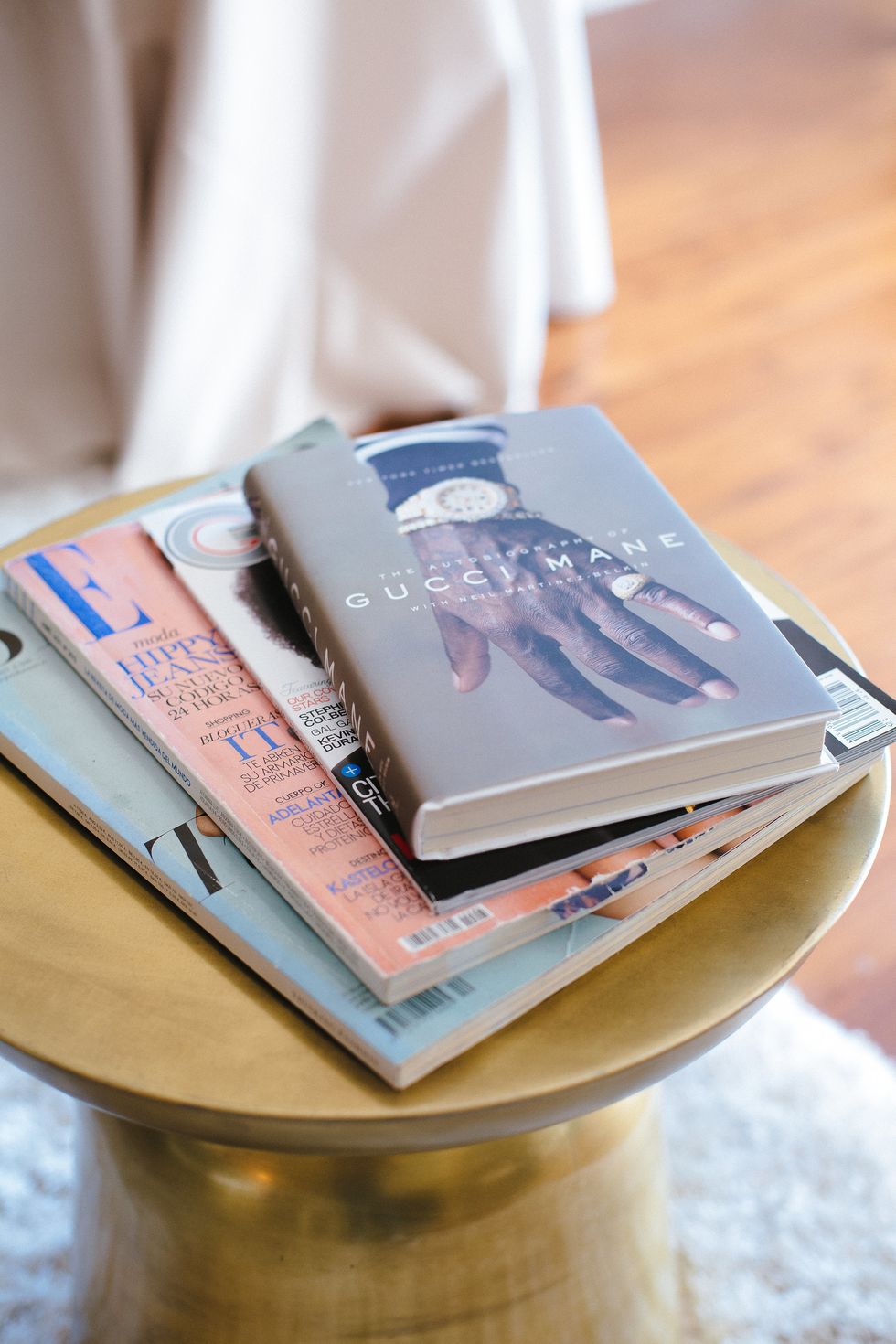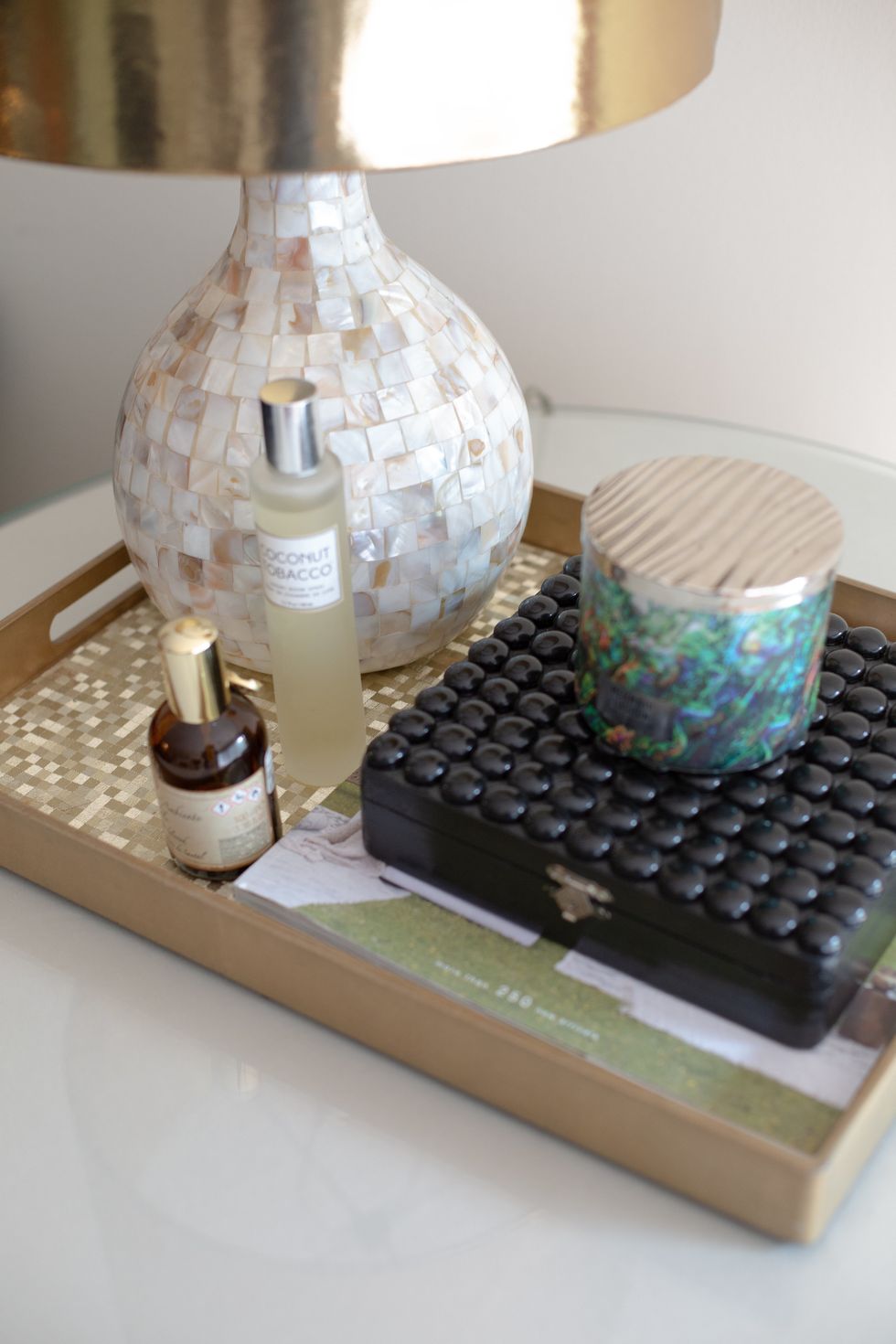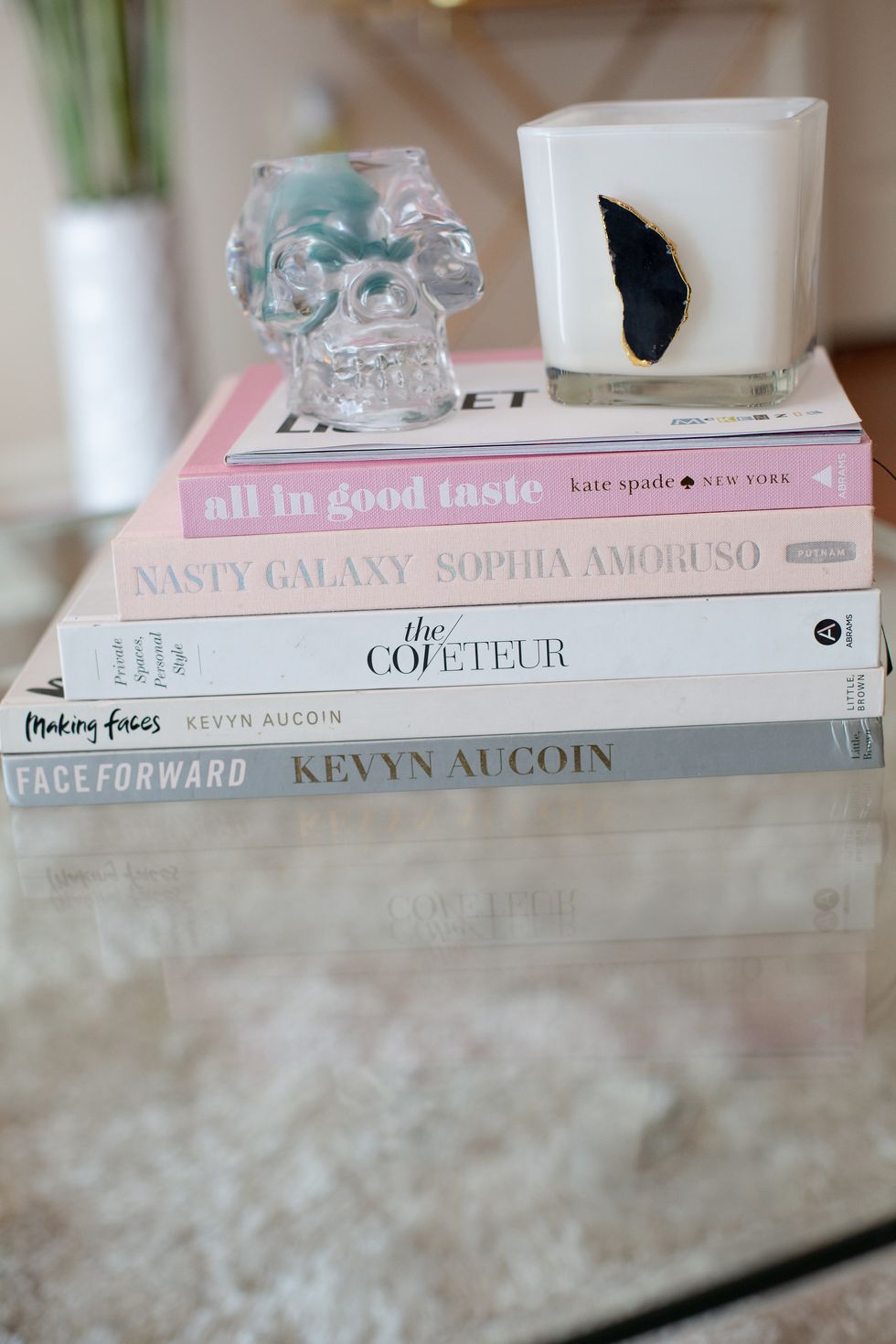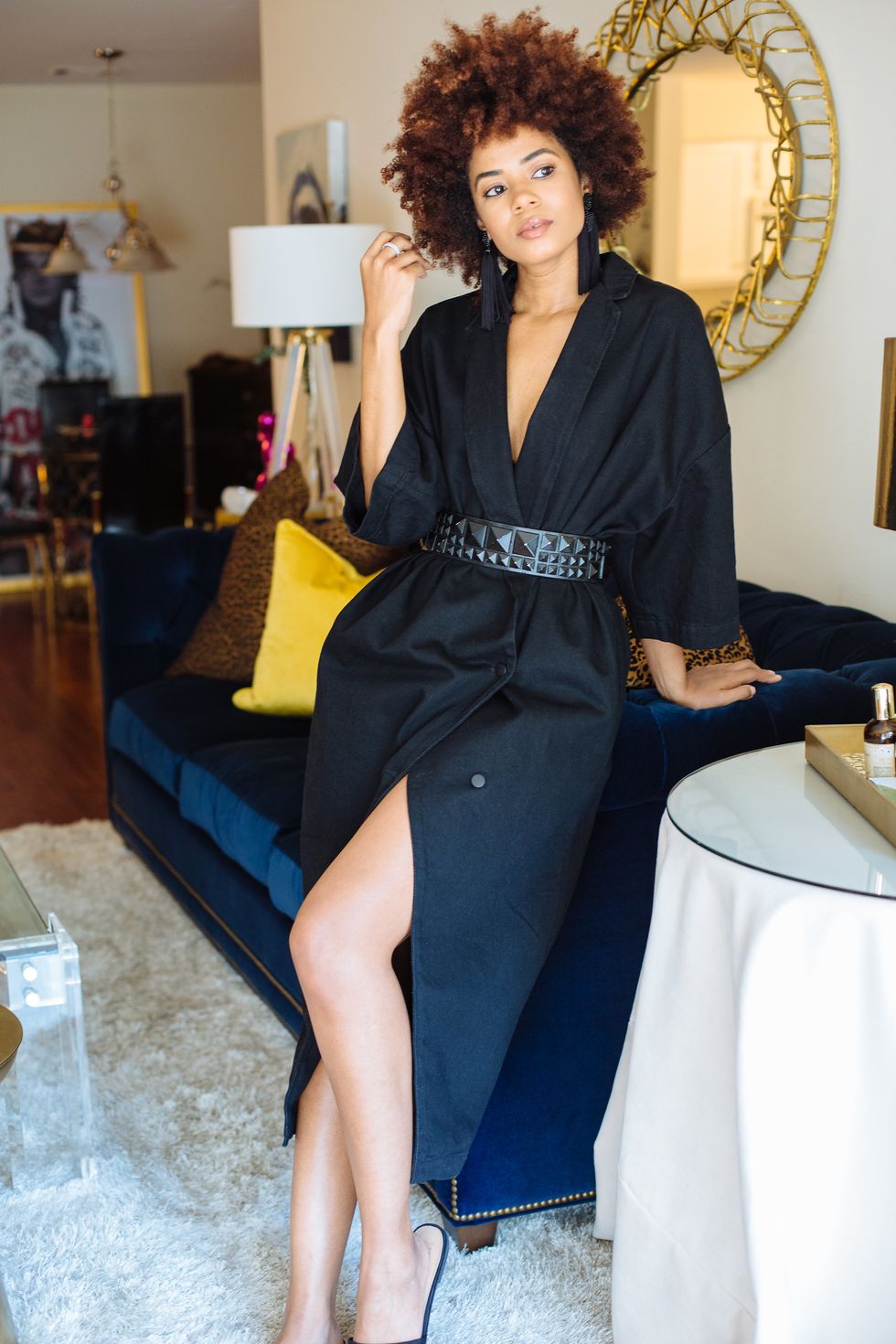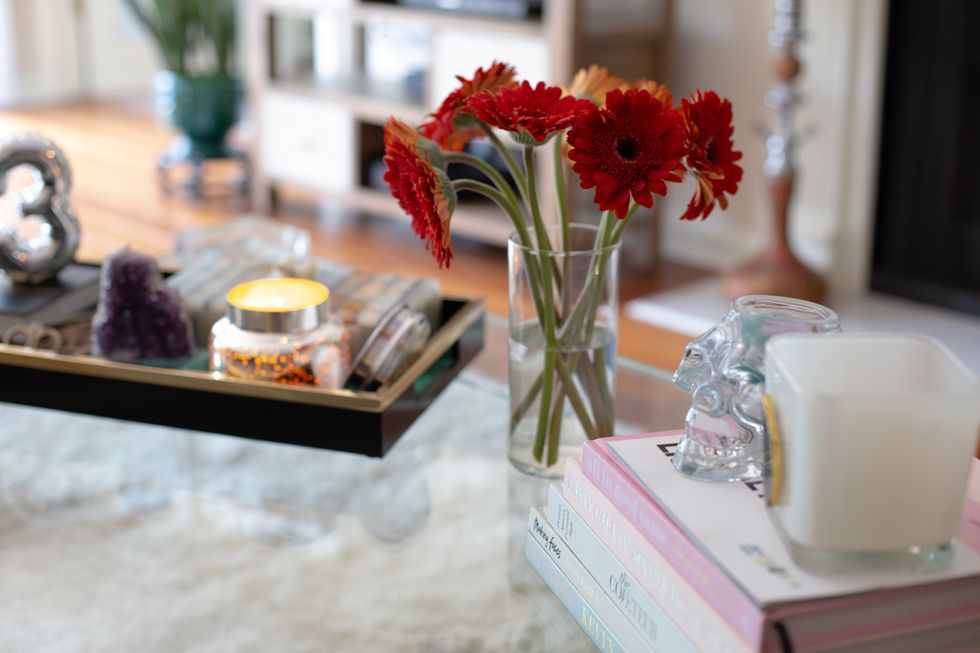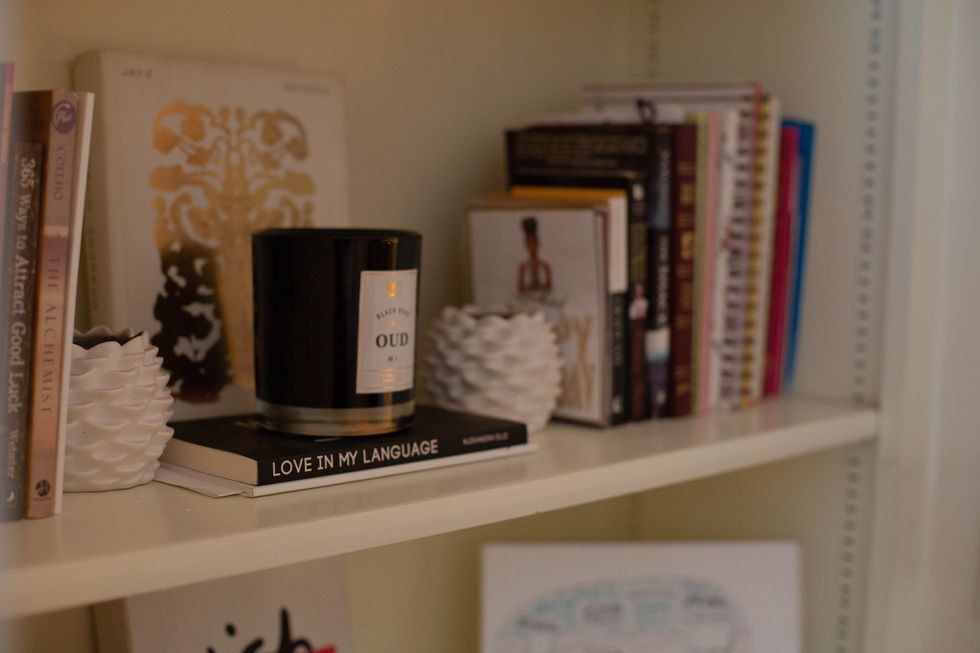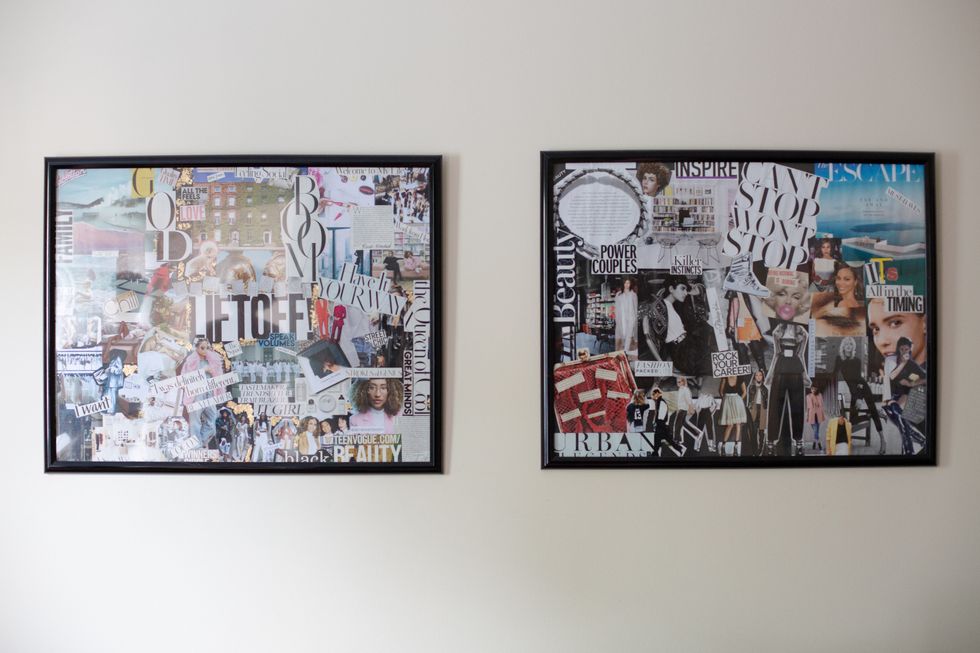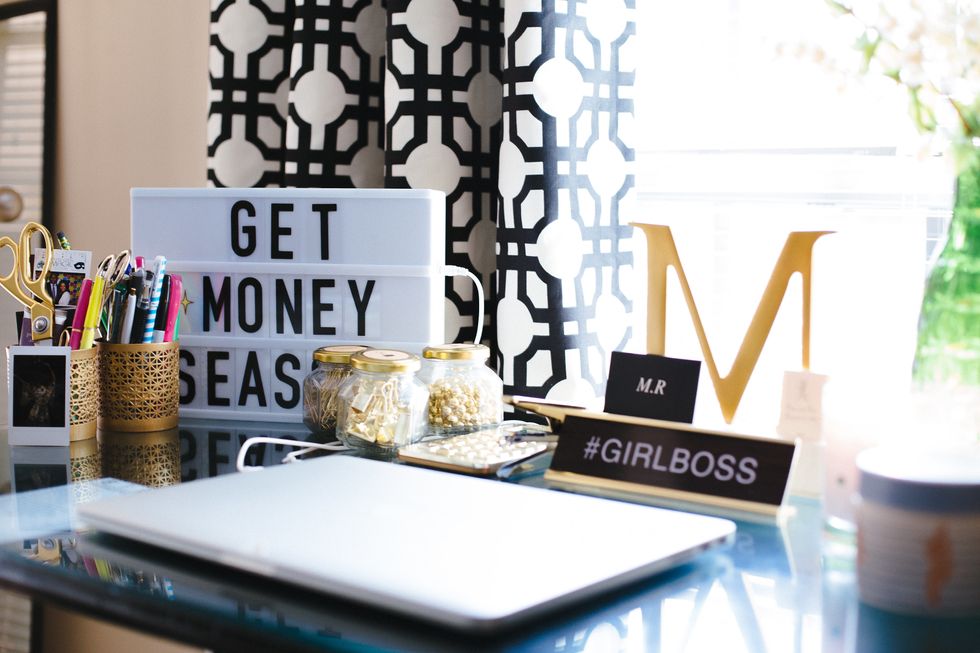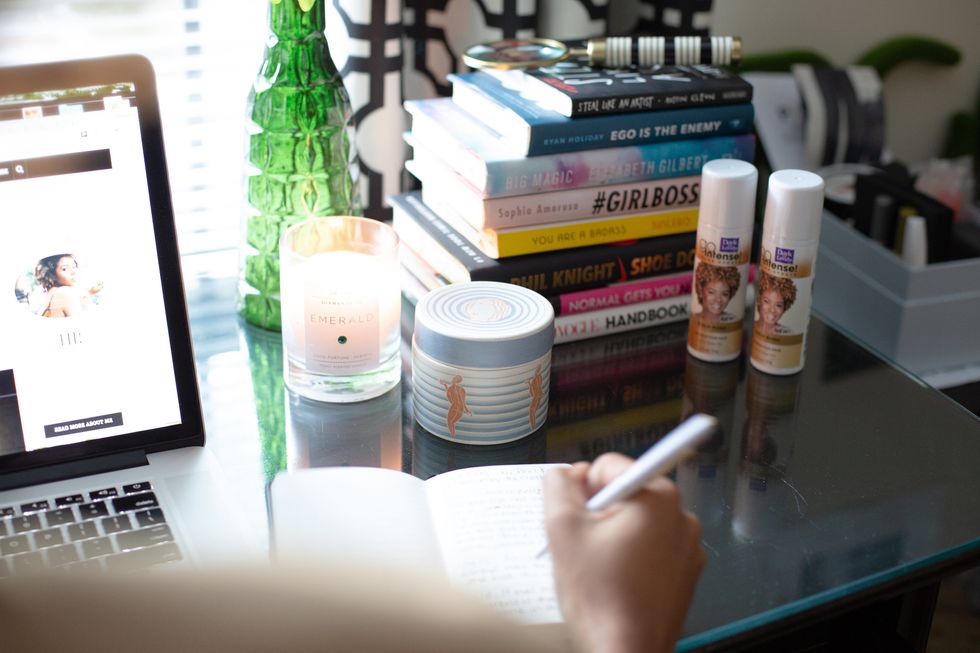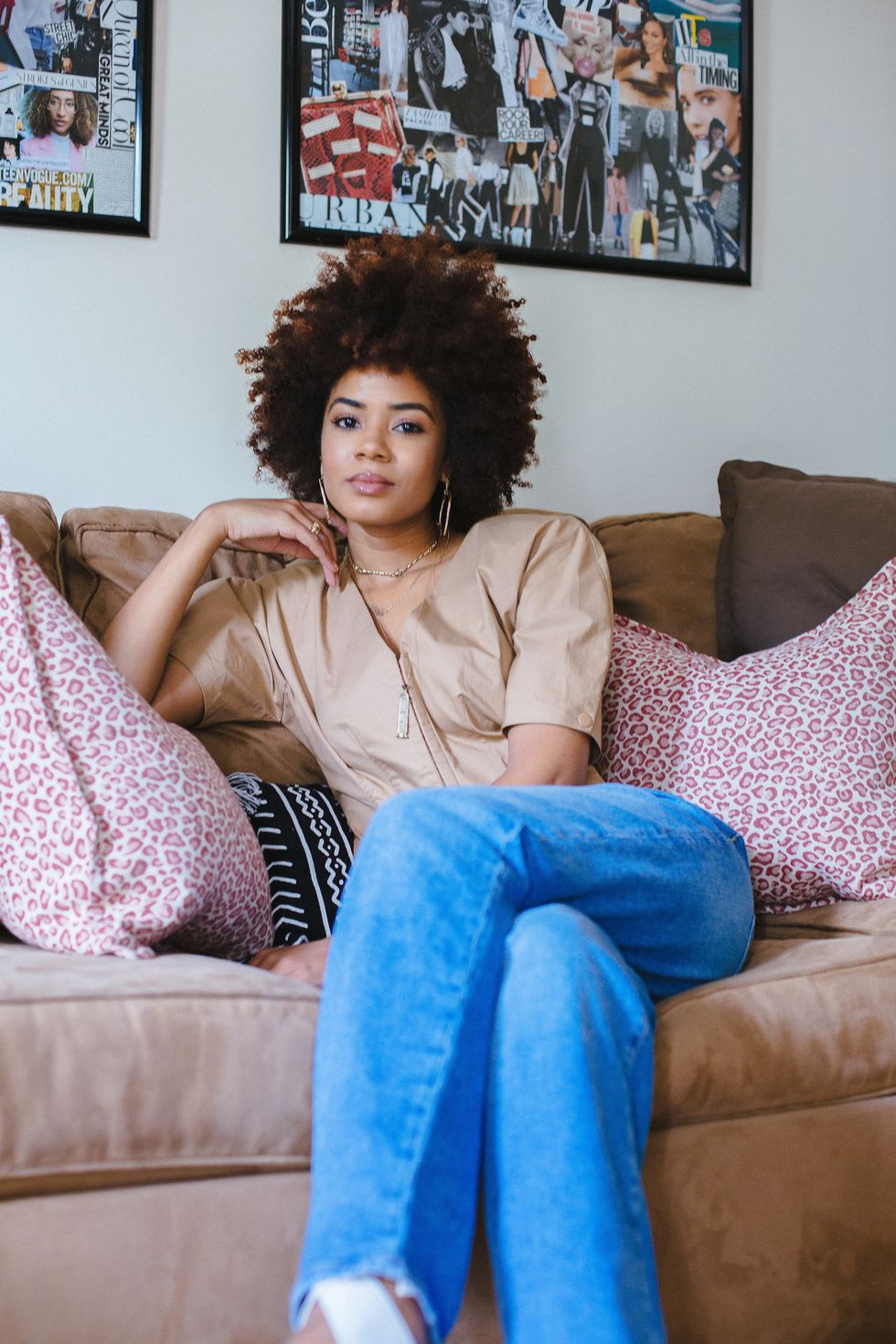 Photos By Sanniyah Sloan Photography for xoNecole

Originally published on April 6, 2019
Keep reading...
Show less
In xoNecole's Finding Balance, we profile boss women making boss moves in the world and in their respective industries. We talk to them about their business, their life, and most of all, what they do to find balance in their busy lives.
If nothing else, Nikia Phoenix is proof that there is undeniable power and wherewithal in a name. Symbolically, a phoenix is flamed bird that represents renewal and rising above challenges to succeed and be powerful. As a multifaceted woman, the Atlanta-based creative has made waves in a bevy of industries: as a model, a writer, a managing editor, an influencer and anything else that she sets her mind to accomplish. "No one can put me in a box. I am stepping into my stride and becoming the person I always knew I could be. A title or occupation does not define or limit me," she told xoNecole. "What I am doing now in this moment is part of the evolution."
And the evolution encompasses what she's doing now, which is being a light in the efforts to propel black female empowerment with initiatives like her movement Black Girl Beautiful. Black Girl Beautiful began as a beauty and shopping event for women of color by women of color after Nikia realized the needs of black women weren't being met. "We were and still are spending all this money on beauty products yet not enough brands were catering to us," she explained. "I figured it was time to educate us, empower us, and mobilize."
With the much-needed mantra of "Hey black girl, you're beautiful," the initiative has since bloomed into a safe collaborative space for black women and all women of color. "I want BGB to ignite the flame in other women so we can set this world on fire. I truly believe in the power of black womanhood," Nikia concluded.
In this installment of Finding Balance, we talk to Nikia about affirmations, a typical day in the life, and ultimately how she finds balance.
Why do you think it's important that we hear, "Hey black girl, you're beautiful"? What are some of your favorite affirmations?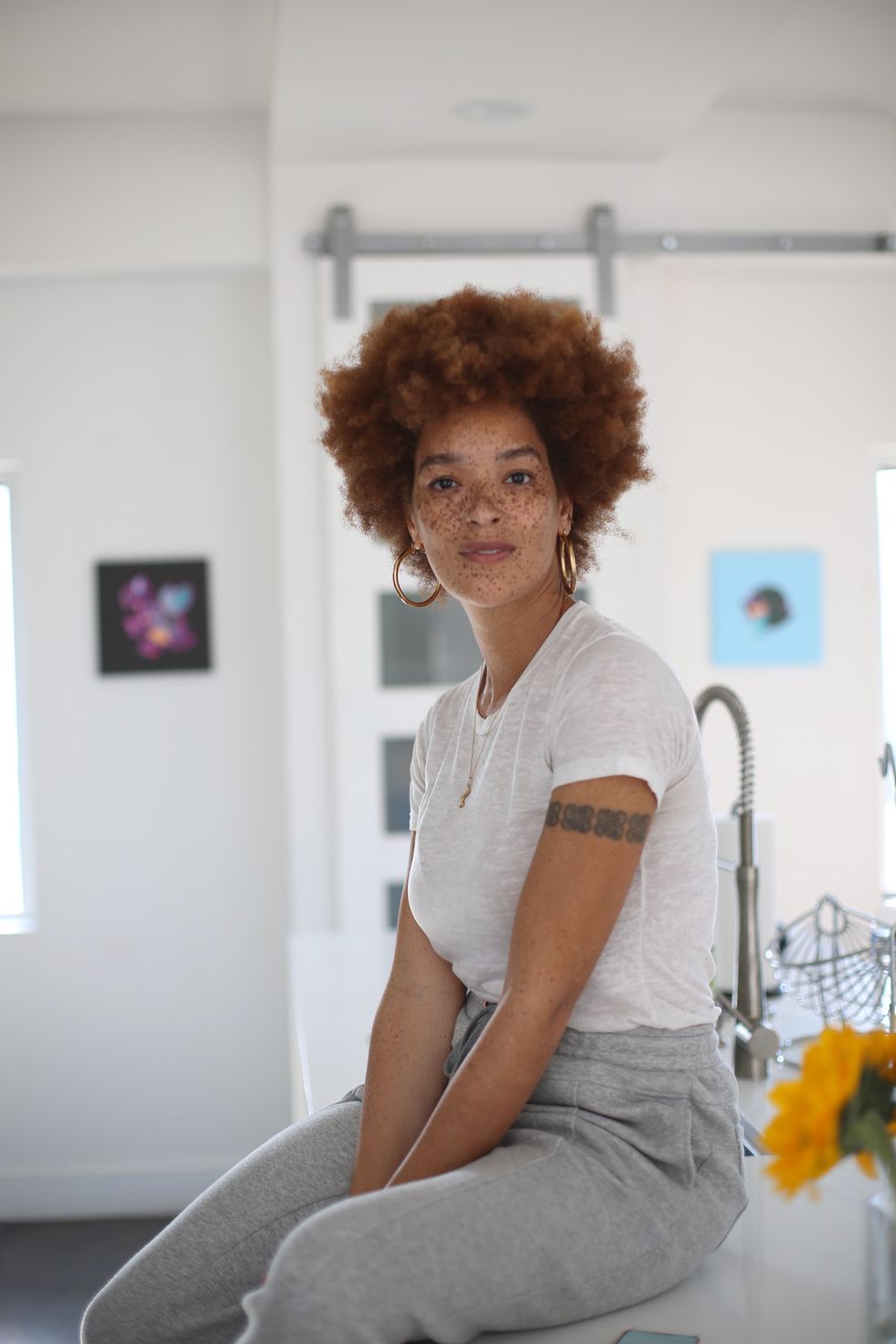 Nikia Phoenix
Photography By: Vanessa Hamb
It's critical that we hear and see this simple affirmation "Hey black girl, you're beautiful" or "Hey brown girl, you're beautiful" because all of us still have yet to completely believe it. We've gotten so used to the world tearing us down and the lies that we can be so self-deprecating. In order to combat this negativity, we have to tell ourselves that we are loved, we live in abundance, and that we are worth it.
And what makes you feel beautiful? 
My heart makes me feel beautiful. It leads everything that I do. It allows me to come from a place of love and deep intention. My heart allows me to see the beauty in everything.
You recently unveiled a Brown Girl Beautiful mural in Atlanta, how did that idea come to you to create this mural?
Atlanta is a city full of black people. We are the majority, however there have been very few murals specifically dedicated to uplifting women of color. I'm an agent of change and knew I needed to fix this. I knew what the message would be. I knew the artist, Faatimah Stevens, who could help me create it. What I didn't know is how it would actually come to fruition... In steps Pledge World, who said they wanted to help me fulfill this dream.
I think of the mural as my love letter to brown women. In bold print alongside a beautiful sketch of my friend Mary Akpa donning a crown, the mural says "Hey Brown Girl You're Beautiful." Talk about powerful! The colors, the imagery, the words literally stop people in their tracks. Brown girls are able to see themselves reflected in this piece of art. The message affirms what I know to be true of us and I hope every black and brown girl feels this love.
What does the average day or week look like for you? 
Every day is a bit different. Every week is a bit different. I am always working on a project from conception to completion. With everything I do, I'm very hands-on. But inspiration has to come from somewhere, so I make time to live. Maybe one week, I'm traveling. Maybe I'm ideating for the next adventure. I breathe creativity.
What are your mornings like? How do you wind down at night?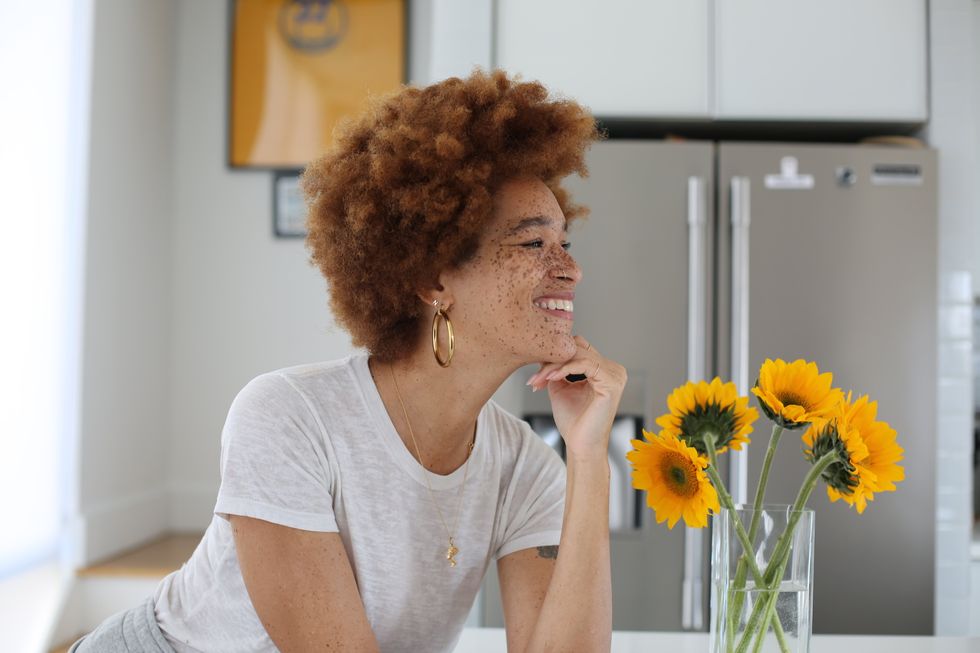 Photography By: Vanessa Hamb
Mornings are my favorite time of day. I ease into it. I wake up with prayer and meditation then make my way into my daily affirmations. I love, love creating peace to start my day. At night, I wind down by lighting candles or incense and meditating. With all is hectic in this world, I have to bookend my day with love.
What do you find to be the most hectic part of your week? 
The most hectic part of my week depends on what I'm working on. I do my best not to have a Case of the Mondays. Starting my week in a frenzy is not the business. Other than that, if there is a hectic time of the week, it's most likely Thursday afternoon, because I know I'm trying to complete all my tasks before the weekend.
Do you practice any types of self-care?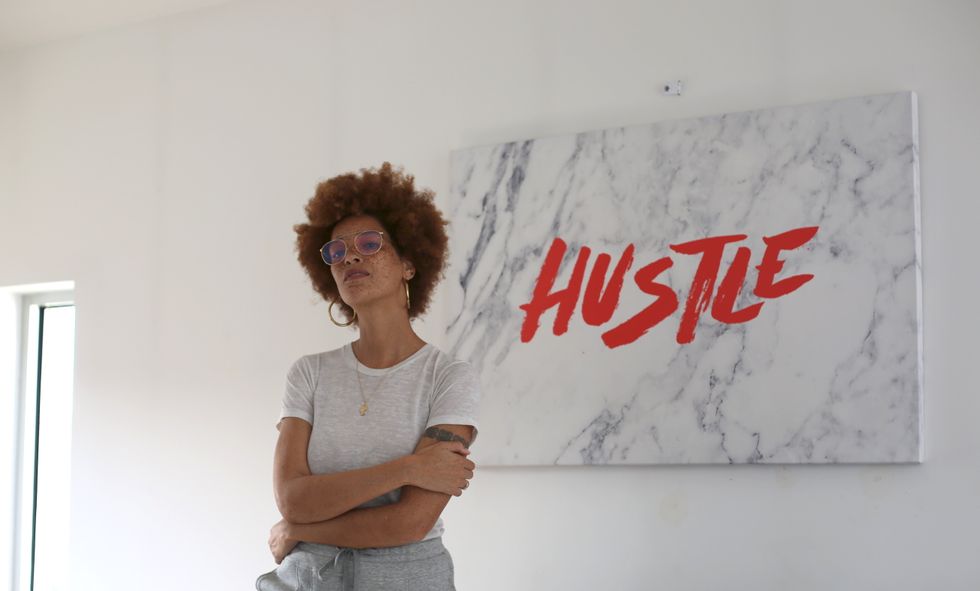 Photography By: Vanessa Hamb
Self-care for me is daily. It's saying affirmations. It's unplugging from technology. It's spending quality time with people I love without talking business. At night, I love turning down the lights, lighting a candle, and dancing in my bedroom. This allows my soul to be free. Simply put, self-care is literally me loving on me.
What are some products and rituals you swear by in the name of self-care? 
Washing my hair on the weekends is also self-care for me. While my hair is deep conditioning with SheaMoisture Jamaican Black Castor Oil hair masque, I'll put on one of those Korean sheet masks from The Face Shop and chill out. I'm also obsessed with rosewater face mist and my jade roller. Talk about an instant face massage to lift my spirits.
How do you find balance with: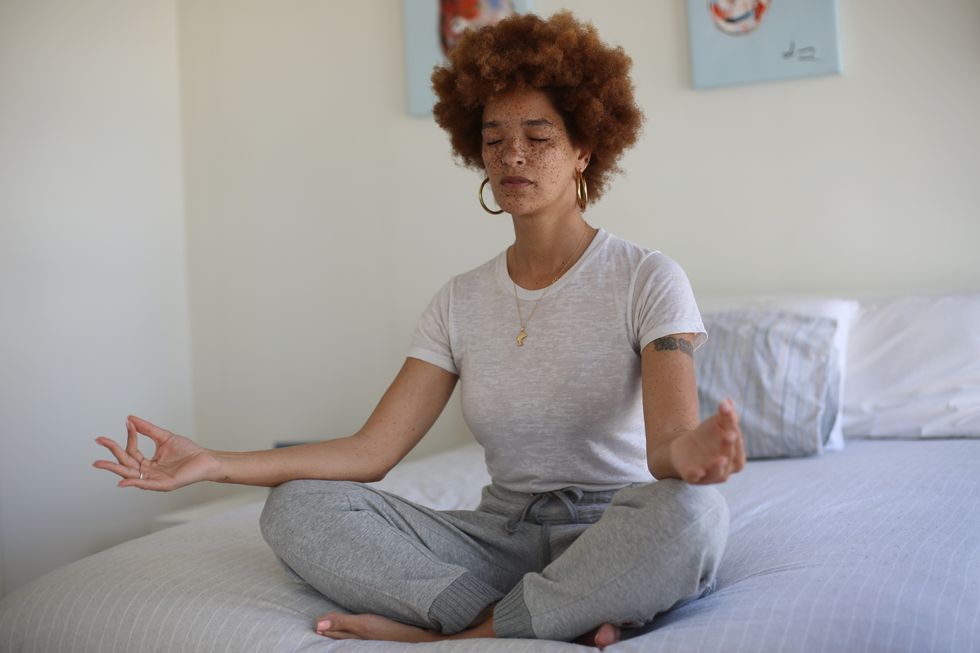 Photography By: Vanessa Hamb
Love/Marriage?
When I love, I love hard. I give it my all or nothing. I guess that is my balance. I do know that love fuels me. It's essential to my being.
Friends?
It's about making the conscious effort to be present. Any relationship, whether that's romantic or platonic, needs to come from a place of respect and not obligation. I feed into what feeds into and nourishes me.
Exercise/Health? Do you ever detox?
A year or so ago, I began practicing kundalini yoga, and it's become my saving grace. It helps me release the frustration and work through difficulties by pushing my body and realigning my spirit.
When you are going through a bout of uncertainty, or feeling stuck, how do you handle it? 
I have to give myself the space to work through the feelings fully. That may mean hanging upside and screaming my head off or whatever I need to do to relieve the tension in a healthy way. I'll talk out the problem. I'll meditate. Then I come up with a solution. The trick is not to dwell in the hole. Dig your way out.
What does success mean to you?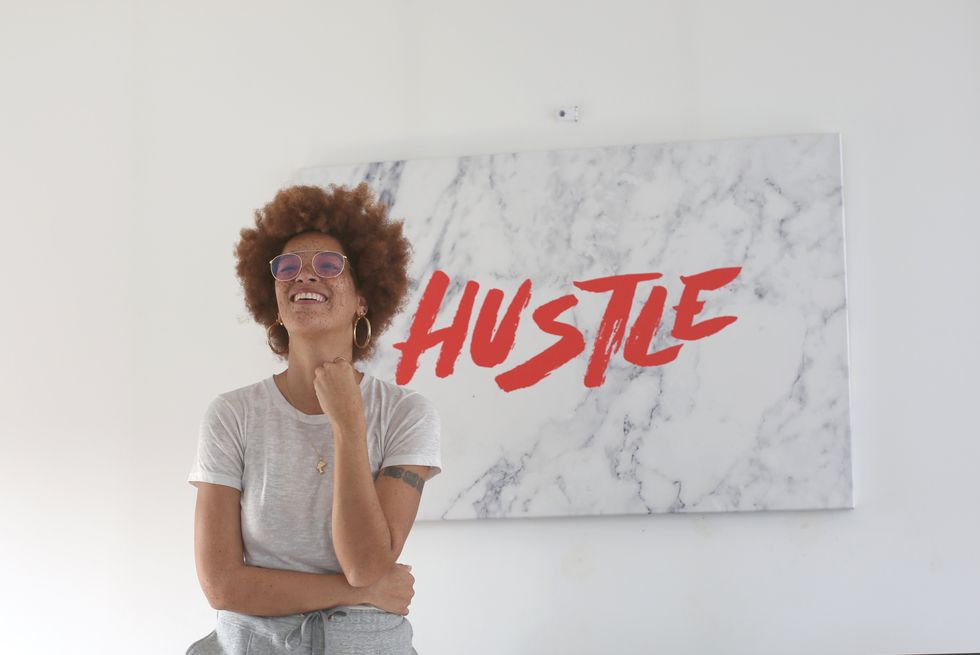 Photography By: Vanessa Hamb
My intention is to evoke feeling... to evoke love. At this point, I get so much joy from watching a complete stranger being moved by my work. If what I create encourages and lifts someone else up, that's my goal. Success means feeling like I am living on purpose and being fulfilled.
Ultimately, how do you find balance? 
I laugh. I cry. I do both at the same time. And most importantly, I LOVE. Love brings balance.
For more of Nikia Phoenix, follow her on Instagram. And check out previous installments of xoNecole's Finding Balance here.
Featured image by Vanessa Hamb, courtesy of Nikia Phoenix

Originally published March 31, 2019
Keep reading...
Show less
How We Met is a series where xoNecole talks love and relationships with real-life couples. We learn how they met, how like turned into love, and how they make their love work.
Take one look at Skylar Marshai's Instagram feed and you'll see all of her loves meeting in the most exquisite symphony of visual pleasure. Chances are, you're captivated by her aesthetic, her knack for storytelling, and her luxurious travel excursions around the world. What you'll also notice is the man behind the lens, her beau Temi.
As a creative duo and an embodiment of black love, Skylar and Temi have effortlessly racked up miles as they've made their way across the globe, creating memories in Hawaii, Morocco, Barbados, Italy, and Mexico to name a few. For the couple, travel has acted like a love language and a cornerstone of their relationship. In just a year, Skylar and Temi have managed to give so much of the world to each other, undoubtedly an ode to the one-of-a-kind love they've found. But don't get it twisted, Skylar worked hard for her love story.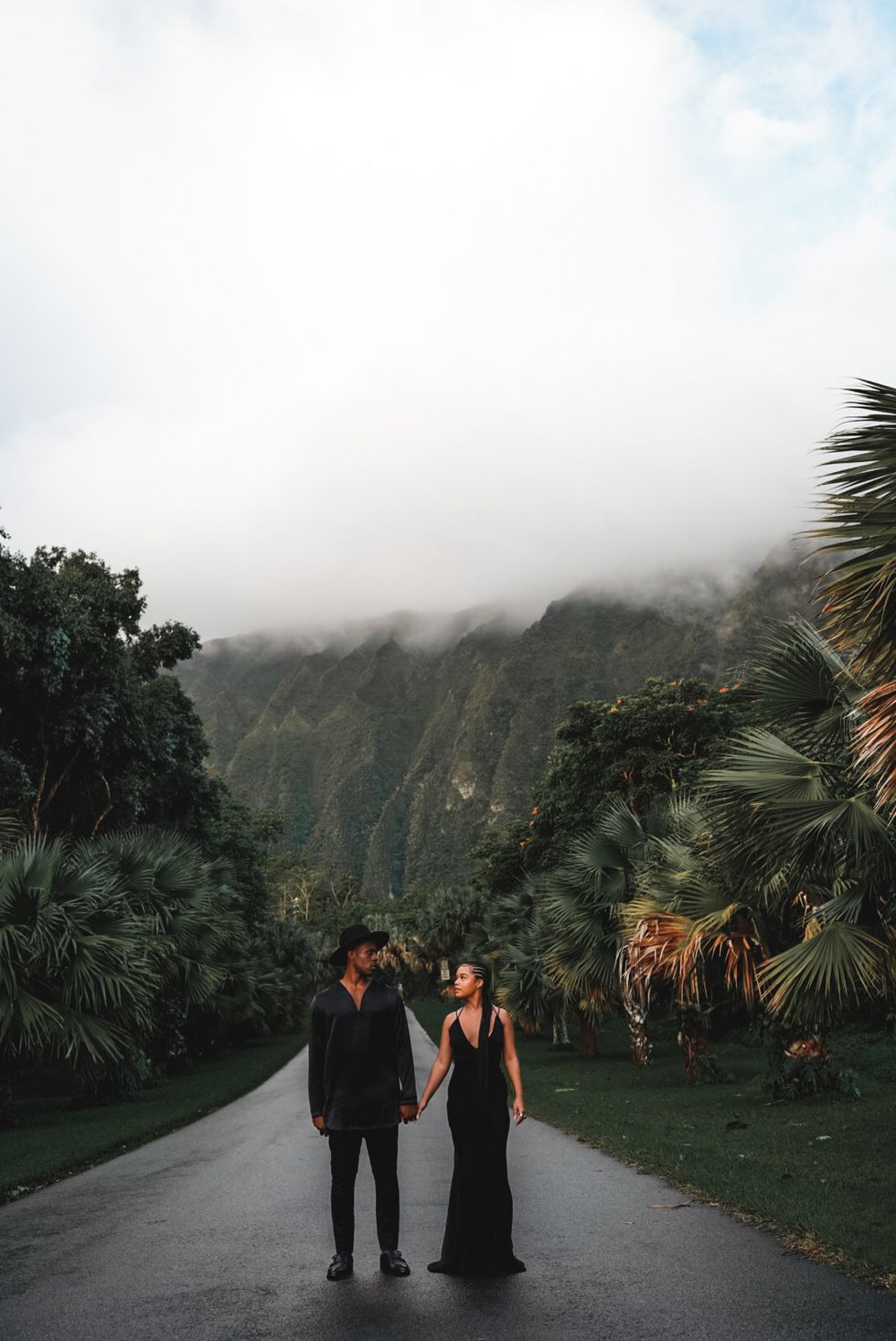 Courtesy of Skylar Marshai
Just two years ago, Skylar was featured in a conversation with content creator Bobo Matjila. In the video interview, the two chatted about Skylar's impressive trajectory from fashion student to entrepreneur as the designer behind the lingerie brand As You Are Intimates. After broaching the subject of her love life, the then 21-year-old shared, "It would be nice to see what this Skylar looks like in a relationship because I know I shed off the immaturities of my 18-year-old self. There's still certain things about me that I know I need to tweak but I can't do that unless I'm in a relationship, going back and forth, sharing parts of myself and being faced with them."

Little did she know, she'd soon meet the love of her life, a love her time alone had prepared for. When Temi, 25, met Skylar, 23, it was through DMs and at the time, there were several states separating them. What bridged the distance was their instant virtual connection. While Skylar was unsure if a relationship was what she wanted, Temi was steadfast in his pursuit, knowing that there was something special about her. What would solidify their union and quiet any doubt was their official first date a month later. The rest of which is history and they've got the passport stamps to prove it.
In this installment of xoNecole's How We Met, the social media strategist and the technical account manager walk us through their beginning, their courtship, and their boundless commitment to one another.
How They Met
Temi: I was out at dinner with some of my fraternity brothers catching up and talking about what we wanted in our futures. I was scrolling through Instagram and Skylar popped up in a linen two piece fit and a high pony. I automatically felt an energy just looking at her photos. I knew I had to dive into her DMs and at least talk to her so that's what I did.
Skylar: Every time I get this question, I hear, "It goes down in the DMs it goes...down," playing in the back of my head, which is, essentially, where it all started. Temi slid in my DMs September 2018 and who woulda thought? But I fell. I just didn't know it yet. He slid, I fell, here we are.
First Impressions
Temi: My first impression of her didn't really come with any words. They were all feelings that I was still trying to figure out. Here I was seriously trying to pursue a woman I'd never met before, who lived over 800 miles away. I didn't know much about her at the time either. I only knew that her friends had all gone to California to celebrate one of their birthdays and I thought that was pretty dope that they'd go above and beyond for one another like that. I could tell from the few [Instagram] stories that were on her page that she had the type of aura where it seemed as if the sun rose when she woke up and set when she decided the day was done. A contagious energy that warmed those around her.
Skylar: I said, "Who is this fine black man in my requests?!" (Laughs) I hardly got DMs from guys, so it was refreshing and exciting. I did the casual IG profile stalk, you know the one where you scroll all the way back and see what's going on. It was a light impression, though, as there's only so much you can get through Instagram and I also peeped he wasn't in NYC so I didn't think too much into it. My previous relationship had been long distance and I wasn't rushing to be in another. I just knew I wanted to flirt back and so I did.
"I could tell from the few stories that were on her page that she had the type of aura where it seemed as if the sun rose when she woke up and set when she decided the day was done. A contagious energy that warmed those around her."
Instant Attraction
Temi: I was instantly attracted to Skylar and everything that came with her. It was weird because I felt like I found love for the first time with her. You know that high school first love that'll have you laying on the couch upside down, feet towards the ceiling talking about your favorite music genres at 5:30 am love. Everything just flowed so naturally, there was no forcing it and as time went on I think that only made me fall even deeper.
Skylar: I was attracted to him instantly, hence me allowing the DM slide to take place to begin with. (Laughs) But I will say that it took some time for me to get out of my own way and allow him in. I wasn't looking for a relationship, nor was I ready for one, but you don't plan these things. They kind of seek you out and you've gotta love yourself enough to let them.
First Date
Temi: Our first date was also our first time meeting each other. We had been talking for about a month and a half at this point, so I flew up to New York to spend some time with her. Around this time we understood that just because you can gel with someone virtually doesn't mean that things will be the same in person, so we were fully prepared to just stay friends if the vibes weren't the same in person. Our first date was really one calm weekend. We spent our first weekend together walking around the SoHo District of New York. I remember we stopped to eat at Digg In and just sat on some stairs outside of a building and talked about anything and everything until day turned to dusk. The date was natural. It was different. I was used to going out for nice dinners or excursions for first dates, but this was a nice outing with a good friend, and I think that's what I valued most about it. Everything we did felt like I was just hanging out with someone I'd known my entire life.
Skylar: Our first date was actually when we met! I got the side eyes from my girls (who were otherwise quite supportive), and I was hella nervous but I felt more secure in that Temi and I had such a great bond already. I'm also not one to encourage lavish dates to start, there's too much pressure and he had come to visit me so I kind of planned the weekend out. We spent our first real date in SoHo, aimlessly wandering the streets doing the whole 20 questions thing. I think we'd talked so much about ourselves prior to the date that it ended up being more about how we felt in the presence of one another. I always ask myself when dating, "How does this person make me feel? How do I feel when I'm with this person?" If it's healthy, positive, natural, it's something I pursue. And in this case, it absolutely was.
Making It Official
Temi: The courtship was interesting. With me still living in DC at the time we would mostly text all day and fall asleep with each other on FaceTime at night. We'd alternate going back and forth between taking buses/flights to see each other. Around this time, I'd sold all of my DJ equipment and was beginning to express my creative side in photography. I'd purchased my first camera and came home one day to a package at my door. She'd bought me a really good off-camera light and I really appreciated it. Not that she'd gotten me a gift but that we weren't even official, and she was investing in my creative advancement. When it came to finally making things official, she was the one who actually asked me out.
Skylar: He courted me, to START. But I'd like to think I was the catalyst in allowing things to really progress, primarily because of how stubborn I was to let him push things along. Once we moved out of my DMs and broke the ice with our first FaceTime conversation, we were basically inseparable–or as inseparable as two people in a long-distance flirtationship could be. Eventually he came to visit me and we had to have a very mature conversation about what would happen if we met and it didn't hit the same in person. But it did, and we decided there was no rush. He had decided long before I did that he wanted to be with me, that I was his. The thing is, because he was so confident in it, he didn't pressure me to be ready. He waited until I was ready and we went from there.
"We decided there was no rush. He had decided long before I did that he wanted to be with me, that I was his. The thing is, because he was so confident in it, he didn't pressure me to be ready. He waited until I was ready and we went from there."
The One
Temi: I knew I wanted to commit to a relationship with Skylar when I realized that we weren't in one sometime in mid-November. Everything between us was so natural and fluid that it felt like we were already together and had been for quite some time. During our first date in New York, she had told me that she wasn't ready for anything super serious and I wasn't going to try to pressure her into something she wasn't ready for so we just enjoyed each other whenever we could. She had traveled down to DC to be my date for a company holiday party and before we left, she asked me if I wanted to be her boyfriend, real girlboss (laughs). The rest is history.
Skylar: I honestly think he committed to me very early in our relationship. He made it very clear he had no intention of being with anyone else and that when I was ready we could make it exclusive. I, on the other hand, decided to commit once I realized that I had subconsciously cut ties to my dating life, when I realized I was already moving as if he was mine and I was his. I was saying one thing and doing another. I swore I was going to take it slow, not rush, continue to date until I felt confident in us. I think that stemmed from rushing in too quickly in past relationships, not knowing who it really was that I was falling for. I've found this slow, creeping love to be much more satisfying. And even still, I was already his long before I made that decision.
"I've found this slow, creeping love to be much more satisfying. And even still, I was already his long before I made that decision."
The "L" Word
Temi: I knew it was love when days where we would talk less felt a bit more dull or less sunny if that makes sense. She brought a new type of light into my life that quite frankly I couldn't get enough of. At some point while we were dating we started to have conversations about pain, baggage, and regrets. It's one thing to love all the good that a person might have, it's another to love them through all of their faults and blemishes. I remember how I felt after we'd have these conversations—the same. I still wanted to hold her, kiss her, and protect her from the world. That's when I knew it was love.
Skylar: Temi actually told me he loved me first, and I was SHOOK. The second he told me, he immediately followed up by saying that he wasn't saying it to hear it back. He was saying it so I knew he did. By that point, he had learned me well enough to know that I couldn't be rushed into anything. I respected him for being so gentle with such a stubborn individual. Days later, I took a bus to spend some time with him in DC and as we were leaving our hotel room and walking down the hall, I remember looking at him and just loving him. I was overwhelmed by my adoration for his kindness, his empathy to my feelings, his intelligence, and tons of other qualities about him. I swear it was God, I've only had that feeling twice before. I stopped him right there in the hallway and said, "Hey, I love you," and he said, "I know that girl!"
The Sweetest Thing
Temi: My favorite thing about Skylar is that she doesn't finish all of her food. Literally (laughs). When we go out to eat, I know that I'll have a nice little second portion of food waiting for me when I'm done eating every time. My five love pillars are God, Family, Skylar, Food, and Food so there you go. The fact that she leaves me a little something on the side, a little Razzle Dazzle if you will, really melts my heart.
Skylar: Easily his selflessness when it comes to me. I've found myself moving over so often in my past relationships with no return being made on my account, where in this one room is made for me. From day one, he's created space in our relationship for me in the same way that I do him. He grants me grace, forgiveness, where others have not. And he does it so easily! Honestly, he doesn't think twice about hearing me out, talking things through, admitting his wrongs. When your partner moves in such a way, it makes it hard to not want to do the same for them. It's funny because I'm being deep here and he'll probably say his favorite thing about me is that I don't finish my food or that I'm always cold (he's always warm) When I say we balance each other I mean it).
"I've found myself moving over so often in my past relationships with no return being made on my account, where in this one room is made for me. From day one, he's created space in our relationship for me in the same way that I do him. He grants me grace, forgiveness, where others have not."
Love Lessons
Temi: It probably sounds cliche but 1 Corinthians 13:4-8 "Love is patient, love is kind. It does not envy, it does not boast…." really is a staple for what we've learned through loving each other. We've decided to pour our all into one another and put our blinders on in our love life the same way we do our professional life. We've learned not to compare but uplift. Not to brag, but to teach, not to hold grudges or blow up on one another but instead take a step back and process our feelings before coming back to communicate. Through our love, we've learned how to love life itself and the people we hold dear.
Skylar: I think love allows room for understanding. We've put so much work into communication and grace. One time when Temi and I were arguing, I mentioned how something he did was of such an inconvenience to me. He asked me, "But if it doesn't hurt you, and if it helps me, why can't I be your exception?" And damn, I felt that. I was complaining about something so small in the grand scheme of our love, something that was only an inconvenience to me because it was against my preference, not my morals or values. He's helped me love him better and thus love better. If I'm going to make exceptions for anyone (healthy exceptions), it'll be for those I love.
"He's helped me love him better and thus love better. If I'm going to make exceptions for anyone (healthy exceptions), it'll be for those I love."
Baggage Claim
Temi: I had to learn how to understand her as a feminist. Personally I'm the type of person that doesn't care what someone studies, practices, or believes as long as it does not harm another person. With Skylar I had to unlearn that way of thinking because it put an energy of complacency in the air. Instead of sitting on the sidelines cheering, I needed to actively use my privilege to support my girlfriend in her goals, dreams, and visions: of promoting a world where women have control over their own bodies, are caretakers on their own, make the same wages as their male counterparts (as they should have been), etc etc.
Skylar: Whew! I've had some work done on ME. My entire idea of a healthy relationship was so skewed that a lot of this process has been about my unlearning of toxic traits that we're sometimes unaware of in relationships because they seem so subtle. For instance, rather than being problem-focused, I'm now solution-based within Temi and I's relationship, as we've encouraged each other to get to the root of a thing rather than solely call it out (although that's step one). I've learned to define Temi by who he is rather than by what he does. This helps me easily brush off small mishaps or misunderstandings. He is not the sum of his mistakes. I've also had to really get it together as Temi is a man of action where I am one of big pictures and planning ahead, and while it's beautiful, it can easily be lost. I've learned to respect the present.
"To be black, in a relationship, and traveling the world is a blessing. To share that travel and love with the world is an honor. One of my biggest boxes to tick is being able to love my partner in different spaces, travel has only further affirmed our love and the flexibility that exists in it."
Travel Goals
Temi: It feels absolutely amazing to see the world with Skylar. Each time we travel, I feel like we learn something new about one another that we hadn't known before. Travel allows us to grow closer in unique ways. My favorite place so far has been Tulum, Mexico. It was our first 'real' trip with each other. We had gone to Puerto Rico prior just as a tester because it's one thing to travel with someone you love. It's another thing to travel with someone you love and actually enjoy the trip. Everyone differs so we just wanted to make sure that we didn't differ too much.
Once we figured that we loved being out of the States with one another, we decided to start off with Tulum because it was a place that Skylar had always wanted to visit. It's my favorite trip because it really kicked off the life that we live now. Appreciating each other in different spaces, with the love growing rather than burning out. It warms your heart in a way that can only be described as love.
Skylar: To be black, in a relationship, and traveling the world is a blessing. To share that travel and love with the world is an honor. One of my biggest boxes to tick is being able to love my partner in different spaces, travel has only further affirmed our love and the flexibility that exists in it.
My favorite place to travel so far has been Marrakech. It was one of our last-minute trips and also one of the most beautiful we've been on. It was my first time stepping onto African soil, and we felt so seen. Many of the places we've traveled have gotten us all kinds of stares, as we're usually the only black people around. Morocco was rich with culture and warmth, we kept talking about how easily everything fell into place. It was surreal to experience and capture, and even more special to do it with him. I always think, "Wow, there's no one else in the world I'd rather be here with."
For more of Skylar and Temi, follow them on Instagram here and here.
Featured image via Skylar Marshai/Instagram
Originally published on February 26, 2019
Keep reading...
Show less