Sheriden Chanel
Sheriden Chanel is the senior lifestyle and relationships editor at xoNecole.com, covering all things love, life, beauty, and wellness. She has an affinity for travel, self-care, and anything BTS touches. Keep up with her on social
@sheridenchanel
.
With more than 84% of women experiencing painful periods, there's no wonder why "that time of the month" is filled with negative connotations. As someone who doesn't fall into the 84% percent noted in that study, I can still attest to factors like age, stress, and lifestyle affecting my menstrual cycle and the way I experience my periods. Gone are the days when my symptoms peaked at salty and sweet cravings, and in its wake, I've been introduced to cramping, low estrogen levels, and a heavier flow than I've experienced in all my years of having a period. Where I used to look at my periods as a time of the month when was indifferent, I am now feeling the effects and I can only imagine how the other 84% of women reporting period pain go through (more power to y'all, for real).
Two things changed the menstruating game for me. One, the conscious decision to look at my cycle for the full 28 days that it is (anywhere between 21-40 days is considered "normal.") instead of just the 5-7 days I am actually in the menstruation phase of my cycle. And two, looking into cycle syncing as a holistic way to change my relationship with my period and my cycle overall. You see, instead of acting in opposition to what I experienced during my periods, I could lean into it and restructure my life in a way that aligned with the different phases of my cycle, and therefore the different "seasons" I was in. When it comes to all that cycle syncing entails, ladies and gentlemen, this is just scratching the surface.
Berrion L. Berry, founder of Optimize Your Flo and menstrual health educator, explains, at its core that cycle syncing "is aligning different aspects of your lifestyle such as fitness, nutrition, wellness, and even business with the phases of your menstrual cycle." And although the results could vary from person to person, it is still something she recommends to women and menstruators to see if it positively affects the way they experience their cycles. She adds that not only can cycle syncing transform your periods, but it can also evolve the way people with periods work.
"As more and more research is being conducted we're finding things that are so unique. Did you know that there are times throughout the cycle perfect for brainstorming new ideas like during the menstrual phase?" Berry continues, "When practicing cycle syncing and understanding changes that happen, people can actually work more effectively and I think that's incredible. Especially if you're someone who's looking to go from feeling burnout to embracing the soft life."
Keep reading for the phases of the menstrual cycle and how to optimize each phase for ultimate alignment as well as potentially less painful periods.
The Phases of the Menstrual Cycle
Phase 1: Menstruation (Winter)
Phase 2: Follicular (Spring)
Phase 3: Ovulation (Summer)
Phase 4: Luteal (Fall)
Cycle Syncing During the Menstruation Phase (Days 1-7)
Menstruation is the "shedding of the uterine lining and when your period happens." Berry notes that since the hormones are in an 'off' position during this time, your overall energy can feel low. Nourish the body with unprocessed, nutrient-rich foods and filtered water to keep your blood sugar and energy levels steady.
The Optimal Way to Nourish the Body:
"A good mix of lean proteins, healthy fats, and low GI carbs such as root vegetables, whole grain, and legume-packed stews, can support the energy-intensive process of menstruation."
The Optimal Way to Move the Body:
"Since your body is physically releasing, the best thing you can do is rest or active recovery. The reason you want to do this is so that you don't apply additional stress (increased cortisol) to the body and create an inflamed, exhausted, or overwhelmed environment within the body.
"Light jogs, long hikes, a nice yoga flow for most people. If you're someone who likes to train a lot, one of the best things you can do during this time is a low-intensity workout like Pilates as well, preferably mat Pilates.
Cycle Syncing During the Follicular Phase (Days 8-13)
The follicular phase is "the time between the end of the period and ovulation" and can be viewed as the "spring" season of your cycle. To prepare for ovulation, the body's hormone levels are on the rise as your egg follicles mature, Berry explains. In contrast to the low energy levels you might have felt during the menstruation phase, during the follicular phase, you may start to feel more energized.
The Optimal Way to Nourish the Body:
"Supporting your gut aids the body in processing estrogen and potential toxins that may be in your body. The more micronutrients you focus on getting during this time, the better. This is a good time to incorporate light, fresh and vibrant foods, such as salads and fermented foods like kefir, probiotic yogurt, or sauerkraut, which support gut health and detoxification."
The Optimal Way to Move the Body:
"During this time, since your hormones are beginning to rise, it's the perfect time to pick back up on your workouts and training. Exercises like reformer Pilates, boxing, spin class anything a bit intense and vigorous is perfect for this. You may also want to consider adding a bit of resistance training in."
Cycle Syncing During the Ovulation Phase (Days 14-21)
Berry refers to the ovulation phase as "the main event" of your menstrual cycle as it is when the egg is released from the ovary. "During ovulation, hormone levels are skyrocketing and estrogen is the life of the party. It aids in the ovulation process along with a surge in LH. Our basal body temperature also increases during this time, which can impact increased energy levels."
She also adds that "ovulation is not always day 14 of a cycle no matter what you've been taught in the past. Ovulation can actually change based off so many things, so just make sure you know your body."
The Optimal Way to Nourish the Body:

"Consuming foods that are nutrient-dense, but also refreshing like a smoothie bowl or salad is definitely a must. See, excess estrogen can have a negative impact on our cycle, including breast tenderness and increased spotting, however, consuming nutrients that support the liver to remove estrogen is good to include and are found in foods such as kale, broccoli, onions, garlic, and radishes."
The Optimal Way to Move the Body:
"During this time, since your hormones estrogen, LH, and testosterone have surged, it's the perfect time to do those higher intensity workouts and anything that will have you actively sweating and increasing your heart rate. Exercises like spinning, sprinting, and heavy lifting are perfect during this phase."
Cycle Syncing During the Luteal Phase (Days 22-28)
​The last phase of your menstrual cycle is "the time between ovulation and before the start of menstruation when the body prepares for a possible pregnancy if the egg is fertilized." Berry continues, "During this phase, there's a shift in hormones, and around day 23 of your cycle, your body begins to prepare for the shed of the uterine lining. You may notice your cravings are a bit more intense, and you just want to eat everything in sight."
The Optimal Way to Nourish the Body:

"With estrogen on the decline and progesterone on the rise, you'll want to make sure that you focus on nourishing your body with additional nutrients like iron, magnesium, and zinc as well as complex carbs."
The Optimal Way to Move the Body:
"Since your body is preparing to physically release, the best thing you can do is low-intensity workouts and active recovery. The reason you want to do this is so that you don't apply additional stress (increased cortisol) to the body and create an inflamed, exhausted, or overwhelmed environment within the body. I suggest light jogs, long hikes, or a nice yoga flow for most people."
How to Start Cycle Syncing
If you want to start cycle syncing and optimizing your period health, Berry has the perfect method to start. In her teachings, Berry recommends beginning your cycle syncing journey through a process of habit stacking where you optimize cycle syncing by building on basic healthy habits you've already mastered. Berry sums this process up with the statement, "Standardize before you optimize." Her step-by-step process to standardize healthy habits is as follows:
The O.N.E method:
O is for "organize your meals in sync with your cycle;"
N is for "nurture your adrenals" which Berry says means working out in sync with your cycle, making time to meditate, journal, or pray at least once a day, and getting on a regular sleep schedule;
E is for "execute daily" which Berry created a checklist to help people with this step (download the checklist here).
After utilizing her method to standardize your healthy habits, Berry advises looking at where you are in your cycle to optimize your lifestyle habits according to the recommended lifestyle habits according to the phase you are in. For more specifics, check out her guide on fertility awareness here. "Once you know where you're at in your cycle, I like to recommend people start with nutrition, then add fitness and wellness, but ultimately people can start with wherever they want," Berry shares.
If you are starting your cycle syncing practice and don't wish to go the DIY route, Berry has a wealth of resources, including classes that she advises period havers to take if they are looking for a step-by-step plan with all of the details. Learn more about her classes here.
For more information about cycle syncing and daily tips, follow Berry on Instagram or TikTok @berrionlberry.
Featured image by Kevin Kozicki/Getty Images

If you frequent TikTok, you're well aware of its many different sectors–whatever it is that you're looking for can be found on the social media platform, from beauty tips and style advice to morning and evening routines. TikTok is also a great resource for relationship advice! It goes without saying that you should take what you find on TikTok with a grain of salt or double-check with your own provider depending on what advice you're seeking out.
One professional handing out a wealth of relationship advice is Jeff Gunther, LPC who I stumbled across via TikTok. Late last month, he dropped a TikTok entitled "8 questions to ask your sweetie before you become exclusive" that featured 8 top-tier questions to ask potential for a deeper dive before making things official-official.
Similarly to the topics that couples should discuss early on in dating to establish what might be non-negotiables, the questions that Gunther proposes to precede exclusivity in your relationships are a great indicator of whether to move the relationship forward or take a step back. "None of these questions are deal-breakers unless you want them to be deal-breakers," Gunther tells xoNecole. "I believe all the answers can be talked about and processed successfully before you decide to commit to a new partner. However, if the majority of these answers are not to your liking you may end up either delaying becoming exclusive or ending things so that you can go find someone who's a better match."
Additionally, Gunther recommends revisiting these questions and the responses every six months as a relationship check-in as a means to stay on the same page. "People grow and change in relationships and it's important [that] you're still a good match as you move forward," he explains.
Okay, but what are the questions? I'm sure you're wondering as I go on my tangent. Keep reading to learn more about the 8 questions to ask before becoming exclusive and why.
@therapyjeff

8 questions to ask your sweetie before you become exclusive.#mentalhealth #therapy #therapytok #relationshiptips #dating #datingadvice
1. What is your definition of 'cheating'?
As Gunther pointed out in his TikTok, the definition of cheating can differ from person to person and therefore from relationship to relationship. There are different types of cheating (i.e. emotional cheating, sexual cheating) and different levels of cheating (i.e. online affairs, sexual fantasies, financial infidelity). And because cheating has levels to it, one person might have a hard line of no intimate contact of any kind with a person outside of themselves.
Another person might be more flexible in their approach to things like flirting, watching porn, fantasizing, etc. In order to be aligned on what crossing a line and what respecting a line looks like, this question should definitely be discussed.
2. What kind of relationship do you want?
Relationships are not one size fits all and can be tailored to the ideal that both (or more) parties desire. In addition to the more traditional monogamous relationship, there are also nonmonogamous relationships like monogamish, solo-poly, a free relationship, and the more well-known polyamory. Also, just because people might decide to be in a monogamous relationship doesn't mean the 'structure' they are after in a relationship is the same across the board. Again, one size does not fit all.
There might be rules or boundaries that are necessary to put in place and respect if a relationship is to take place. For example, guidelines like sharing passwords or not sharing passwords might be discussed or if people share a living space, a boundary of what alone time in a relationship looks like might be established.
3. What type of kinky stuff are you into?
In regards to kinky stuff, Gunther briefly explains in his video, "You're not trying to yuck their yum, you're just trying to know what to expect." And that is the perfect way to approach this particular question. When it comes to discussing taboo topics, even in the safety of partnership, it can feel a little daunting, especially when there can be an element of sexual shame looming in the atmosphere. Approach this question with an open mind and allow people to express their fetishes, fantasies, and kinks freely. After that, it can be decided whether those kinks work for both parties or if they absolutely don't.
4. What's your biggest worry about me?
Though the nature of the questions doesn't seem harmful at all, it is possible for everyone's perception to differ. This immediately made me wonder what it looks like to have this conversation with ease–doing so in a way that creates as safe and comfortable of a space as possible rather than tension and guardedness. In particular, Gunther suggests that we "enter into this question with curiosity and do your best to be compassionate. We all have red flags. Most of us don't know what they are."
It can feel like a loaded question to prompt an ask that prompts someone to convey a concern, worry, doubt, fear, or red flag and it is easy for the response to trigger a desire to go on the defense. Instead of going on the defense, welcome that feedback as the gift that it is. He adds that the opportunity is in fact a "chance to reassure them or give them more context about something they're fearful about. This question allows you two to be honest about how you're feeling instead of keeping it bottled up and hoping for the best!"
5. Are you okay with being my primary support person?
As humans, we all rely on others for support from time to time. Because we have emotional needs, it is natural to look to a partner for support, especially in relationships. In relationships, the people in them tend to lean on each other more than those outside of the relationship. For this question, it is important to understand how emotionally supportive and available your potential partner may be in relation to the relationship. If the answer to the question is no and therefore there is more of a need to rely on your community than the other person in the relationship, Gunther prompts his viewers to ask themselves, "Am I okay with that?" If you are, that's totally fine. And if you're not, that's fine too.
6. What are you giving the most energy to right now (school, work, family, friends, this relationship)?
When thinking about pushing a relationship forward into exclusivity, what the other person realistically has the capacity for is an important element to factor in. Understanding where you and the relationship potentially rank on someone's list of priorities and how that impacts the health of your relationship and your happiness should be discussed sooner rather than later. "If your sweetie is focusing more on work instead of the relationship and you're let down with that answer it is 100% appropriate to ask them for a timeline of when they'll be able to prioritize you over everything else. It's also 100% appropriate for them to tell you that they don't have an answer."
Another example could be seeing one another frequently throughout the week is important to one person, but the other person doesn't have the bandwidth to accommodate or prioritize the relationship the way you would like to be prioritized -- that's something that needs to be discussed. Likewise, if there is room to accommodate different priorities and less in-person time together is something that could be respected (not just tolerated), that should be discussed too. Like the seasons, energy and priorities can shift, which is why doing relationship check-ins every six months or so is encouraged so that everyone stays on the same page.
7. Does anyone else think they're in a relationship with you right now?
This question right here! In today's dating landscape, gray areas can be commonplace and the status of a relationship could very well be up in the air, or at the very least unclear to everyone involved. If the two of you are casual and have still been entertaining other people, or even if there are some persistent exes looming, this question is very valid and should be asked before moving into the official relationship category. That way it is clear to both parties if the two of you are single-single or if there is some communication that might need to take place to make boundaries clear to people outside of your relationship out of respect for the relationship you are creating with each other.
8. What do you think is most important that I should be aware of?
And for the last question, it's an open-ended one that allows both parties to take the stage and share anything they feel is important to share with the other person. Overall, you want to be present in the conversation, even when you aren't necessarily fond of the feedback or response you're receiving. By being present and responding with curiosity, you come closer to making a sound decision regarding the potential of the information. This is always the case – the more information, the better you're able to make your decision.
Featured image by Hello Africa/Getty Images
For as long as I can remember, I have been a lowkey-highkey caffeine addict. Don't let them fool you, caffeine is most definitely a drug. And while some might argue that it is healthier to consume coffee versus beverages like energy drinks or sodas, there is a thin line between its pros and cons. Starting my day with coffee has become a bit of a ritual as much as it has become a necessity. Without it, the caffeine withdrawal would lead to a splitting headache, a decrease in energy, and that infamous midday slump. It hardly seemed worth it to switch my habit to something healthier. However, after doing some research, I decided to make the switch (at least part-time) to drinking matcha.
You've probably seen the aesthetically pleasing pics of the pale green beverage with ice cubes or cream art in your feed, but what exactly is matcha? In short, matcha is a fine powder ground from specialty green tea leaves. Because it is ground from the entire leaf, matcha has more caffeine and antioxidants than green tea. It's one of the reasons matcha has become so popular in recent years and can be found in everything from matcha tea to lattes to ice cream and more.
What's really beautiful about drinking matcha green tea versus coffee is the type of caffeine high it provides. When it comes to caffeine content, matcha has 50% less caffeine than coffee. But, due to the amazing nutrients that matcha contains, the body is able to absorb caffeine in matcha much more slowly. So instead of a buzz, it is a steady hum. Keep reading to discover more of the benefits of drinking matcha in your mornings.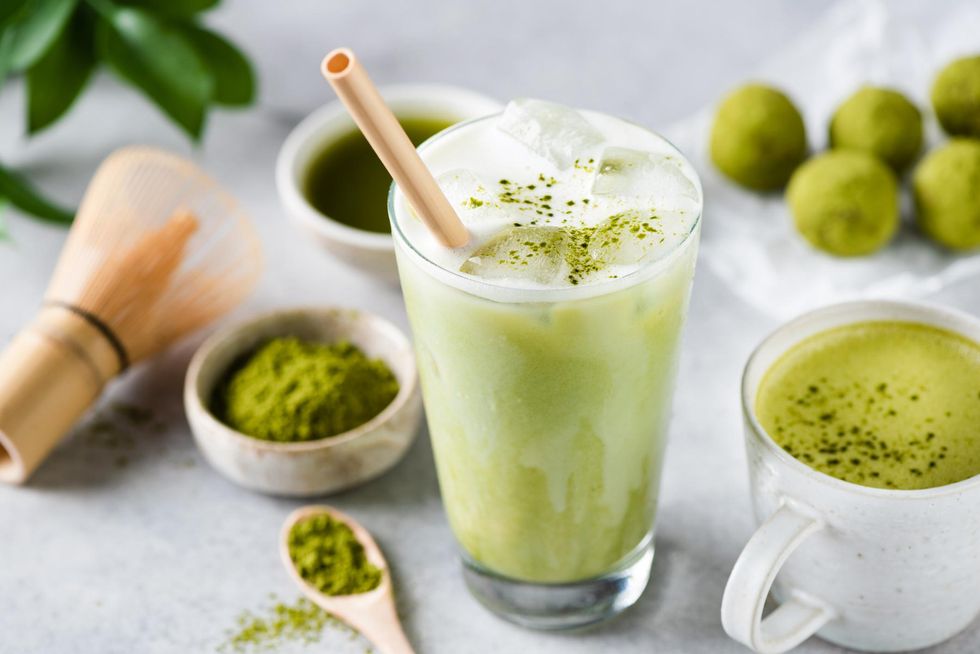 Arx0nt/Getty Images
1. Matcha detoxifies the body.
If you are looking for a natural way to cleanse the body, drinking matcha might be where it is at. Drinking matcha can effectively and gently cleanse the body due to its being rich in chlorophyll compounds. Matcha has been shown to remove the body of toxins by supporting natural detoxification in the liver as well as the kidneys.
2. Drinking matcha has antioxidants galore.
Just like its less potent counterpart green tea, matcha is rich in antioxidants known as catechins. Catechins are a type of flavonoid that helps the body fight disease. Additionally, this results in reducing damage cells might incur from oxidation. The EGCG in matcha helps prevent brain disease and inflammation. It can also lower your cholesterol.
3. Matcha gives you more energy with less jitters.
​As previously mentioned, one of the benefits of drinking matcha is it gives you more energy than other teas. The reason for this is, that a single cup of matcha has more caffiene than green tea. While you don't have the benefit of getting as much caffeine as you would from coffee, having a cup or two of matcha throughout your day is a great alternative to coffee if you are trying to cut back on how many cups of joe you drink in a day. The L-theanine matcha contains not only reduces stress, but it also makes you more alert. The "high" so to speak is cleaner than the one you experience from a cup of coffee.
4. Drinking matcha is a powerful source of nutrients and vitamins.
Another one of the benefits of drinking matcha is how nutrient-rich it is. In addition to the antioxidants, matcha is full of other nutrients as well. In addition to the previously mentioned chlorophyll, matcha is also rich in fiber, magnesium, vitamin C, zinc, and selenium.
5. Matcha helps with focus and concentration.
Drinking matcha also comes with the added benefit of helping you be more productive. Thanks to the caffeine, EGCG, and L-theanine matcha contains, it is believed that those three power players assist with focus. According to a 2017 study, participants noticed a marked difference in their ability to both process information and pay attention an hour after drinking matcha.
Let's make things inbox official! Sign up for the xoNecole newsletter for daily love, wellness, career, and exclusive content delivered straight to your inbox.
Featured image by Goodboy Picture Company/Getty Images
As a writer, it can be fairly easy to succumb to the dreaded phase of creative block in my process. When the ideas flow, they feel light and airy, and the words leave my mind with little to no effort. And when they don't, I can easily find myself staring at my laptop, both overwhelmed and underwhelmed by the blank page in front of me. Filling the blank space with words no longer feels like second nature, and where there once was ease, there is suddenly resistance. Whether it's due to burnout or the ideas are just not as free-flowing as I'm accustomed to, brain fog is real. However, through trial and error, I have learned that it is very possible to access creativity by exercising those areas of the mind.
I never thought the answer to not being able to write could be more writing, but there is something there in that recipe. Through journaling, I have been able to free myself from the confines of mental blocks, find my center, release anxious thoughts, and discover answers to questions I didn't know I had. Recently, I have taken journaling a step further by moving away from guided journaling and embracing flow even more through the practice of morning pages.
What Are Morning Pages?
For those of you unfamiliar with what morning pages are, it consists of writing three pages in a stream of consciousness. No rhyme or reason, just writing your thoughts by putting pen to paper and thereby offering you a release. The concept of morning pages got its origin from author Julia Cameron and her book The Artist's Way. In it, she described how utilizing the tool has transformed her ability to create. Although her solution was given in the context of being a writer, creativity flows in and out of our lives in a plethora of ways. You don't have to be a painter or a musician to be creative.
Creativity is everywhere. It finds us as we create solutions for problems we may encounter in our life, love, and work just like it does when we're thinking of composition in the next photo we take. Bottom line, morning pages are an outlet for decluttering your mind while also helping you connect to your creativity which in turn speaks to your inner child in a nurturing way.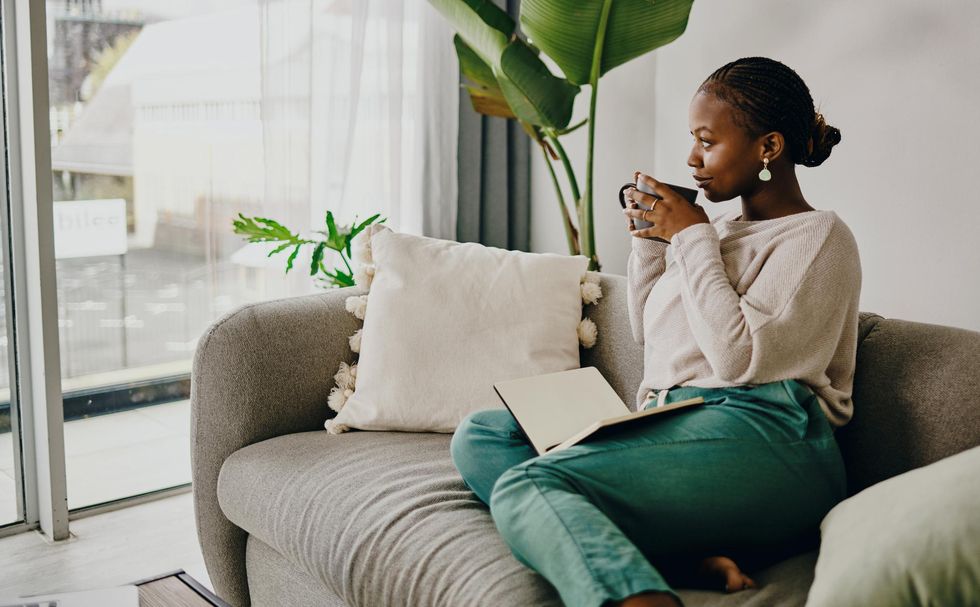 Delmaine Donson/Getty Images
The Difference Between Journaling and Morning Pages as a Daily Practice
​For people who might already be into traditional journaling, you might be wondering what the difference between journaling and morning pages is. While both practices can be done daily and act as tools for catharsis, morning pages hold a deeper purpose, and the practice is done in a more ritualistic way. Morning pages is a practice that is structured, as you do it daily, it acts as a means to spark your creative process, and isn't bound by feelings. Instead, morning pages are more focused on the mind and clearing what's in it. As Cameron said in her book, the intention behind morning pages as a daily practice is to "sweep our consciousness clean."
Journaling, however, is often done more sporadically with the intent to write out your feelings. Journaling can cross over into morning pages territory but is often less rigid in frequency and length. Conversely, morning pages are written every morning and are generally three pages in length.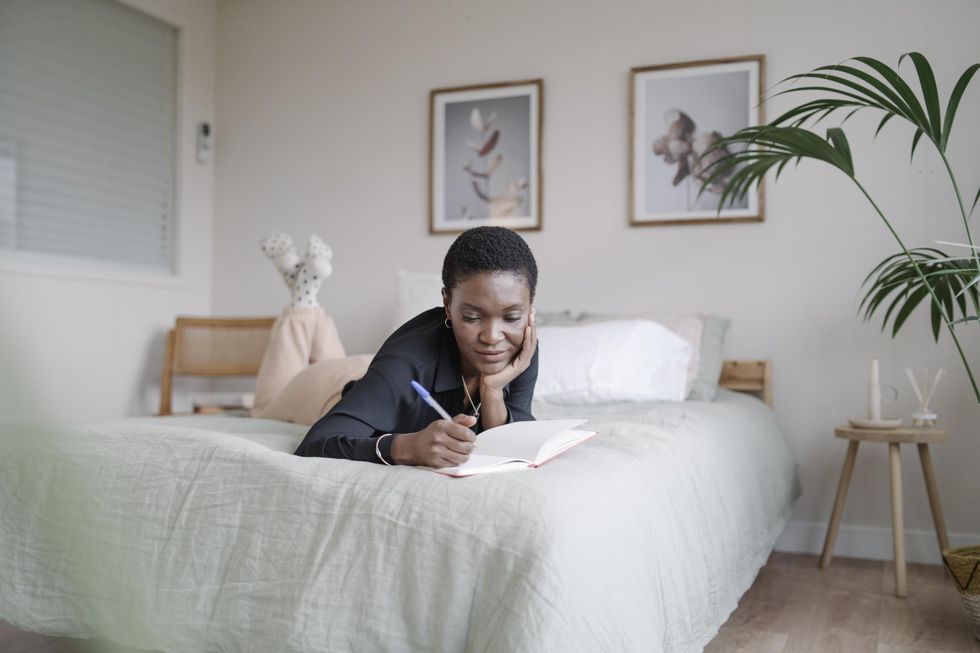 COROIMAGE/Getty Images
Prompts for Writing Daily Morning Pages
So, what do you write in your morning pages? It is encouraged to take time in the morning to sit and write down your thoughts for three pages with a pen to paper. The beauty of writing morning pages daily is that you begin your day with clarity and creativity. There is no specific guideline about what you have to write about. However, for people who might find themselves stalled on where to begin, prompts for writing morning pages might be helpful to start.
If you want to start writing morning pages but don't know how to begin your practice, here are 10 prompts for morning pages to get you started:
Do you believe your dreams speak to you? If so, what have yours been saying to you lately?
What are you currently most grateful for in your life?
If gratitude is something you're just adopting, what was the journey to gratitude like?
Name 5-7 things you love about yourself and your life.
Name the things you feel neutral about in regard to yourself and your life.
What are things that you absolutely don't like about yourself or your life?
Is pleasure something you allow yourself to feel freely? What are some ways you give yourself pleasure?
Where are you right now and what are things about your surroundings that make you feel safe?
Are there things about yourself or your life that you haven't forgiven yourself for yet? Why or why not?
What is a word that defines your life right now? In turn, what are some lessons you're currently learning or relearning?
Featured image by COROIMAGE/Getty Images
Ease. Peace. Restoration. Preservation. Most of us have probably seen the #softlife hashtag trending or the caption "soft life era" making its way to our feeds on various social media platforms. But what does having a soft life really mean? Despite the way that struggle and hardship are sometimes placed on a pedestal, the soft life trend is about journeying along the path of least resistance, embodying softness, and sensuality, and therefore walking into the fullness of your most authentic self. It is unapologetic feminine energy, and by that I mean, a prioritization of being in a world that places value on doing, achieving, and accomplishing. Your quality of life is no longer about how hard you work, how much you do, and constant sacrificing and compromising.
Instead, the quality of your life is about vibrating higher and knowing who you are beyond those things that society feeds to you as a qualifier of your worth. You rest in your self. You are at peace with your self. You are at one with the nature of ease and the freedom of being. And therefore, you are at one with your self. And no a soft life era doesn't mean you have to quit your job in order to enjoy the fruits of solitude. Instead, it is about no longer working yourself to the bone or operating from a place of burnout and low self-worth. It's the antithesis of burnout because you enforce boundaries and limit the energy drainers that have access to you in place of the energy givers.
How can one do this? Alexandra Karlyn, a neuroscientist who is passionate about sharing her soft life journey to others through TikTok and Instagram, explains to xoNecole, "The key to soft living is to acknowledge that you are already worthy. You have nothing to prove to anyone and you don't need to fill a void, because you're already whole, you are already 'that girl.' Your value is not caught up in how productive you are or how well you fit into a capitalist model."
In order to start your own soft life journey, content creator Jaz Turner offers this advice to women, "Practice boundaries, first, with yourself. Do you dread going to the gym? Try a workout class. If that doesn't feel right, try an at-home online program. Stay authentic, always. Choose the path of least resistance. Listen to yourself, and to your body. Date yourself, and get to know yourself again. Hype yourself up. Let people take care of you. Rest. Relax. Pour into yourself. Do things for yourself that bring the biggest smile to your face. Forgive yourself. Be soft and be gentle with yourself."
For more inspiration to start your soft life era, Alexandra, Jaz, and Anne-Marie O. share their transition from hustle culture to a soft life, what a soft life means to them, and their soft life routines. Here's what they had to say.
Featured image courtesy of Anne-Marie O.
With the countless amounts of dating apps, the constant need to field prospective daters for trends to avoid and dealbreakers, and the act of surveying the lay of the land for red flags, there is no wonder why dating is sometimes referred to as a "game." And because not everyone who plays the game wins it, dating and getting to know someone new can feel like a process that goes on and on…and on. It's easy to see why some of us become frustrated with the work involved in dating and finding the partner that best complements them.
When it comes to finding love and matters of the heart, practice makes perfect. If you don't find yourself consistently in fulfilling connections, it is possible that you're bound by unrealistic expectations in dating and don't even realize it. Author of How Not to Die Alone: The Surprising Science That Will Help You Find Love, Logan Ury believes that daters who are not having success in finding love might be unknowingly limiting themselves by falling into the trap of one of three dating tendencies.
As a framework, Ury, a behavioral scientist, developed the three dating tendencies to help identify behaviors that might be hindering daters from finding the love they want. According to Ury, the tendencies (or dating styles) are the Romanticizer, the Maximizer, and the Hesitator. You can take the quiz to learn which dating tendency most fits you here.
Though primary dating tendencies are further expounded on in her book, below is a brief rundown of each, as shared on The Well + Good podcast.
Featured image by Getty Images