---
With the rise of more and more black women breaking away from traditional 9-5s to become their own bosses, the CEO is getting a revamp as the SHEeo. CEOs are forging their own paths, blazing their own trails, and turning their passion into a profit. Curious to know how she does it? In the Meet The SHEeo series, we talk to melanated mavens leveling up and glowing up, all while redefining what it means to be a boss.
Dr. Jacqueline Dow has always had a passion for improving women's health through proper nutrition and fitness, so when she graduated in 2018 with her doctorate in Public Health, she knew that a traditional nine-to-five would limit her ability to serve the women in her community. As a result, she launched her athleisure apparel company J. Dow Fitness to promote holistic wellness, fitness and self-confidence among women of all shapes and sizes. She continues to address the disproportionate prevalence of chronic disease and health disparities among women of color through health education, health advocacy, and research science.
In this week's feature, meet Dr. Jacqueline Dow of J. Dow Fitness.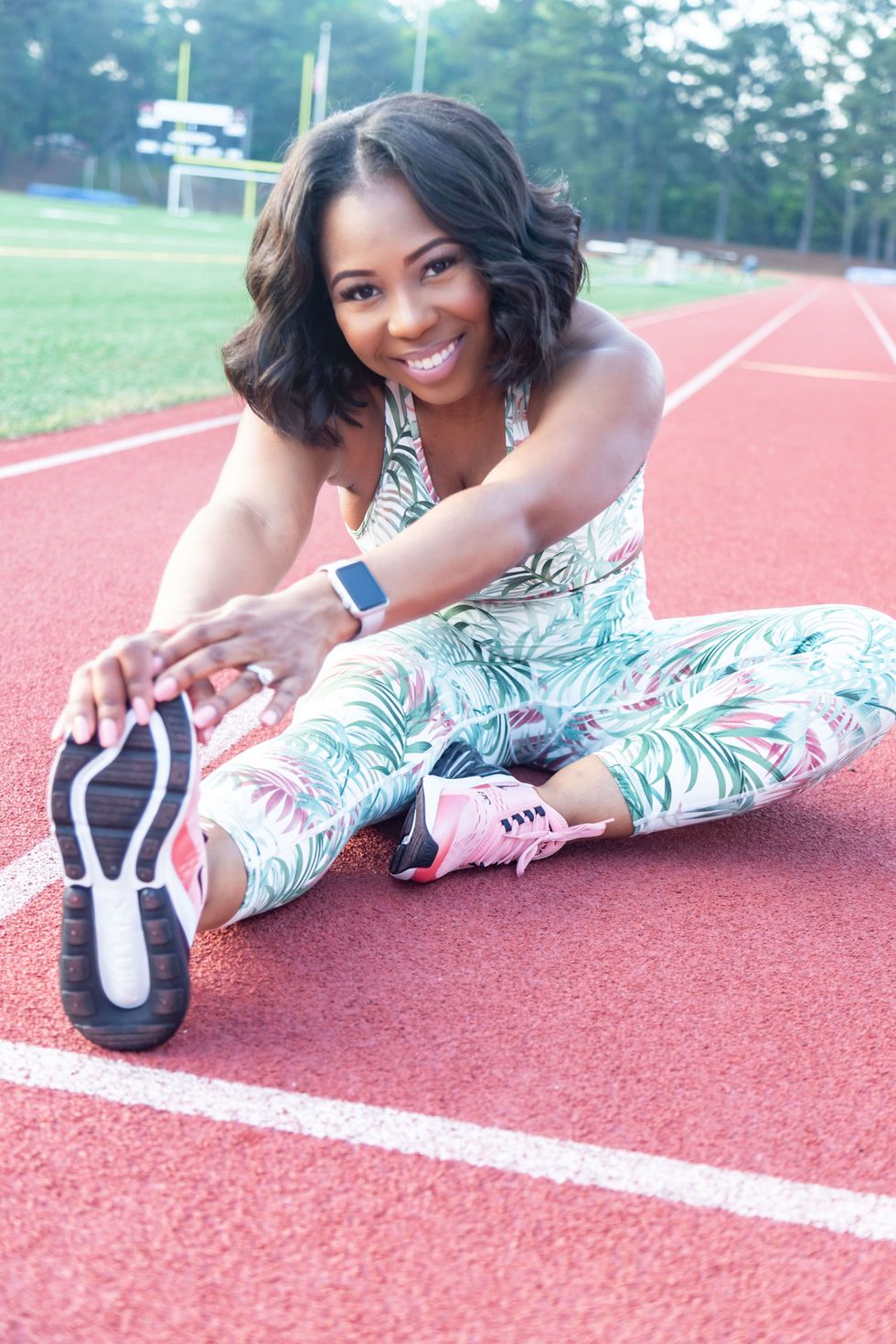 Courtesy of Dr. Jacqueline Dow
Brand: CEO of J. Dow Fitness
Location: Atlanta, GA
Year Founded: 2018
# of Employees: None
30-Second Pitch: J. Dow Fitness is a black female owned athleisure apparel company established to promote holistic wellness, fitness and self-confidence among women. J. Dow Fitness caters to women of every body type by offering sizes that range from small to 2XL.
What inspired you to start your brand? 
As a research scientist, I have analyzed risk factors that lead to negative health complications among Black women, infants and children for several years. I know the key to combating chronic diseases that disproportionately impact women of color include physical activity and proper nutrition. Starting my own business gave me the opportunity to merge my scientist background with public health practices known to effectively improve women's health and pregnancy outcomes.
What was your a-ha moment that brought your idea into reality? 
In 2018, I graduated from Morgan State University with my Doctor of Public Health (DrPH) degree. As I prepared for graduation, I reached an interesting period in my career. As an employee (of a corporate organization), I did not have the freedom to focus on my passion and professional expertise, which is women's health among minorities in particular. Instead of remaining frustrated, I took my destiny into my own hands and created J. Dow Fitness, LLC.
Who is your ideal customer?
Every woman is the ideal customer for J. Dow Fitness! Whether she is a fitness instructor, a marathon runner, or just beginning her fitness journey, we have something special for every woman! Also, J. Dow Fitness athleisure apparel can easily be worn causally! It is the perfect outfit for the rigorous workout, lunch with friends and even a casual date.
What makes your business different? 
J. Dow Fitness offers unique athleisure apparel different from any other company. Our leggings are high-waist and provide amazing tummy control. Our sports bras are longer when compared to traditional sports bras and provide great support. In addition, our athleisure apparel offers bright colors, fun patterns and quality fabric.
What obstacles did you have to overcome while launching and growing your brand?  How were you able to overcome them? 
Initially, one of my challenges was identifying the face of my brand. It was very important that the images utilized for marketing and advertising be inclusive of every woman. As a result, I have been very intentional on identifying models of all hues, shapes and body types. However, it is extremely important that my customers also know and understand who I am and why I decided to start my business.
What was the defining moment in your entrepreneurial journey? 
November 2018 was the defining moment for my entrepreneurial journey. Only four months after launching J. Dow Fitness, I found myself a new vendor at The Village Market Black Friday Experience in Atlanta. It was an invaluable opportunity that completely changed my perspective as a new business owner. I was literally blown away by the amount of encouragement and exceeding number of Black women excited about my product.
Where do you see your company in 5-10 years?
In 5-10 years, there will be major expansion for J. Dow Fitness. In addition to growing our brand, J. Dow Fitness athleisure apparel will be offered in gyms and fitness studios not just in Atlanta, but across the United States. The ultimate goal is for J. Dow Fitness athleisure apparel to be offered in major department stores such as Macy's.
Where have you seen the biggest return on investment?
So far, the biggest return on investment has been vending at several major events. This setting has provided unexpected networking opportunities and the ability to meet so many amazing women. In addition, it has allowed me as the business owner to personally introduce my brand and product to so many women.
Biggest lesson(s) you've learned in business? 
Don't be afraid to step out of your comfort zone.
Once you identify where money is being wasted, adjust immediately.
Stretch yourself to be the face of your brand.
Always keep your customer in mind when identifying new products.
Identify which marketing strategies are most effective for your business.
For more of J. Dow Fitness, follow them on social media @jdowfitness.