---
I just want to thank the young men who have participated in my dating life from 2015 to 2018. It's because of you that all the life – and fun – has single-handedly been sucked out of texting. In fact, I'll even go as far as to say that I indeed hate texting now. And that's a strong word… so yeah, thanks a lot, guys.
There was a time when the act of texting would generate butterflies in my lady parts. I'd grow eager with excitement at the thought of exchanging witty banter with a potential suitor, sharing in the joys of birthing our own inside jokes together. Then, with no forewarning, texting became a menial task of decoding the male vernacular.
And believe you me, I am no etymologist.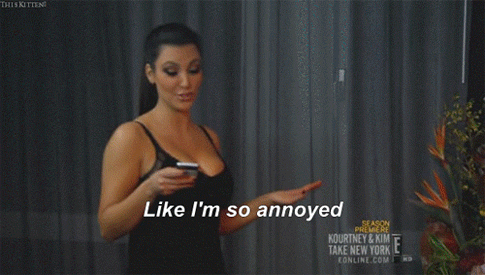 cf.girlsaskguys.com
What was once a tool used for quick and snappy conversation to hold one's interest in suspense until the next date or phone call, has turned into drawn-out discourse, never going beyond the blue and grey bubbles.
At the turn of the millennium, texting became the maximum verbal effort for many young men, as if sending a "Good morning, beautiful" message every morning for a week is supposed to send my affection for you into overdrive. In actuality, texting is the bare minimum anyone could do when it comes to getting to know someone. Yet, somehow, it's become a badge of honor that's supposed to be rewarded by a pat on the back or a gluten-free cookie.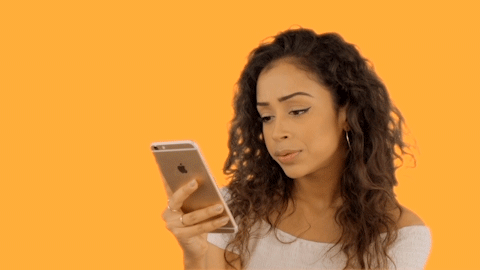 media.giphy.com
Dudes really don't know how to text, and even worse, they use it as a mind-control device to inflict their self-crafted games on women. I want to be very clear: spitting game and playing games are two very different things, my dear friends.
Can we all just agree on the fact that you cannot, I repeat, CANNOT, get to know someone simply by texting them? More specifically, by texting them: "WYD."
For a good three months, it seemed like everywhere I'd turn, a "WYD" would be there, lurking around every corner. If I was working on a blog post, "WYD" would come floating into my inbox, rudely interrupting my creative flow. If I was just waking up from a sound rest, I'd turn over to "WYD" at the start my day. If I was simply trying to enjoy a morning pee, "WYD?" would be there with the toilet paper in its hand, inquiring about my whereabouts.
I'm like, "Danggggg, can a sista pee in peace??" I'm about to confiscate all y'all phones, keep playing with me.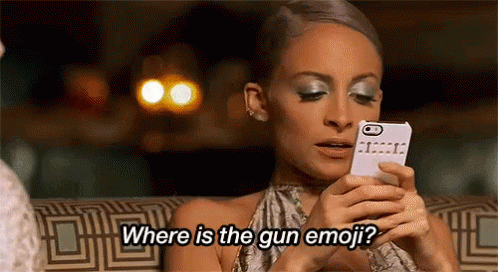 It's like I have a house-arrest bracelet on my phone and every move I make, there you are checking on my doings. RELAX. If you don't have anything to talk about, then just text me when you do.
What most guys don't understand is that when they send girls a "WYD" text every 30 minutes, her "He might be unemployed, sitting on the couch, sending these texts in between every few rounds of videogames" radar kicks into overdrive. Do you have any hobbies? Where are your friends? Nah, as a matter of fact, what are YOU doing, sir?
Getting a "WYD" text lowkey flares up my anxiety.
Unless you're planning some spontaneous "Put on something nice, I'll be there in 15 mins" kind of trip, there's really no reason for you to know what I'm doing at this very moment.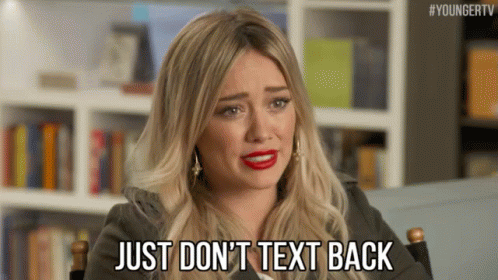 media.tenor.com
If you're just checking up on me, say that. No, like literally say, "Hey, just checking on you, hope your day is going well," and be on your way. I'm not asking you to inquire about every waking moment of my day, every moment of the day.
If you want to know for real, I'm in my bag. I'm working on some projects, drinking my lemon water, and minding my business.
It's time to level up our conversation skills, ladies and gentlemen. Pick up the phone. What are afraid of? I know people are busy, we all are, but if you're looking to really catch up with someone to see what they've been up to, a conversation with actual words is usually the best place to start. The best way to a woman's heart is to make her laugh, ain't nobody taught y'all that?
Let's come together as a united front to actively put the FUN back in the fundamentals of texting. Now go, young grasshopper, and prosper.
Did you know that xoNecole has a podcast? Subscribe on Apple Podcasts or Spotify to join us for weekly convos over cocktails (without the early morning hangover.)
Featured image by Shutterstock

*Article originally published on aleyarion.com; Originally published on xoNecole on July 26, 2018