You can be a boss, or you can make future bosses. Hakika DuBose Wise, the founder and CEO of the Kika Stretch Studio franchise, is doing both. In 2011, Hakika used her $500 tax return to start a wellness-based business that spread the gospel of fitness through a very specific niche: stretching.
---
What makes Kika Stretch Studios so unique is the use of trademarked KIKA Method -- a form of passive stretching -- where trained stretch coaches follow standardized stretch routines while exerting force on clients to move their limbs into a new position. According to Hakika, a former professional dancer, the benefits to this approach include mental clarity, improved posture, decreased stress and tension, enhanced performance, improved flexibility, and more. The KIKA method is inspired from Hakika's technical training in dance and personal training, the Alexander technique, Laban movement analysis, and advanced anatomy.
While Hakika's entry into entrepreneurship was first fueled by a desire for autonomy and flexibility, her foray into the business of stretching has made her the youngest female franchisor in the US. She is showing female entrepreneurs nationwide that dreaming big doesn't have to just stop at the typical business model. A 2018 Global Wellness report stated that wellness is now a $4.2 trillion industry. According to a 2018 IHRSA report, health club industry revenue totaled $87.2 billion in 2017. Wellness entrepreneurs who are able to tap into the franchise market and grow an enthused, loyal, and paying community have extreme opportunities for growth. Currently, Hakika has six Kika Stretch Studio locations located across New Jersey, and two more in New York City and Dallas, Texas. Nationwide expansion is at the top of her goals list.
Hakika spoke with xoNecole about the early days of the business, why she pursued franchising, her experiences navigating the wellness industry as a Black female entrepreneur, and the power of fueling and support future owners.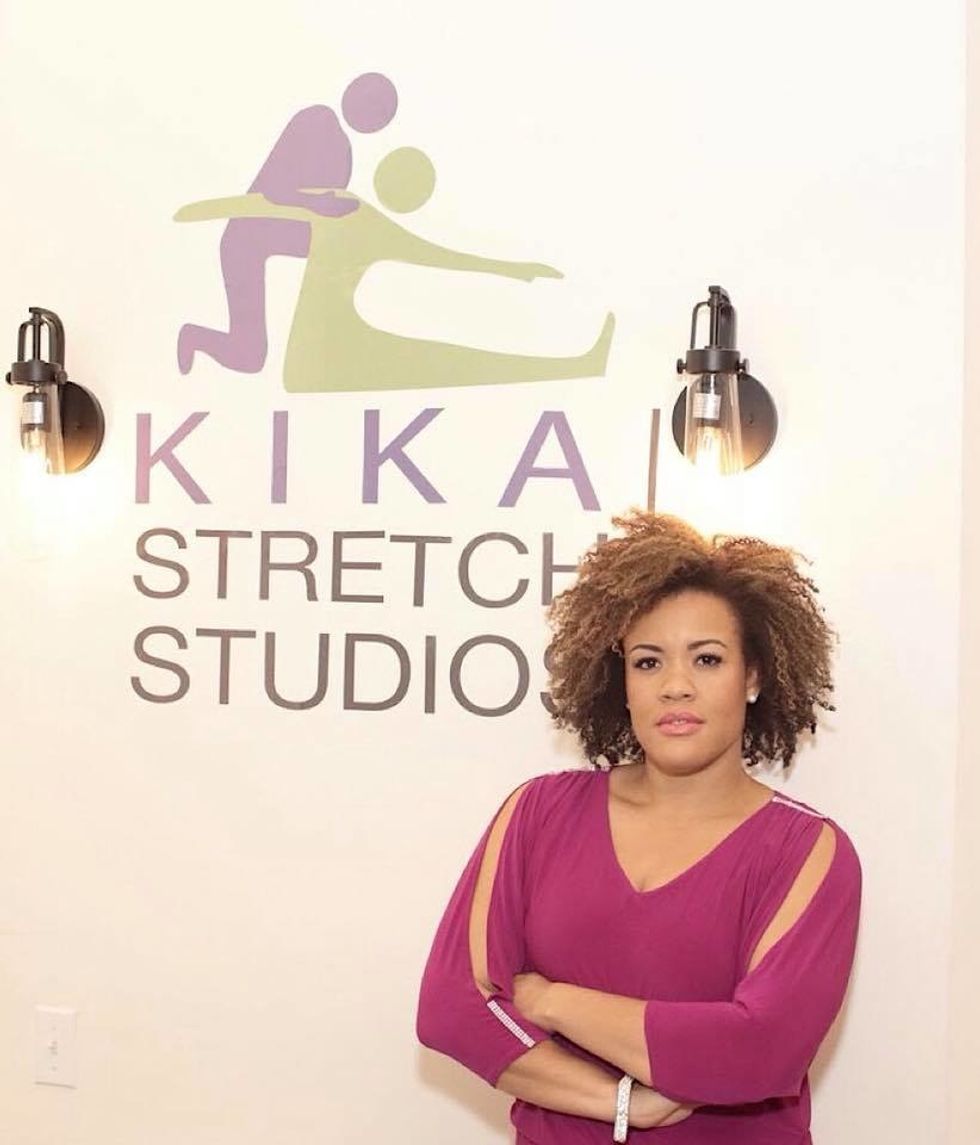 Courtesy of Hakika Wise
What inspired you to launch Kika Stretch Studios?
I trained as a dancer and acted and danced professionally for years. As an undergrad at Montclair State University, I was obsessed with the spine and how it works. I used to always stretch. I was looking for a side hustle and started to stretch bodybuilders. I based it off my own routine as a dancer to keep flexibility. There was a gym right by my house and I knew they needed the service. The owner let me set up shop. I knew I was either going to go back to school or start a business. My son was young at the time and I wanted to do something where I could be part of his life. I told myself that [I would] do this stretching thing. In 2011, I started with one client and I took it from there.
Why is a stretching studio such a unique business idea?
The reason why you should always stretch is that even if you are flexible - stress, bills, husbands, wives, kids - stress you out. It builds tension in the body that cause negative effects. If you never remove that, your quality of life goes down. You should be able to walk through life without feeling anything in your body. Stretch to destress and get rid of those lumps so you can enjoy your life.
How did you market the business early on?
I used guerrilla marketing. I handed out posters. I had someone dress up as a Gumbi. For the first year, I read books on business. Specifically, Guerilla Marketing by Jay Conrad Levinson. I used a lot of those guerilla marketing tactics and they worked. I started with only $500. My rent was $350 and I printed out brochures from Staples. I bought a $25 ball and mat. That's all I needed. People started calling from other areas. My first location was in Montclair, NJ. I started opening up other locations but I quickly realized I didn't want to be responsible for [everything] by myself. That's when I started thinking about franchising. It's not a model that many entrepreneurs consider.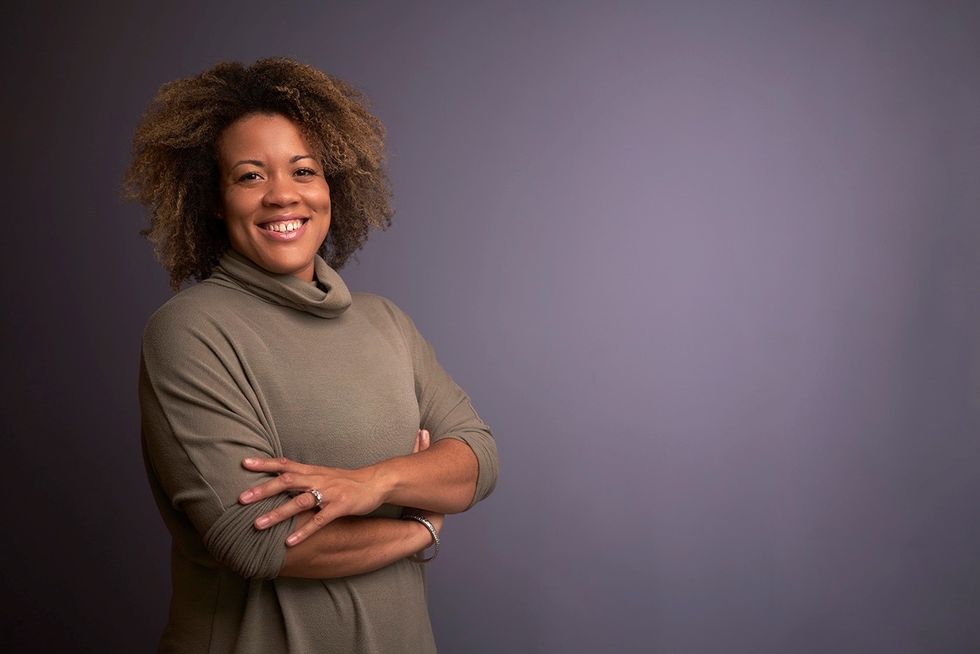 Courtesy of Hakika Wise
"I used a lot of those guerilla marketing tactics and they worked. I started with only $500."
How did you put the franchising dream into motion?
I realized that what I'm building was legitimate. I had overcome a lot of past mistakes by then. For example, my Montclair, NJ location caught on fire two years ago. We were closed for nine months. I had to move to the church on the corner. Our clients went from storefront to the basement of a church. We lost some people. We also gained new clientele that stayed and still come. I knew the method was strong. You can do it anywhere. It's not about the space. I knew I had something I could build off of. It gave me more confidence to franchise.
One day in 2018, I was in Barnes & Noble and said I was going to Google the top franchise consulting firms. I reached out to five. The first person who responded happened to be the person I went through the whole process with. He was on a flight the next week just to meet me. He explained the [entire] process. He has a big company and that's what they do. He had a legal team and contacts I could use under his umbrella. He got in and directed me on exactly what I needed to do. I studied that for six months.
[Franchising] is typically an expensive process but his company positions themselves competitively so they get more people. Finding the right people to use and shopping around is very important.
How did you get your first franchisees?
I originally had two locations. The first franchise location was bought by a manager who was running my first location. She was so phenomenal. I didn't want to cap her potential. She needed to grow. The people I was working with told me that I could have my manager franchise the first location because she already knows the system. I met with her and her husband and offered it to them. They decided to go for it.
I started realizing if I went after people who were 9-5 workers, millennials - typically the people who would never be considered to franchise by other companies...if I went after those hungry people, they would do it. This is why all of our franchises (except for one) are minority-owned and run by millenials. This doesn't exist.
I try to change the lifestyle of the franchisees. We have corporate people who are high on the ladder but realize there is a glass ceiling. For example, their retirement plan may not be what they think it is. No one has assets anymore. As soon as you sign on the dotted line of a [Kika Stretch Studio], you own an asset which is huge. It will benefit you and your family.
If you're used to the corporate world, you've [probably] gained skills that will help you run your own business. It's just that no one else has given you the opportunity because you're not an ideal [franchisee] candidate. We look past that.
At this point, I stay up at night thinking about how I can make sure the franchisees are doing the right thing so that they can make money. Their success is my success. That's when I feel like I've done my job.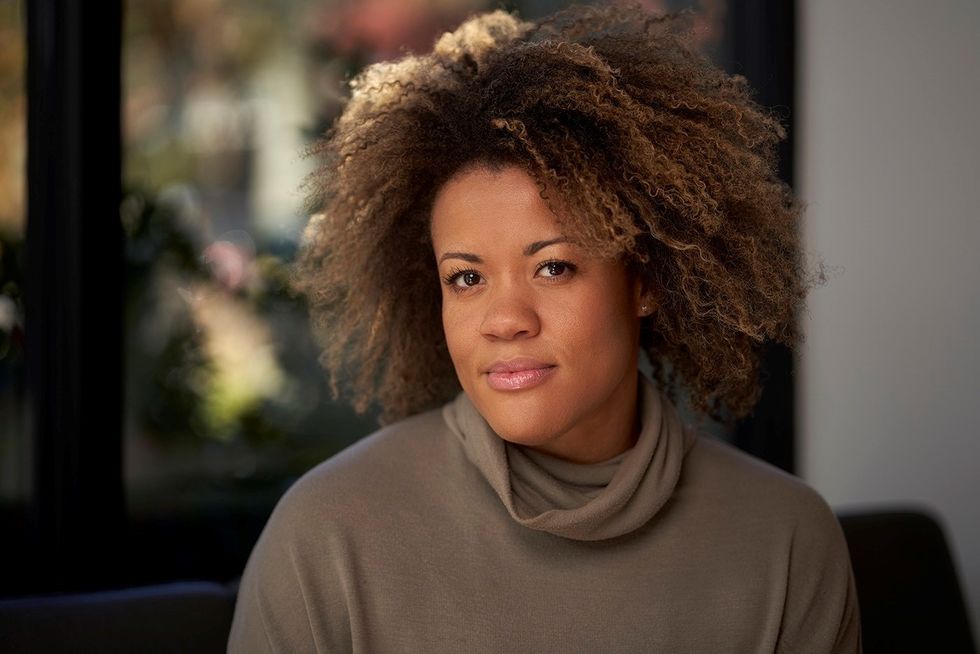 Courtesy of Hakika Wise
"I started realizing if I went after people who were 9-5 workers, millennials...if I went after those hungry people, they would do it. This is why all of our franchises (except for one) are minority-owned and run by millenials. This doesn't exist."
What is like being a Black woman in the wellness franchising space?
It's very lonely and frustrating at times. You realize how much this industry lacks diversity. Franchising, health and wellness are not diverse. Everyone knows it's harder to access capital as a Black woman, but I've never sought it or wanted it. Now, at this point, people come to me and say they want to partner. They want to buy the business or buy into it but not offer much. I say no because it's not just about the money [to me]. What are you adding? I can't be bought. People look at me and see the brand as an opportunity.
When I ask for a mentor it's hard because [people are] like, "Mentor?" Most of the people I've come across being in this position see me as young and don't think I know what I'm doing. When they realize I do, it's too late because they've already shown themselves.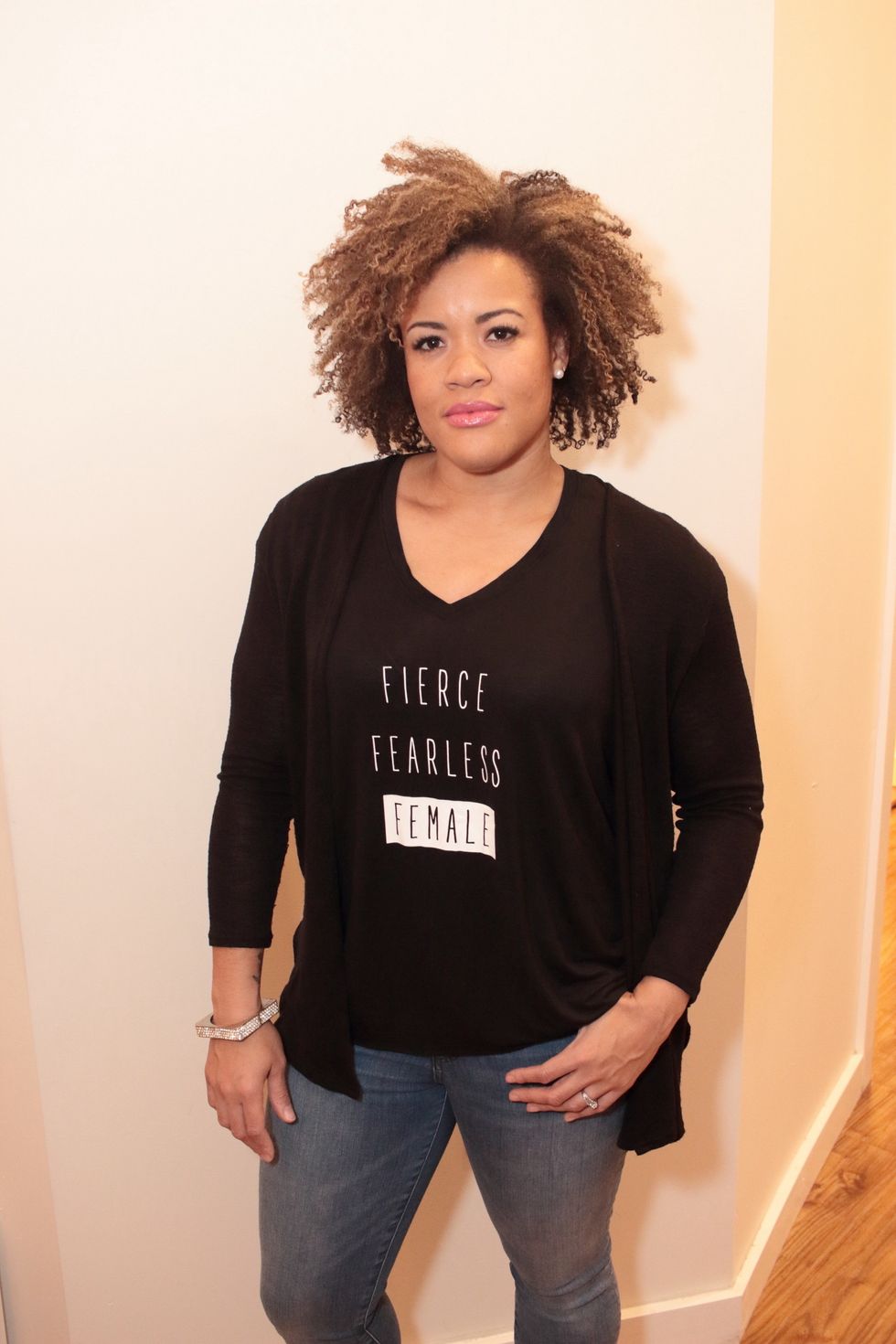 Courtesy of Hakika Wise
"Franchising, health and wellness are not diverse. Everyone knows it's harder to access capital as a Black woman."
Why is developing and systemizing so important to your process as an entrepreneur?
I was doing everything by myself. I read a book called The E-myth Revisited and it said you have to fire yourself from things [to] run a business. I had to delegate. When I hired my first person, I had to start creating a manual so I could teach them. As I fired myself from different things, I had to write down what they had to do. That became the essence of my franchise. I already had all the paperwork [and processes].
Why is learning sales so important?
As a dancer and actor, I was always selling myself. In order to be good at selling, you have to know what you're doing it for. What's your reason for doing it? Do you have to feed your family? Do you have a project that you want to pursue? For me, it's about helping people and not just convincing people to do something that doesn't work. As long as you help people do something, you'll always be good.
I originally started this business for my son so I could be in his life. Now he's nine and I want to show other people that they can do it too. That's how I've gotten franchisees. There's nothing special. I just didn't stop.
How important is self-care as an entrepreneur?
You [need it]. You'll run yourself down. At one point, I was putting all these things in front of me. Who's taking care of me? Now, I make it an effort. I'll disappear and go to a spa for a self-care day. Sometimes I'll even just go and buy socks.
What marketing strategy has been extremely helpful to your growth?
It starts with the people that you hire, especially in the service business. Hire happy people, people who are good with people, and people who love life. That's what people are attracted to. A lot of people open up businesses and sit behind their desks. Put yourself out there. Show the public that you can help them.
What's the larger vision for Kika Stretch Studios?
I want to pass this off to my children. I argue about this with my husband all the time. Sometimes I'm like, "Maybe I'll sell it." He'll say no! That's another thing we have to do more of - holding onto things and keeping them for future generations. Even if my kids don't want to do the stretching business, the platform is here. I can pull from it and help them do what they want. They can be internally funded by me instead of someone else.
I am also looking for new franchisees. We're done with New Jersey and are opening two locations in Brooklyn in the summer. We're also opening Dallas, Atlanta, and Florida before the year is out. We're expanding naturally and looking for people who want an opportunity so we can guide them into ownership. We turn employees into employers.
For more of Hakika, click here to check out a Kika Stretch Studios near you.