Life's journey is often filled with times that are best described as happening by chance or by doing things on a whim. For Susan Kelechi Watson of NBC's This Is Us, a career in acting may have never materialized had she not decided to apply to Howard University in Washington, DC.

---
Watson says she wasn't even sure if she even wanted to go to college, but when she found out her good friend had applied, she did the same. This decision eventually led her to secure an acting scholarship to study Shakespeare abroad at Oxford University, and soon after, the acting bug bit her. Recently, the 36-year-old recently sat down with Glamour to discuss her career trajectory, her advocacy work, and why, as a Black woman, no one will invalidate her.
The New York native initially kept her career goals to herself and away from her parents. As any child of Jamaican parents can attest to (myself included), we are taught to provide for ourselves in more traditional ways. Jamaican parents value hard work and steady career paths over creative endeavors, and for Watson, she says that she went forward in pursuit of her dream job anyway, despite her parents' wishes. "I just kind of got into it without telling them," she told the mag.
And we are so lucky that she did! Watson's big break came when she landed the role of Janet on TV's Louie back in 2012. But once that show ended, she found herself back on the audition circuit hoping to secure another role. Watson says that after a particularly bad audition, she was on the phone with her good friend and fellow actress Danai Gurira. The two spoke her role as Beth Pearson on This Is Us right into existence. Of the conversation, she said:
"Danai says to me,' You know what, girl? Maybe God just has a pilot for you or something.' Then I get a beep on the other line—literally."
For the past two seasons, Watson has become one of the show's favorites on and off set. Her show husband, Sterling K. Brown, also really loves her, literally, He says he had to tell his own wife, "You don't have to worry, but I need to let you know that I love this woman." He continued:
"She's such a big giant heart of a human being. She's so Brooklyn. She's so New York—she's got the accent and everything—but underneath that exterior, she's just as warm a soul as you will ever come in contact with."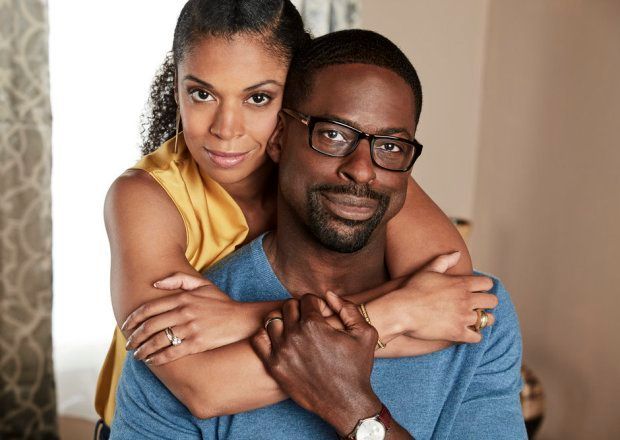 NBC
Watson doesn't take any of this for granted, however. She knows that it's the people that keep the show going. Now in its third season, there has been so much love show for her character as Beth Pearson. So much so that when rumors started circulating that perhaps the Watson's character's death was impending, fans started online petitions to "Save Beth Pearson." Watson revealed:

"It's always really cool as an actor to have a character that people want to see the best for… To know that people are behind her, to know that people are rocking with her and get her."
Watson readily recognizes her place as one of the few Black actresses forging a way in Hollywood, it's her work in the community that will leave the most lasting impact. She currently works with a New York City nonprofit called Drama Club, which provides mentorship to young people who are either currently incarcerated or are tied up in the court system. Additionally, she works with the Epic Theater Ensemble, an organization that provides access to theater for first-time audiences, promotes inclusivity in the arts, and engages students in the art of telling their own stories, which facilitates empathizing with the stories of others.
By lending her voice to these organizations, not only is she showing young people that they "can do it too", but she is also sharing love, compassion and optimism with disadvantaged young people who may not otherwise receive this validation. Watson's commitment to these organizations is helping these students find their value and pursue their purpose in live. She says of her work with these organization:
"As a black woman in a world that has tried to invalidate me, I just wasn't having it… We all need somebody to say, 'I love you. I see you. And I'm not going to give up on you'… Everybody has validity. Everybody has a purpose."
From the sounds of it, Watson's on screen character and real life share some commonalities. When asked about the future for Beth, the actress reveals:
"I feel like she's going to start a community project that's based on one of her artistic passions. She also has a background in dance, which you'll see this season...And still together with Randall, of course. I don't think he's going anywhere."
To read more of Susan's cover story with Glamour, click here.
Featured image by Kathy Hutchins / Shutterstock.com