Serena Williams is no stranger to controversy.
---
On her road to being one of the best athletes the world has seen to date, she has been on the receiving end of much judgment and ridicule. Too many say she is too strong, too opinionated, too proud or in other words: just too be good to be true. In that aspect, it is understandable why she has the world shaken up, as she turns each opportunity to be perceived as a victim as a victory for Black women.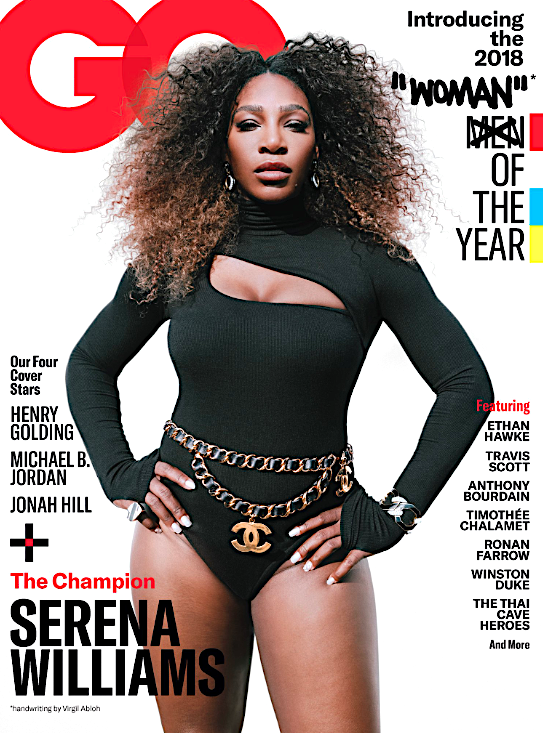 GQ Magazine
Serena has been named "Woman" Of The Year by GQ Magazine, and the tone-deaf quotation marks placed in front of her womanhood strikes a cord in many of her supporters. Though the writer of her feature is known for using quotations artistically in his writing, the questioning of her womanhood is an issue that Serena has been facing much of her career. Serena recounts:

"I've been called a man because I appeared outwardly strong...It has been said I don't belong in women's sports—that I belong in men's—because I look stronger than many other women do. No, I just work hard and I was born with this badass body and proud of it."
When it comes to name-calling, Serena's approach is: "Call me whatever you want, just remember to call me the GOAT" in her responses to indiscretions.

media.rbl.ms
Even after the attempted robbery at the US Open of her integrity and character, Serena used the opportunity to lift winner Naomi Osaka up and call out the sexism that is taking place in the world of tennis. And that's just the beginning of the empowering acts she has been up to.

Serena has recently launched her body-positive independent clothing collection featuring bold and inspired dresses, tops, bottoms, and denim for women who also would like to find their spark at affordable prices:
"Introducing Serena, my first independent clothing line for all the ladies out there being awesome. My designs are inspired by strong, sexy, sophisticated, sassy, sure, smart, stylish, silly, and spontaneous women who are living their best lives, or making it up as they go—kinda like me."
Alongside collaborations with major brands such as HSN and Nike, she is bringing excellent products and diversity to the same industry that at every turn seems to be trying to tear her down. She continues to leave a legacy of inspiration, strength, and downright royalty behind every move that she makes.
No matter which way you spin it, this 23 Grand Slam Champion, wife, designer, and mother who returned to the court this year following the birth of her daughter in September 2017, is one of the most extraordinary women of our generation PERIOD! Now go run and tell that!
Check out the Serena Collection here.
Featured image by Micaiah Carter/AdWeek
Renew Logo Sweatshirt - $85.00