If you thought your 2017 was pretty good, you'll probably find the Year of Serena Williams nothing shy of amazing.
---
The tennis star won her 23rd Grand Slam (while pregnant!) at the Australian Open, she gave birth to a beautiful baby girl and married fiancé and Reddit cofounder Alexis Ohanian. To top the year off, Nike announced in December that one of its newest and biggest headquarter buildings will be named after Ms. Williams herself.
Extending her beast mode, Serena made her way back onto the tennis court to close out the year just three months after the birth of her daughter. The exhibition match played in Abu Dhabi against French Open champion Jelena Ostapenko ended in a loss for Serena after a captivating tie-break.

We've known Serena to be an ultra competitive creature of pure greatness who doesn't take losing lightly ever since she and big sister Venus made their tennis debut in the 90's. But, the new mom walked away from the match unbothered and optimistic. She said:
"I don't think I'm going to rate my performance. I have plenty of comebacks, from injuries, from surgeries, but I've never had a comeback after actually giving birth to a human being. So, in my eyes, I feel it was a wonderful, wonderful match for me."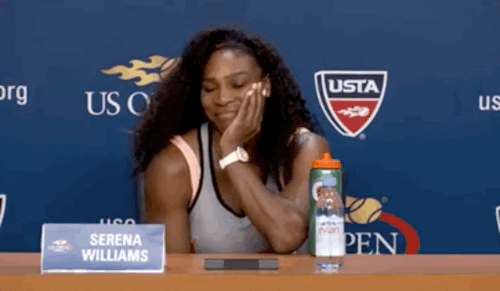 media.giphy.com
As someone who also has a three-month old and often struggles to find time to shower these days, I can say playing in a professional tennis match at all is a win in and of itself. And Serena's attitude towards what could easily be considered a defeating moment is exactly what she and many of us need to be our happiest and healthiest selves.
So often, we find ourselves skipping along a path of perpetual come-ups that becomes suddenly interrupted by a loss, failure, idiot boyfriend, low performance review at work, etc., bringing our world to a saddening halt.

And as women, especially mothers, we subconsciously allow those not-so-awesome moments to overshadow all of the magic we've achieved.
It's crucial to recognize when we become downright too hard on ourselves when a smudge manages to manifest on our picturesque version of life.
I've lost count of how many times I've caught myself chasing "the every area perfect" life trying to keep my relationship, my family, my health and career in infallible tact. I could have total peace in my marriage, be in the best shape ever, have a 12-month streak of no arguing with my mom, but become devastated with a critique at work.
Of course, some level of disappointment in our shortcomings is healthy and certainly motivates us to absolutely slay the next time around, but harping on them is just expending unnecessary energy on a small issue in an overall beautiful state of being and becoming.
Seeing Serena get back to work after giving life gives me life. And seeing her shake off a not-so-perfect performance like plain dust off her shoulders is even more refreshing.

"Knowing that I have won 23 Grand Slam titles and several other titles, I don't think I have anything more left to prove," she said. "But I am not done yet."
"I know that when I come back I definitely want to be competing for championships. I am definitely looking forward to getting back out there. I am taking it one day at a time."
So, she lost her first comeback match? She's in love, enjoying the blessing of a healthy child and is one of the best tennis players on the planet (not to mention she's practically best friends with Beyoncé).
Her life may not be perfect, and she may not be back in the groove of things career-wise just yet, but Serena is definitely winning in every sense of the word.