---
Becoming a millionaire is often the ultimate bag in life but when Netflix offered award-winning executive producer, writer and actress Michaela Coel a cool $1M for the rights to I May Destroy You, she said, "Yeah, no." Sis knew her worth. With her massive success of her debut comedy, Chewing Gum, and work on three other Netflix projects under her belt, a million wasn't it.
Now I get that a mil isn't exactly normal payment for a script. We could go to Netflix today with a story idea and would be lucky to receive an offer of $10K. Sis was handed a Birkin in that aspect. But as Black women, we should never accept a company's initial offer without negotiating first, and that goes for a 9-5. We should produce our professional receipts and add in our experience beyond the minimum job requirements, major accomplishments, any press and our awards. There's usually more money on the table. Or if not, we should ask for perks. And when it comes to our art, we should definitely retain some ownership, if not all, at least to maintain integrity of our work and claim those residuals.
Besides I May Destroy You wasn't just any script. It's the 33-year-old's real-life story, based on her own sexual assault. It's also a form of her therapy, a way for her to process what happened and try to heal from it. We really can't put a price on her experience.
Michaela only asked for 5% ownership of the series. When Netflix refused, she attempted to negotiate down to 2%, eventually to 0.5%. A half of a percent. She was actually going to sign, too, but the woman on the other end of the telephone, who needed to run the deal past the higher-ups, expressed pride that Michaela was doing the right thing. The remark didn't sit right in Michaela's spirit.
"My thing is, I don't trust people. I just don't trust. I don't trust businesspeople, especially when they're parading as friends. I don't like it. I think that's all probably because of learning from my previous deals where I didn't say no, where I accepted, and so now it's made me very suspicious."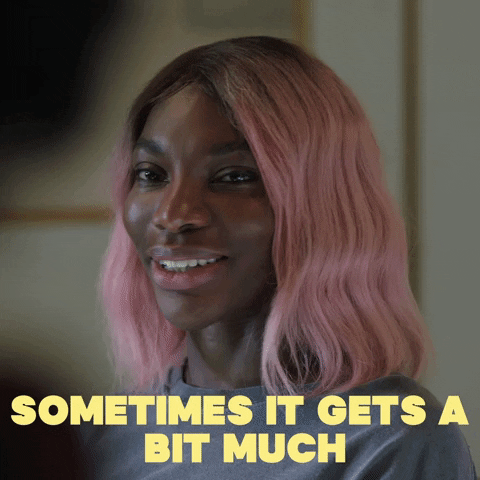 A few months later, Michaela pitched I May Destroy You to BBC, which immediately gave her everything she asked for and teamed up with HBO later to produce. A seat at the production table? Check. Full creative control? Of course. Rights to her own work? Yassss!
It's angering how women are often addressed and treated in business, though, especially in an industry dominated by white men. They assume we're not as smart and savvy as them, or we don't belong, so there's already that strike against us. But let a Black woman enter their space and have the audacity to ask her worth. Tuh! In a recent interview with The Wall Street Journal, Michaela said:
"Life is tricky enough navigating being a woman, being a Black woman, being a dark-skinned woman in England on television. It's so hard."
Entire conversations are shut down before any fair negotiations begin. And to add insult to this injury, it was another woman, who probably didn't look like us, who was complicit in allowing Michaela to undervalue herself. We must do better.
Not only should we ask for what we want and deserve, we should also dismiss the outdated idea that discussing money is taboo. We need trusted folks in our fields to bounce figures off of. And we need to be willing to share when there's no blueprint or standard. When it comes to transparency on money and one-sided deals, here's what Michaela said:
"That's so cool to me because it means that people might not make the same mistakes I made. I think if you have someone that you can privately say, 'Hey, I'm in the middle of a deal with these guys and you're in a deal with them...I just wanted to know, what does your deal look like?' I think it's empowering and the way the structures are set up, we're not very empowered. I love the fact that there is a little bit more discussion, that people are having talks at the side, creative to creative."
This isn't the only major win for Michaela, who recently earned a spot as Wall Street Journal's 2020 Television Innovator earlier this month. In 2018, she also became the first Black woman in the entire 42-year history of the Edinburgh International Television Festival to deliver their keynote address, a spot usually designated for white men. If we can learn anything from this smart and stunning queen, it's how to smash some norms. But infiltrating circles controlled by another race and gender only to reject their coins like pennies because we know we can absolutely get more will always be the ultimate flex.
To read Michaela's full WSJ and W interviews, click here and click here. To listen to her James MacTaggart Keynote Speech at the Edinburgh International Television Festival, click here.
Join our xoTribe, an exclusive community dedicated to YOU and your stories and all things xoNecole. Be a part of a growing community of women from all over the world who come together to uplift, inspire, and inform each other on all things related to the glow up.
Featured image by Featureflash Photo Agency / Shutterstock.com